Gingerbread Bourbon Punch (Day Four of The 12 Days of Jolly Giveaways!)
Gingerbread Bourbon Punch is the festive, spiced large batch cocktail of the season! With gingerbread spices, ginger beer and ginger brandy, this drink is like a Moscow Mule on steroids. You might never go back to the plain ok' classic recipe again…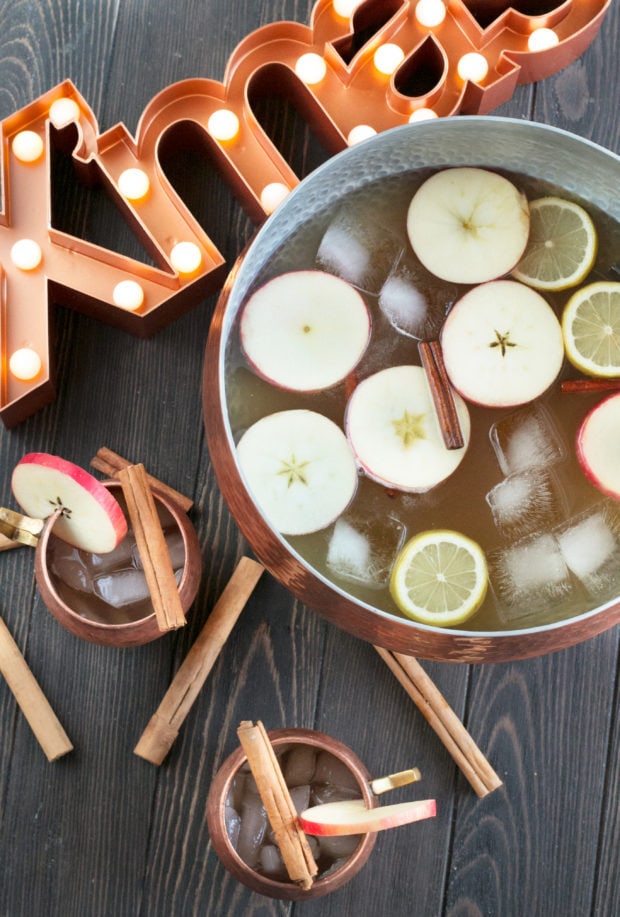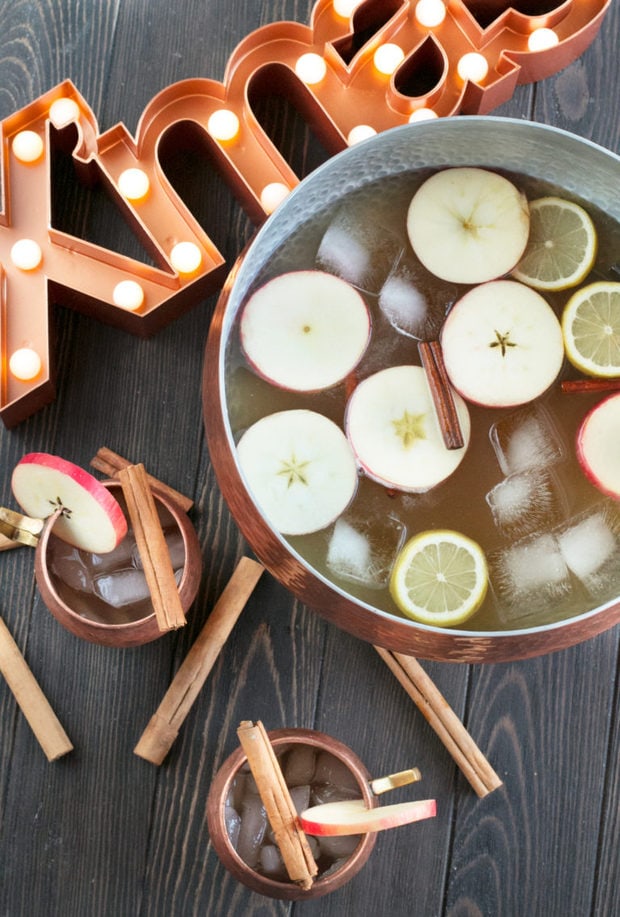 Please note that some of the links below are affiliate links. If you make a purchase through one of these links, I will receive a small commission. Thank you for supporting Cake 'n Knife!
'Tis the season to break out the copper mugs!!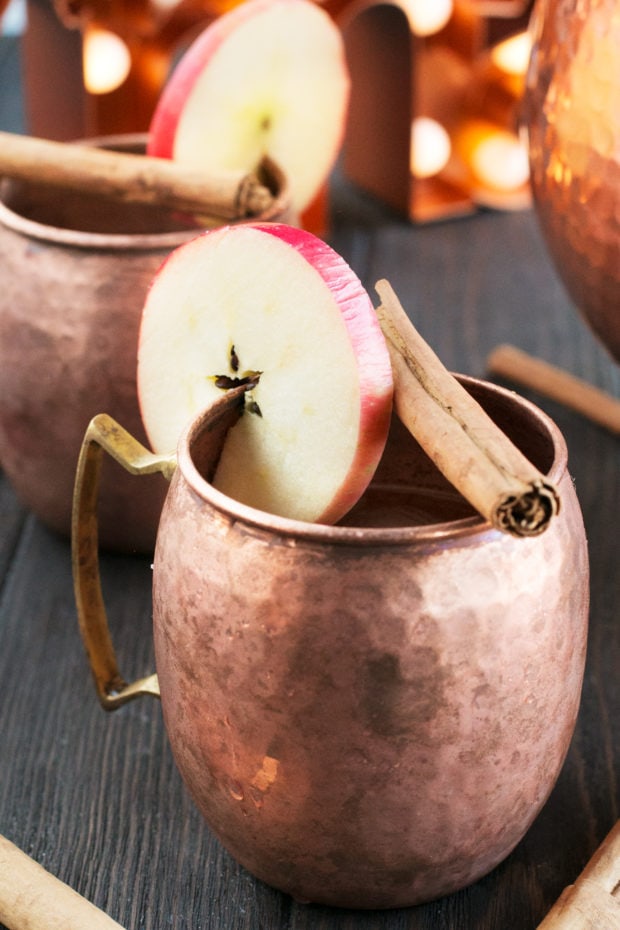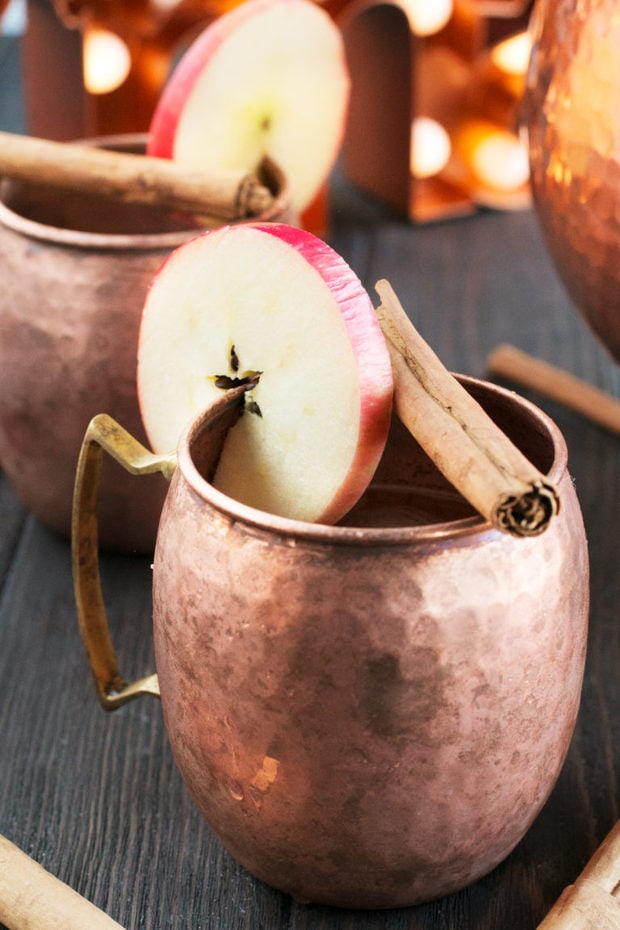 Ok I know they can be used year round but I particularly love breaking them out in the winter months. The rich copper tones enveloping a chilled, gingery drink just scream holiday, no matter how you like to serve up your mules.
With the holidays coming up SO fast, I wanted to take the idea of a traditional mule and make it a giant punch for everyone to enjoy.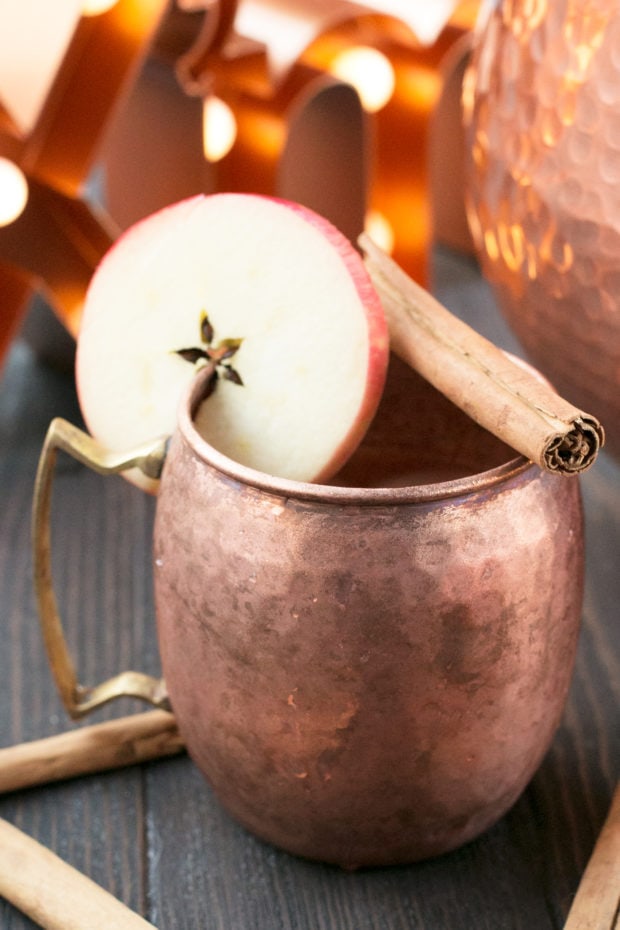 Note: this may or may not have been inspired by an old Good Eats episode (ahhhh I can't wait for that show to come back!!!) about punch. If you have Hulu, go watch it. NOW.
Anywho, this Gingerbread Bourbon Punch is basically a Moscow mule on steroids… and here's why:
It's made with bourbon instead of vodka, which I think adds a lovely richness to the cocktail and makes it a little more spirit-forward.
The ginger doesn't just come from ginger beer… I also included some ginger brandy and ginger bitters to give the punch more depth and body.
The cinnamon sticks and apple only enhance the spicy ginger, while also bringing in fruity, warming spice notes throughout that totally remind me of gingerbread for some reason (hence the name… yes I used "hence", deal with it lol).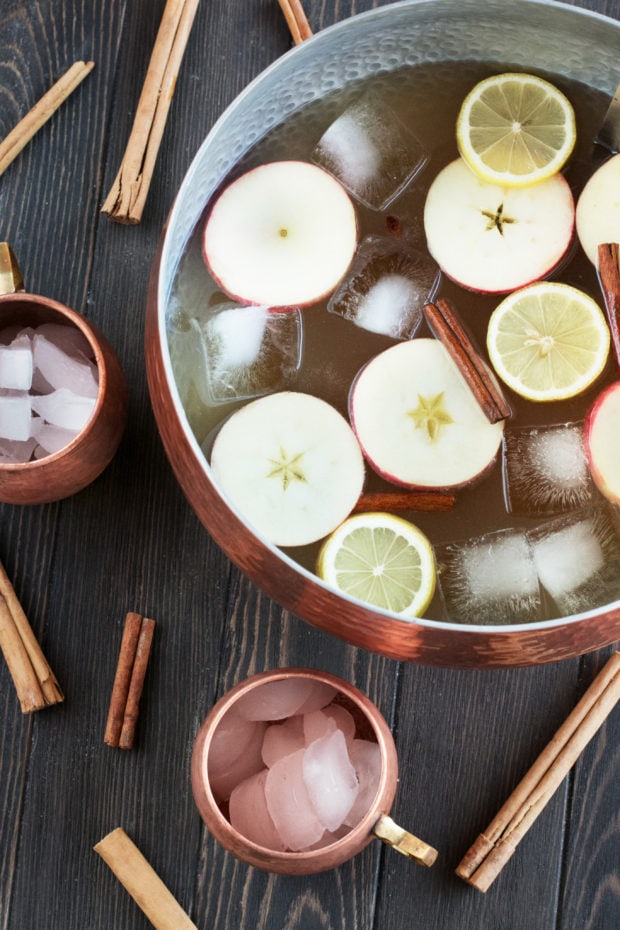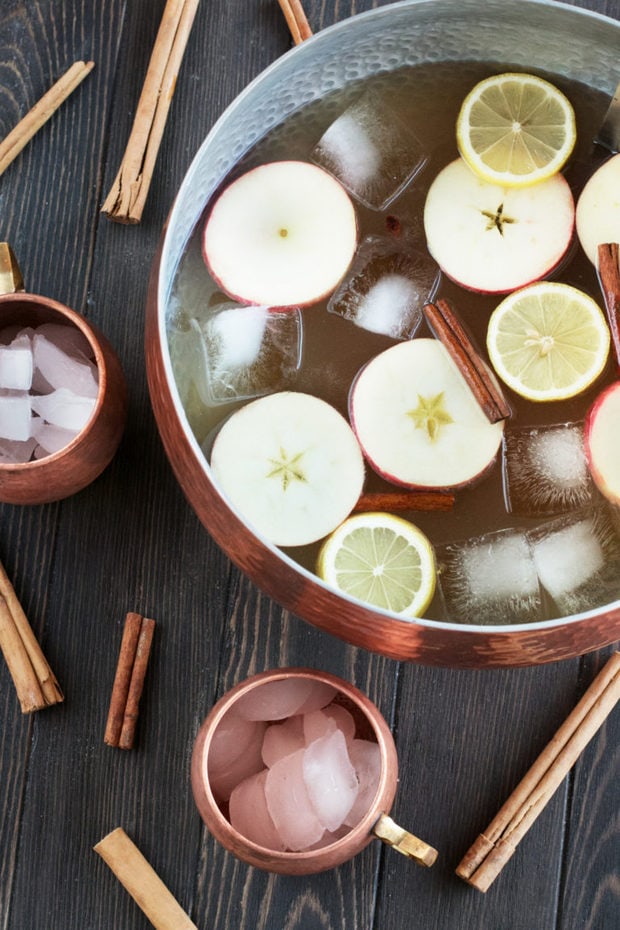 When you serve it all up in a giant copper punch bowl with copper mugs, it's impossible not to feel that festive joy in your heart and all over your taste buds.
Hint hint, that's what today's giveaway is all about! But more on that later…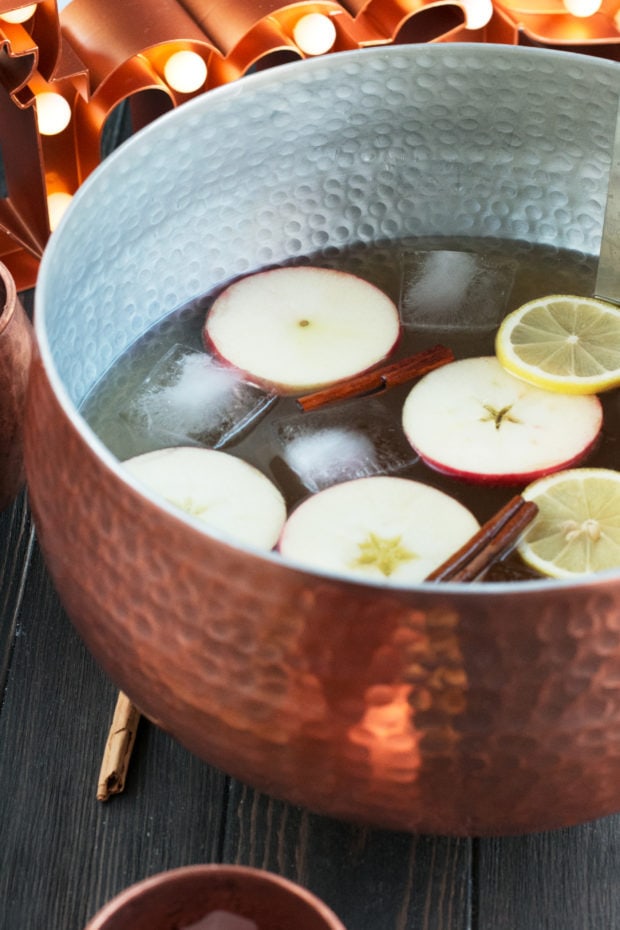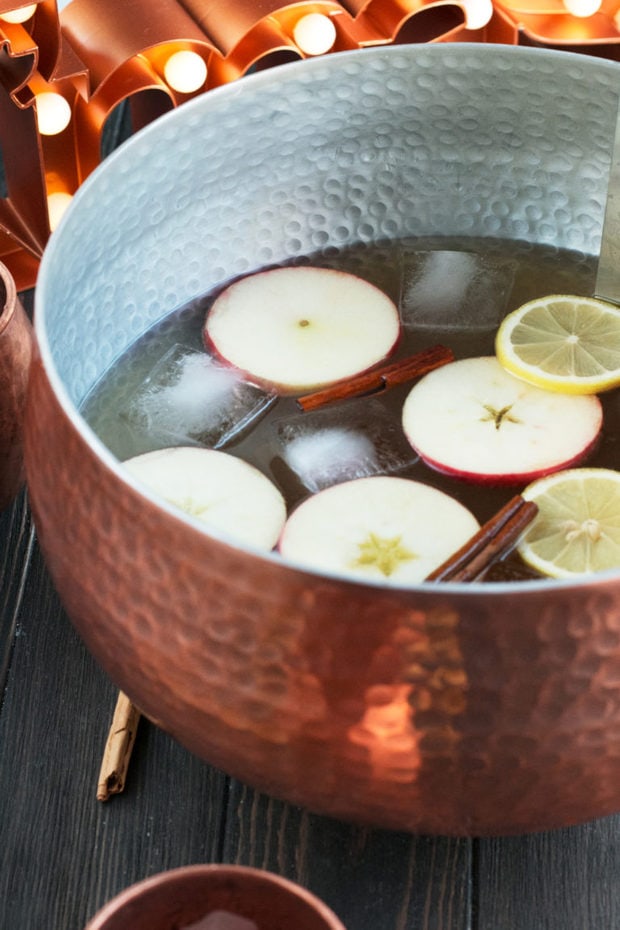 You can even make this punch ahead of time! Just leave out the ginger beer and add it (make sure it's chilled!) right when you are ready to serve.
Garnish each glass with an apple wheel and cinnamon stick, and voila! A party punch to rule them all…


As many of you know, I have a special promotion going on this December… It's the 12 Days of Jolly Giveaways! We are on Day 4 now and I am super excited to be sharing something from yours truly.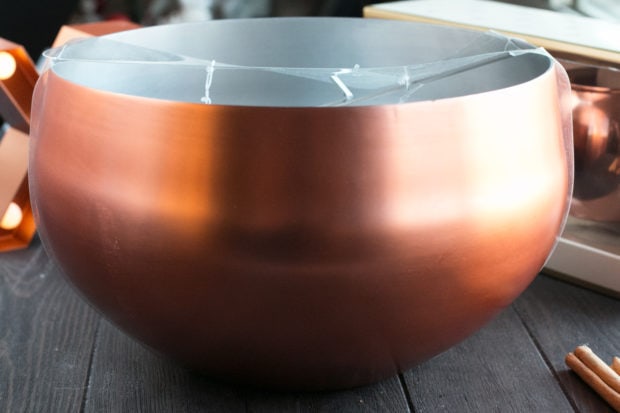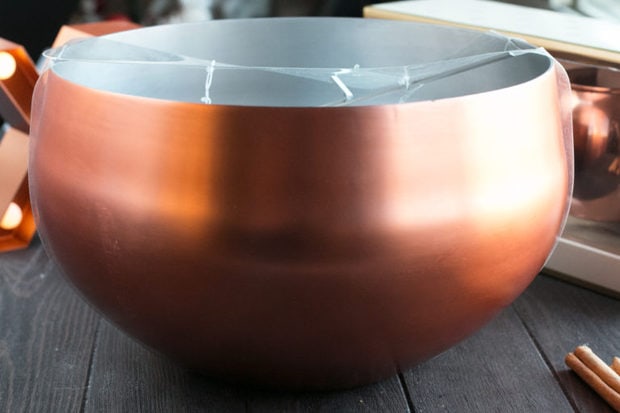 I'll be giving away a stunning brushes copper punch bowl AND two copper mugs so you can make this Gingerbread Bourbon Punch recipe yourself!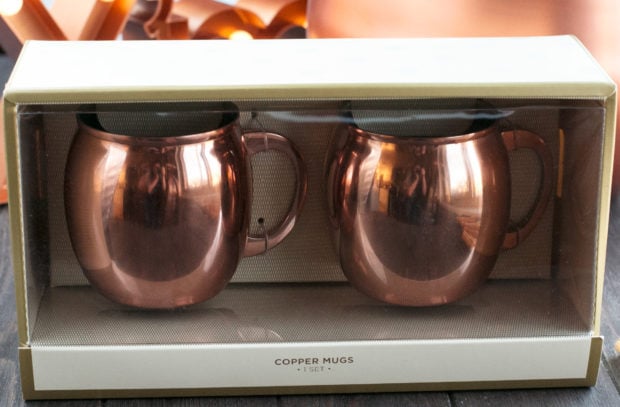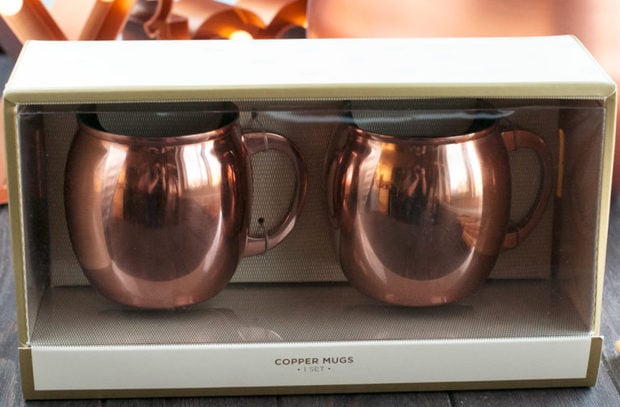 Just be sure to check out the recipes I've already shared – Day 3's giveaway is still open to enter!
Day One – Red Wine Slow Cooker Short Rib Ragu
Day Two – Gingerbread Challah Bread
Day Three – Mini Beef Wellingtons
Day Four – Bourbon Gingerbread Punch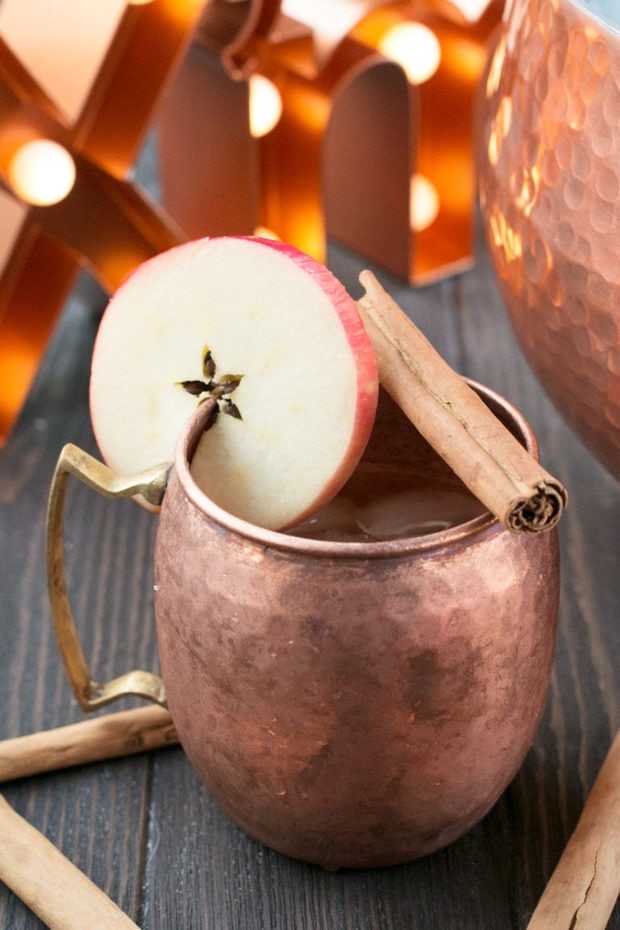 This Recipe's Must Haves
Pin this Gingerbread Bourbon Punch recipe for later!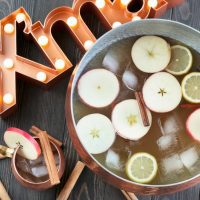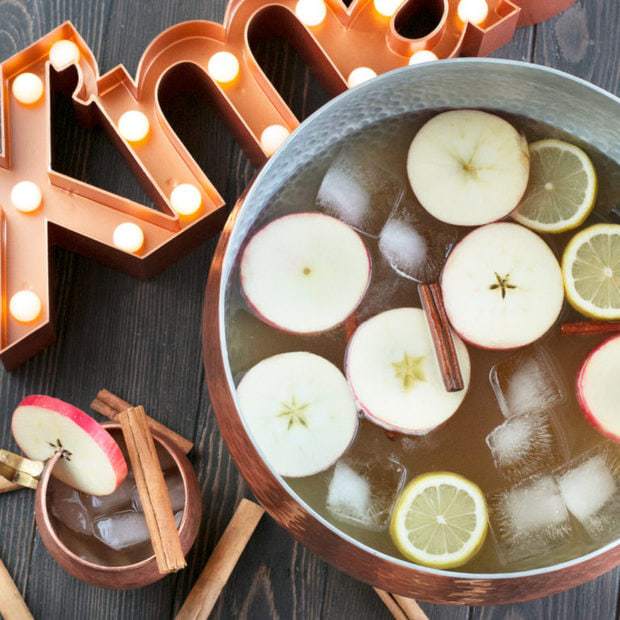 Gingerbread Bourbon Punch
Bourbon Gingerbread Punch is the festive large batch cocktail of the season! With gingerbread spices and brandy, this drink is a Moscow Mule on steroids.
Ingredients
2 1/4 cups bourbon
1 cup 100% apple juice
1/4 cup lemon juice
1/2 cup ginger brandy
5 dashes ginger bitters
7 cups ginger beer
1 lemon, sliced
2 apples, sliced
5 cinnamon sticks
Ice
Instructions
In a large punch bowl, combine bourbon, apple juice, lemon juice, ginger brandy, and ginger bitters. Stir to combine well.
Add 2 cups of ice.
Top with ginger beer.
Garnish with lemon slices, apple slices, and cinnamon sticks.
Serve in copper mugs filled with ice.
1. Enter the giveaway through the Rafflecopter widget below. Everyone gets a free entry! You can enter multiple times by following and sharing on social media. (If you've followed in the past, that counts! Just enter the information as prompted.) All entries will be verified. No purchase is necessary to win.
2. The giveaway is open until Monday, December 11th at 11:59 p.m. CST. One winner will be chosen at random and e-mailed within 48 hours. Winners must claim prize within 48 hours of initial contact. The retail value of the prize is approximately $45. Prizes listed above are the only ones available.
3. Open to U.S. residents over the age of 18 years old with a valid shipping address only.
Yum
37 Responses to "Gingerbread Bourbon Punch (Day Four of The 12 Days of Jolly Giveaways!)"
Leave a Comment