Please note this post contains affiliate links.
Gingerbread Bourbon Punch is the festive, spiced large batch cocktail of the season! With gingerbread spices, ginger beer and ginger brandy, this drink is like a Moscow Mule on steroids. You might never go back to the plain ok' classic recipe again…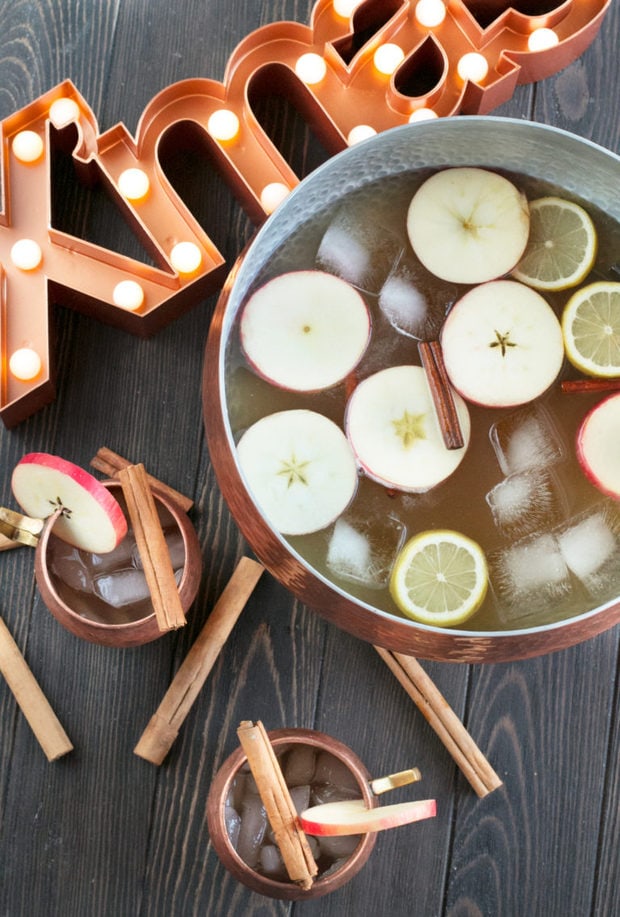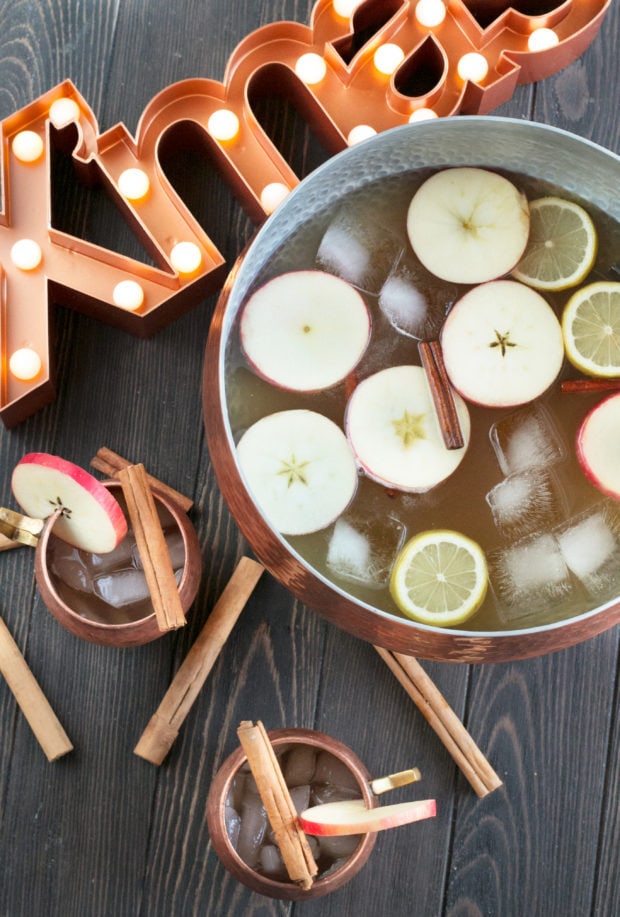 about this gingerbread bourbon punch
'Tis the season to break out the copper mugs!!
Ok I know they can be used year round but I particularly love breaking them out in the winter months. The rich copper tones enveloping a chilled, gingery drink just scream holiday, no matter how you like to serve up your mules.
With the holidays coming up SO fast, I wanted to take the idea of a traditional mule and make it a giant punch for everyone to enjoy.
Note: this may or may not have been inspired by an old Good Eats episode (ahhhh I can't wait for that show to come back!!!) about punch.
Anywho, this Gingerbread Bourbon Punch is basically a Moscow mule on steroids… and here's why:
It's made with bourbon instead of vodka, which I think adds a lovely richness to the cocktail and makes it a little more spirit-forward.
The ginger doesn't just come from ginger beer… I also included some ginger brandy and ginger bitters to give the punch more depth and body.
The cinnamon sticks and apple only enhance the spicy ginger, while also bringing in fruity, warming spice notes throughout that totally remind me of gingerbread for some reason (hence the name… yes I used "hence", deal with it lol).
When you serve it all up in a giant copper punch bowl with copper mugs, it's impossible not to feel that festive joy in your heart and all over your taste buds.
You can even make this punch ahead of time! Just leave out the ginger beer and add it (make sure it's chilled!) right when you are ready to serve.
Garnish each glass with an apple wheel and cinnamon stick, and voila! A party punch to rule them all…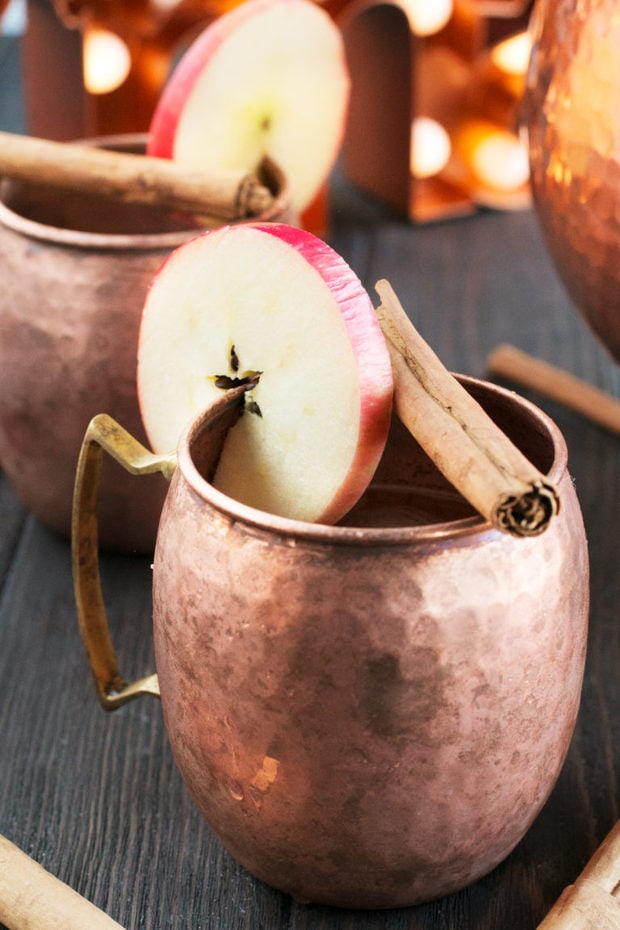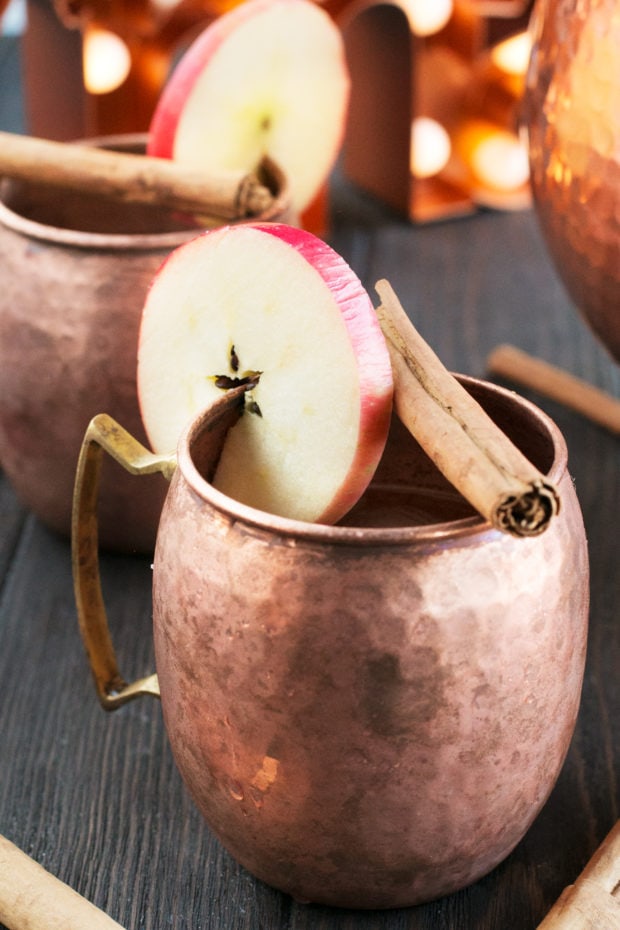 ingredients
bourbon – bourbon is the obvious choice for this punch, and you can go with a nice mid-price range option like Bulleit or Woodford Reserve.
apple juice – use 100% apple juice for this recipe. You could also use apple cider if you prefer, but it will make the punch a bit sweeter.
lemon juice – fresh lemon juice is always best!
brandy – I picked up a ginger brandy for this recipe to really hammer home the ginger flavor. I highly recommend using it, but you can also use regular brandy if you prefer.
ginger beer – did you know that ginger beer isn't actually beer? It's a bubbly non-alcoholic beverage with a big kick of ginger. I like brands that are spicier with a lot of ginger like fever-tree ginger beer. However, if you prefer less spice, there are other brands out there that you can defer to like bundaberg ginger beer.
bitters – ginger bitters gives a lot of flavor to this punch!
fruit – you will need one lemon and two apples (any kind! I used Gala) for this recipe.
cinnamon – a handful of cinnamon sticks really gives you that spice flavor that you are familiar with in gingerbread cookies!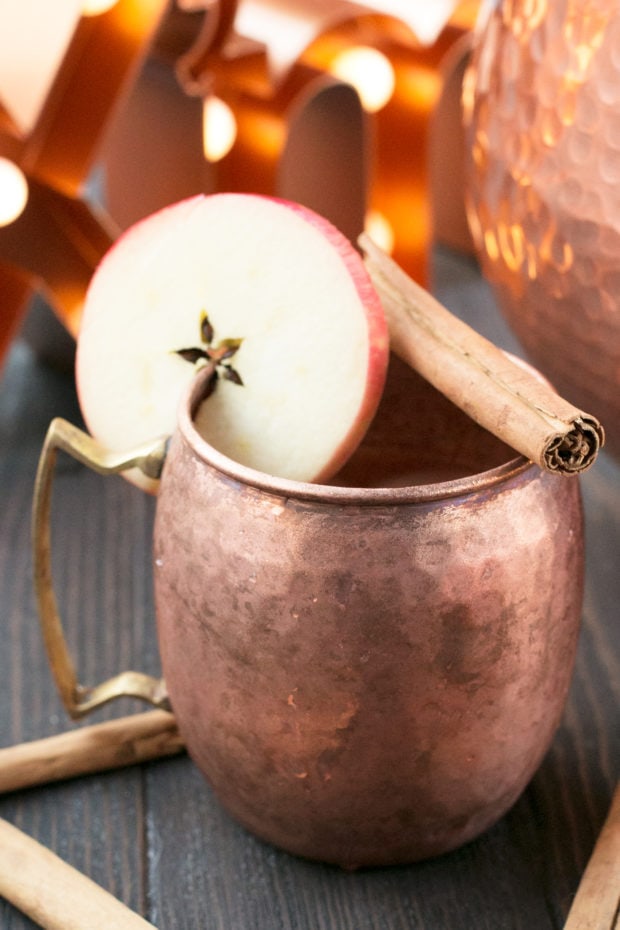 this recipe's must-haves
As you can see, I used a copper punch bowl for this recipe! You only need to make the punch in the punch bowl so you don't need a lot of tools to make it happen.
Serve it up in copper mugs like you would a Moscow Mule!
here's how to make gingerbread bourbon punch
stir together
In a large punch bowl, stir together bourbon, apple juice, lemon juice, ginger brandy, and ginger bitters until combined.
Add 2 cups of ice.
add bubbles
Top off with ginger beer. Stir until combined.
Garnish with lemon slices, apple slices, and cinnamon sticks. Serve in copper mugs filled with ice and garnish as desired.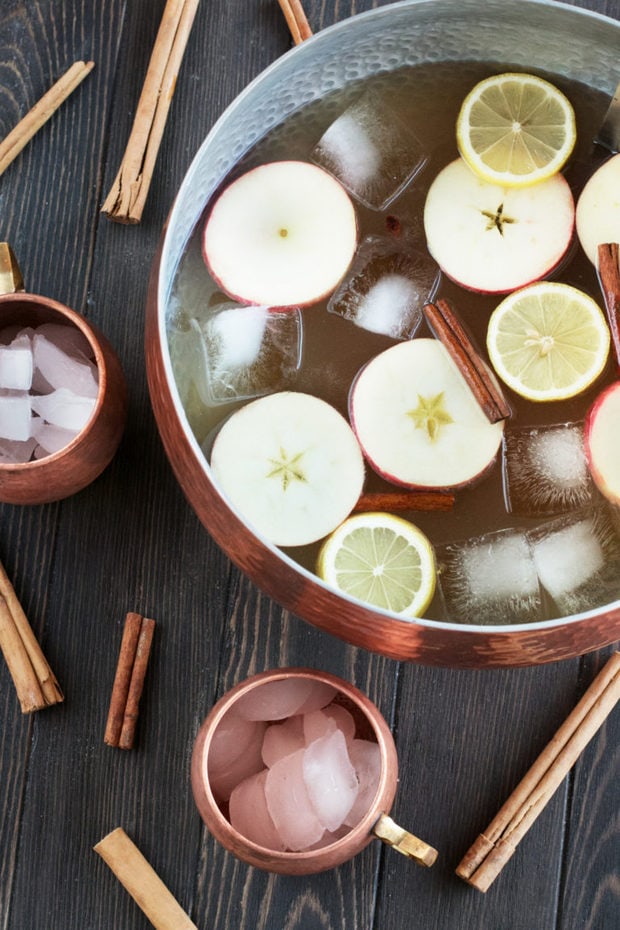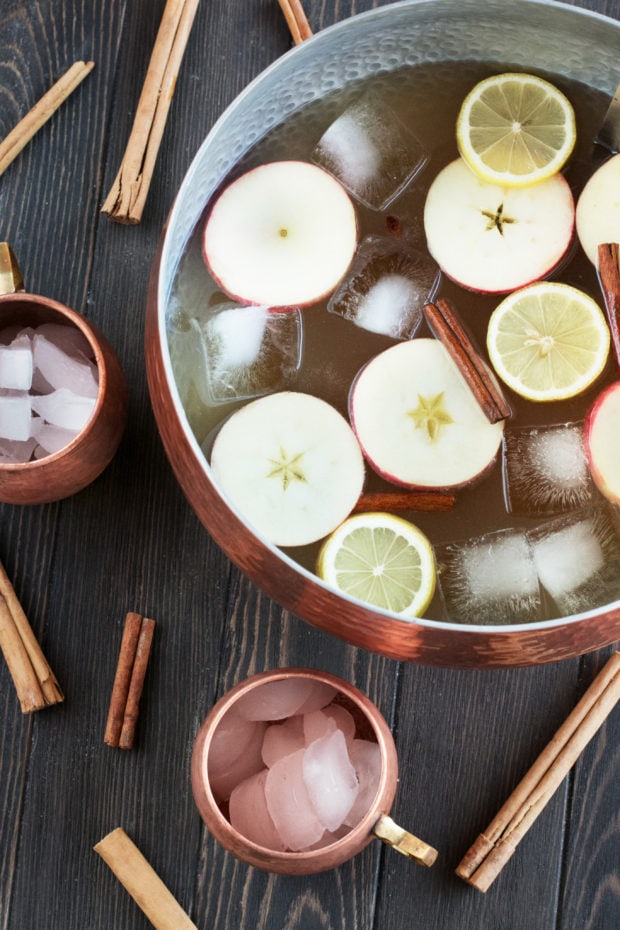 tips for success
make it ahead. This is a great punch to make ahead of time. Simply follow step one, then chill the mixture until you are ready to serve. Then add ice and ginger beer.
use whole spices. Be sure to use whole cinnamon sticks and not ground cinnamon. Ground cinnamon will cloud up the drink and can't easily be strained out.
More tasty ginger cocktails to try: Jameson & Ginger | Ginger Martini with Drunken Cranberries | Whiskey Apple Ginger Fizz | Sparkling Ginger Mint Julep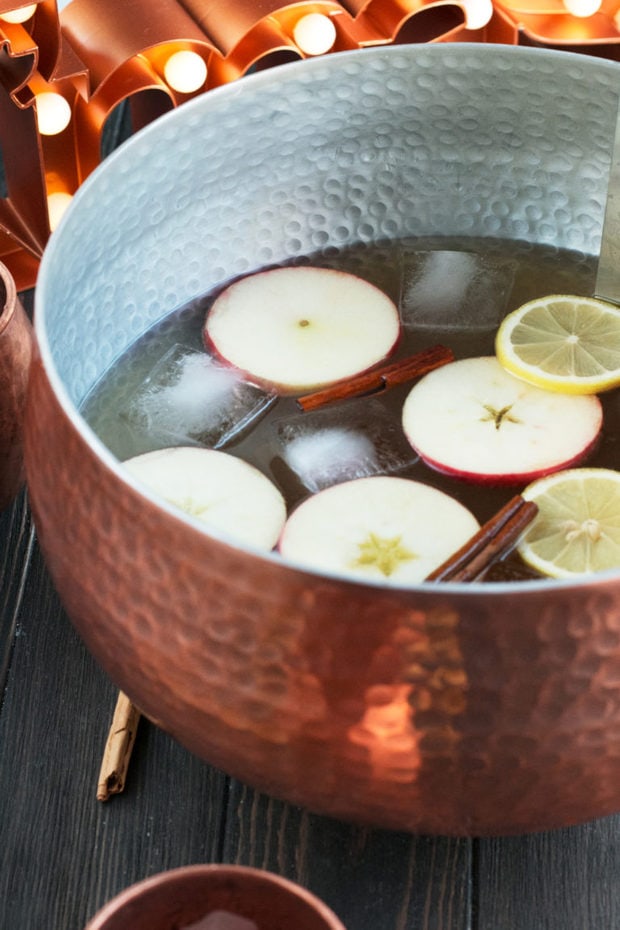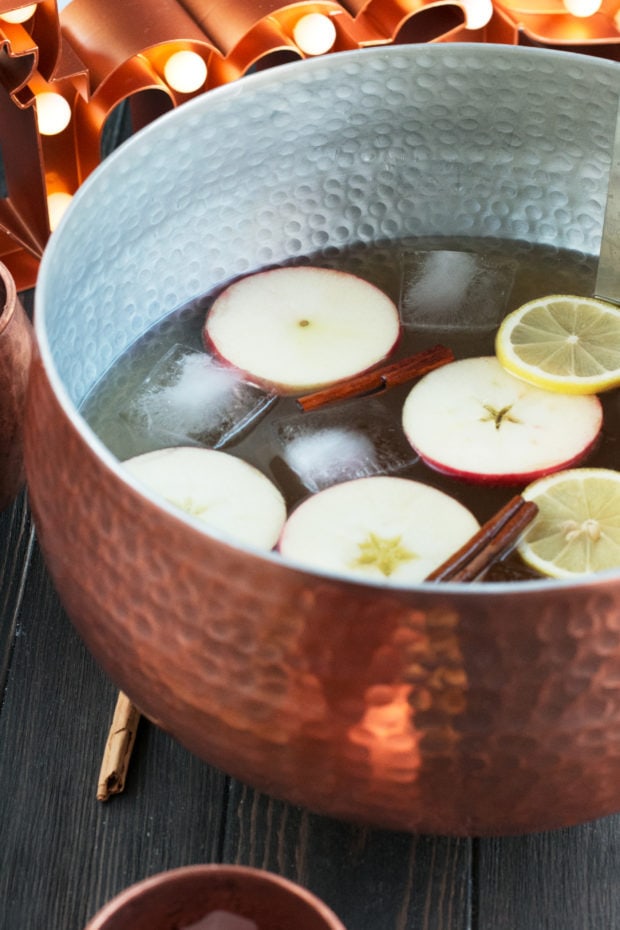 can I make this ahead of time?
Yes you can! All you need is to combine everything in Step 1, then chill until you are ready to serve it. When ready to serve, add to a punch bowl with ice and top with ginger beer. Serve!
can I use rye whiskey instead of bourbon?
Technically yes. You can swap bourbon for rye whiskey, but I believe bourbon goes together with the flavors in this punch really well. The rye whiskey will change the overall flavor of the punch, so I just like to call that out!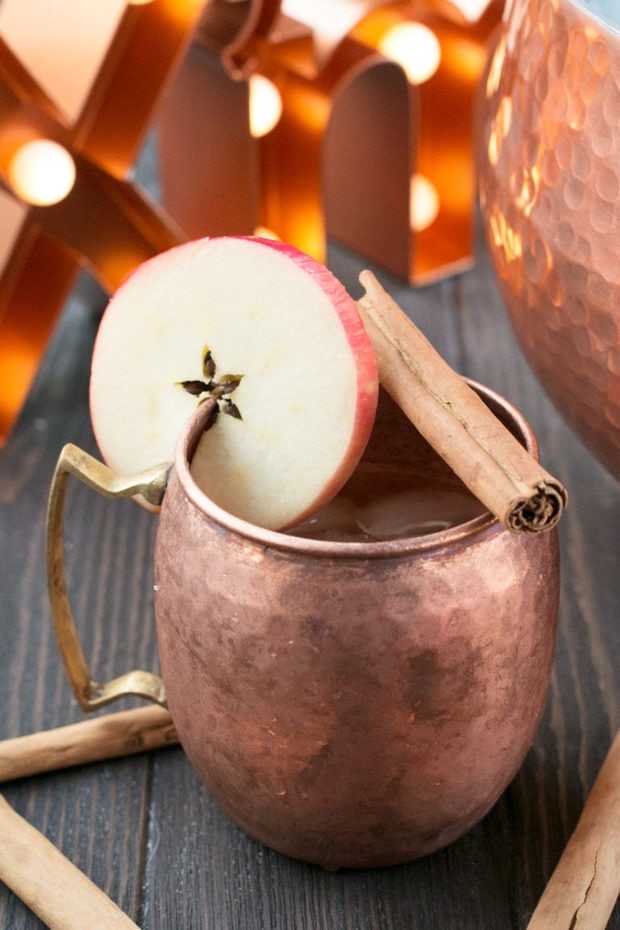 Finally, if you make this gingerbread bourbon punch recipe, please be sure to give this recipe a rating or leave a comment! I love to hear when you all make recipes, and I do take the time to respond to every single comment. Feel free to drop questions below too, if you have them!
Oh and be sure to tag me on Instagram if you make the recipe! I love being able to see these recipes come to life in your homes – it's my favorite thing to look through those photos. It really means the world to me!


Be sure to check out the recipes I've already shared for the 12 Days of Jolly Giveaways!
Day One – Red Wine Slow Cooker Short Rib Ragu
Day Two – Gingerbread Challah Bread
Day Three – Mini Beef Wellingtons
Day Four – Bourbon Gingerbread Punch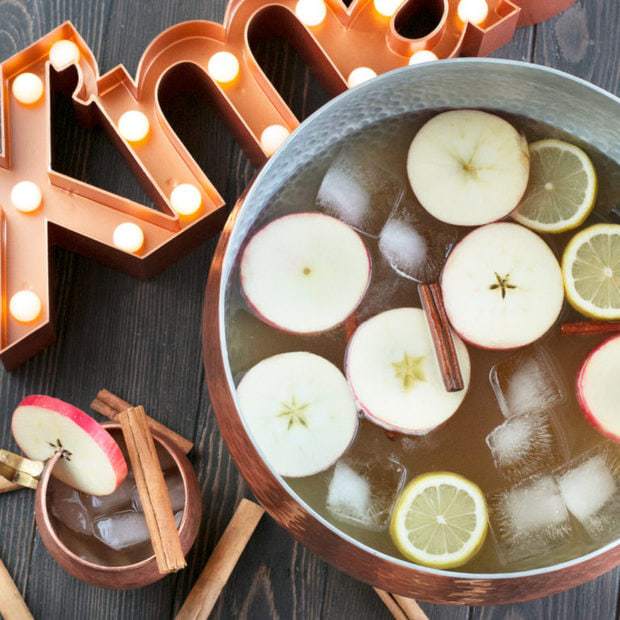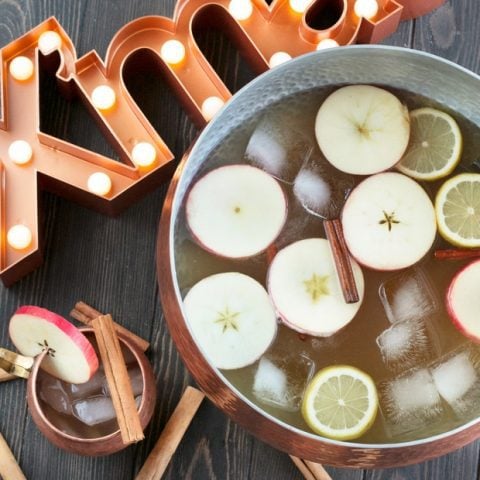 Gingerbread Bourbon Punch
Bourbon Gingerbread Punch is the festive large batch cocktail of the season! With gingerbread spices and brandy, this drink is a Moscow Mule on steroids.
Ingredients
2 1/4 cups bourbon
1 cup 100% apple juice
1/4 cup lemon juice
1/2 cup ginger brandy
5 dashes ginger bitters
7 cups ginger beer
1 lemon, sliced
2 apples, sliced
5 cinnamon sticks
Ice
Instructions
In a large punch bowl, combine bourbon, apple juice, lemon juice, ginger brandy, and ginger bitters. Stir to combine well.
Add 2 cups of ice.
Top with ginger beer.
Garnish with lemon slices, apple slices, and cinnamon sticks.
Serve in copper mugs filled with ice.
Recommended Products
As an Amazon Associate and member of other affiliate programs, I earn from qualifying purchases.