Please note this post contains affiliate links.
Chewy Snickerdoodle Cookie Bars with Eggnog Frosting are the ultimate cookie to bring to your next cookie exchange. The chewy base is filled with a delightful cinnamon swirl, then topping with a fluffy frosting infused with eggnog. Plus I've got a Holly Jolly Giveaway for you all today that you'll definitely want to enter to win!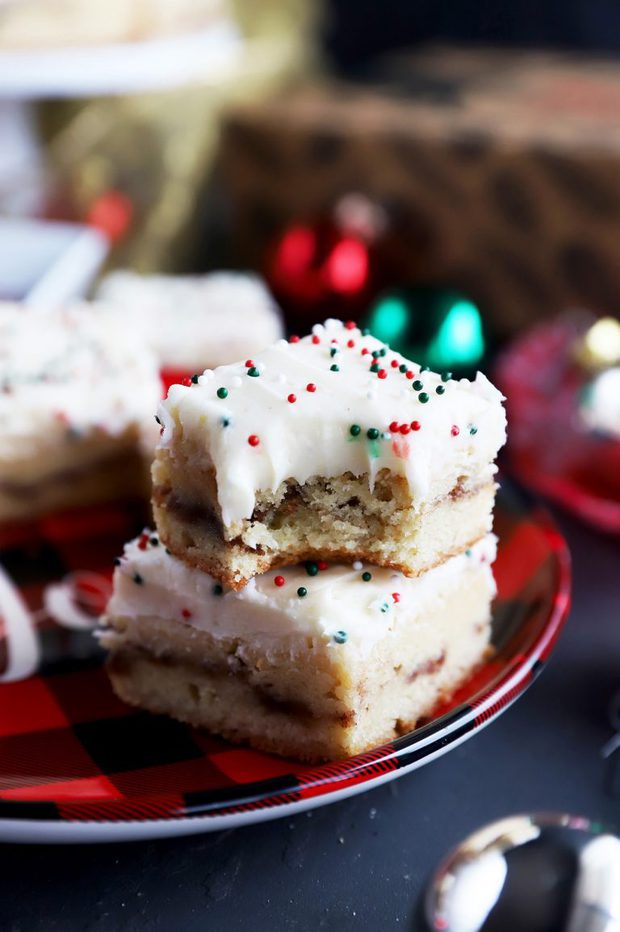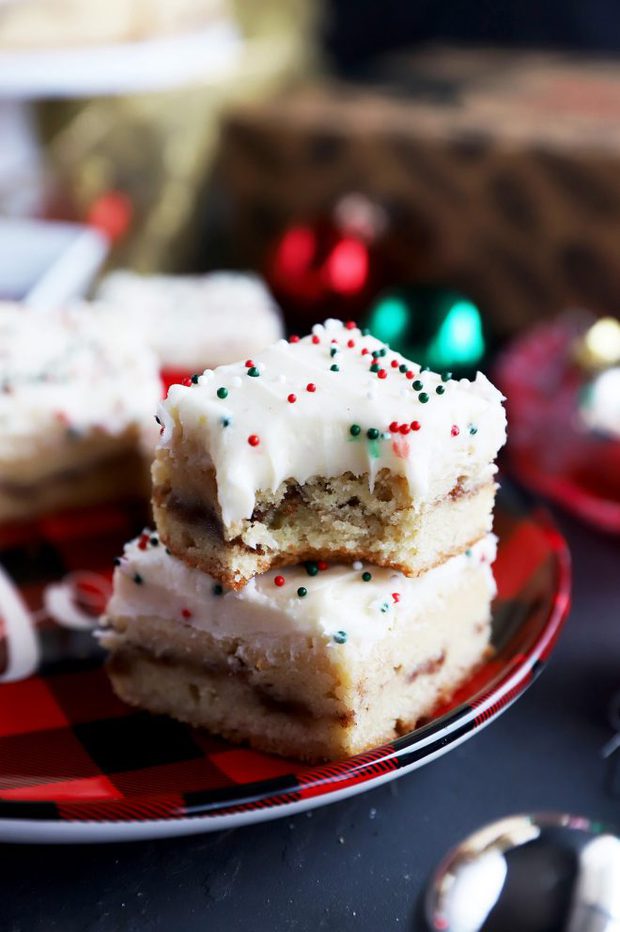 Disclosure: This post has been sponsored by Sprouts. As always, all opinions are my own. Thank you for supporting the brands that support Cake 'n Knife!
Who else is excited to bake ALL the thing this holiday season?!
For me, the holiday season is the ultimate time to bake. When I used to work in corporate land, I would bake new things and bring in new things to give to co-workers. Baking for parties is a must in my book, even when I'm not the one hosting. I especially love to bake up treats and give them to family throughout the holiday season.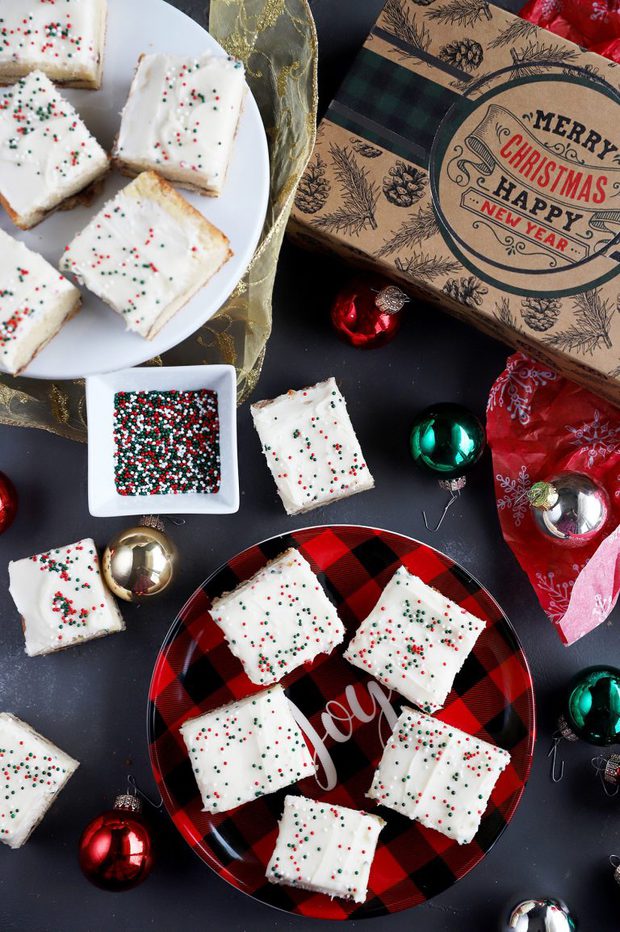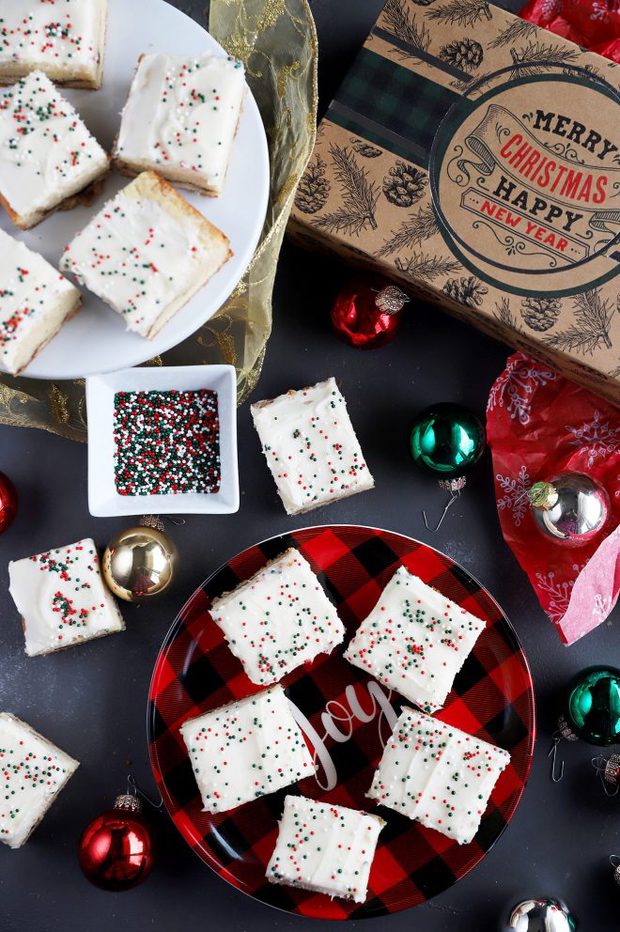 Do you ever mail treats to family and friends across the country (or maybe even the world)?
There's nothing more exciting than getting a surprise package full of treats!
That's why this year, I said a huge "YES!" when Sprouts asked for me to participate in their treat exchange this season! I mean, I'll take any excuse to bake more, and to receive more treats… 😉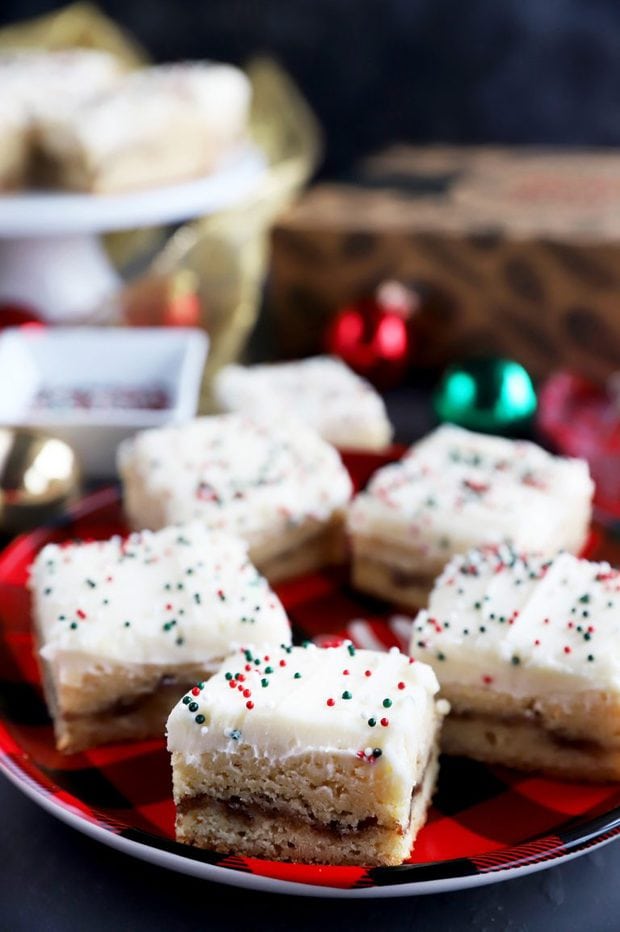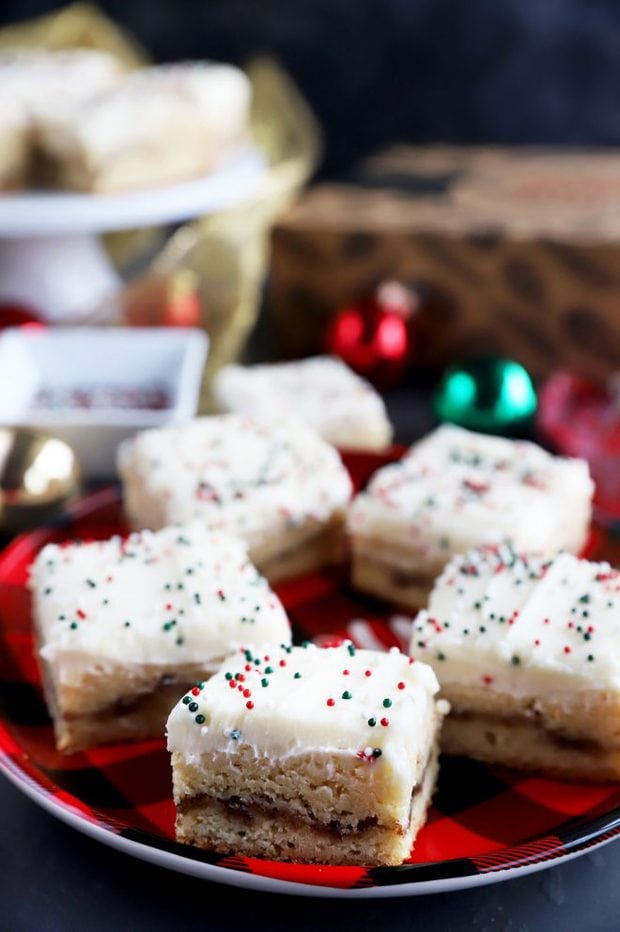 Shopping at Sprouts is something that I chat about often. I think the biggest overlooked part of Sprouts is their incredible bulk department. They have huge bins of fresh items from coffee to rice, nuts to dried fruits, pantry staples to spices, sweet treats and so much more. There's literally something for everyone, no matter what you are shopping for that day.
To me, buying in bulk is one of the biggest ways to save when you shop at Sprouts. The prices are really approachable and I have been buying my flour, sugar, and other staples from this section for a very long time. You can buy exactly what you need, instead of being limited to package sizes, which really helps with food waste (not to mention packaging waste!).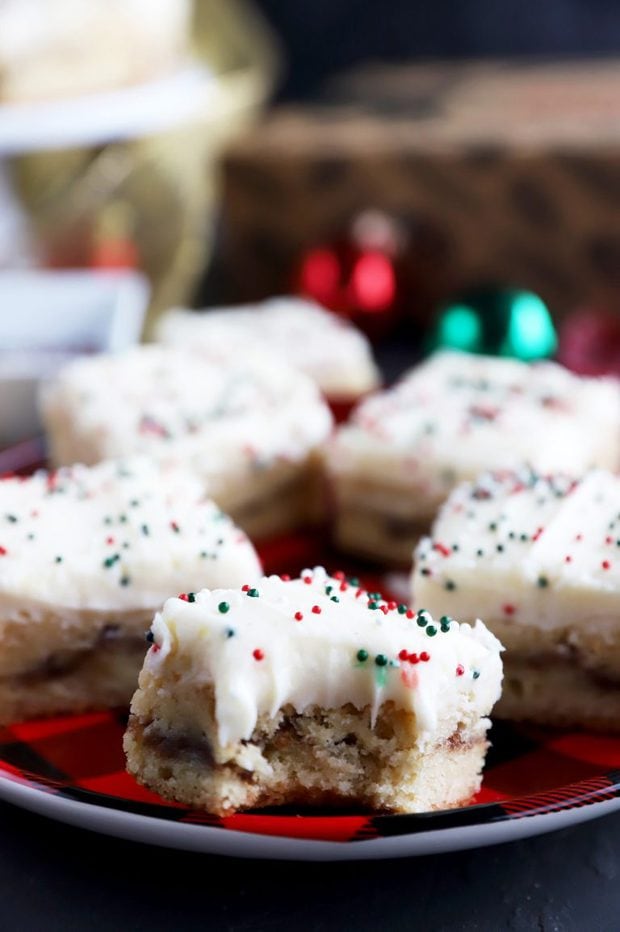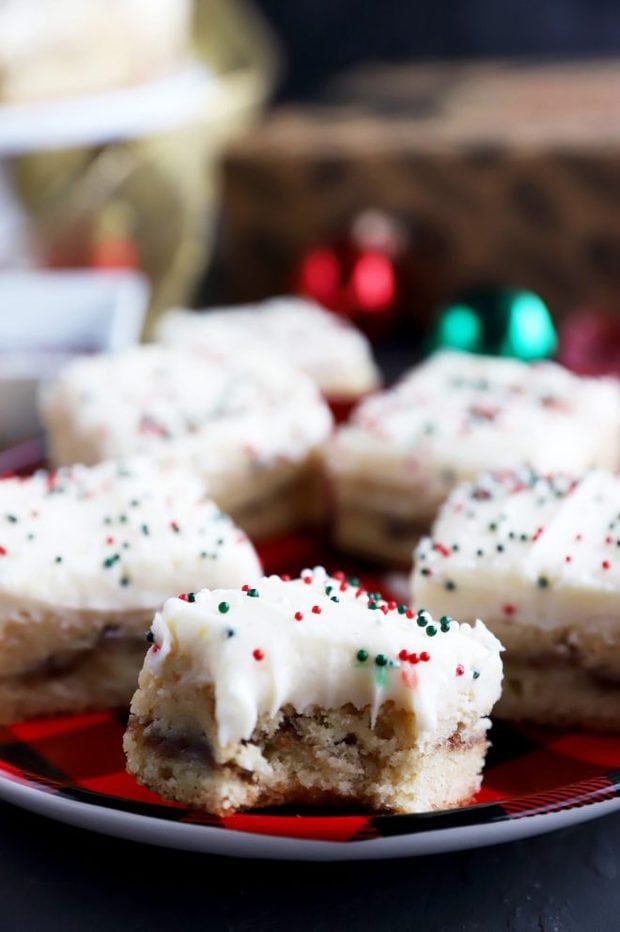 All of this comes in handy when you are baking like crazy during this time of year, especially if you are making these snickerdoodle cookie bars. The fluffy sugar cookie dough has a swirl of cinnamon goodness in the center, making it taste just like a chewy snickerdoodle. Then you top it with a creamy, fluffy eggnog frosting for a hit of extra holiday spirit… It's just too delicious to resist.
So hurry on over to Sprouts already so you can get all the items you need for these incredibly soft snickerdoodle cookie bars!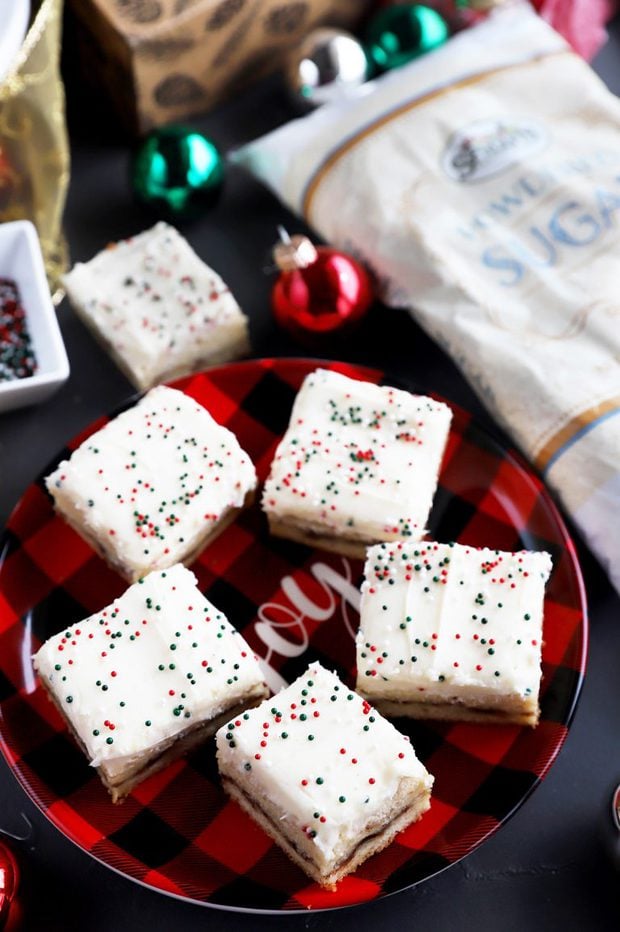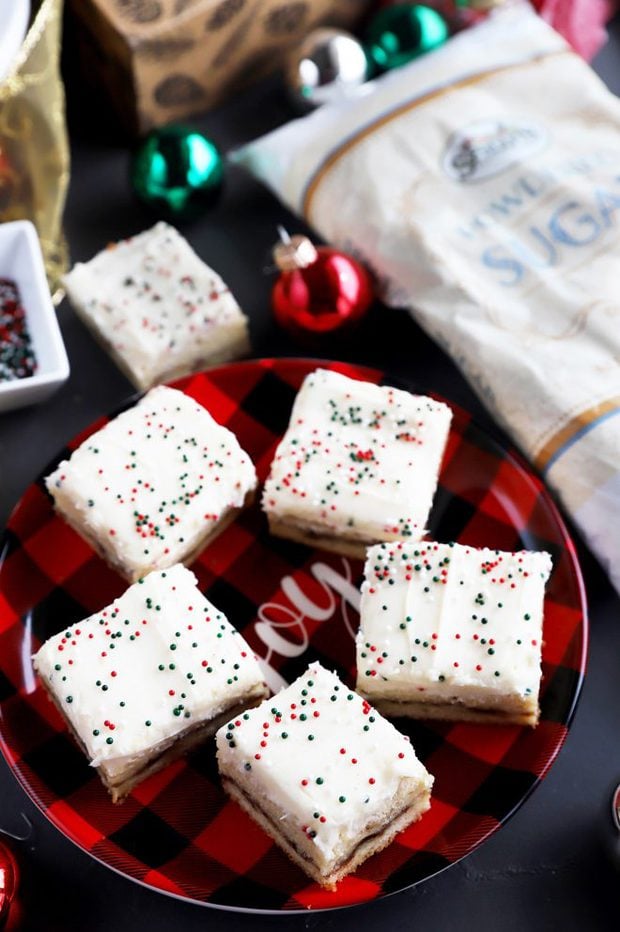 this recipe's must-haves
For the tools you need to make this recipe, you will need a stand mixer or an electric mixer to use with mixing bowls. These are definitely necessary for the cookie dough and the frosting.
After you are done baking the cookies and cooling them, you just need an offset spatula to spread the frosting evenly on the cookie bars.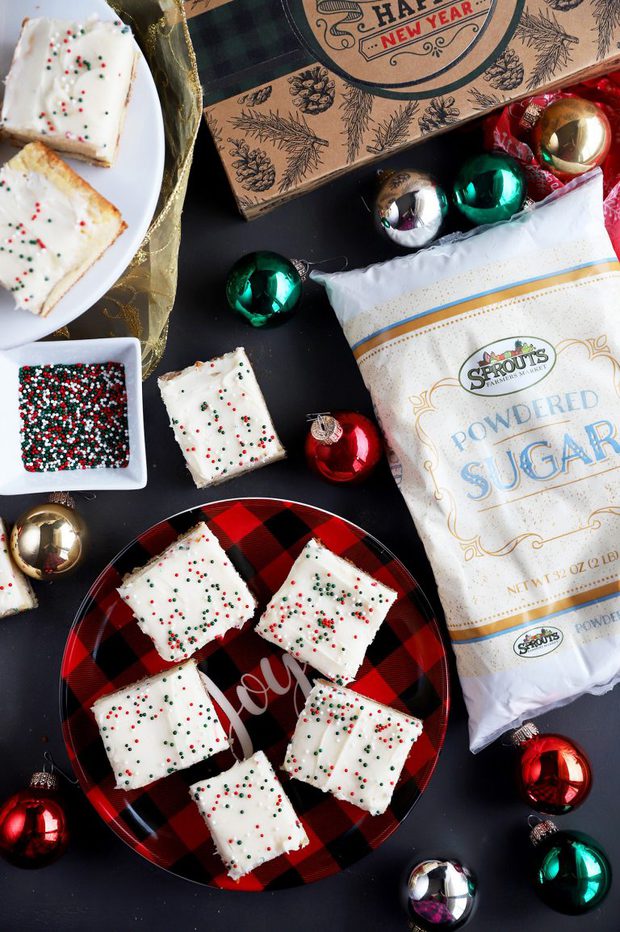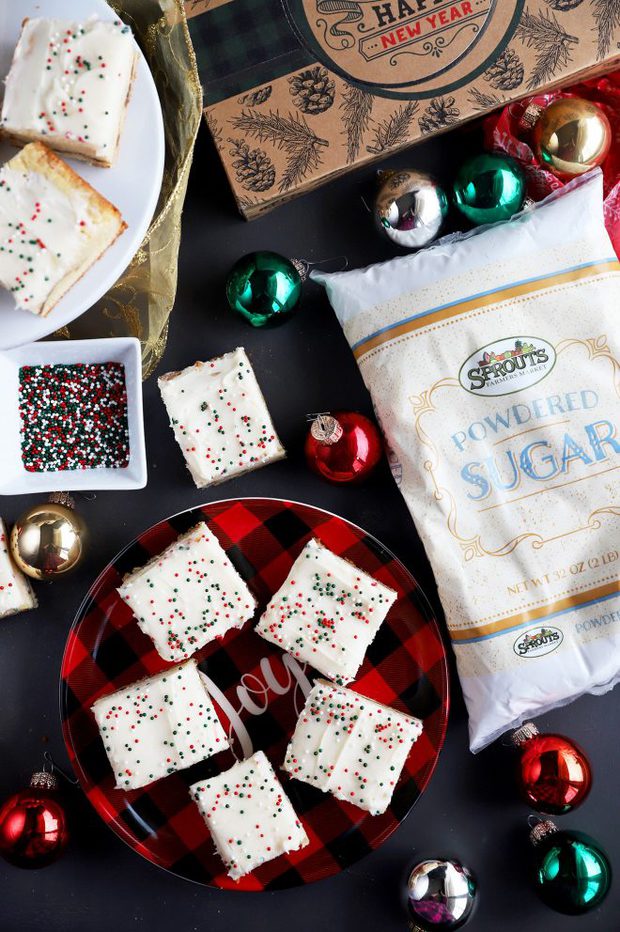 How To Make Snickerdoodle Cookie Bars
Make Cookie Dough
The cookie dough comes together as simply as many cookie doughs that you are familiar with do. Simply mix together the wet and dry ingredients separately, then you combine them!
Make Filling
The filling comes together in a bowl with a whisk. It's cinnamon buttery goodness, but you don't want to make it too far ahead of time. Otherwise, it will turn solid as the butter hardens.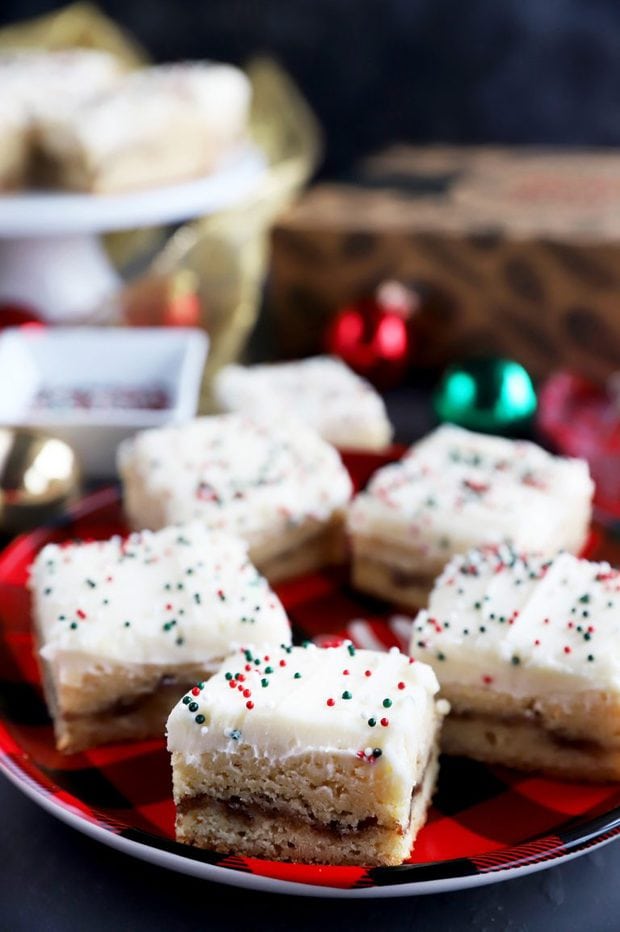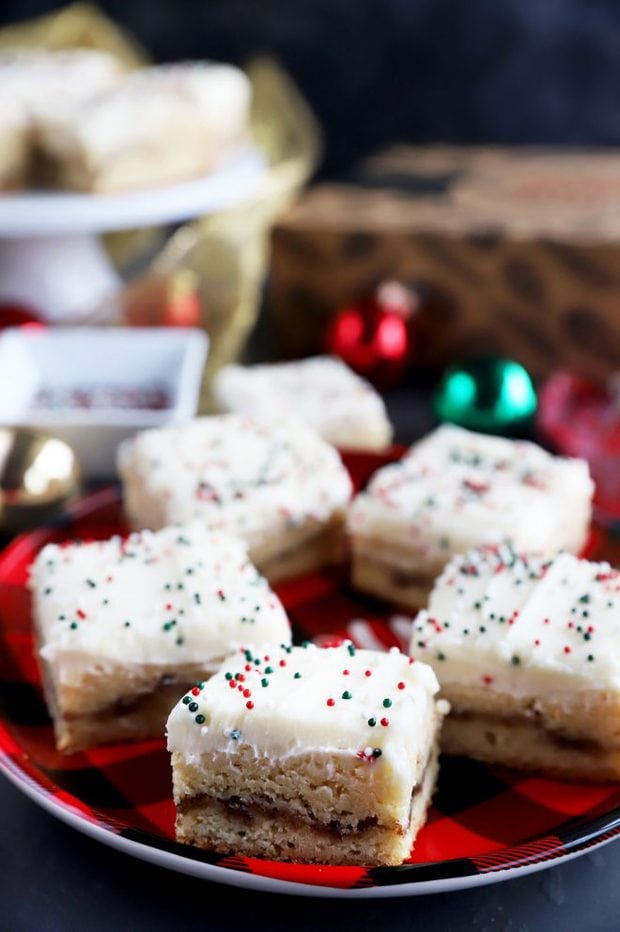 Assemble
To assemble the bars, you start by adding half of the batter to a cake pan. Top that dough with the cinnamon filling, and swirl it around to get it into the dough. Finish with a layer of the remaining cookie dough and you are ready to bake.
Bake
Bake until the cookie bars get puffy and golden brown!
Frost, Decorate, and Slice
Finish the cooled cookie bars with a homemade eggnog frosting, then finish it off with some festive sprinkles! All that's left to do is slice and serve.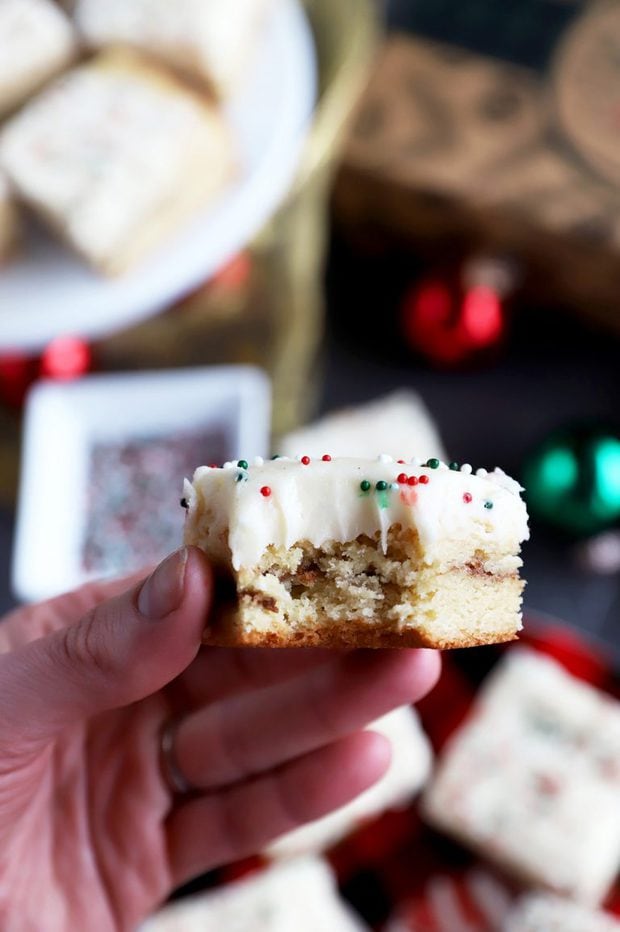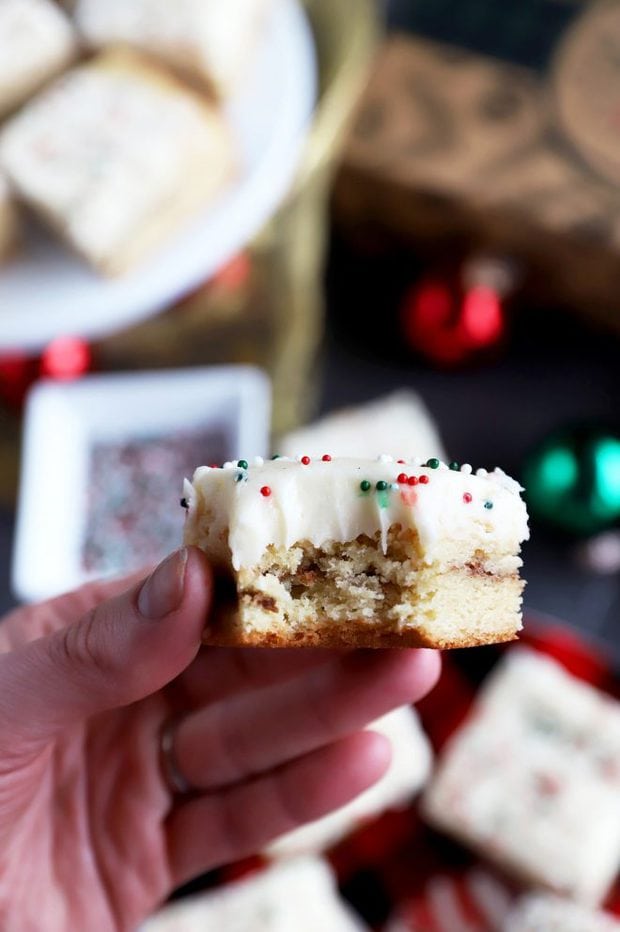 Can I ship these cookie bars?
These snickerdoodle cookie bars ship wonderfully! I recommend lining whatever box you are using with tissue paper, then add the cookies in an even layer. Top with a layer of plastic wrap, then top with additional tissue paper to fill the rest of the box if there's room remaining. The key is to make sure the bars won't slam around in their box!
Do snickerdoodle cookie bars freeze well?
I recommend not freezing these cookies. They are so soft and fluffy, if you freeze them and thaw them later, you will end up losing a lot of the texture that makes these cookie bars so darn swoon worthy.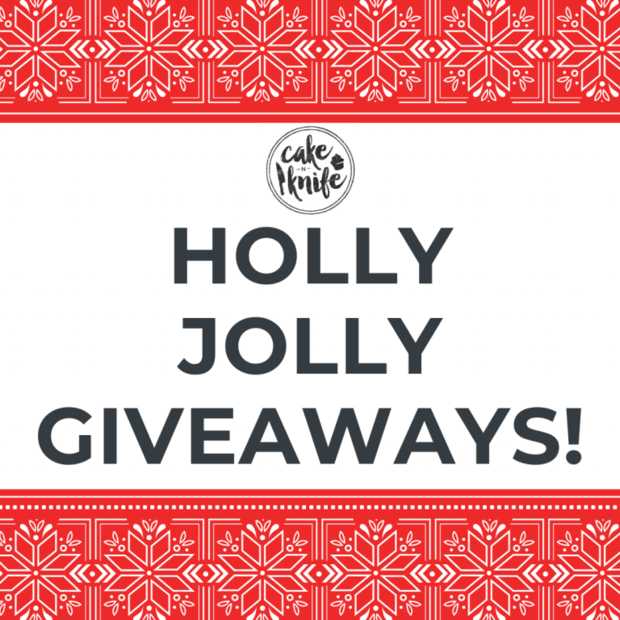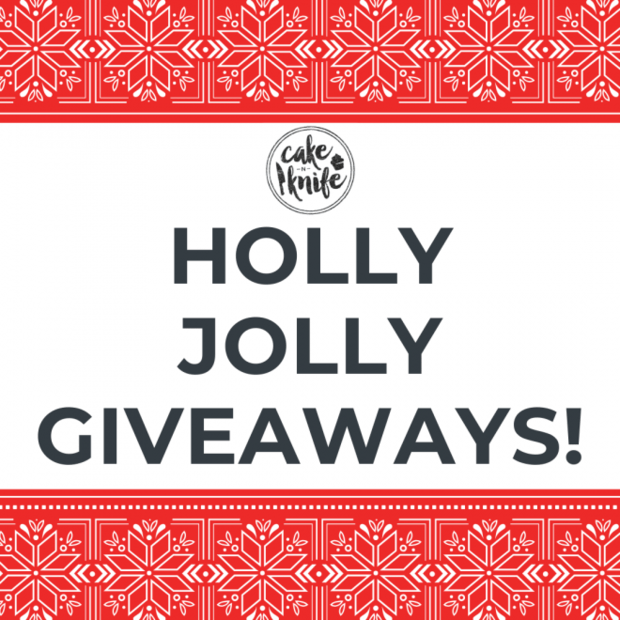 This giveaway is now closed.
My friends, it is officially the holiday season and that means it's time for the Holly Jolly Giveaways on Cake 'n Knife!
It doesn't matter what you need for the holiday season this year, you can find all the best ingredients at your local Sprouts Farmers Market store! This year, I am partnering with Sprouts! One lucky winner will receive a $50 gift card to finish the year with everything you need.
Simply head below the recipe card to enter to win!
Be sure to keep up with all of the giveaways this year – check out this page for all the current posts! There will be a few giveaways on deck in the next week, so keep tabs on all the posts or an eye on your inbox if you are a subscriber.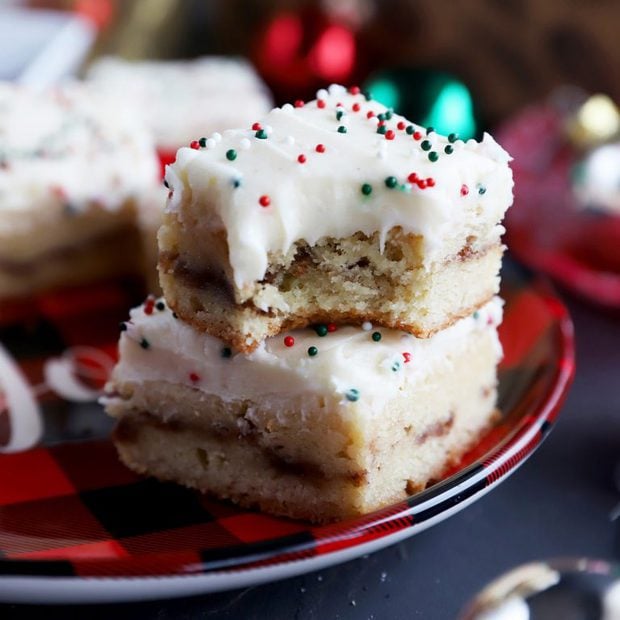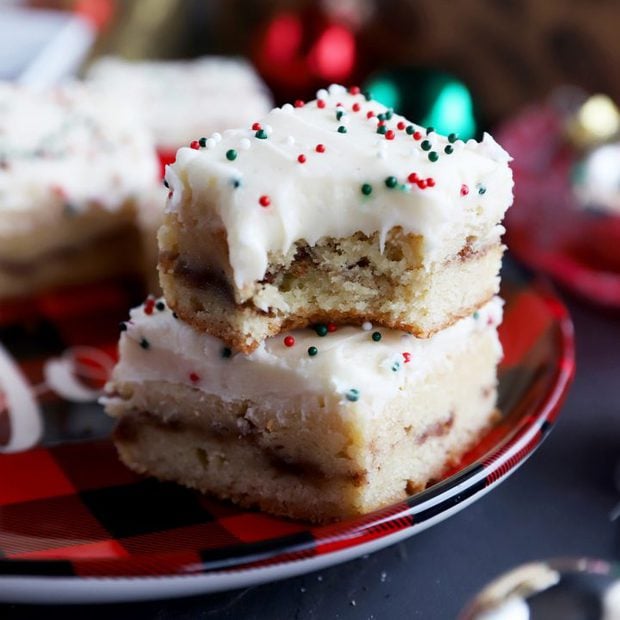 Chewy Snickerdoodle Cookie Bars with Eggnog Frosting
Yield:
Makes 25 to 30 bars
These chewy bars are swirled with cinnamon, giving them the classic snickerdoodle flavor you know and love. With eggnog buttercream frosting on top, they are a holiday dream come true.
Ingredients
COOKIES
2 1/3 cups flour
1 tsp baking powder
1/2 tsp cream of tartar
1/2 tsp salt
3/4 cup unsalted butter, softened
1 1/4 cups granulated sugar
1/2 cup brown sugar
3 eggs
1 1/2 tsp vanilla
CINNAMON FILLING
4 Tbsp unsalted butter, melted
3 Tbsp granulated sugar
1 Tbsp ground cinnamon
1 Tbsp flour
FROSTING
1 cup unsalted butter
4 cups confectioners' sugar
5 Tbsp eggnog
1 tsp vanilla extract
1 tsp nutmeg
1/2 tsp ground cinnamon
Optional: red and green sprinkles
Instructions
Preheat oven to 350˚F. Grease a 9x13-inch baking pan with cooking spray.
In a small bowl, stir together flour, baking powder, cream of tartar, and salt. Set aside.
Add butter to the bowl of a stand mixer and beat on high speed until creamy. Add sugars and beat until combined on medium speed. Beat in eggs and vanilla until combined.
Slowly add in dry ingredients, beating until just combined.
Spread half of the batter into prepared pan, making it an even layer. The dough is sticky so it helps to lightly grease a spatula with cooking spray to prevent it sticking.
In a small bowl, stir together the ingredients for the cinnamon filling. Dollop the mixture evenly over the batter. Use a knife to swirl the cinnamon filling into the dough.
Top with the remaining batter. Spread into an even layer.
Bake for 20 to 25 minutes, or until golden brown on top. A toothpick inserted in the center comes out clean.
Cool completely before frosting, about 1 hour.
When ready to frost, add the butter for the frosting to the clean bowl of your stand mixer. Beat on high speed with the whisk attachment until creamy and fluffy.
Add powdered sugar, eggnog, vanilla extract, nutmeg, and ground cinnamon. Beat until combined. If the frosting is a little dry, add in more eggnog 1 tsp at a time until it reaches your desired consistency.
Frost cookie bars and top with sprinkles. Cut into bars and serve.

Recommended Products
As an Amazon Associate and member of other affiliate programs, I earn from qualifying purchases.