Please note this post contains affiliate links.
Salmon Chowder is a recipe that is near and dear to my heart. The creamy chowder base, the hearty salmon and potatoes and the fresh hint of dill are flavors that I look forward to every Christmas Eve. This is my take on my grandmother's favorite recipe, and I hope it becomes a family tradition of your own this year!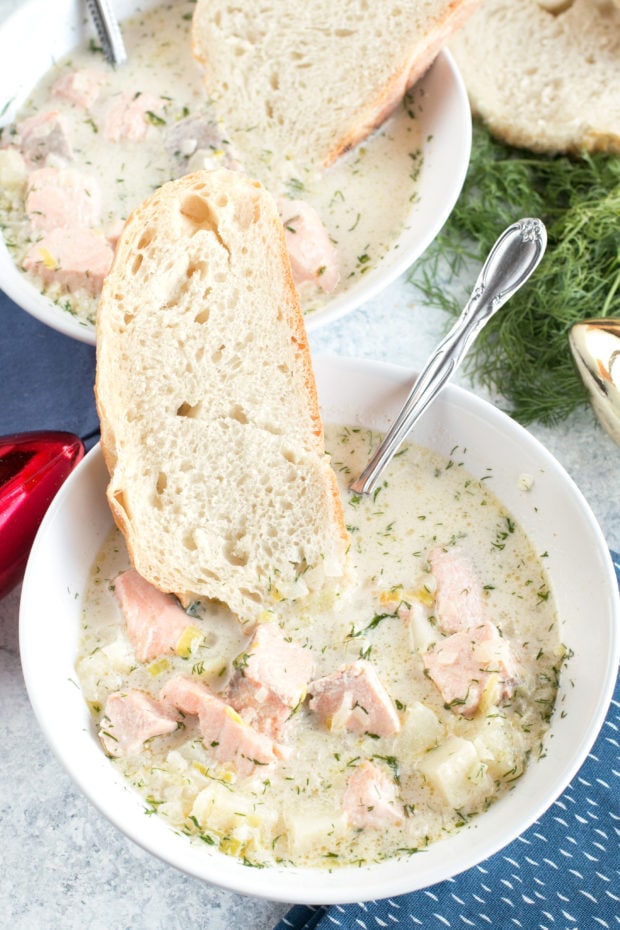 Disclosure: This post is sponsored by Le Creuset! As always, all opinions and recipe are my own. Thanks for supporting the brands that support Cake 'n Knife!
Sitting down to write this post, particularly at Christmastime is surprisingly a little harder than I imagined it would be.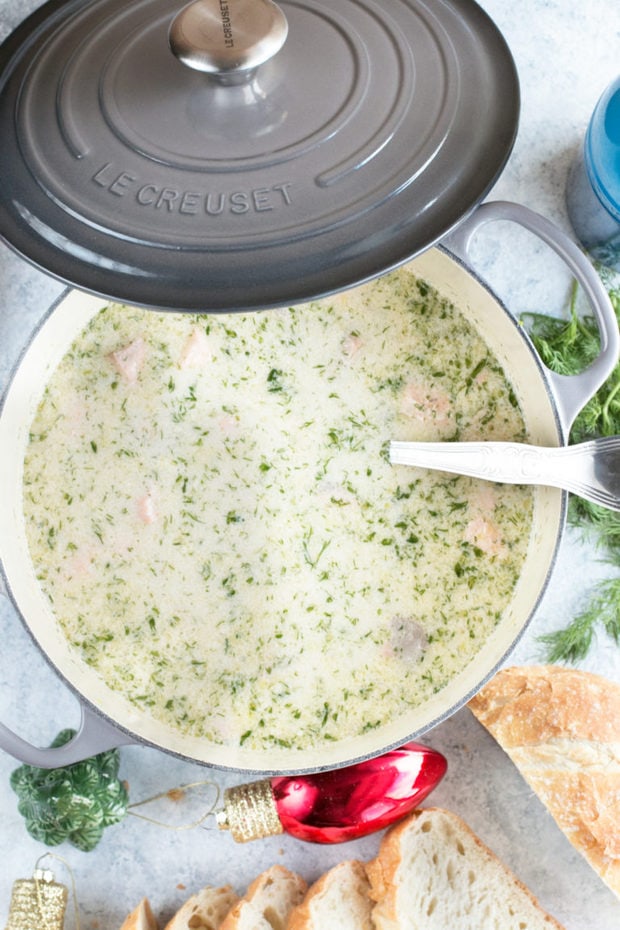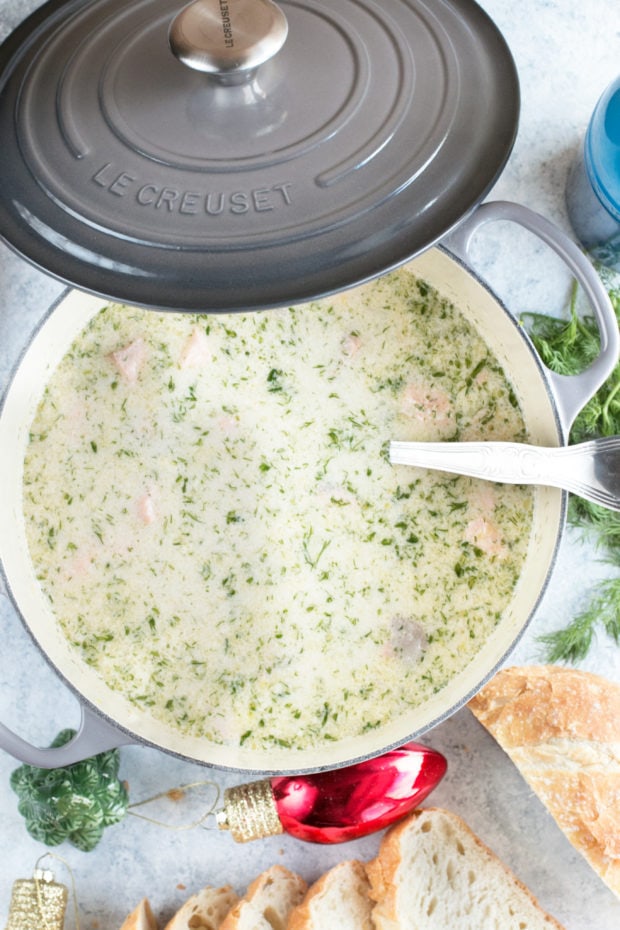 I suppose I should start at the beginning…
As some of you may know from my About Me, my grandmother was my family's own Julia Child. She was a masterful cook who was passionate about making the best food for friends and family any day of the year. Of course, Christmas was (and still is) my favorite time of year, so it's the recipes from the holiday that have a permanent place in my memory as December 25th draws closer and closer.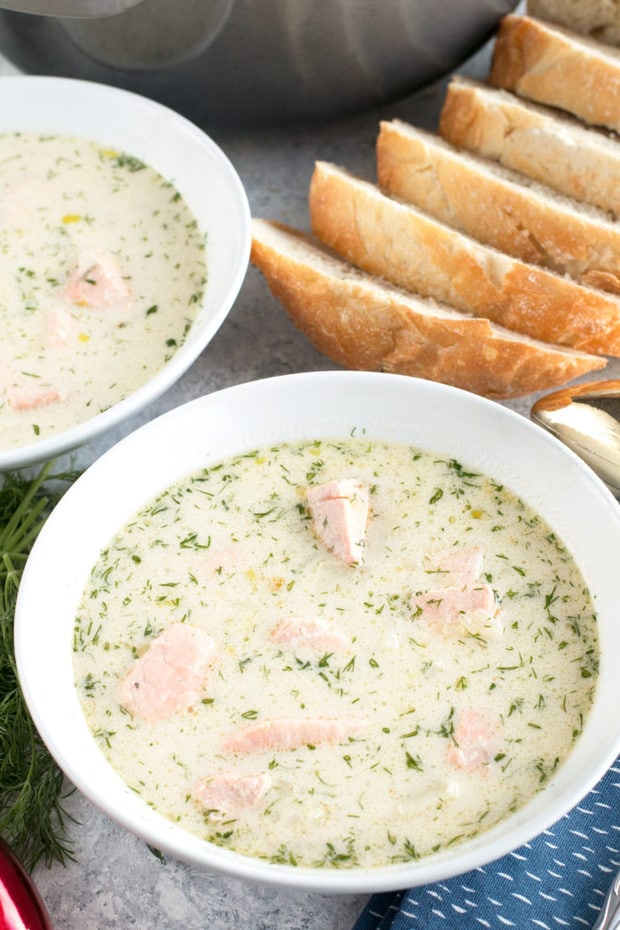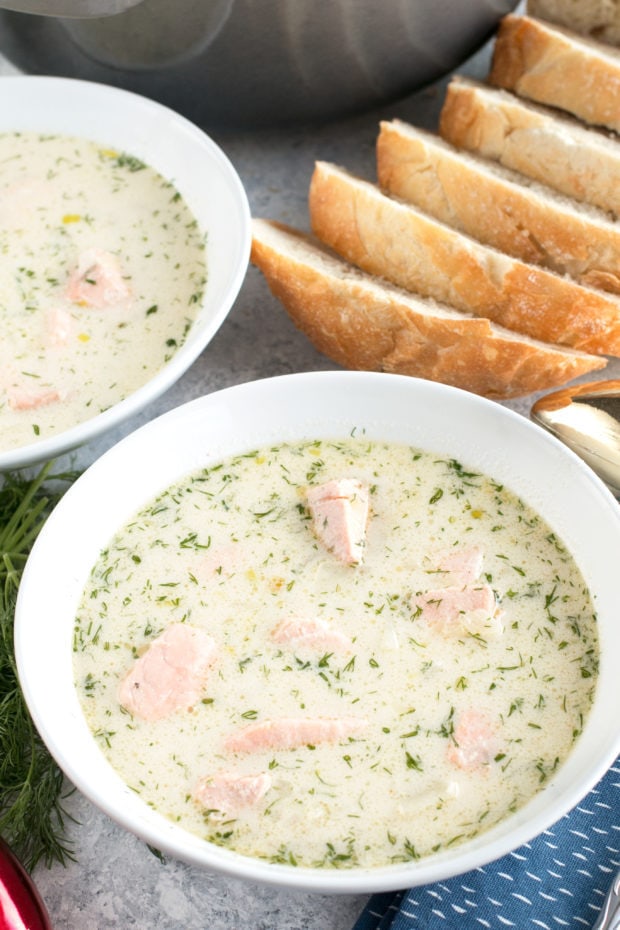 Please note that some of the links below are affiliate links. If you make a purchase through one of these links, I will receive a small commission. Thank you for supporting Cake 'n Knife!
Salmon chowder is what officially marks the start of Christmas for us as a family.
Every Christmas Eve, my grandmother would serve up fish chowder. Some years it was a white fish, but I remember the first time she served a salmon chowder and OMG everyone lost their MINDS over it.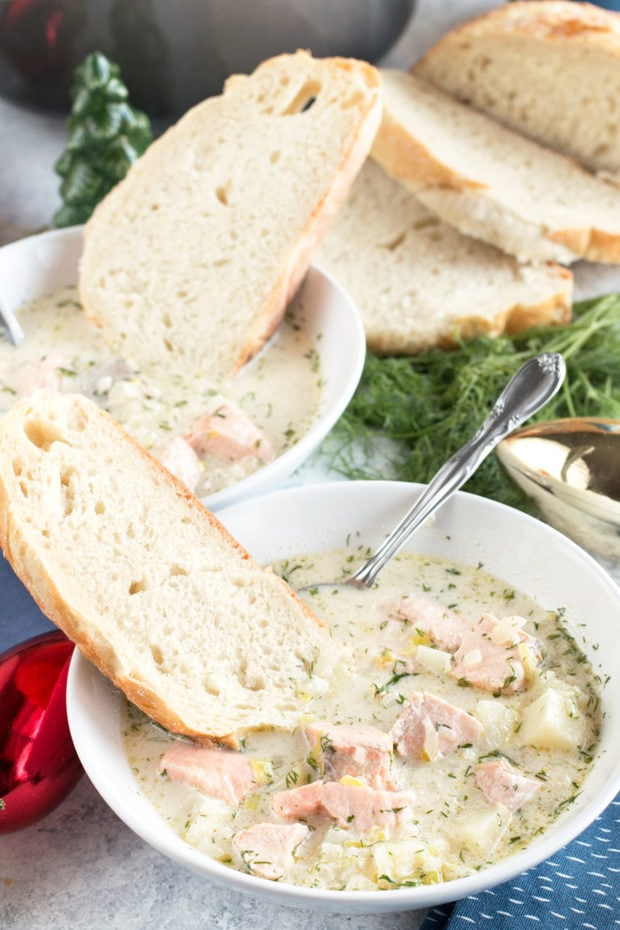 Since then, it's been the family's favorite so for our big Christmas Eve gathering every year, that's exactly what we serve.
A handful of years ago, I cooked my grandmother's classic recipe for the first time for the family (with a few little changes of my own, of course), and ever since then, I've been asked time and time again to make it.
I don't know if it's the magic of my grandmother's original recipe, the magic of Christmas or the magic of working with my grandmother's original Le Creuset stock pot that makes it come out so perfectly, but somehow it does.
My grandmother LOVED using Le Creuset. I remember her bringing out the skillets and dutch ovens, the big blue stockpot I use today and the various kitchen tools with the famed "Le Creuset" logo adorning them.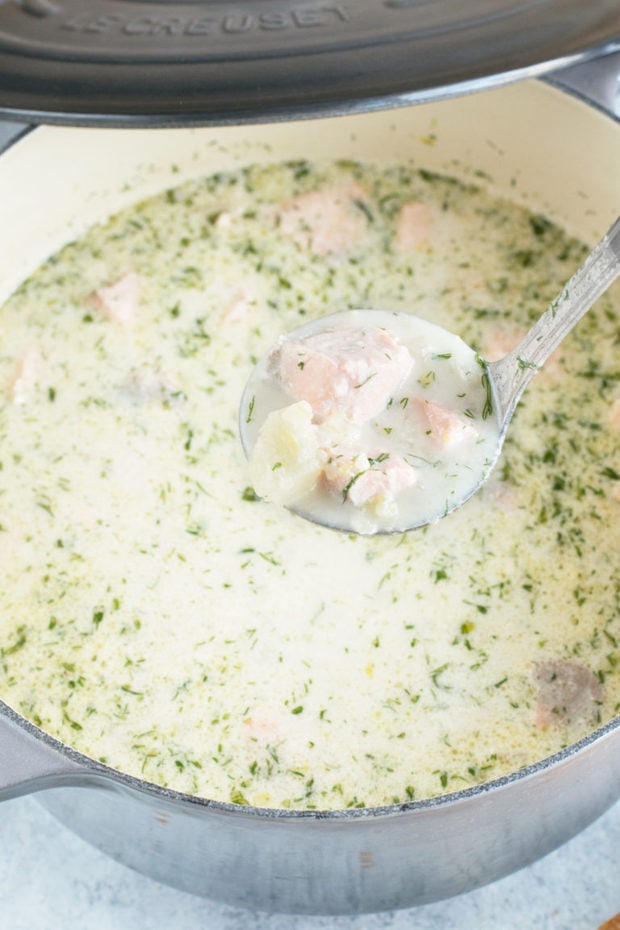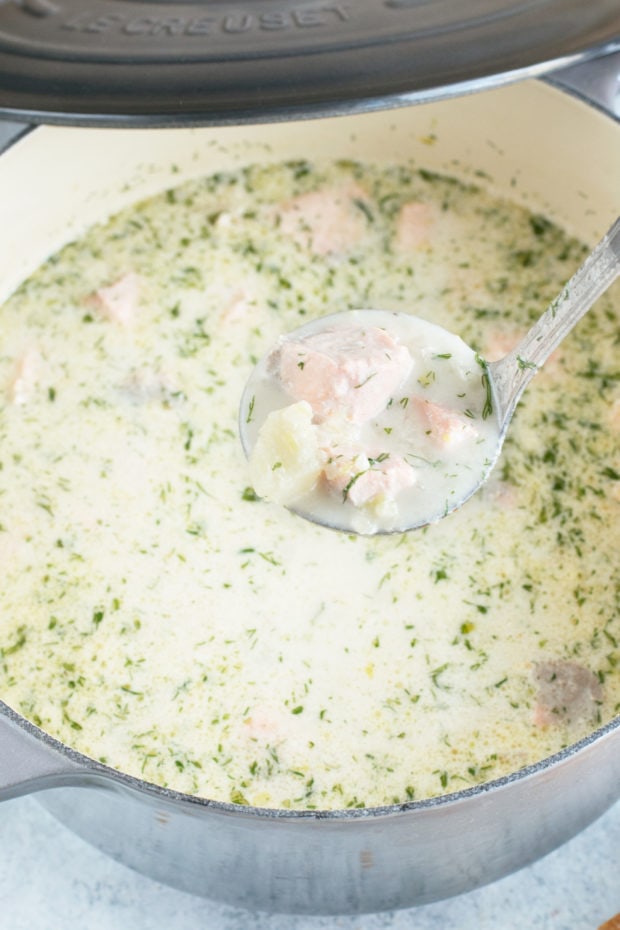 She always told me Le Creuset was the best you could buy for your kitchen, and once I started actively cooking at home, I discovered exactly why.
Not only does this company have incredible colors and design to bring your kitchen to life, they have the quality that cooks dream of. I mean, take my grandmother's giant stock pot. I don't even know how many years she had it before I was gifted it about 8 years ago, but it still is just like new.
That's exactly why I will always ALWAYS stick with Le Creuset for the rest of my life. It's not just about quality and design, it's also about having something that I can cook in now and also with my family years from now. It's about handing down that tradition, just like my grandmother handed down her recipes to the entire family.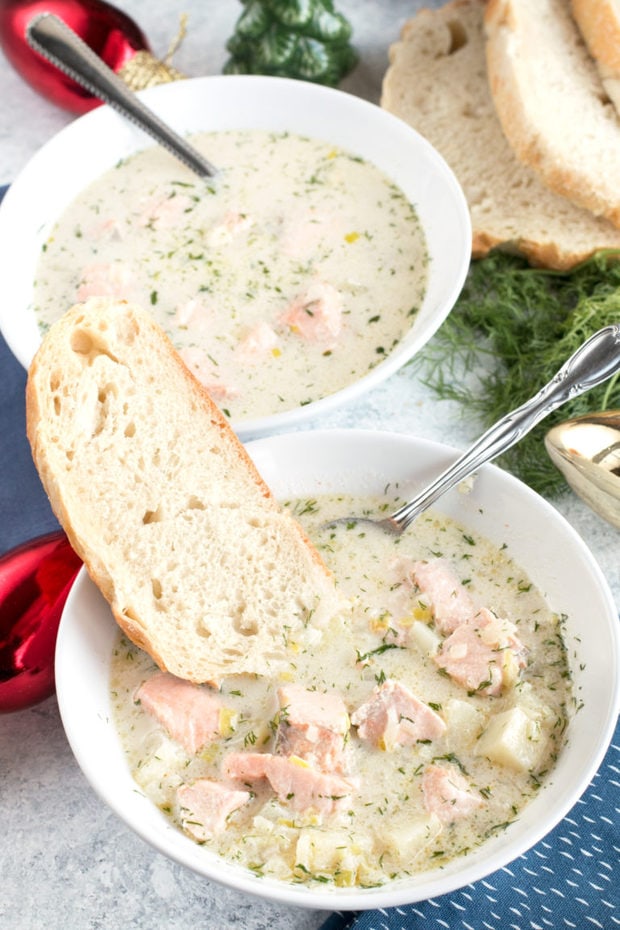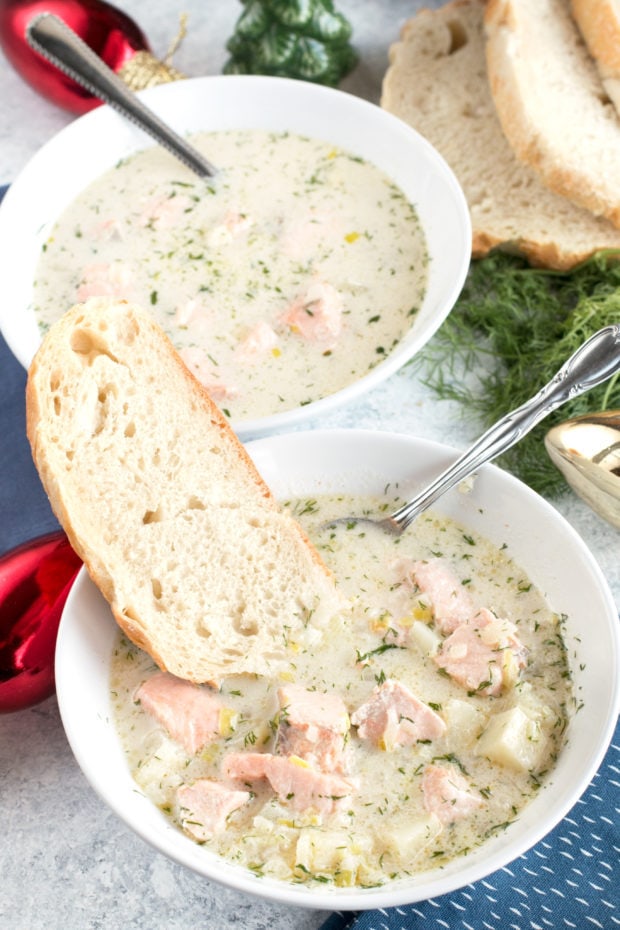 Le Creuset is tradition in my family, and that's exactly why I wanted to partner with them for this chowder recipe.
It means the world to have this creamy, hearty, and savory chowder come together in stunning Le Creuset cookware. I'm pretty sure my grandmother would be proud 😉
The chowder itself, while being hearty, is also light and fresh with a burst of fresh dill in every spoonful. My adaptation of the recipe include a little extra fennel for a bite and a dash of cayenne pepper for just the right amount of heat.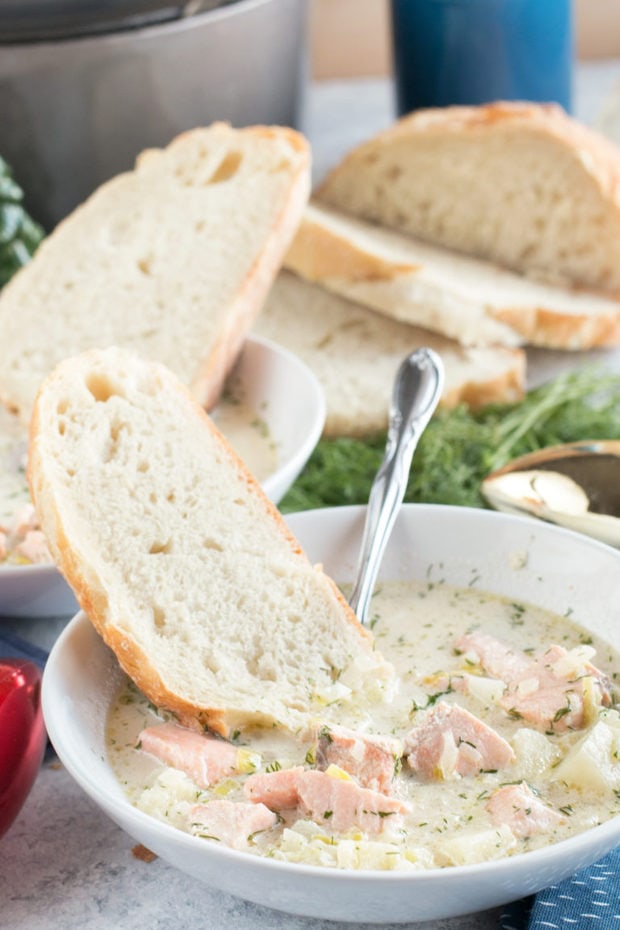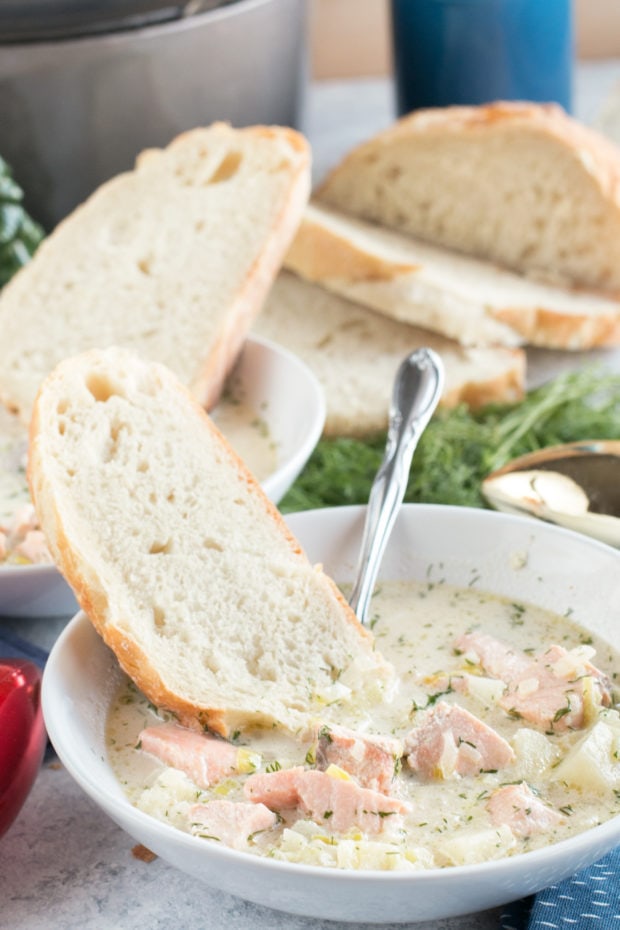 Pair it with some crusty bread (or oyster crackers!) and you have a dinner that is truly rich and memorable.
I'll be serving this soup up on Christmas Eve with plenty of both, plus Christmas Sangria, salad, and a hefty meat and cheese platter to kick off cocktail hour before dinner.


THIS GIVEAWAY IS NOW CLOSED.
I can't believe I am saying this, but it is the FINAL WEEK of the 12 Days of Jolly Giveaways!! Thank you so much to all of you who have been keeping up with the posts all month long and entering to win. This is honestly my biggest giveaway EVERRRRR. Thanks to Le Creuset (the primary sponsor of my 12 Days of Jolly Giveaways), we have come together to give one lucky ready a Le Creuset 5-Piece Signature Set that includes a 5 1/2 qt. round Dutch oven, 1 3/4 qt. Signature saucepan, AND 9″ Signature skillet! It's just the right set you need to hit all your cooking goals in 2018.
Just head below the recipe and enter the giveaway for a chance to win!
Don't forget to check out the other holiday recipes I've shared for the 12 Days of Jolly Giveaways (Day 9's giveaway is still open!)!
Day One – Red Wine Slow Cooker Short Rib Ragu
Day Two – Gingerbread Challah Bread
Day Three – Mini Beef Wellingtons
Day Four – Bourbon Gingerbread Punch
Day Five – Twice-Baked Chicken Shawarma Stuffed Potatoes
Day Six – Head Country BBQ Prize Pack
Day Seven – White Chocolate Dipped Dark Chocolate Peppermint Cookies
Day Eight – Red Christmas Single Serve Sangria
Day Nine – How to Make Craft Beer Cocktails, Part One
Day Ten – Salmon Chowder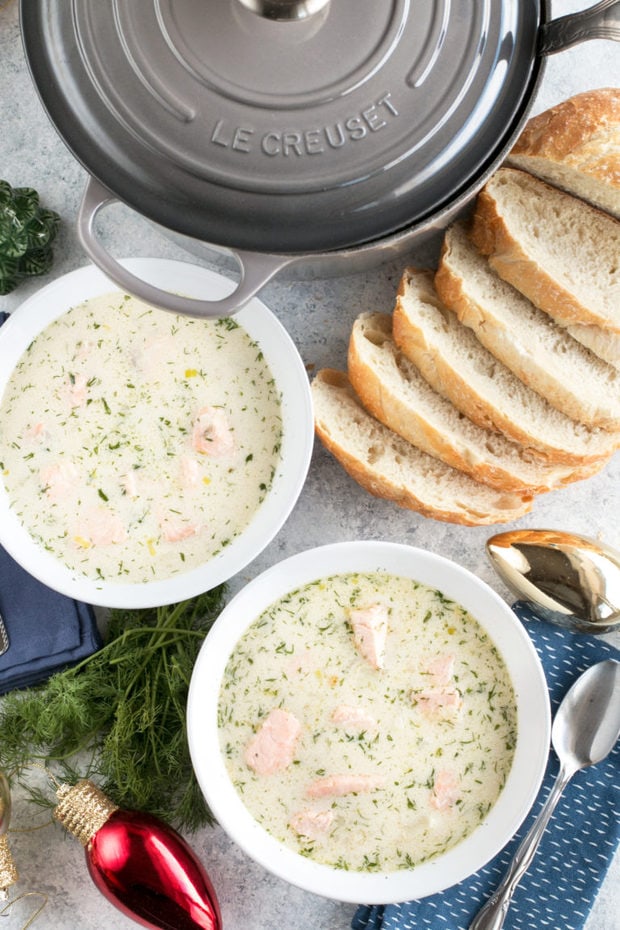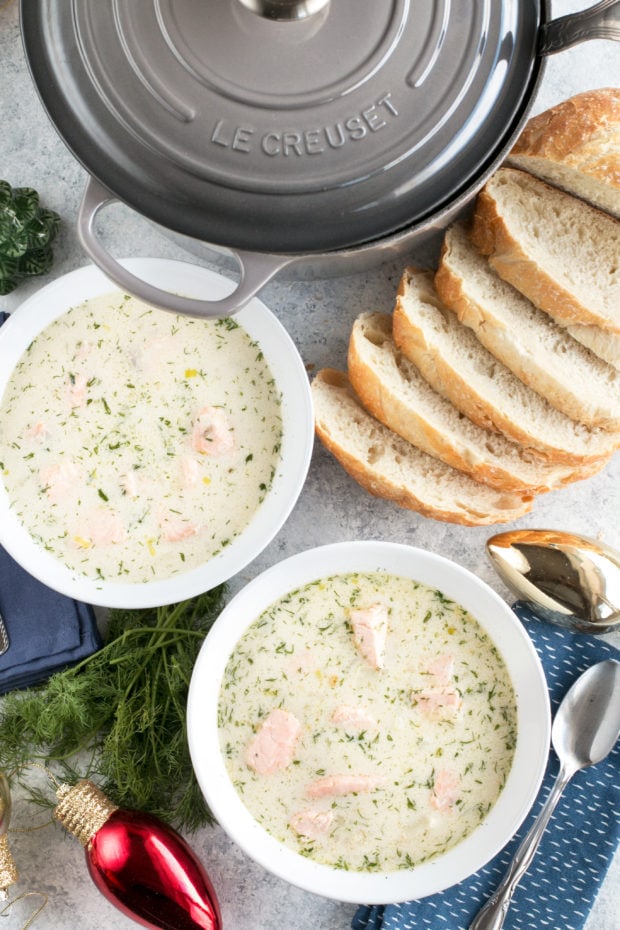 This Recipe's Must Haves
Grab everything you need (and everything you see in this post!) to make this chowder!
Pin this Salmon Chowder recipe for later!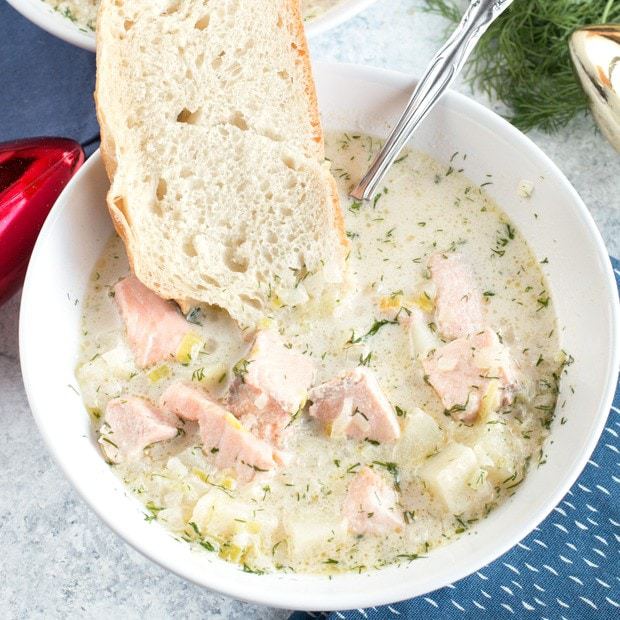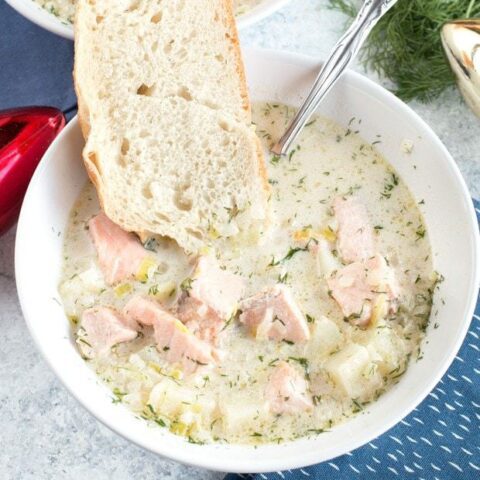 Salmon Chowder
This is my take on the tried and true salmon chowder recipe my grandmother served up all my life for Christmas Eve. It's creamy yet light, savory with a slight heat at the end of every spoonful - perfect for any gathering!
Instructions
In a large Dutch oven over medium-high heat, melt butter. Add onion, leek and fennel, cooking until softened, approximately 5 to 8 minutes, stirring occasionally.
Add fish stock and potatoes. Season with salt and pepper, then bring the mixture to a boil. Reduce heat and simmer until the potatoes are tender, approximately 20 minutes.
Add the salmon and simmer until just cooked, approximately 3 to 5 minutes.
Stir in milk, cream, dill, garlic powder, and cayenne pepper. Cook until warmed through but don't bring the mixture to a boil. Taste and adjust salt and pepper as desired.
Serve warm with crusty bread and white wine.