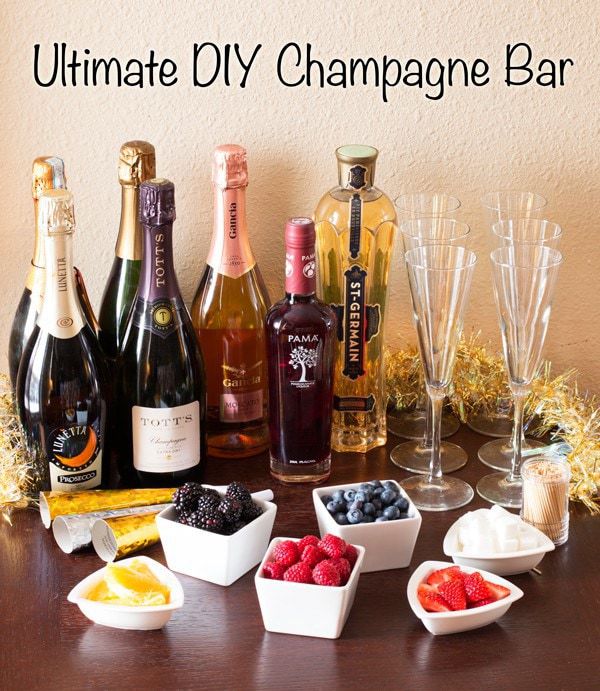 It's about time for a new year, isn't it? Not that I haven't absolutely cherished this year, because I definitely have! I just love the feeling of a fresh new year in front of me, ready to be tackled and made even better than the last.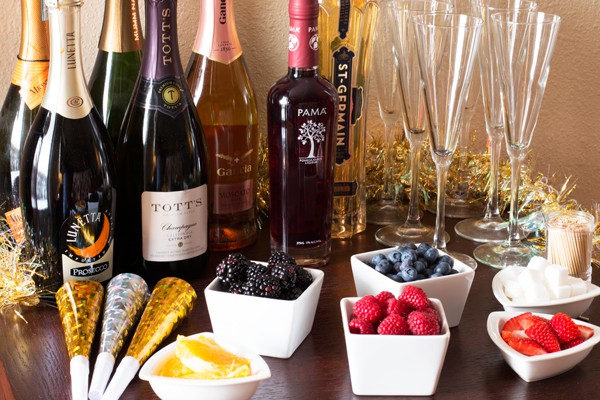 There's nothing like the feeling of a new beginning and there's no better way to celebrate it than with a full bar of sparkling beverages!
I have always wanted to do a champagne bar for a New Year's Eve party and it is exactly what I am planning on doing this year. (i.e. tomorrow night, eek!). Naturally I'll take any chance I can get to incorporate something sparkly into my drinking on New Year's… 😉 It's opened my world up to so many new ways of drinking champagne!
I never truly appreciated St. Germain until I added it to champagne. It's the perfect sweetener for dry champagne and it adds a little bit of floral nip to tickle your taste buds. Another option with this set up is to go for a sweet and tangy taste with the addition of Pama – Y-U-M.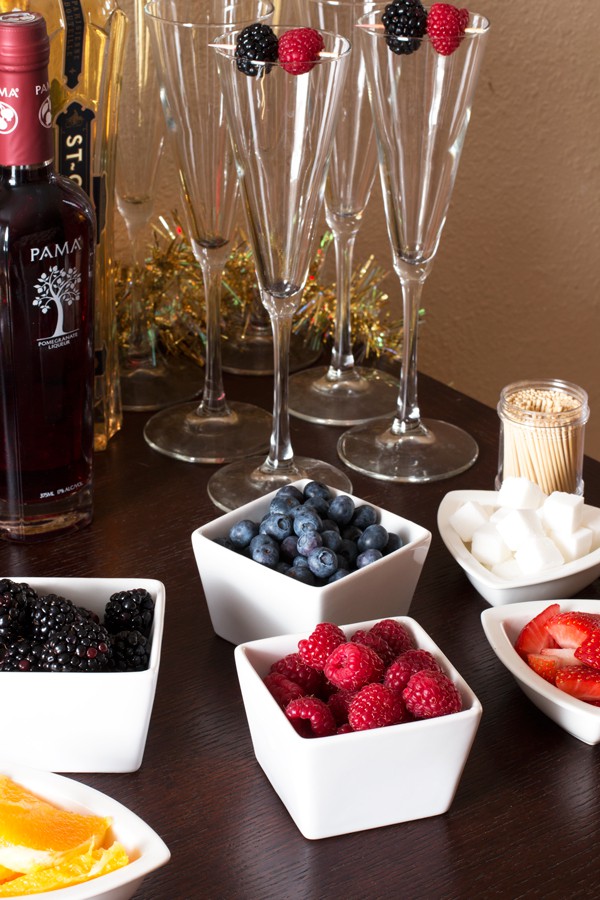 Regardless of how you mix it up, you can't forget the fruit! It's the star of my champagne bar really. To have a little more fun, you can pre-skewer some berries and freeze them to make fruity ice cubes to keep those sparkling glasses chilled!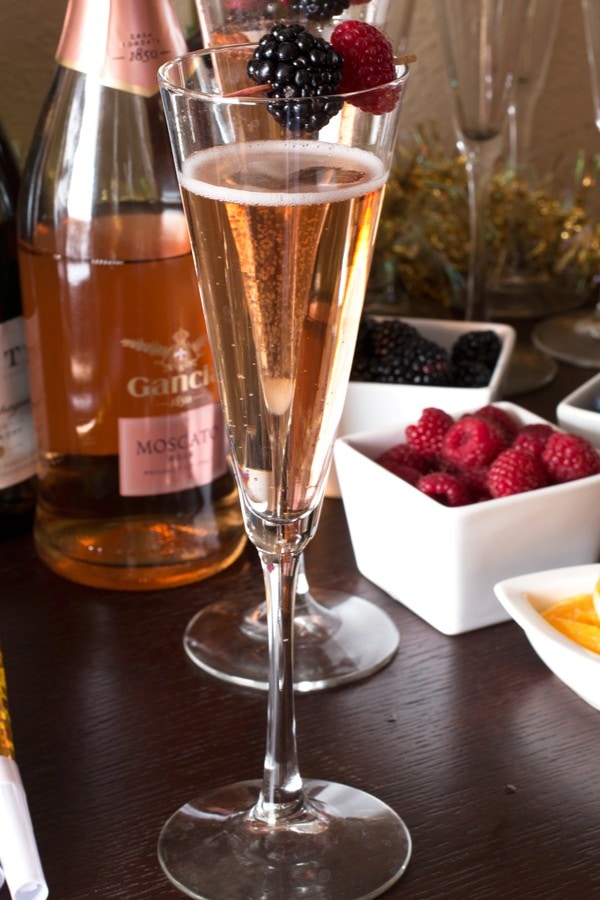 Also, if you want to really get that sparkle going in your glass, drop in a sugar cube and watch it bubble over for you!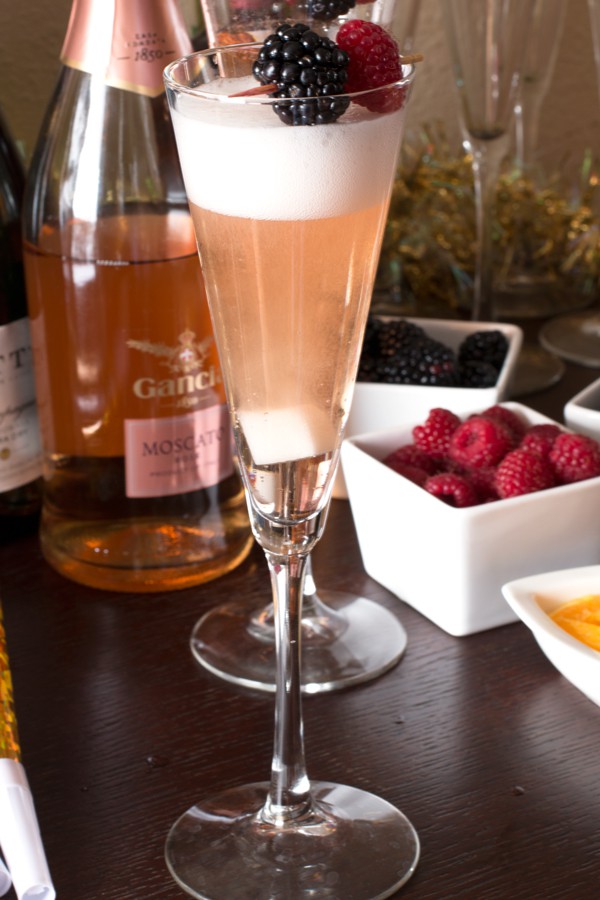 Happy New Year! Let's get sparkling!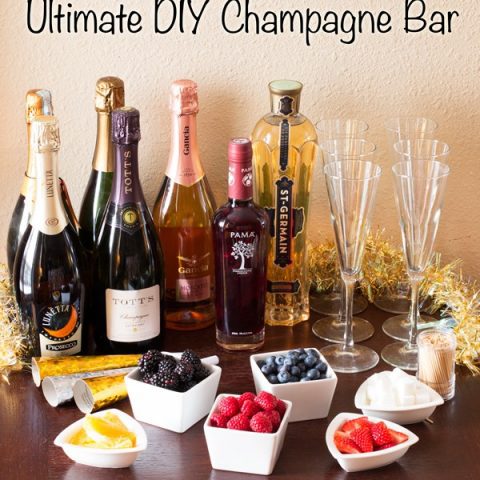 Ultimate DIY Champagne Bar
Yield:
Serves approximately 15 to 20
Celebrate in style with this festive and creative champagne bar!
Ingredients
Champagne glasses for all guests
2 bottles good prosecco
2 bottles good champagne
1 bottle good sparkling rose
1 bottle St. Germain elderflower liqueur
1 bottle Pama pomegranate liqueur
1/2 cup strawberries, chopped
1/2 cup raspberries
1/2 cup blueberries
1/2 cup blackberries
1 orange, cut into supremes
1/3 cup sugar cubes
Instructions
Fill separate bowls with the berries, orange supremes and sugar cubes. Set out chilled bottles of prosecco, champagne, and rose with the liqueurs. When you are ready, pop to corks and celebrate in style!