Please note this post contains affiliate links.
Burrata Caprese Salad is a simple, yet elegant summer salad made with fresh tomatoes, creamy burrata cheese, and basil. This salad is ideal for a light lunch or dinner, but it's also a hit as an appetizer for a party! The fresh flavors are simple and delicious, making this simple recipe easy to prepare and enjoy.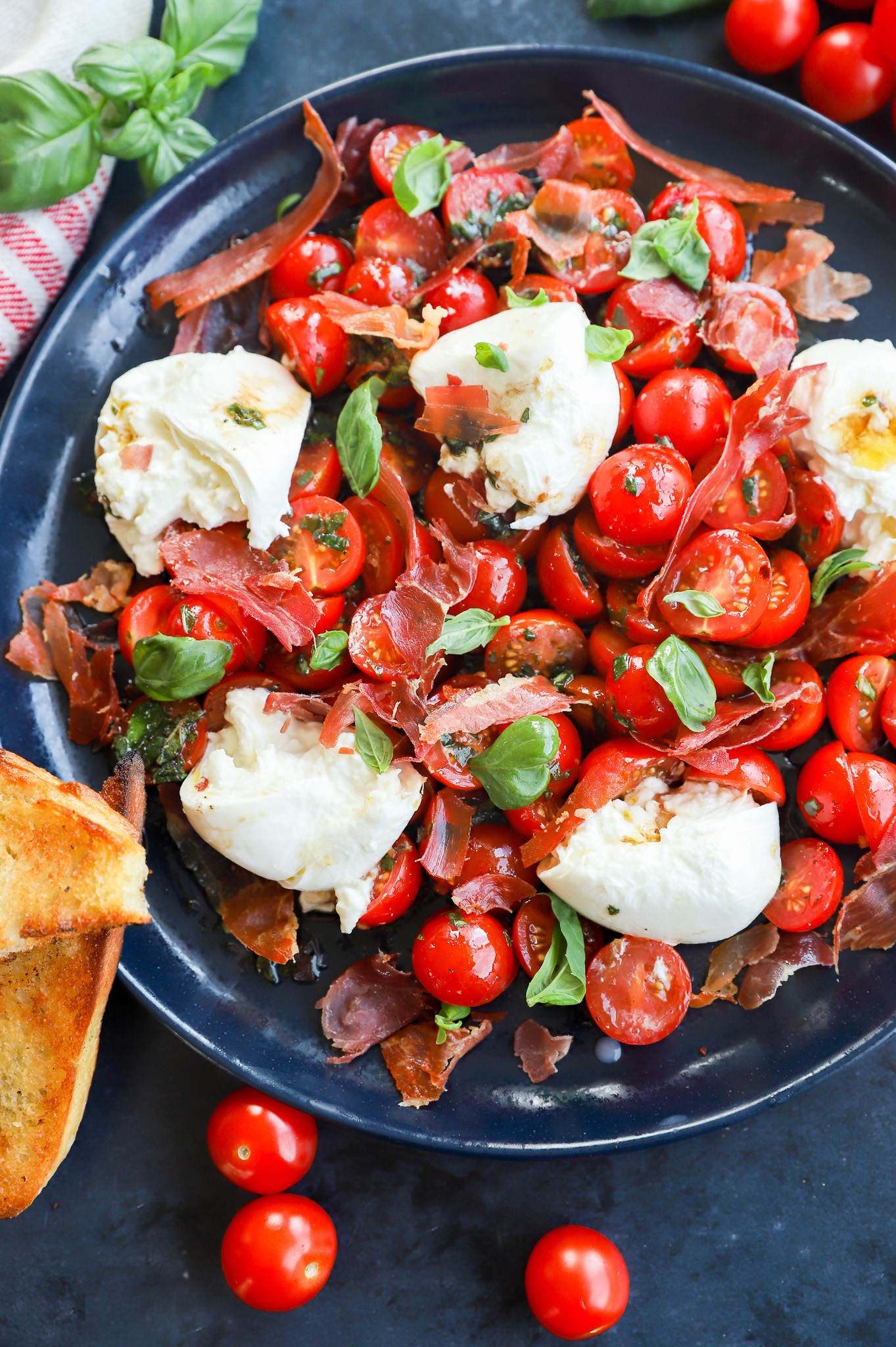 about this burrata caprese salad
If you've been craving a quick and satisfying dish that's bursting with flavor, this burrata caprese salad is for you. It is a total game-changer by taking simple ingredients and making something absolutely magical with them.
This is one of those versatile summer recipes that I keep in my back pocket for every occasion I can think of. It's easy to make as an appetizer for a party because you can prepare it ahead of time, then plate it up just before guests arrive.
However, I love to enjoy it as a light lunch or even a simple appetizer to enjoy while we are grilling up whatever meats we are planning to enjoy that evening.
The truth is, this recipe is so simple to make that you can whip it up any night of the week. It's gorgeous enough to be served at a dinner party, but it takes such little time you'll find yourself making it any night of the week.
The vibrant colors and creamy textures make it a true stunner on your table. It's like a work of art that you get to eat!
what is burrata?
Burrata is an Italian cheese made from cow milk. It is made from mozzarella and cream, with a solid outer casing. The inside, however, contains stracciatella and cream, giving it a soft and spreadable texture.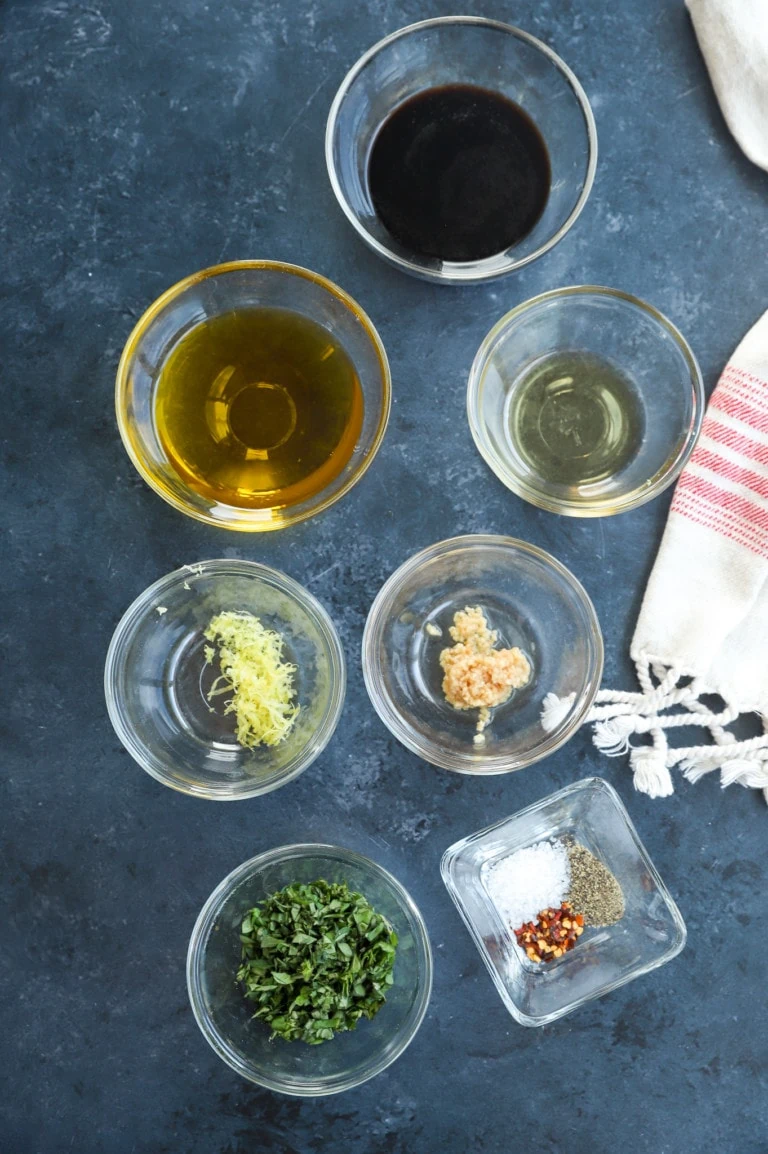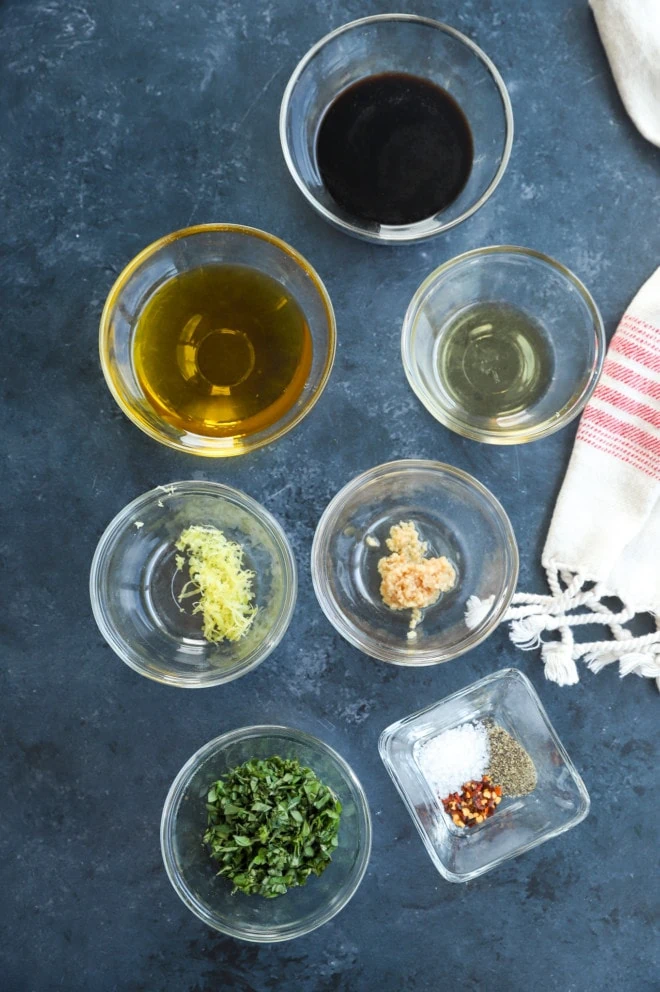 ingredients
oil. Use a good quality extra virgin olive oil for the dressing. This will help the flavor of the dressing be at its best.
vinegar. You will need balsamic vinegar for this recipe. I personally like to use an aged balsamic vinegar, but you can use whatever your favorite vinegar is. I also encourage experimenting with flavored vinegars if you are feeling adventurous!
honey. You can also use agave in this recipe, in lieu of honey.
garlic. Garlic is a must for EVERYTHING, so I have a jar of minced garlic living in my fridge at all times. No smelly hands, no peeling garlic. The best shortcut to pay for, in my opinion.
lemon. Grab a lemon as you will need fresh lemon zest for the dressing!
herbs. You will need a combination of fresh basil and oregano for the recipe.
spices. All that is called for are red pepper flakes, kosher salt, and freshly ground black pepper.
tomatoes. I recommend using cherry tomatoes, but you could also use grape tomatoes! If you want to use a different type of tomato, see my notes on alternatives in the FAQs section of this post.
burrata. You will need 8 ounces of burrata, which is about 2 balls. Make sure to let it come to room temperature before starting this recipe.
prosciutto. The crispy prosciutto is the best textural element in this salad!
this recipe's must haves
You don't need much to make this recipe! You will need a couple of bowls from a set of mixing bowls and a whisk for the main components of the salad.
To make the crispy prosciutto, be sure to have a half sheet baking pan and silicone mat handy.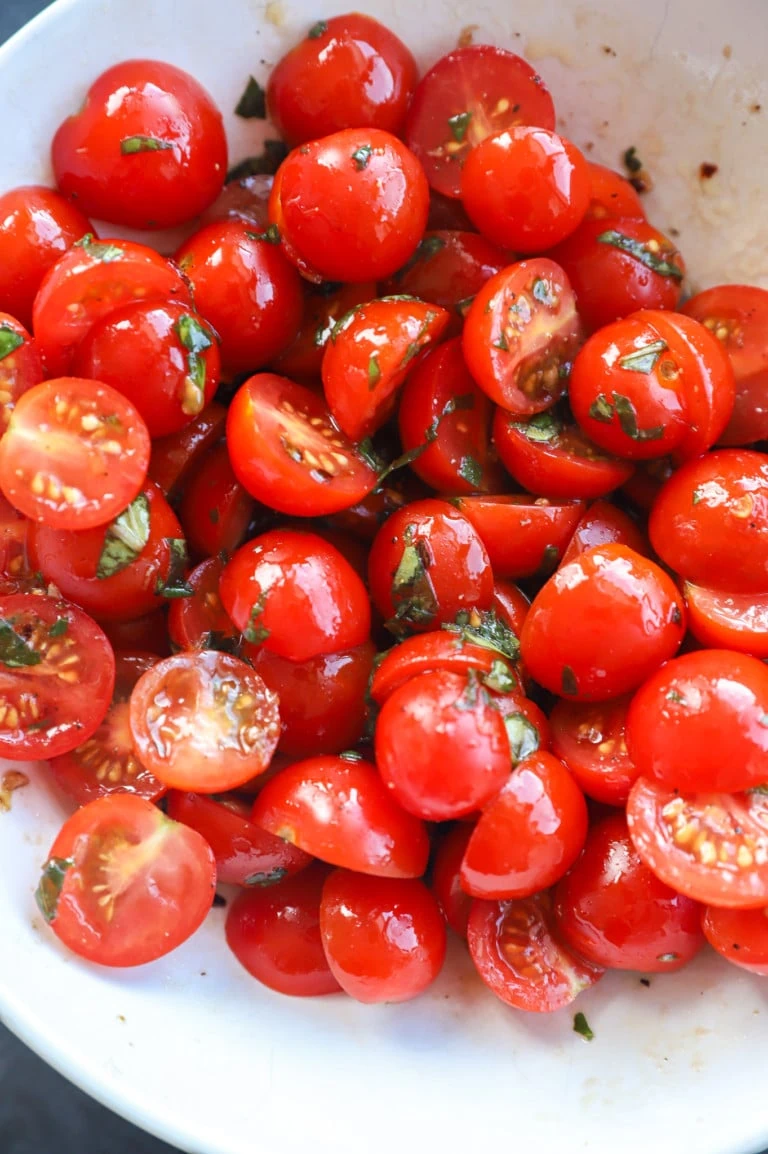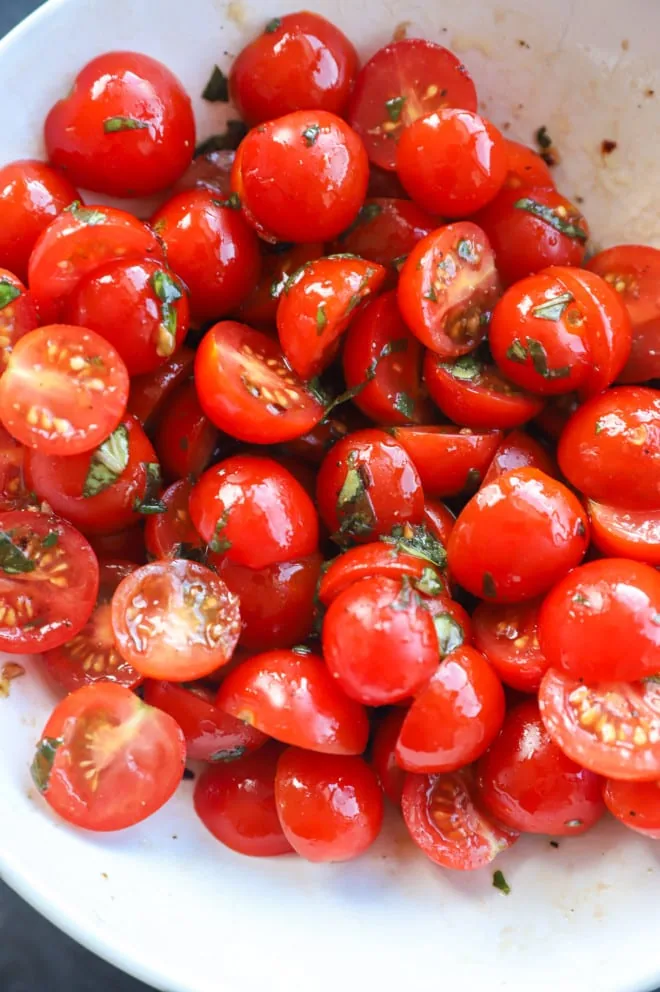 here's how to make burrata caprese salad
make the crispy prosciutto
Line a rimmed baking sheet with parchment paper or a silicone baking mat. Arrange the prosciutto pieces in an even layer.
Bake for 8 to 10 minutes at 400˚F until crispy. Remove from the oven and set aside.
make the dressing
To make the dressing, combine all the ingredients in a small bowl. Whisk to combine.
dress the tomatoes
In a large bowl, add tomatoes with half of the dressing. Let it sit at room temperature to marinate for about 15 to 20 minutes.
assemble
Add the tomatoes to a serving platter. Break up the balls of burrata and place around the salad. Drizzle with remaining dressing. Sprinkle crispy prosciutto and basil leaves on top. Serve with toasted bread slices.
tips and ideas
use the best ingredients. Using ripe tomatoes, good quality burrata, and fresh basil are key to the success of this recipe! The better the ingredients, the better the results. Therefore, also think about picking up a good olive oil and aged balsamic vinegar for even better flavor.
adjust the size for more or less. If you want to make this recipe for you and one other person, you can easily halve the recipe. However, you can easily also scale this recipe up to serve it at a large party!
serve burrata at room temperature. Burrata is best served at room temperature, so that the creamy middle is easily spreadable. Therefore, set the burrata out in its container to bring it down to room temperature before making this recipe.
More flavorful Italian appetizers to try: Air Fryer Roasted Garlic | Summer Charcuterie Board | Caprese Bruschetta | Tomato Tart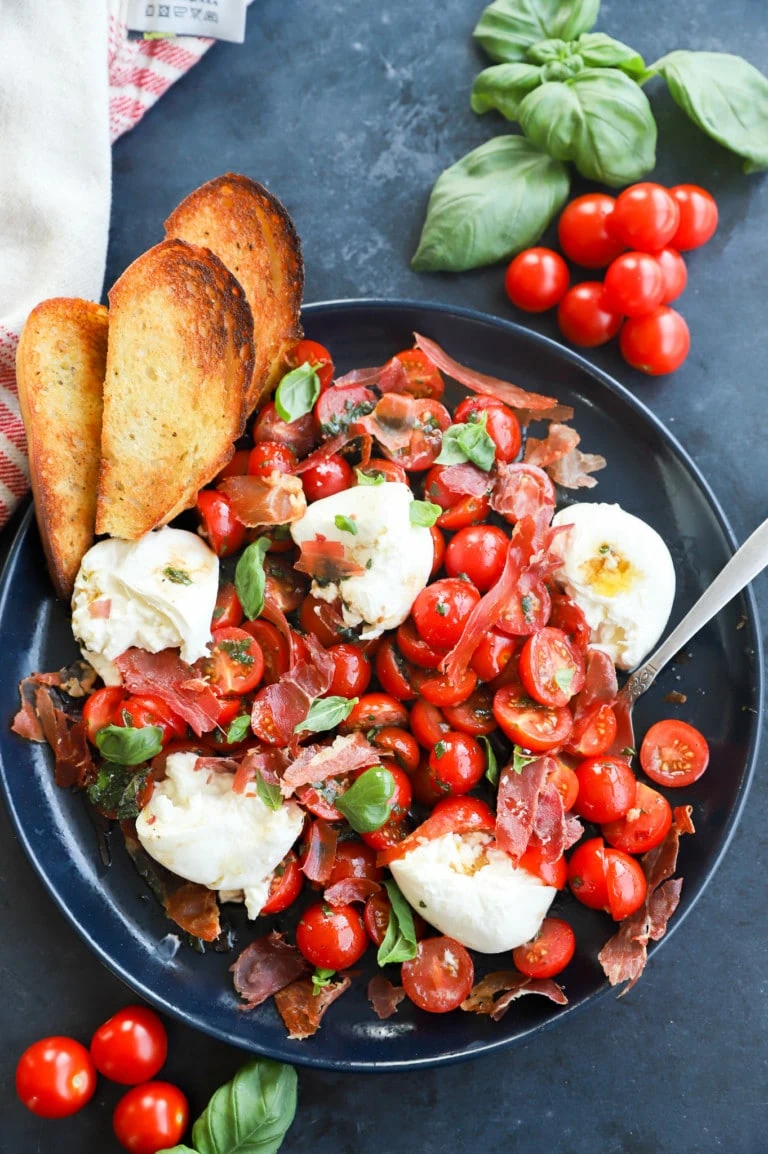 what is the origin of the caprese salad?
The origins of the Caprese salad are not precisely known. Some claim that it is derived from the island of Capri. While this isn't 100% proven, it does get it's name from the region's best known ingredients including tomato, mozzarella, basil, and olive oil.
Another popular theory claims that the recipe was invented as an homage to the Italian flag, focusing on the colors of red, white, and green.
Regardless of where the salad originated, it is a longtime cherished Italian recipe!
can I use mozzarella instead of burrata?
Yes, you can use mozzarella if you can't get your hands on burrata. If you do use mozzarella, I recommend cutting it into small pieces so that it's easy to pick up with the cherry tomatoes to put on the slices of bread.
what kind of bread should I serve with this recipe?
Your favorite crusty bread is best here! I highly recommend toasting the slicing before serving as well. I personally like to use a baguette or sourdough loaf, but honestly, just use whatever crusty bread is your favorite.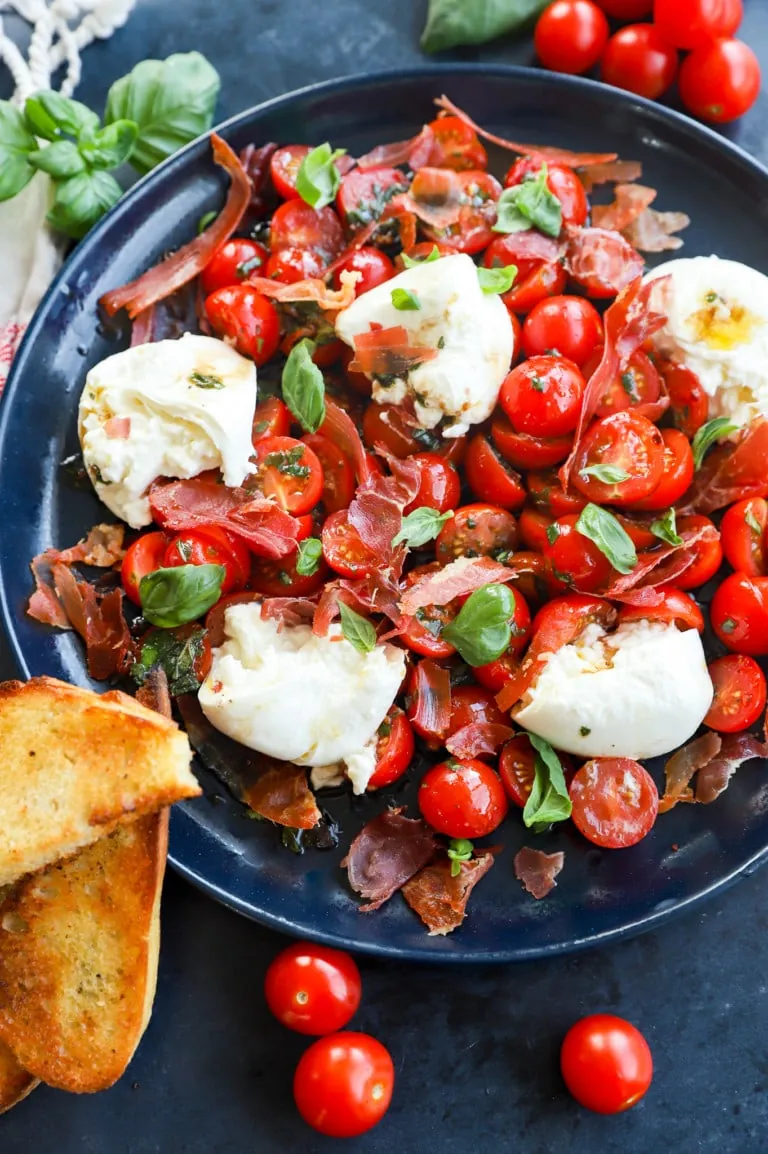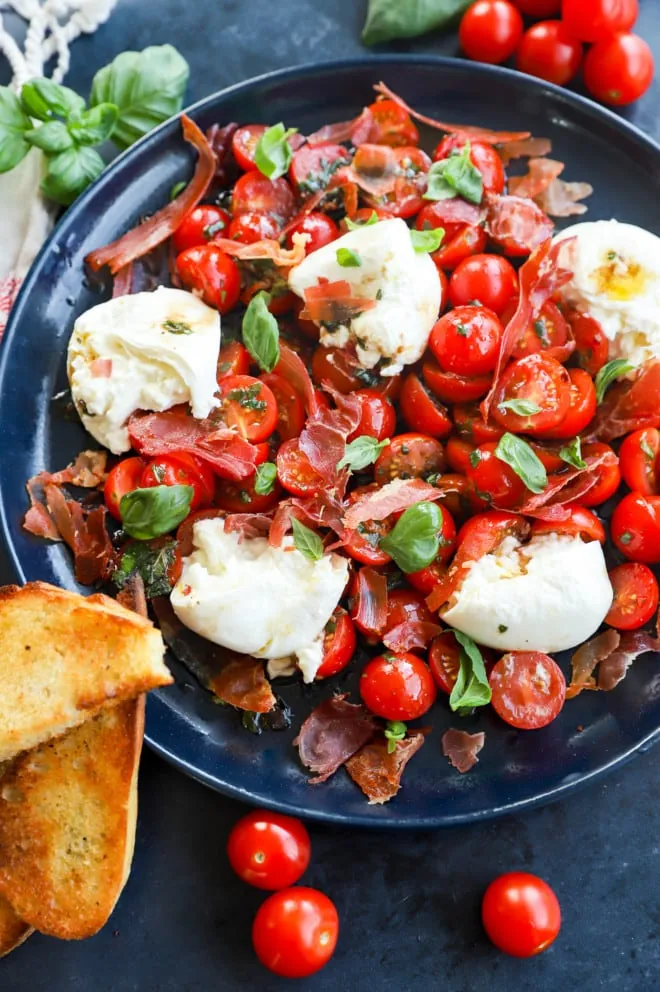 what kind of tomatoes are best for burrata caprese salad?
I personally love to use cherry tomatoes or grape tomatoes for this recipe. The size and the flavor is ideal for the dressing and the burrata, as well as the salty crispy prosciutto.
If you can't get your hands on cherry tomatoes, I recommend using a smaller tomato like tomatoes on the vine or roma tomatoes. Do be sure to seed any tomatoes that are more watery so the salad doesn't get watered down too much.
can I make this ahead of time?
Yes, this burrata caprese salad can definitely be made ahead of time! I recommend making the tomato mixture, then storing it in the refrigerator in an airtight container for up to 2 to 3 days. Keep it separate from the burrata and the crispy prosciutto (store both of those separately). When you are ready to serve it, plate it with the burrata and prosciutto, then serve!
Need more inspiration for appetizers? Check out my appetizers recipe page!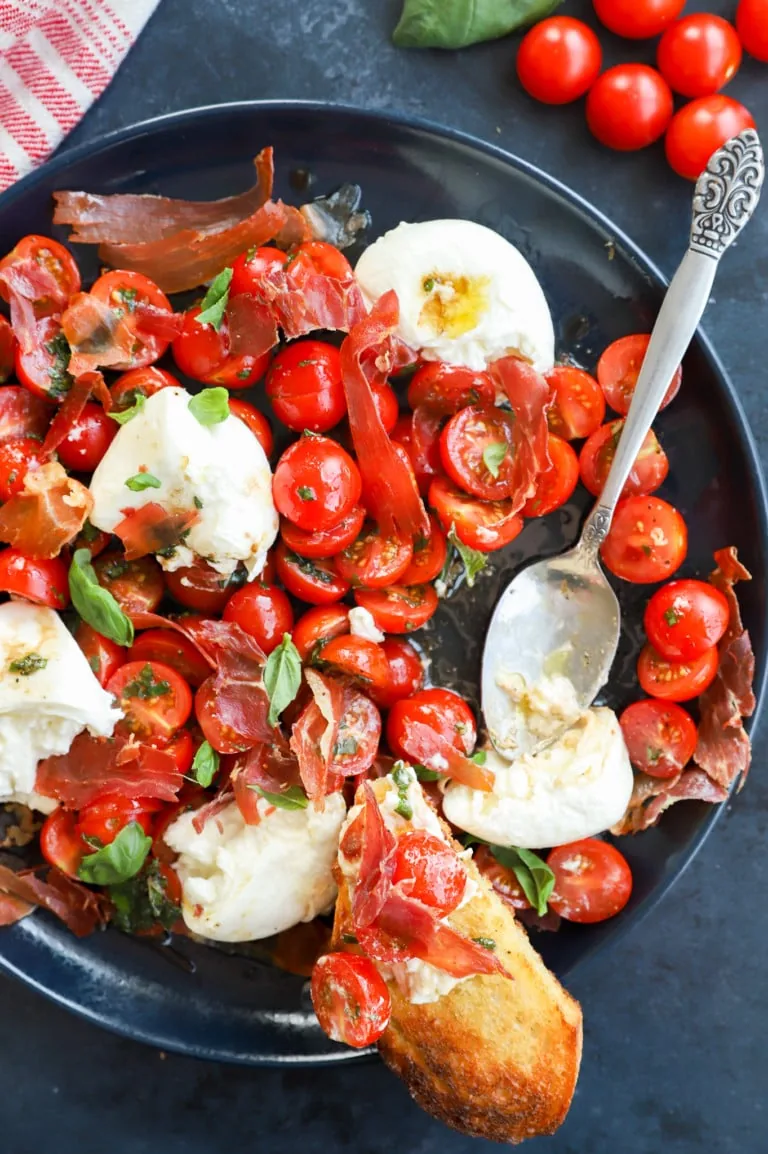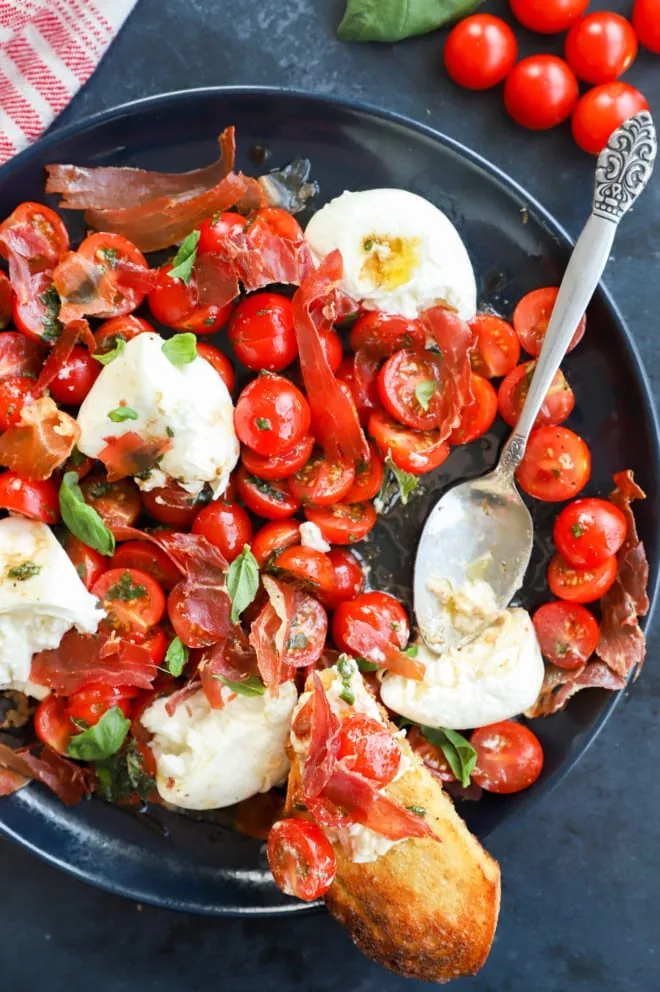 what to serve with burrata caprese salad
I love to serve this salad with toasted slices of bread to get all that cheese and tomato goodness in every single bite. It's such a delicious appetizer or even light lunch to enjoy on a summery day!
If you are looking for a cocktail to serve alongside this bright and refreshing recipe, I recommend the following:
The classic combination of bitter Aperol and soda water in an Aperol soda is simple, but totally fits with the Italian theme we've got going on here.
With just three ingredients, this limoncello spritz is just the right balance of sweet and tart.
When it comes to dinner, I like to keeps things a little lighter since I am generally serving this recipe in the peak of summer (aka tomato season!):
Bucatini cacio e pepe with broccoli is a minimalist pasta with some vegetable mixed in!
Make the most of your seasonal produce with this easily customizable farmers market pasta.
For those who want some comfort food, this instant pot bolognese is the easiest way to make the classic Italian dish!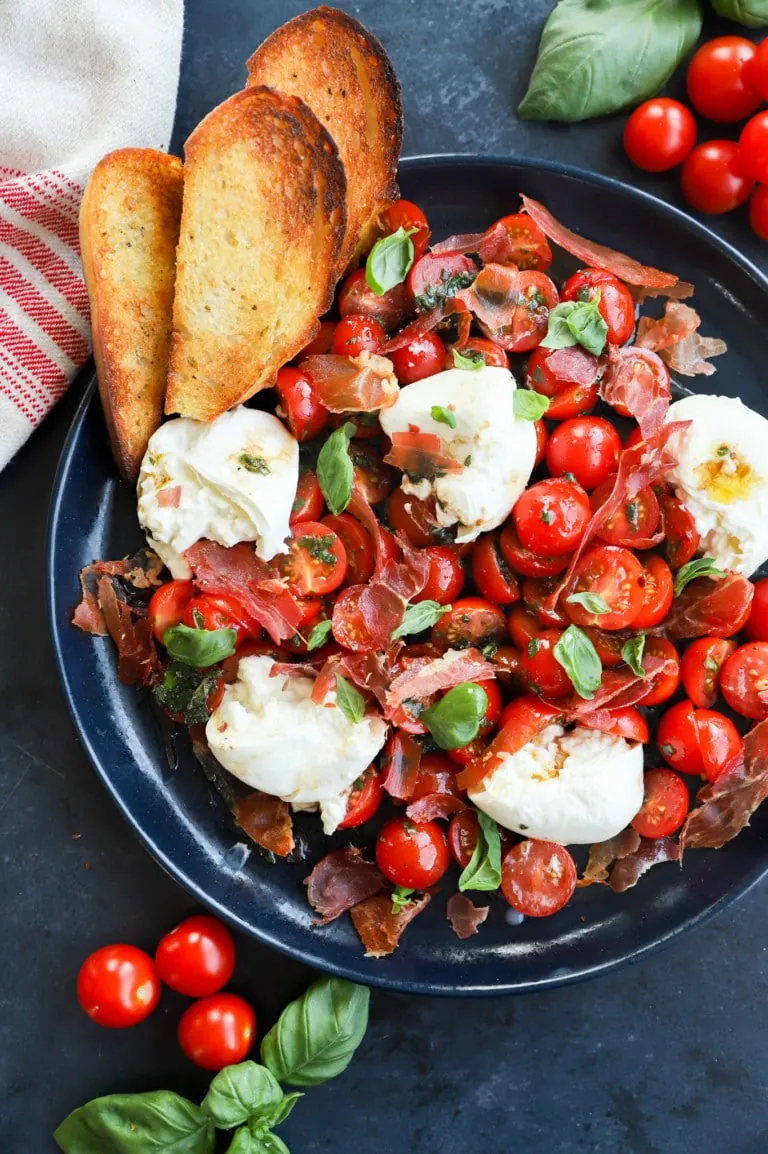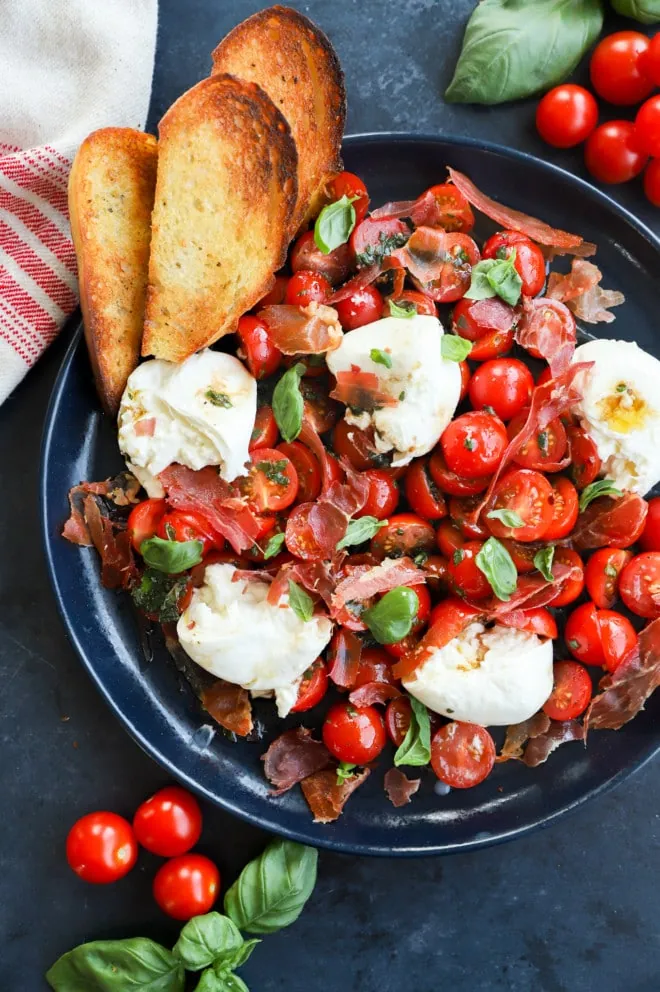 how to store
Store. Store any leftovers in the refrigerator in an airtight container for up to 2 to 3 days. If you have toasted bread leftover, I like to store that in a separate resealable bag on the counter.
Freeze. Do not attempt to freeze this salad. The cheese and the tomatoes do not hold up well to freezing and thawing/reheating.
more delicious caprese recipes
Juicy tomatoes, creamy mozzarella, and aromatic basil make this caprese bruschetta a tasty appetizer for any party!
Grilled avocado caprese chicken is a healthy and fresh summer take on the classic flavors of a caprese salad.
Whether you need a snack or a light lunch, this open-faced avocado caprese sandwich is the ideal recipe.
Finally, if you make this burrata caprese salad recipe, please be sure to give this recipe a rating and/or leave a comment! I love to hear when you all make recipes, and I do take the time to respond to every single comment.
Feel free to drop questions below too, if you have them!
Oh and be sure to tag me on Instagram if you make the recipe! I love being able to see these recipes come to life in your homes – it's my favorite thing to look through those photos. It really means the world to me!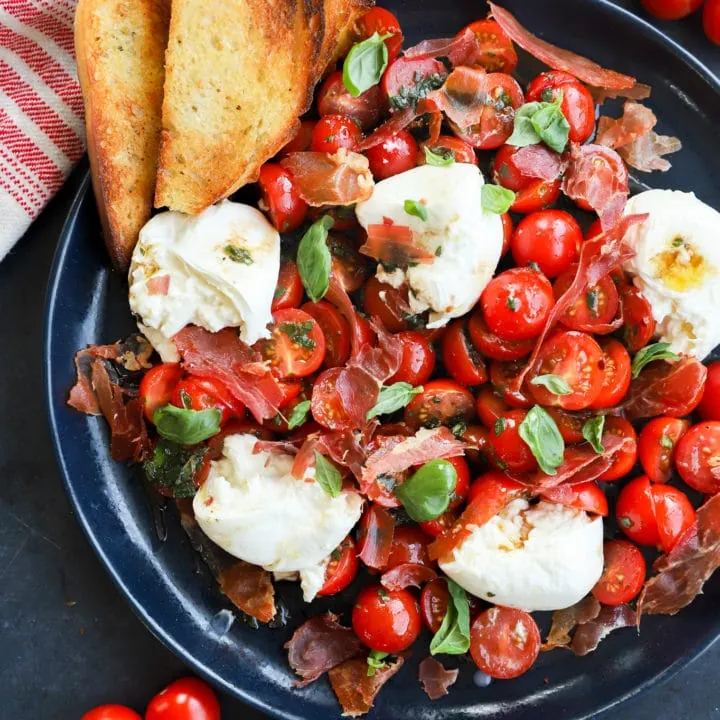 Burrata Caprese Salad
Additional Time:
15 minutes
Simple flavors make this salad a standout for an appetizer or a light lunch!
Ingredients
salad
3 oz prosciutto, torn
1 1/2 to 2 cups cherry tomatoes, halved
Handful basil leaves
8 oz burrata cheese, at room temperature
Toasted bread slices for serving
dressing
1/2 cup extra virgin olive oil
1/4 cup balsamic vinegar
1 Tbsp honey
2 cloves garlic, minced
1 tsp lemon zest
1/4 cup chopped fresh basil
2 Tbsp chopped fresh oregano
1/4 tsp red pepper flakes
1/2 tsp kosher salt
1/4 tsp freshly ground black pepper
Instructions
Preheat oven to 400˚F. Line a baking sheet with a silicone mat or parchment paper. Place prosciutto pieces in an even layer. Bake for 8 to 10 minutes, until crispy. Remove and set aside.
To make the dressing, combine all ingredients in a small bowl. Whisk to combine.
Add tomatoes to a large bowl with half the vinaigrette. Toss to combine. Let sit for 15 minutes at room temperature. You can also place in the refrigerator for up to 5 hours.
Place tomatoes on a serving platter.
Break apart the balls of burrata and place around the salad. Drizzle with remaining dressing.
Sprinkle basil leaves and crispy prosciutto on top.
Serve with toasted bread slices.
Recommended Products
As an Amazon Associate and member of other affiliate programs, I earn from qualifying purchases.