Please note this post contains affiliate links.
Instant Pot Crispy Carnitas Tostadas are crispy, crunchy fried tortillas topped with savory pork, red onion, avocado, cheese, hot sauce, and more. They make for a tasty main dish, but also as a hearty snack or appetizer!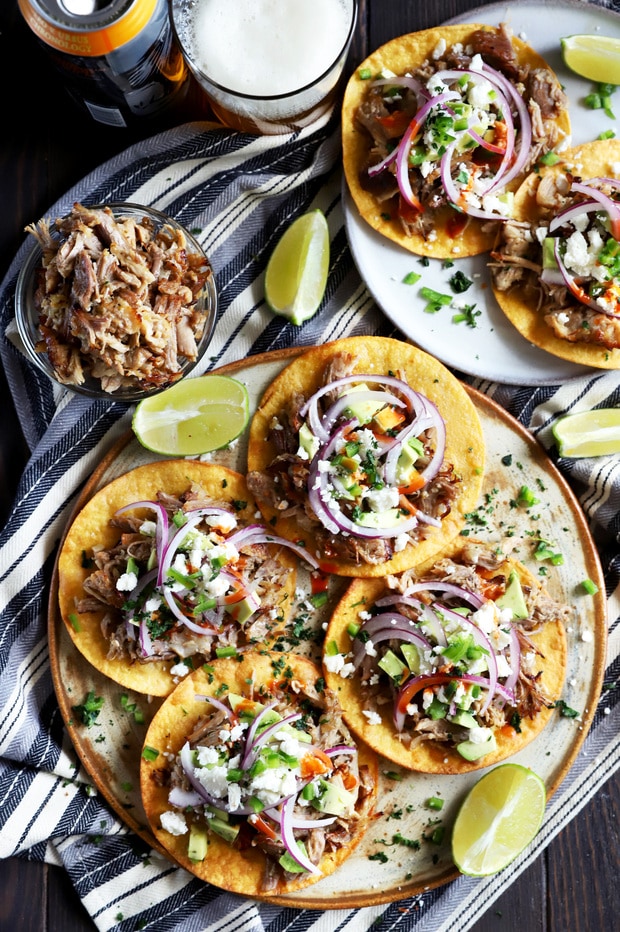 There are few things in the world that I love more than avocado, but one of them is carnitas. Whenever I see carnitas as an option on a menu, you better bet that I am ordering it immediately.
The juicy, savory pork is so tasty, it makes my mouth water just thinking about it.
Now, I've published plenty of pork recipes on the blog before, but none that are quite as satisfying as these Instant Pot crispy carnitas tostadas.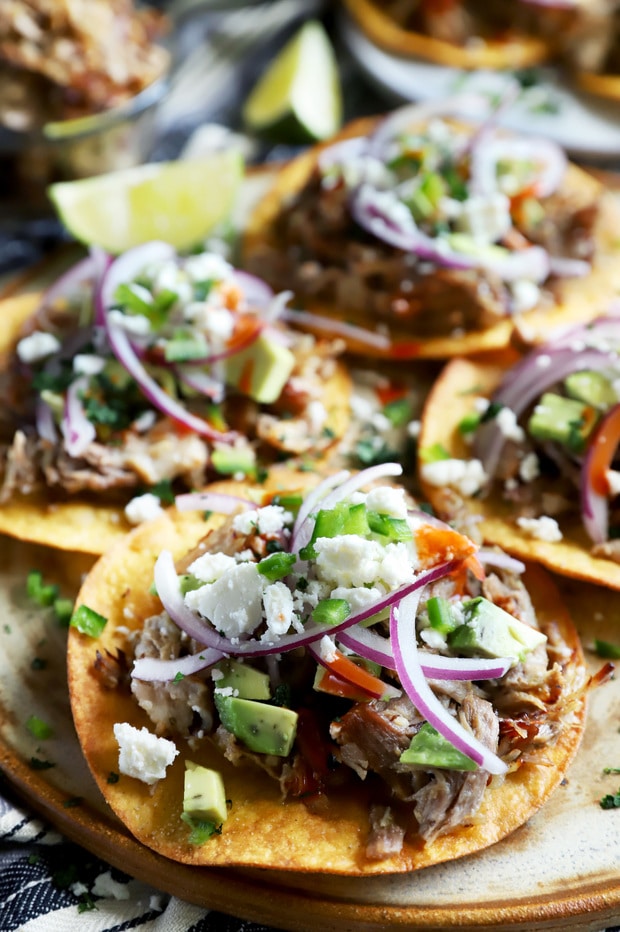 Let's start with the carnitas, shall we? The pork gets cooked up in a citrusy sauce right in the Instant Pot until it's nice and tender.
Then you make it extra delicious by sticking it under a broiler and letting it cook up with the juices from the Instant Pot. This infuses the pork with even more flavor, while also letting it get crispy for amazing contrast.
Once it's all cooked up, you simply pile the pork on crispy golden fried corn tortillas with all the toppings (including creamy avocado, because DUH)!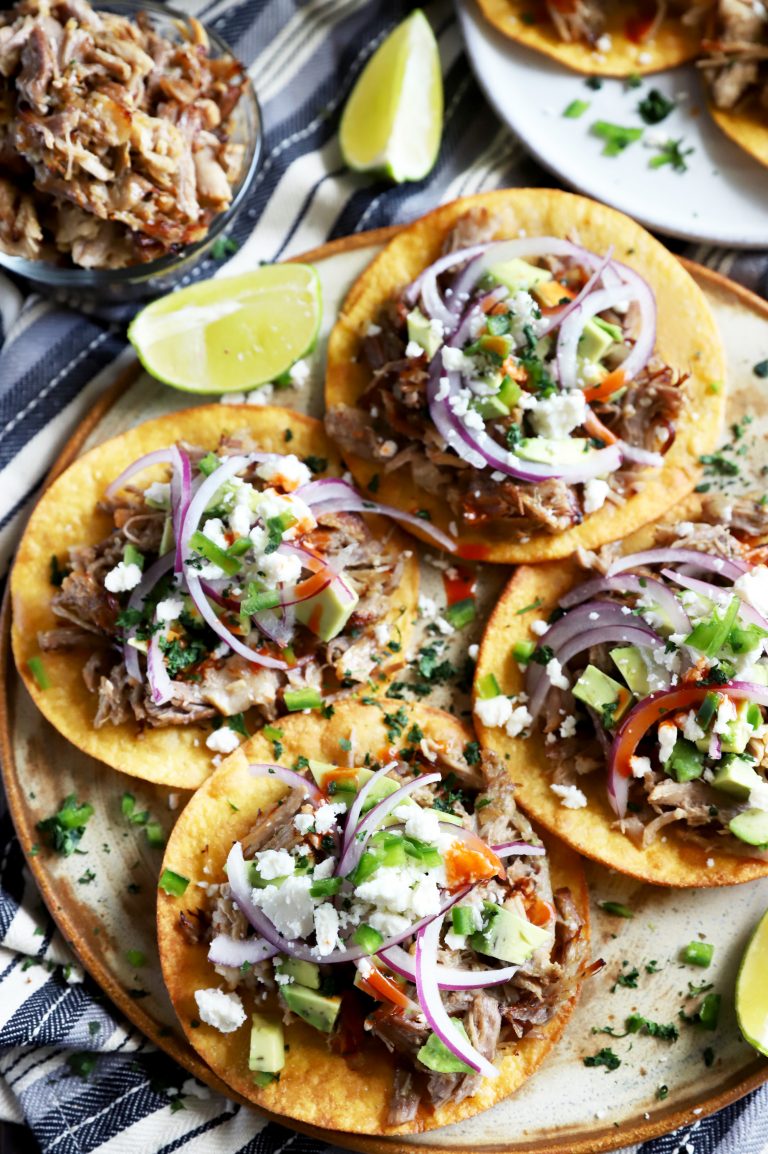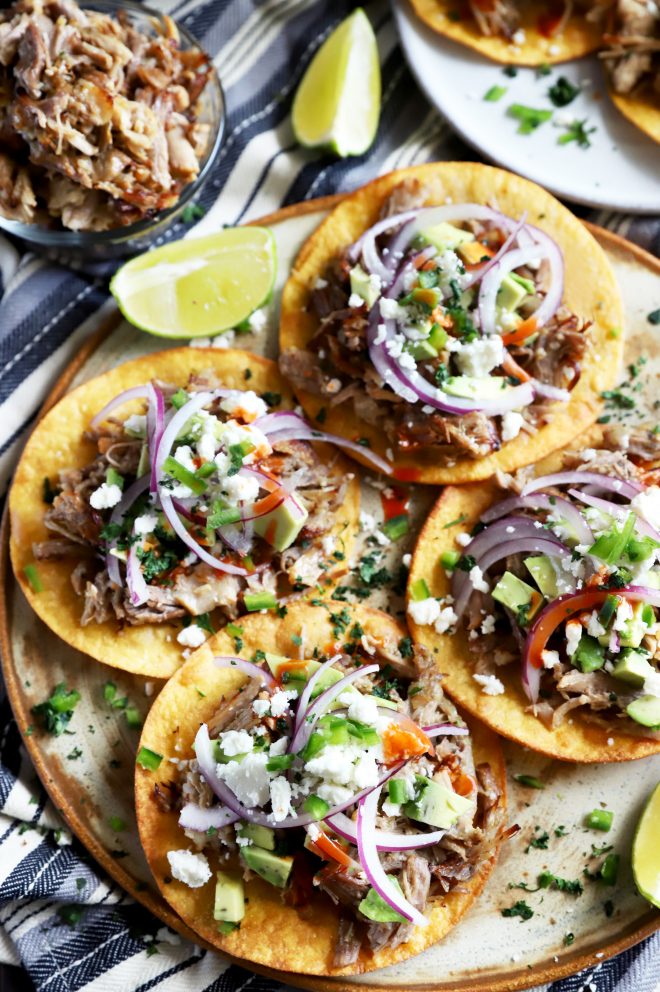 I could eat these tostadas every day from now until forever. The flavor just never gets old for me!
You can easily cook them up for a main dish alongside bacon cilantro lime grilled corn salad. Another alternative is to serve it up for a party spread! It's ideal for game day and you can let everyone make their own tostadas with the toppings they love.
If you happen to have any pork leftovers (it's rare but sometimes it happens!), use it however you want! Throw it in tacos, in a quesadilla, in a skillet with scrambled eggs, and whatever else you can possibly think of.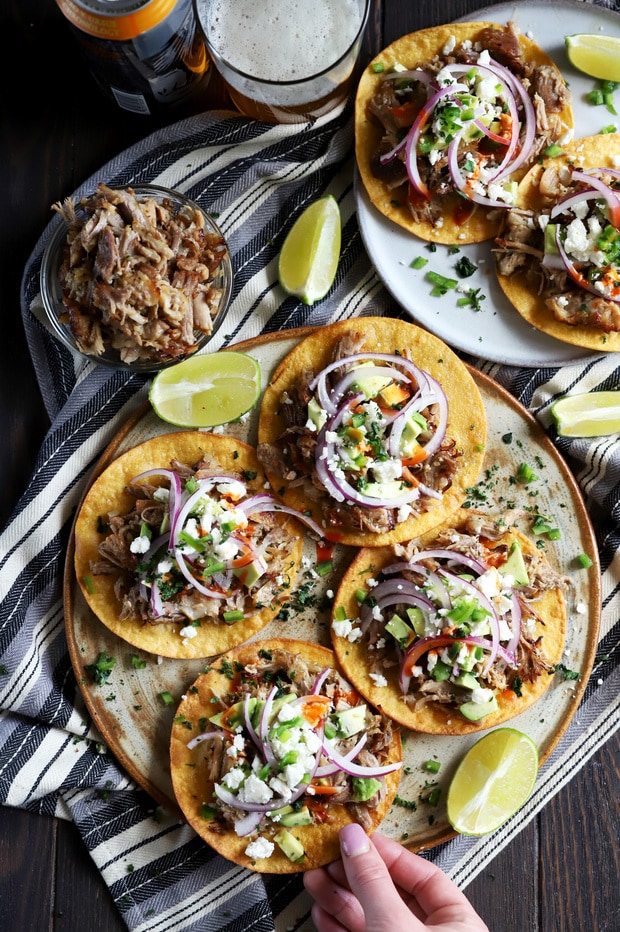 This Recipe's Must-Haves
You will definitely need an Instant Pot to make this recipe (obviously). If you are thinking about getting one or perhaps about upgrading your current one, I highly recommend the Instant Pot Ultra model. I have tried out many different Instant Pot models and this one is hands-down my favorite.
Grab those handy tongs (or my favorite clongs!) because you will need them to turn the meat as it browns, as well as removing the meat from the Instant Pot once it's done cooking.
To get the pork nice and crispy, you'll need to shred it with two forks on a cutting board. Then you will add the meat to a half sheet baking pan in an even layer to broil until it's nice and crispy.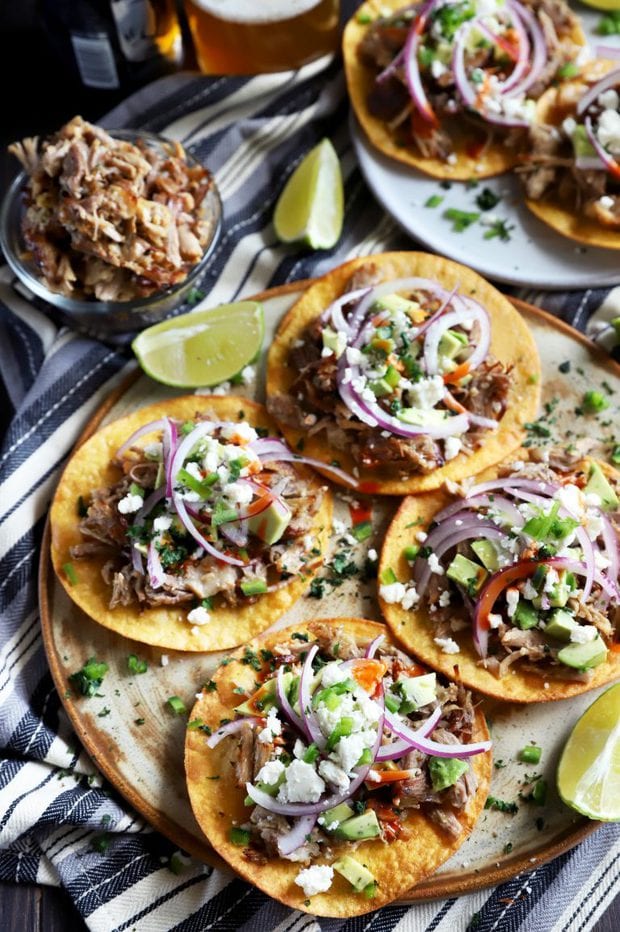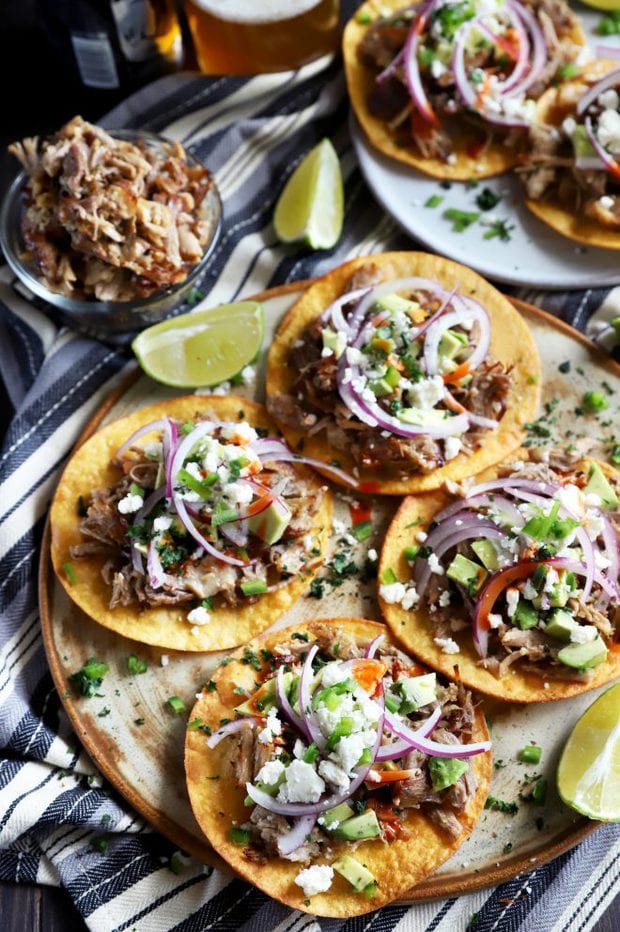 How To Make Instant Pot Carnitas
Brown Pork
Set your Instant Pot to Saute and brown half of the pork on all sides. It takes about 1 minute per side. Remove the first half and repeat the browning process with the second half of the meat.
Pressure Cook
Now it's time to cook! Add all the meat back to the Instant Pot, along with spices, onion, garlic, citrus juice, and beer. This all gets cooked under pressure together until it's nice and tender. It should easily fall apart when you flake it with a fork.
Shred
Remove the meat to a cutting board and work in batches to shred it with two forks. Add the shredded meat in an even layer to a rimmed baking sheet.
Broil
The final step is to make those tasty carnitas nice and crispy! All you have to do is douse the meat in some of the cooking liquid, then broil it for about 5 minutes. Toss the meat, douse it again, and broil it one more time for 5 minutes.
Finish it off with a final topping of the cooking liquid and it's ready to serve.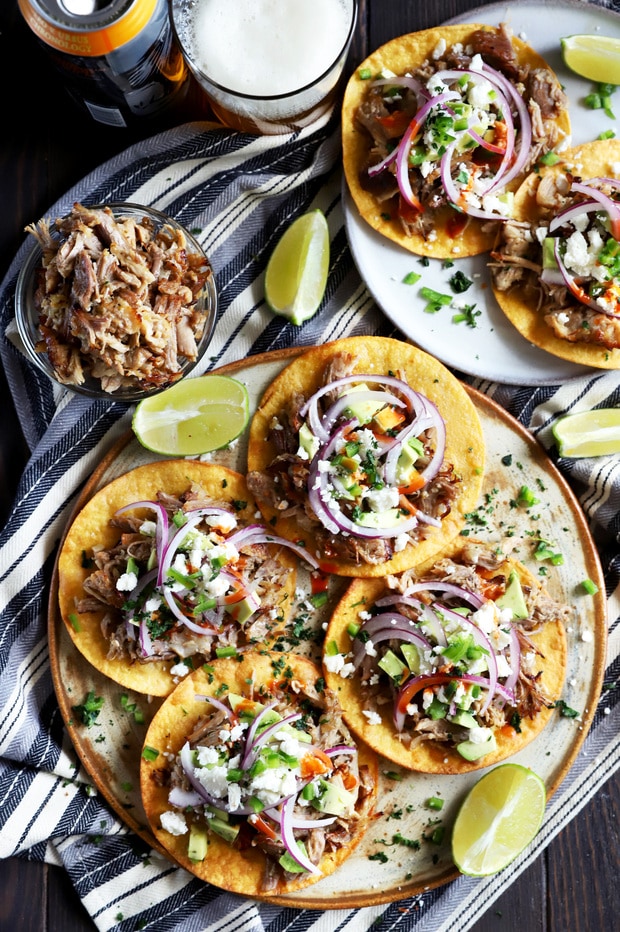 What toppings should I serve with these tostadas?
The toppings that you definitely HAVE to serve with these are sliced red onion for bite, avocado for creaminess, and jalapeño for heat. Beyond that, you can go crazy with whatever you like best! Here's some of my suggestions:
Cilantro
Lime wedges
Cojita cheese or queso fresco (or even shredded Mexican blend cheese!)
Shredded lettuce or cabbage
Sour cream
Salsa
Hot sauce
Black beans
Freshly chopped tomatoes