Please note this post contains affiliate links.
A Grilled Open-Faced Avocado Caprese Sandwich is my go-to option for whenever I'm craving a caprese salad, a grilled cheese sandwich, and/or avocado toast. Grilled bread is topped with bright cherry tomatoes, little balls of cheese, fresh basil, avocado, and my favorite simple balsamic glaze. Eat it as a snack, or for a light lunch or even savory breakfast!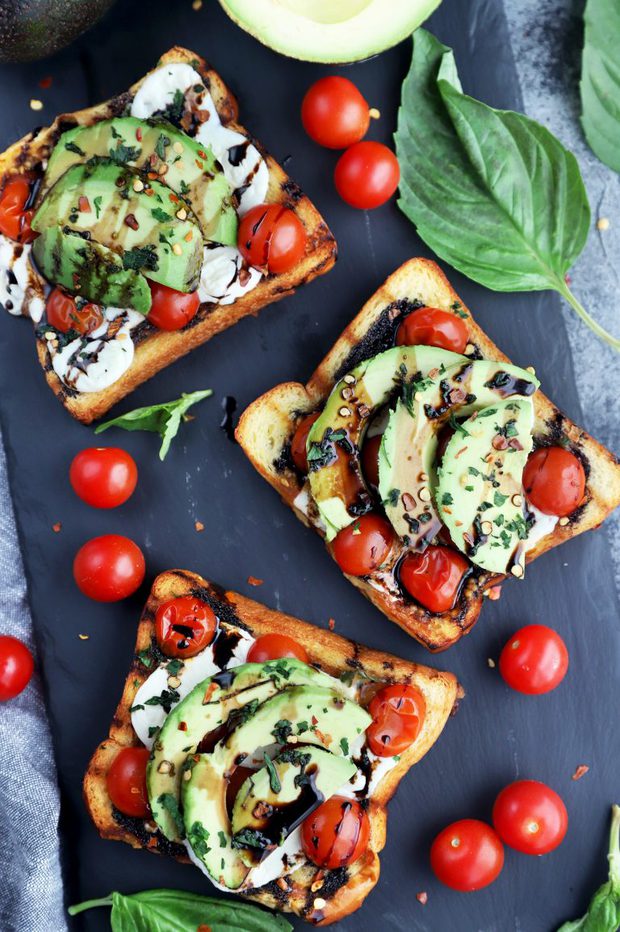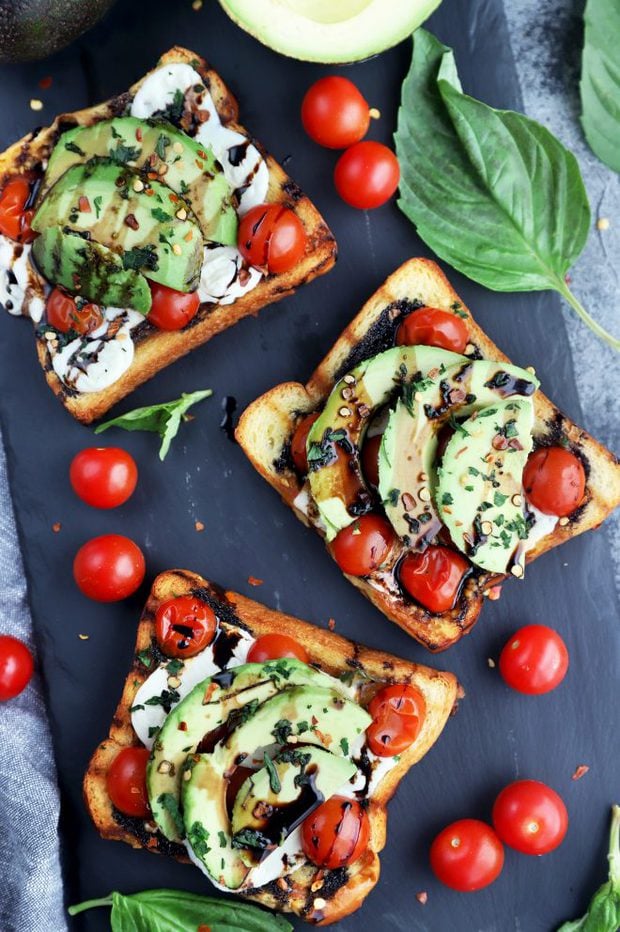 I am sure it's no surprise that I freaking LOVE avocado toast.
After all, I am the avocado fanatic over here. If I didn't love it, I'm pretty sure it would be a crime against my nature.
Normally, I make it pretty simple. A thin slice of toast topped with avocado, lime juice, salt, pepper, and hot sauce.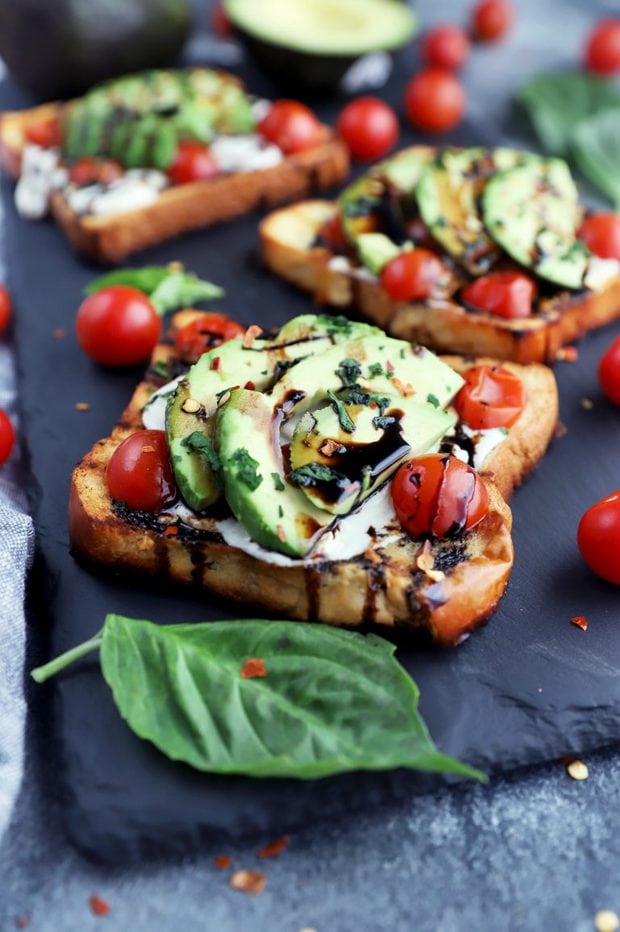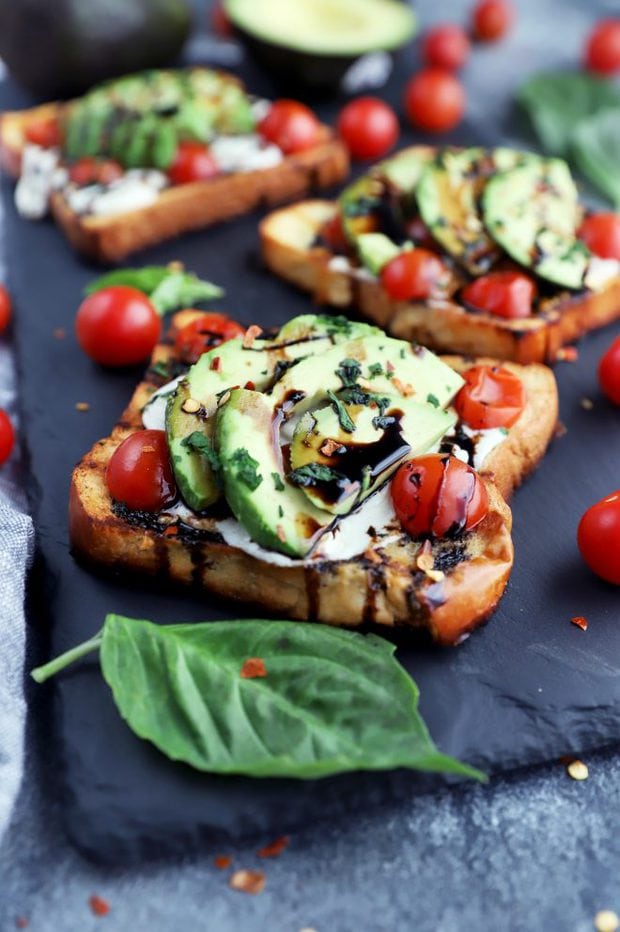 Eating this day after day is delightful, but sometimes I want something even heartier.
Enter this grilled open-faced vegetarian sammie.
The combination of avocado and toast is still here, but it's elevated to a whole new level. Grilling bread is something I love to do in the summer, but lately I've been getting into year-round grilling.
It brings so much more flavor to foods and when you are trying to keep things a little lighter in the year, this really amps up the excitement.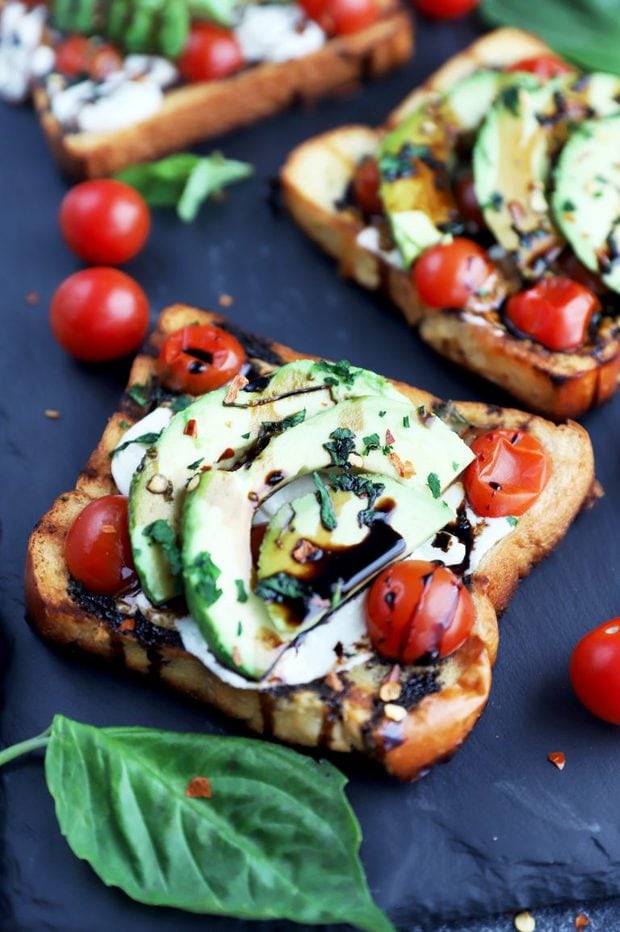 This recipe features all the benefits of a grilled cheese, caprese salad, and avocado toast. You've got the grilled cheese element from the bread that you throw directly on the grill and the melted gooey cheese.
The caprese elements are covered with the tomato, basil, balsamic glaze, and (obviously) the cheese. Finally, all this gets that fatty, rich avocado on top with a touch of spice from a sprinkle of red pepper flakes.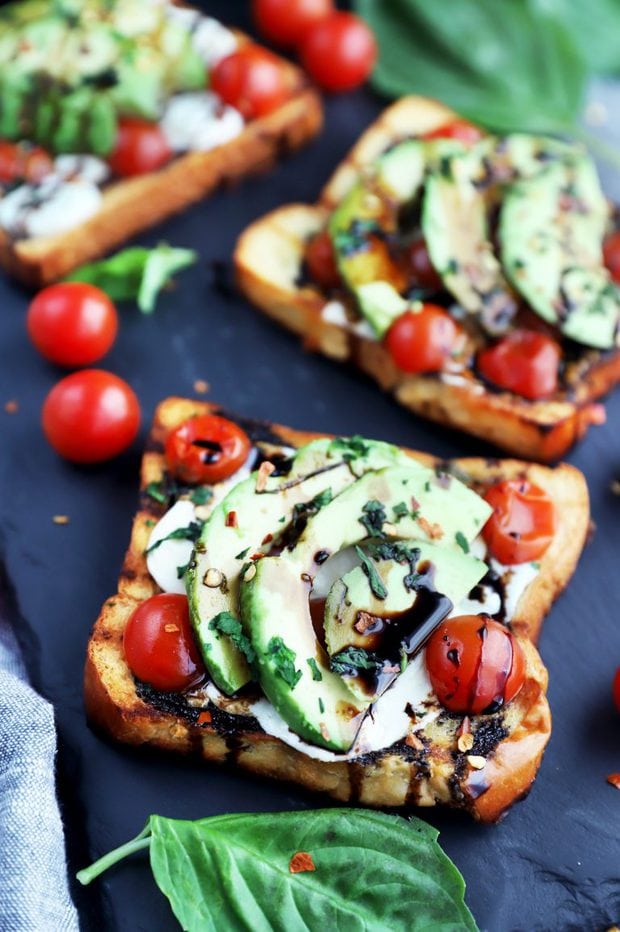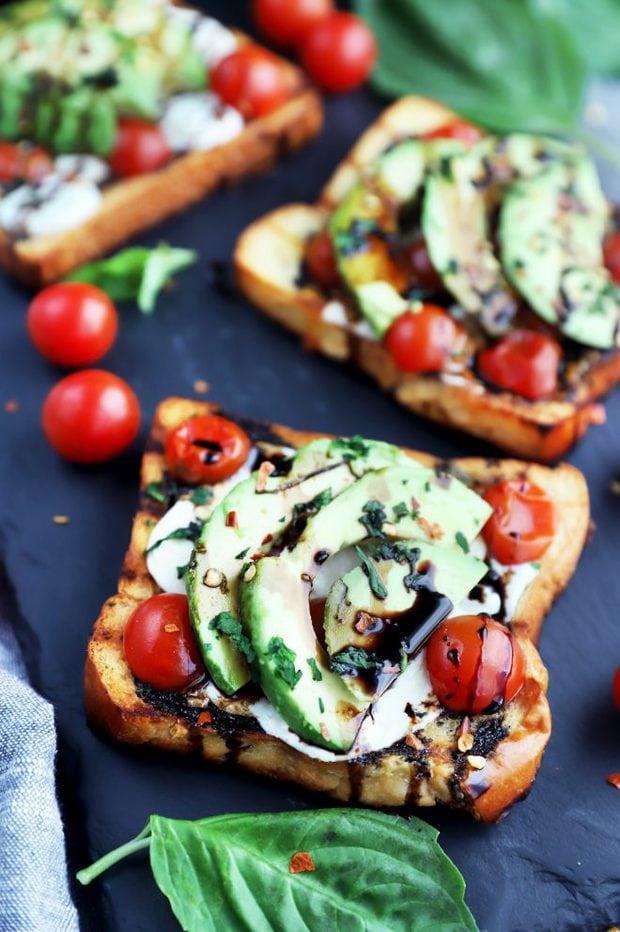 It's an insanely good combination that shakes up the ordinary routine, whether you are obsessed with caprese or avocado toast.
So even if you are actually trying to keep on a healthy track this week, you can embrace this recipe. Heck, even if you just want something to indulge in and you don't give an F about diets, this is still something that should be hitting your taste buds.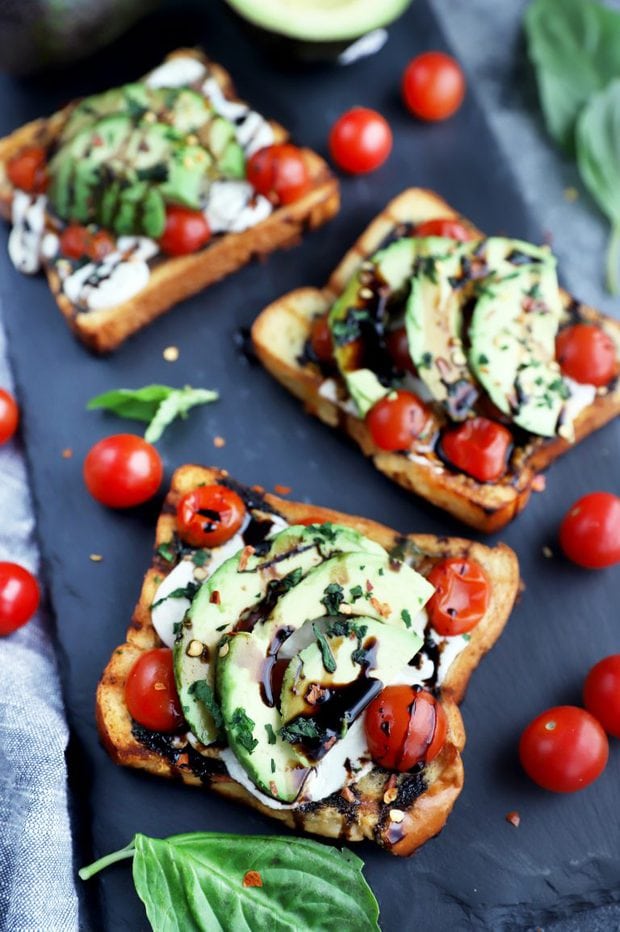 This Recipe's Must-Haves
There are two tools that are serious must-haves for this recipe. First is the Traeger grill. Now I've told you all before about how much I adore this grill. It's one that you can use to grill, but also to smoke, bake, and so much more.
The second most important tool? A saucepan! Because the balsamic glaze on this sammie is eve-ry-THING.
Finally, you'll need the smallest of your mixing bowls to make the garlic oil for the bread.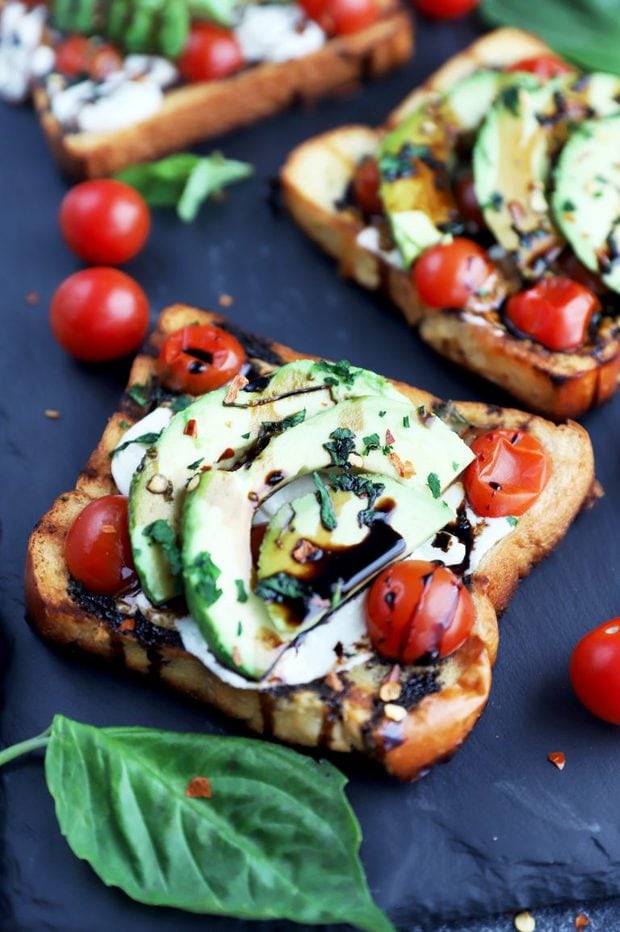 Here's How To Make Caprese Sandwich
Make Balsamic Glaze
To make your balsamic glaze, all you need to do is stir together the vinegar and brown sugar, then bring it to a boil. The mixture is reduced over a lower heat, cooking until it's thickened before adding a pop of black pepper.
This is seriously my favorite way to make a balsamic glaze! You will LOVE it and want to put it on everything!
Toast Bread
Brush those slices of bread with a homemade (super easy!) garlic oil before putting them on the grill! It gives the bread SO much added flavor.
The bread gets toasted on one side, then taken off the grill to assemble.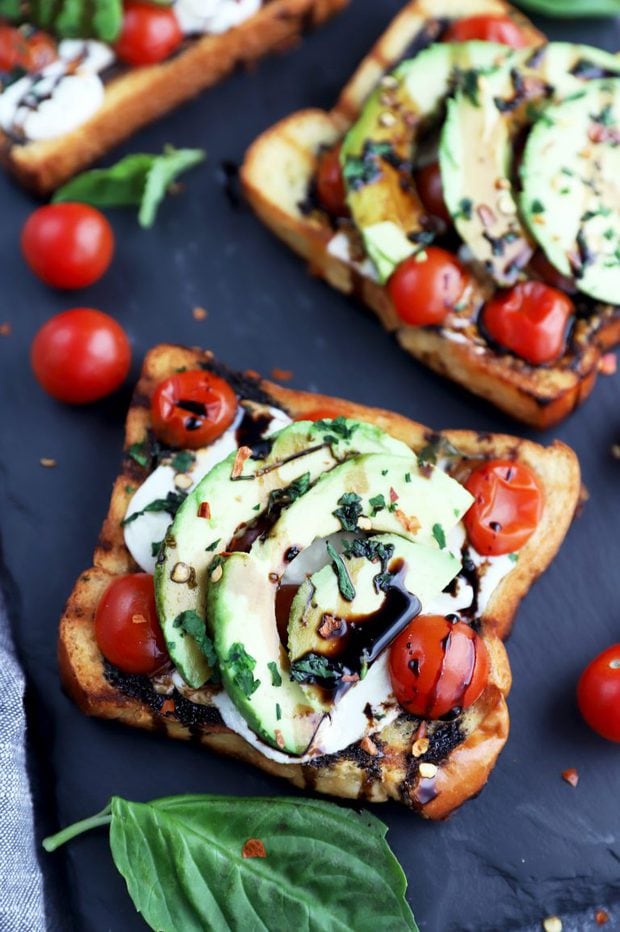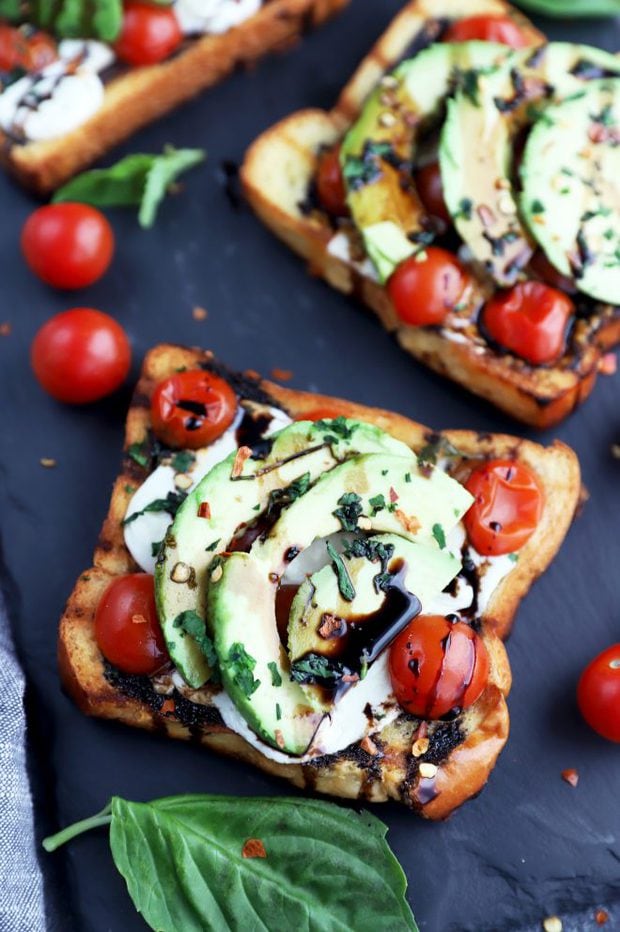 Assemble
Don't worry, assembly of these open-faced sammies is super easy. You just layer up the basil, tomato, and mozzarella however you like!
Grill
After everything is assembled, you grill again. Once the bread is toasted and the cheese is gooey and melted, it's time to eat! Top it with sliced avocado, chopped basil, and the drizzle of balsamic vinegar to seal the freaking deal.
Need inspiration for sandwiches? Check out my sandwich recipe page for some tasty ideas.

FAQs
What does open faced sandwich mean?
An open faced sandwich is a sandwich without a slice of bread on top. Essentially, think of it as topless 😉
What goes on a caprese sandwich?
A caprese salad has a handful of ingredients – tomato, mozzarella, basil, and balsamic. Therefore, those are the ingredients that are the star of the recipe. The addition of red pepper flakes and avocado just spices up the mixture!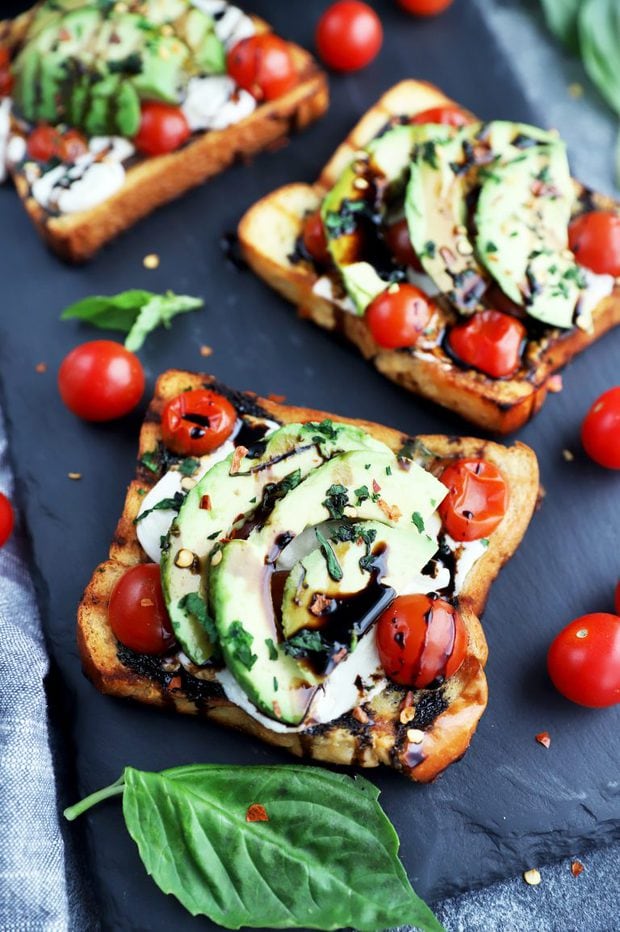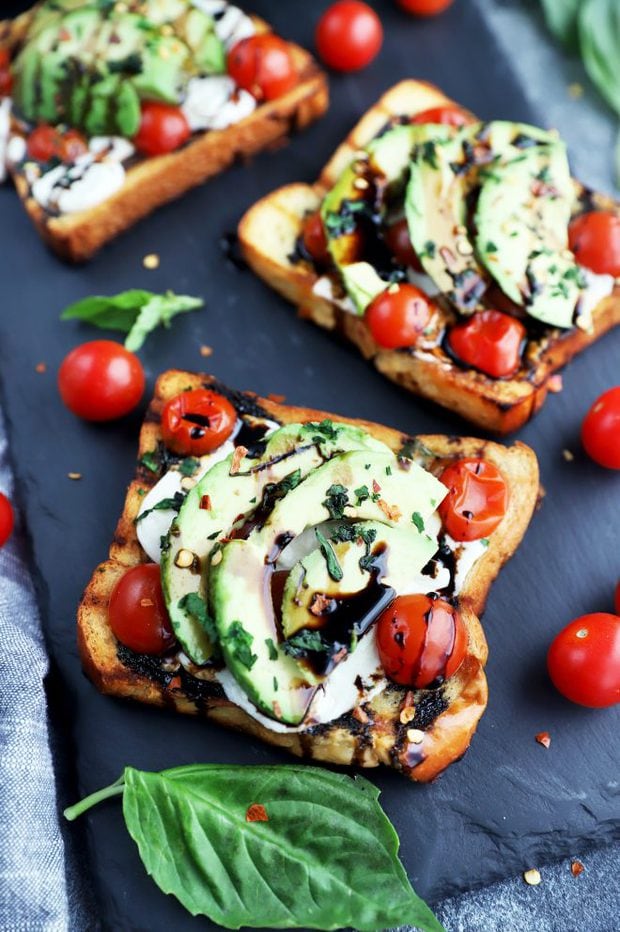 A Couple Helpful Tips
Do you like spice? This recipe calls for red pepper flakes, but if you like the heat, top the caprese sandwich with more than what's recommended in the recipe!
Don't like balsamic? No problem! Simply skip the glaze and enjoy the open-faced sandwich without it.
Use a really nice bread like brioche or French bread. The better the bread, the better this caprese sandwich will taste.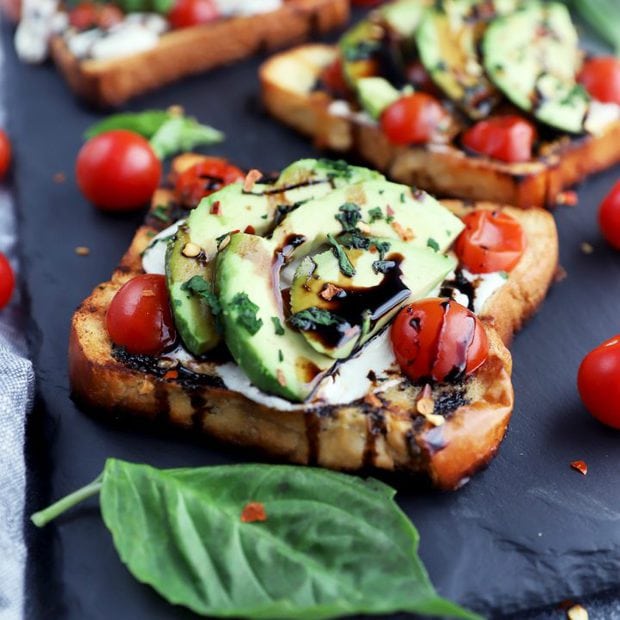 Grilled Open-Faced Avocado Caprese Sandwich
When you want all the flavors of a caprese salad, but you also want a salad, reach for this recipe!
Ingredients
8 slices Bread, 1/2" thick (I like to use Brioche)
2 Tbsp Olive Oil
1/2 tsp Garlic Powder
1/3 cup Fresh Basil Leaves
9 oz Cherry Tomatoes, halved
1 cup Fresh Mozzarella Bocconcini, (also known as baby mozzarella balls - about 6 ounces)
2 Avocados, thinly sliced
1/2 tsp Crushed Red Pepper Flakes
For the Balsamic Glaze
1 cup Balsamic Vinegar
1/2 tsp Brown Sugar
1/2 tsp Black Pepper
Instructions
Preheat grill to medium high heat, about 375˚F.
In a small saucepan, stir together balsamic vinegar and brown sugar, bringing the mixture to a boil over high heat. Reduce to a simmer on medium low heat. Cook until the vinegar is reduced and thickened, about 10 minutes. Stir in black pepper. Cover and set aside.
In a small bowl, stir together olive oil and garlic powder until combined.
Brush both sides of the bread slices with garlic olive oil.
Once hot, add bread to the grill, toasting on one side, about 2 to 3 minutes. Remove from heat to a baking sheet, toasted side up.
Add 2 to 3 basil leaves to each slice of bread (you will have some extra leftover, set that aside for later). Top with tomato halves and mozzarella.
Carefully add slices of bread back to the grill, grilling until cheese is melted, about 3 to 5 minutes.
Remove from grill. Top with avocado slices and drizzle with balsamic glaze. Sprinkle with red pepper flakes.
Chop remaining basil leaves and sprinkle on top. Serve immediately.
Recommended Products
As an Amazon Associate and member of other affiliate programs, I earn from qualifying purchases.