Steamed Vegetable Wontons are a super simple vegetarian appetizer everyone will love! They have insane amounts of flavor and you are only 20 minutes away from stuffing your face with them. Can you say #winning?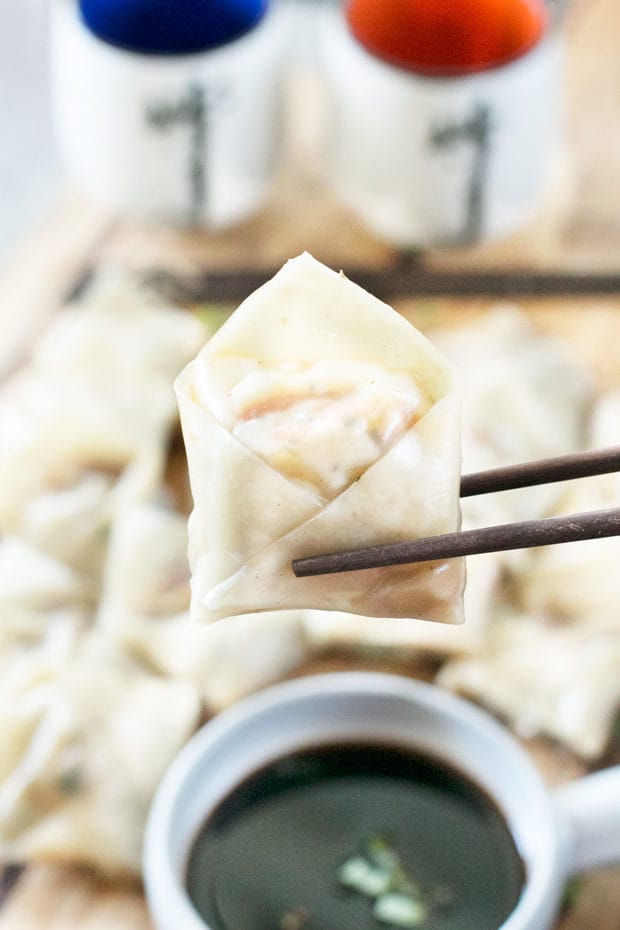 I have seen the light and it is glorious, steamed and stuffed with delicious veggies.
Did you know just how easy making steamed wontons really is? I was always intimidated by the different wrapping techniques and the fact that I'm not dunking them in a vat of piping hot oil.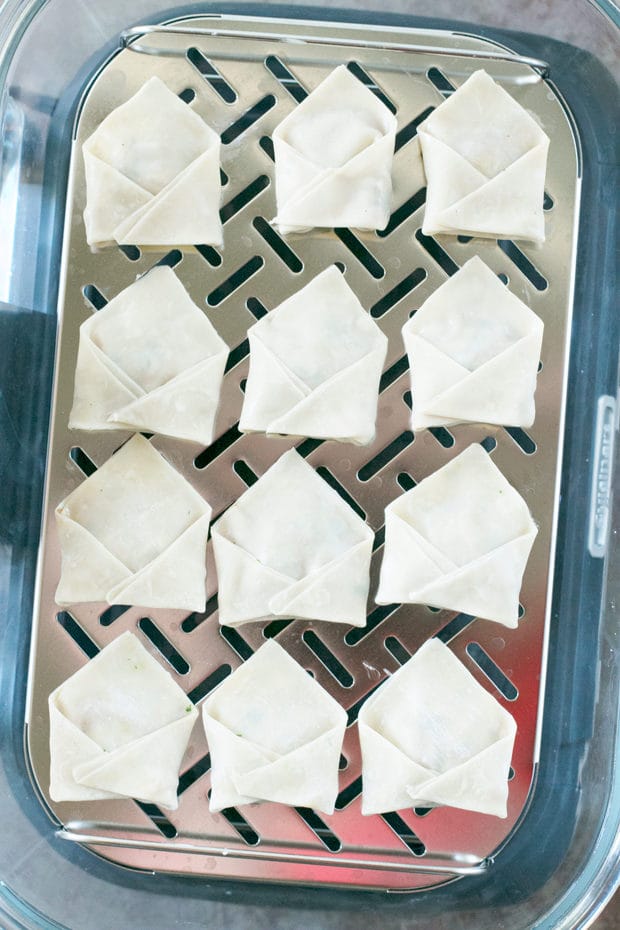 I mean, you've seen how many egg rolls I make so you know just how much I love to fry stuffed packages of goodness. Wontons just look so much more delicate when they are steamed, I was sure I would totally screw them up. It took a friend's encouragement and an afternoon of nothing else to do to get me to finally make it.

This is where a magical little tool comes in… Cuisinart's Cook Fresh™ Digital Glass Steamer. This steamer does it all – it can steam wontons, meats, veggies, seafood and anything else you can possibly think to steam (I'm not sure that there really is anything else to add to this list, but you get the idea). You literally cannot screw it up, even if you try. Plus, if you're anything like me and trying desperately to get into better eating habits, this steamer is so nice to have in your kitchen.
You can throw in your entire meal in the Cook Fresh™ Digital Glass Steamer, steam it up, add some seasoning and boom, there's dinner.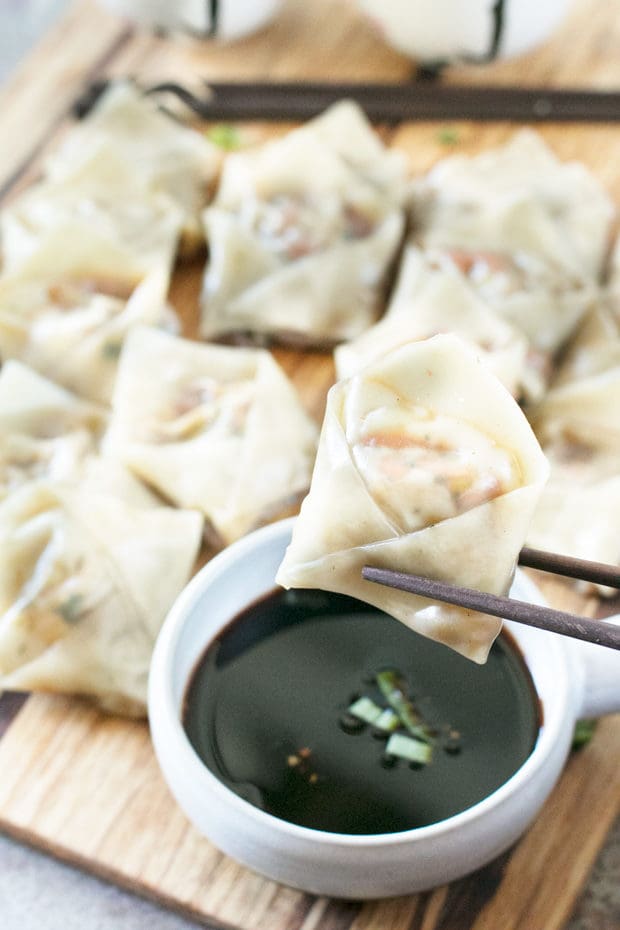 For all you people cooking for one right now, this is the one tool you need in your life. For all you people cooking for a massive family, this is the one tool you need in your life. You can cram in as little or as much food as you want, and just like that you'll have dinner at the press of a button.
I know I shouldn't praise shortcuts so much, but come. on. This one is totally worth it.
Disclosure: This post is sponsored by the Cuisinart. While I was compensated with product for this post, as always, all opinions and the recipe are my own. Thanks for supporting the brands that support Cake 'n Knife!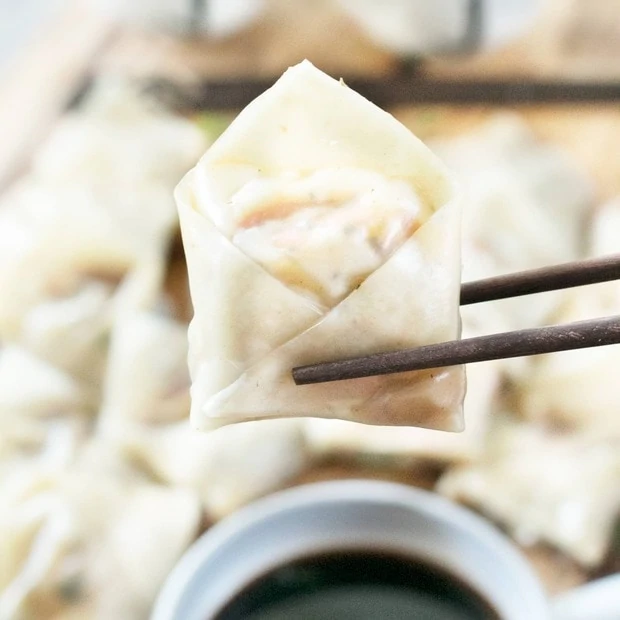 Steamed Vegetable Wontons
Yield:
Makes 20 to 24 wontons
Fresh and flavorful, these vegetarian-friendly wontons are easier than you think to make!
Ingredients
Wontons
20 to 24 wonton wrappers
1 Tbsp cornstarch
1/4 cup water
1 cup cabbage, shredded
3 Tbsp freshly chopped scallion
1 cup grated carrot
1 cup white button mushrooms, diced
3 tsp fresh minced ginger
2 Tbsp soy sauce
1/2 Tbsp Sriracha
1 Tbsp hoison sauce
1 Tbsp chopped cilantro leaves
1 tsp sesame oil
1 tsp salt
1/2 tsp pepper
Dipping Sauce
1/4 cup soy sauce
2 tsp grated ginger
Instructions
In a large bowl, stir together shredded cabbage, scallion, grated carrot, mushrooms, 3 tsp minced ginger, 2 Tbsp soy sauce, Sriracha, hoison, cilantro, sesame oil, salt and pepper.
In a small bowl, whisk together cornstarch and water.
On a flat clean surface, assemble your wontons. Start with a wonton wrapper so it sits with one corner facing you (like a diamond). Dip your fingertip into the cornstarch water and coat all four edges of the wonton wrapper. Spoon 1 heaping teaspoon of the vegetable mixture in the center of the wrapper. Fold the wrapper in half, away from you, to form a triangle. Press the edges firmly together. Fold in the left corner over the center, then fold in the right corner on top. Seal with another brush of cornstarch water. Repeat with remaining filling and wonton wrappers.
Steam the wontons for approximately 9 to 10 minutes in a single layer in the digital steamer (or in a traditional bamboo steamer). Repeat in batches as needed.
While the wontons are steaming, stir together the ingredients for the dipping sauce.
Serve wontons warm with dipping sauce.