Please note this post contains affiliate links.
Caramel Stuffed Pumpkin Cookies are gooey, chewy and packed with fall pumpkin flavor! Even though these cookies are incredibly indulgent, they are so easy to make. Celebrate the arrival of harvest season (and satisfy that sweet tooth at the same time!) – pumpkin style!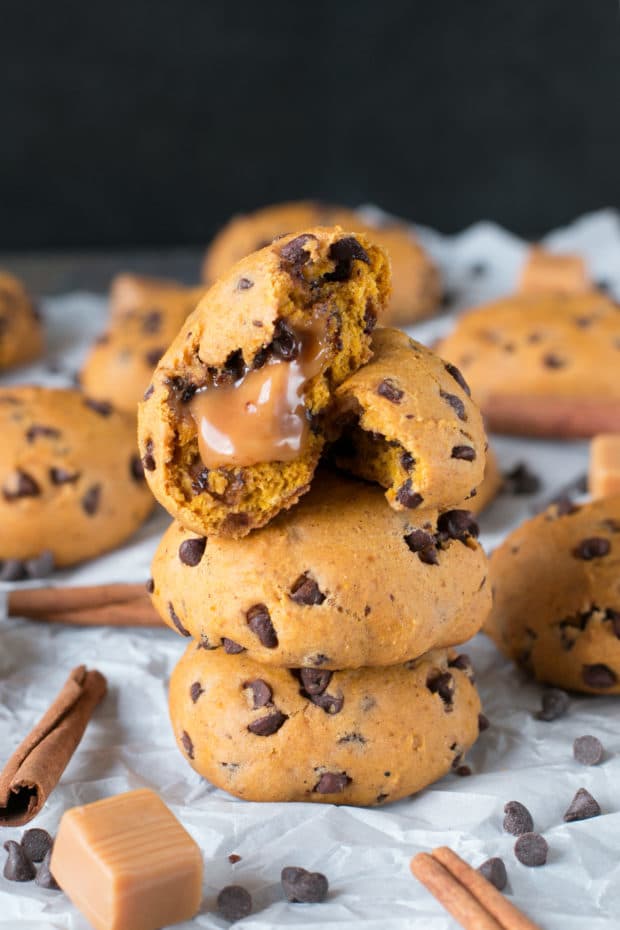 The smell of pumpkin will fill your house every time you bake these. It's just like walking into a house that has been baking pumpkin pies all day.
In other words, it's pure magic!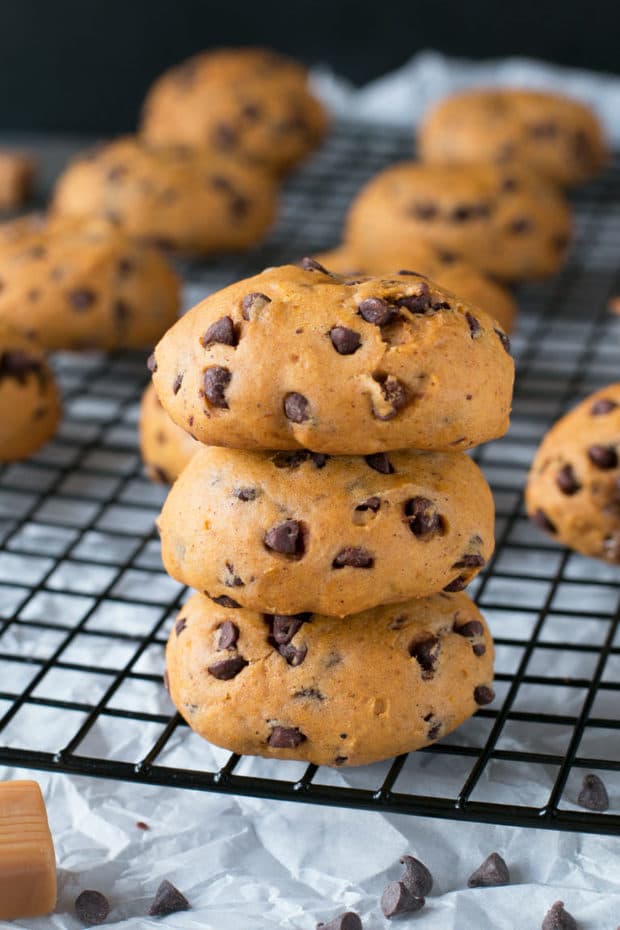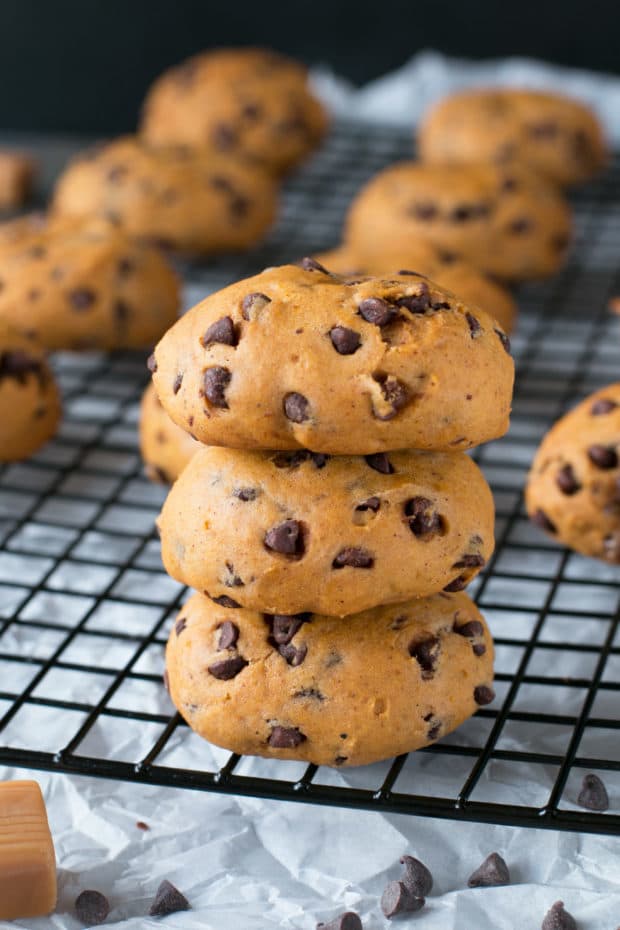 I feel such a sense of calm when fall rolls around. I bust out the pumpkin and apple scented candles, big blankets, comfy sweaters, boots and mulled wine as soon as I can.
It's all I can do to try to stay out of sweats all day on a regular basis, so I seriously love when fall rolls around because leggings and sweaters are acceptable attire in AND out of the house.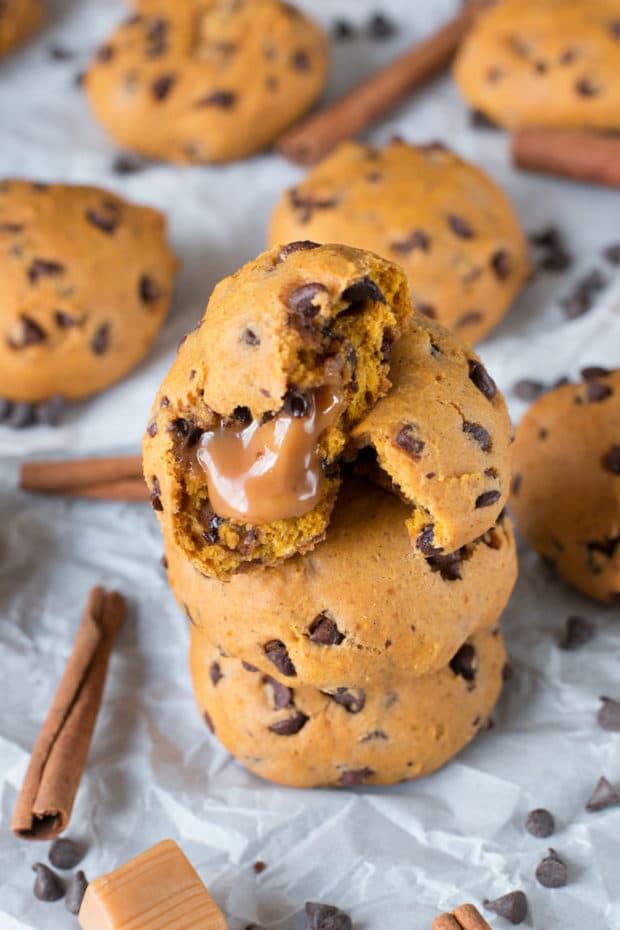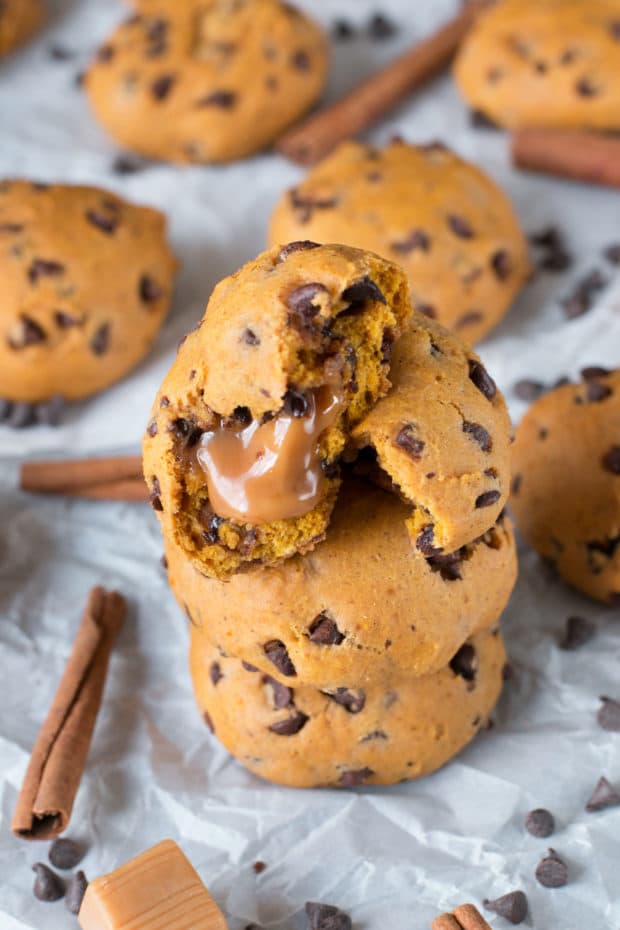 Note: This is a Cake 'n Knife archive post that has been updated!
Though the weather here in Denver hasn't gotten cold just yet, I am READY.
I am wishing for it, which I know I will pay for come January when we've had our 10th snowstorm…
But in the meantime I will wish for those perfect fall days and less of this blazing sun/heat thing.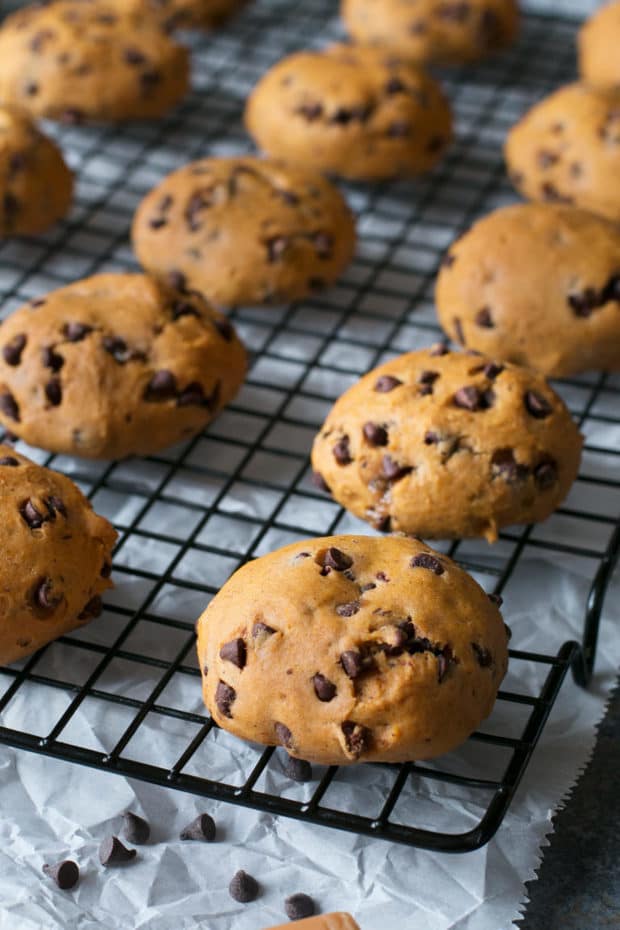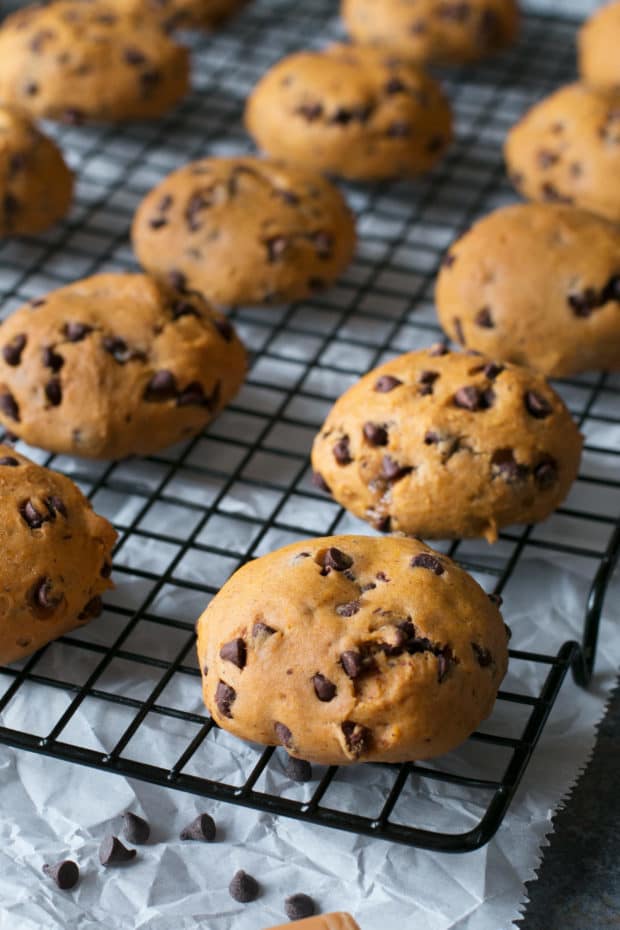 These cookies are going to become your new go-to cookie every September and October from now until forever.
All the flavors of a pumpkin pie are stuffed into these adorable little soft pumpkin cookies, which are then stuffed with gooey caramel and studded with mini chocolate chips.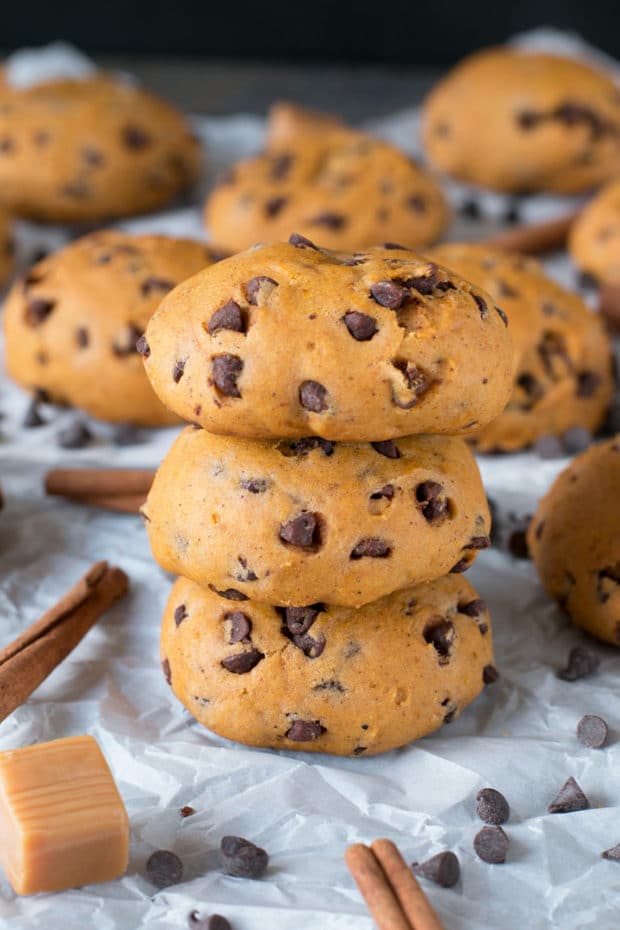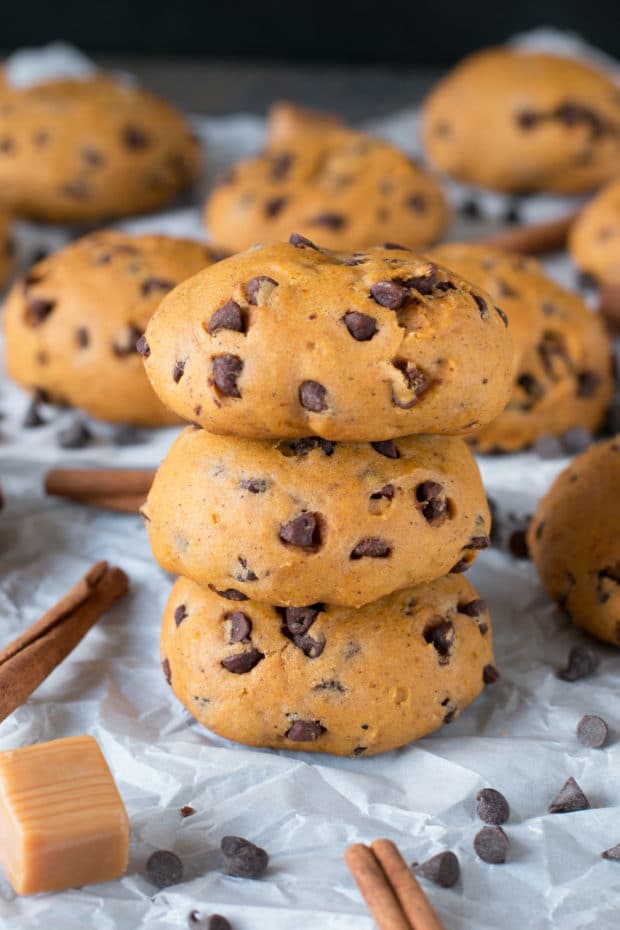 Every mouthful is bursting with the flavors of fall, bringing my mind rushing back to childhood days spent baking cookies and preparing Halloween costumes. My mom always had a thing for caramel, so those caramel candies were ALWAYS in our house, especially when Halloween was around the corner.
I'm pretty sure she just used fall as an excuse to buy caramel candies without judgment.
My biggest tip for these pumpkin cookies?
Be sure to wait a few minutes before devouring them when they come out of the oven.
As I learned with previous caramel stuffed cookies, caramel tends to get quite hot… You don't want to burn off your taste buds before you get a chance to truly appreciate the blend of caramel, pumpkin, and chocolate!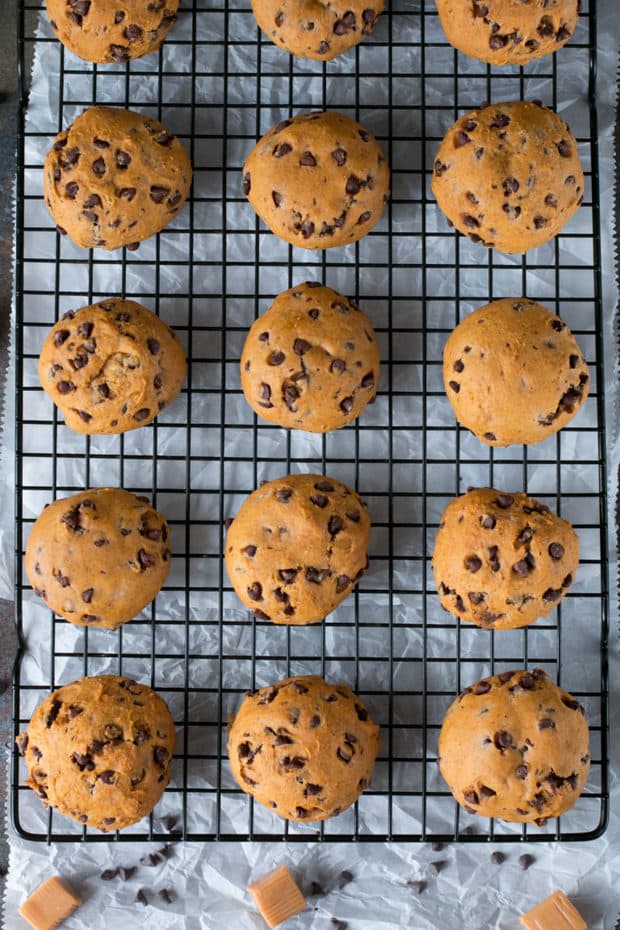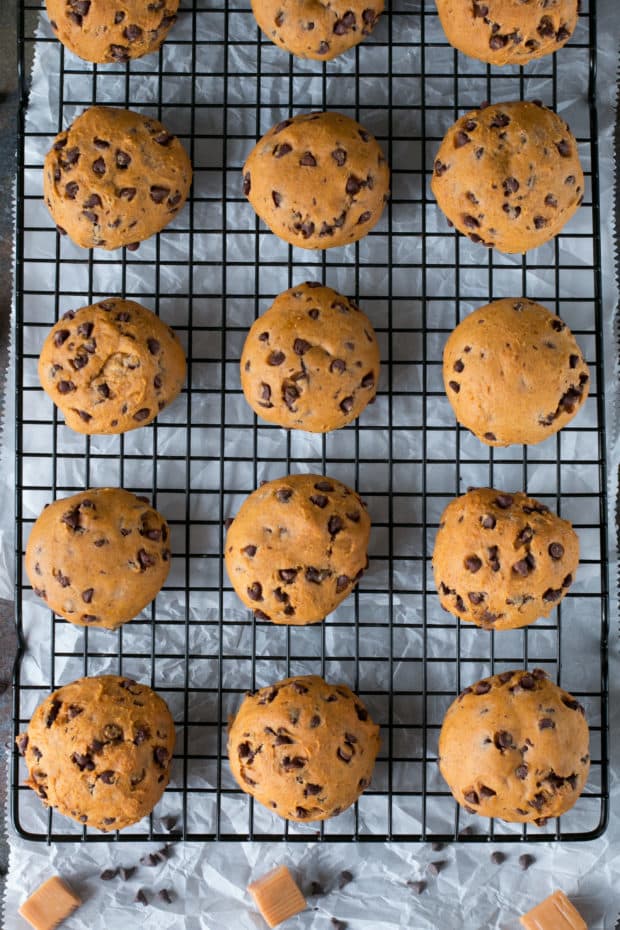 I use the term "learned" loosely above… considering I didn't remember the lesson until the caramel was already burning my tongue… Yet again.
So worth it.
Yet again.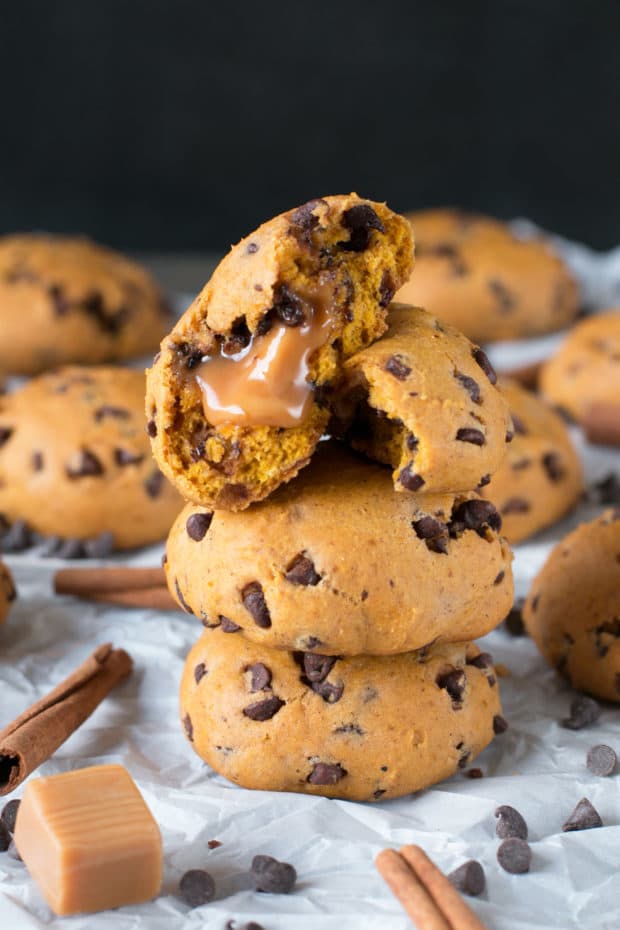 This Recipe's Must Haves
Thankfully the tools required for this recipe are ones you likely already have like mixing bowls and a wooden spoon. The rest of these are just the tools that I specifically like because of their quality! However, you can easily make this recipe with whatever you happen to have on hand.
When it comes to baking, you can't get better than this half sheet baking pan, especially for the price point!
I also highly recommend this silicone baking mat
, because it is a savior when you are working with caramel. Sometimes the caramel will seep out a little bit from the bottom, and you don't want that sticking to the pan or parchment paper. If you don't have these, be sure to line with aluminum foil and lightly grease that foil with cooking spray.
Yes, you will have to wait a little bit to eat these, or the caramel will burn your tongue (speaking from experience!). Be sure to cool them on cooling racks!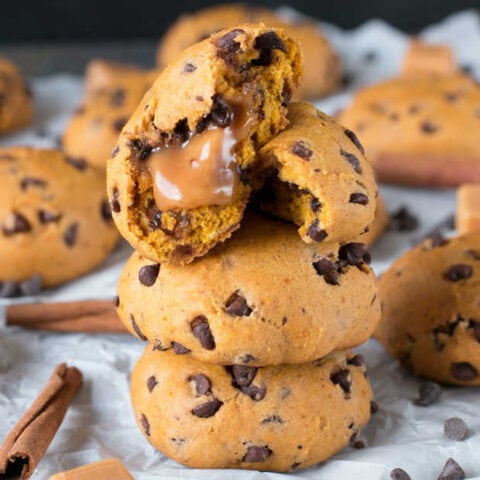 Caramel Stuffed Pumpkin Cookies
The ultimate cookie for Fall! Chocolate, pumpkin, and caramel are rolled into every bite, making you wish pumpkin season would never end.
Ingredients
4 Tbsp unsalted butter, melted
1/4 cup light brown sugar
1/2 cup granulated sugar
1 tsp vanilla extract
7 Tbsp pumpkin puree
1 1/2 cups all-purpose flour
1/4 tsp salt
1/4 tsp baking powder
1/4 tsp baking soda
1 tsp ground cinnamon
1/4 tsp nutmeg
1/4 tsp ground allspice
3/4 cup mini semi-sweet chocolate chips
12-15 caramel candies, unwrapped
Instructions
In the bowl of a stand mixer, beat melted butter and sugars until thoroughly combined. Add in the vanilla and pumpkin puree and beat until smooth.
In a large bowl, stir together flour, salt, baking powder, baking soda, cinnamon, nutmeg, and allspice. Slowly add the flour mixture to the butter sugar mixture, beating in between each addition (I divided my flour mixture into two additions) until just combined. Stir in the mini chocolate chips. Cover the dough and chill for at least 30 minutes (up to three days maximum).
Preheat oven to 350 degrees. Line two baking sheets with silicone baking mats or parchment paper.
Roll approximately 2 to 2 1/2 Tbsp of dough into a ball, then flatten into a disc. Add one caramel candy to the center and wrap the dough around, pressing the edges closed so it is sealed well. Repeat with the rest of the dough until you have approximately one dozen balls of dough. Bake cookies for 12 to 15 minutes total. The dough will be a bit soft. Remove from oven and allow to cool approximately 5 minutes on the baking sheets before serving. Make sure you serve these warm so you get that ooey-gooey caramel center!
Recommended Products
As an Amazon Associate and member of other affiliate programs, I earn from qualifying purchases.