It's really hard for me to show you how amazing this milkshake is in a picture.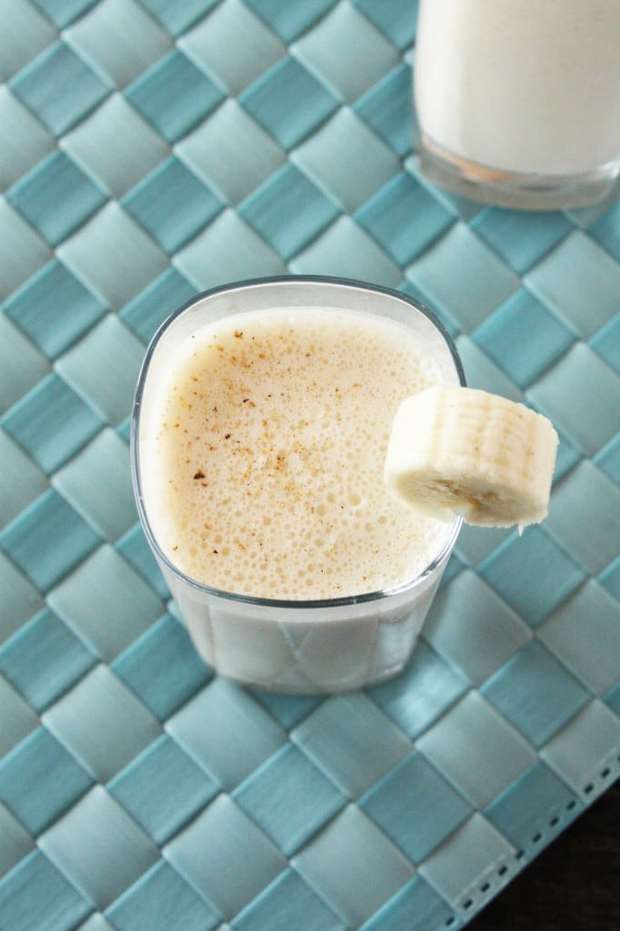 This milkshake is just so so sooooo good.
You know those impossibly creamy milkshakes you can only find in those old soda shops? This is exactly like that. With bananas. And booze.
I remember when I was little, my family had land up by Steamboat Springs so we would go up to this cabin, usually during the summer. When I say my family, I mean my entire family. Grandparents, uncles, aunts, and hoards of cousins. It is probably one of my fondest memories (for some reason I lucked out and have a family I love to be around – crazy right?).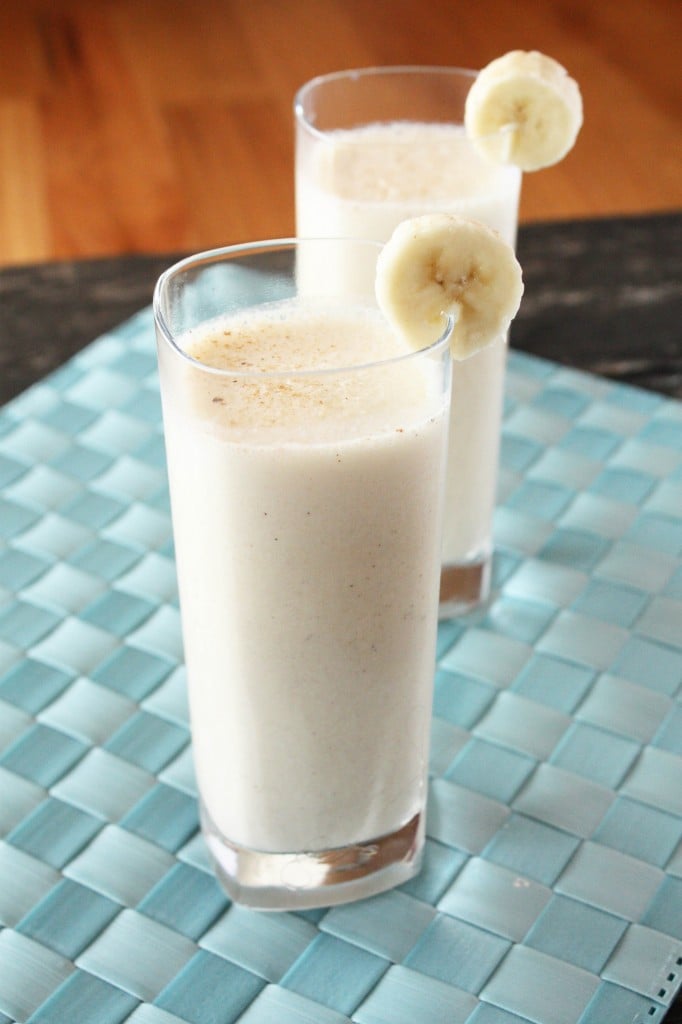 Anyway, my mom and I, either on the way up there or while in Steamboat, would always stop in this old soda shop and I would always get a sundae or a milkshake. Sometimes I was lucky enough to pick out some of the old-fashioned candy (I loved the different flavored candy sticks, you know the ones that come in 10 million flavors?).
The main thing I remember is how amazing the milkshakes were. They were so rich and so much better than the ones I could get at McDonald's or even Steak & Shake.
It's been years since I've been back to Steamboat so I really had no choice but to make my own.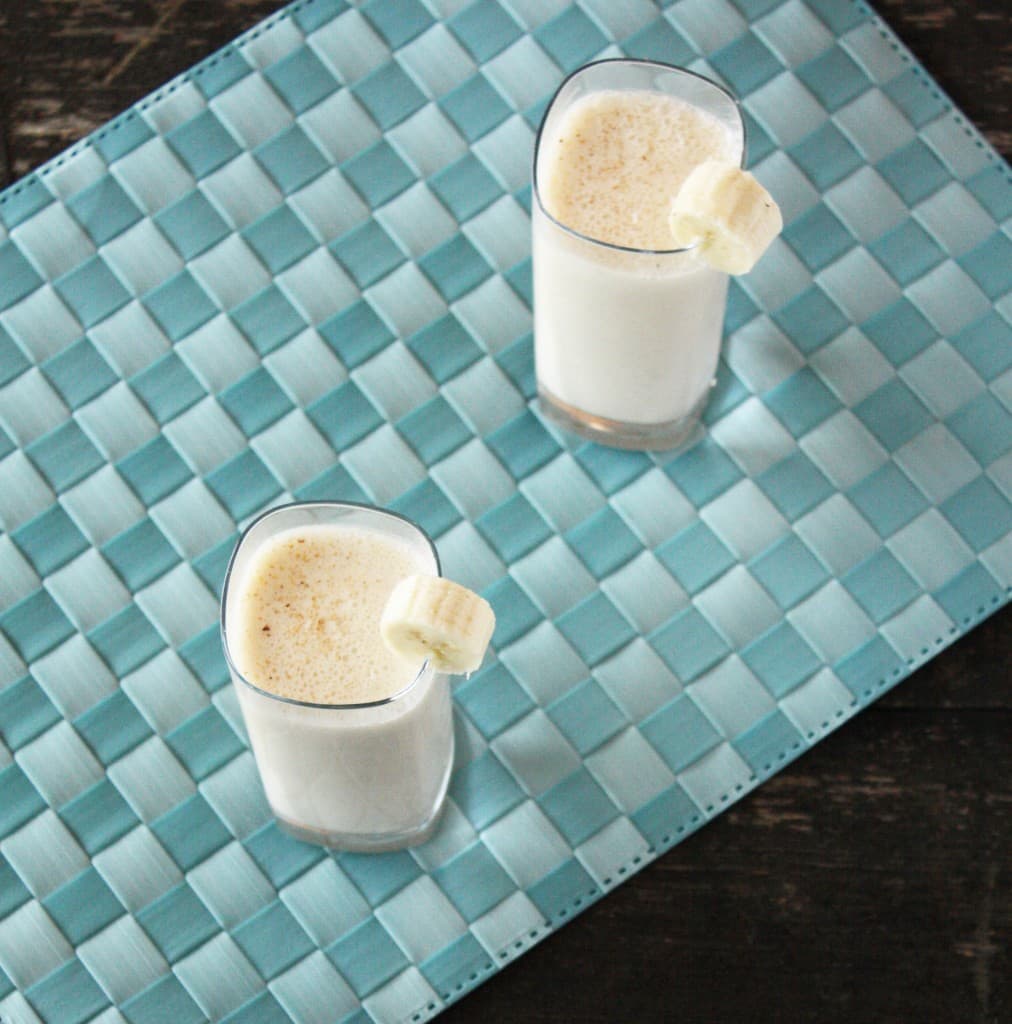 I know it's tempting to just go out and buy one to avoid the hassle, but none of the ones you can buy will even compare to this one (unless you happen to have one of those old-fashioned soda shops right down the block… and if you do, I envy you).
It's worth cleaning the blender. And that's saying something, because you know how much I despise doing dishes.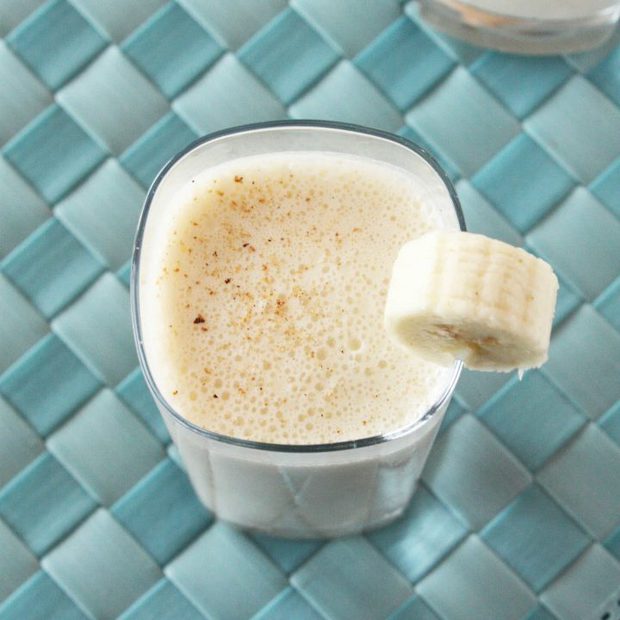 Spiked Caramelized Banana Milkshake
Yield:
2 milkshake cocktails
Additional Time:
5 minutes
Creamy, rich milkshake with a boozy twist!
Ingredients
2 bananas, sliced
2 tbsp butter
2 tbsp brown sugar
4 oz spiced rum (I used Sailor Jerry's - my personal fav!)
20 oz vanilla ice cream
2/3 cup whole milk
1/2 tsp cinnamon
Sprinkle of nutmeg
Instructions
Melt butter in a medium pan over medium heat. Add sliced bananas and brown sugar. Stir (or is you are talented - or don't mind making a mess - toss it all together in the pan) the bananas so they are all equally covered in brown sugar and butter. Cook bananas until caramelized (about 3-5 minutes). Pour into a bowl and set aside to cool.
Once the bananas have been cooled, add bananas, rum, ice cream, milk, cinnamon, and nutmeg to a blender. Blend until all ingredients are combined. Serve in glasses with a pinch of nutmeg on top and garnish with a slice of banana. You can of course add whipped cream to up the richness if you so desire!