Please note this post contains affiliate links.
Pumpkin Bourbon Hot Chocolate is a creamy, dreamy cocktail that will warm you up from the inside out! Make your chilly fall evening special by whipping up mugs of this rich and indulgent hot chocolate. You'll never go back to regular hot chocolate again!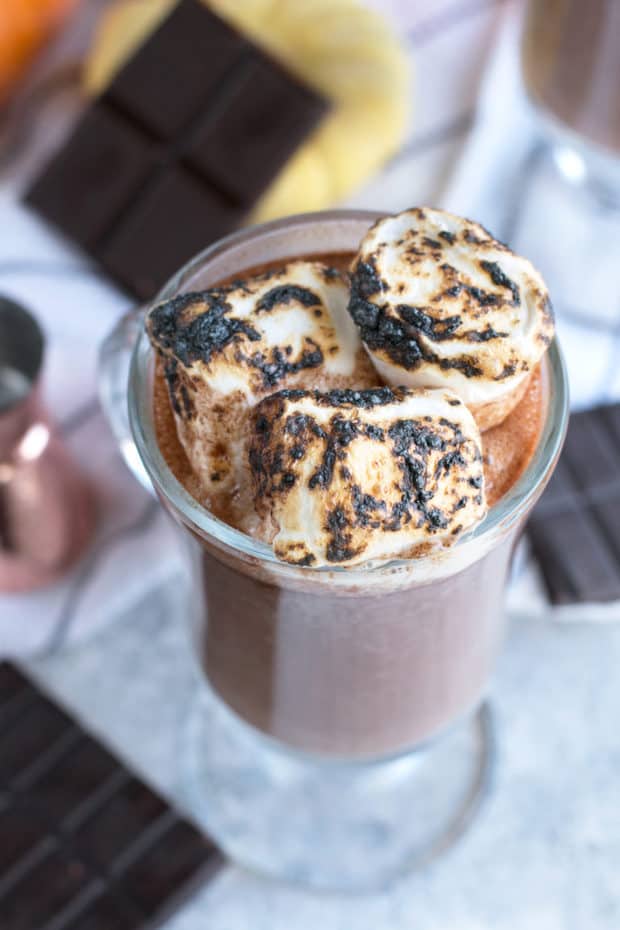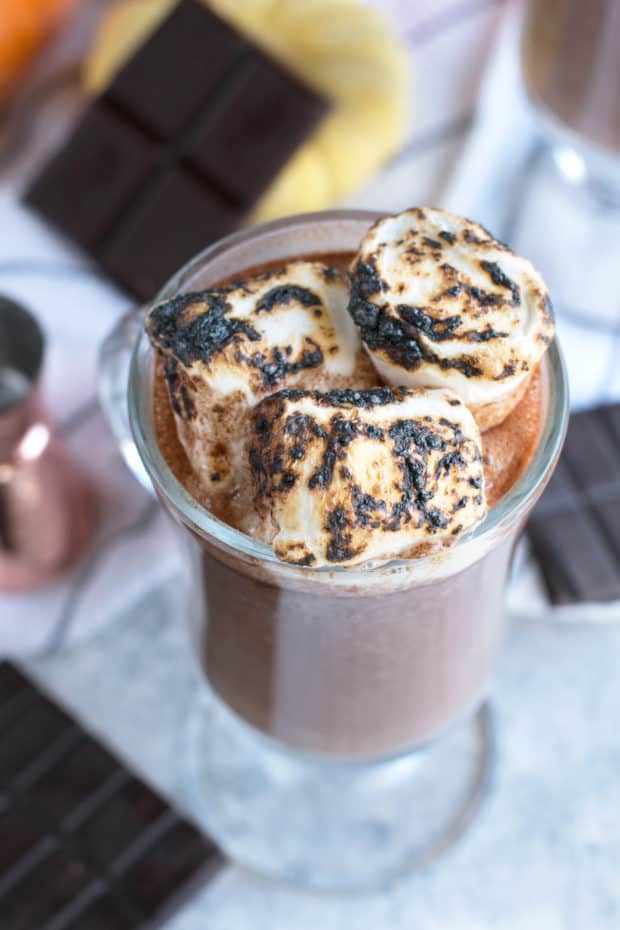 You all knew this one was coming didn't you…? After all my obsession with pumpkin this year, you just HAD to.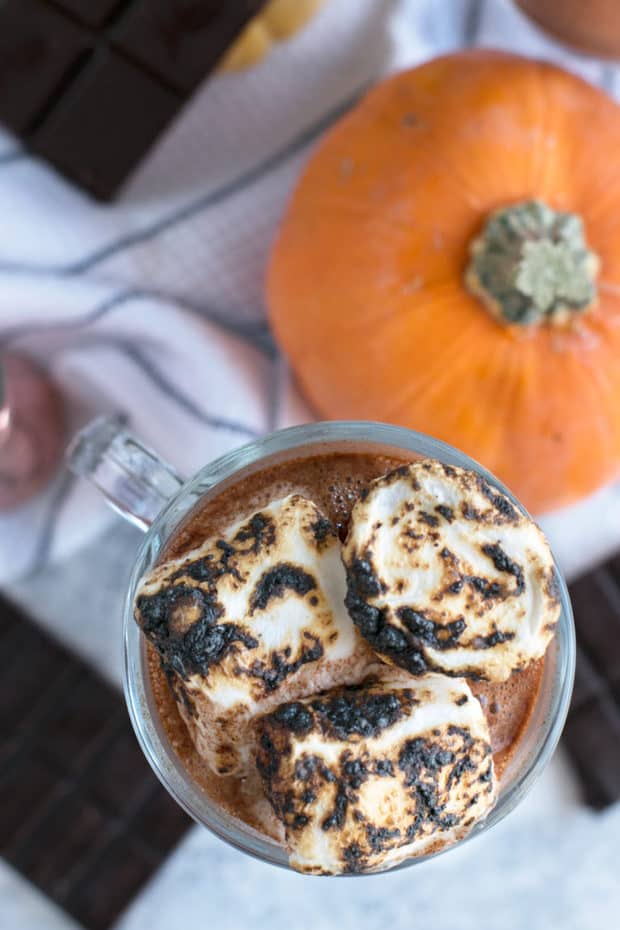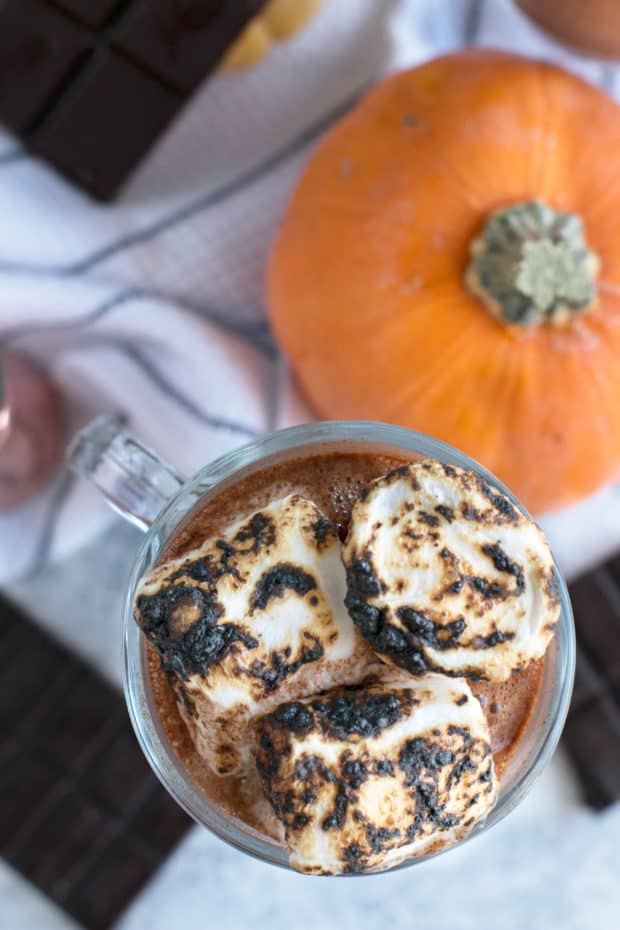 It was only a matter of time before I started whipping out the warm cocktails for you all as well!
With the weather cooling down here in Denver (well, not counting yesterday when the temps hit 85 degrees… ICK), I am allllll about the warm drinks.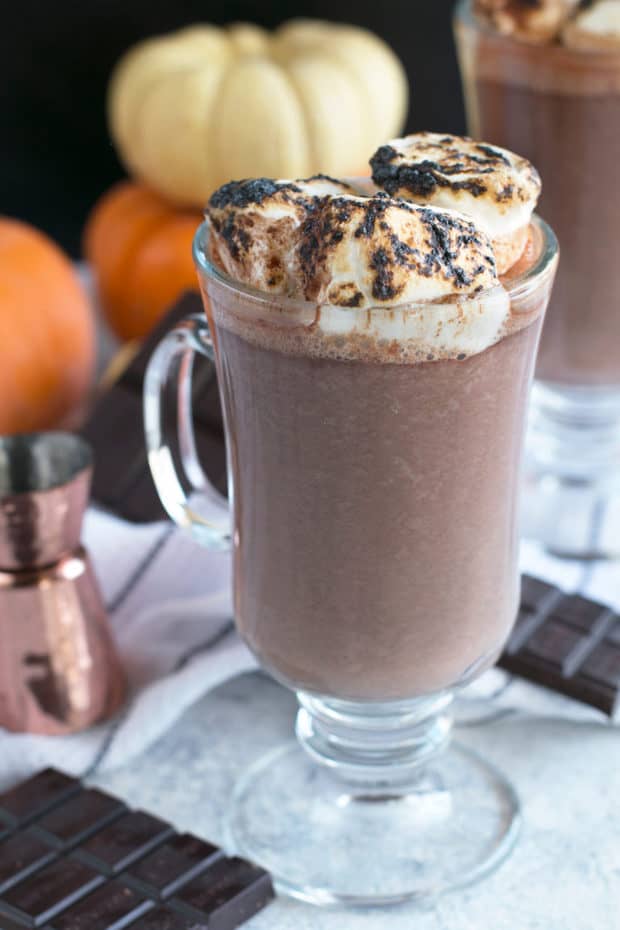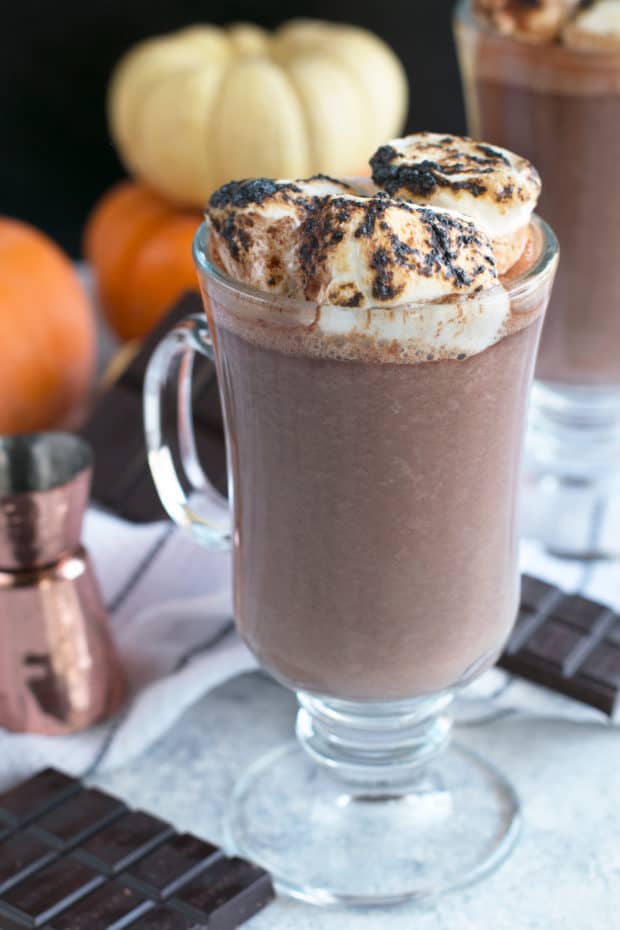 Part of this is due to dosing myself with Theraflu each night while I've been sick, and then transitioning to warm bourbon apple cider once I started feeling like a human again.
Hot chocolate is one of those indulgences I start turning to once the weather gets cold, and get excessive with once I start celebrating Christmas season.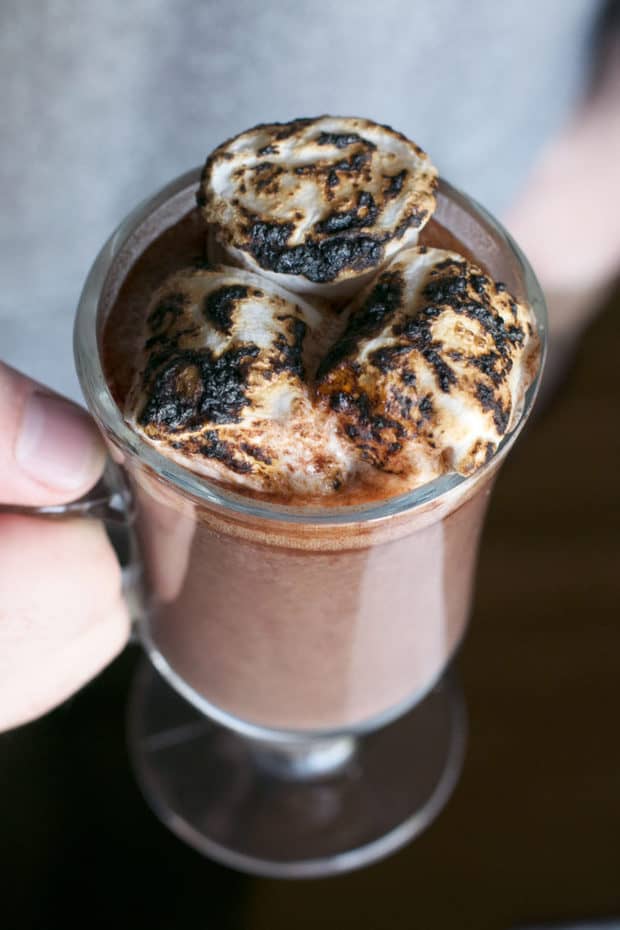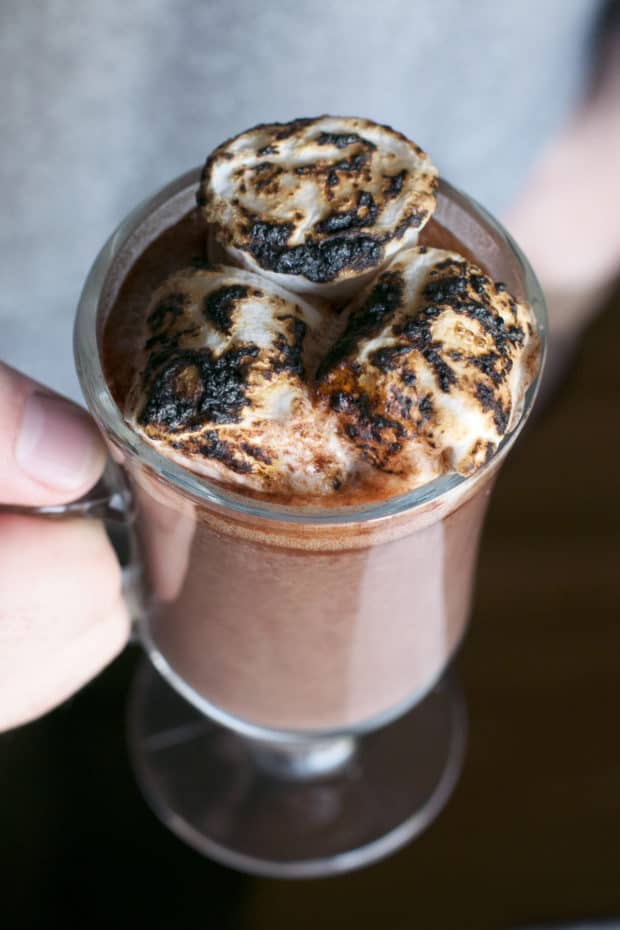 I mean, I marathon Christmas movies throughout December, so hot chocolate is kiiiiiiinda necessary.
BUT I feel kind of crazy getting into the normal hot chocolate routine too early because all I feel like is "Christmas! Christmas! Christmas!"
So this pumpkin bourbon hot chocolate is my non-Christmas solution to enjoying hot chocolate all fall season long.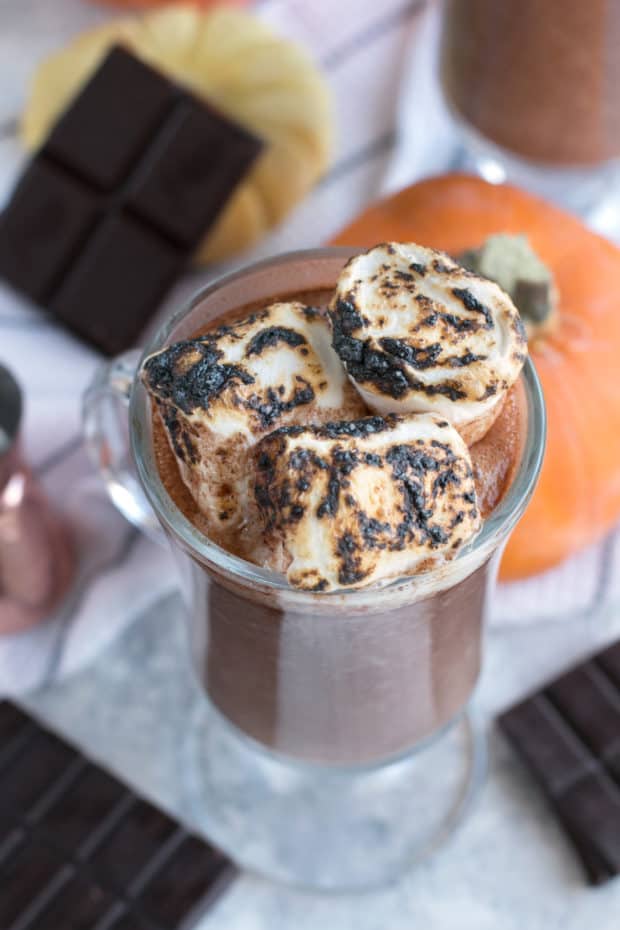 I have never put pumpkin and other fall spices in my hot chocolate, but now that I have, I am never doing it any other way the moment September hits.
The creamy pumpkin and rich warming spices like cinnamon and nutmeg complement the bittersweet dark chocolate cocoa mixture in such a soothing way. The moment the mixture hits your lips, it's like drinking a pumpkin spice latte, except without the excess sugar and caffeine.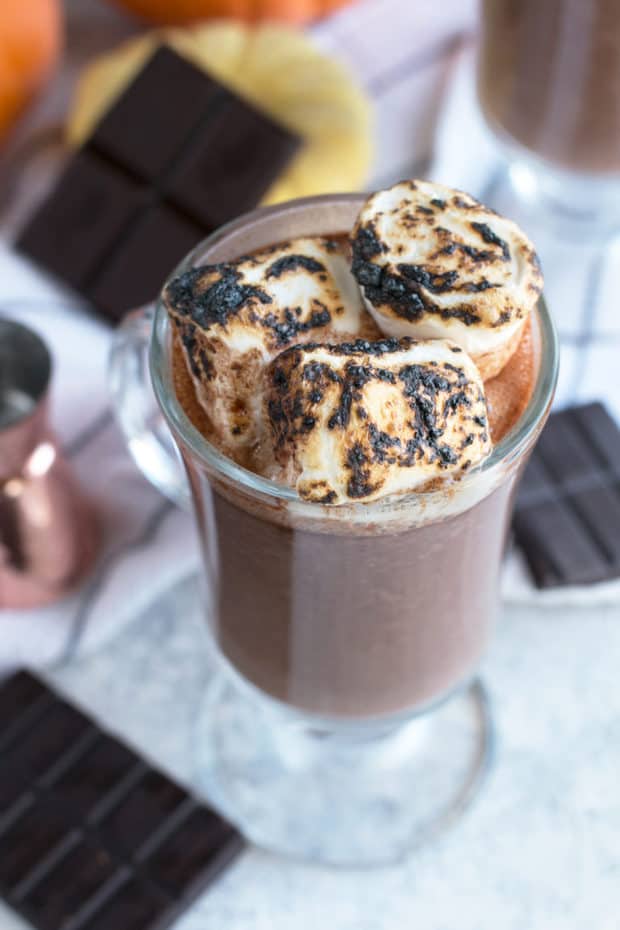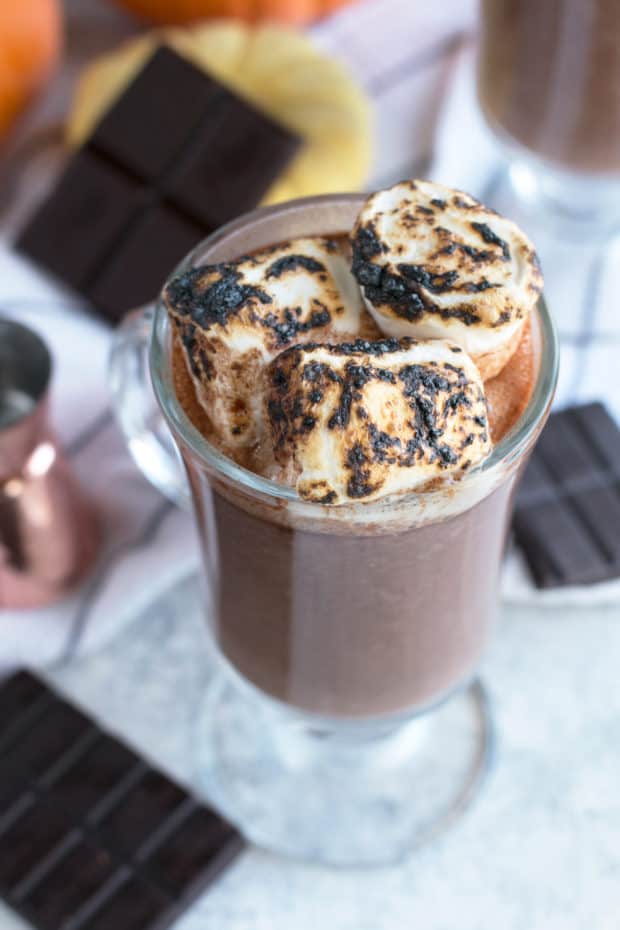 Instead of the sugar and caffeine, you get chocolate and bourbon!
SO much better, am I right?!
Grab a mug, kick back with some cookies, and enjoy the fall… because winter is coming…
Sorry, I just had to go there. Don't roll your eyes, you know you love me 😉
Here's some yummy cookies to pair with this hot chocolate all fall long!
Sea Salt Pistachio Dark Chocolate Cookies (the salt is the ideal pairing for this rich drink!)
Mocha Orange Mexican Wedding Cookies (a little citrus to pair with the pumpkin)
Caramel Stuffed Pumpkin Cookies (because you can never really have TOO much pumpkin)
Chocolate Fig Thumbprint Cookies (figs don't get enough love in my personal opinion!)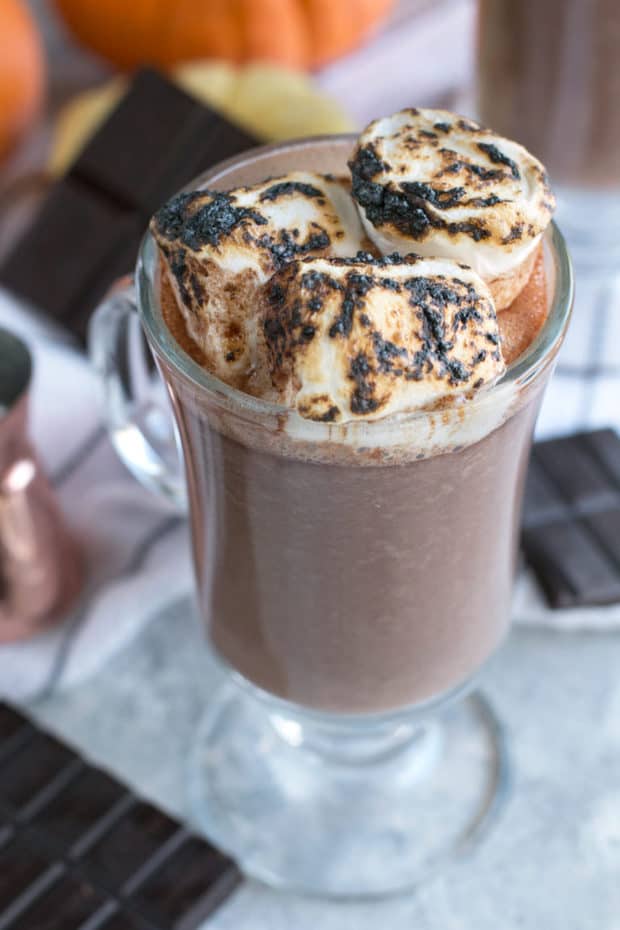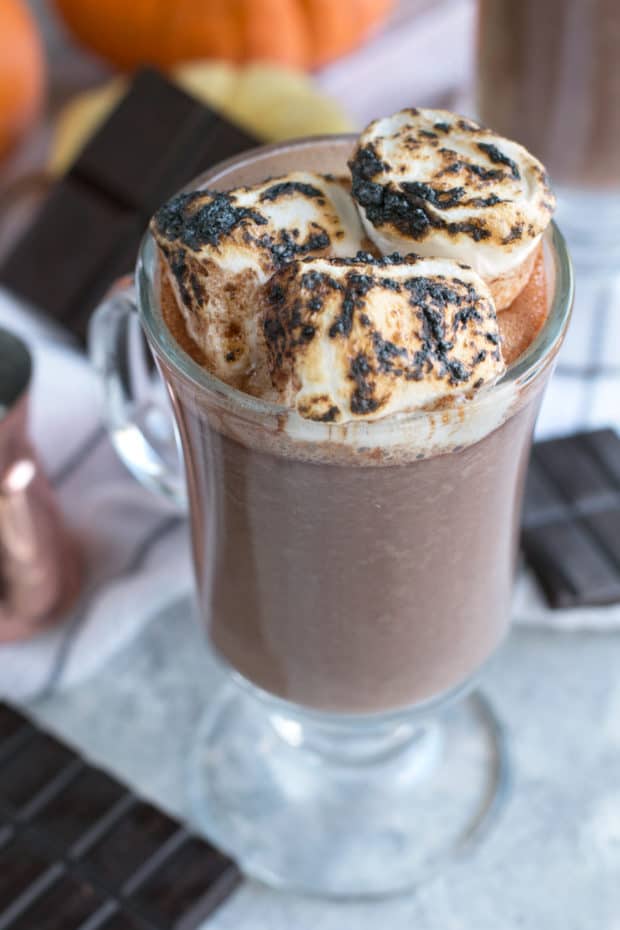 This Recipe's Must Haves
My favorite mugs to drink fancy hot chocolate cocktails out of are hands down these clear coffee mugs. They are super simple and I usually use them for an Irish coffee, but for this hot chocolate, they feel a little more elegant when served this way. Plus these glasses are super inexpensive!
I like to use a large stockpot or saucepan for all my homemade hot chocolate making needs.
A silicone whisk is essential for whisking in that chocolate until it melts perfectly! You can also use a wire whisk, but I like to whisk vigorously and the silicone protects you from ever scratching the pan you are working in.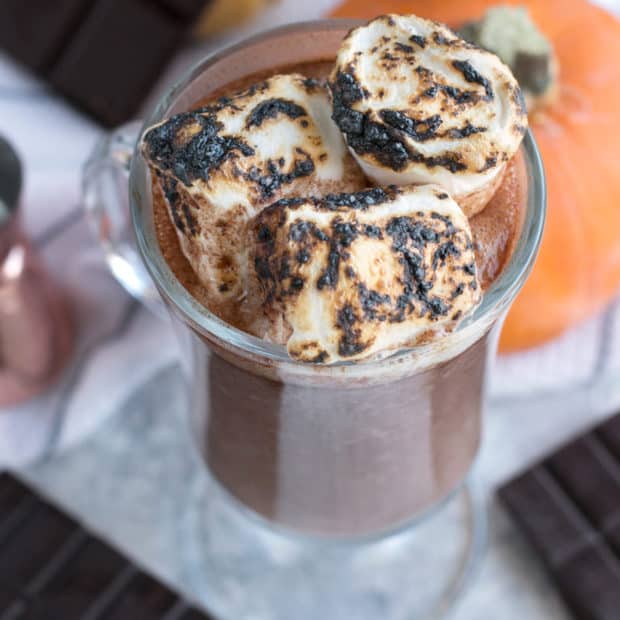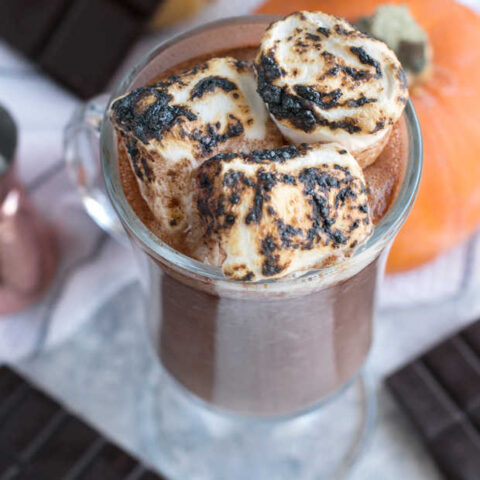 Pumpkin Bourbon Hot Chocolate
Creamy dark hot chocolate, pumpkin, fall spices and bourbon come together to make a warm indulgent cocktail you won't be able to get enough of!
Ingredients
2 1/2 cups milk
5 Tbsp pumpkin puree
1 1/2 Tbsp brown sugar
1 tsp cinnamon
1/8 tsp nutmeg
1/8 tsp all spice
1 1/2 tsp vanilla extract
5 oz dark chocolate, chopped
4 oz bourbon
Garnish: toasted marshmallows
Instructions
In a small saucepan over medium heat, warm milk until it begins to simmer, approximately 2-3 minutes, stirring occasionally.
Reduce heat to low. Stir in pumpkin puree, brown sugar, cinnamon, nutmeg, all spice, and vanilla extract. Whisk gently until the ingredients are combined.
Stir in chopped chocolate, whisking until the chocolate is melted. Remove from heat and stir in bourbon.
Divide the hot chocolate between 4 glasses. Top with 3 large marshmallows and using a torch, toast the tops of the marshmallows.
Serve immediately.
Recommended Products
As an Amazon Associate and member of other affiliate programs, I earn from qualifying purchases.