Please note this post contains affiliate links.
A Pumpkin Pie Mimosa is just the right way to start your Thanksgiving, or any brunch during the month of November! Fabulous glasses of pumpkin spice juice and champagne make this a simple cocktail that brings bubbly cheer to any occasion. Topped with whipped cream and pumpkin spice sugar, and you'll feel like you are sipping on pumpkin pie (the classy way).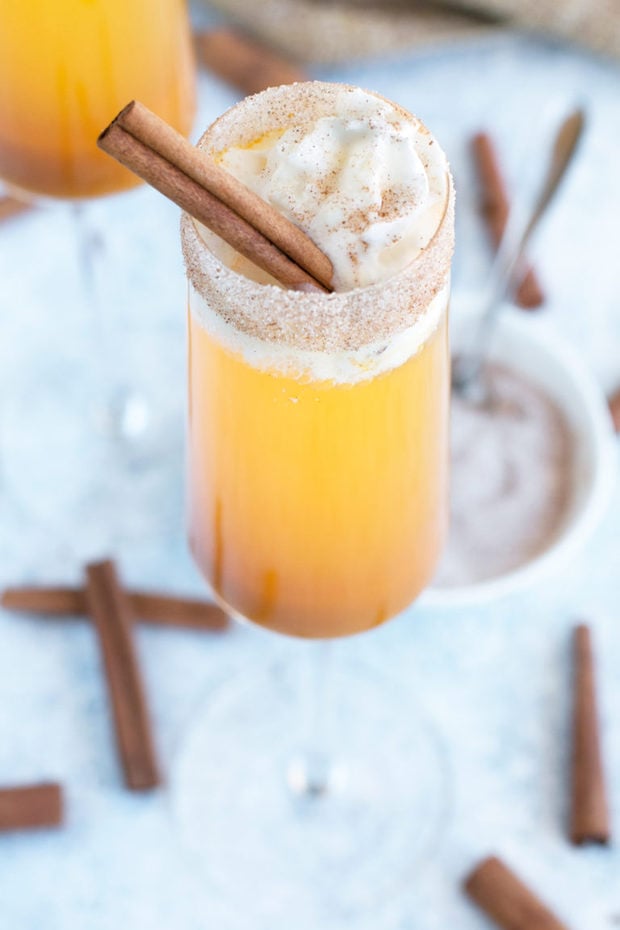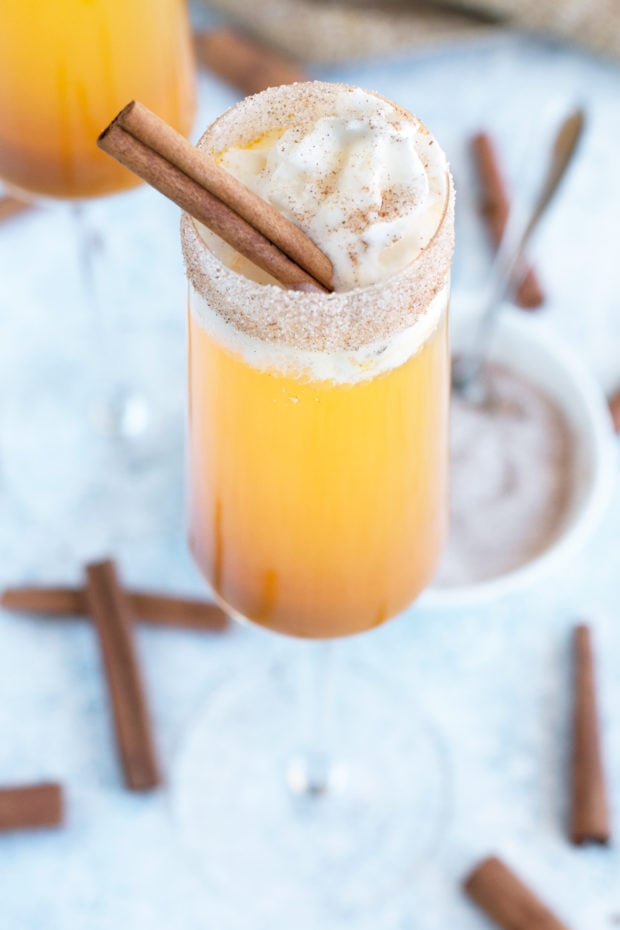 I have a secret to tell you…
I don't like pumpkin pie.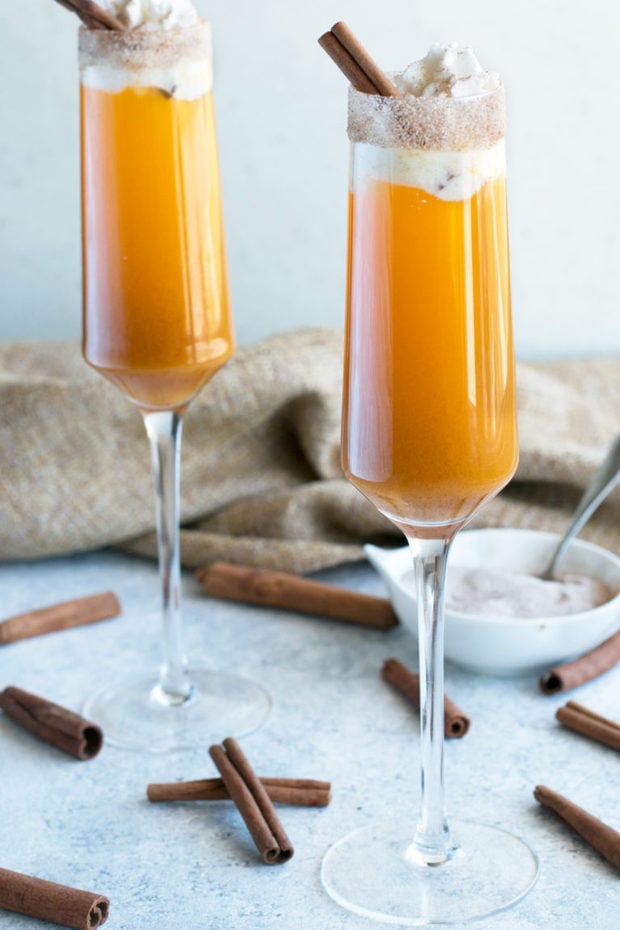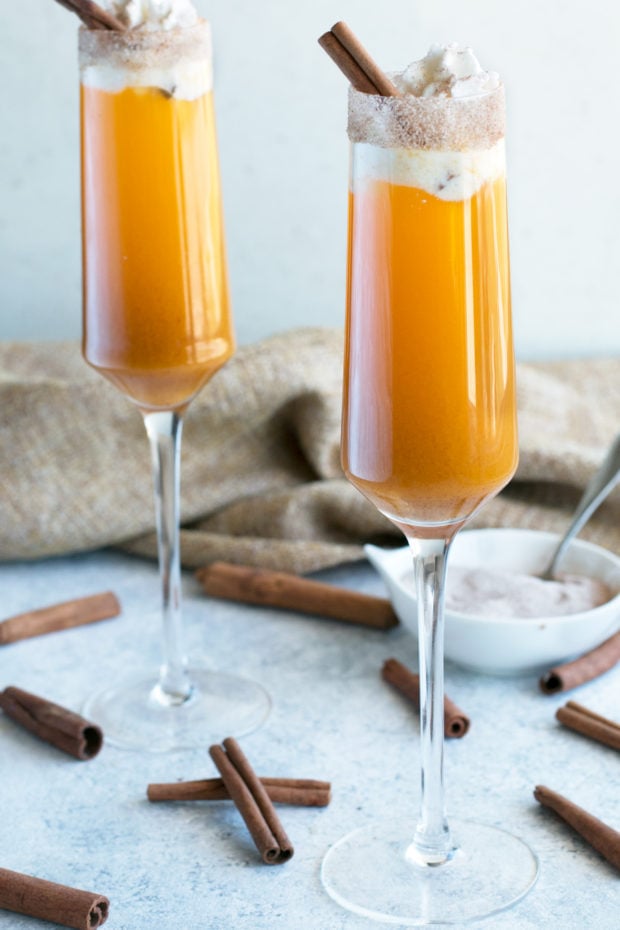 GASP.
I KNOW. I used to like it. I used to look forward to it every Thanksgiving. But honestly, it's not my cup of tea slice of pie (?). It's just TOO much pumpkin and it tends to be too sweet.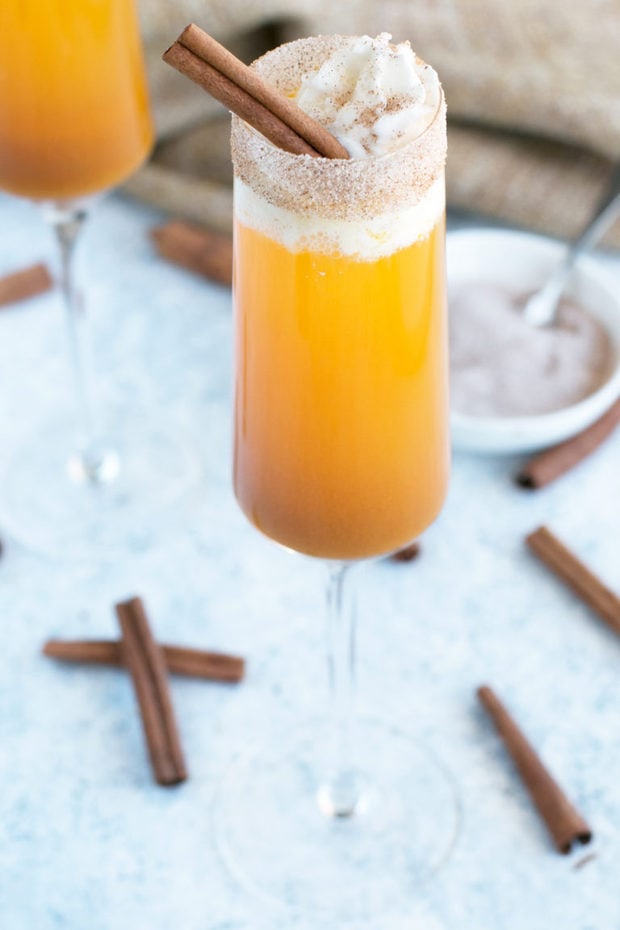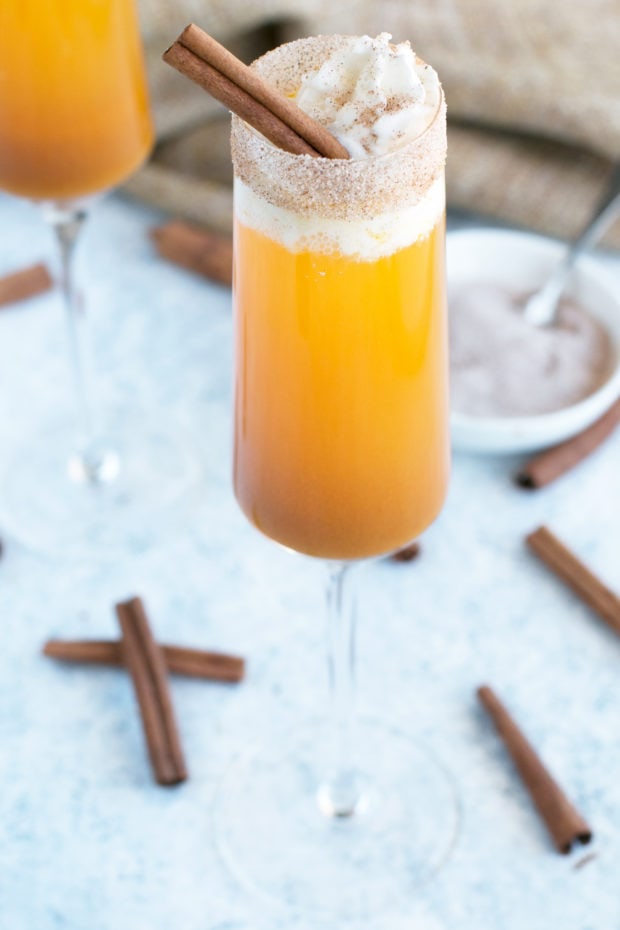 Now I like my pumpkin spice. Not in the "OMG I'm going to line up outside Starbucks for the first PSL of the season!!" way, but in the "I love cinnamon, nutmeg and all the other flavors in pumpkin pie spice – sparingly".
That is why I made this oh-so fabulous, fancy AF cocktail for the morning of Thanksgiving.
It's my pumpkin pie fix without eating pumpkin pie!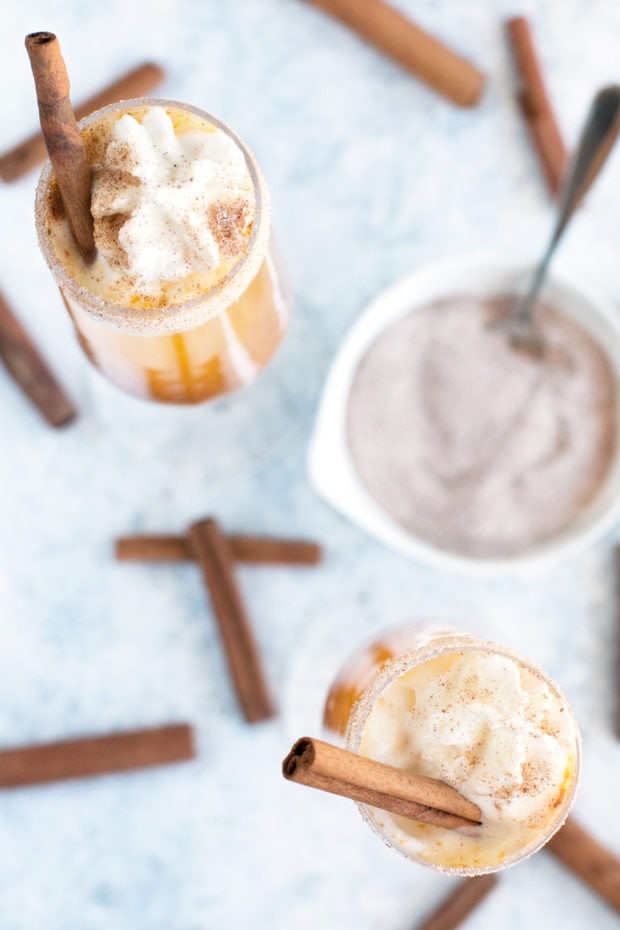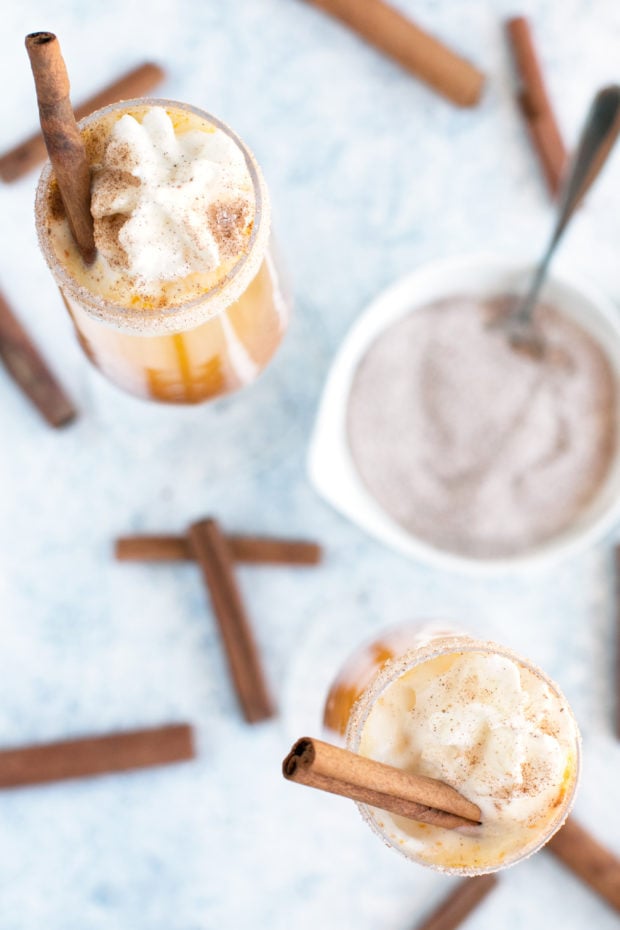 This is such a simple, elegant cocktail to bust out on Thanksgiving morning, whether you are hosting your family all day or it's just you and your boo, snuggling up for a late morning before the onslaught of family socializing.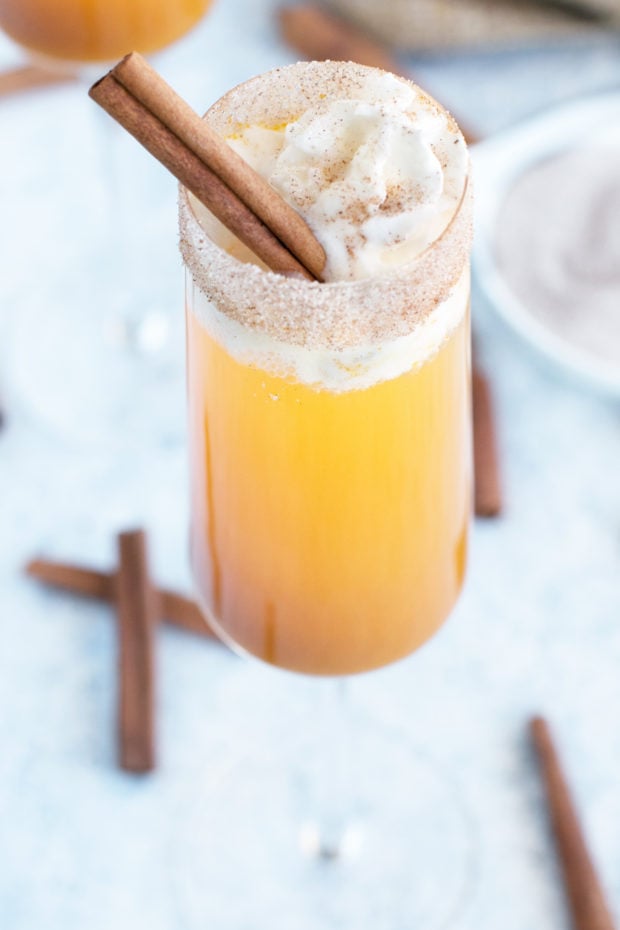 It has a lovely burst of pumpkin in every sip, but the bubbly brut champagne makes it so the cocktail itself isn't really sweet. Instead it's bubbly, perfectly spiced and just fantastic.
The little dollop of whipped cream and the pumpkin spice rimming sugar provide just the touch of sweetness to balance out the crisp champagne and the rich pumpkin spice flavors.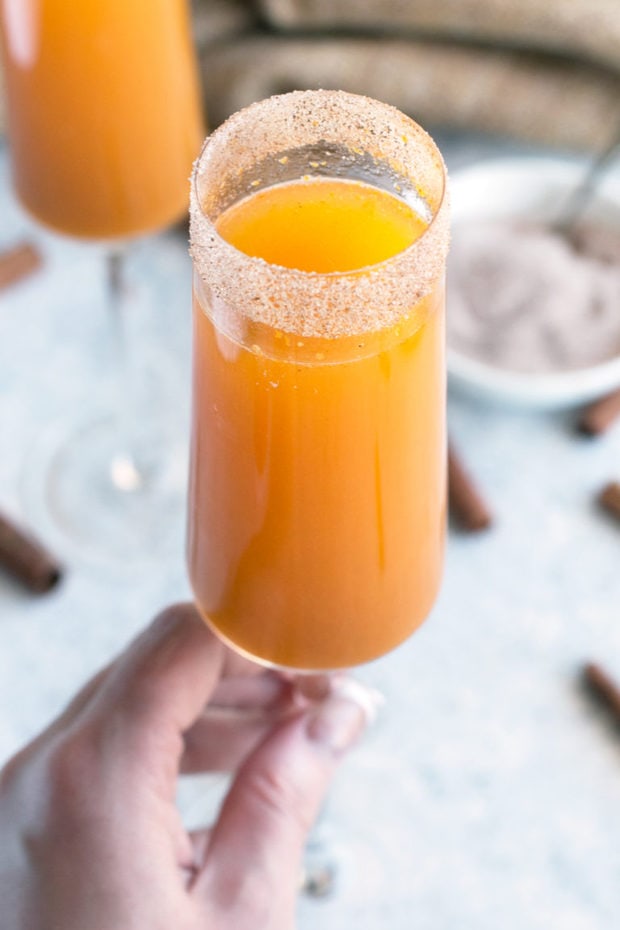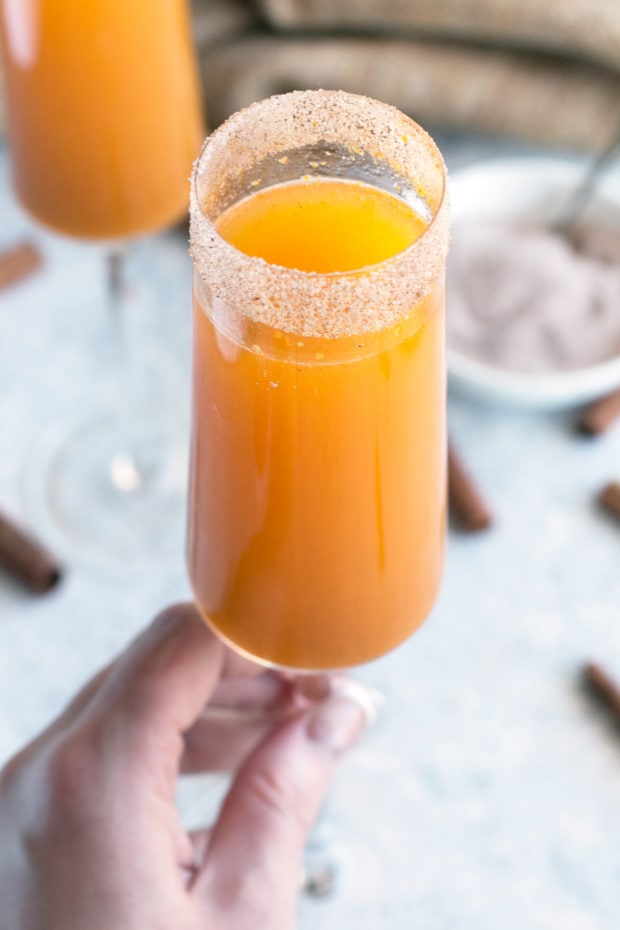 You'll find yourself definitely wanting to indulge in more than one, so feel free to double or triple the recipe below to meet your needs!
Heck, with all that family and booze in one room, you know that you'll be needing one extra drink to make it through the day without going insane 😉
Pssssst, this is also a great one to bust out the day after Thanksgiving with leftovers!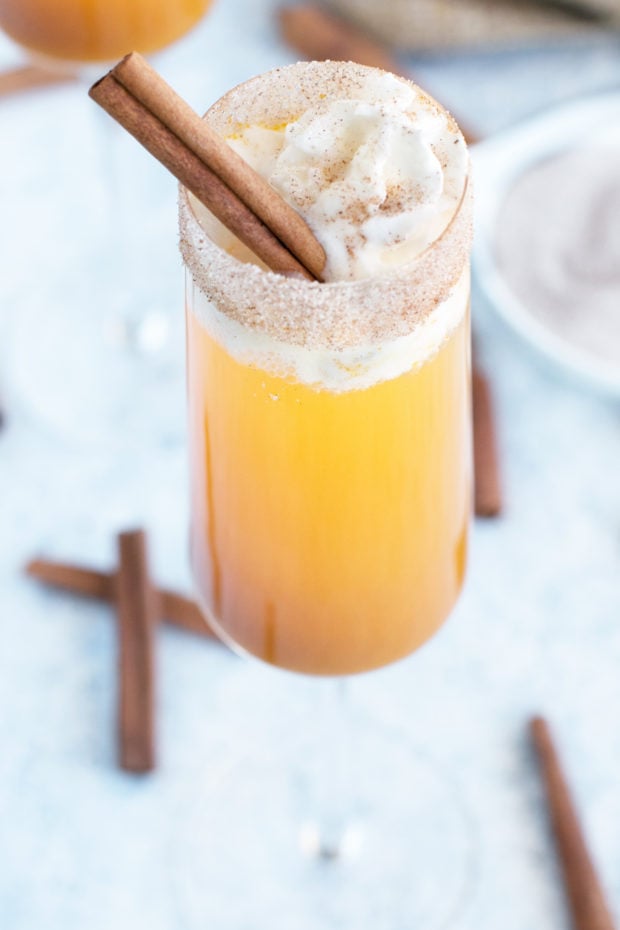 This Recipe's Must Haves
To make the pumpkin juice mixture, you will need your favorite saucepan to bring it all together. You'll also need a fine mesh sieve to strain everything through.
I really love these Schott Zwiesel Tritan Crystal Glass Champagne Flutes
, which are the flutes that you see used here!
I like to use a traditional rimmer set that you would usually use for margaritas for the rims. It makes it super easy to rim the champagne flutes with the cinnamon sugar mixture for the pumpkin pie mimosa.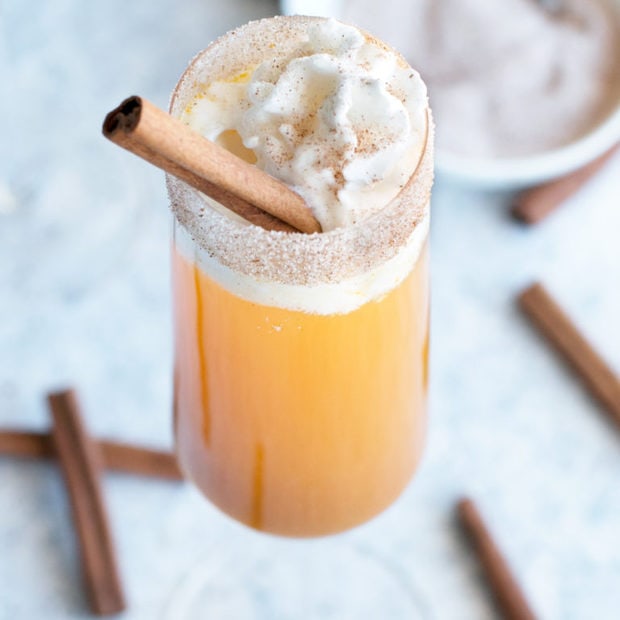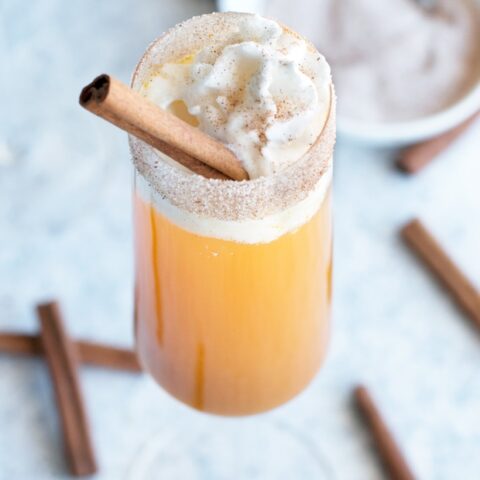 Pumpkin Pie Mimosa
Make this Thanksgiving more festive with a riff on pumpkin pie, for brunch! This fancy mimosa has just the right amount of sugar, spice and everything nice.
Ingredients
Pumpkin Juice
1 (15 oz) can pumpkin puree
1 tsp pumpkin spice
2 1/2 tsp sugar
1/4 cup water
Rimming Sugar
2 tsp pumpkin spice
1/4 cup sugar
Cocktail
Champagne
Garnish: whipped cream, cinnamon stick, rimming sugar (recipe below)
Instructions
In a small saucepan over medium heat, add the pumpkin puree, pumpkin spice, sugar, and water. Cook the mixture down slightly, stirring constantly, for approximately a few minutes. The mixture should still be a puree, so don't cook it down too far!
Remove mixture from heat and strain through a fine mesh sieve. Discard remaining puree. Cool completely before using in the refrigerator.
When you are ready to make the drinks, in a small bowl, stir together ingredients for the rimming sugar. Wet the rims of 4 champagne glasses and rim them with the pumpkin spice sugar. Set aside.
Add 1 1/2 oz of the strained pumpkin juice to the champagne glasses and give the mixture a stir.
Fill each glass to the top with champagne.
Top each with whipped cream, a cinnamon stick and a sprinkle of the remaining rimming sugar.
Serve immediately.
Notes
Troubleshooting:
The mixture for the pumpkin juice should be pretty loose to start with, like a smooth sauce. If it's thick, add more water until it's thinned out some.
Be sure to not let the mixture thicken up on the stove. It should stay loose - the cooking is to solidify the flavors only! If it thickens on the stove, you've cooked it for too long or the heat was too high.
Do not use pumpkin pie filling, only 100% pumpkin puree.
Recommended Products
As an Amazon Associate and member of other affiliate programs, I earn from qualifying purchases.