Please note this post contains affiliate links.
A Pumpkin Pie Mimosa is just the right way to start your Thanksgiving, or any brunch during the fall season! Fabulous glasses of pumpkin spice juice and champagne make this a simple cocktail that brings bubbly cheer to any occasion. Topped with whipped cream and pumpkin spice sugar, you'll feel like you're sipping on pumpkin pie (the classy way).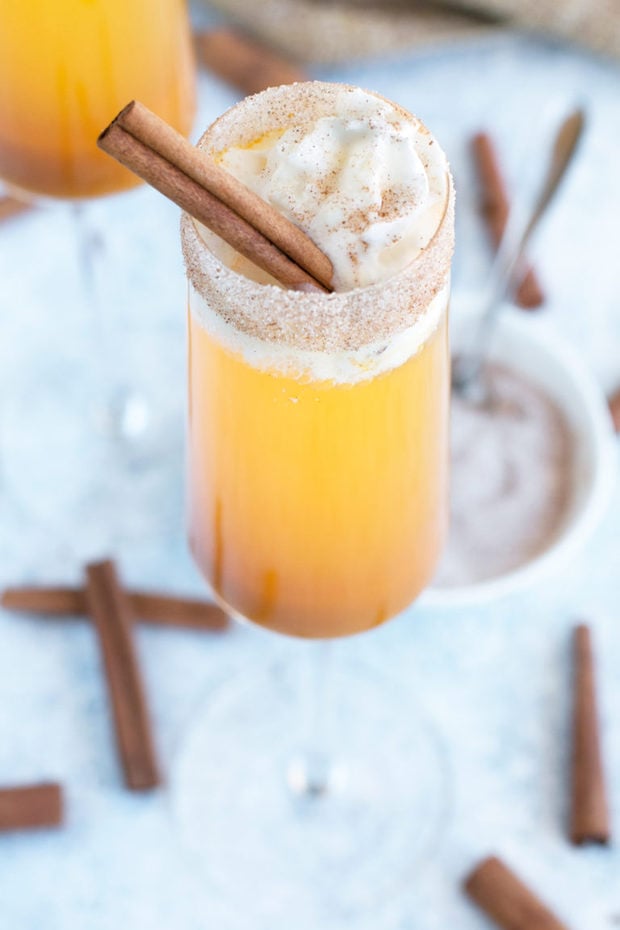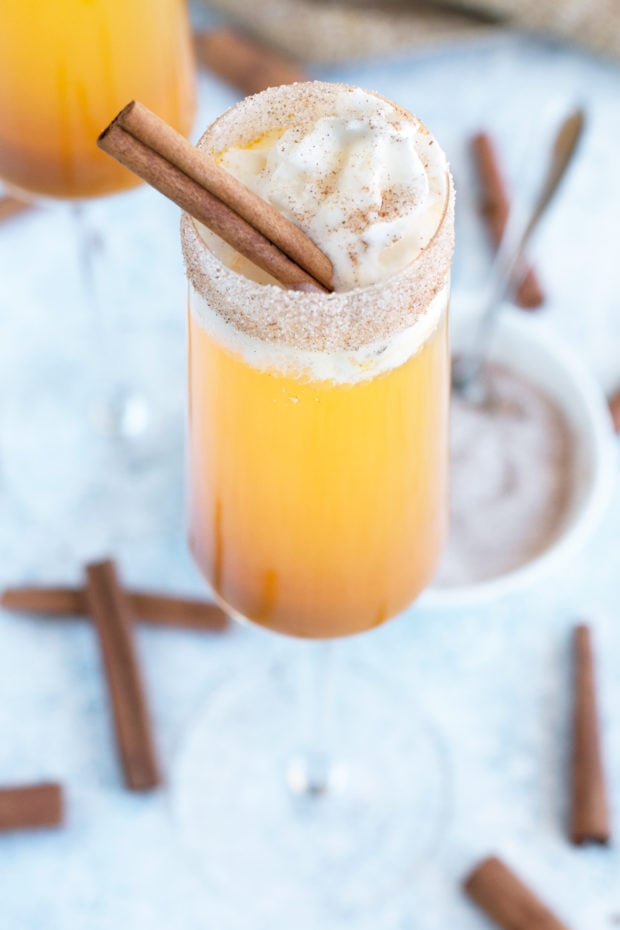 about this pumpkin pie mimosa
I have a secret to tell you… I don't like pumpkin pie. GASP.
I KNOW. I used to like it. I used to look forward to it every Thanksgiving. But honestly, it's not my cup of tea slice of pie (?). It's just TOO much pumpkin and it tends to be too sweet.
Now I like my pumpkin spice. Not in the "OMG I'm going to line up outside Starbucks for the first PSL of the season!!" way, but in the "I love cinnamon, nutmeg and all the other flavors in pumpkin pie spice – sparingly".
That is why I made this oh-so fabulous, fancy AF cocktail for the morning of Thanksgiving.
It's my pumpkin pie fix without eating pumpkin pie!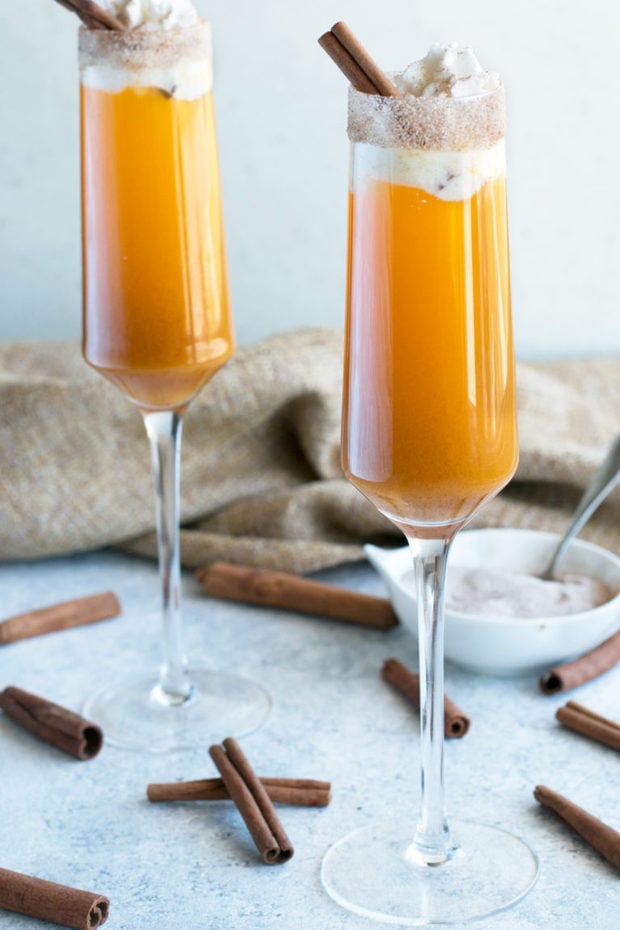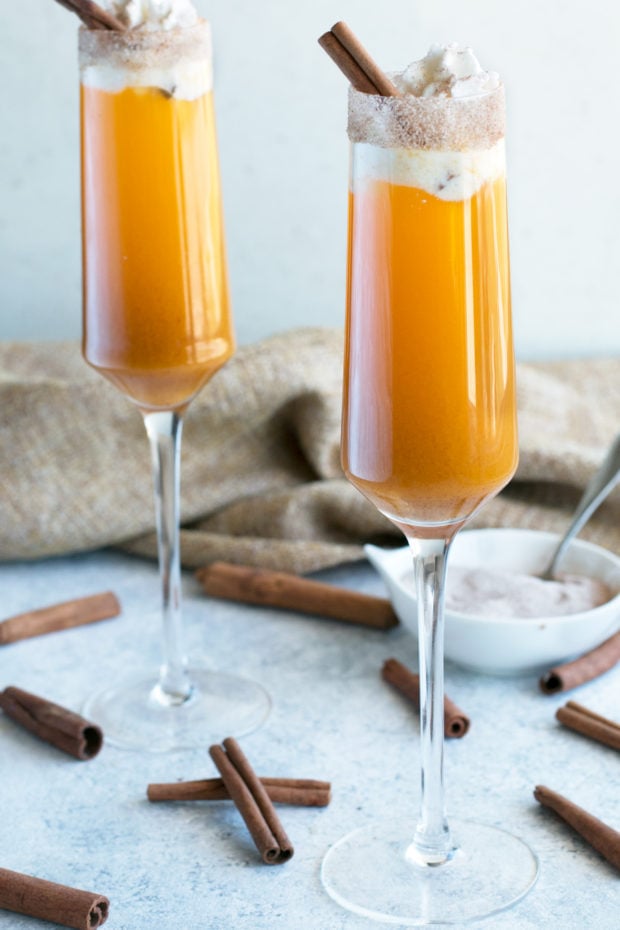 This is such a simple, elegant cocktail to bust out on Thanksgiving morning, whether you are hosting your family all day or it's just you and your boo, snuggling up for a late morning before the onslaught of family socializing.
It has a lovely burst of pumpkin in every sip, but the bubbly brut champagne makes it so the cocktail itself isn't really sweet. Instead it's bubbly, perfectly spiced and just fantastic.
The little dollop of whipped cream and the pumpkin spice rimming sugar provide just the touch of sweetness to balance out the crisp champagne and the rich pumpkin spice flavors.
You'll find yourself definitely wanting to indulge in more than one! So feel free to double or triple the recipe below to meet your needs!
Heck, with all that family and booze in one room, you know that you'll be needing one extra drink to make it through the day without going insane 😉
Pssssst, this is also a great one to bust out the day after Thanksgiving with leftovers!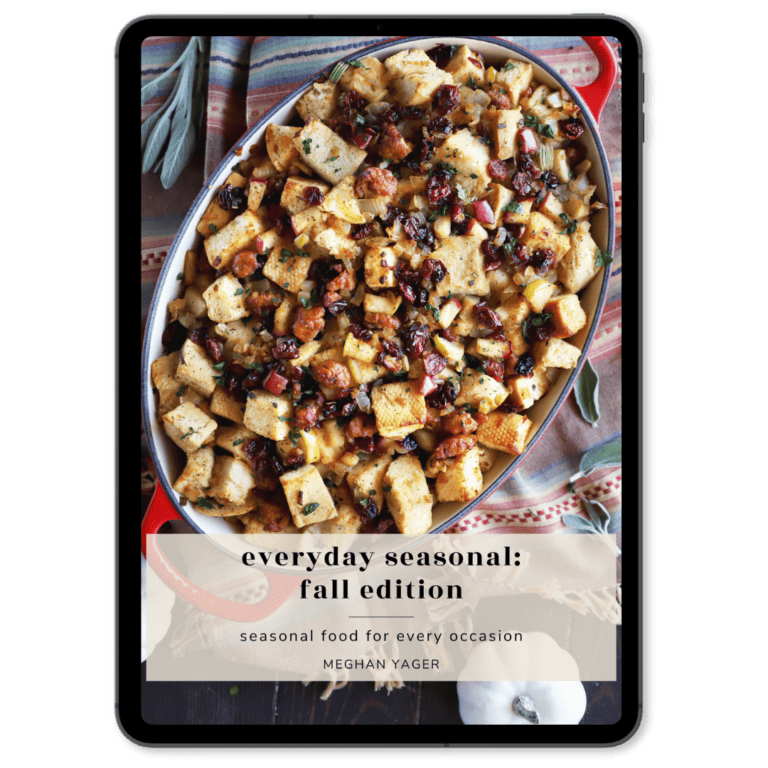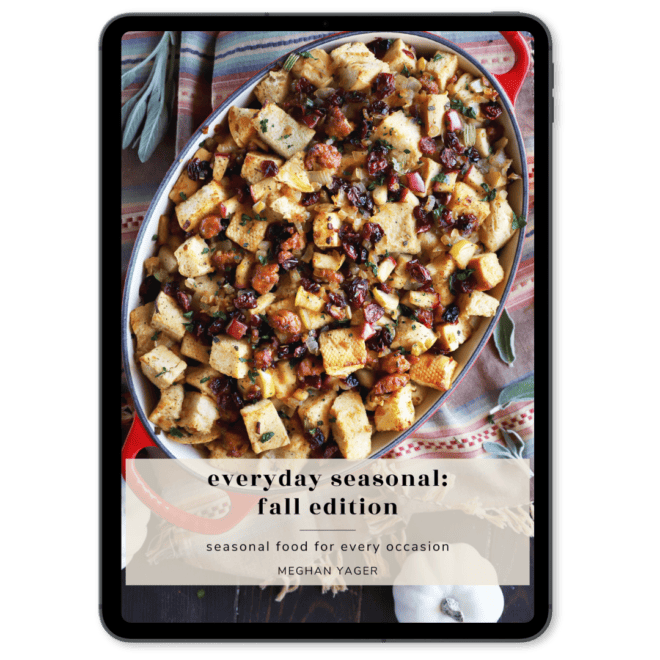 everyday seasonal: fall
With seasonal fall recipes, a comprehensive produce guide, and more, this is the cookbook to help you celebrate the season.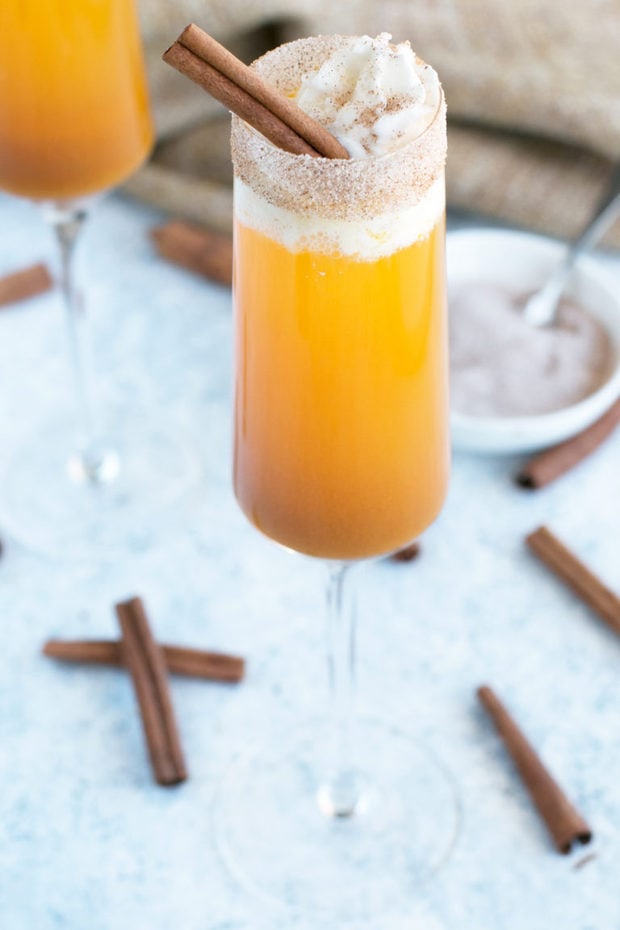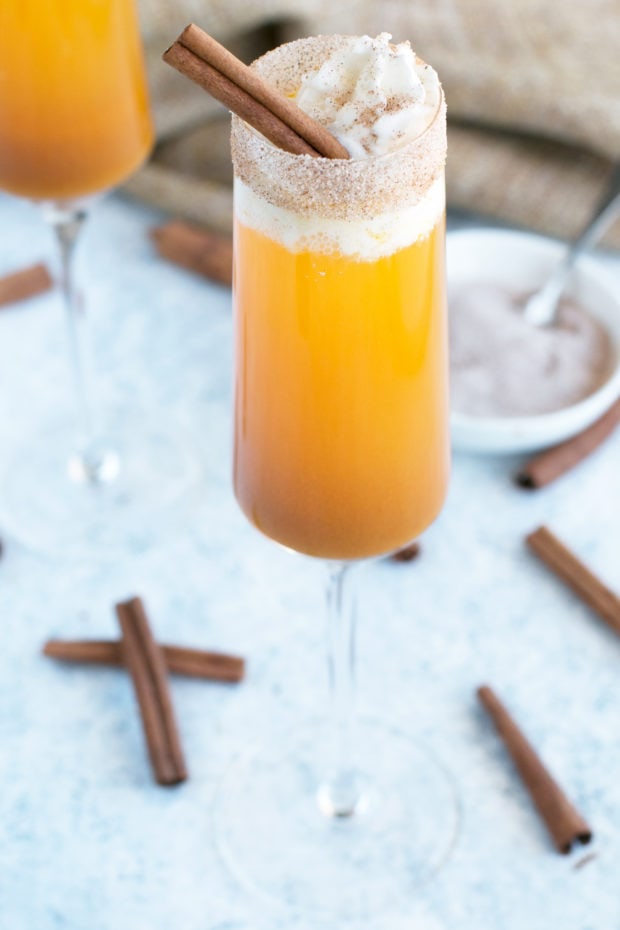 ingredients
pumpkin puree. Be sure to use 100% pumpkin puree! Do not use pumpkin pie filling for this recipe.
pumpkin pie spice. Pumpkin pie spice is made with a blend of cinnamon, nutmeg, cloves, and ginger typically. You can either purchase this at the store, or make your own!
sugar. I use granulated sugar for this recipe.
champagne. Pick the champagne you love to drink! I recommend a drier champagne like a brut so that the mixture isn't too sweet.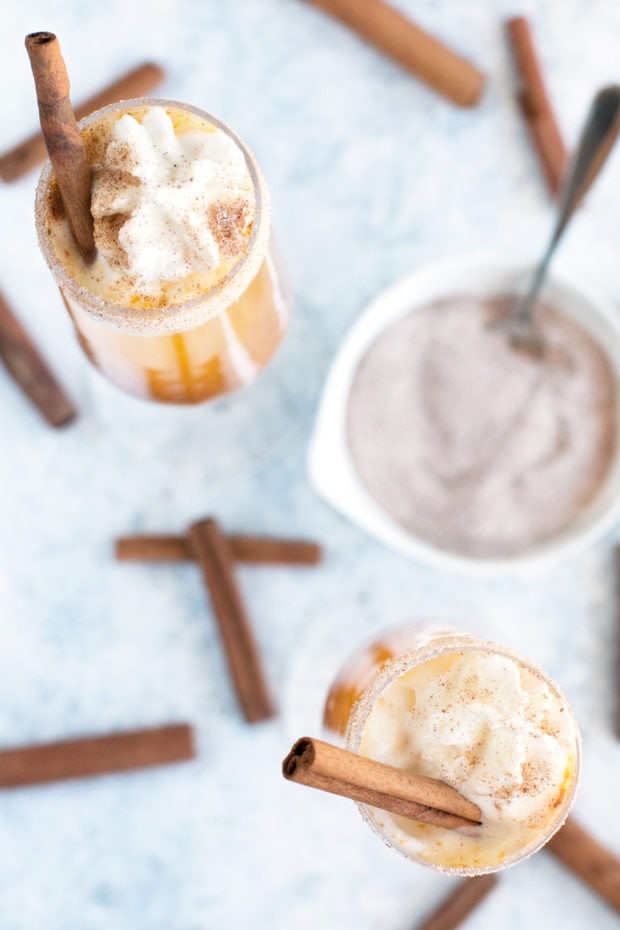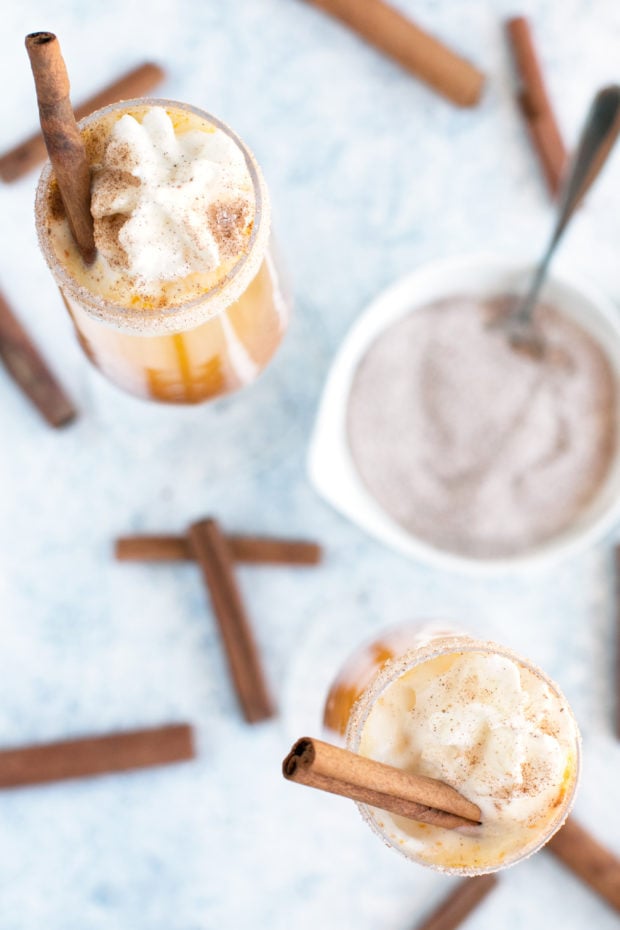 this recipe's must-haves
To make the pumpkin juice mixture, you will need your favorite saucepan to bring it all together. You'll also need a fine mesh sieve to strain everything through.
I really love these champagne flutes, which are the flutes that you see used here!
I like to use a traditional rimmer set that you would usually use for margaritas for the rims. It makes it super easy to rim the champagne flutes with the cinnamon sugar mixture for the pumpkin pie mimosa.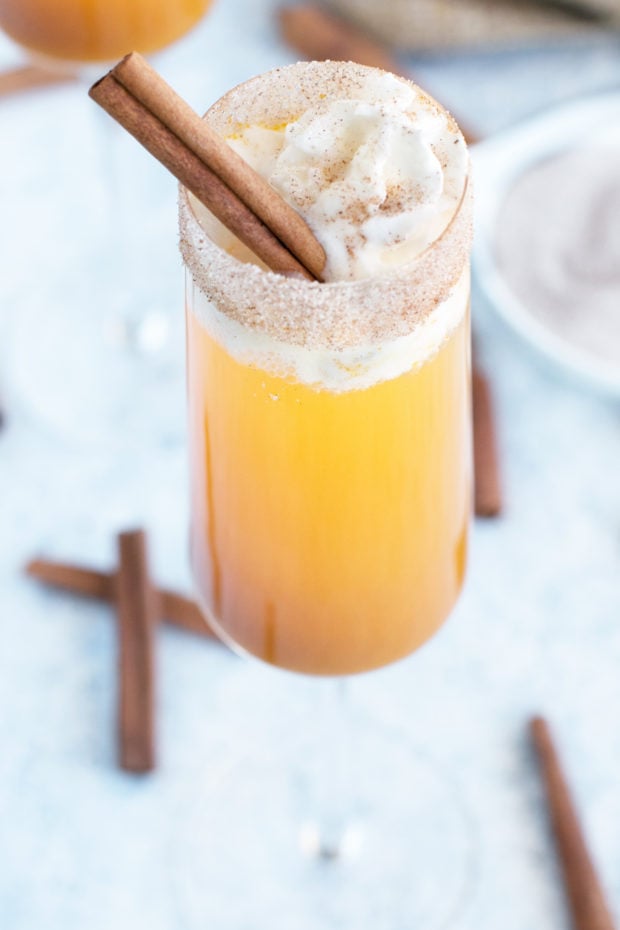 here's how to make a pumpkin pie mimosa
make pumpkin juice
Add pumpkin puree, pumpkin pie spice, sugar, and water to a small saucepan over medium heat. Cook the mixture, stirring constantly, for a few minutes until it's cooked down a bit. The mixture should still be a puree – don't cook it down too far so it becomes a paste!
strain
Remove mixture from heat and strain through a fine mesh sieve. Discard remaining puree and cool the juice completely before using in the cocktail.
make rimming sugar
In a small bowl, stir together sugar and pumpkin pie spice for the rimming mixture.
Wet the rims of the champagne glasses and rim with the sugar mixture.
assemble
Add 1 1/2 oz of pumpkin juice to each champagne glass. Fill each glass with champagne!
Top with whipped cream and garnish with a cinnamon stick. I like to sprinkle a little extra rimming sugar on top of the whipped cream too!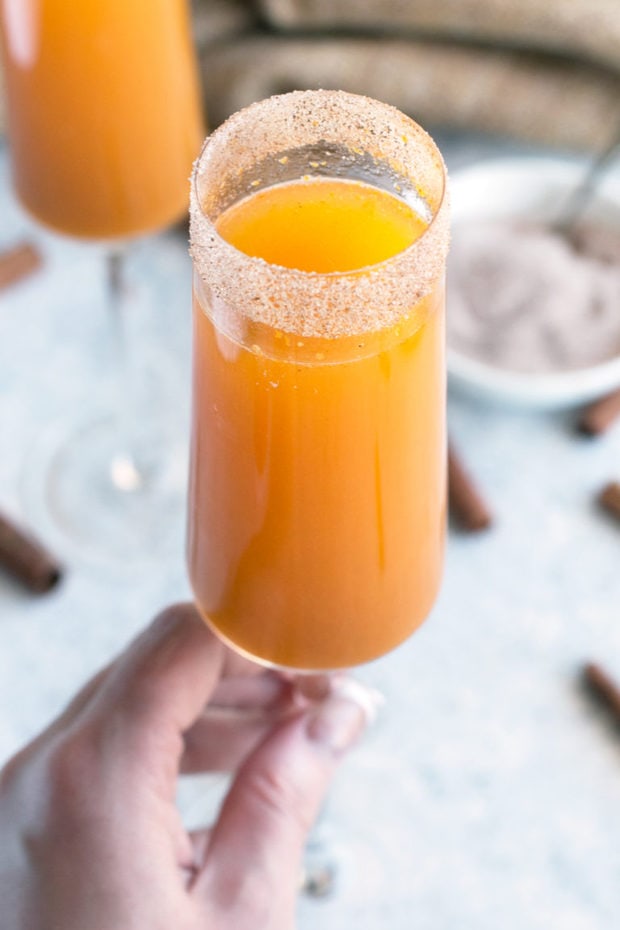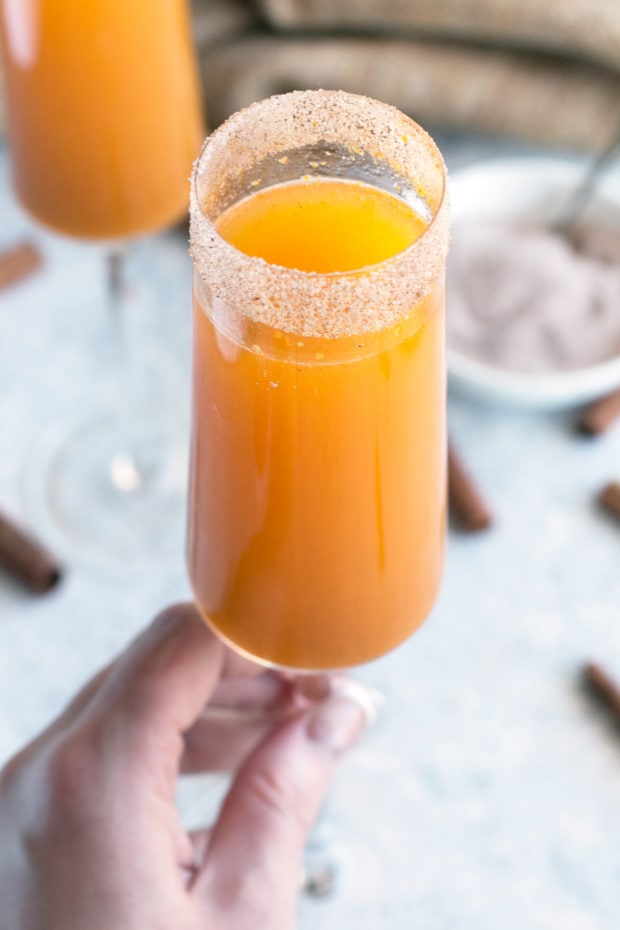 tips for success
use 100% pumpkin. Do not use pumpkin pie filling, use 100% canned pumpkin puree (or homemade if you prefer!).
champagne, not prosecco. I recommend a brut champagne to balance out the sweetness of the pumpkin juice used in this cocktail. Using prosecco will make the drink way too sweet.
can I make this ahead of time?
Yes, you can! I recommend making the pumpkin juice to prep this cocktail ahead of time. Store the pumpkin juice in an airtight container in the fridge for up to 3 days! Be sure to shake the mixture well before using in the recipe as the spice can sink to the bottom as it sits. Assemble just before serving!
More tasty pumpkin cocktails to try: Pumpkin Bourbon Sidecar | Pumpkin Pie Martini | Pumpkin Spice Bourbon Old Fashioned | Pumpkin Bourbon Hot Chocolate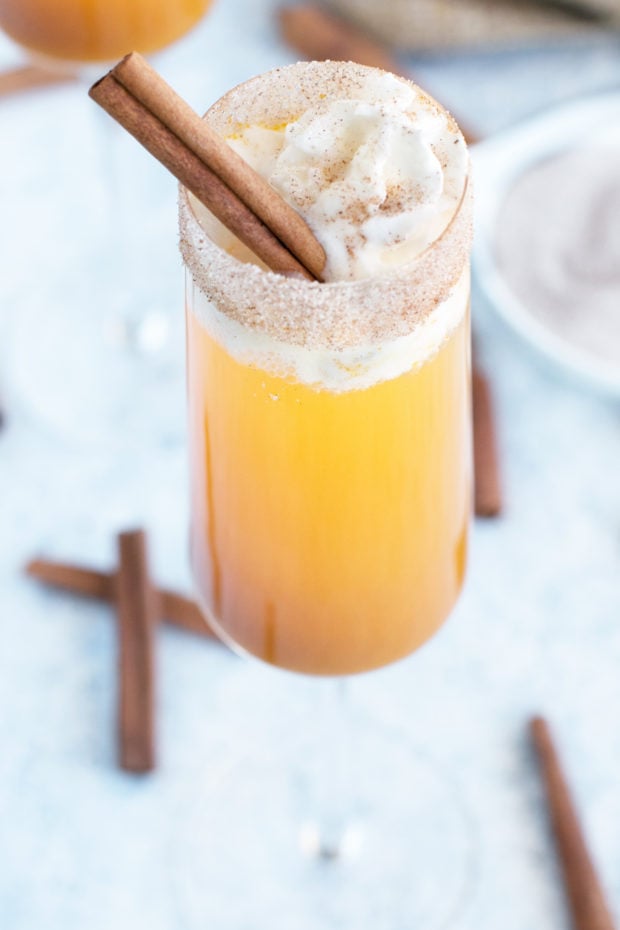 what to serve with pumpkin pie mimosas
When I serve pumpkin pie mimosas, I'm serving BRUNCH. So let's talk about some of my favorite fall brunch recipes to whip out:
If you want to keep the pumpkin theme going with something sweet, try pumpkin coffee cake or pumpkin cream cheese muffins.
For a savory option, a hearty southwestern ham hash is a delicious and easy option for fall. Also, breakfast croissant sandwiches work ANYTIME of year!
Looking for another festive fall-themed brunch cocktail? Try an apple cider mimosa!
Finally, if you make these pumpkin pie mimosas, please be sure to give this recipe a rating or leave a comment! I love to hear when you all make recipes, and I do take the time to respond to every single comment. Feel free to drop questions below too, if you have them!
Oh and be sure to tag me on Instagram if you make the recipe! Love being able to see these recipes come to life in your homes – it's my favorite thing to look through those photos. It really means the world to me!
everyday seasonal cookbook
With seasonal produce guides, recipes, and more, this cookbook is filled with seasonal food for every occasion.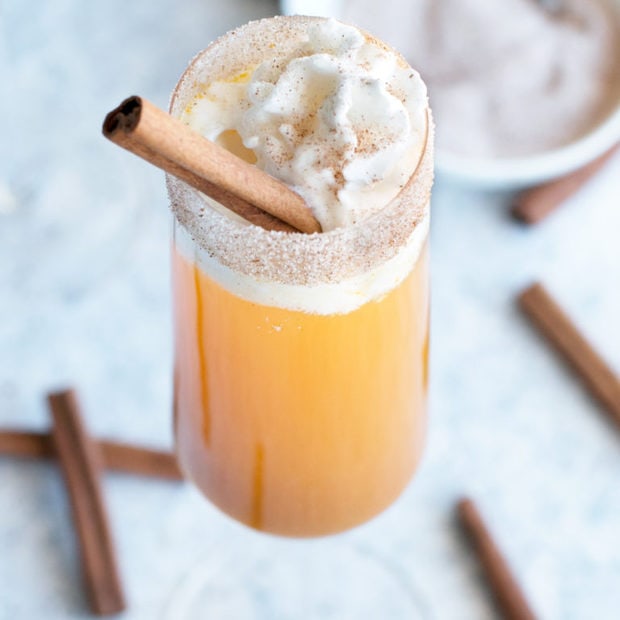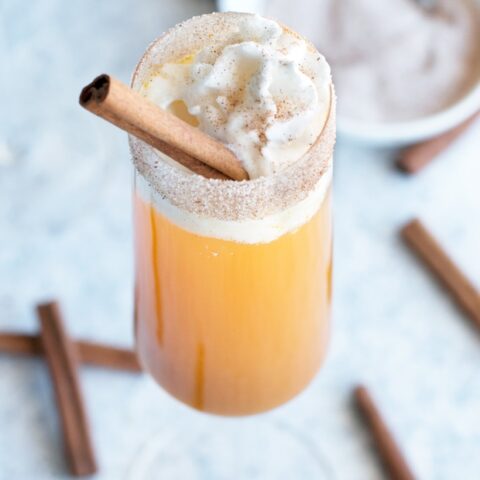 Pumpkin Pie Mimosa
Make this Thanksgiving more festive with a riff on pumpkin pie, for brunch! This fancy mimosa has just the right amount of sugar, spice and everything nice.
Ingredients
Pumpkin Juice
1 (15 oz) can pumpkin puree
1 tsp pumpkin spice
2 1/2 tsp sugar
1/4 cup water
Rimming Sugar
2 tsp pumpkin spice
1/4 cup sugar
Cocktail
Champagne
Garnish: whipped cream, cinnamon stick, rimming sugar (recipe below)
Instructions
In a small saucepan over medium heat, add the pumpkin puree, pumpkin spice, sugar, and water. Cook the mixture down slightly, stirring constantly, for approximately a few minutes. The mixture should still be a puree, so don't cook it down too far!
Remove mixture from heat and strain through a fine mesh sieve. Discard remaining puree. Cool completely before using in the refrigerator.
When you are ready to make the drinks, in a small bowl, stir together ingredients for the rimming sugar. Wet the rims of 4 champagne glasses and rim them with the pumpkin spice sugar. Set aside.
Add 1 1/2 oz of the strained pumpkin juice to the champagne glasses and give the mixture a stir.
Fill each glass to the top with champagne.
Top each with whipped cream, a cinnamon stick and a sprinkle of the remaining rimming sugar.
Serve immediately.
Notes
Troubleshooting:
The mixture for the pumpkin juice should be pretty loose to start with, like a smooth sauce. If it's thick, add more water until it's thinned out some.
Be sure to not let the mixture thicken up on the stove. It should stay loose - the cooking is to solidify the flavors only! If it thickens on the stove, you've cooked it for too long or the heat was too high.
Do not use pumpkin pie filling, only 100% pumpkin puree.
Recommended Products
As an Amazon Associate and member of other affiliate programs, I earn from qualifying purchases.