Please note this post contains affiliate links.
Pumpkin Ricotta Ravioli with Brown Butter Sage Sauce is an elegant meal that every fall dinner should feature. The rich pumpkin ricotta filling plays off the silky brown butter sage sauce, all with fresh homemade pasta! Don't let the homemade pasta intimidate you – it really is easier than you think to create.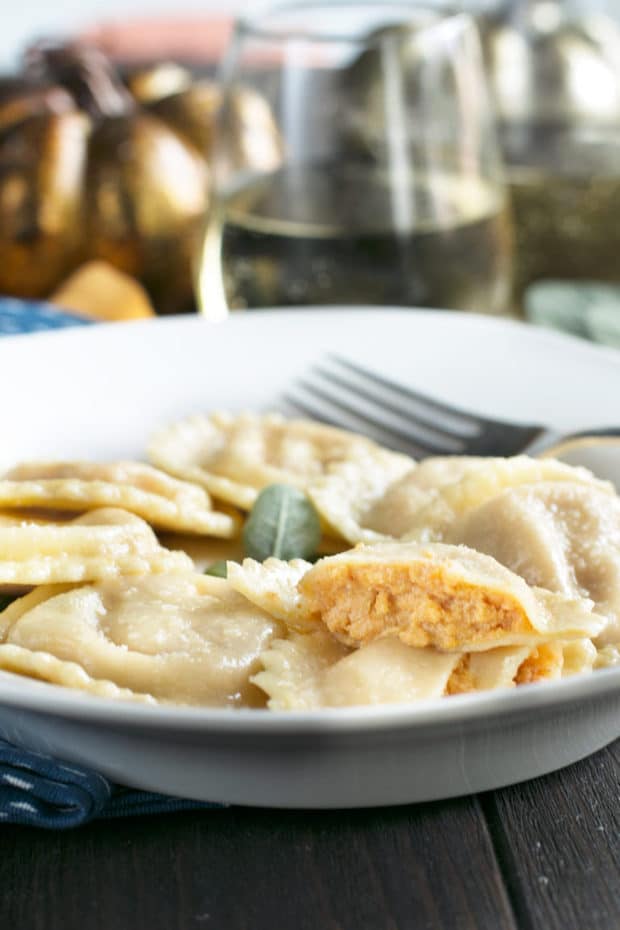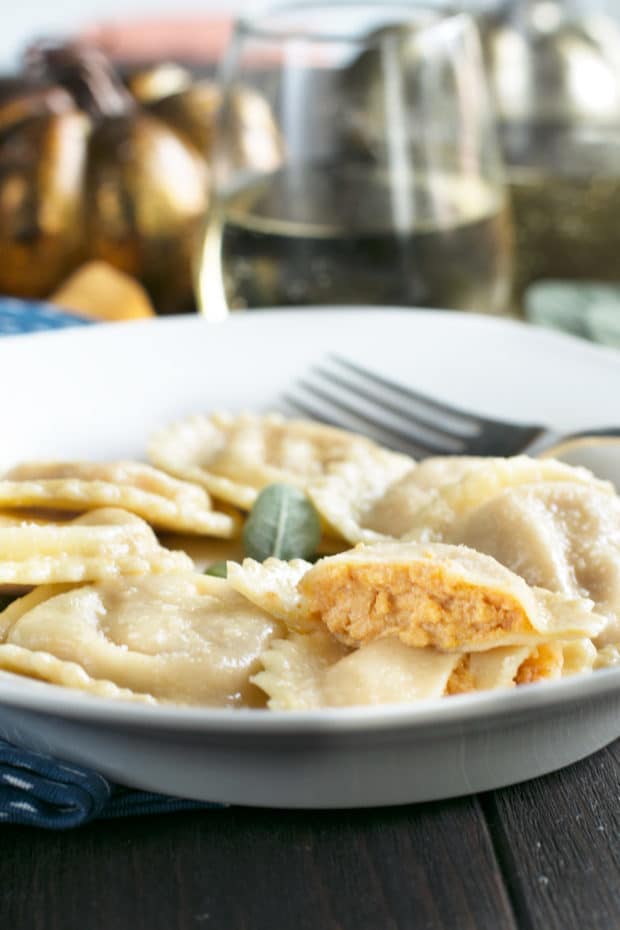 So homemade pasta is back, and it is here to stay.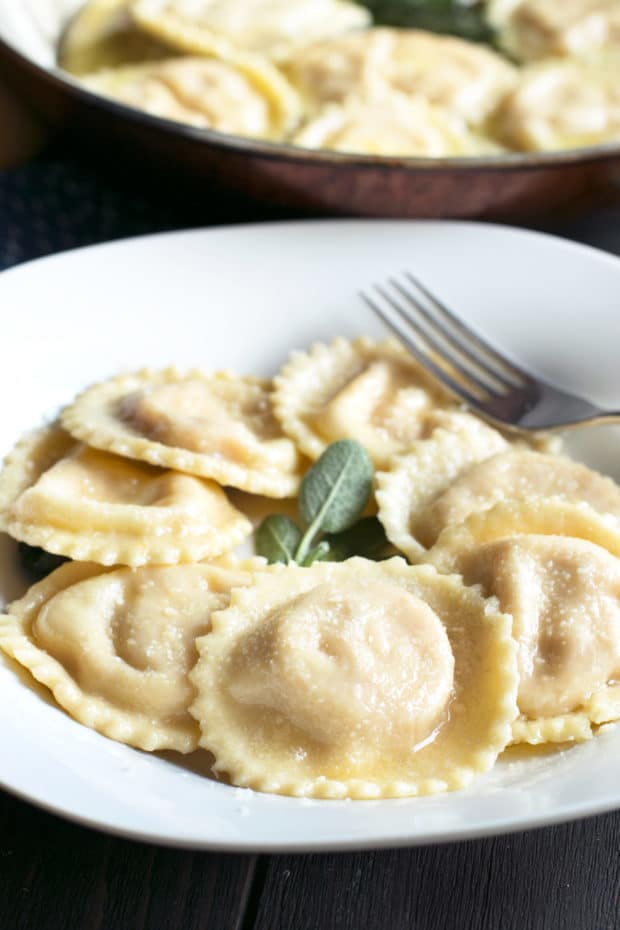 It's been a while since I pulled out the homemade pasta for you all, hasn't it? The last recipe was Caramel Stuffed Pumpkin Cookies, and that just feels like decades ago.
I suppose it was just decades of recipes ago… 😉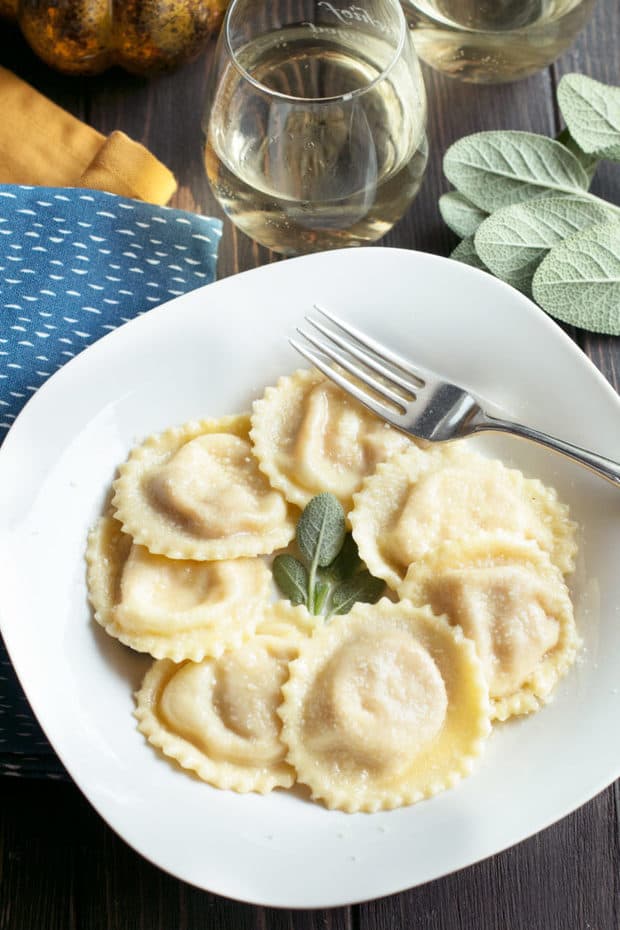 Note: This is a Cake 'n Knife archive post that has been updated!
I received a pasta roller attachment for my KitchenAid Artisan Tilt-Head Stand Mixer
a handful of years ago, and I am ashamed to say, I haven't busted them out for a couple of years… I thought I would be making pasta all the dang time, but I got a little lazy and a little crazy and it got put on a shelf in the closet.
Moving has a funny way of bringing things back into your life and this is one of those instances. After watching Gordon Ramsey make pasta with a group of amateur cooks, the next day I was ready to get back at it myself!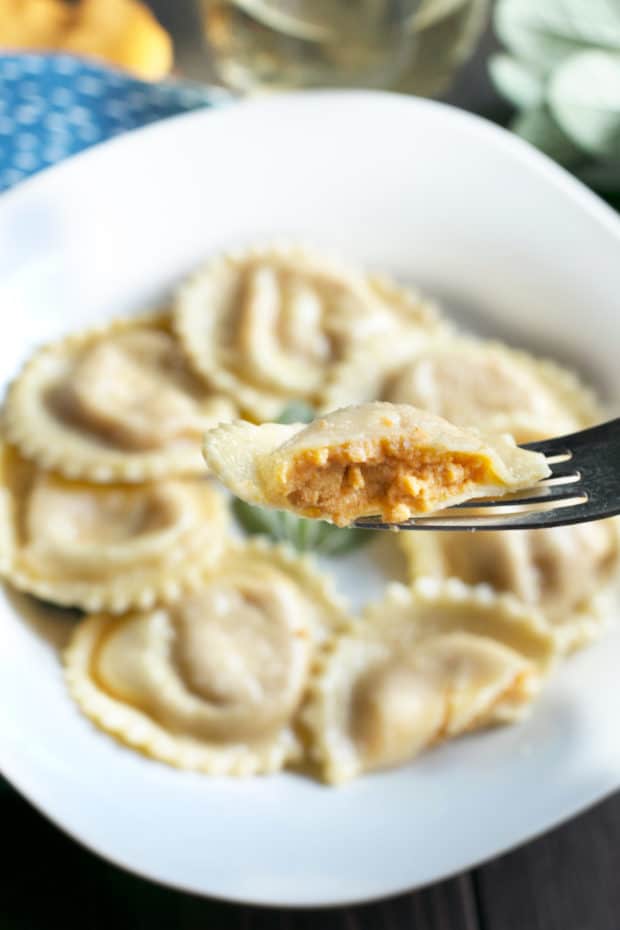 As I was rolling my first sheets of pasta, I could almost picture myself working in the Iron Chef Stadium, racing against the clock to make perfect ravioli for the judges…
I have an active imagination. Sometimes I wish I could live there so I wouldn't have to do actual work and deal with silly responsibilities like bills… alas, that is not the real world and I don't want to be living in a coma of imagination forever.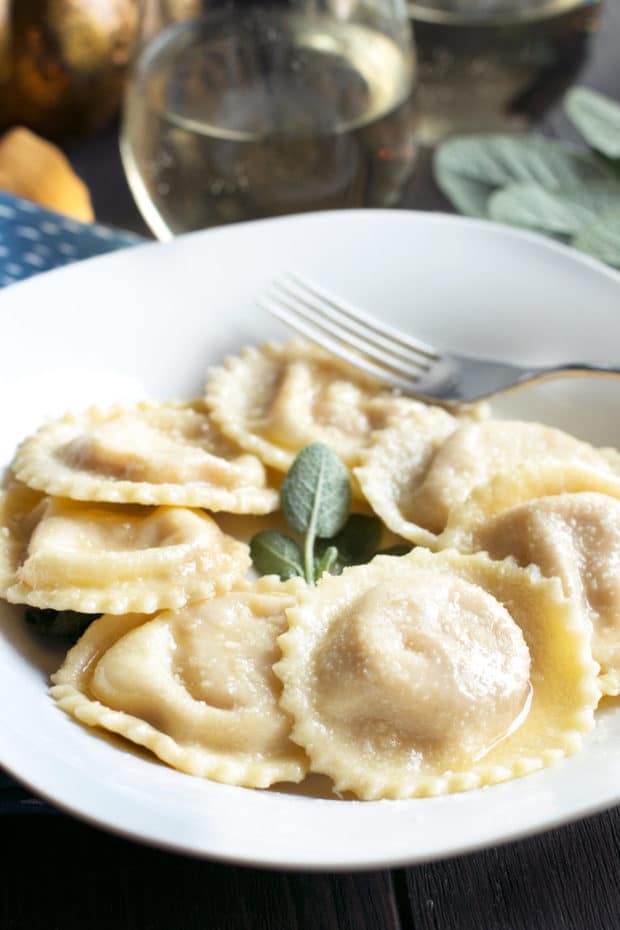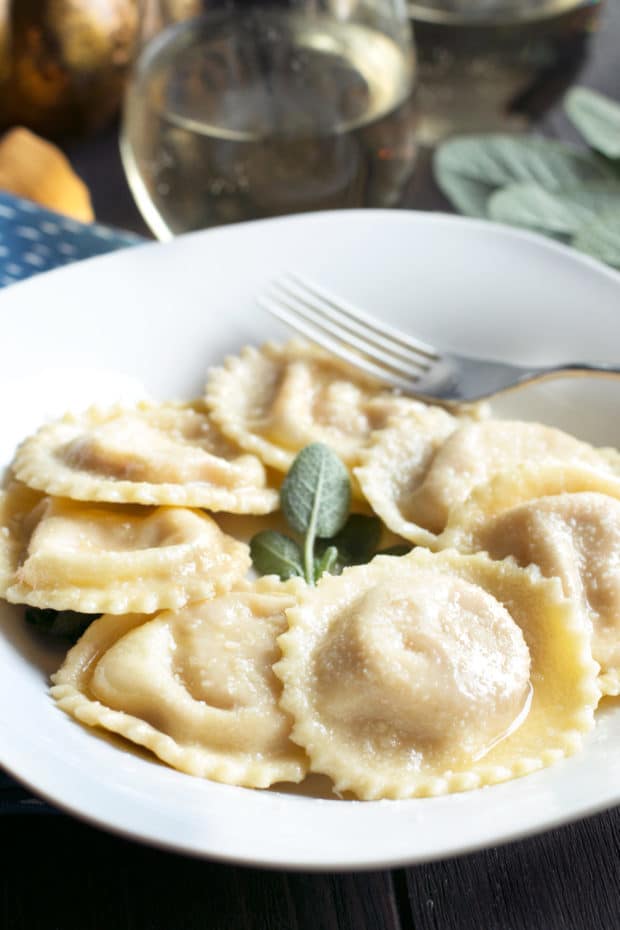 Let's focus on the FOOD now.
It's time for all things pumpkin and I know that The Man is SO stoked about it. He loves all things pumpkin, from pumpkin beer to pumpkin cookies, so I had to remake this old recipe for him upon moving in.
After all that hard work we both deserved a reward of delicious pillows of pumpkin goodness, shamelessly smothered in brown butter and sage.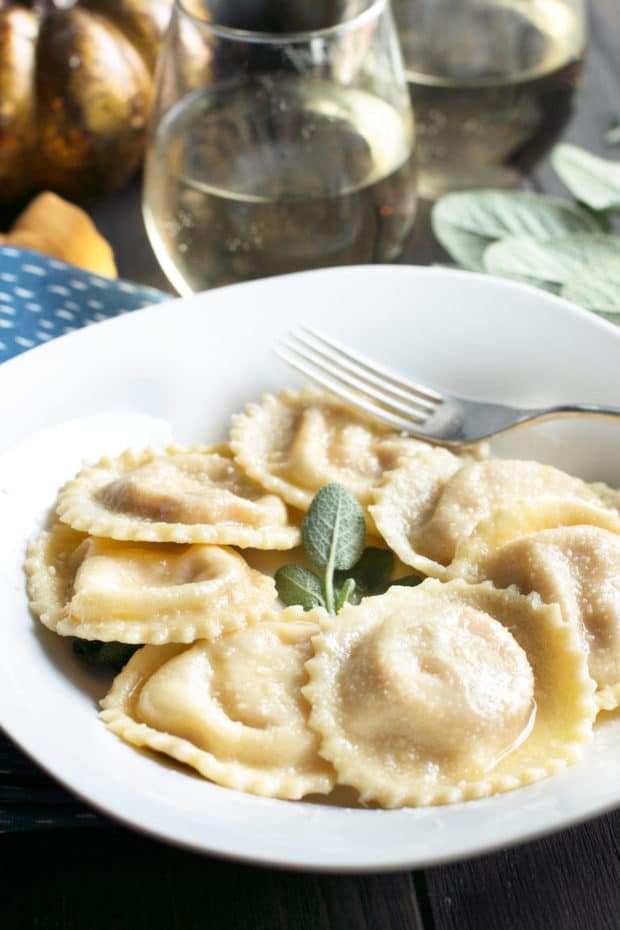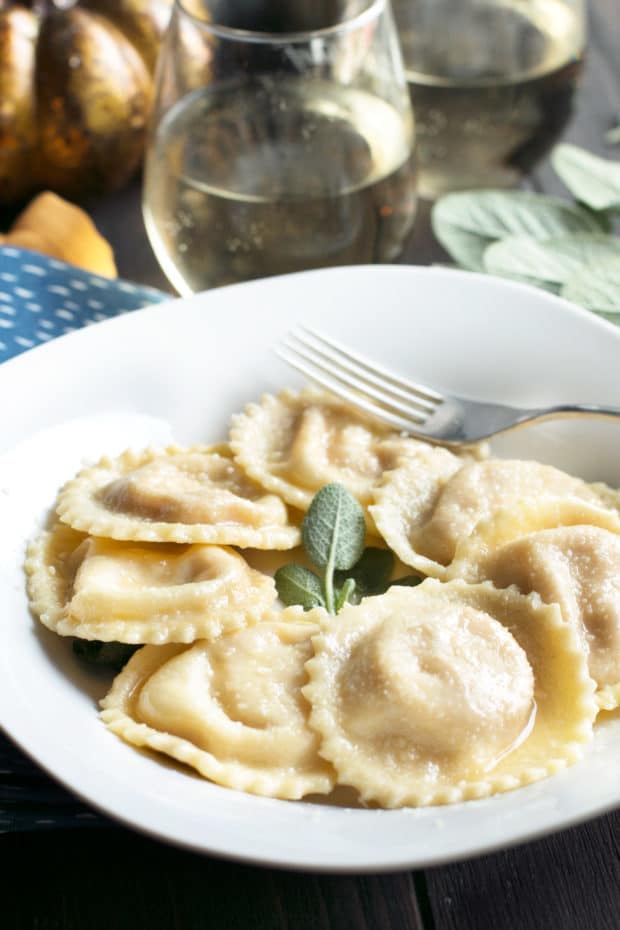 Ugh, it's just so beautiful and so tasty.
I could easily inhale a pound of these ravioli without blinking an eye (don't judge).
They are seriously so silky and full of the most incredible flavor. The simple brown butter sage sauce is rich and nutty, so it compliments the flavor of the pumpkin ricotta filling in the best way possible.
This Week's Must Haves
To cook the pasta, I like to use a large stockpot so the ravioli have plenty of room to float around and won't get stuck to each other.
Removing those ravioli is a LOT easier when you use a spider strainer.
Finally, I like to use a cast iron skillet to make the brown butter sauce and to give the ravioli a final spin in the sauce.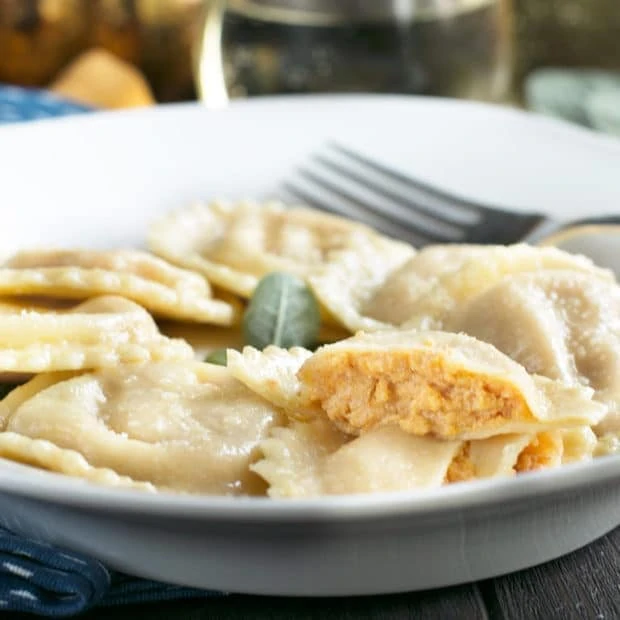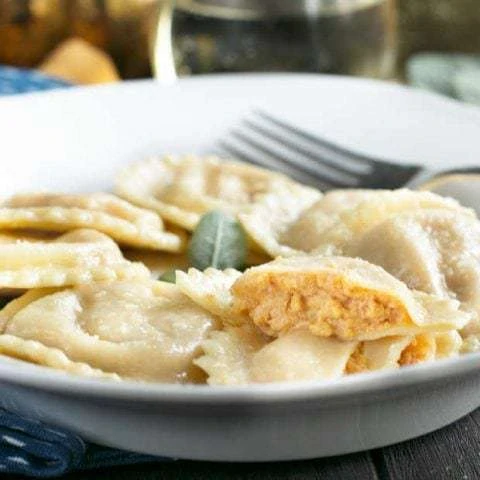 Pumpkin Ricotta Ravioli with Brown Butter Sage Sauce
Additional Time:
20 minutes
Pumpkin pillows smothered in brown butter and sage. It's the perfect dish for fall!
Ingredients
Pasta Dough
4 large eggs
1 tbsp water
3 ½ cups all-purpose flour
½ tsp salt
Filling
2 cups ricotta cheese
1 cup pumpkin puree
1 egg
1 tsp salt
Freshly grated nutmeg
Sauce
4 tbsp unsalted butter
10 sage leaves, chopped
Salt
Instructions
Pour flour out onto a clean work surface and make a large, wide well. Add eggs, water, and salt to the well and beat together with a fork (be sure you don't break the edges of the well). Slowly incorporate flour as you mix, until the mixture begins to come together and starts to become a loose dough. Bring the rest of the dough together with your hands. It will take a little time, but work and knead the dough until all the flour is fully incorporated and the dough is smooth and easy to work with. Wrap the ball of dough in plastic wrap and rest at room temperature for 20 minutes.
While the pasta rests, prepare the filling. Combine ricotta, pumpkin puree, egg, salt, and nutmeg in a mixing bowl. Set aside.
Once the dough has rested, use a pasta machine or a rolling pin to roll the pasta out into wide sheets. Place tablespoons of the filling on the dough, and top with another sheet of pasta dough. Seal the edges around the filling and cut the ravioli. I used a ravioli stamp to make my ravioli. Refrigerate ravioli until ready to cook.
Bring a large pot of water to a boil with a good amount of salt. Boil ravioli in batches for about 7 minutes. Drain the ravioli and set aside.
While the ravioli is cooking, brown the butter in a large sauté pan over medium heat. Add sage and cook for a few extra minutes. Transfer ravioli to the pan and toss in the sauce. Serve immediately and garnish with a couple leaves of sage.