Please note this post contains affiliate links.
Homemade Pumpkin Non-Alcoholic Irish Cream is perfect for your mug of coffee this fall. The rich and creamy Irish cream flavor is enhanced by hearty pumpkin and warming spices. Add it to your coffee, cocktails, or just drink it straight over ice! Make about 3 cups.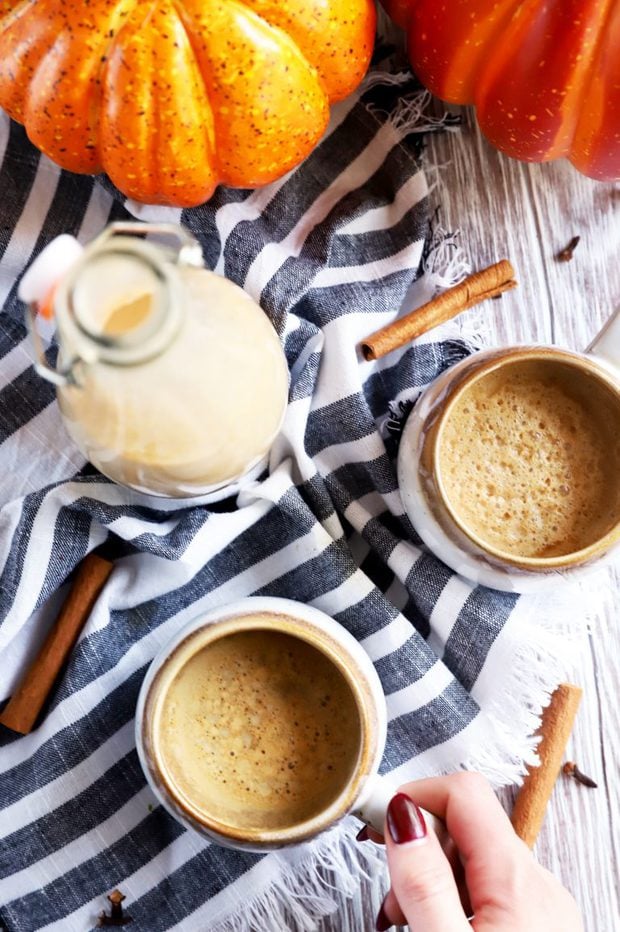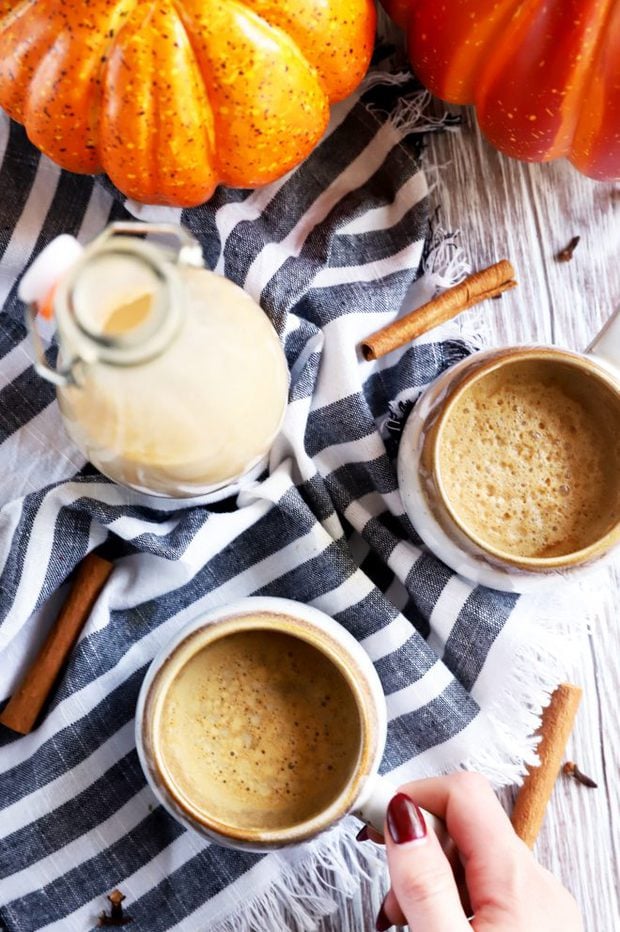 Irish cream brings me back to the holidays every time I taste it.
I don't know why, but I have this vivid memory of it being brought out after big meals whenever we went to my grandparent's house. If I remember correctly (preggo brain is real, people), it was my grandmother who was really the big fan of Bailey's Irish Cream.
It was one of those special treats that I remember around the holidays – probably because that was the first time I was allowed to have a small taste of the stuff.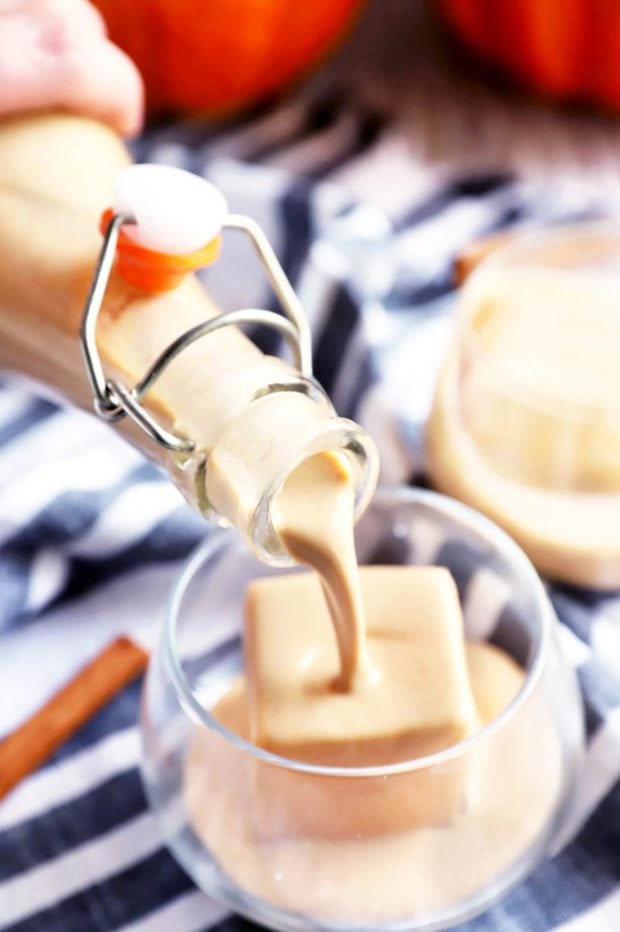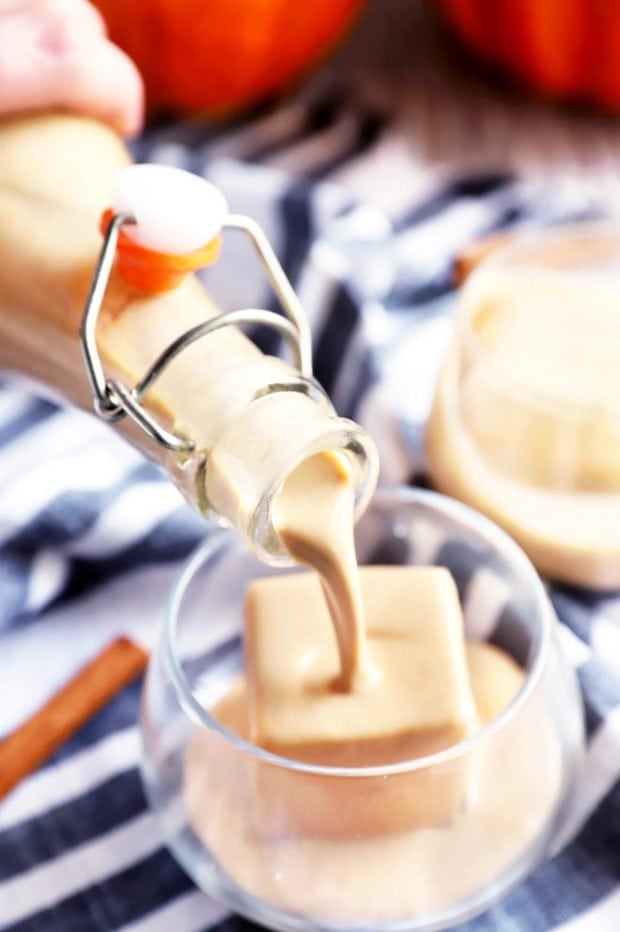 The creamy, rich flavor is one that I can instantly recall to my taste buds, right down to the mouthfeel of it. I am sure some of you know exactly what I am talking about!
Right now, all I want to do is curl up with a glass of this homemade pumpkin non-alcoholic Irish cream in the big chair we got for the nursery.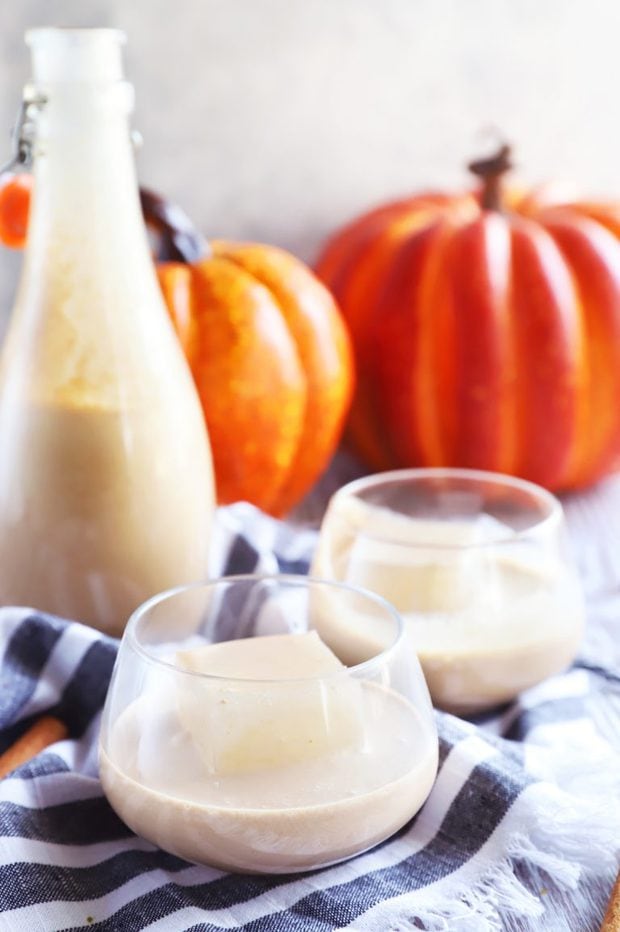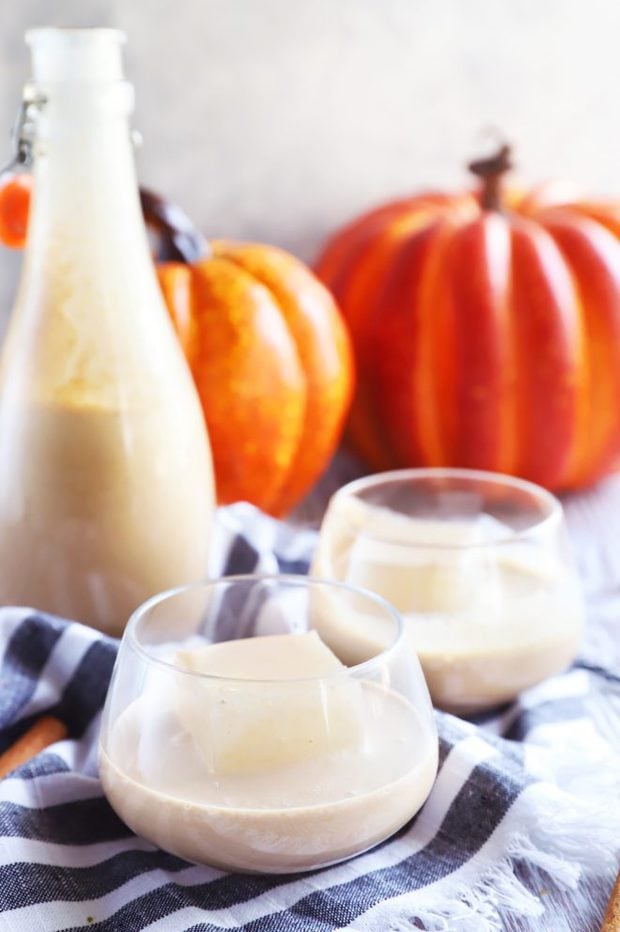 Honestly, the past couple of weeks have been rough over here. I am starting to hit a wall with this pregnancy, with back pain and sleeplessness. The Man hasn't been feeling well (thankfully a test confirmed it is NOT COVID, after a couple of nervous days spent waiting for the results), and I can feel the exhaustion seeping into me.
I don't know if it's a delayed reaction to the stress from earlier this week. Perhaps I am simply starting to catch a cold. Either way, I want nothing more than to rest.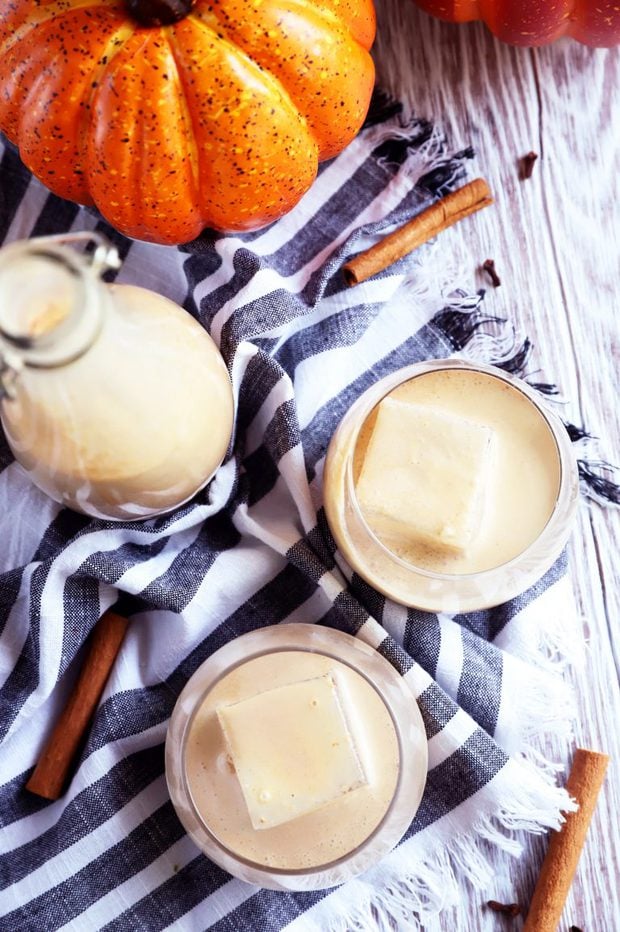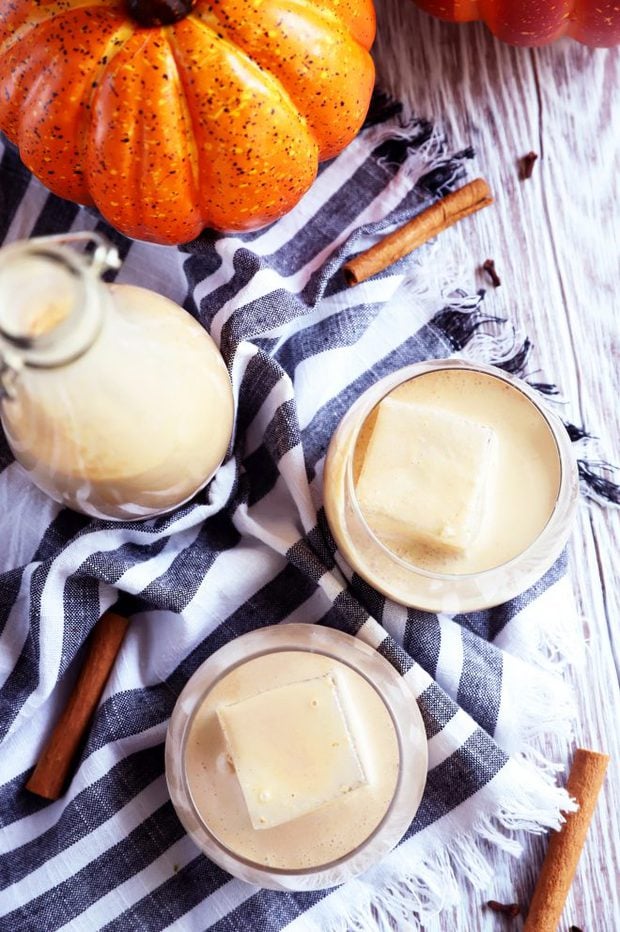 Something about a cold glass of this Irish cream makes me want to slow down as much as possible. It reminds me of those long evenings spent around the dinner table.
You know, those nights after you clear all the dishes, sitting around picking at the final pieces of sweet treats. There's coffee and cocktails and hours of catching up with your favorite people in the world.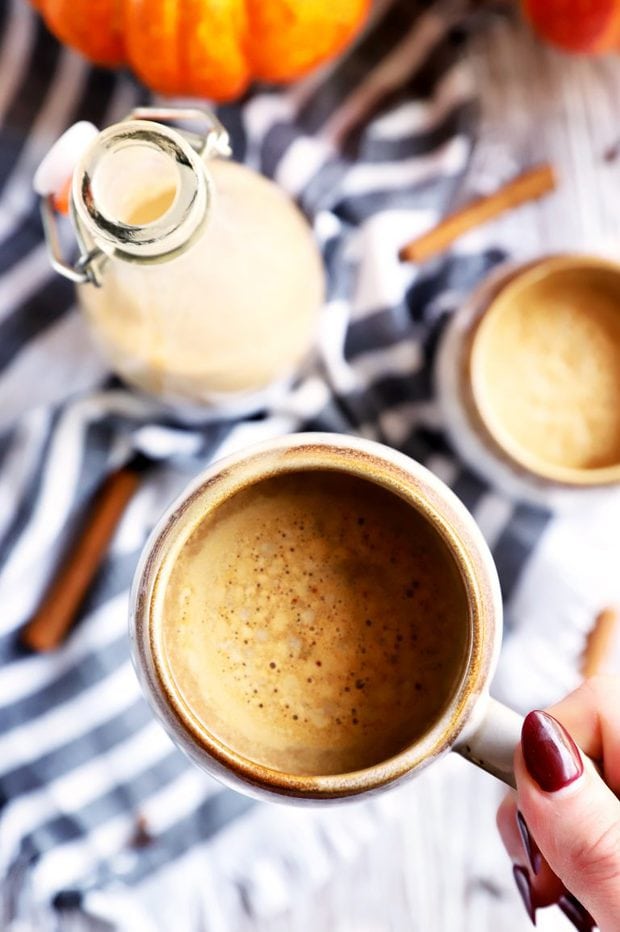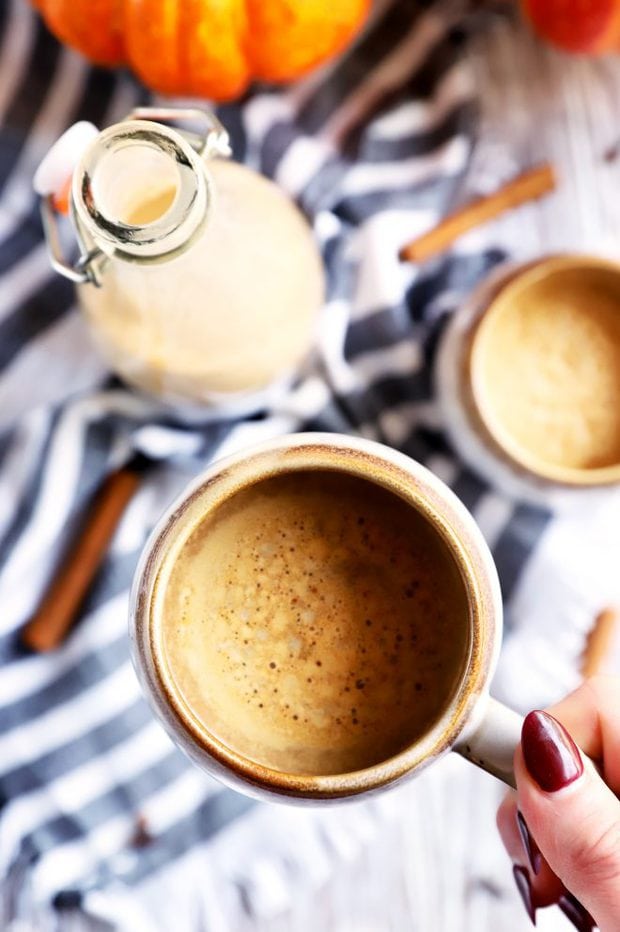 This time of year is usually when these gatherings are happening week after week, but with the world how it is, we are missing out on some of that togetherness.
So why not whip up some of this Irish cream to indulge in? You can drink it straight over ice, add it to your morning or afternoon coffee/tea, pour it over vanilla ice cream (SO GOOD), or add it to your favorite cocktail!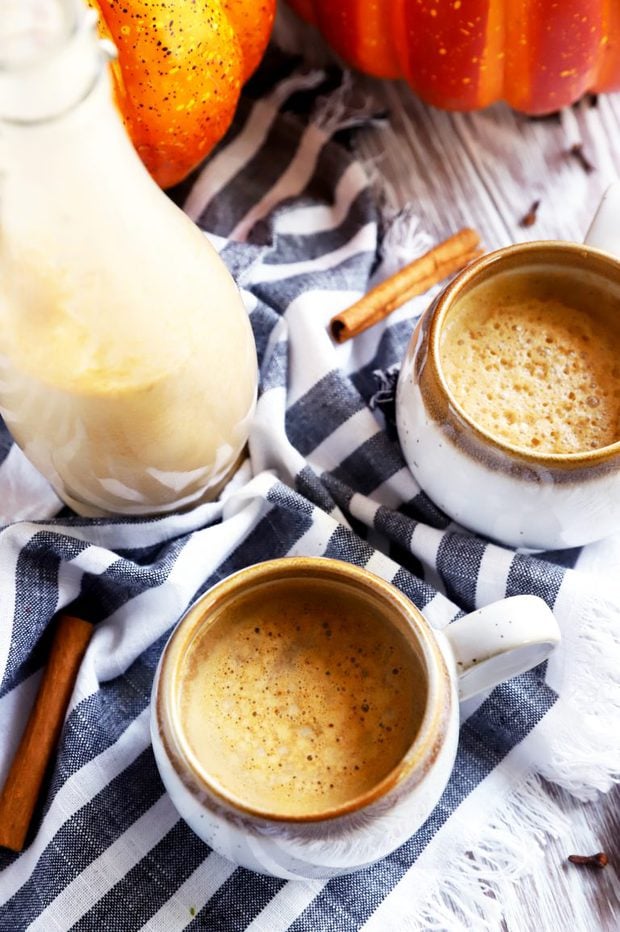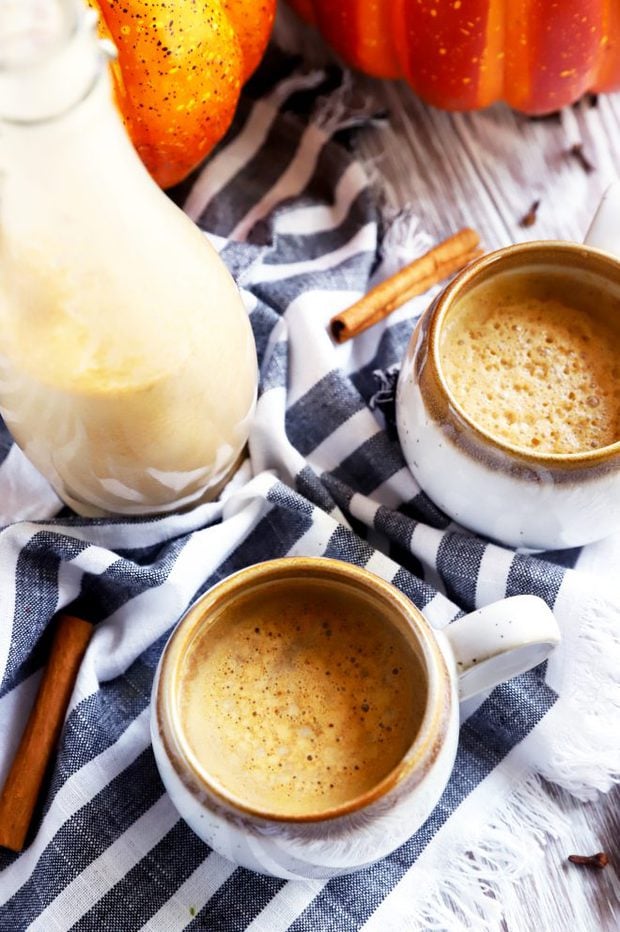 this recipe's must-haves
This recipe is SO easy! All you need is a Vitamix or your favorite blender to blend all the ingredients together. It's so simple.
Need some more inspiration for non-alcoholic drinks? Check out my mocktail recipe page!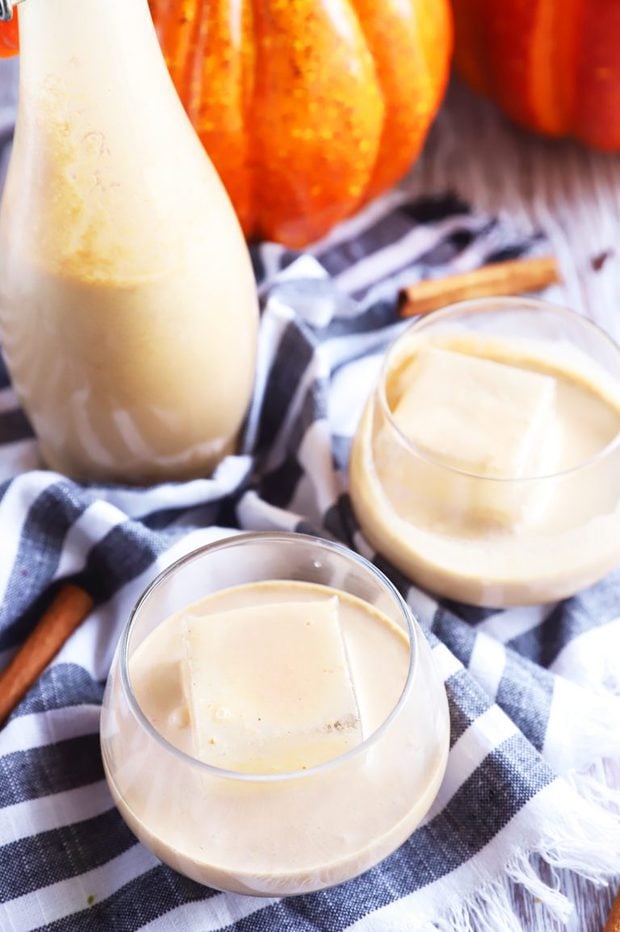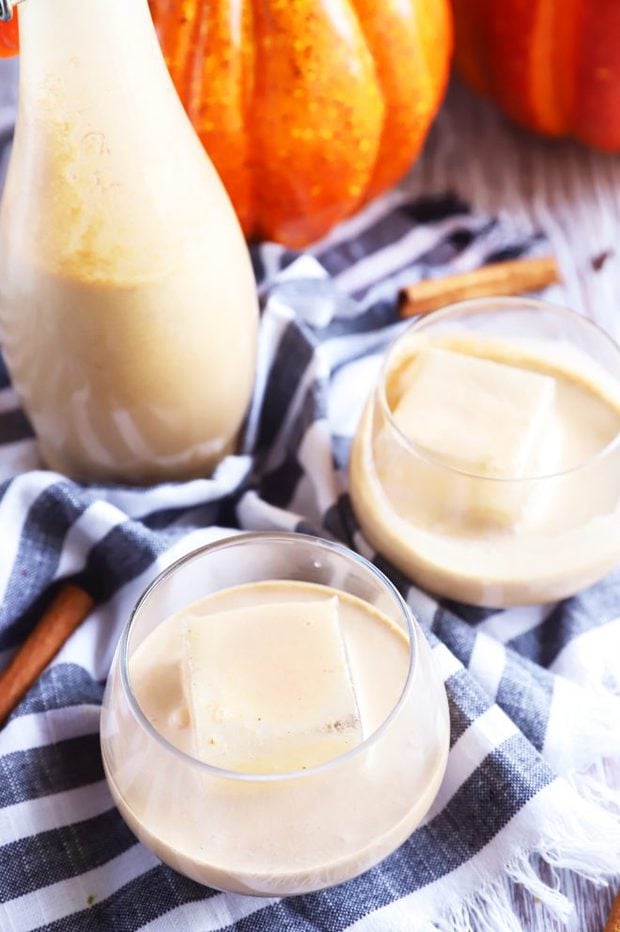 can I make this non-alcoholic Irish cream boozy?
You certainly can! All you need to do is add 1/4 cup Irish whiskey to the mixture in the blender. Let it blend up and you've got your own boozy version to indulge in.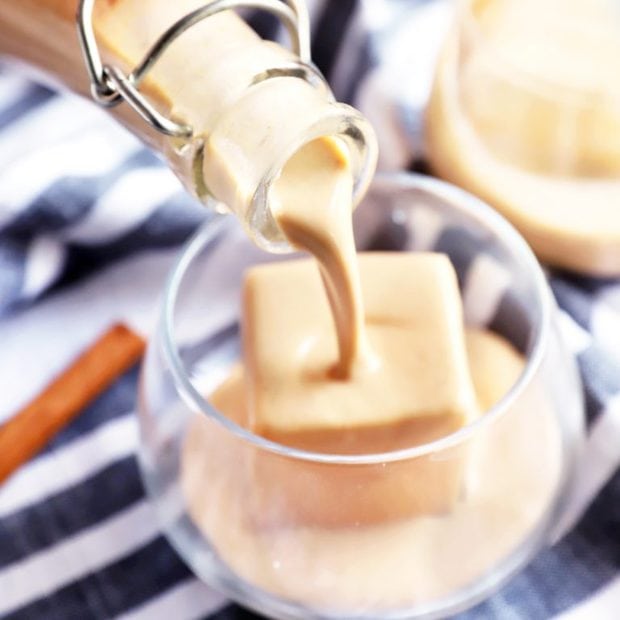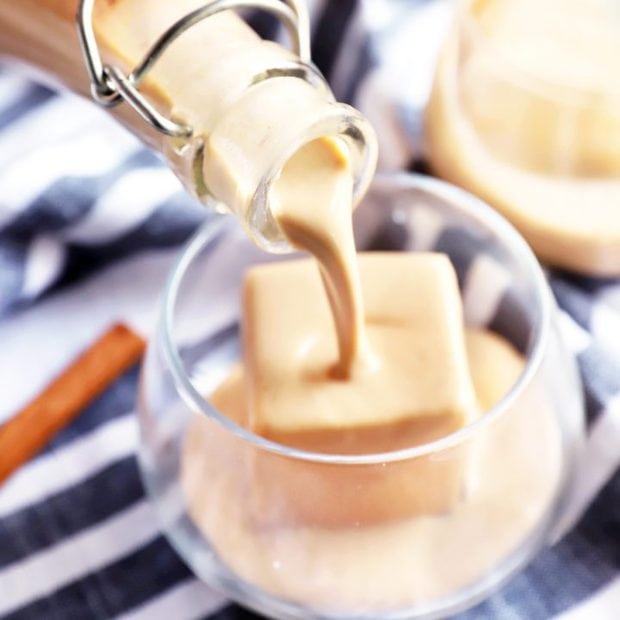 Homemade Pumpkin Non-Alcoholic Irish Cream
Yield:
Makes approx. 3 cups
Smooth, rich, and creamy, this non-alcoholic Irish cream is ideal for fall!
Ingredients
1 can (12-oz) evaporated milk
1 cup heavy whipping cream
1/2 cup 2% milk
1/4 cup sugar
2 Tbsp chocolate syrup
1 Tbsp instant coffee granules
2 tsp vanilla extract
1/4 tsp almond extract
1/2 tsp pumpkin pie spice
1/4 cup canned pumpkin puree
Instructions
Add all ingredients to a blender. Blend until smooth.
Place mixture in an airtight container and store in the refrigerator.
Serve 1/3 cup Irish cream in 1/2 cup brewed coffee. Heat in the microwave if desired.
Notes
If you would like to make this alcoholic, add 1/4 cup Irish whiskey to the blender with all other ingredients. Blend until smooth and serve! You can add more whiskey to taste, depending on how strong you like it.
Recommended Products
As an Amazon Associate and member of other affiliate programs, I earn from qualifying purchases.