Spicy Black Bean Chicken Pumpkin Enchilada Bake is a layered gooey mixture of all your favorite enchilada ingredients turned fall with creamy pumpkin! Be sure to use Reynolds Wrap® Non-Stick Foil when you bake because the cheesy topping doesn't stick. Serves 8.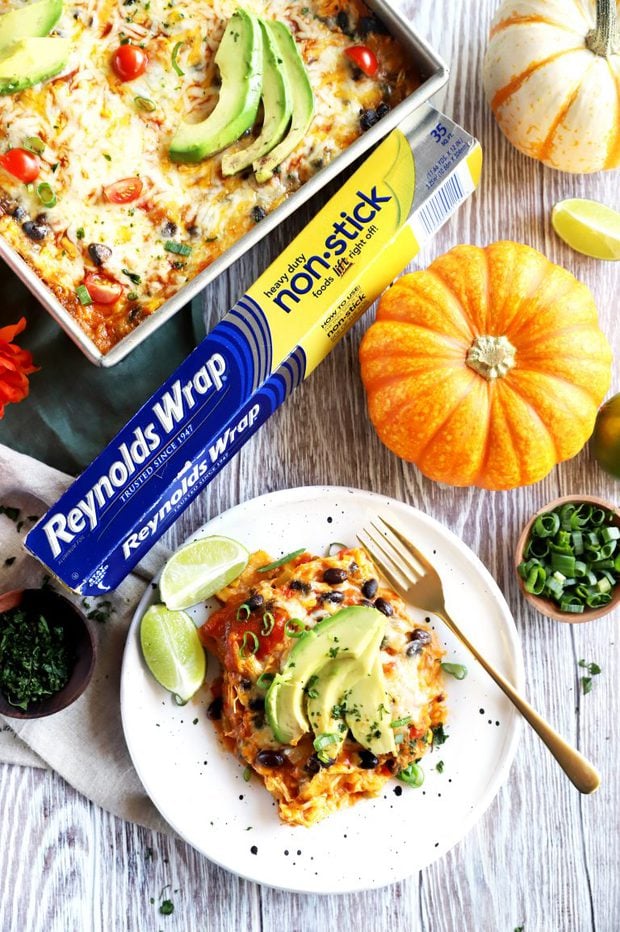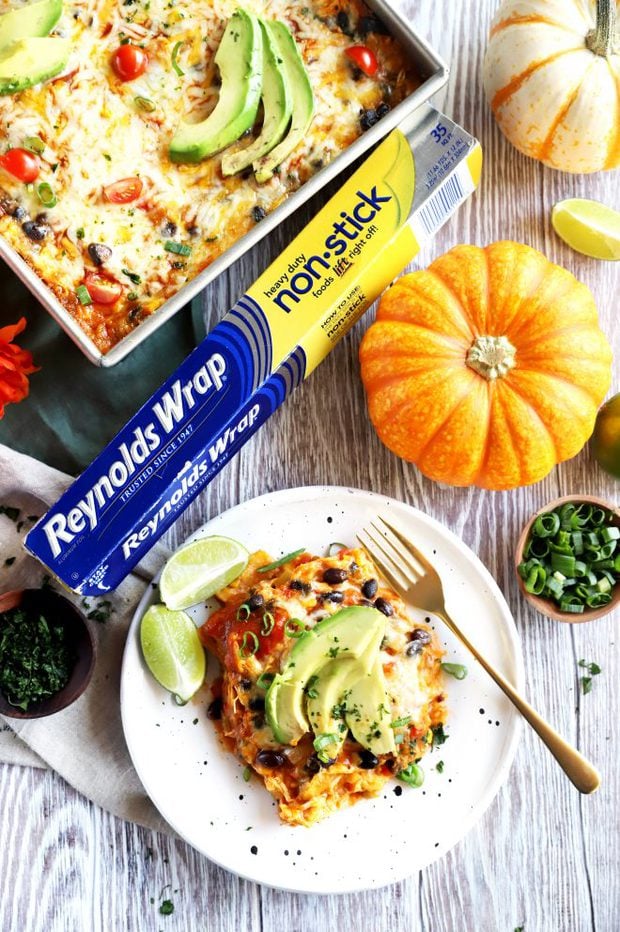 Disclosure: This post is sponsored by Reynolds Wrap® Foil. As always, all opinions are my own.
Savory pumpkin things are a must right now and if you haven't tried them yet, you might as well start with this gooey, cheesy, spicy deliciousness.
I've already talked many times about my pumpkin obsession, but it always goes way beyond the normal sweets like cookies and muffins.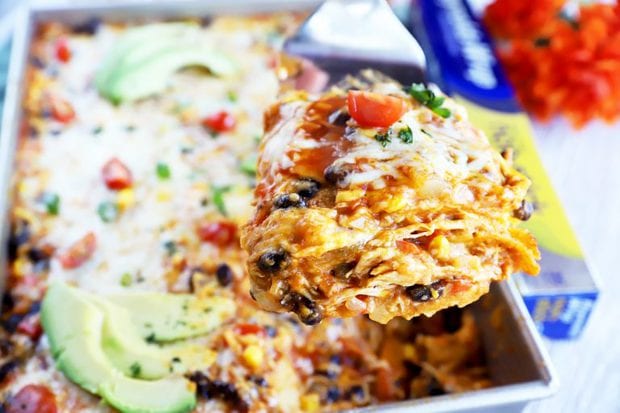 The savory world of pumpkin is one that I think is often overlooked this time of year. So I am here to change that by showing you just how easy it is to incorporate into other dishes.
A little goes a long way with any dish, especially this enchilada bake! The pumpkin comes through as this extra savory component to the spicy and heart flavors of the dish. Plus, you have all the cheeeeeeeese….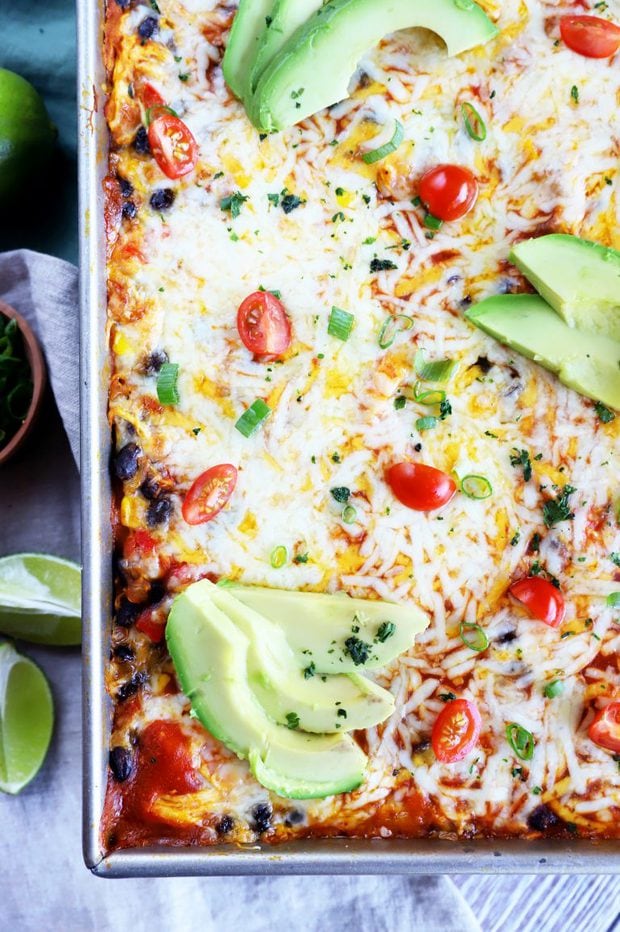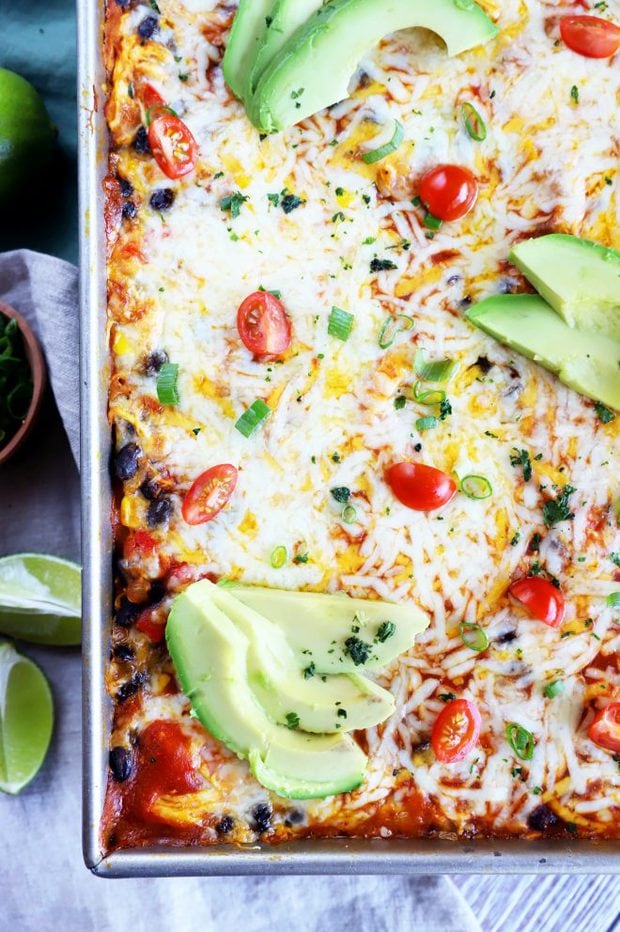 As with many casseroles, this dish gets baked with foil. However, not just any foil, I'm talking about Reynolds Wrap® Non-Stick Foil.
I am sure you all know that many casserole dishes like this get baked covered in aluminum foil. Usually, when it's a cheesy dish, you end up pulling off the foil and all of your cheese is stuck to the foil instead of your meal.
Big bummer, right?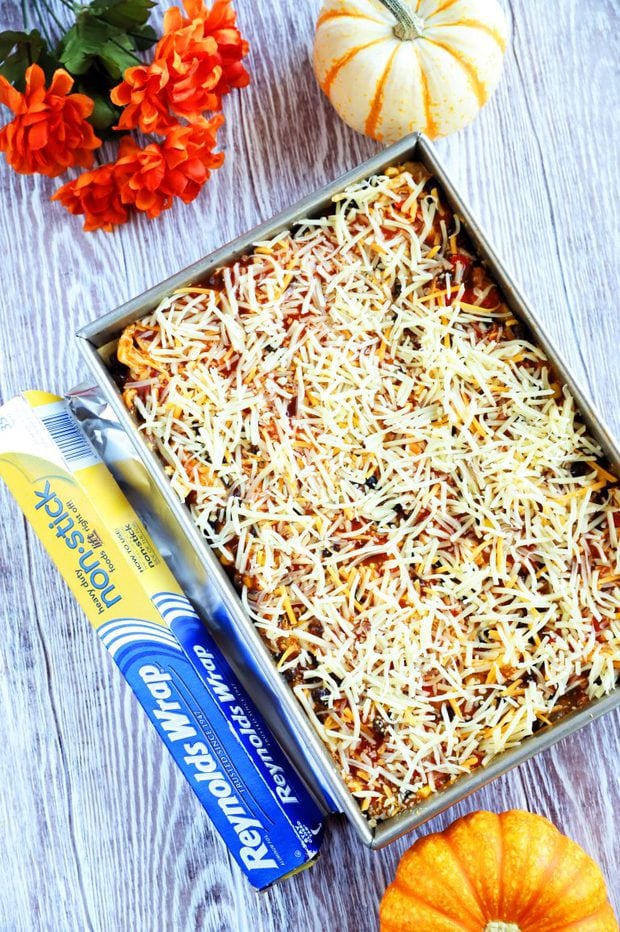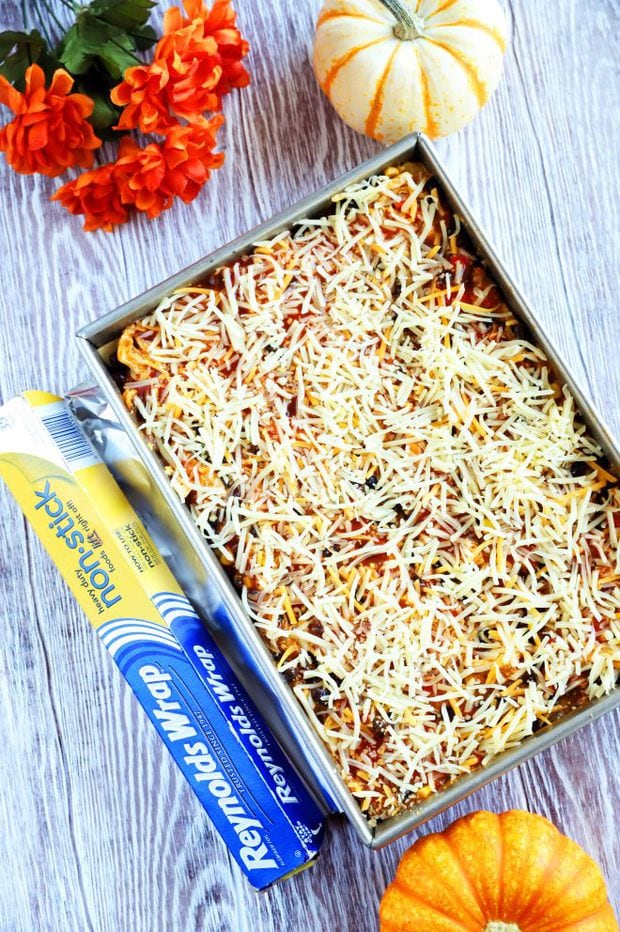 Well, to avoid this sticky situation, I like to use Reynolds Wrap® Non-Stick Foil. When you top the casserole dish, with the dull side facing down, you can rest assured that the top layer of cheese will not stick to the foil when you remove it.
It's honestly such a savior with cheese-topped dishes like this one! You don't have to worry about the cheese getting pulled off, because wasted cheese is something that I absolutely hate.
It makes me want to cry, especially at 6 months pregnant when pretty much any disappointment makes me cry LOL.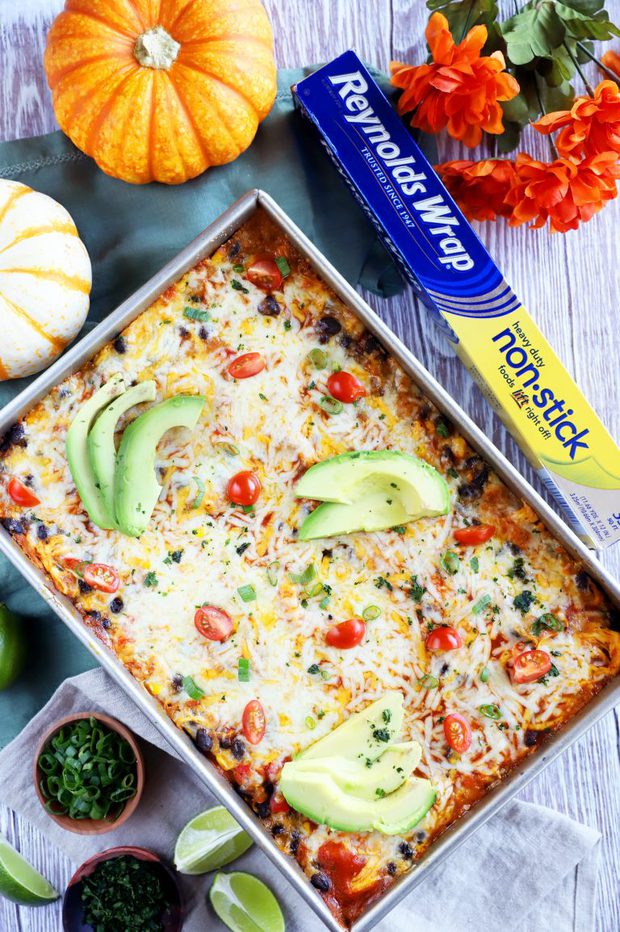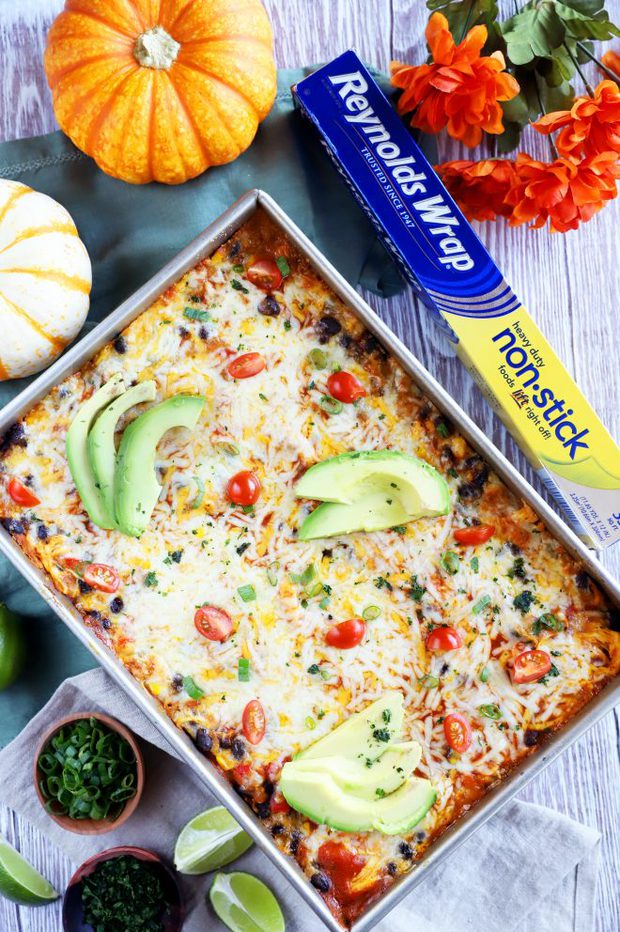 this recipe's must-haves
To make this dish, you don't need too many tools! To start with, you will need a large skillet or saute pan to cook up the chicken mixture.
Next you will need either a casserole dish or a cake pan if that's all you have (like me lol) to bake the enchilada in. I like to have my favorite spatula handy to spread the layers of chicken pumpkin mixture and enchilada sauce.
Finally, don't forget the Reynolds Wrap® Non-Stick Foil to make sure you get the perfect result!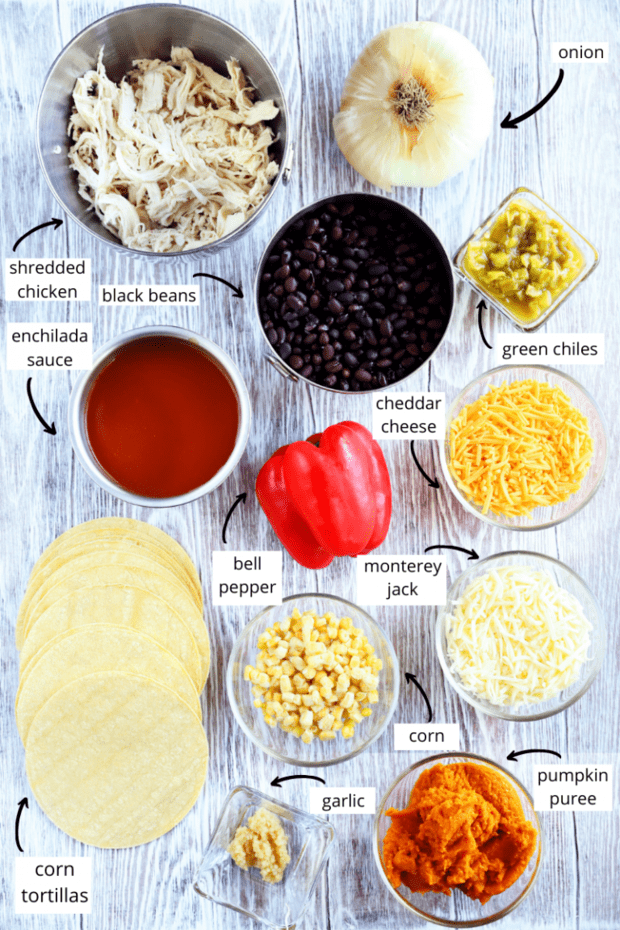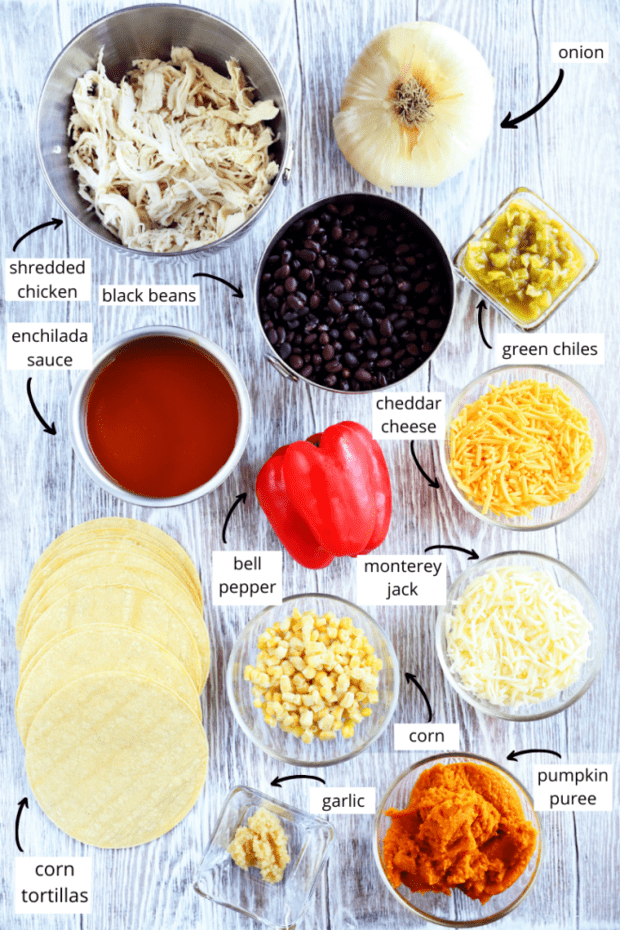 let's make yummy enchilada bake!
Make the chicken pumpkin mixture
To make the chicken pumpkin mixture, you'll first cook down the onion and bell pepper (you can use any color!). Then you'll add the garlic and all the other remaining ingredients including enchilada sauce, shredded chicken, black beans, and more.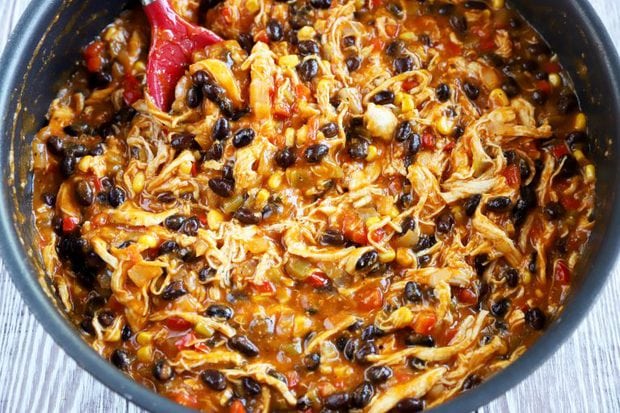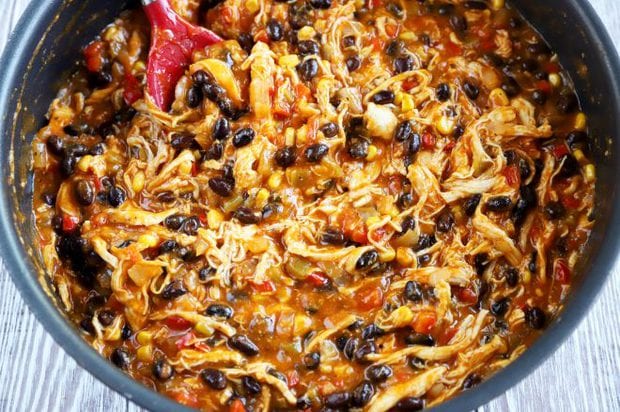 Assemble
Assembling takes a couple of minutes, but it's super easy! All you have to do is layer up enchilada sauce, tortillas, the chicken mixture you just made, and cheese. Finishing with a final layer of cheese on top, to make sure you get everything extra gooey.
Bake
Now you bake! The key is to cover the dish with Reynolds Wrap® Non-Stick Foil, dull side facing down, so that the cheesy top layer doesn't stick while it melts!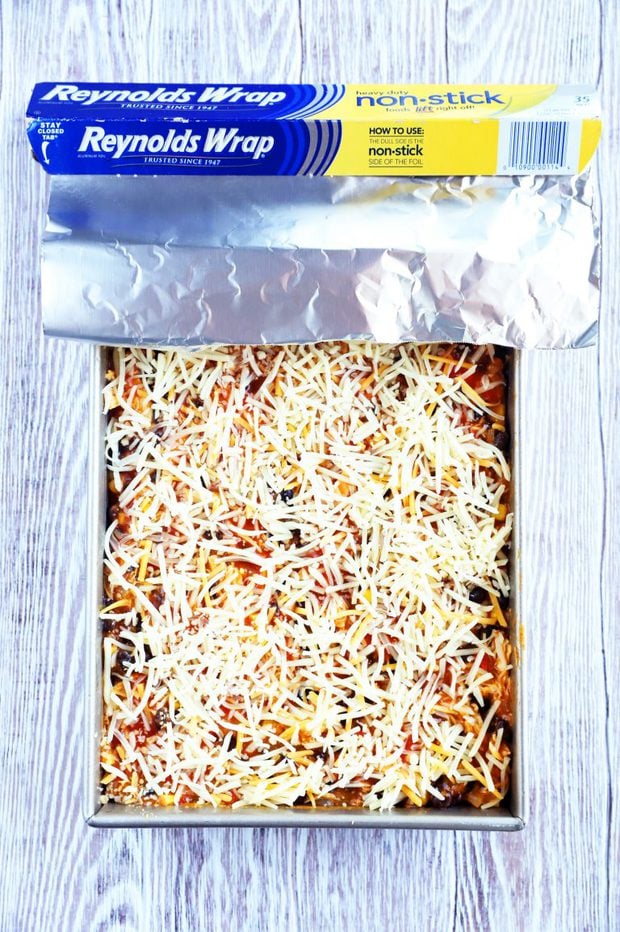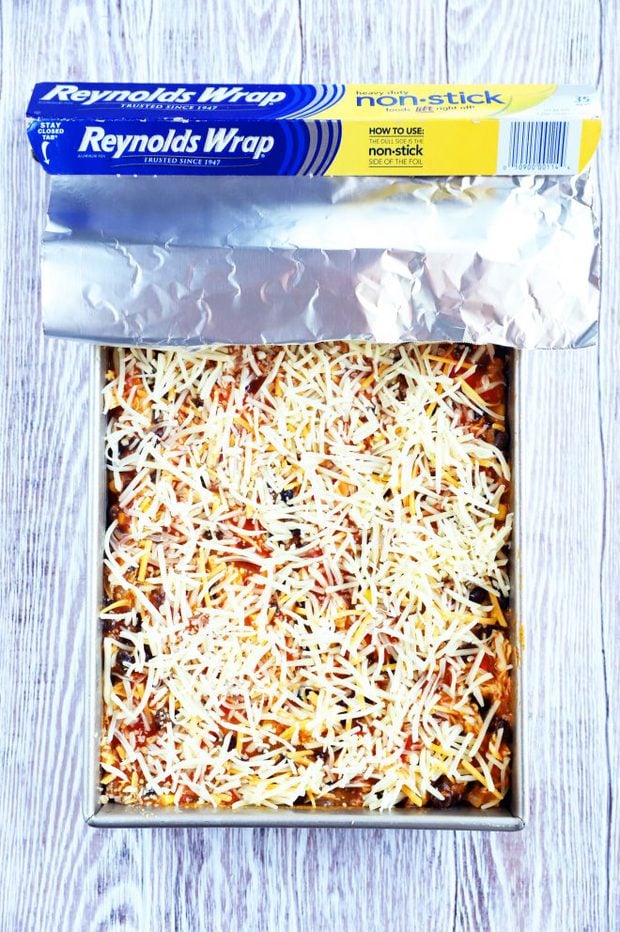 can I make this vegetarian?
If you want to skip the shredded chicken to make this dish vegetarian, you certainly can! I would recommend adding another can of beans (like hot chili beans or kidney beans) to make up for the lack of meat.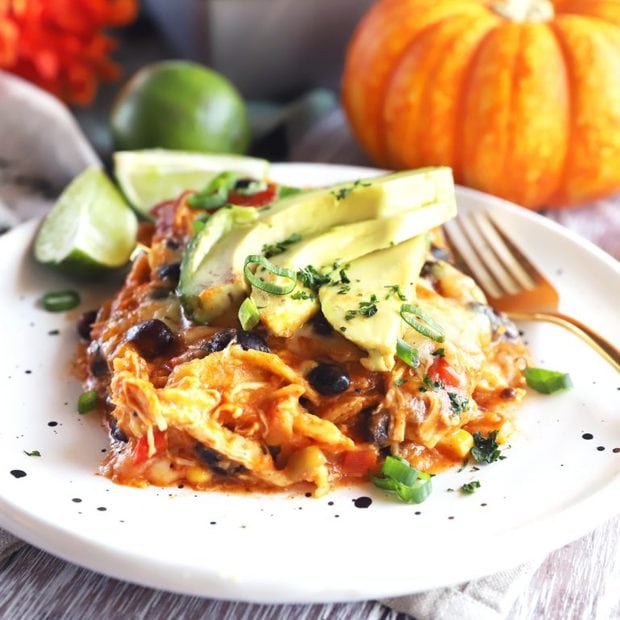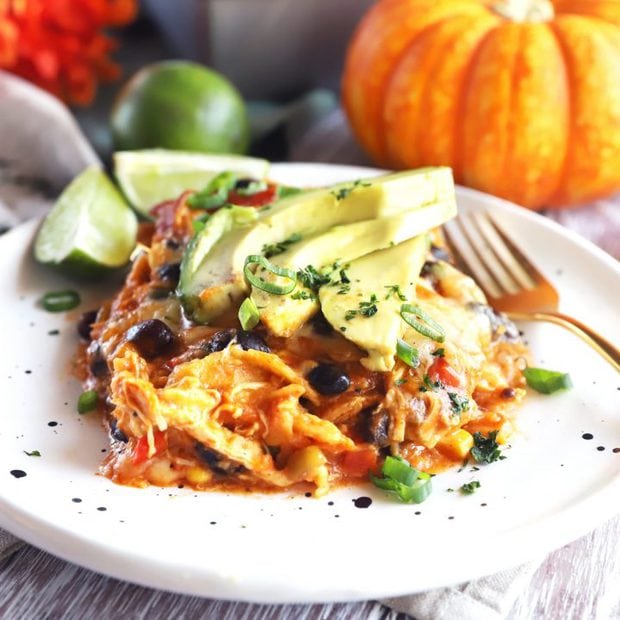 Spicy Black Bean Chicken Pumpkin Enchilada Bake
Spicy, hearty, and flavorful, this simple enchilada bake is perfect for fall!
Ingredients
1 Tbsp olive oil
1 medium yellow onion, peeled and diced
1 large bell pepper, cored and diced (any color!)
2 cloves garlic, minced
1 (4-oz) can diced green chiles
2 (15-oz) cans black beans, rinsed and drained
1/2 cup frozen corn*
3 cups shredded, cooked chicken
3 cups (24-oz) red enchilada sauce, mild, medium, or hot
1 cup pumpkin puree (not pumpkin pie filling, 100% puree only)
1/2 tsp salt
1/2 tsp black pepper
20 corn tortillas, halved
1 1/2 cups shredded Monterey jack
1 1/2 cups shredded cheddar cheese**
Toppings: chopped fresh cilantro, thinly-sliced green onion, diced avocado
Reynolds Wrap® Non-Stick Foil
Instructions
Preheat the oven to 375˚F. Line a 9x13-inch baking dish with Reynolds Wrap® Non-Stick Foil, dull (non-stick) side facing up. Set aside.
In a large skillet, heat oil over medium-high heat. Once the oil is shimmering, add onion and bell pepper. Cook for 6 to 7 minutes, until the vegetables are softened. Stir in garlic and cook for another 30 seconds to 1 minute until fragrant. Stir in chiles, beans, corn, chicken, 2 cups enchilada sauce, pumpkin puree, salt, and pepper. Once combined, remove from heat. Taste and season with additional salt and pepper to taste. Set aside.
Pour 1/2 cup remaining enchilada sauce into the bottom of the baking dish, spreading it to evenly coat the bottom of the dish. Top with a layer of tortilla halves (about 10 halves) so that the dish is covered. Top with 1/3 of the chicken mixture, then 1/3 of the cheeses. Repeat a layer of tortillas, chicken mixture, and cheese. Finish with a final layer of tortillas, chicken, remaining enchilada sauce, and cheese.
Cover the pan with Reynolds Wrap® Non-Stick Foil, making sure the dull, non-stick side is facing down. Bake for 20 minutes.
Remove from the oven, remove foil, and bake for 10 more minutes. The cheese should be melted completely and bubbling. Remove from the oven, garnish with desired toppings, and serve.

Notes
*you can also use canned corn, rinse and drain it
**you can also use 3 cups Mexican cheese blend in lieu of Monterey jack and cheddar cheese combo

Recommended Products
As an Amazon Associate and member of other affiliate programs, I earn from qualifying purchases.