Please note this post contains affiliate links.
Chai Pumpkin Spice Cinnamon Rolls are the explosion of fall flavors your autumn-loving heart desires. The combination of the pumpkin spice and chai spice makes this a bold made-from-scratch breakfast or brunch dish to make throughout fall and straight on into winter. It's just the right thing to wake up to alongside your favorite cup of coffee!
Even though Labor Day weekend marks the end of summer, it seemed like summer ended effective September 1st this year because of one thing…
Pumpkin spice latte season is here.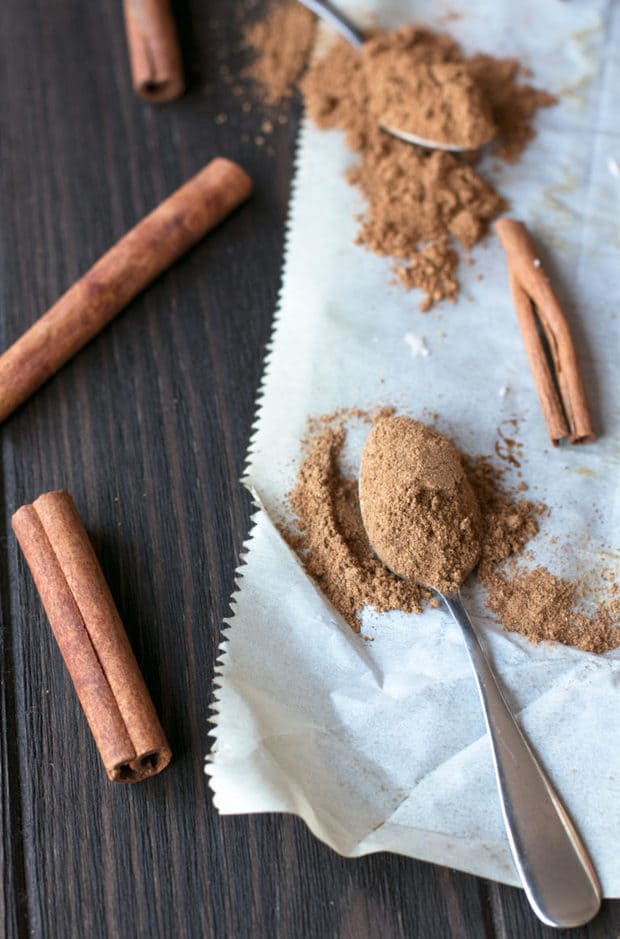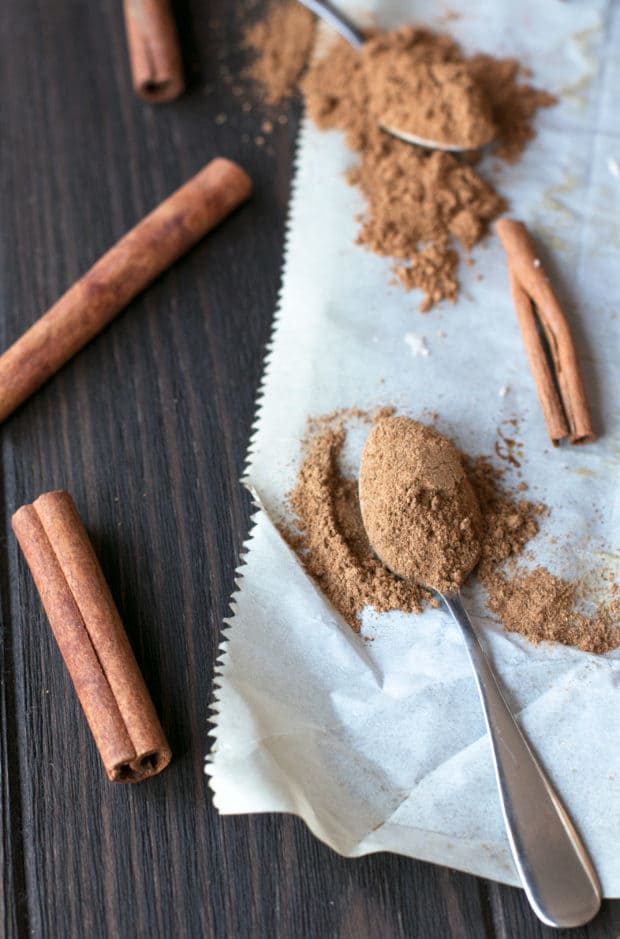 I can already hear some of you screaming with joy right now.
Lord knows I have friends running around Denver right now, grabbing as many PSLs as they can carry, obsessing over the pumpkin spice deliciousness.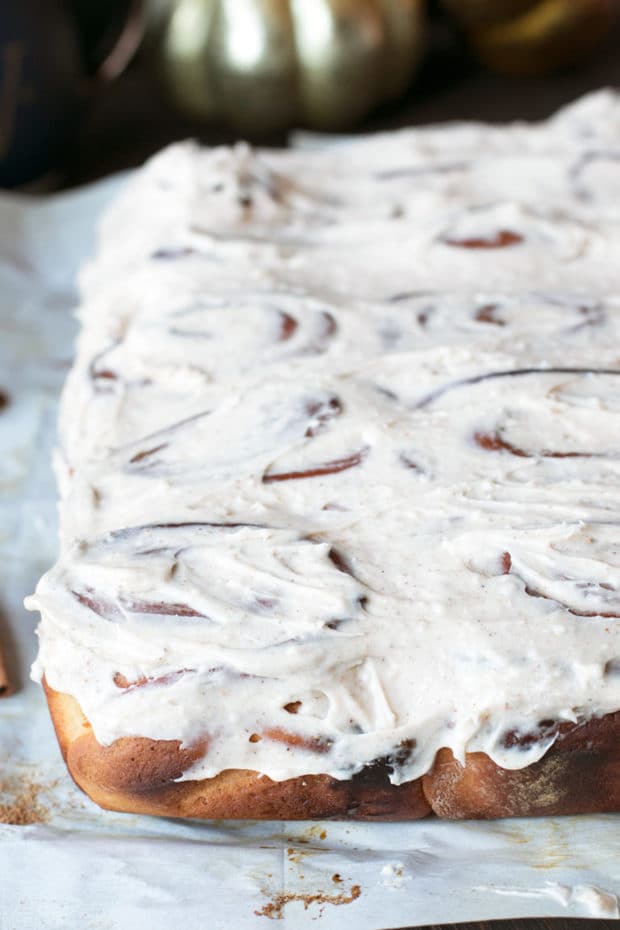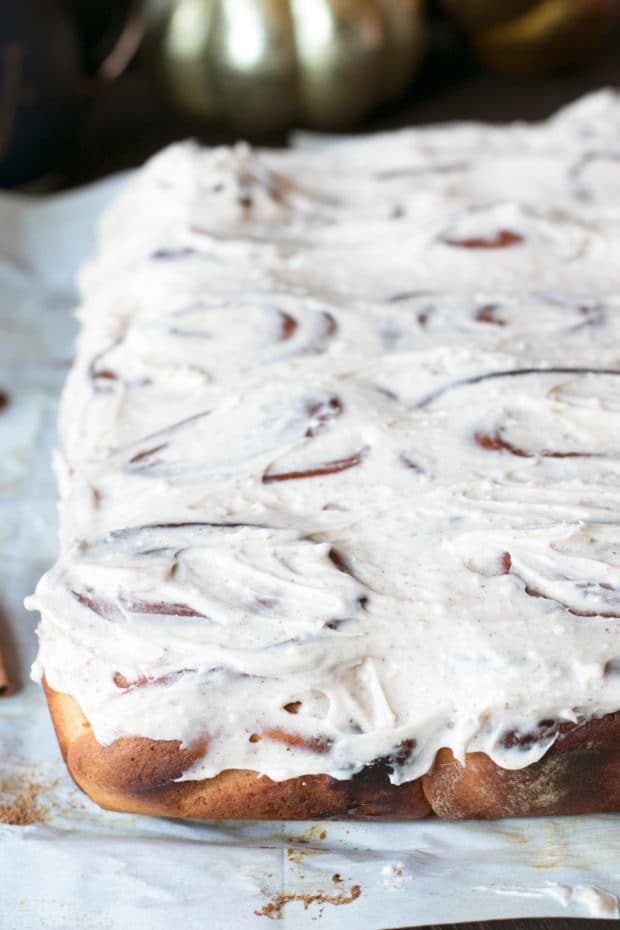 Don't get me wrong, this girl loves the flavor of pumpkin spice, but for some reason, I never really hopped on the PSL train like everyone else. To me, there was always a little something lacking in those cups of pumpkin spice caffeine and this year, I FINALLY figured it out.
The missing element for me is CHAI.
I know that pumpkin spice is a comfort of fall for the majority of people out there, but for me, fall comfort has always been chai.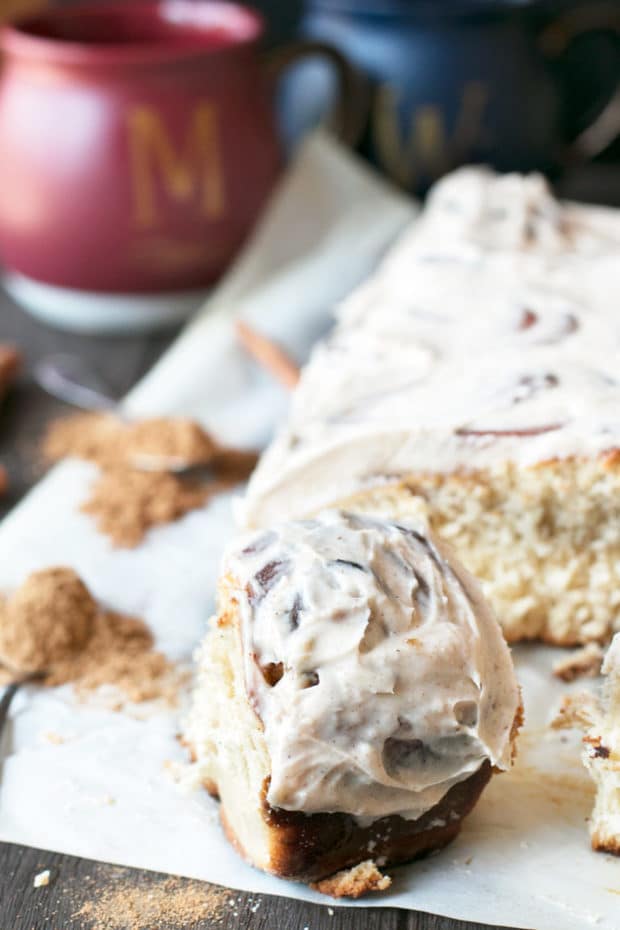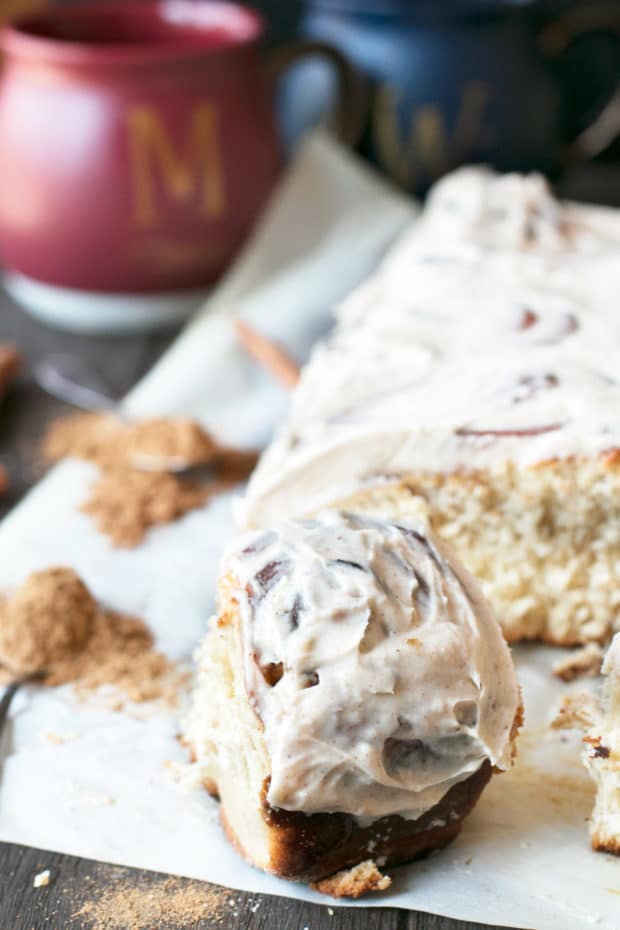 It was one of those guilty pleasure treats I would get at the start of back-to-school season when I was younger. Getting a chai latte in a cute cafe, feeling the warmth of the mug in my hands, smelling to bold spicy flavors and taking the first sip… I was immediately at peace during my favorite season ever (despite all the intimidating syllabi I received that day).
For a foodie girl like me, the only question is what would pair best with this chai latte (aka mug of love) on a crisp fall morning?
That's where these delightful, made-from-scratch chai pumpkin spice cinnamon rolls come in.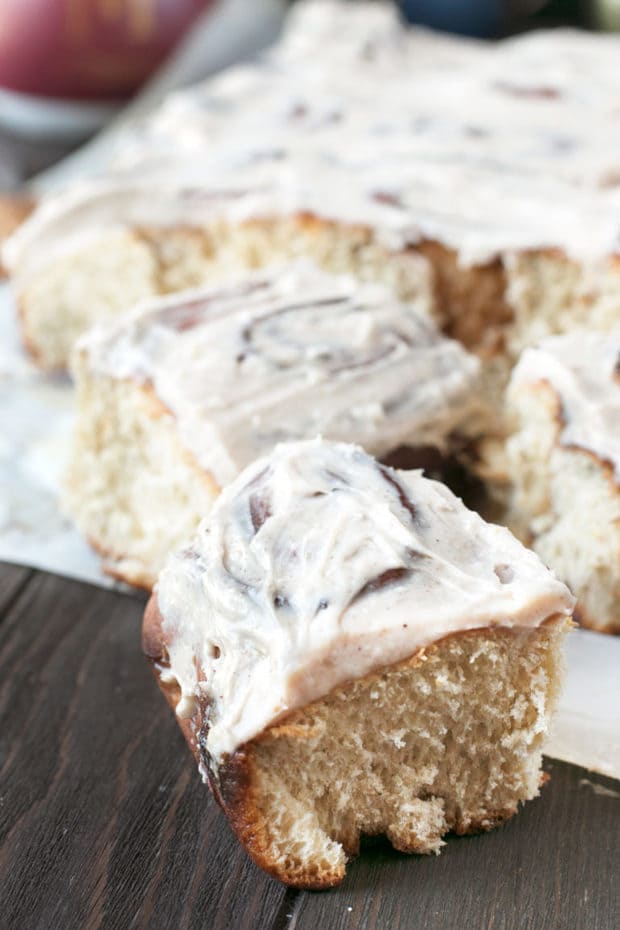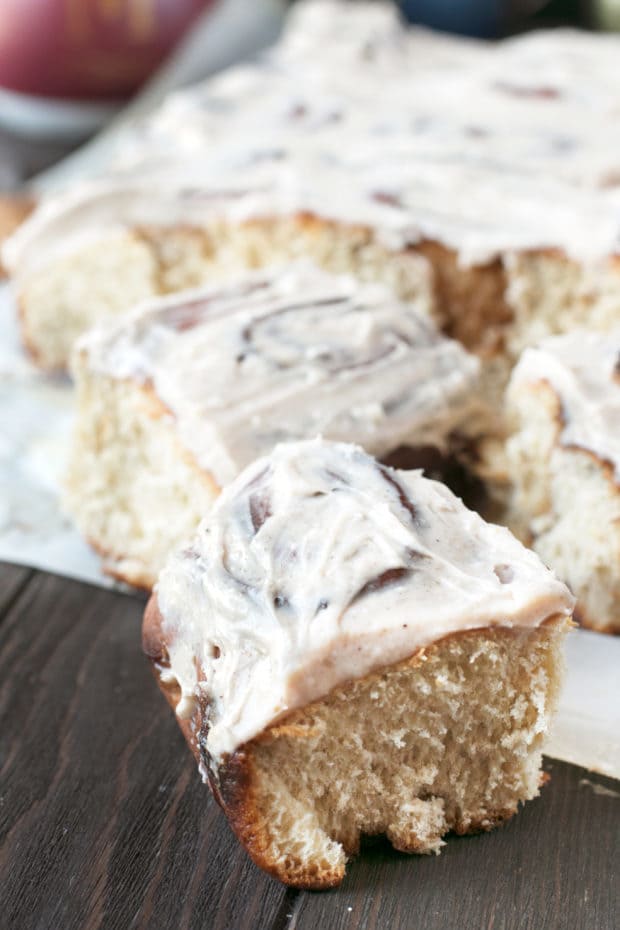 I'll stop you for a second here and tell you, I know making cinnamon rolls from scratch can seem like a pain. You have to make the dough, the filling and the frosting. You have to let the dough rise. There's a little bit of work involved, it's true. BUT it's worth every step, I promise! There's something about kneading dough, the smell of the flour on the rolling pin, and taking the time to perfect a recipe that makes these cinnamon rolls not just a food – they are an experience.
In fact, it's one of my favorite experiences at the turn of every season to make a new, distinct cinnamon roll (see egg nog cinnamon rolls and raspberry lemon cinnamon rolls) on a lazy Saturday morning.
It's become a tradition for me, and I really hope you will make it one for yourself too!
Pumpkin spice and chai spice combine in the dough, the filling and the cream cheese frosting to bring together intense, rich flavors that play off of each other in the most unique way. These rolls are bold and flavorful, without being cloyingly sweet, so you won't feel like you are sucking on a sugar cube for breakfast. The warm dough, gooey spiced inside and cream cheese frosting all balance each other out, making you want to melt into an oversized armchair with a blanket, a book and a great cup of coffee for the rest of the morning.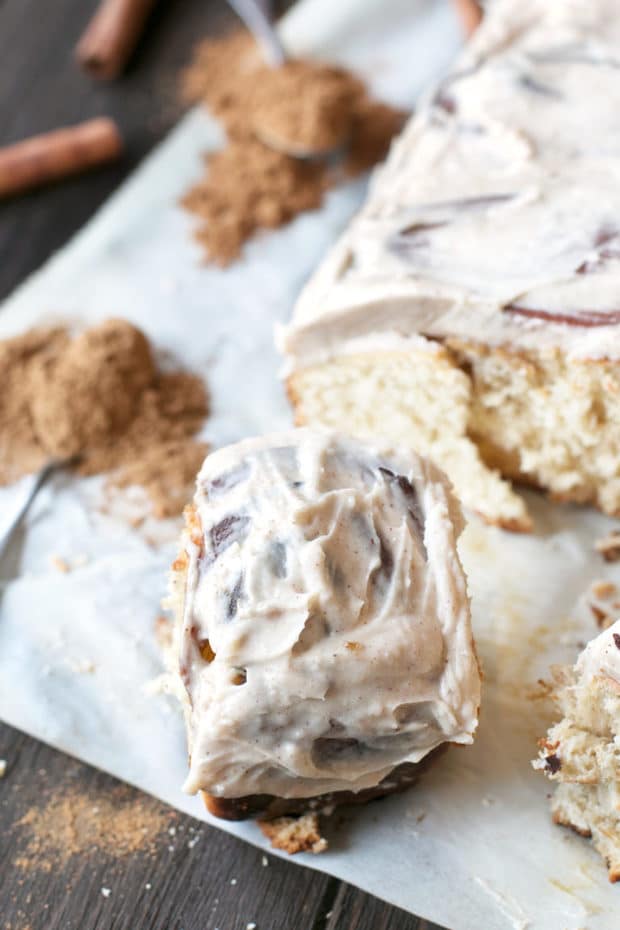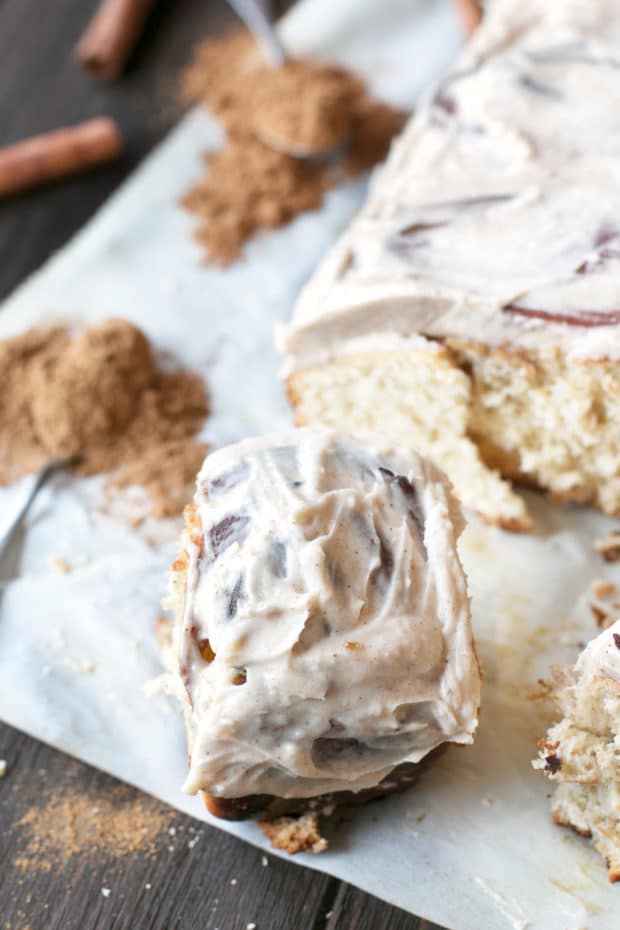 Instead of heading out to your local coffee shop, take some time in the kitchen and treat yourself to something truly spectacular! So much better than a PSL.
Ok ok, if you REALLY need your PSL fix, go get one and pair it with one of these rolls. I promise they complement each other perfectly 😉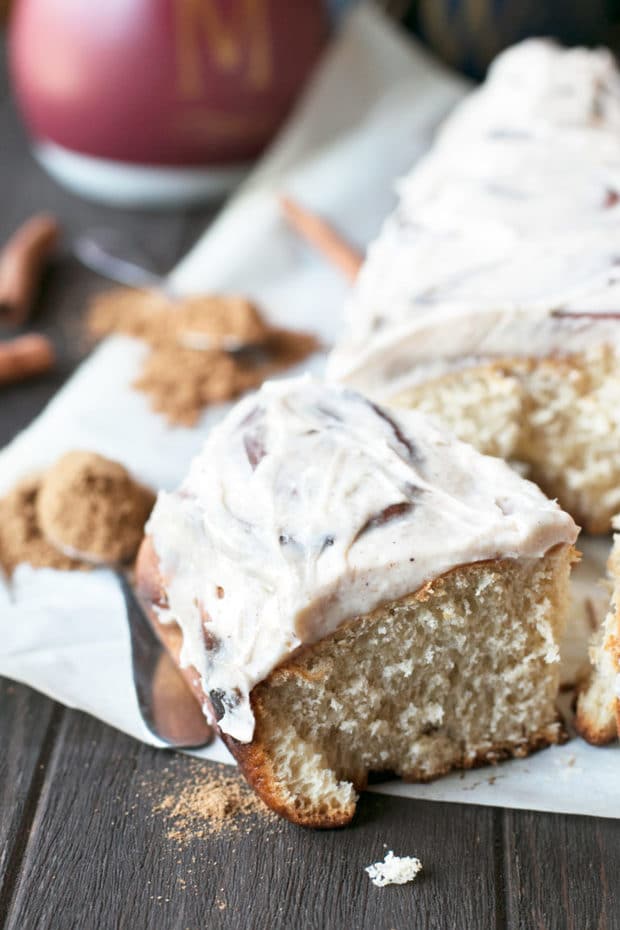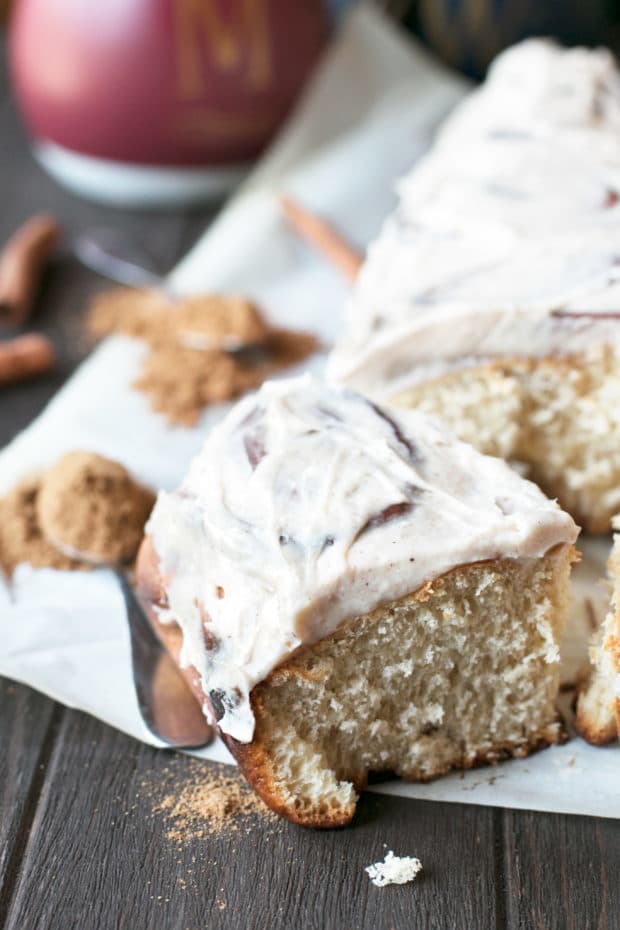 This Recipe's Must Haves
A stand mixer or a large bowl and hand mixer is a must to mix everything together perfectly for these chai pumpkin spice cinnamon rolls!
You can't see it here but this stoneware baking dish is one of my favorite baking dishes out there! AND it's gorgeous.
Using a marble pastry board seriously makes a difference when rolling out the dough for these rolls and the one linked here is the one that I always recommend!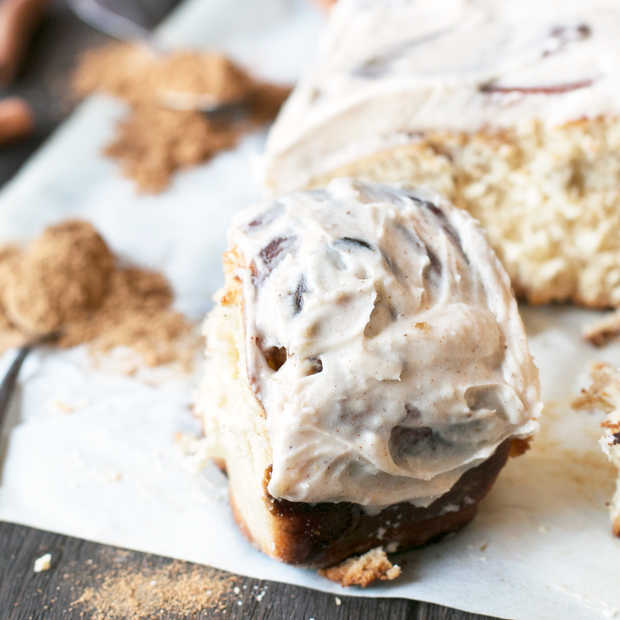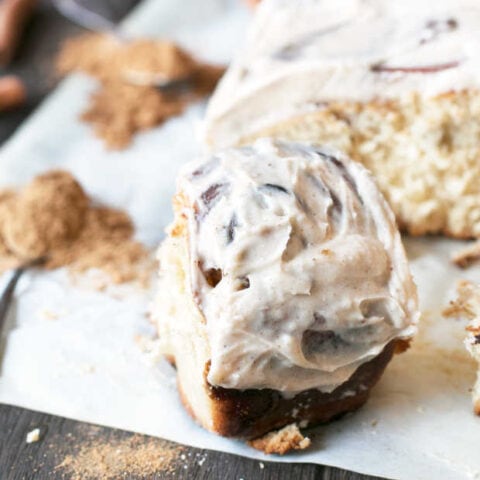 Chai Pumpkin Spice Cinnamon Rolls
Additional Time:
4 hours
5 minutes
Total Time:
4 hours
55 minutes
When the leaves start turning and weather gets colder, snuggling up with a warm chai spice cinnamon roll topped with pumpkin spice cream cheese frosting is the best way to start the day!
Ingredients
Dough
1 cup warm milk
2/3 cup sugar
1 1/2 Tbsp active dry yeast
1 stick unsalted butter, softened (8 Tbsp)
2 large eggs
1/2 tsp sea salt
2 1/2 tsp chai spice
4 1/2 cups AP Flour
Filling
3/4 cup brown sugar
1 Tbsp ground chai spice
1/2 Tbsp pumpkin pie spice
1/2 cup butter, softened
Frosting
1 cup confectioner's sugar
3 Tbsp butter, melted
3 oz cream cheese
2 Tbsp heavy cream
1 tsp pumpkin pie spice
Instructions
Pour warm milk for the dough into the bowl of an electric stand mixer fitted with the dough hook and stir in the sugar and yeast. Let rest for about 5 minutes until the yeast is foamy. Add the softened stick of butter, eggs, sea salt and chai spice. Beat to combine. Then add the flour and beat until a soft dough forms on medium speed, approximately 3 minutes. Increase speed to high and beat until the dough is soft and pliable, an additional 10 minutes.
Remove the dough and place on a lightly floured surface. Knead with your hands a few times and then form the dough into a ball. Grease a medium size bowl with butter and add the dough ball to the bowl. Cover with plastic wrap and let rest in a warm place until doubled in size, about 1 1/2 to 2 hours.
Line the bottom of a 9x13-inch baking pan with parchment paper, allowing the paper to extend up the long sides. Grease the paper with butter. Turn out the dough from the bowl onto a lightly floured work surface and roll out into a 10"x24" rectangle.
In a small bowl, whisk together brown sugar, ground chai spice, and pumpkin pie spice for filling.
Spread the rectangle of dough with butter for filling. Sprinkle the sugar spice mixture on top.
Tightly roll the dough to form a 24-inch log. Cut the log into quarters and then cut each quarter into 4 slices. Arrange the slices in the baking pan with the cut sides up. Cover the rolls with plastic wrap and allow them to rise for an additional 2 hours.
Preheat the oven to 425 degrees. Bake the rolls for about 20 minutes, until they are golden brown. Transfer the pan to a rack and allow to cool for 30 minutes.
In a small bowl, whisk together the confectioners' sugar, butter, heavy cream, cream cheese, and pumpkin pie spice until the frosting is spreadable.
Grab the sides of the parchment paper that hang over the baking pan and invert the rolls onto a cooling rack. Peel off the parchment paper off and turn the rolls over onto a serving platter. Spread frosting evenly over the rolls with a spatula. Serve immediately.
Recommended Products
As an Amazon Associate and member of other affiliate programs, I earn from qualifying purchases.