Please note this post contains affiliate links.
Roasted Chicken with White Wine & Fresh Herbs is an easy weeknight meal that can double as the perfect dinner party meal. Breaking down the chicken and cooking it in pieces makes the cooking time faster and the skin nice and crispy!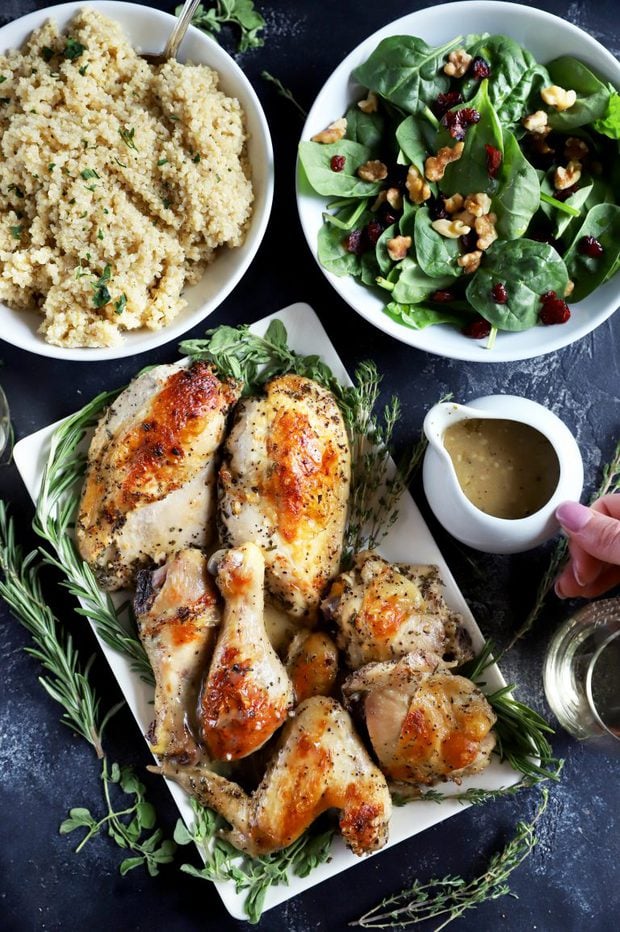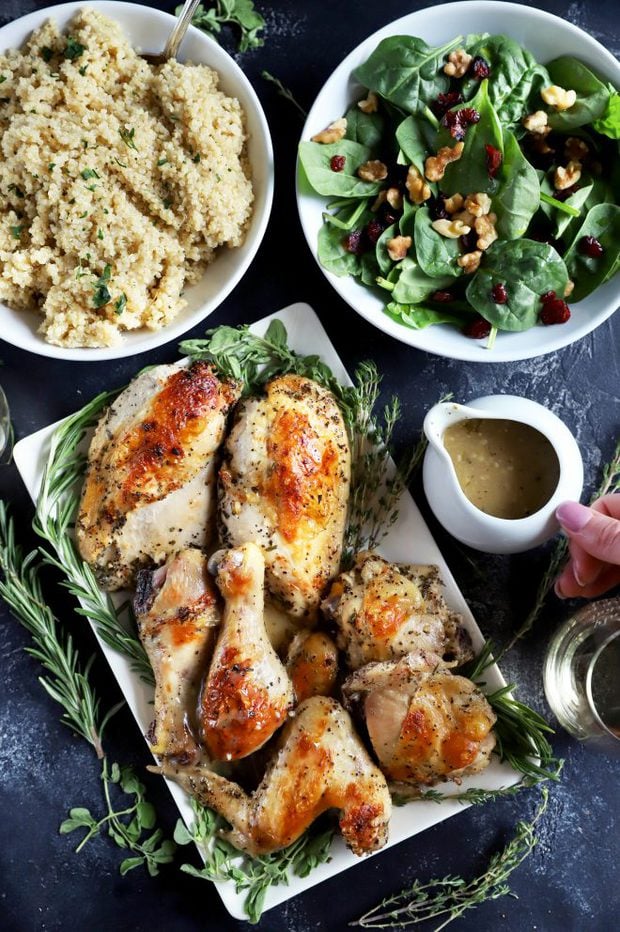 about this roasted chicken with white wine and herbs
I broke down my very first chicken this past weekend! I am sure many of you have already done this before, but I have never really taken the time to.
Usually I just buy chicken breasts at Costco and call it good.
Really, I think I was just terrified about the possibility of completely butchering the whole chicken into an unusable mess… As someone who began cooking being extremely clumsy with knives, it's not to crazy to have some fear there.
Fear of not butchering the chicken correctly. There's also the fear of slicing off a finger. Fear of accidentally dropping the knife and cutting off my pinky toe á la Friends.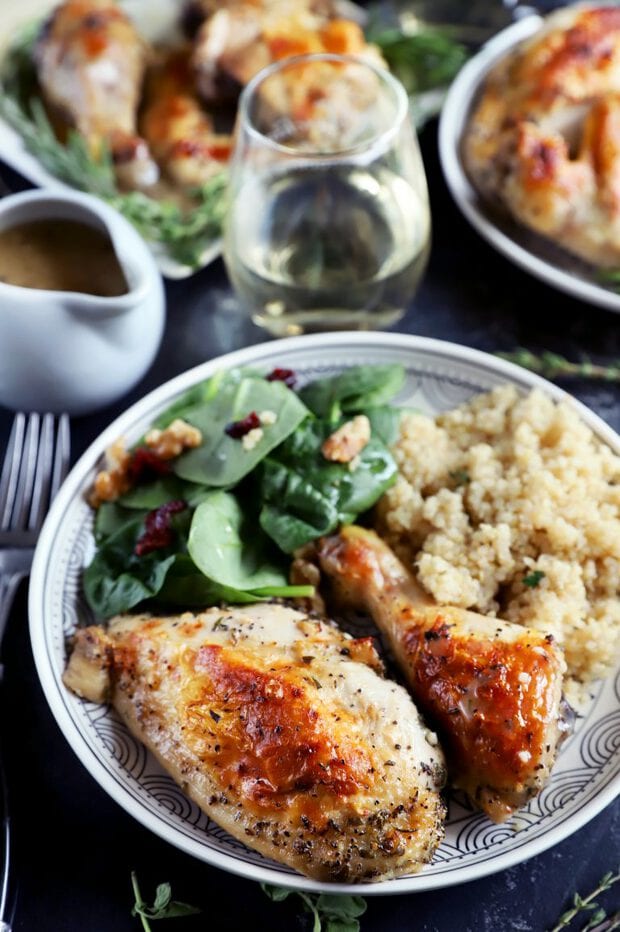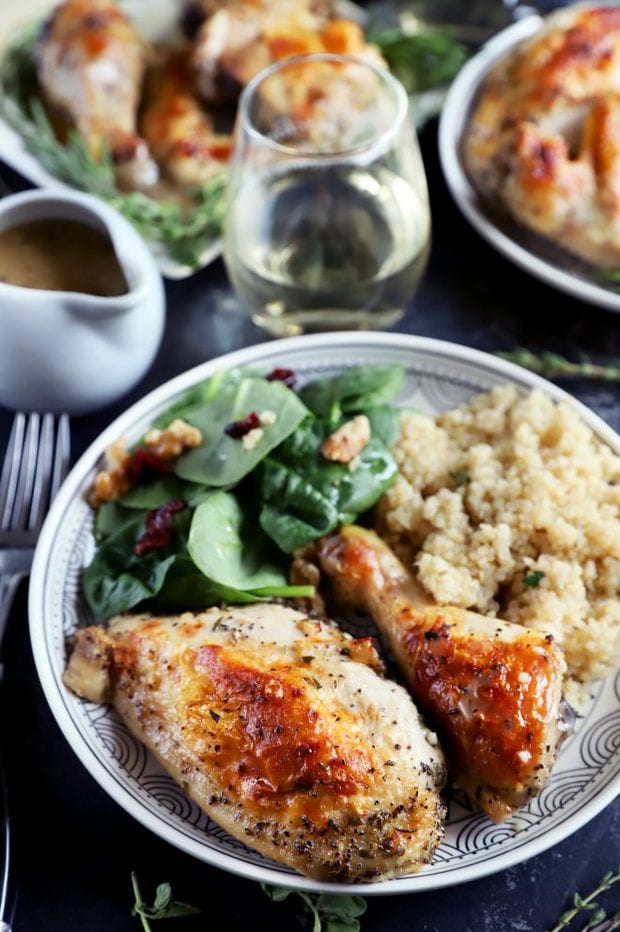 I have to say, as soon as I broke down that chicken into 6 beautiful pieces, I felt so invigorated!
I was ready to take on the WORLD.I built it up in my mind as an incredible challenge and the moment I conquered that chicken, it was like I just won the Superbowl.
The most rewarding part is the smell that almost instantly fills the house while the chicken is roasting. The white wine mixed with fresh herbs and garlic is absolutely intoxicating.
This is the perfect down home weeknight meal!
It takes less than 5-10 minutes to put it together, then you just roast it off and serve it with your favorite vegetables. Delicious, flavorful, simple. After you cook it just once, you'll family will be begging you to make it every week!
Note: This post was originally published on October 7th, 2014. Republished with new photos and recipe notes!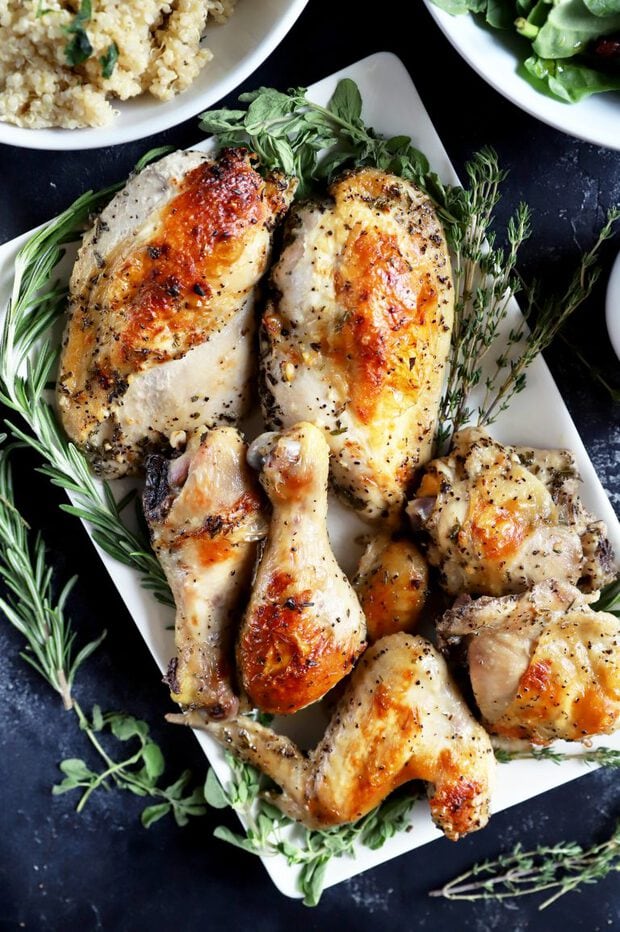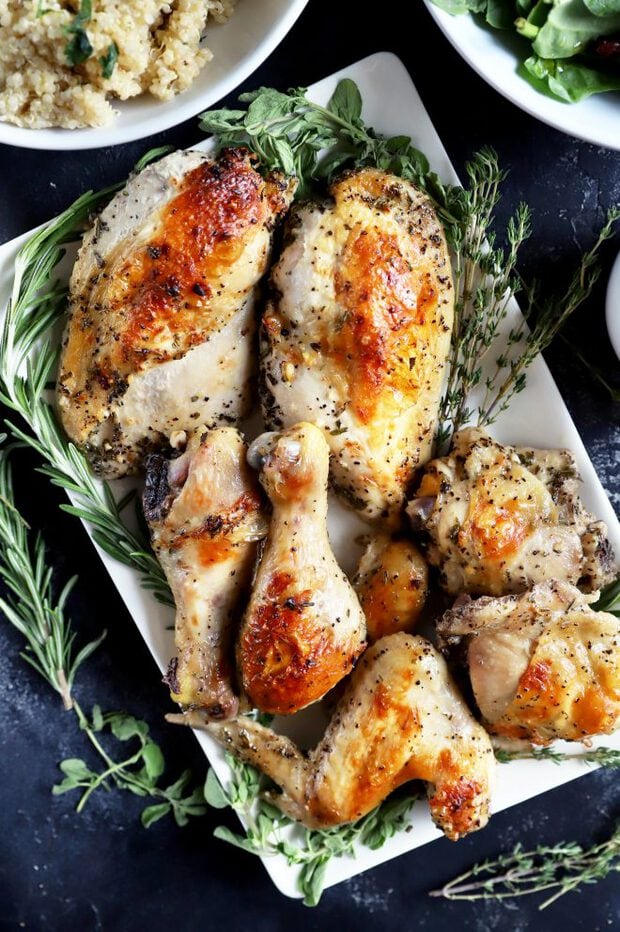 ingredients
chicken. Be sure to buy the whole chicken! I personally like to break it down myself because it's cheaper. Plus you can keep the bones and other parts you don't roast to make your own stock or soup!
garlic. This is where a jar of minced garlic comes in handy! You can also peel and dice whole cloves, but I like this shortcut. No smelly hands, no peeling garlic.
fresh herbs. You will need a combination of fresh rosemary, thyme, and oregano for this recipe. You can also swap one of these for fresh sage if you prefer.
white wine. Any dry white wine works for this recipe! Pinot Gris, Sauvignon Blanc or Chardonnay are all good options. If you don't want to use wine, you can use chicken stock instead.
oil. Use extra virgin olive oil for this recipe!
salt and pepper. I personally prefer to use kosher salt and freshly cracked black pepper for most of my recipes.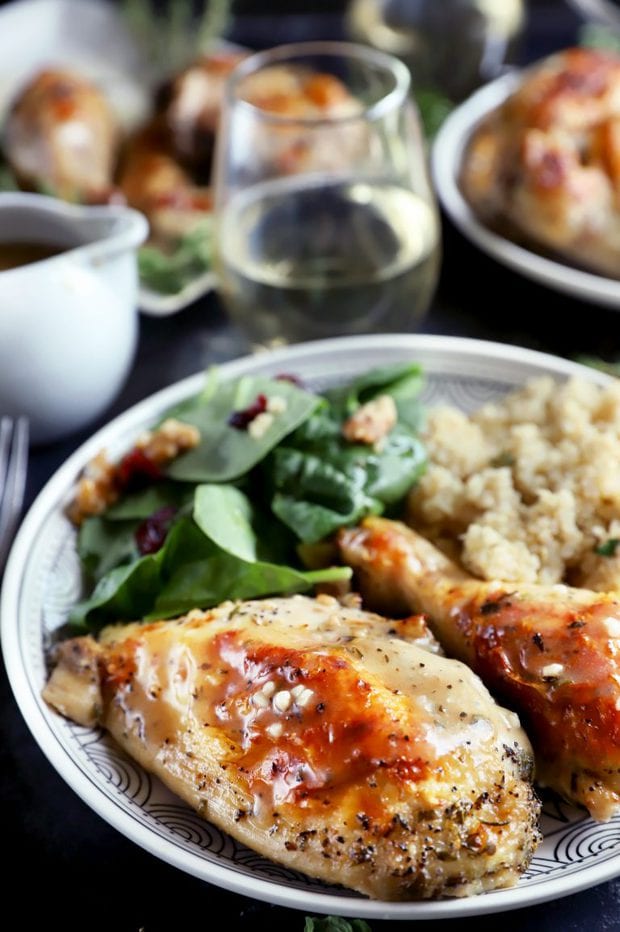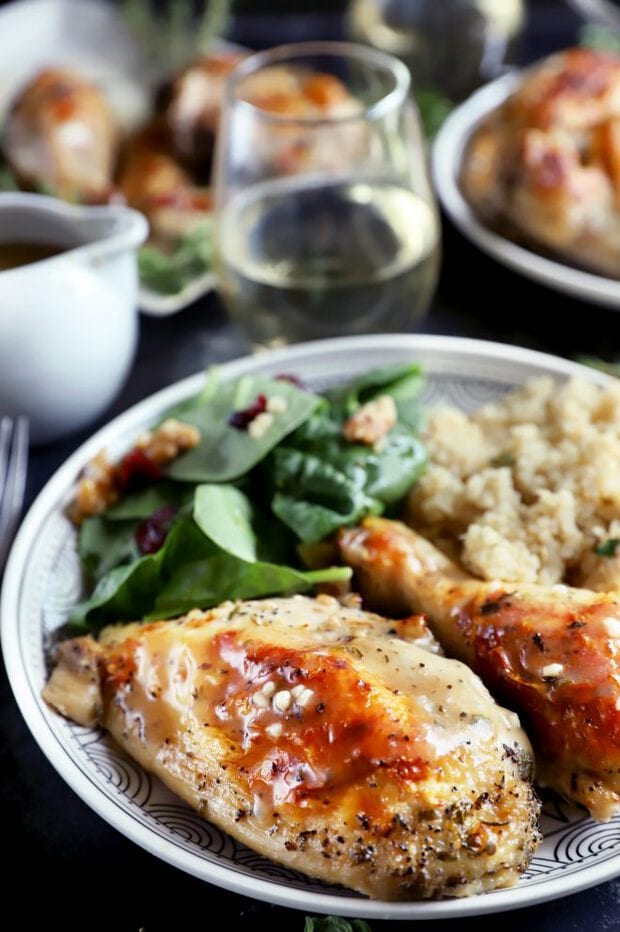 this recipe's must-haves
I know it's not in the pictures here, but I am a huge fan of Le Creuset (this is not a sponsored post btw, just a huge believer in their products!). This baking dish (in cherry red of course) is perfect for this chicken.
Also important are a good set of tongs to turn the chicken in the sauce you make in the bottom of the pan (no chicken hands here!).
Finally, really firstly to break down the chicken, a killer knife that will never let you down. My go-to knife is this chef's knife. I've had a set of Shun knives for YEARS and they are still incredibly sharp!
Not an irrational fear right? There has to be a few of you out there who can relate!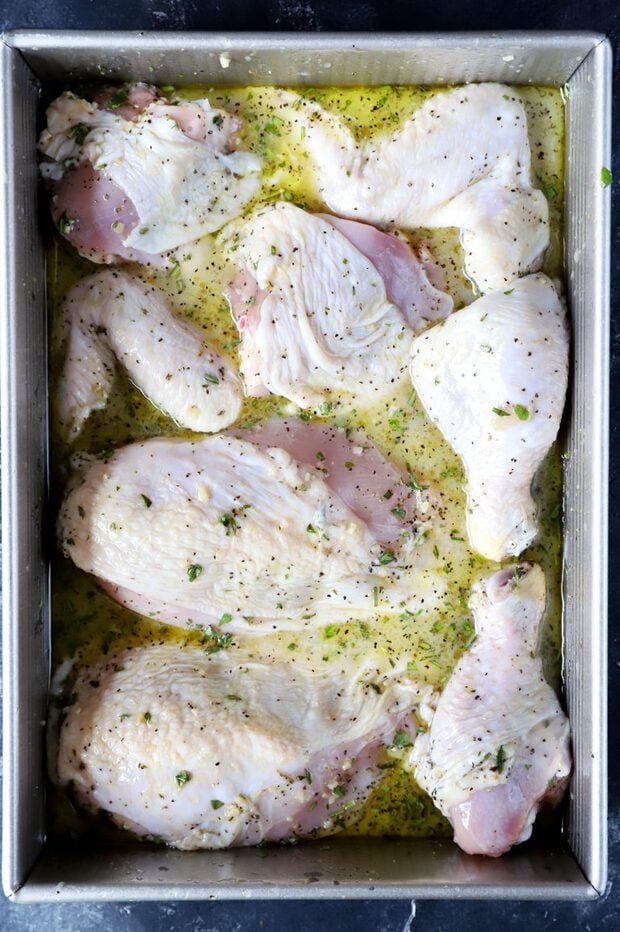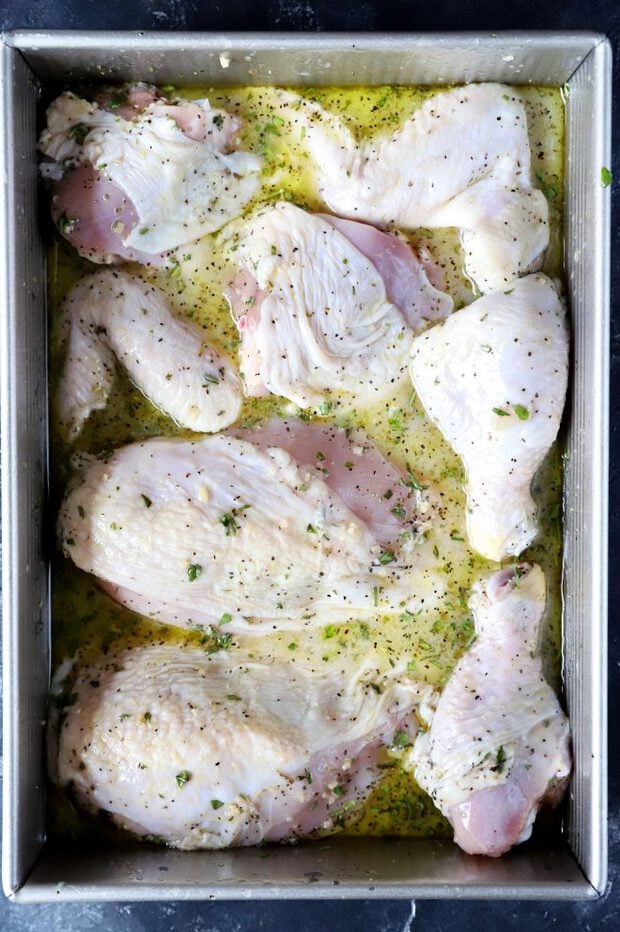 here's how to make roasted chicken with white wine and fresh herbs
prepare chicken
In the bottom of a large baking dish, whisk together olive oil, wine, garlic, fresh herbs, salt and pepper until combined.
Place the chicken pieces in the bottom of the pan (you do not need to use a roasting rack). Turn them over a few times in the pan to coat them in the white wine mixture. Turn skin side up and place on the middle rack of the oven.
roast
Roast for 25 to 30 minutes at 415˚F. The chicken is cooked through when it reaches 165˚F internally.
If you would like to brown your chicken skin, let it sit under the broiler in the last 5 minutes of cooking. Keep an eye on it so the skin doesn't burn!
finish sauce
Remove chicken from pan to a serving platter to rest.
While chicken is resting, add the juices from the bottom of the baking dish to a small saucepan. Cook over medium-high heat, at a boil, for about 5 to 6 minutes until thickened and reduced.
Serve chicken with sauce.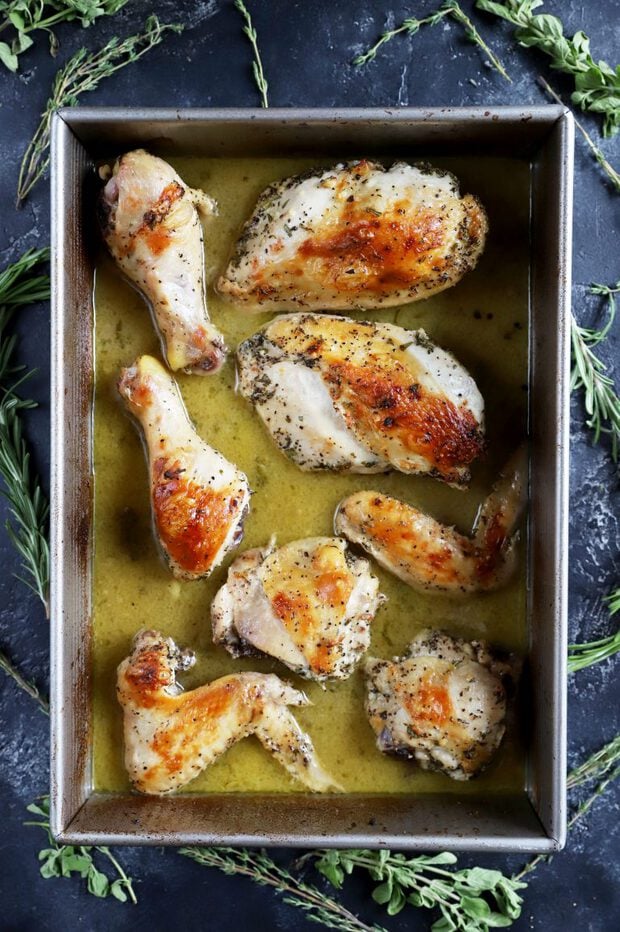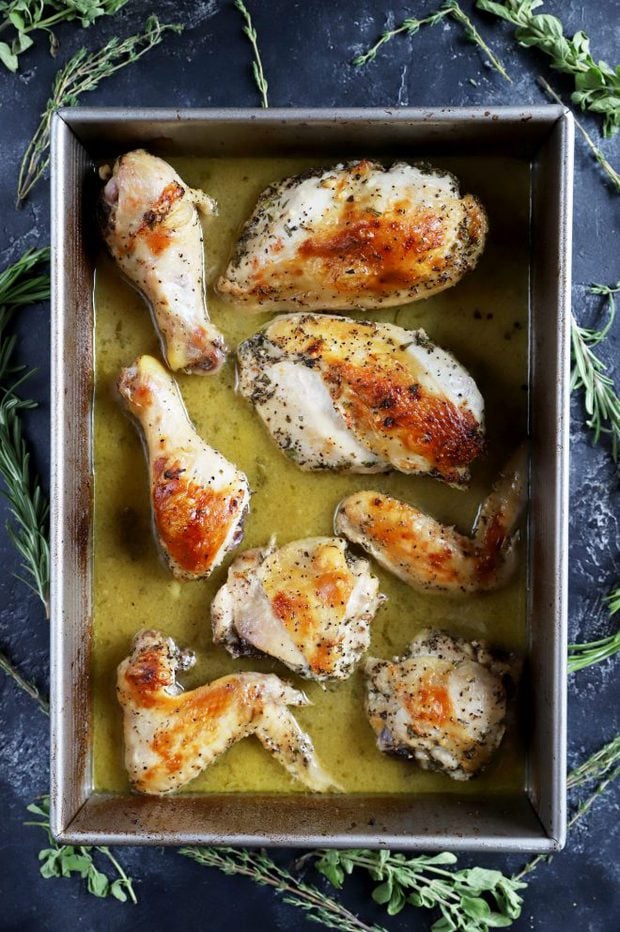 tips for success
use a thermometer. Be sure to use an instant read meat thermometer! This will make sure the meat is cooked perfectly.
enjoy the chicken in other ways! This chicken is great for dinner, but it can also be used a meal prep for the week! You can slice, shred, or cube the meat to use in bowls, salads, sandwiches, and more.
More roasted chicken recipes: Berbere Roasted Chicken / Creamy White Wine & Garlic Roasted Chicken Thighs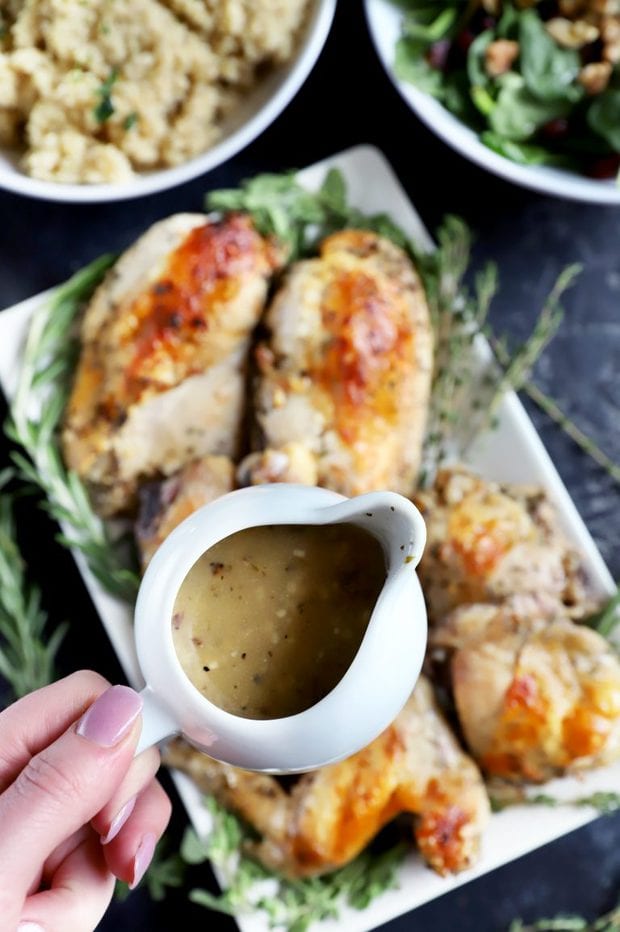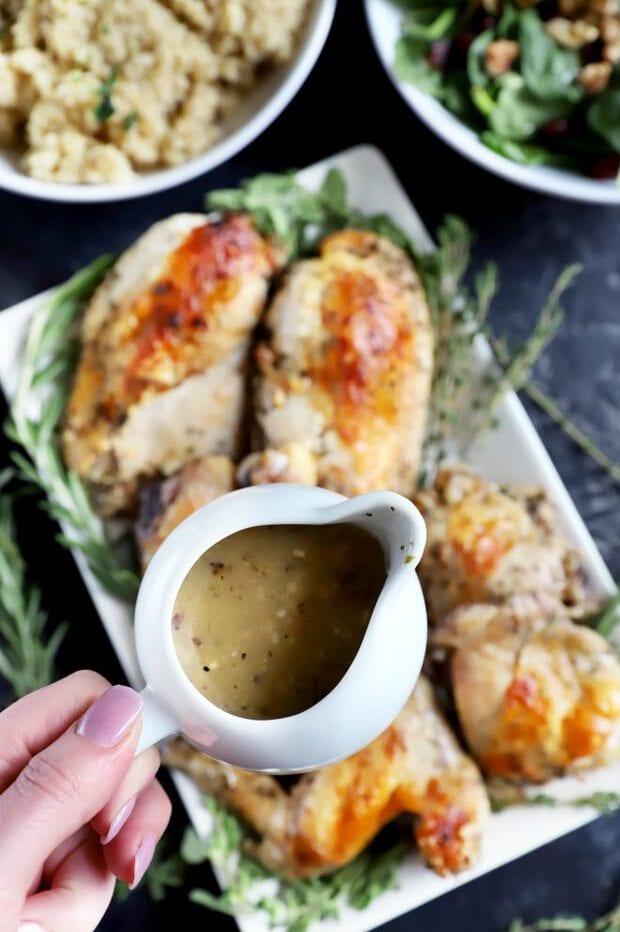 how do I break down a chicken?
I actually did a whole post on how to break down a whole chicken over on Foodal! This guide complete with step-by-step pictures is fantastic because it's detailed and it shows you how to go through the process easily.
Don't forget to reserve the carcass and backbone! You can make excellent homemade chicken stock from it.
what temperature should roasted chicken be when done?
Chicken is cooked through when it reaches 165˚F on an internal thermometer inserted into the thickest part of the chicken. Sometimes certain pieces cook quicker than others. Therefore be sure to check each piece individually.
You can remove the pieces that are fully cooked through and if any are under, return the pan to the oven until it's all cooked through.
Need more inspiration for dinner this week? Check out my main dish recipes page!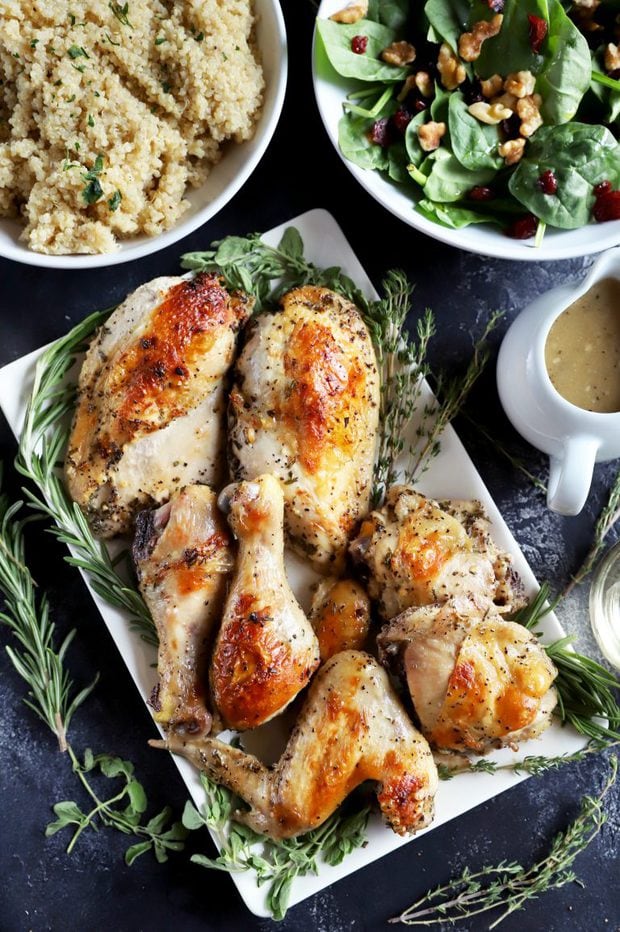 what to serve with roasted chicken with white wine and herbs
When it comes to serving side dishes with this dish, you can pretty much serve anything and everything! I've listed out some of my personal favorites below:
Chook Smashed Sweet Potatoes with Fresh Herbs are a fun twist on the classic smashed potatoes!
Classic homemade mashed potatoes are always a win, especially for the kiddos. If you like crispy potatoes, these fried mexican potatoes are so delicious. For a whole new side, try potato fritters with dollops of sour cream and fresh chives!
Spicy-Sweet Roasted Broccolini gives you a big bomb of flavor without a ton of work.
Crispy Roasted Broccoli with Roasted Garlic Aioli is my favorite way to eat broccoli! The aioli is such a delicious pairing with the roasted broccoli.
Tender and creamy risotto with asparagus and peas is simple and flavorful, perfect for spring!
A vegetarian cheesy broccoli casserole is ideal on a chilly night too!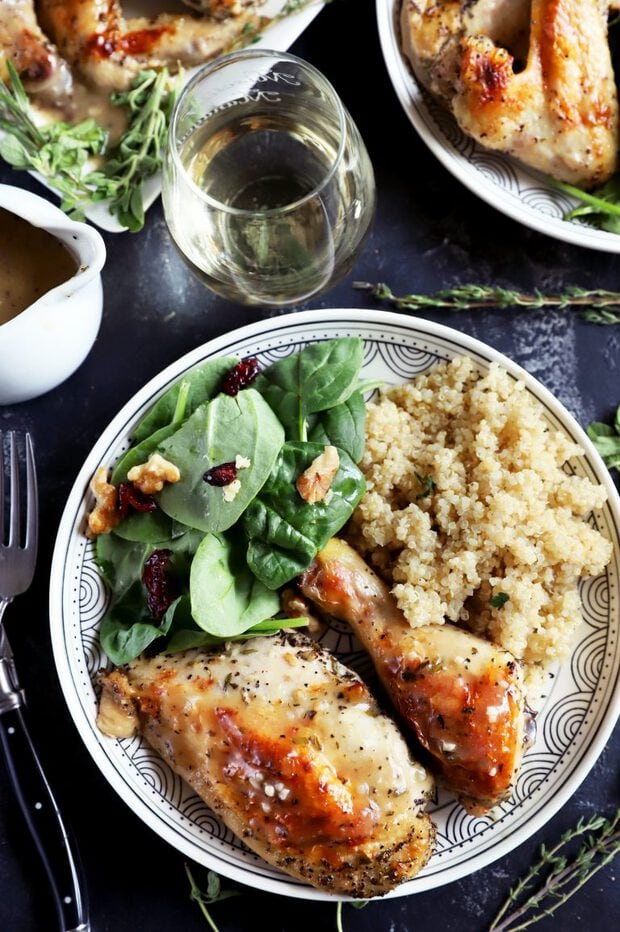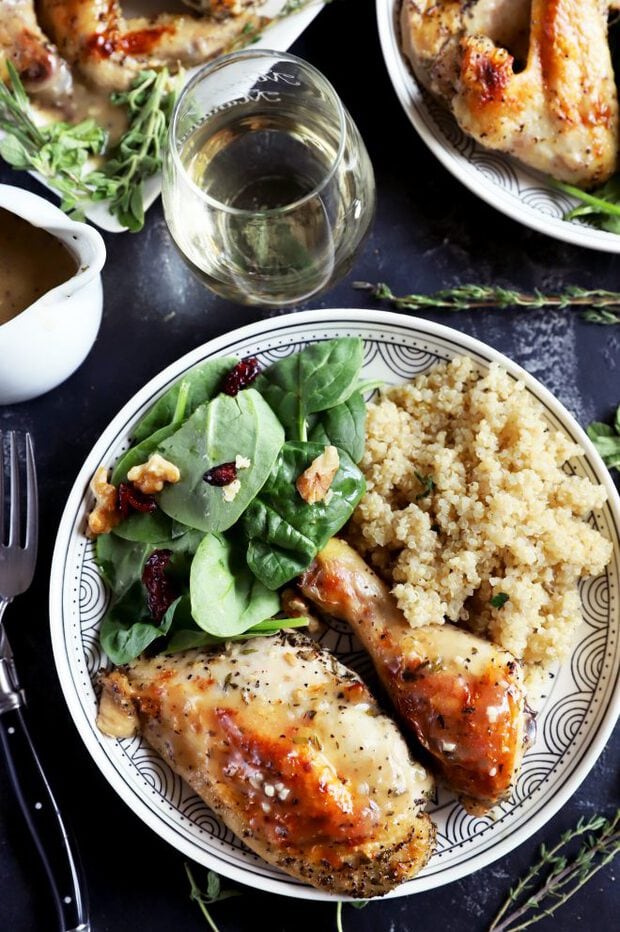 how to store and reheat
Store. Leftovers (chicken and sauce!) can be stored separately in airtight containers (once cooled down!) and refrigerated for up to 3 to 4 days.
Reheat. To reheat, place chicken in a baking dish and cover with foil. Bake at 350˚F until heated through (be sure to remove the foil towards the end of cooking to crisp the skin again!). The sauce can be reheated on the stove over medium heat until warmed through.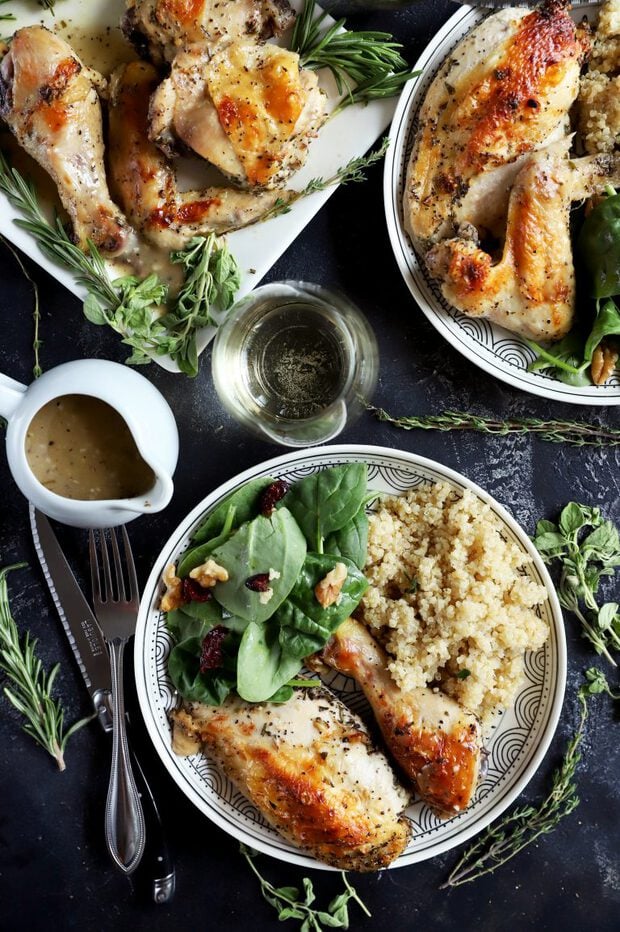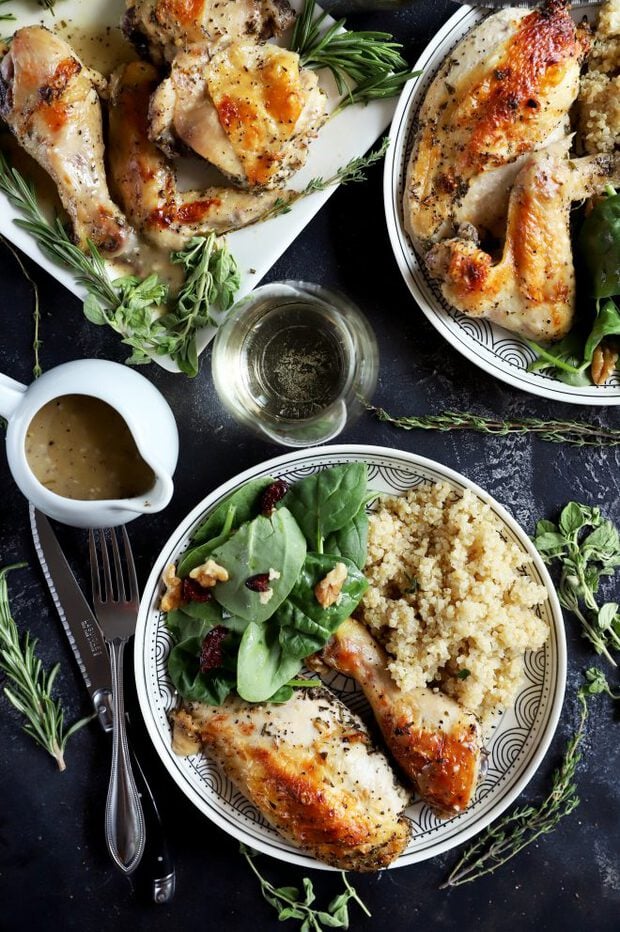 Finally, if you make this roasted chicken with white wine and herbs recipe, please be sure to give this recipe a rating or leave a comment! I love to hear when you all make recipes, and I do take the time to respond to every single comment. Feel free to drop questions below too, if you have them!
Oh and be sure to tag me on Instagram if you make the recipe! Love being able to see these recipes come to life in your homes – it's my favorite thing to look through those photos. It really means the world to me!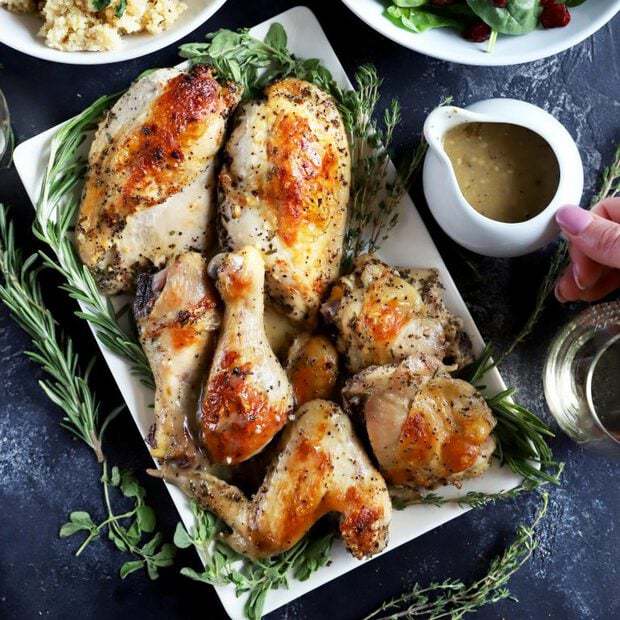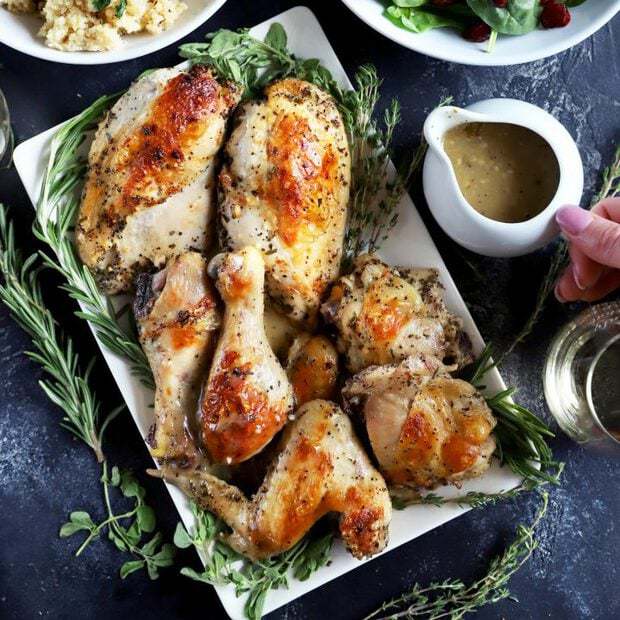 Roasted Chicken with White Wine & Fresh Herbs
Simple roasted chicken is a great weeknight meal and goes perfectly with lemon roasted fingerling potatoes.
Ingredients
1 whole chicken, cut into 6-8 pieces
6 cloves garlic, diced
1 Tbsp fresh thyme, chopped
1 Tbsp fresh rosemary, chopped
1 Tbsp fresh oregano, chopped
3 Tbsp olive oil
1 cup dry white wine
1/2 Tbsp salt
1/2 Tbsp fresh cracked pepper
Instructions
Preheat oven to 415˚F.
In the bottom of a large roasting pan or baking dish, combine the olive oil, white wine, garlic, fresh herbs, salt and pepper. Stir a few times to combine the ingredients.
Add the chicken pieces to the bottom of the roasting pan, turning them over a few times to make sure they get covered in the white wine mixture. Turn the chicken pieces skin side up and place the roasting pan on the middle rack of the oven.
Roast the chicken in the oven for 25 to 30 minutes, until the chicken is cooked through and reaches an internal temperature of 165 degrees. Remove from oven and serve immediately.
If you would like your chicken's skin to be browned and crispy, turn the oven to broil in the last 5 minutes and cook until the skin gets browned (keep a close watch so it doesn't burn!).
Remove chicken from the pan to rest. While the chicken is resting, add the juices in the bottom of the baking pan to a small saucepan over medium-high heat. Boil for about 5 to 6 minutes, until thickened and reduced.
Serve chicken with the sauce.
Notes
*Note: I separated the thigh and leg, but you can leave them attached to make 6 pieces if you prefer!
Recommended Products
As an Amazon Associate and member of other affiliate programs, I earn from qualifying purchases.