Please note this post contains affiliate links.
Roasted Chicken with White Wine & Fresh Herbs is an easy weeknight meal that can double as the perfect dinner party meal. Breaking down the chicken and cooking it in pieces makes the cooking time faster and the skin nice and crispy!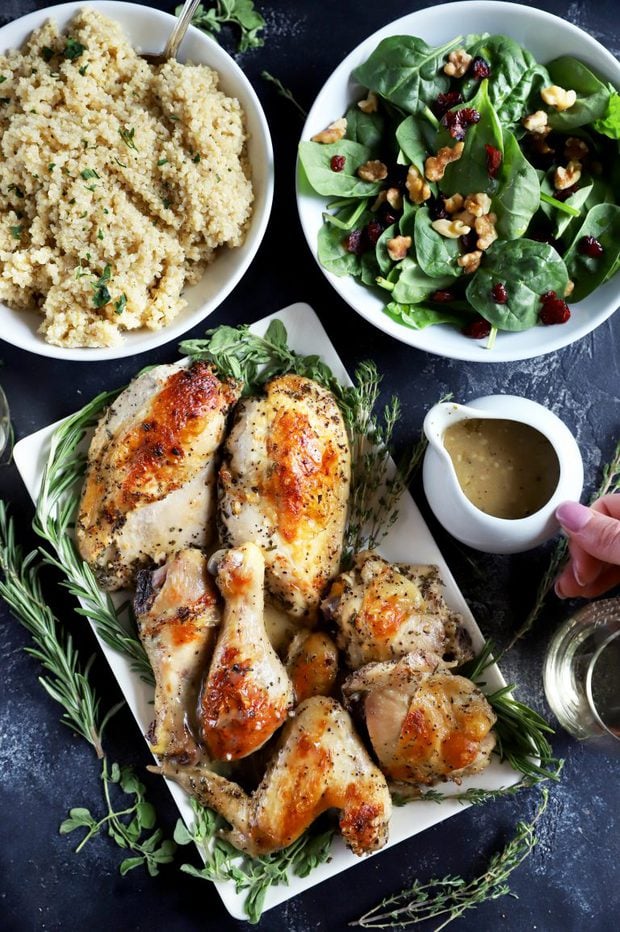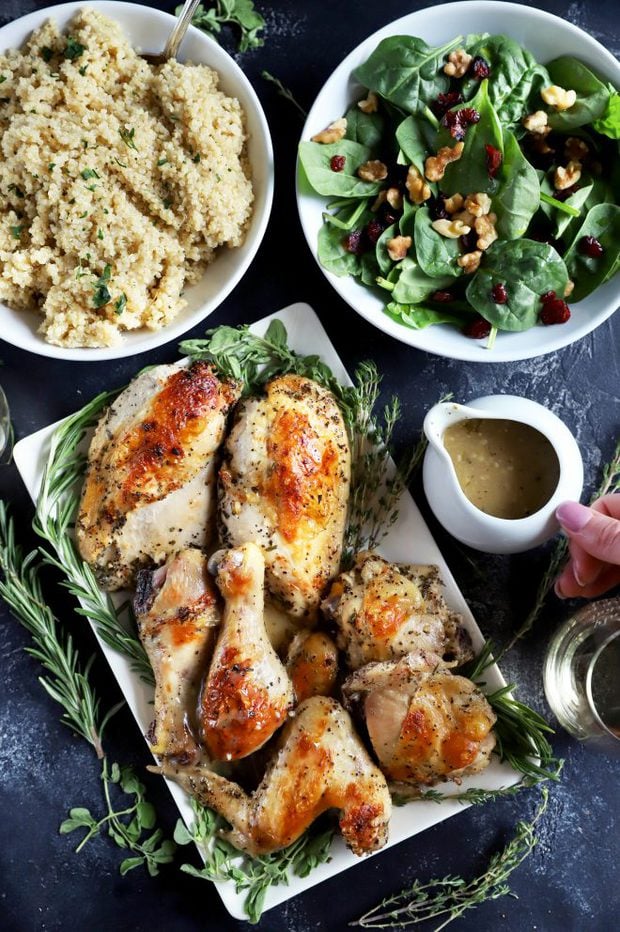 I broke down my very first chicken this past weekend! I am sure many of you have already done this before, but I have never really taken the time to.
Usually I just buy chicken breasts at Costco and call it good.
Really, I think I was just terrified about the possibility of completely butchering the whole chicken into an unusable mess…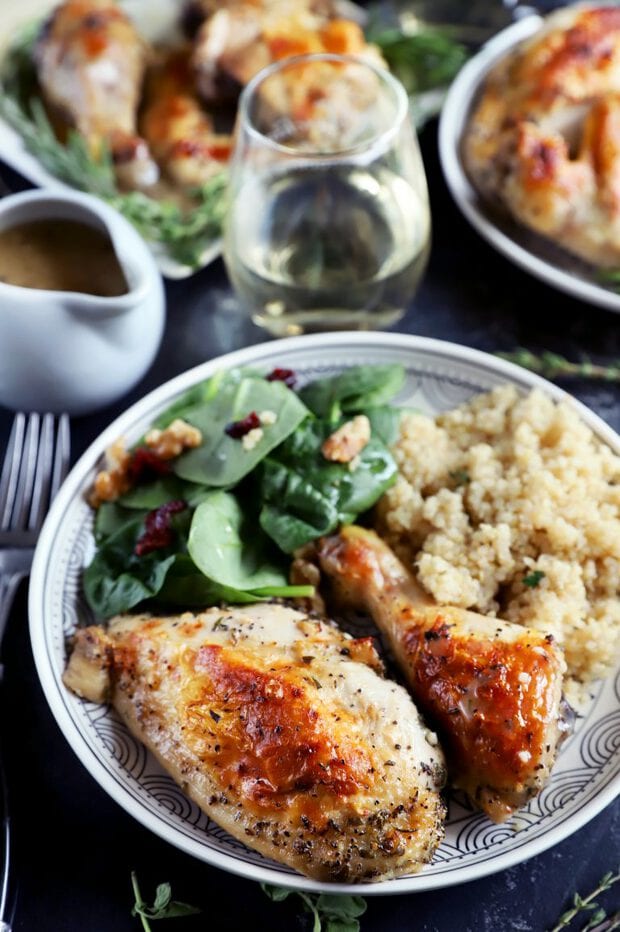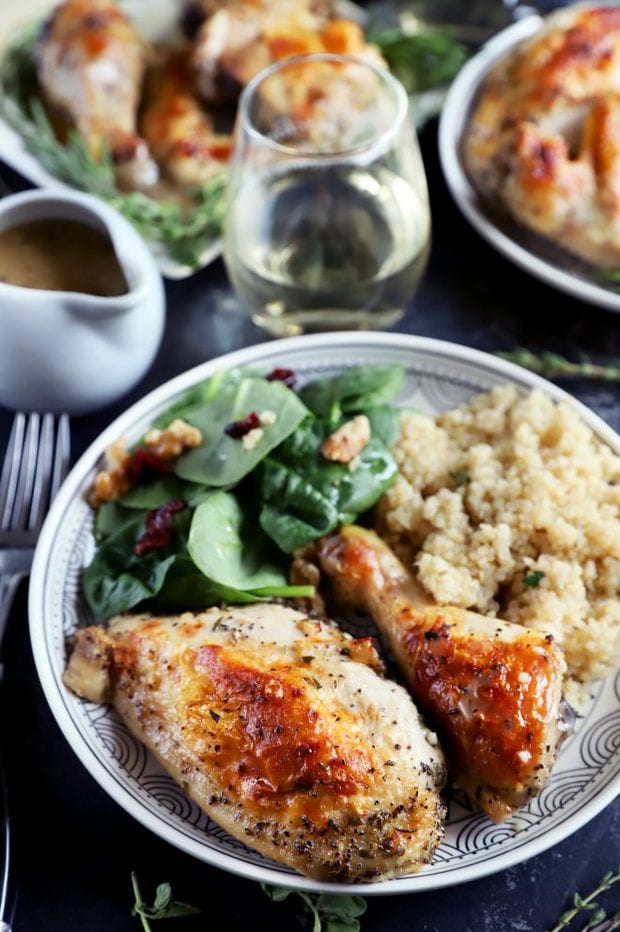 As someone who began cooking being extremely clumsy with knives, it's not to crazy to have some fear there.
Fear of not butchering the chicken correctly.
There's also the fear of slicing off a finger.
Fear of accidentally dropping the knife and cutting off my pinky toe á la Friends.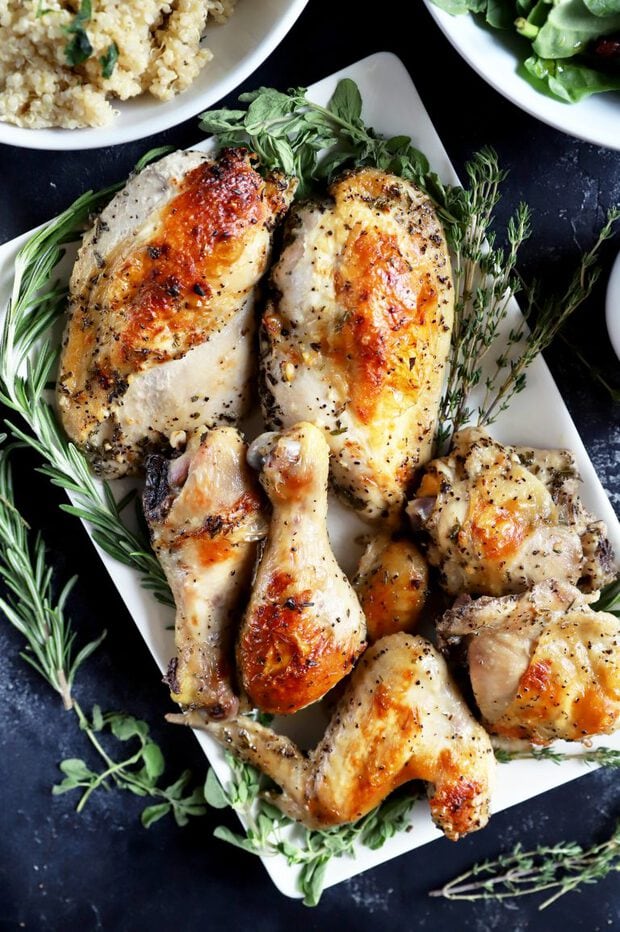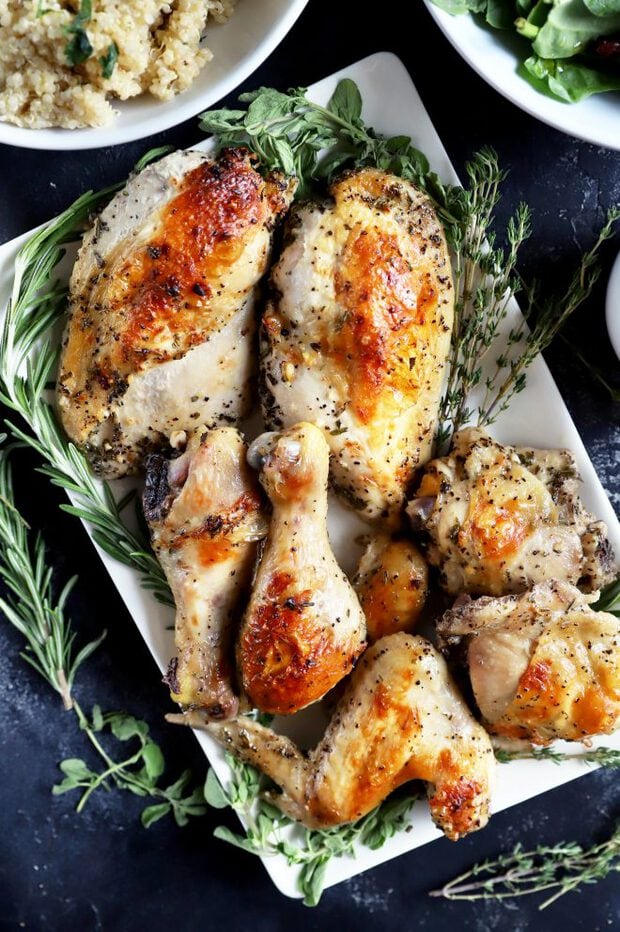 This Recipe's Must-Haves

I know it's not in the pictures here, but I am a huge fan of Le Creuset (this is not a sponsored post btw, just a huge believer in their products!). This Le Creuset Stoneware Rectangular Dish
(in cherry red of course 😉 ) is perfect for this chicken.
Also important are a good set of tongs
to turn the chicken in the sauce you make in the bottom of the pan (no chicken hands here!).
Finally, well really firstly to break down the chicken, a killer knife that will never let you down. My go-to knife is this chef's knife
. I've had a set of Shun knives for YEARS and they are still incredibly sharp!
Not an irrational fear right? There has to be a few of you out there who can relate!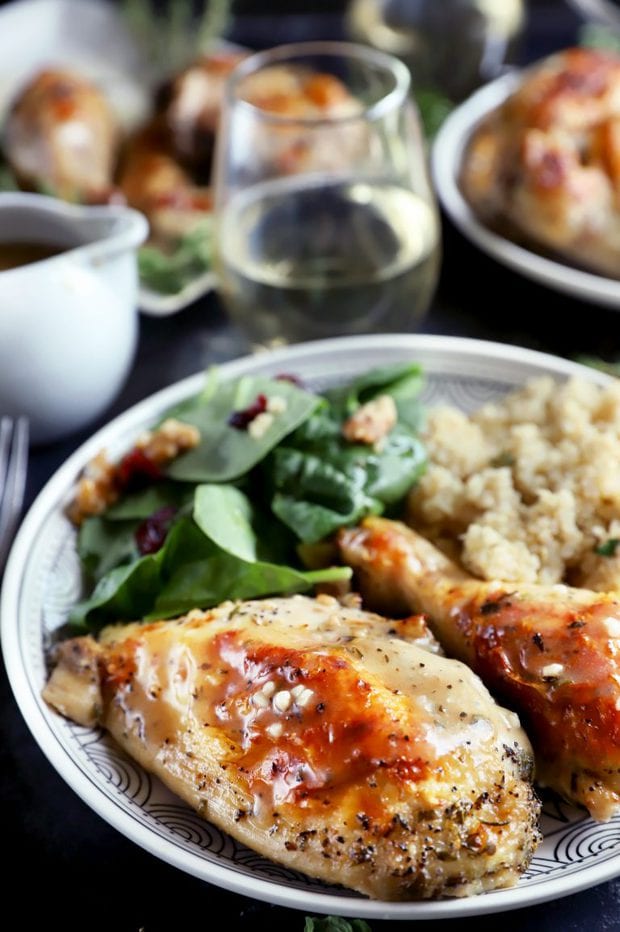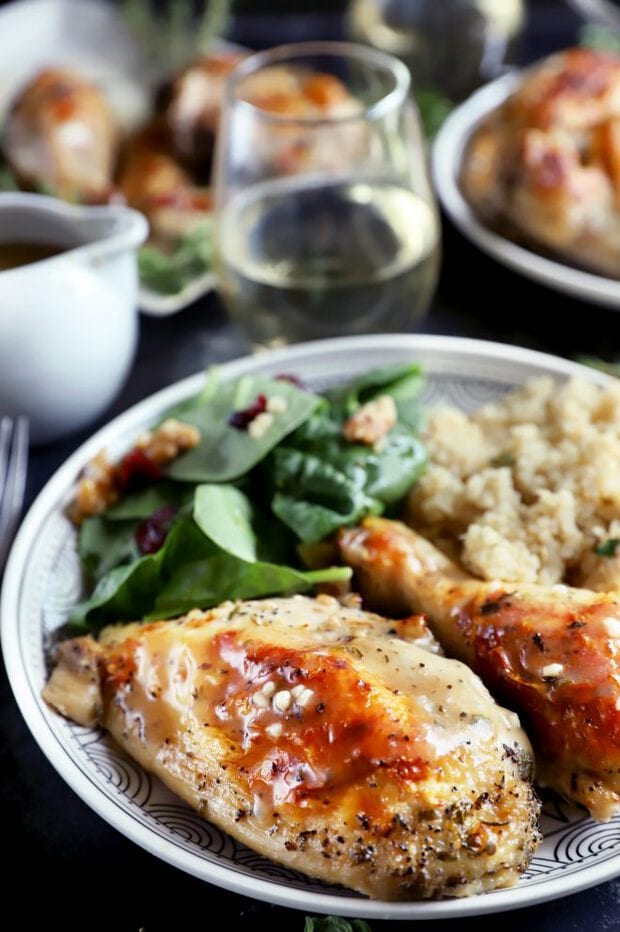 I have to say, as soon as I broke down that chicken into 6 beautiful pieces, I felt so invigorated!
I was ready to take on the WORLD.I built it up in my mind as an incredible challenge and the moment I conquered that chicken, it was like I just won the Superbowl.
Well, except without the world watching and without the big trophy… Still, I highly recommend everyone try it at least once in your life.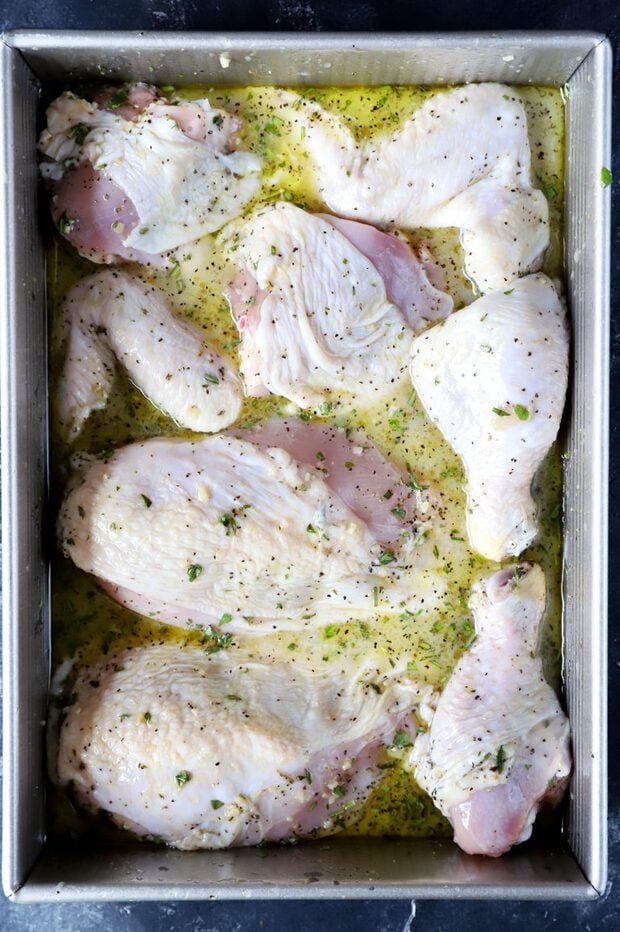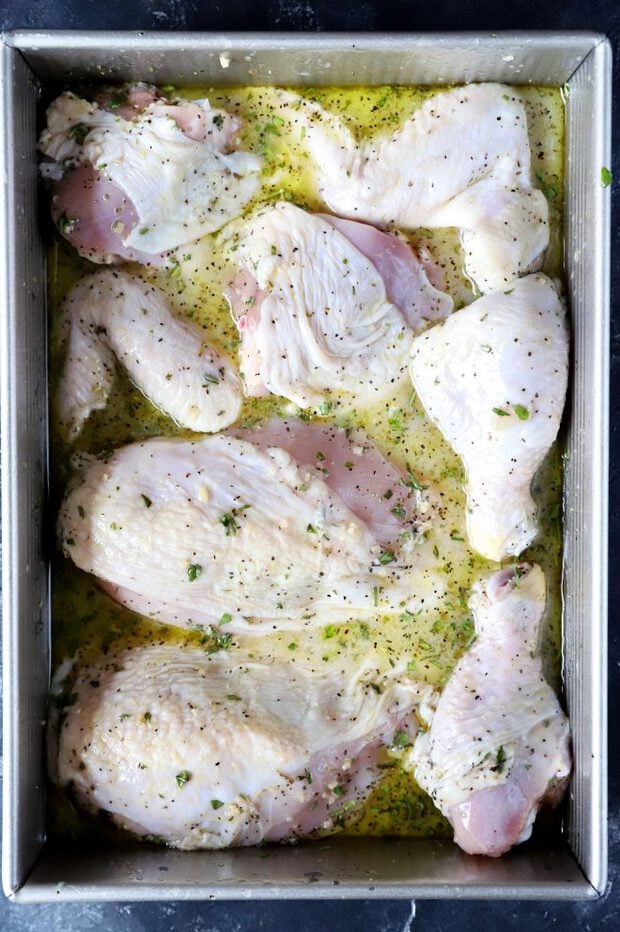 The most rewarding part is the smell that almost instantly fills the house while the chicken is roasting.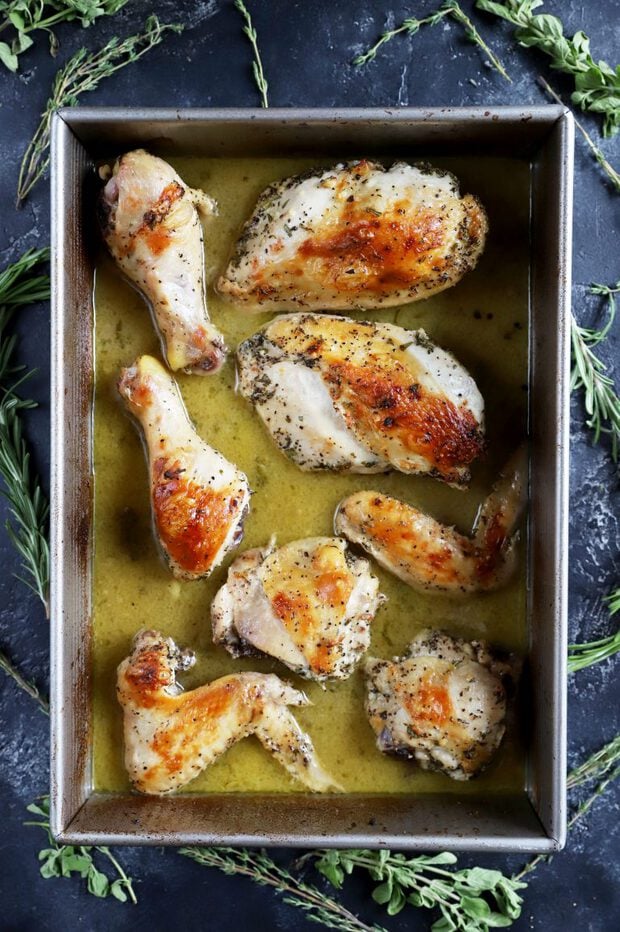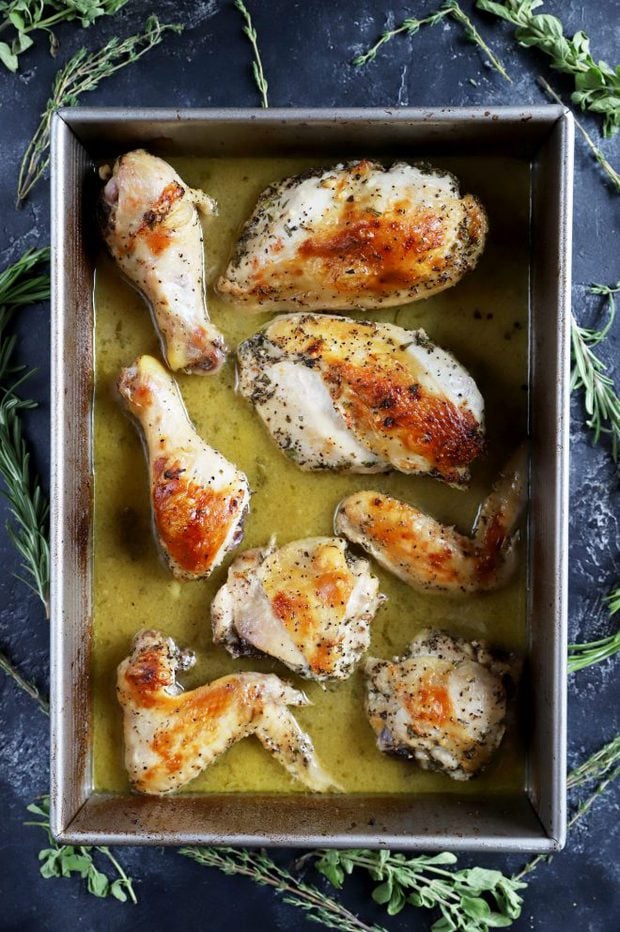 The white wine mixed with fresh herbs and garlic is absolutely intoxicating.
This is the perfect down home weeknight meal!
It takes less than 5-10 minutes to put it together, then you just roast it off and serve it with your favorite vegetables!
Delicious, flavorful, simple. After you cook it just once, you'll family will be begging you to make it every week!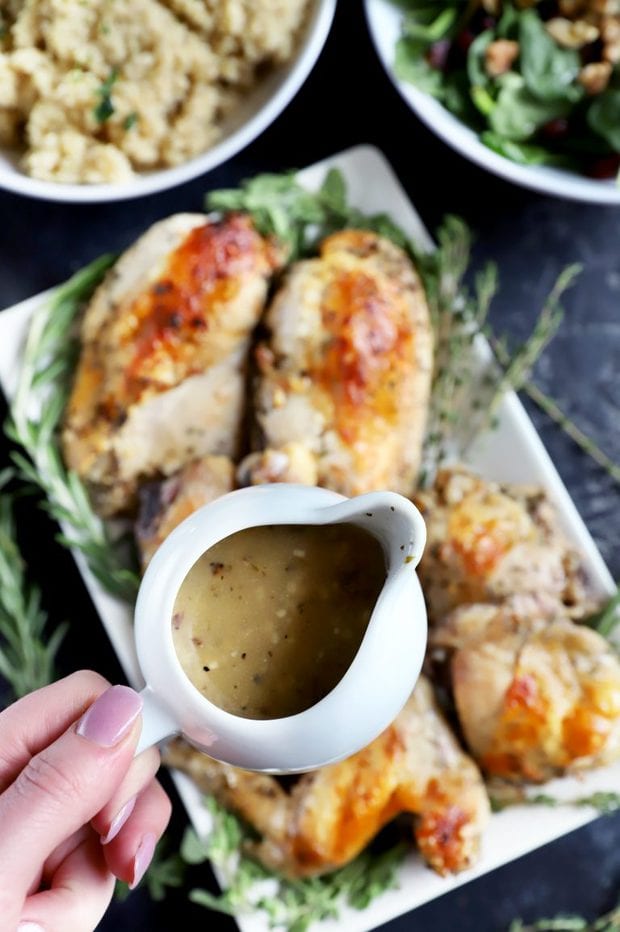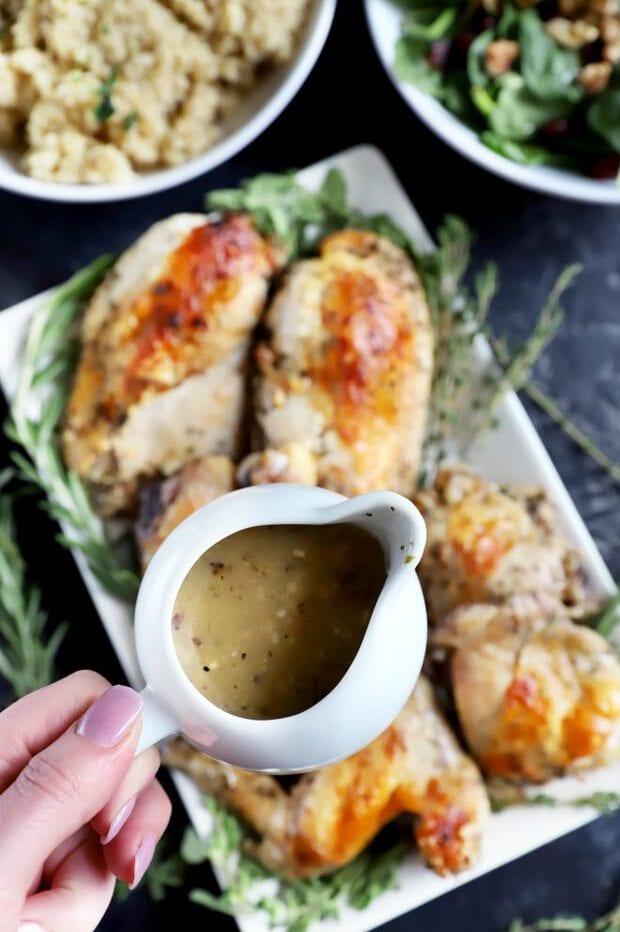 What should I pair with this recipe?
When it comes to serving side dishes with this dish, you can pretty much serve anything and everything! I've listed out some of my personal favorites below:
Chook Smashed Sweet Potatoes with Fresh Herbs
Spicy-Sweet Roasted Broccolini
Smashed Potatoes with Fresh Herbs & Blue Cheese
Crispy Roasted Broccoli with Roasted Garlic Aioli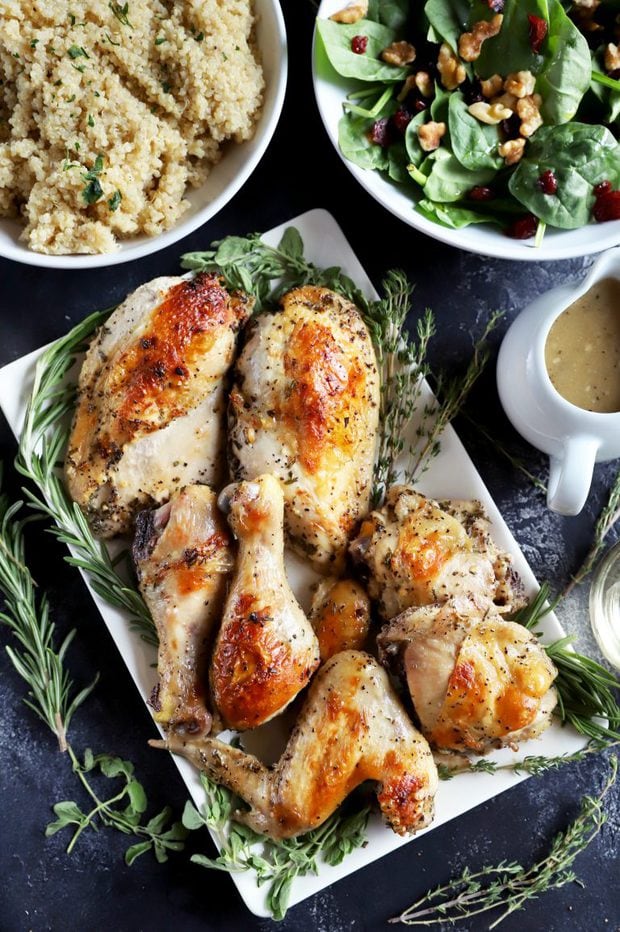 How do I break down a chicken?
I actually did a whole post on how to break down a whole chicken over on Foodal! This guide complete with step-by-step pictures is fantastic because it's detailed and it shows you how to go through the process easily.
Don't forget to reserve the carcass and backbone! You can make excellent homemade chicken stock from it.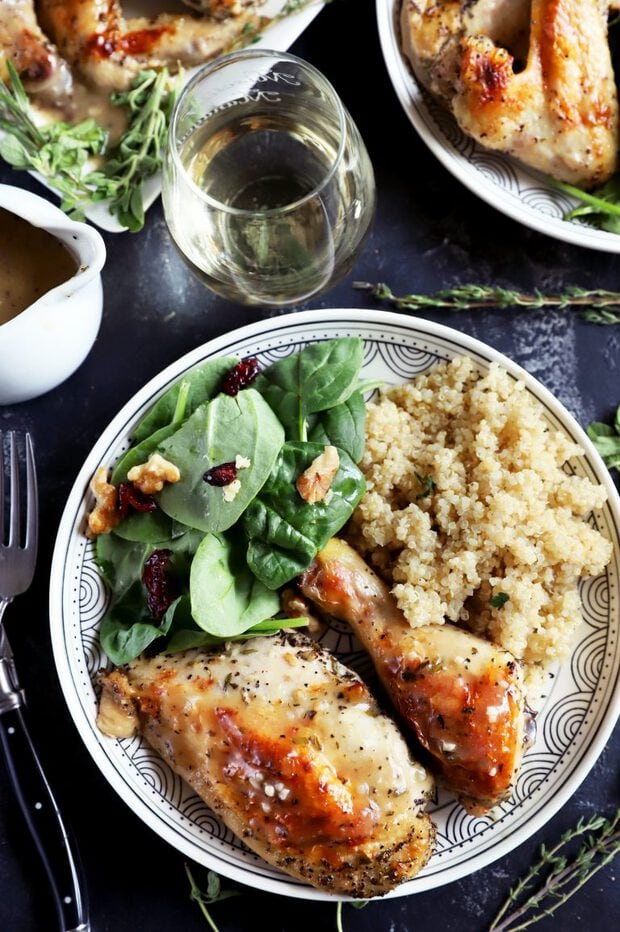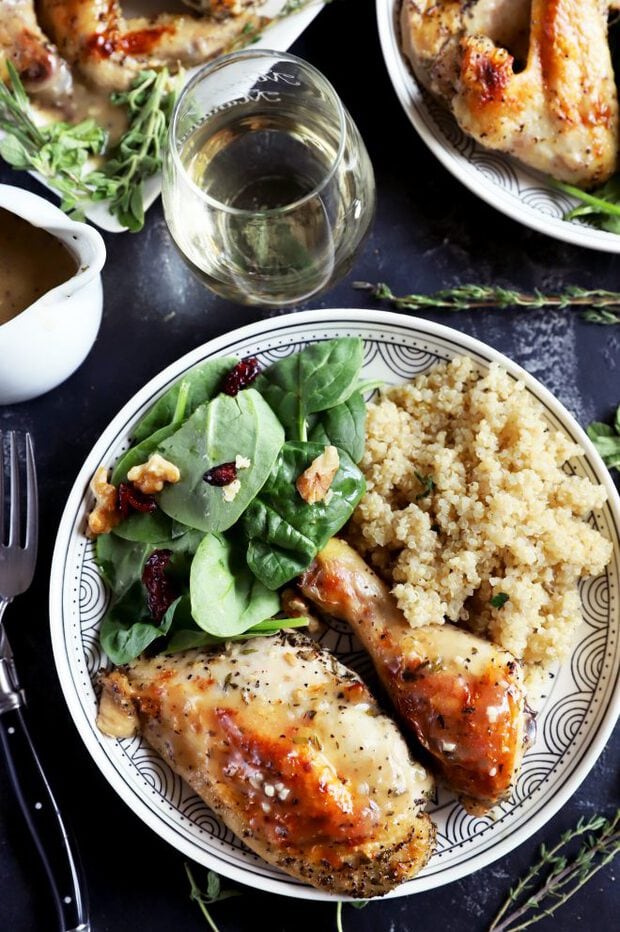 What temperature should roasted chicken be when done?
Chicken is cooked through when it reaches 165˚F on an internal thermometer inserted into the thickest part of the chicken. Sometimes certain pieces cook quicker than others. Therefore be sure to check each piece individually.
You can remove the pieces that are fully cooked through and if any are under, return the pan to the oven until it's all cooked through.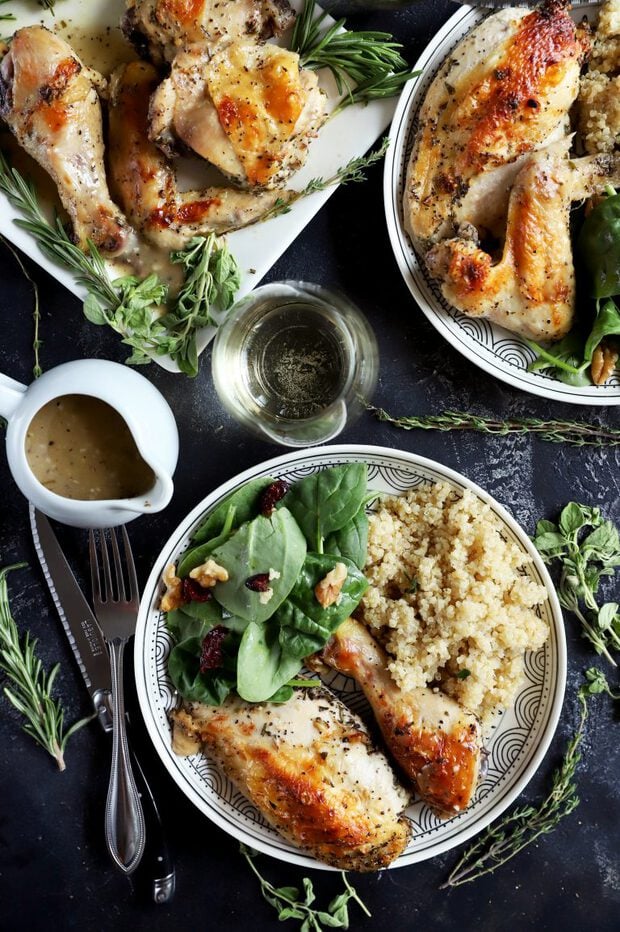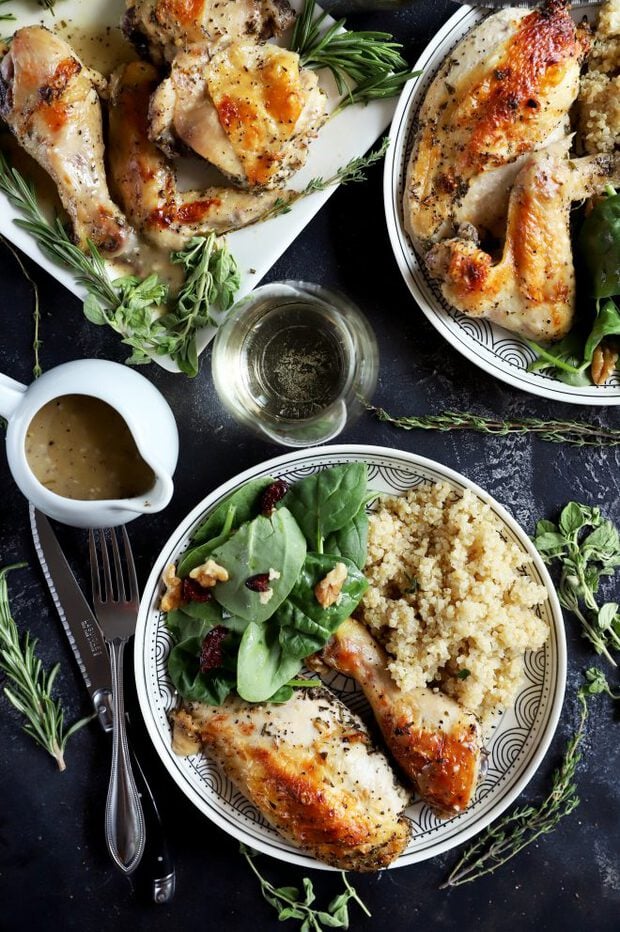 To cap it all off, I suggest making this easy peasy Lemon Rosemary Meringue Tart for dessert 😉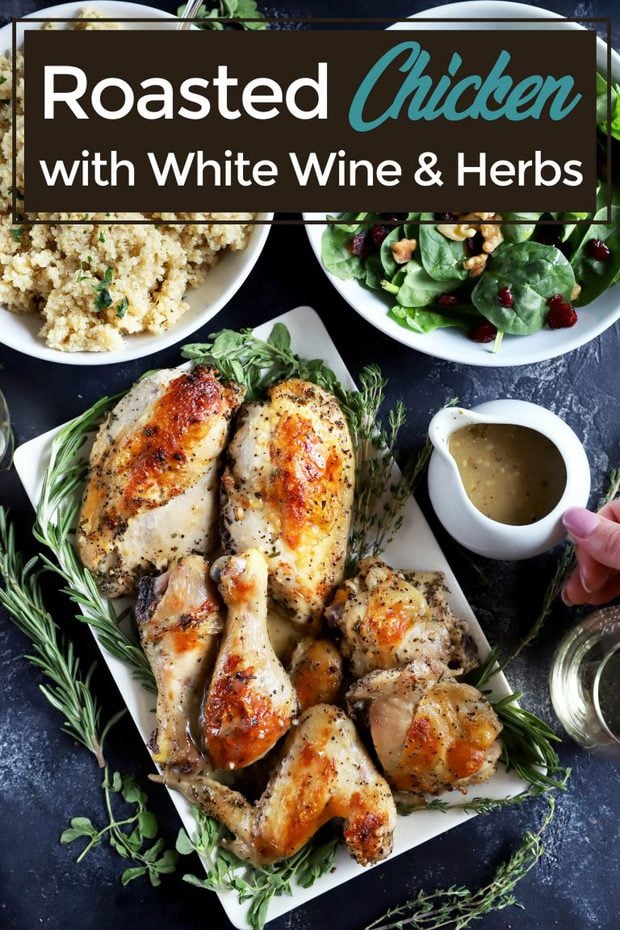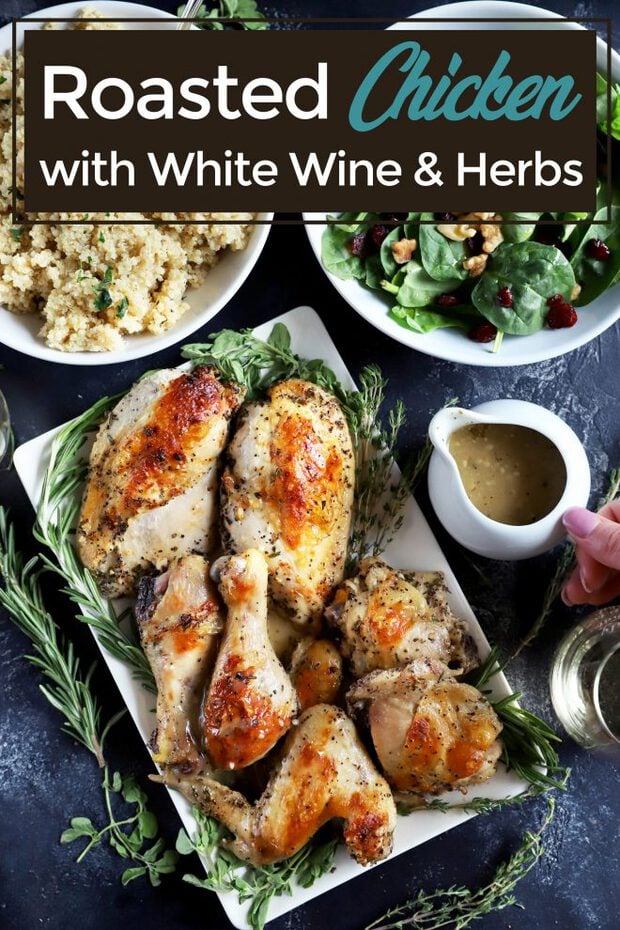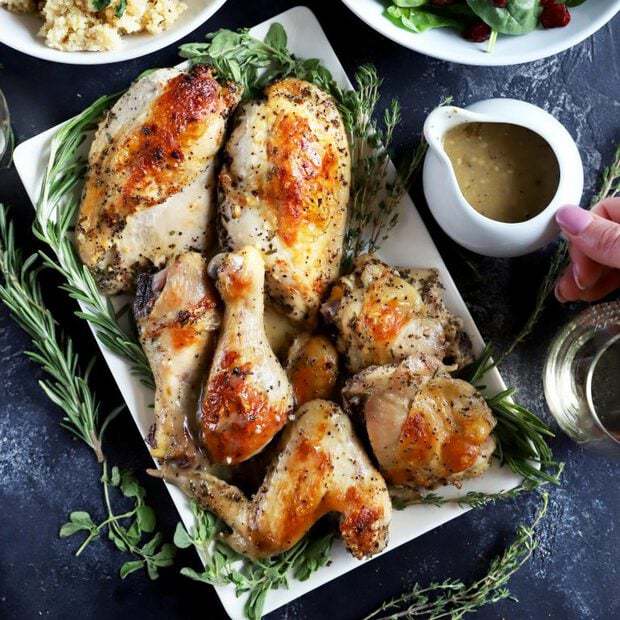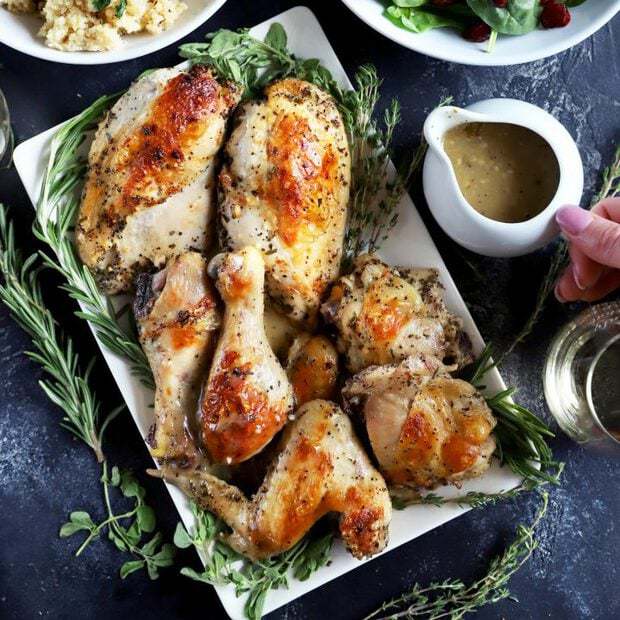 Roasted Chicken with White Wine & Fresh Herbs
Simple roasted chicken is a great weeknight meal and goes perfectly with lemon roasted fingerling potatoes.
Ingredients
1 whole chicken, cut into 6-8 pieces
6 cloves garlic, diced
1 Tbsp fresh thyme, chopped
1 Tbsp fresh rosemary, chopped
1 Tbsp fresh oregano, chopped
3 Tbsp olive oil
1 cup dry white wine
1/2 Tbsp salt
1/2 Tbsp fresh cracked pepper
Instructions
Preheat oven to 415 degrees.
In the bottom of a large roasting pan or baking dish, combine the olive oil, white wine, garlic, fresh herbs, salt and pepper. Stir a few times to combine the ingredients.
Add the chicken pieces to the bottom of the roasting pan, turning them over a few times to make sure they get covered in the white wine mixture. Turn the chicken pieces skin side up and place the roasting pan on the middle rack of the oven.
Roast the chicken in the oven for 25 to 30 minutes, until the chicken is cooked through and reaches an internal temperature of 165 degrees. Remove from oven and serve immediately.
If you would like your chicken's skin to be browned and crispy, turn the oven to broil in the last 5 minutes and cook until the skin gets browned (keep a close watch so it doesn't burn!).
Remove chicken from the pan to rest. While the chicken is resting, add the juices in the bottom of the baking pan to a small saucepan over medium-high heat. Boil for about 5 to 6 minutes, until thickened and reduced.
Serve chicken with the sauce.
Notes
*Note: I separated the thigh and leg, but you can leave them attached to make 6 pieces if you prefer!
Recommended Products
As an Amazon Associate and member of other affiliate programs, I earn from qualifying purchases.
Note: This post was originally published on October 7th, 2014. Republished with new photos and recipe notes!