Please note this post contains affiliate links.
Get ready to spice up your salsa game with the best tomatoes in town! We are sharing our top picks for the juiciest, most flavorful tomatoes that'll take your salsa to a whole new level. From the perfect balance of sweetness and acidity to that irresistible burst of freshness, these tomatoes are the secret ingredient that'll make your salsa shine.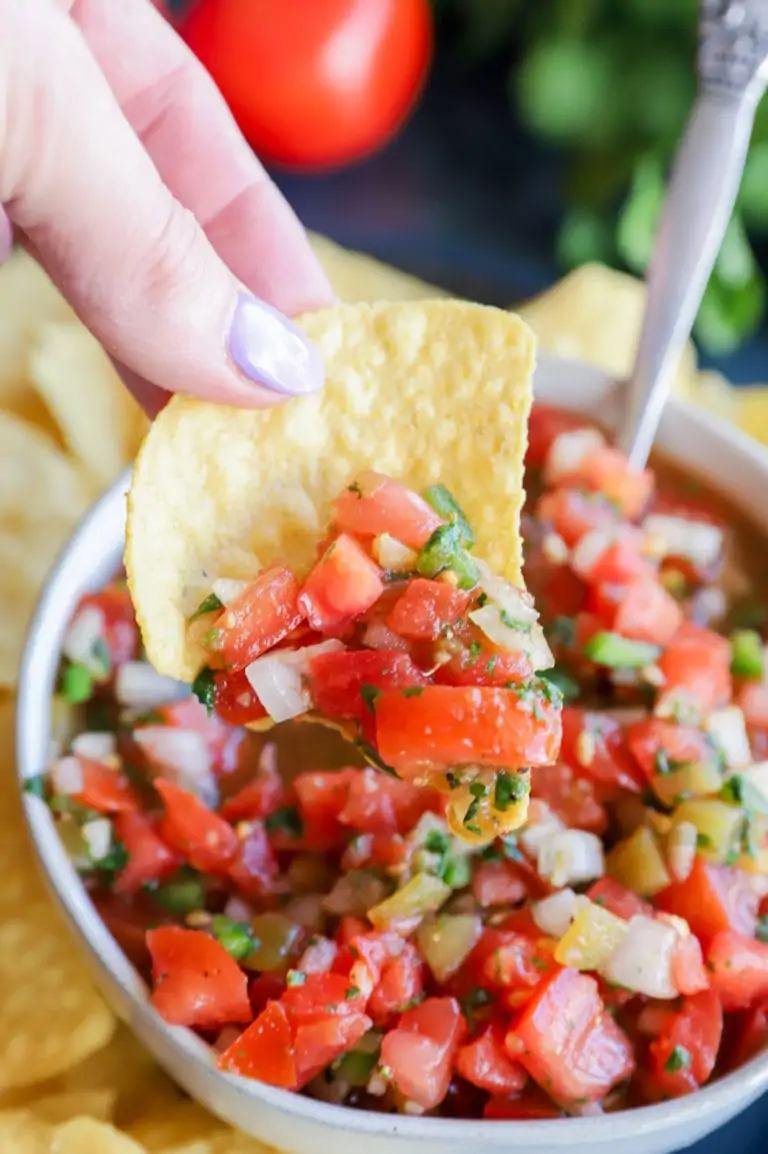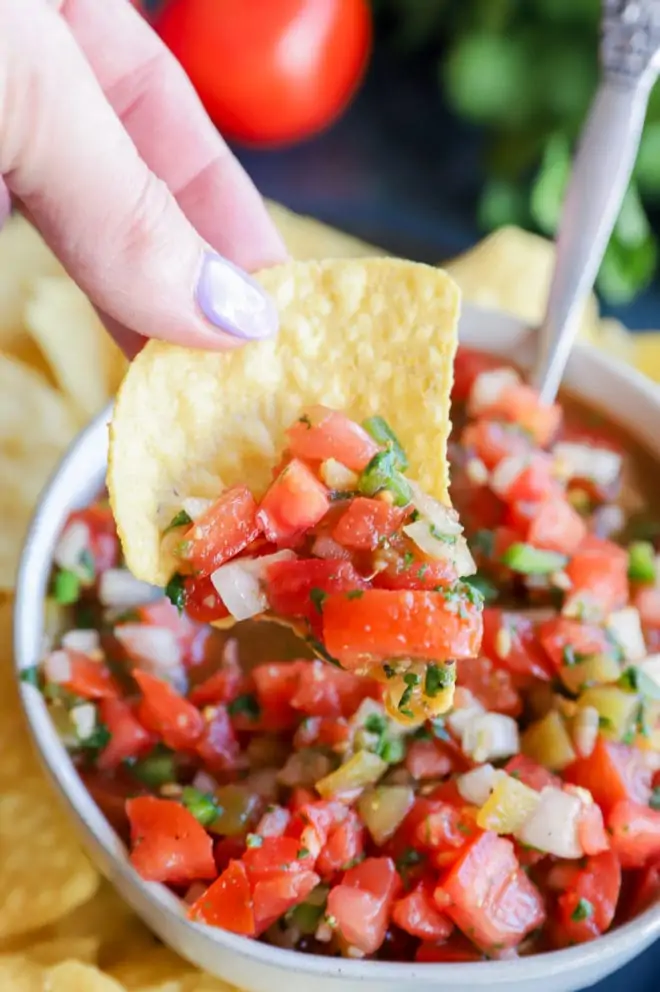 the best tomatoes for salsa
When it comes to making the best salsa, we all know that it really comes down to the tomatoes (specifically if you are making a red salsa, of course). There are so many tomatoes that are good for salsa, and they all vary in their pros.
Ultimately, the best tomatoes for salsa come down to personal preference. It's all about the flavor profile you want to achieve and if you are aiming for a thick and chunky or smooth restaurant-style salsa. Whether you choose Roma tomatoes, beefsteak tomatoes, cherry tomatoes, or a combination of different varieties, make sure they are ripe, flavorful, and fresh.
Below we are sharing the top tomatoes to make salsa with. Each tomato is different and we will be going into detail about the pros of each one.
In addition, you'll find the secret the making the best fresh salsa, how to select the right tomatoes for your salsa recipe, and answers to the top questions we get about choosing produce for salsa recipes.
The next time you're in the salsa-making mood, simply keep in mind that the quality of your tomatoes is key. Experiment with different varieties, find your favorites, and let the tomatoes do their magic. Get ready to enjoy a salsa that's bursting with the vibrant flavors of the tomatoes you choose. It's time to salsa your way to tomato heaven!
My eventual goal? To grow my own tomato plants in my garden so I can select fresh tomatoes every week! It'll be like growing tomatoes in my very own salsa garden…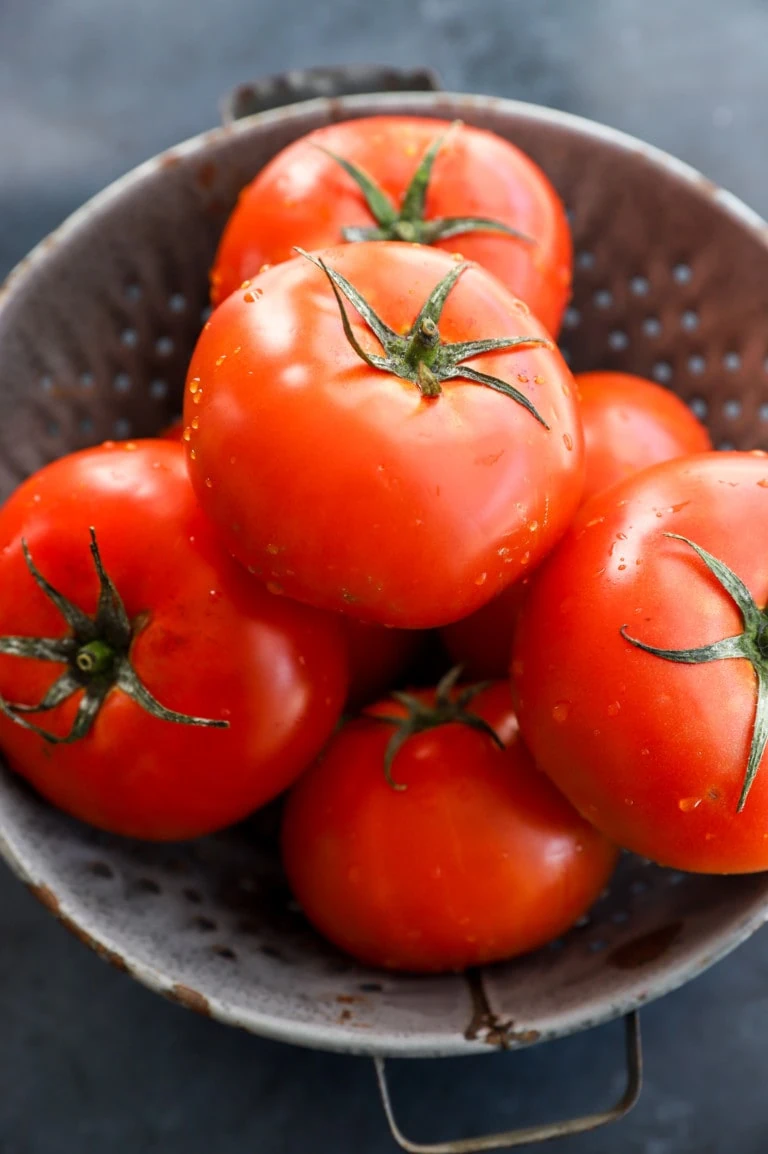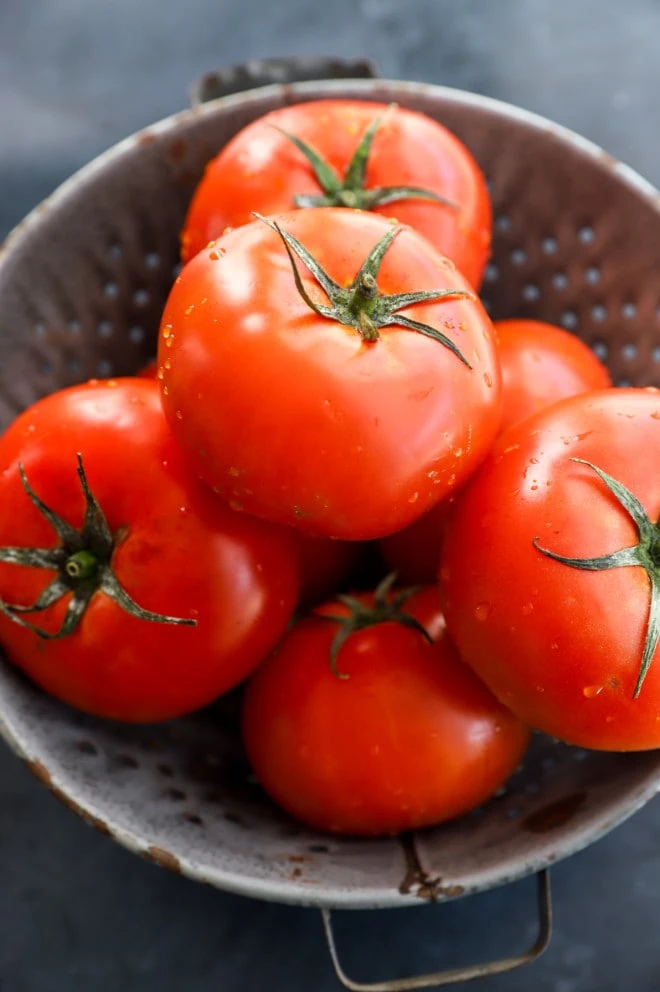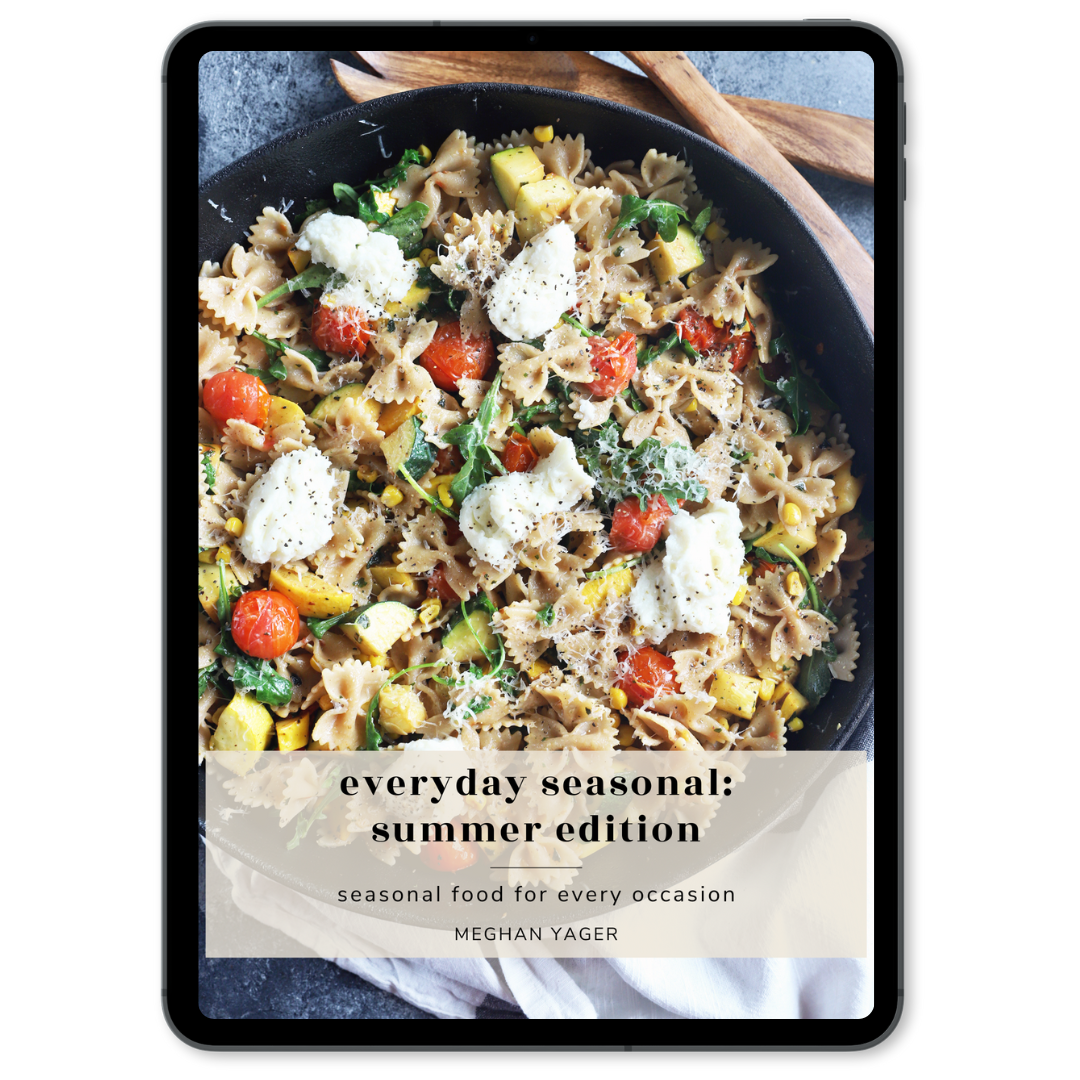 everyday seasonal: summer
With seasonal summer recipes, a comprehensive produce guide, and more, this is the cookbook to help you celebrate the season.
the top tomatoes to use in salsa
There are lots of tomato varieties to choose from! Here's some of our favorites to choose from when making your next salsa recipe.
Roma Tomatoes
Roma tomatoes are a type of plum tomato. They are an oblong shape and a deep red color. With low acidity, these small tomatoes have a nice amount of flesh. This makes them easy to chop up! These tomatoes have a mild tomato flavor, making it ideal for mild salsas.
There's also a hybrid of Roma tomatoes called a fresh salsa tomato, which is obviously also ideal for salsa, given the name.
How to know when a Roma tomato is ripe: A ripe Roma tomato should have a firm, smooth skin that gives slightly under pressure. They should be evenly colored red and heavy for their size.
Beefsteak Tomatoes
I love a good beefsteak tomato for sandwiches, but these large, round, deep red tomatoes also happen to be delicious for salsa recipes! With slightly more acidity than Roma tomatoes, they also have a bit of sweetness. Beefsteak tomatoes are a fantastic all-purpose tomato, making it my personal favorite. They are large and fleshy, so they are also easy to chop into pieces with a big, bold tomato flavor.
How to know when a Beefsteak tomato is ripe: The fruit should be medium to deep red in color. It should be firm, but also have a little give when you gently squeeze it. Make sure there are no cracks in the skin or a bruised appearance.
Cherry Tomatoes
Little cherry tomatoes are small, making them fantastic for sweeter salsas! You can use they on their own in a salsa, but they are also fabulous to combine with another tomato type in a salsa. Another upside is that they don't have a ton of seeds, therefore the salsa won't get watered down. You can also use any color you want, which makes it really fun for more colorful salsas that you might want to play with.
How to know when cherry tomatoes are ripe: Since cherry tomatoes are typically sold in packages, I recommend making sure to look at the package from all angles to check for mold. They shouldn't be soft to the touch.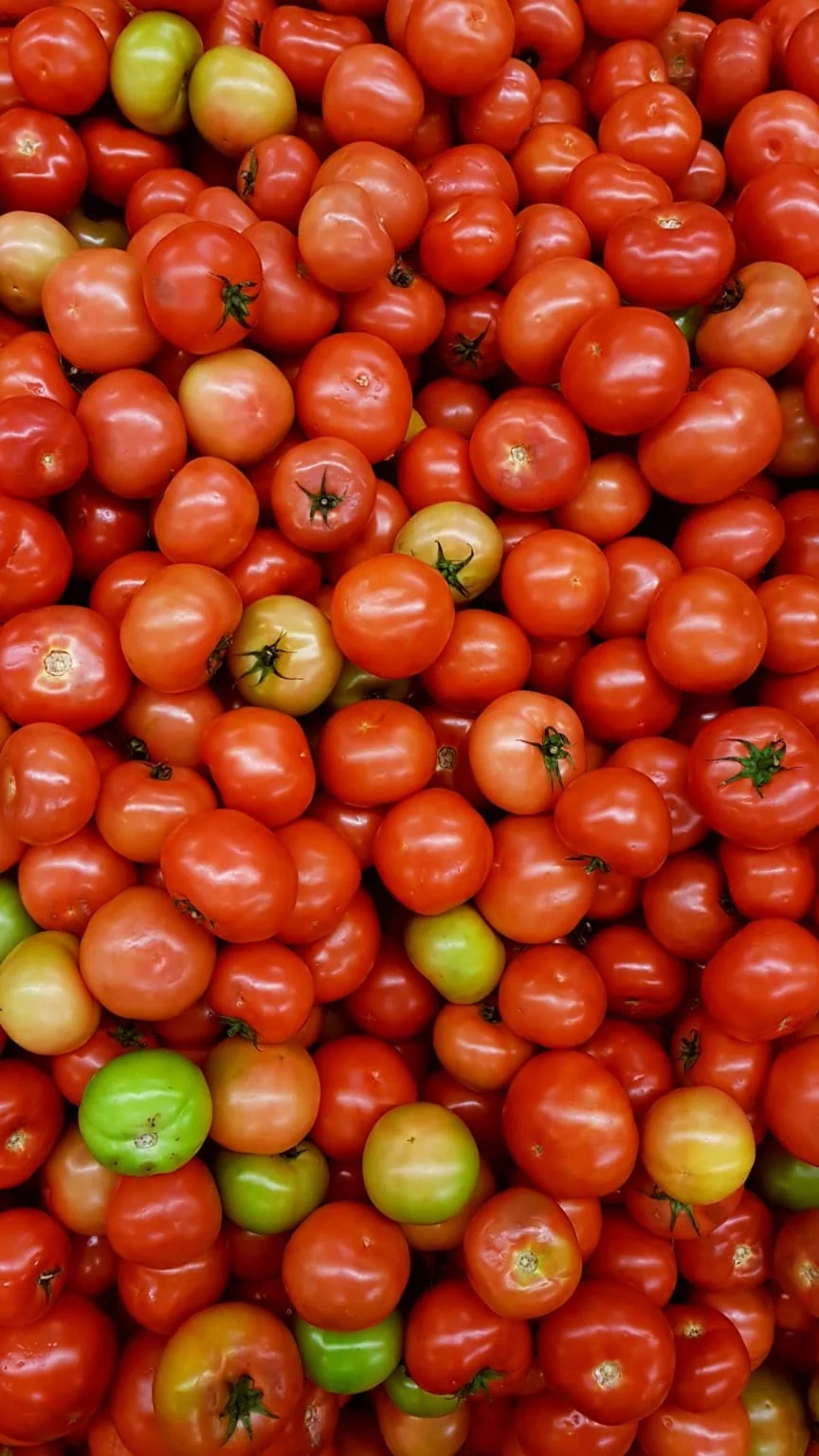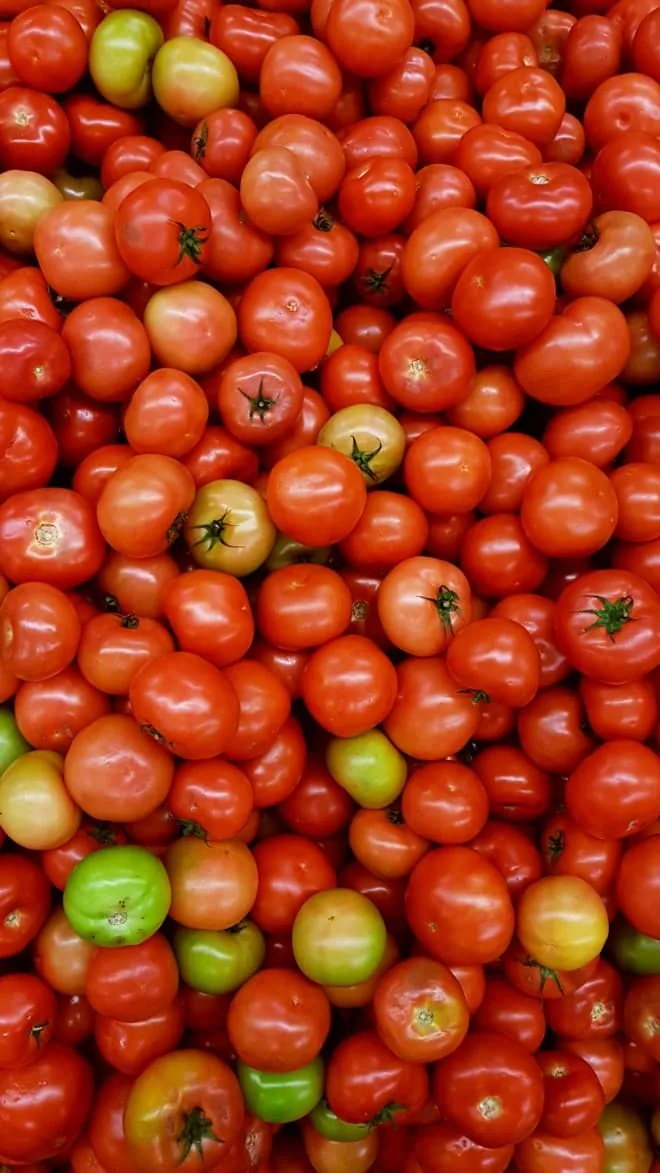 Plum Tomatoes
Plum tomatoes are similar to Roma tomatoes as they are oblong in shape with a deep red color. However, these tomatoes pack more acidity than Roma tomatoes with added sweetness. They are usually called for in salsa recipes. Many consider this particular tomato the best for salsas, and I would mostly agree except for my love of beefsteak tomatoes.
If I am making a restaurant style salsa recipe, I do recommend using plum tomatoes! They are less watery so they are ideal to thicken up salsa.
How to know when a Plum tomato is ripe: Check the skin to make sure they are evenly red and no green is present. The flesh should be somewhat firm and not mushy. In addition, look for signs of bruising.
Heirloom Tomatoes
Heirloom tomatoes have a very unique flavor, as well as lots of shapes, colors, and sizes to choose from. The deep, rich flavor makes them a really fun option for salsas, particularly in the summer when they are abundant at farmers markets. Be sure to look for ones that are bright in color with smooth skin.
How to know when a Heirloom tomato is ripe: Check the color on the bottom of the tomato. The darker the color is, the riper it is! Red varieties will be deep red when ripe, yellow tomatoes should be a deep yellow, and green tomatoes should be a deep green. They should have the slightest give to gentle pressure.
Honorable Mentions
San Marzano – Typically we like to use these for Italian sauces, but they do have fewer seeds than other tomatoes. They are a little sweet so they are delicious in salsa as well.
Little Mama/Big Mama – Both of these tomatoes are types of plum tomatoes with firm flesh and great flavor. You can't go wrong with either if you can't get your hands on Roma or Plum tomatoes.
So, what tomato variety is your favorite?
homemade salsa must-haves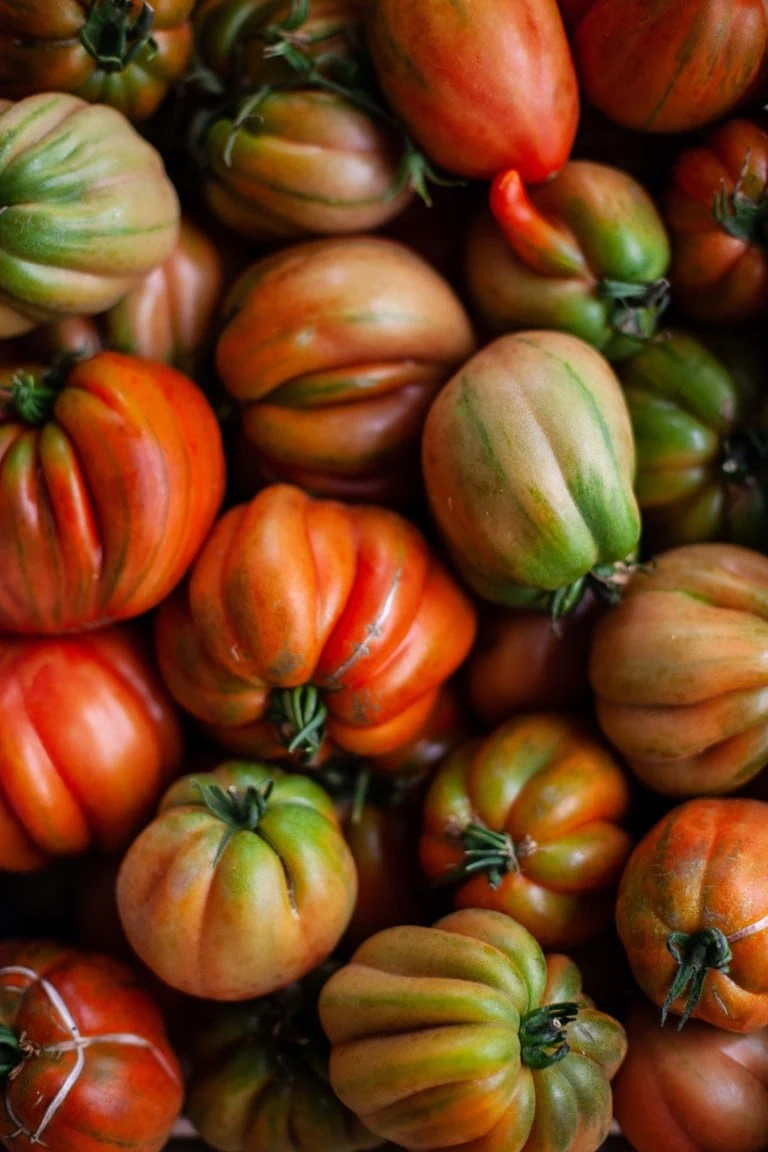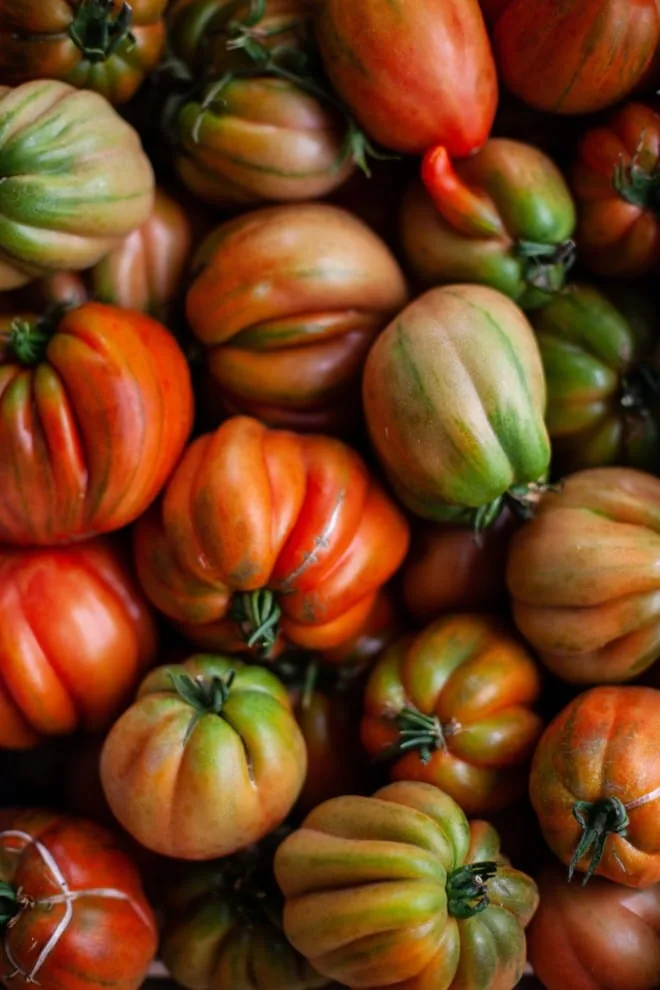 selecting the right tomatoes for your salsa recipe
acidity
Consider the acidity of the tomato. If you like more acid, make sure that you select one with that attribute. If you are aiming for a sweeter tomato, avoid the more acidic tomato options.
sweetness
Some tomatoes are sweeter than others! If you are making a salsa with fruit, I recommend opting for a sweeter tomato like a cherry tomato.
texture
Plum tomatoes are firmer while beefsteak tomatoes are softer. I like to use a softer tomato for my chunky salsas and a firmer tomato for a restaurant style tomato.
how to make fresh tomato salsa
Of course I have my own favorite salsa which is chunky salsa. No matter what the recipe, you will want to make sure that you are using the freshest ingredients. This is the number one thing that will make sure the recipe tastes best.
Any salsa recipe comes down to the following ingredients:
tomatoes. Select your favorite!
aromatics. This is generally onion (yellow, white, red, or green work) and garlic. Note that you can always skip the garlic if you don't have it on hand.
chilies – I tend to use a combination of jalapeños and green chiles in my salsas, but use whatever pepper you prefer. This is what brings spice to the party!
fresh herbs – Cilantro is generally used the most. However, you can also use fresh oregano.
acid – I like lime juice but white wine vinegar is also a favorite to use.
spices – Use whatever you like here! I like to add a little cumin and chili powder, but basic salt and pepper are fantastic too.
Our favorite unique recipes that feature salsa: BBQ Glazed Grilled Bratwurst with Spicy Peach Salsa | Whipped Goat Cheese Salsa Dip | Salsa Jalapeño Crunch Burger | Salsa Verde Chorizo Pizza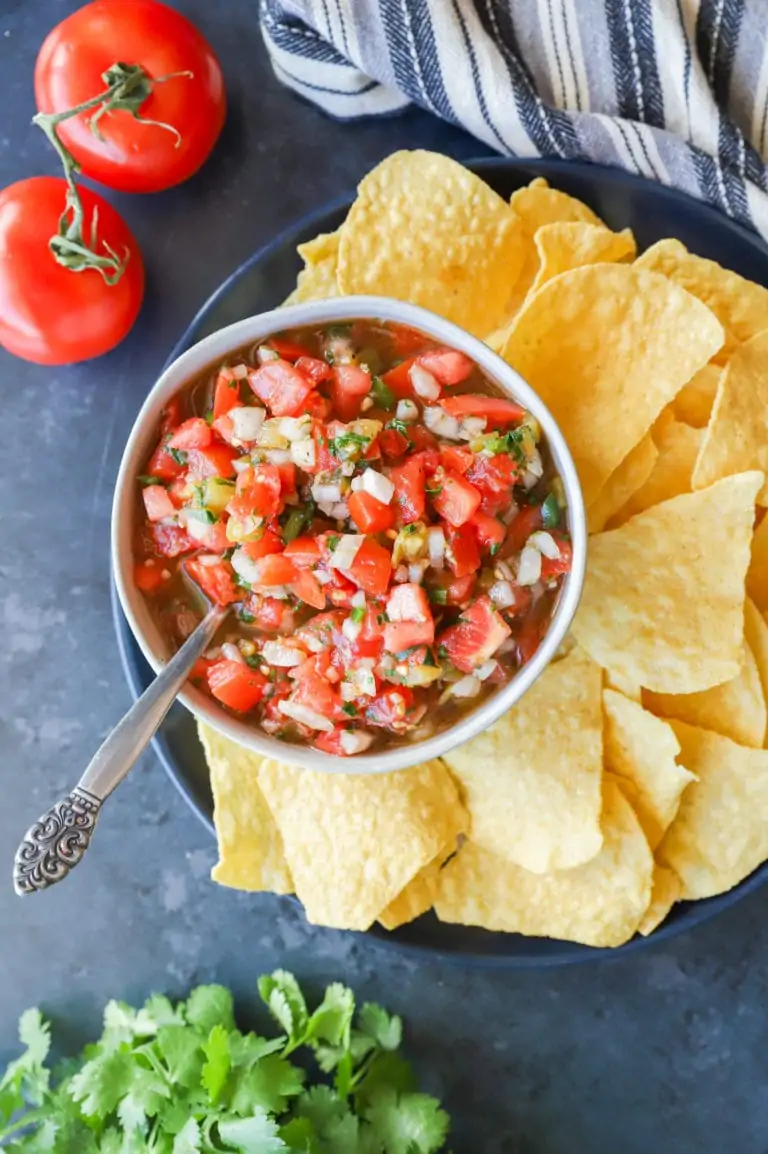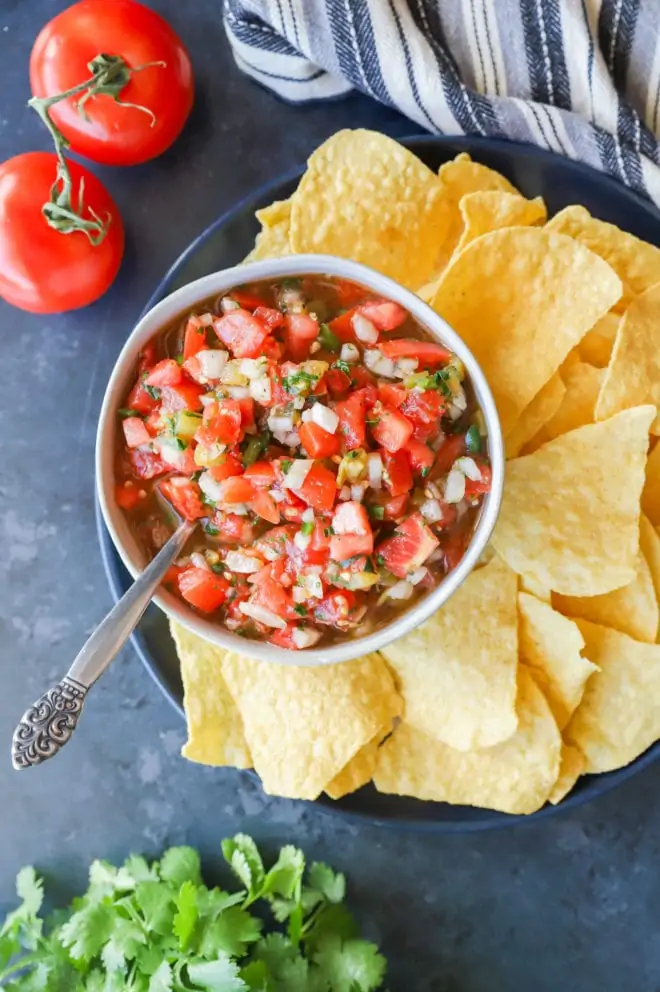 can you use canned tomatoes for salsa?
Yes, you can! This is particularly applicable when you are making salsas when fresh tomatoes are out of season. They actually work wonderfully if you are making restaurant style salsa.
However, I always recommend using fresh tomatoes whenever they are in season!
what is a good fresh salsa recipe?
I will always prefer chunky salsa! This is my favorite fresh salsa recipe to enjoy whenever tomatoes are in season.
what are the best tomatoes for chunky salsa or pico de gallo?
I recommend selecting tomatoes for your chunky homemade salsa that are easy to dice with a lot of flavor. Beefsteak tomatoes or another "slicing" tomato like heirloom tomatoes are ideal. You could also use roma or plum tomatoes, as they have little water and are therefore okay to use for a chunkier salsa.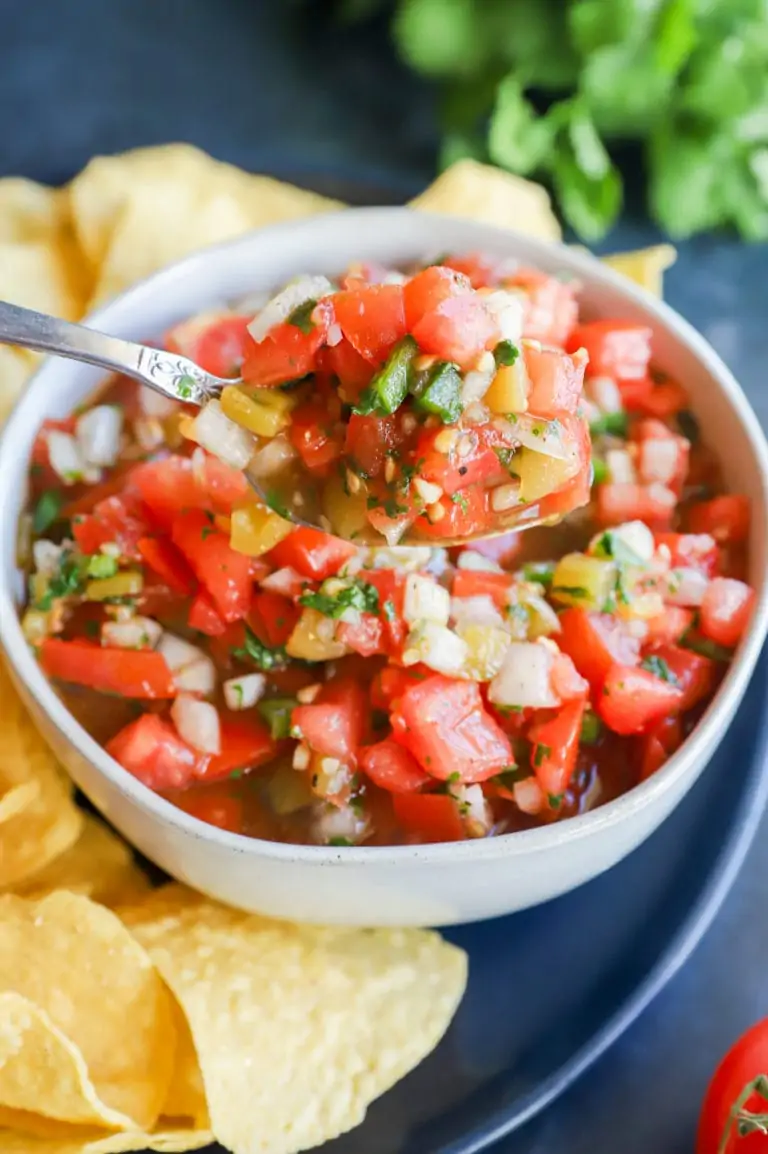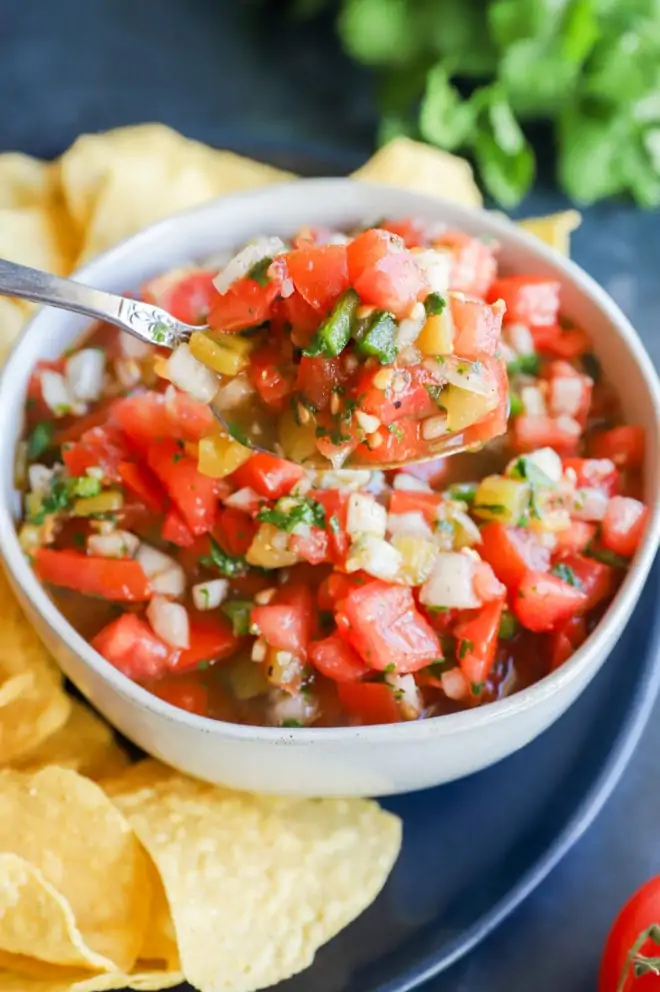 what are the best tomatoes for restaurant style salsa?
If you are making a salsa with a smoother dip-like consistency, you can use basically any tomato out there! You could even use canned tomatoes if you want to. The amount of water and seeds in the tomato type doesn't matter when you are making a smooth salsa! This is because everything is getting blended together. If you want a thicker salsa, opt for roma or plum as they will help thicken up the consistency of the smooth salsa.
what are paste tomatoes?
Paste tomatoes go by many names! They are also known by names such as amish paste tomato, roma tomato or plum tomato. Each is slightly different (I've outlined a couple of these varieties above), but they all are firmer tomatoes that are easy to dice, slice, chop, and peel.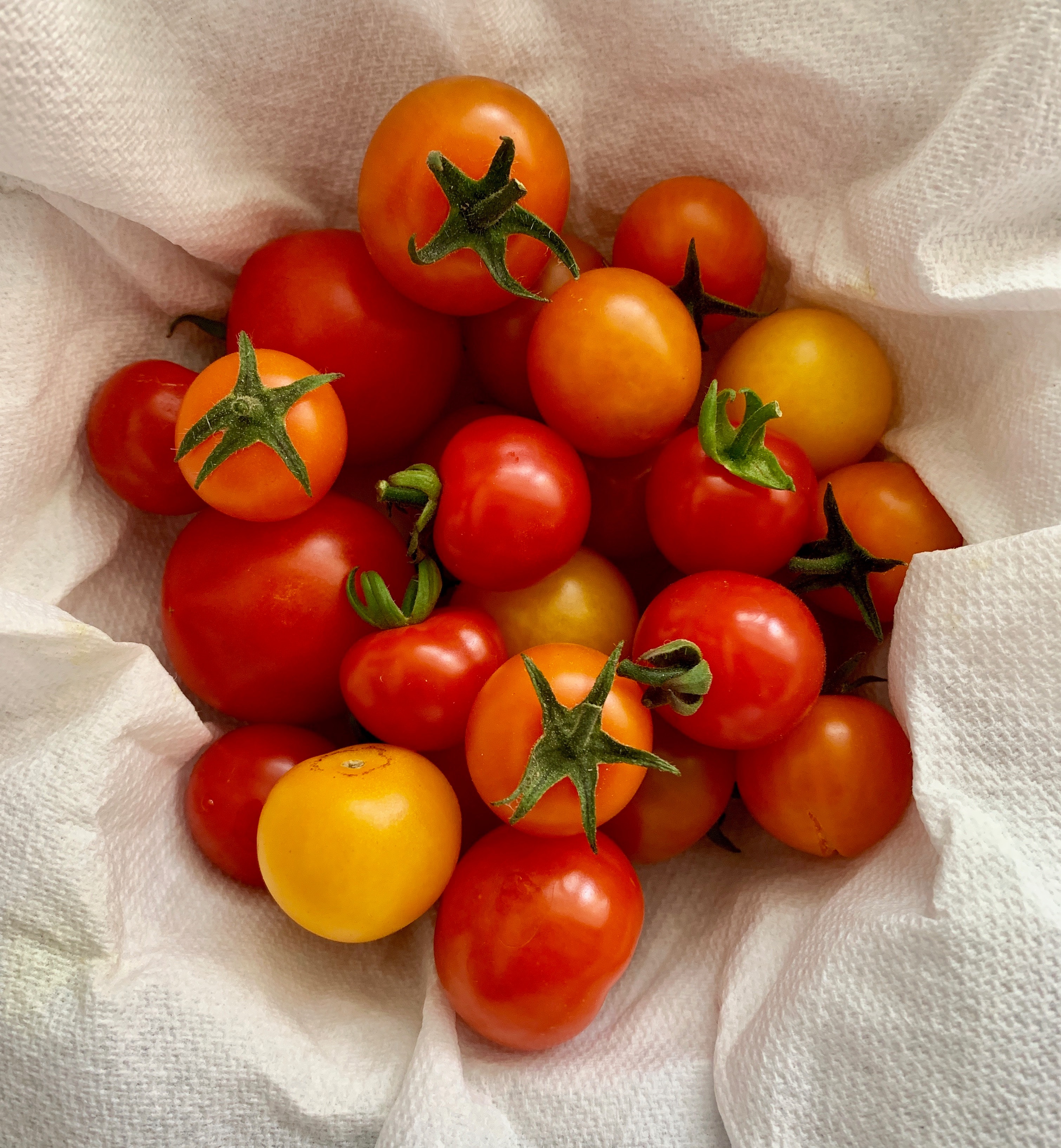 I don't have any of these tomatoes on hand, but I really want to make salsa…
Do you know what the best variety of tomato is for salsa? Usually the ones you have on hand! Haha, in all seriousness though, even if they aren't on the list of our favorite salsa tomatoes, you can use pretty much any tomato for salsa.
If you have a large tomato on hand that has a lot of seeds, I recommend removing the seeds to make your salsa. I do this by slicing off the top of the tomato, then turning it cut-side down to slice into quarters. Use your knife to follow the curve of the tomato down between the seeds and the flesh of the tomatoes. This will remove the seeds and you can simply dice up the flesh pieces for your salsa.
everyday seasonal cookbook
With seasonal produce guides, recipes, and more, this cookbook is filled with seasonal food for every occasion.
Finally, if you find this guide to the best tomatoes for salsa helpful, please be sure to share this post or leave a comment! Feel free to drop questions below too, if you have them. I do take the time to respond to every single comment!
Oh and be sure to tag me on Instagram if you make any of the recipes mentioned in this post! I love being able to see these recipes come to life in your homes – it's my favorite thing to look through those photos. It really means the world to me!