Getting back into the healthy eating routine is not so easy…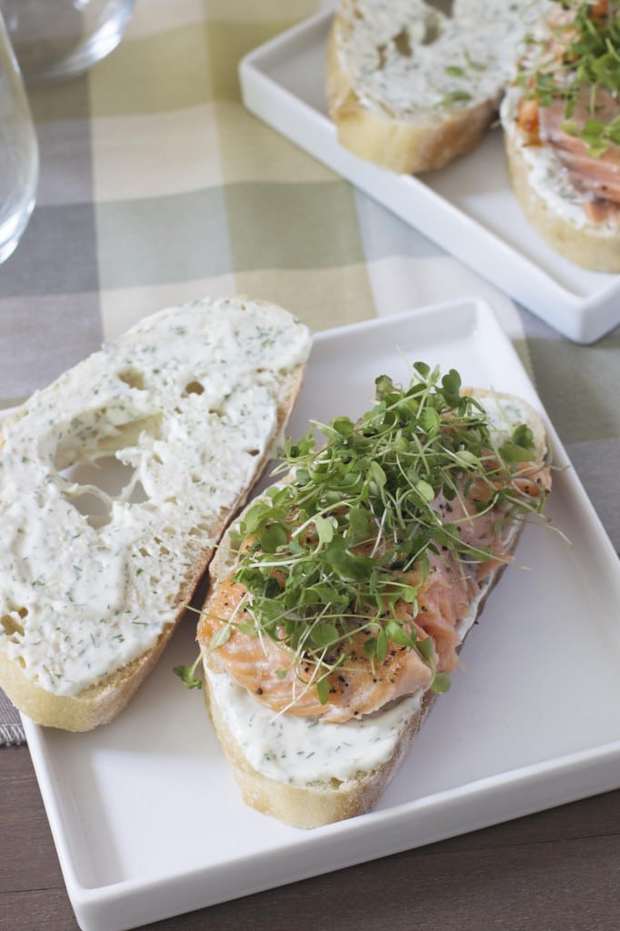 I have been trying to get inspired with new healthy recipes and lately fish has been the only way for me to start climbing back up on that diet bandwagon. Salmon in particular has been a welcome healthy (re)addition to my diet. I never seem to know what to make myself for lunch, so I thought, why not make a fresh salmon sandwich?
This salmon sandwich is the ultimate lunch, particularly because it test just as heavenly warm as it does cold. It's perfect for me to take to the office or to have as a casual lunch. Deceivingly simple to make AND it makes you feel somewhat elegant/sophisticated when you are eating it!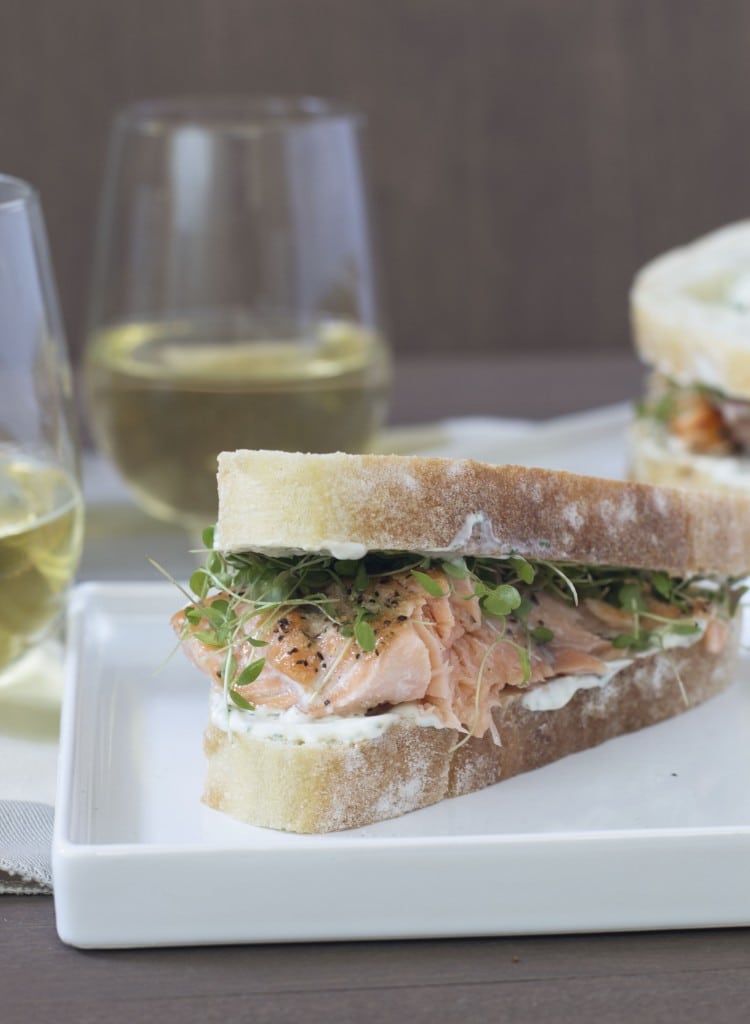 Unless you are me and end up with oh-so adorable dribbles of dill sauce running down your face (I hope you heard the sarcasm dripping from "oh-so adorable" there…). I might not be the most elegant of eaters, but I can't possibly begin to care when a sandwich tastes as gosh darn good as this one does!
I rub the top of my salmon with a simple mixture of garlic powder, salt, and pepper which pairs perfectly with the slightly tangy creamy dill sauce and the peppery mixture of micro greens.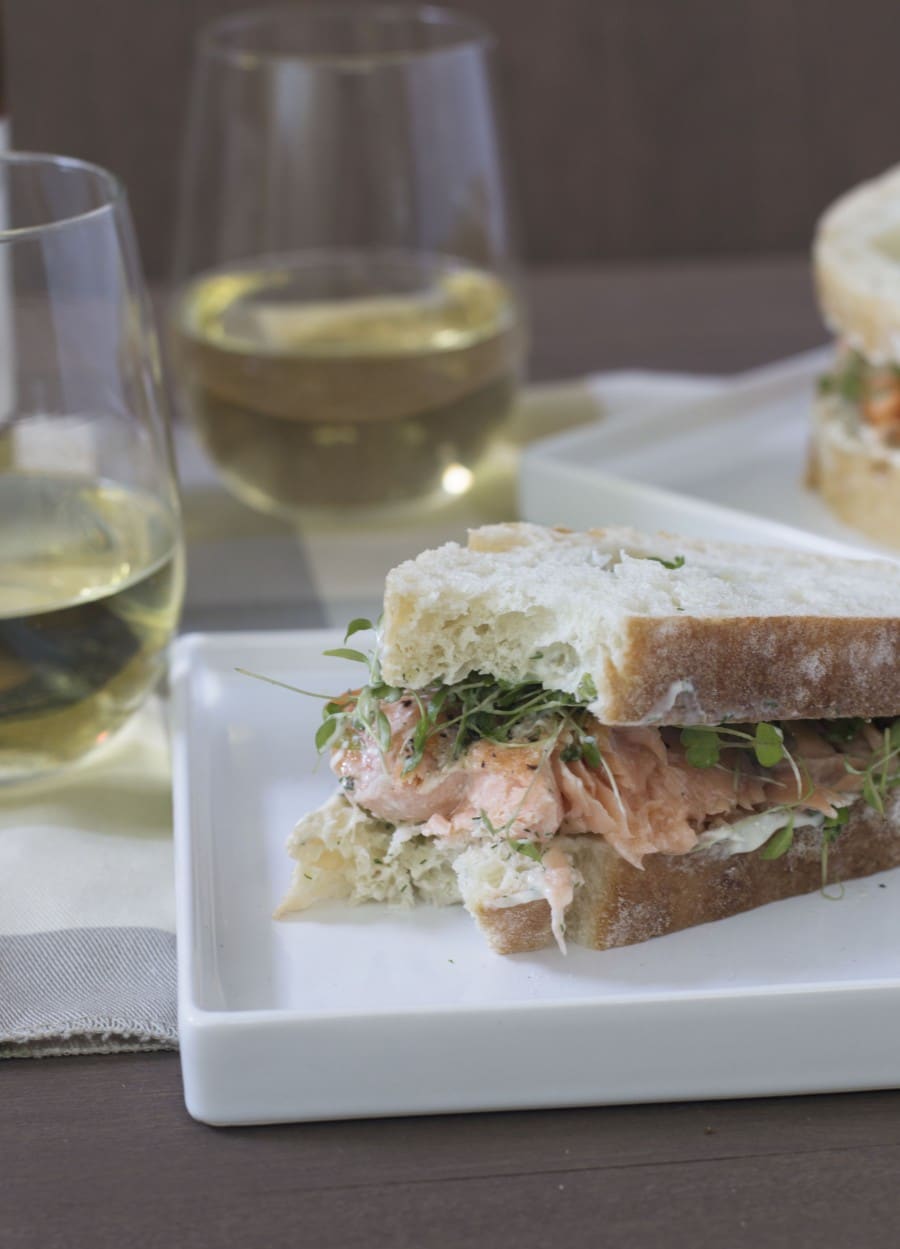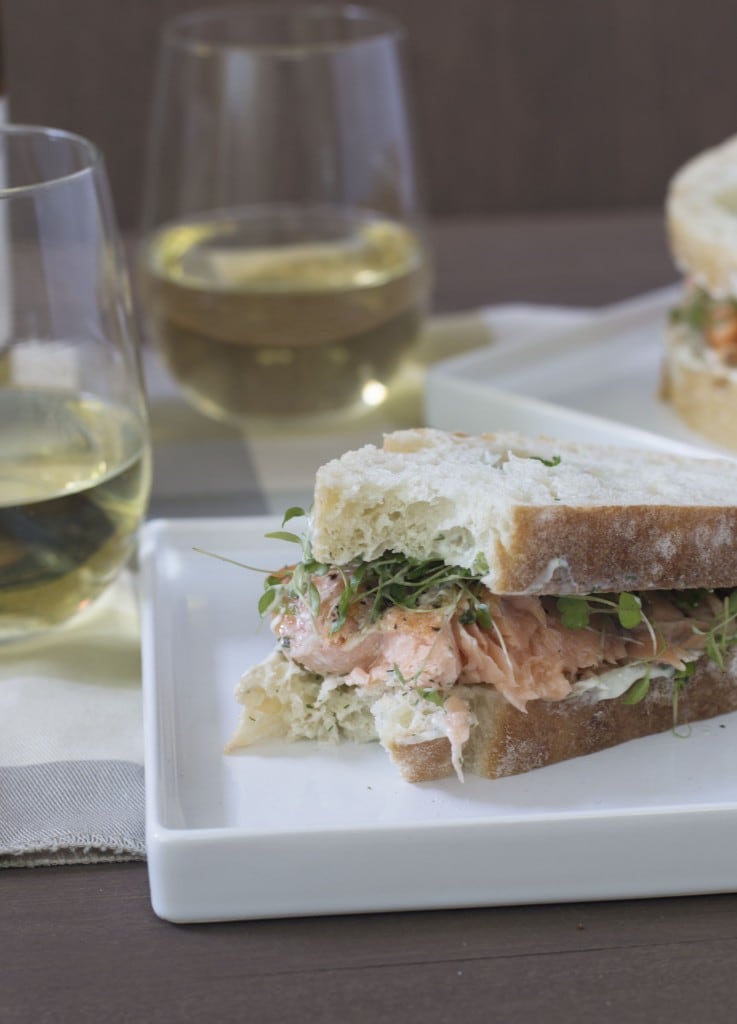 If only I could pair it with a glass of chilled white wine when I am at work… 😉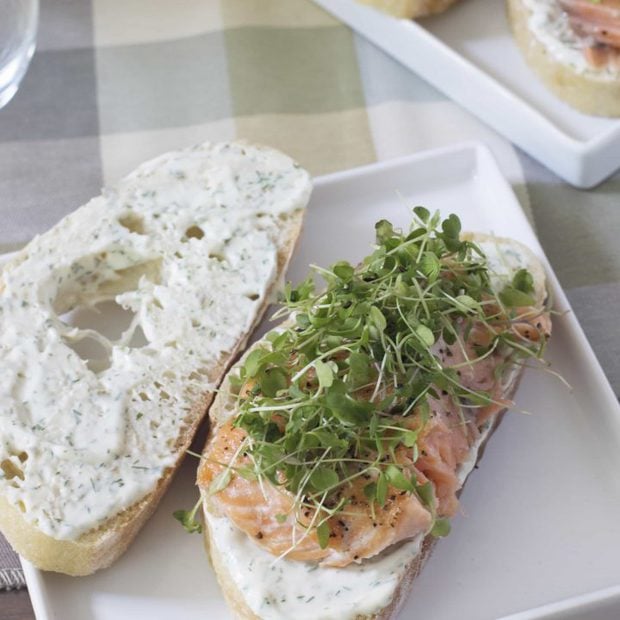 Salmon Sandwich with Creamy Dill Sauce
My favorite fresh lunch packed with light and summery flavors. Perfect for taking with you to work or enjoying on a leisurely weekend.
Ingredients
2 salmon filets
1/4 tsp garlic powder
1/4 tsp kosher salt
1/4 tsp freshly cracked black pepper
Ciabatta
Micro greens
Creamy Dill Sauce
1 cup light mayonnaise
1/4 cup reduced fat sour cream
3/4 tsp white wine vinegar
3/4 cup fresh dill
1/4 tsp kosher salt
3 tsp capers, drained
Instructions
Turn your oven's broiler to high. Line a small baking sheet with aluminum foil. Place the salmon filets side by side on the lined baking sheet.
In a small bowl, mix together the 1/4 tsp salt, pepper, and garlic powder. Rub the spice mixture evenly over the top of the two salmon filets. Place the baking sheet in the upper third section of the oven and broil on high for approximately 6 to 7 minutes, or until salmon reaches desired doneness. Remove from oven and set aside.
In the bowl of a food processor, add mayonnaise, sour cream, white wine vinegar, dill, salt, and capers. Process until the mixture is well combined.
Add approximately 1 tablespoon of the creamy dill sauce to one side of each slice of ciabatta. Add each salmon filet to the sauced side of two slices of prepared bread. Top with micro greens and the other slices of bread (sauce-side down).
Notes
Note: Any leftover creamy dill sauce can be kept in an airtight container for up to a week.