Please note this post contains affiliate links.
Looking for a tasty and healthy meal to enjoy during the warm summer months? Try a mouth-watering salmon sandwich recipe! From fresh salmon fillets to a creamy dill sauce and fresh greens, this is the ultimate summer sandwich that will satisfy your cravings and leave you feeling satisfied and energized.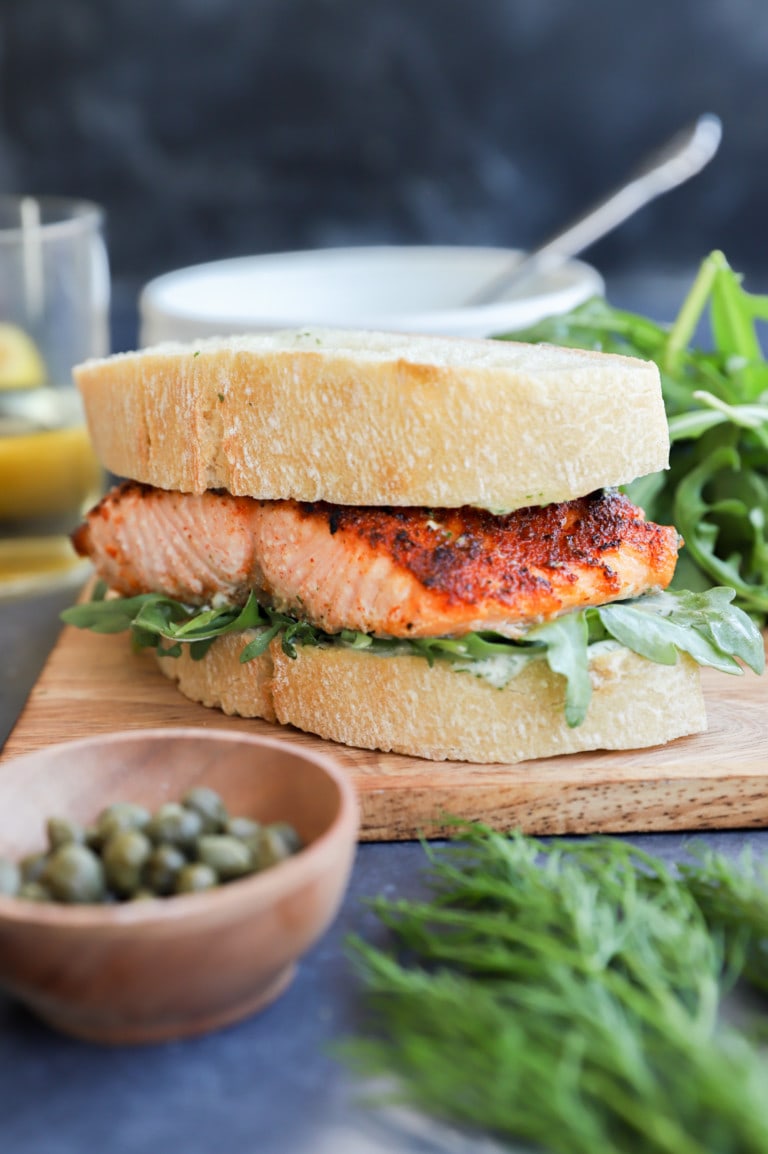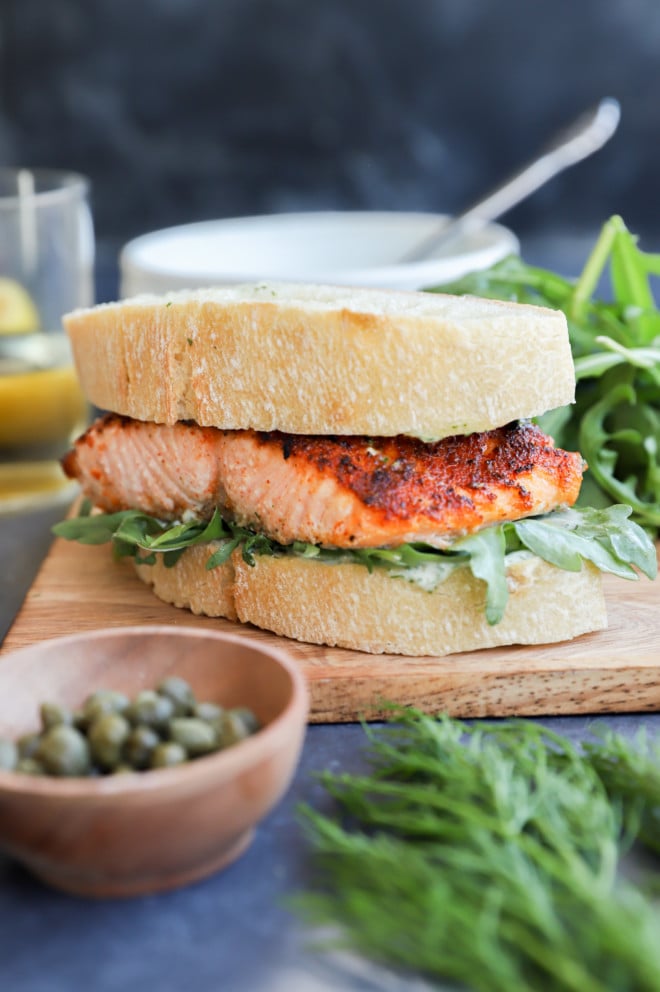 about this salmon sandwich recipe
Getting back into the healthy eating routine is not so easy…
I have been trying to get inspired with new healthy recipes and lately fish has been the only way for me to start climbing back up on that healthier eating bandwagon. Salmon in particular has been a welcome healthy (re)addition to my diet. I never seem to know what to make myself for lunch, so I thought, why not make a fresh salmon sandwich?
This easy salmon sandwich recipe is the ultimate lunch, particularly because it tastes just as delicious warm as it does cold.
When I'm at home, it's an easy lunch to make for myself and eat fresh. For those of you who go to the office, it's perfect to eat cold. Deceivingly simple to make AND it makes you feel somewhat elegant/sophisticated when you are eating it!
Unless you are me and end up with oh-so adorable dribbles of dill sauce running down your face (I hope you heard the sarcasm dripping from "oh-so adorable" there…).
I might not be the most elegant of eaters, but I can't possibly begin to care when a sandwich tastes as gosh darn good as this one does!
I rub the top of my salmon with a simple spice mixture which pairs perfectly with the slightly tangy creamy dill sauce and the peppery addition of arugula.
If only I could pair it with a glass of chilled white wine when I'm working… 😉
Note: this is an updated version of the original recipe and post published on July 29, 2014.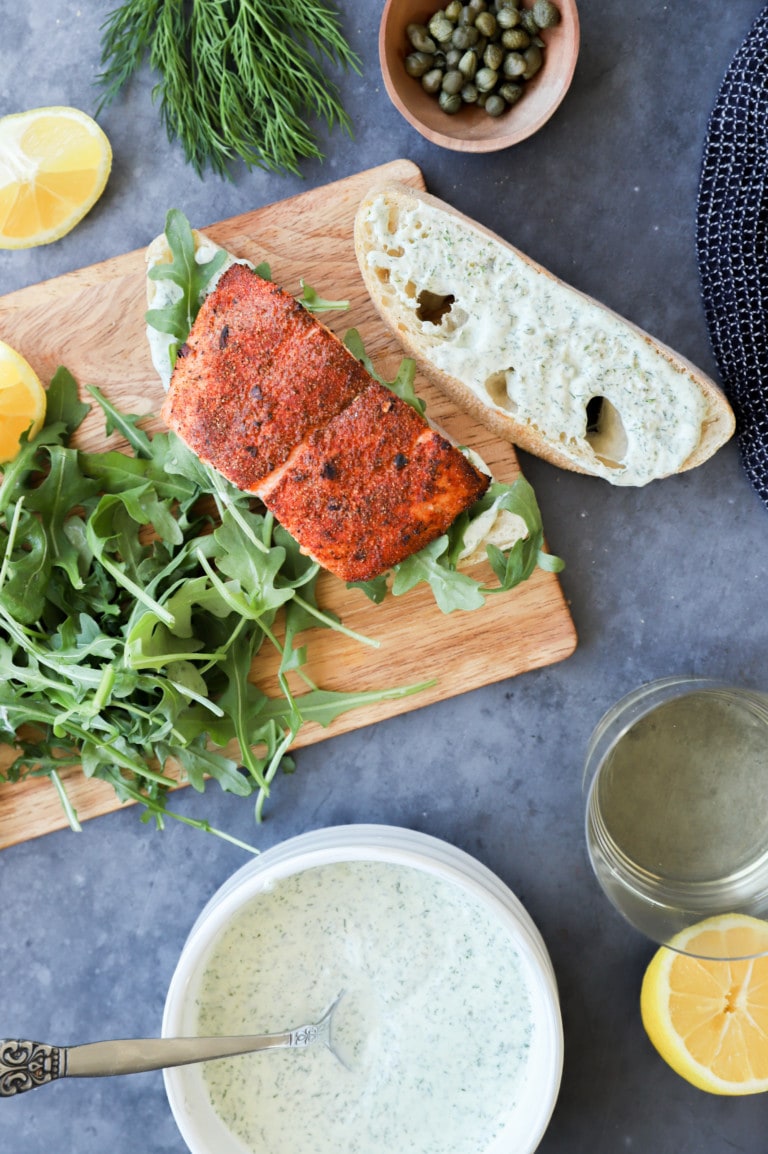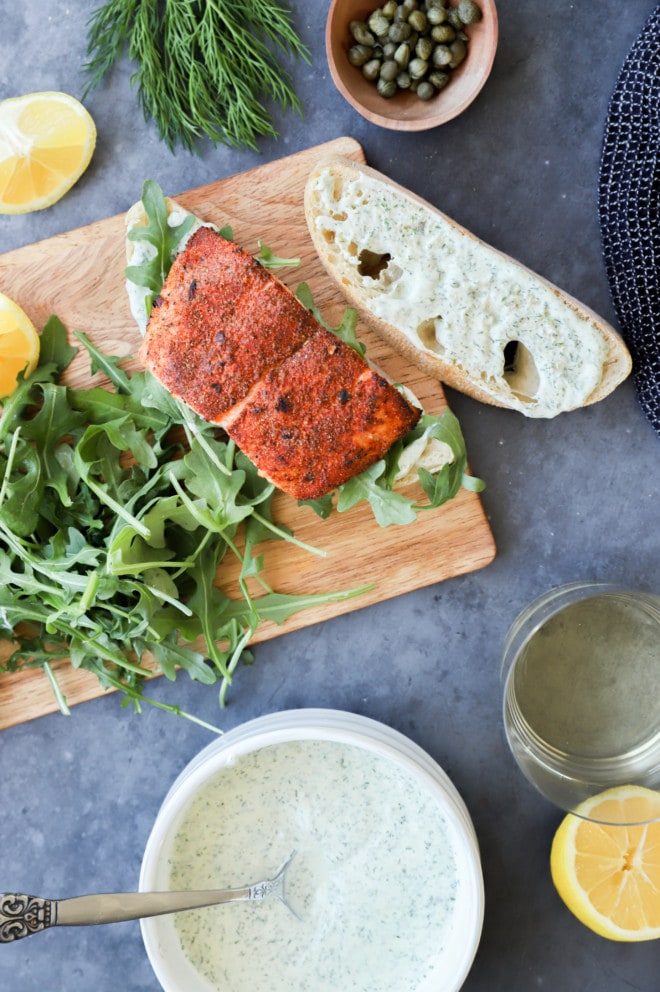 how to buy the best fish for these salmon sandwiches
Just like with any salmon recipe, I recommend buying thick, center-cut pieces of salmon.
The tail end pieces are too thin for this recipe and you will not be left with the correct balance between fish, sauce, greens, and bread.
You can buy your salmon in the grocery store, butcher, or seafood market.
Simply tell them exactly what you need and they'll get it prepped for you! I prefer to buy skin-on salmon fillets, but if you are planning to grill the salmon (more details on that further below), you can by skinless fillets.
As to the type of fish you buy, there are many options from Atlantic salmon to sockeye salmon. I prefer to look at Seafood Watch when I'm looking for sustainable fish to source.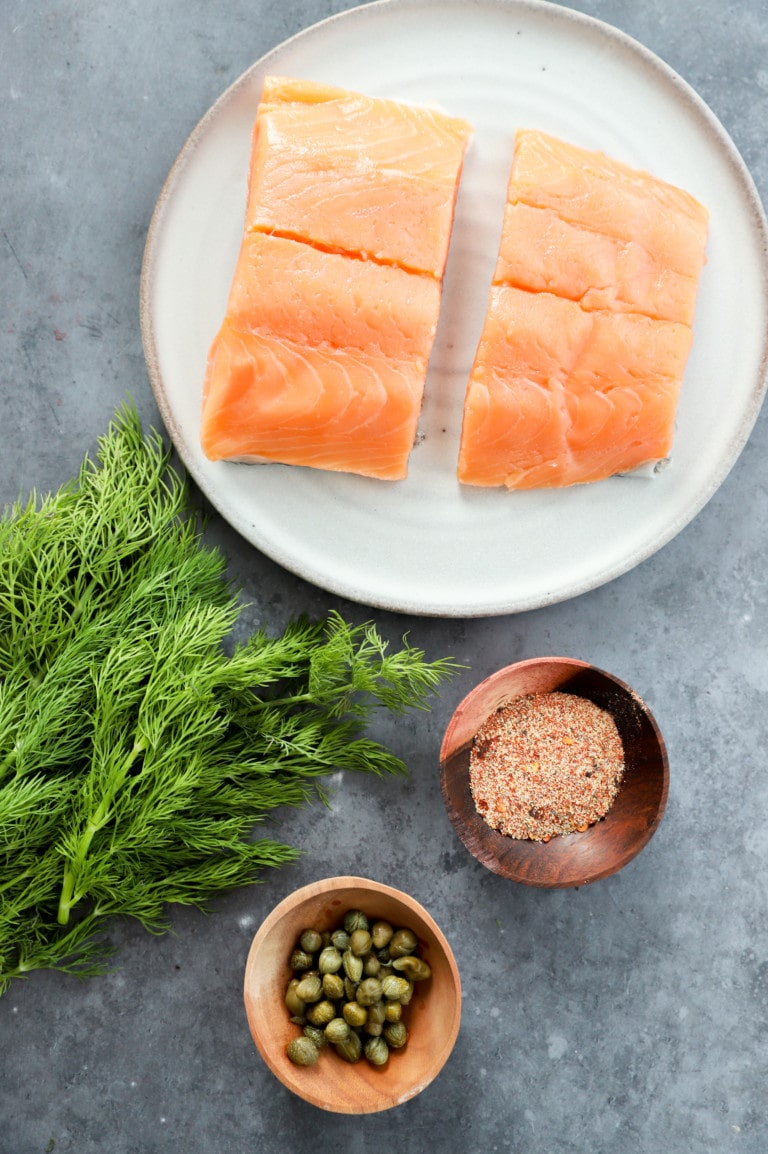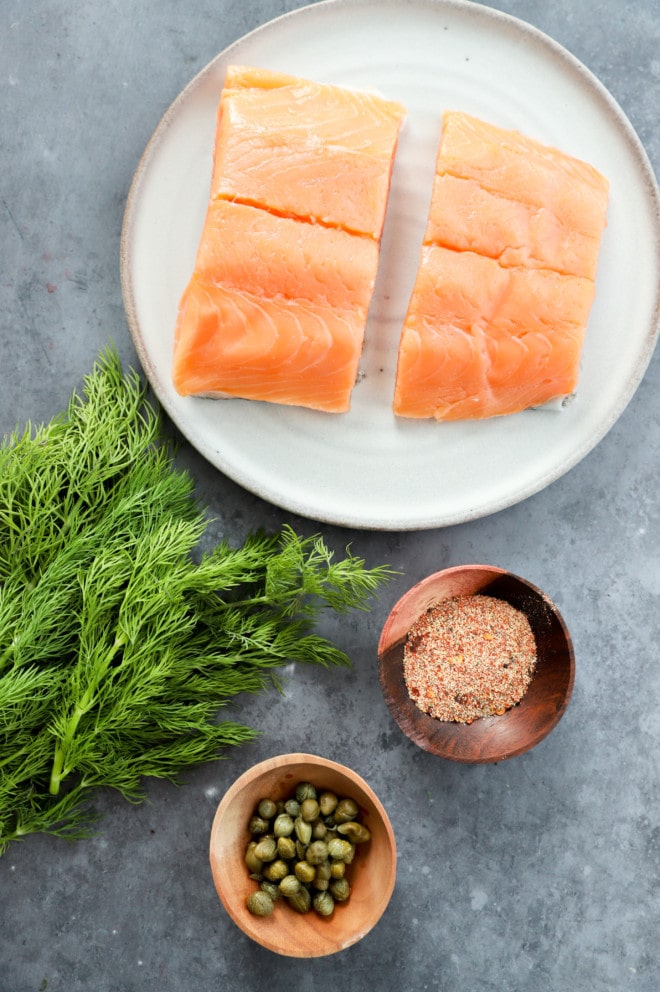 ingredients
salmon. I've already reviewed how to select the best fish for this sandwich above. Make sure that you take the time to make sure all pin bones have been removed from the fillets before you get started on the recipe.
spices. For this recipe (for the fish and the sauce), you will need a combination of garlic powder, onion powder, smoked paprika, kosher salt, freshly ground pepper, and red pepper flakes (the last one is optional).
ciabatta. I love to use fresh ciabatta bread for this sandwich! You can also use soft Kaiser rolls or brioche buns, if you prefer, but I like the crust on the ciabatta for texture.
arugula. Fresh arugula or micro greens will work on this sandwich. You could also use spring greens or skip them altogether, depending on your preference.
mayonnaise. I prefer to use light mayonnaise, but you can also use full fat mayo.
sour cream. Again, I opt for reduced fat, but either reduced fat sour cream or regular sour cream will work.
vinegar. The dill sauce calls for white wine vinegar. If you don't have this one hand, you could also use rice vinegar or swap out vinegar for fresh lemon juice.
dill. Fresh dill is key! Since you are adding it to a food processor, you don't have to worry about chopping it up. Simply remove the leaves from the stems.
capers. I love the brininess that capers bring to the party in the sauce! It adds an extra depth of flavor to pair perfectly with the salmon.
this recipe's must haves
You don't need too many tools to make these simple sandwiches! For the creamy dill sauce, you will need a food processor.
To cook the salmon, you will need a half sheet baking pan and a silicone mat (or aluminum foil).
Finally you will need a spatula to remove the salmon from the pan.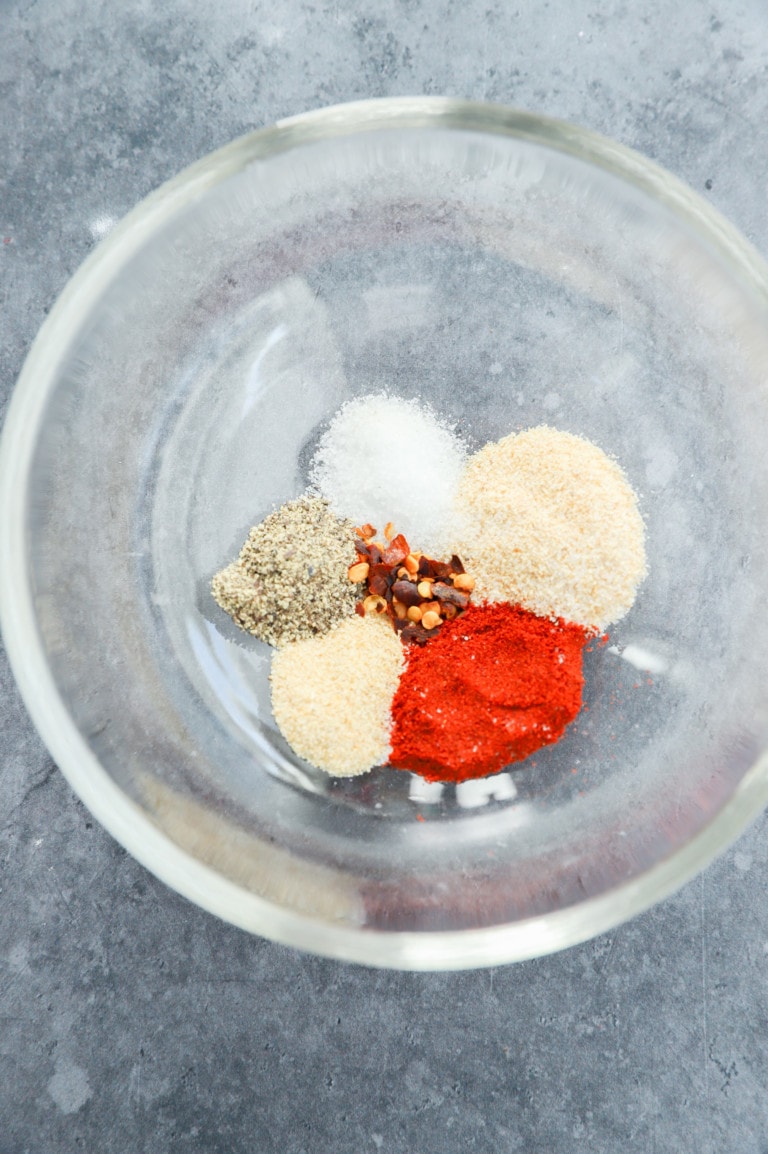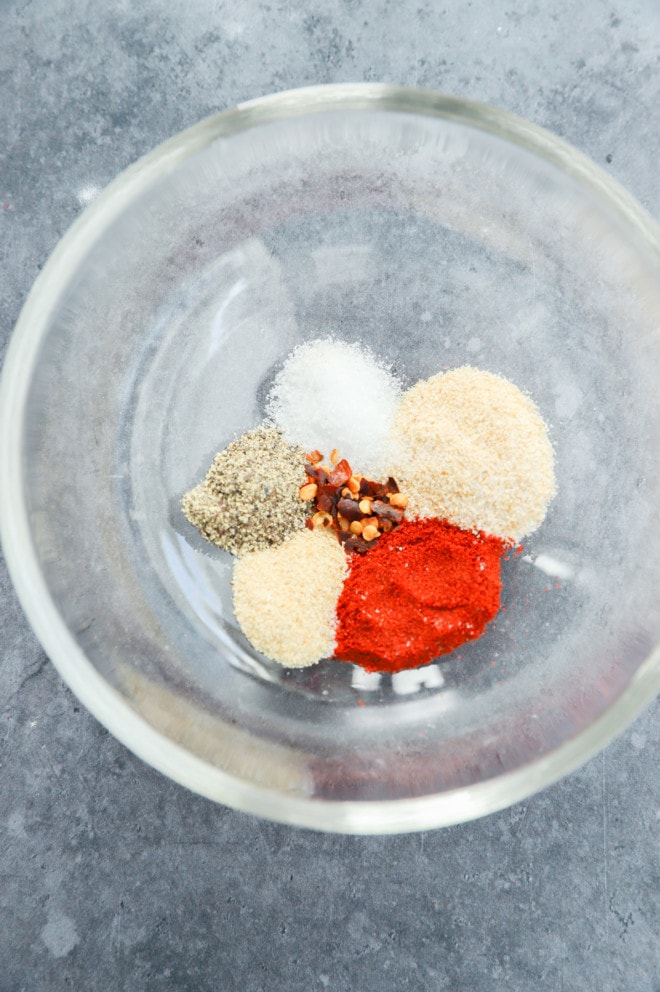 here's how to make a salmon sandwich
make sauce
Add mayonnaise, sour cream, vinegar, dill, salt and capers to the bowl of a food processor. Puree until the mixture is smooth and well combined.
Set aside in the refrigerator until ready to serve.
make seasoning
In a small bowl, stir together garlic powder, onion powder, smoked paprika, salt, pepper, and red pepper flakes (if using) until combined.
Rub the tops of the salmon fillets with the seasoning evenly.
broil
Place salmon fillets skin side down on a baking sheet that's been lined with a silicone mat or aluminum foil.
Broil for about 5 to 7 minutes, depending on how cooked through you like your salmon. Remove from the oven and set aside to rest for 5 minutes.
To remove the salmon from the skin, simply use a spatula to slide in between the fillet and skin. The fillet should come right off with the skin sticking to your liner in the pan!
assemble
Cut four slices of bread. Add about one tablespoon of creamy dill sauce to each slice of bread.
Top two slices with arugula, then add the salmon fillet to each. Top with the other slices of bread, sauce side down, and serve.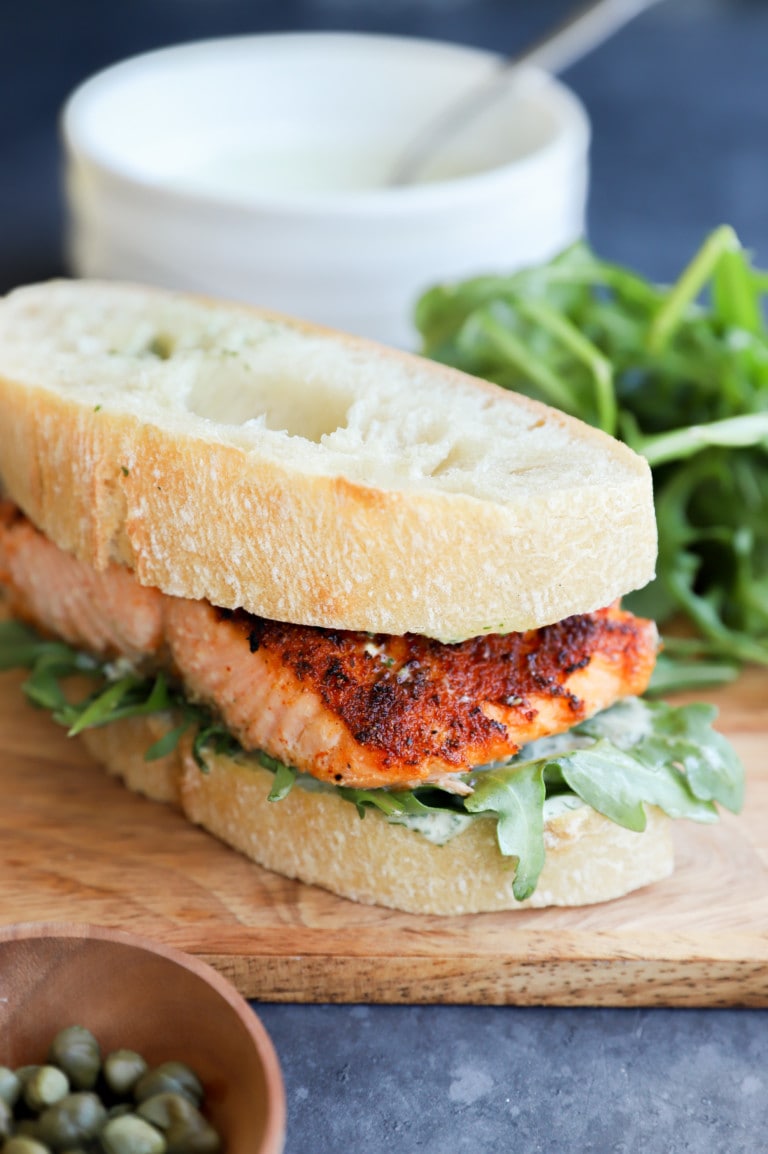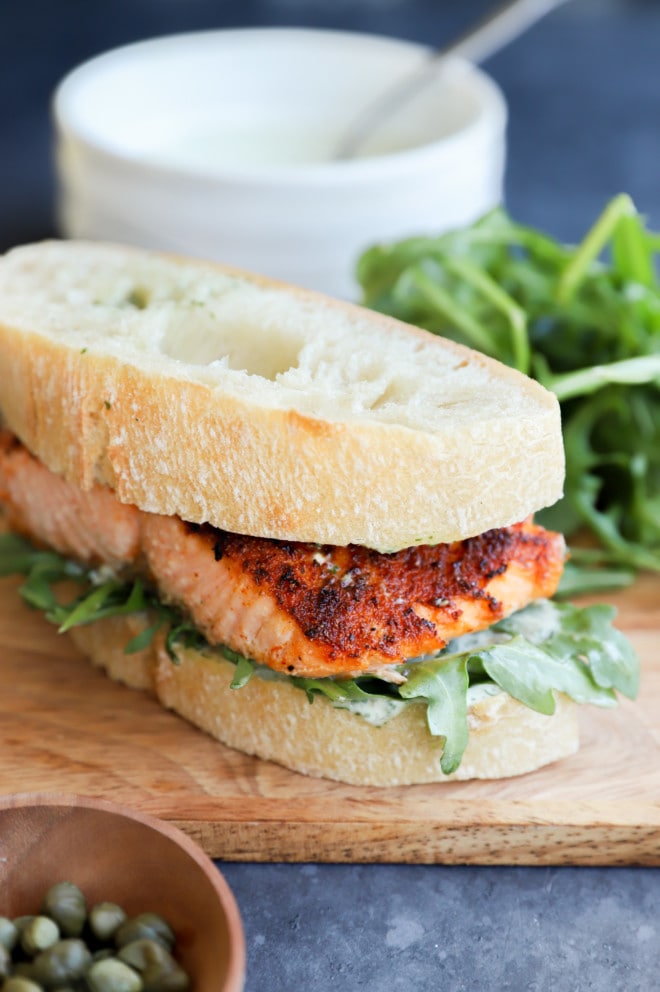 tips for success
make the dill sauce ahead of time. The creamy dill sauce takes only 5 minutes to whip up. Therefore it's fantastic to make ahead of time!
You can make it up to 5 days in advance. Simply store in an airtight container in the refrigerator until you are ready to use it.
use really good bread. The better the bread, the better the sandwich is going to taste. That's just a fact! I love to go to the farmer's market for a fresh loaf of ciabatta to make these sandwiches, but you could also use your favorite rolls.
More tasty salmon recipes to explore: Baked Lemon Garlic Salmon | Grilled Salmon with Charred Corn Salsa | Salmon Chowder | Smoked Salmon Bagels
what kind of salmon should I buy?
Be sure to select a great piece of salmon when you go to your local store or seafood shop. Poor quality salmon never tastes good, and when it's the star of the recipe, you really need to have the good stuff. Otherwise it will taste fishy and the texture will be mush.
I recommend picking up fresh salmon instead of frozen since it is higher quality. Look for US caught fish (this will ensure that you have less risk of overfished or environmentally harmful catching).
Wild caught salmon is oftentimes sustainable, but you can also check Seafood Watch for well-regulated farms, which is what I usually do.
can I grill the salmon instead?
I love the convenience of broiling salmon because the broiler preheats in no time and there's no long cook time.
If you prefer to grill your salmon, you certainly can! All you need to do is clean the grill grates well and oil them thoroughly with olive oil or canola oil. I recommend getting skinless salmon fillets and applying the seasoning to the entire fillet on all sides.
Preheat the grill to medium-high heat and cook the fish for 4 to 5 minutes per side, until the fish starts to look opaque.
You can also use an instant read meat thermometer to check the doneness. Aim for 125˚F internal temperature in the thickest part of the fish.
Let the salmon rest for 5 minutes, then assemble your grilled salmon sandwiches as instructed in the recipe card!
don't have time to make a sauce?
If you don't have time to make the sauce, you can use a couple of other options that are easily purchased online or in your local store:
Tartar sauce is tart and creamy, making it an ideal match for any fish.
You could also use a remoulade sauce that's creamy and tangy.
Need more inspiration for creative sandwiches? Check out my sandwich recipes page!
what to serve with this sandwich
When it comes to a light and hearty salmon sandwich recipe like this one, I don't like to get complicated with side dishes. I usually revert to an arugula salad with a simple lemon vinaigrette dressing as the easiest side.
Add some shaved parmesan on top and it's the ideal summer meal. Alternatively a caesar salad is always delicious with salmon!
You can also go more classic and pair this sandwich up with your favorite chips, whether they are kettle, ruffled, or baked.
If you are looking for another healthy sandwich, check out this delicious mango chicken salad.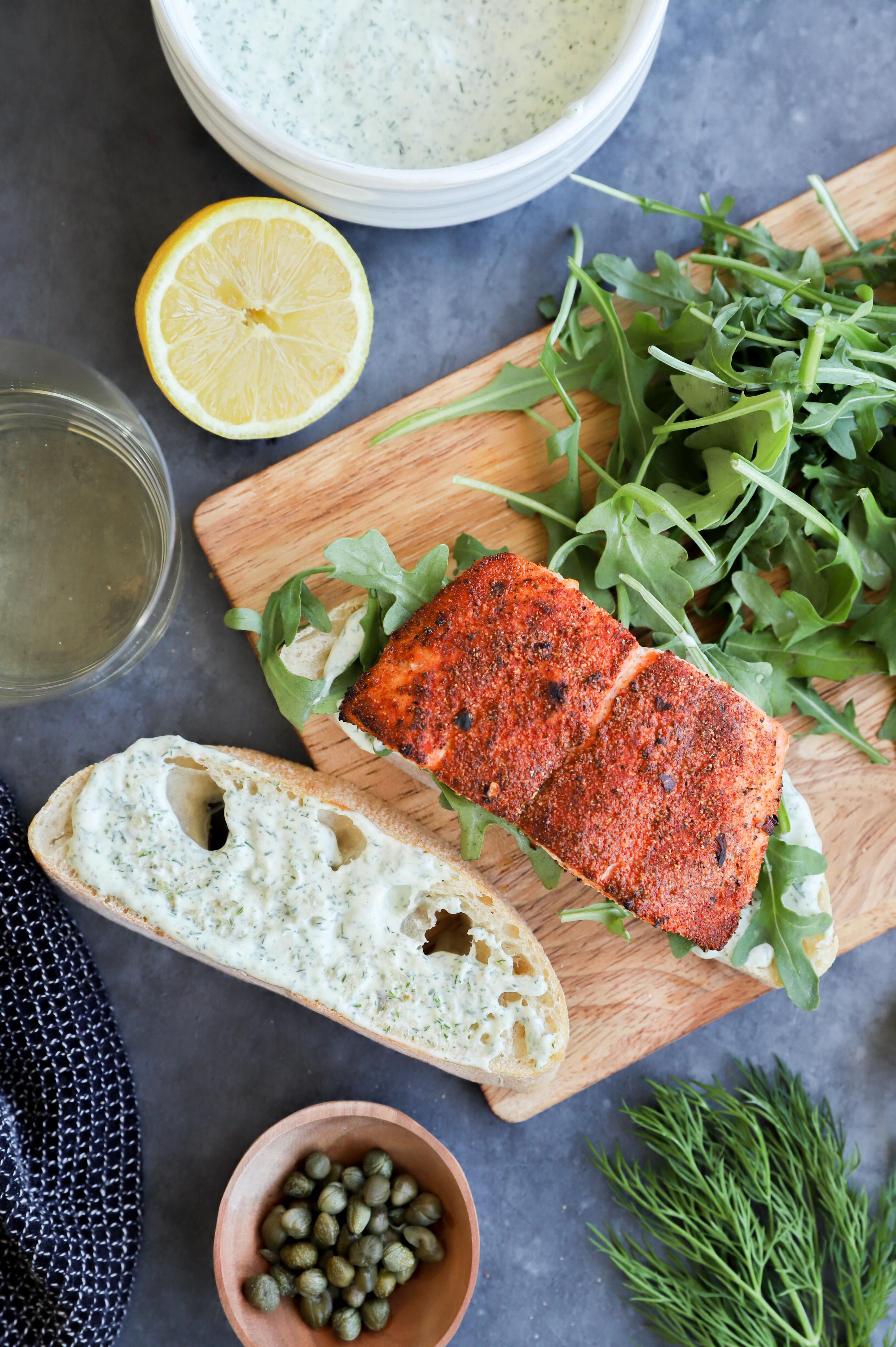 Finally, if you make this salmon sandwich recipe, please be sure to give this recipe a rating or leave a comment!
I love to hear when you all make recipes, and I do take the time to respond to every single comment. Feel free to drop questions below too, if you have them!
Oh and be sure to tag me on Instagram if you make the recipe! I love being able to see these recipes come to life in your homes – it's my favorite thing to look through those photos. It really means the world to me!
everyday seasonal cookbook
With seasonal produce guides, recipes, and more, this cookbook is filled with seasonal food for every occasion.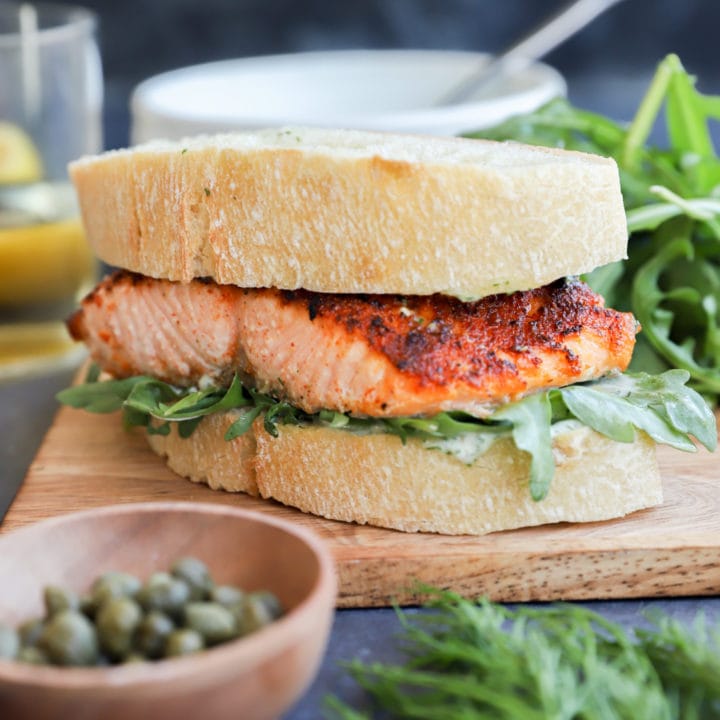 Salmon Sandwich with Creamy Dill Sauce
My favorite fresh lunch packed with light and summery flavors. Perfect for taking with you to work or enjoying on a leisurely weekend.
Ingredients
creamy dill sauce
1 cup light mayonnaise
1/4 cup reduced fat sour cream
3/4 tsp white wine vinegar
3/4 cup fresh dill
1/4 tsp kosher salt
3 tsp capers, drained
salmon sandwich
2 salmon filets (about 6 to 8 oz each)
1/2 tsp garlic powder
1/4 tsp onion powder
1/4 tsp smoked paprika (or regular paprika)
1/4 tsp kosher salt
1/4 tsp freshly cracked black pepper
Big pinch of red pepper flakes (optional)
4 slices of ciabatta
Arugula (or micro greens)
Instructions
In the bowl of a food processor, add mayonnaise, sour cream, white wine vinegar, dill, salt, and capers. Process until the mixture is well combined. Place in the refrigerator until ready to serve.
Turn your oven's broiler to High. Line a small baking sheet with aluminum foil or silicone mat. Place the salmon filets side by side on the lined baking sheet.
In a small bowl, mix together garlic powder, onion powder, smoked paprika, salt, and pepper. Rub the spice mixture evenly over the top of the two salmon filets.
Place the baking sheet in the upper third section of the oven and broil on high for approximately 5 to 7 minutes, or until salmon reaches desired doneness. Remove from oven and set aside to rest for 5 minutes. To remove the salmon from the skin, simply use a spatula to slide in between the fillet and skin. The fillet should come right off with the skin sticking to your liner in the pan!
Add approximately 1 tablespoon of the creamy dill sauce to one side of each slice of ciabatta. Top two slices with arugula. Add each salmon filet on top of the greens. Top with the other slices of bread (sauce-side down).
Notes
Note: Any leftover creamy dill sauce can be kept in an airtight container for up to a week!
Recommended Products
As an Amazon Associate and member of other affiliate programs, I earn from qualifying purchases.