Please note this post contains affiliate links.
Dinner in just 20 minutes? With this one pan steak and spring vegetables, that's a big HECK YES. The meat is seasoned with a simple herb mix and serve with bright, fresh seasonal veggies. Plus it all comes together in just one pan! Serves 4.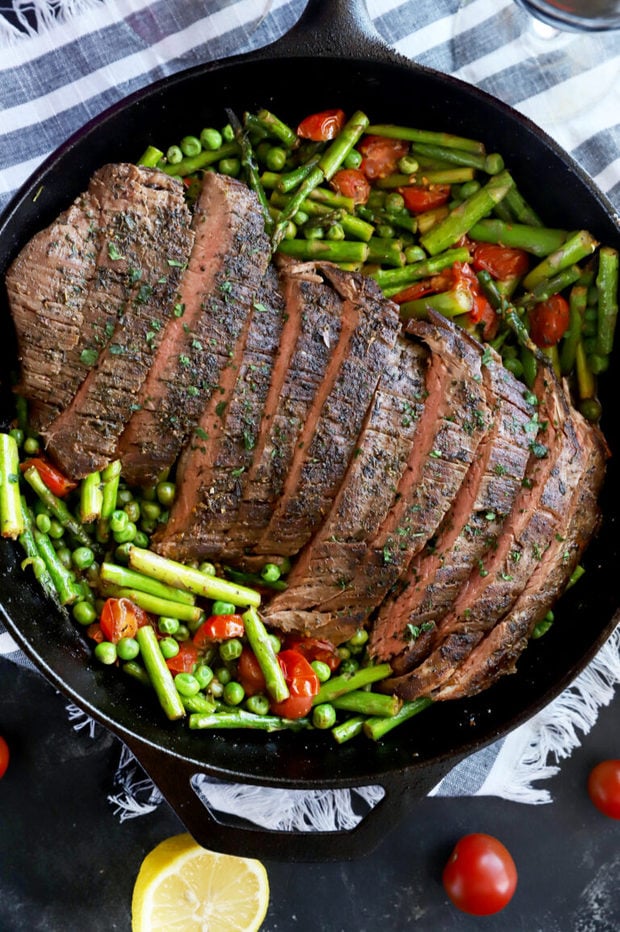 I'm bringing you another skillet meal today!
The Man and I have been trying our hand at more complicated recipes, but I only like to do this once a week since I cook regularly so much.
Therefore, I want more simple dinner recipes so I don't need to worry about it during the week.
It's super cold here with snow right now, so you really wouldn't know if it's spring by looking out the window. However, last week was our teaser of fantastic weather, which inspired me to whip up another spring centric recipe.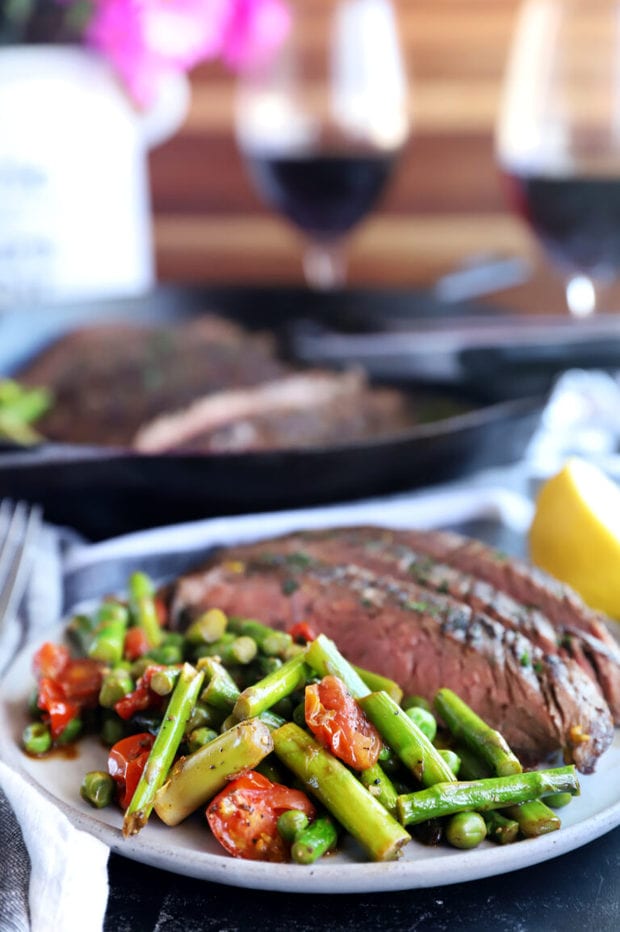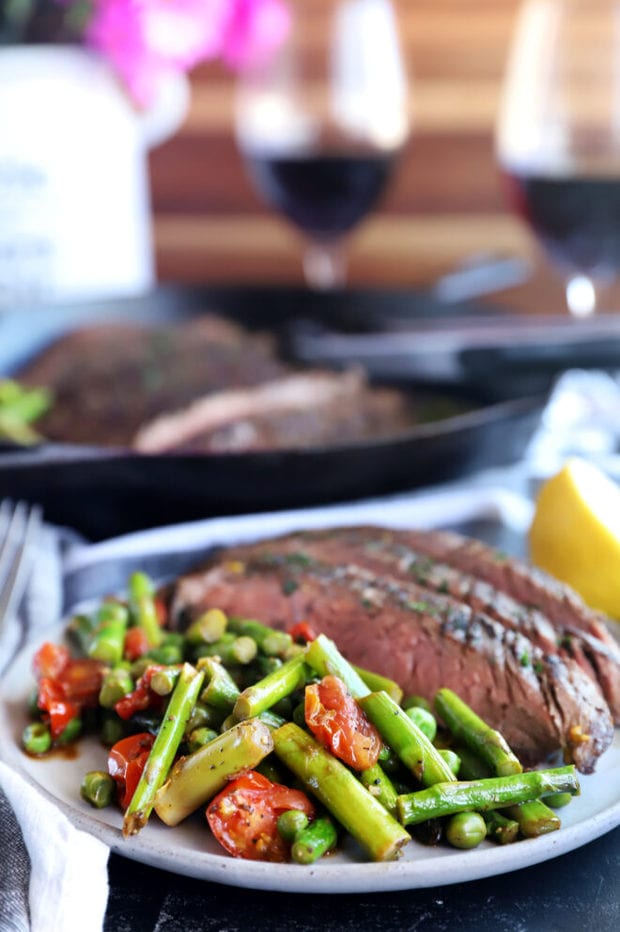 This is one of those standard seasonal recipes that you will want to bust out every single spring. The steak is seasoned with a simple spice mix, using spices that you probably have in your collection already.
Then it's paired with my favorite spring vegetable heros – asparagus, peas, and cherry tomatoes. It's such a simple combination, but with a touch of lemon zest and garlic, you really get the flavors of spring.
You can serve it as it, or roast up some potatoes alongside it if you want some starch on the plate (let's face it, who doesn't want that?).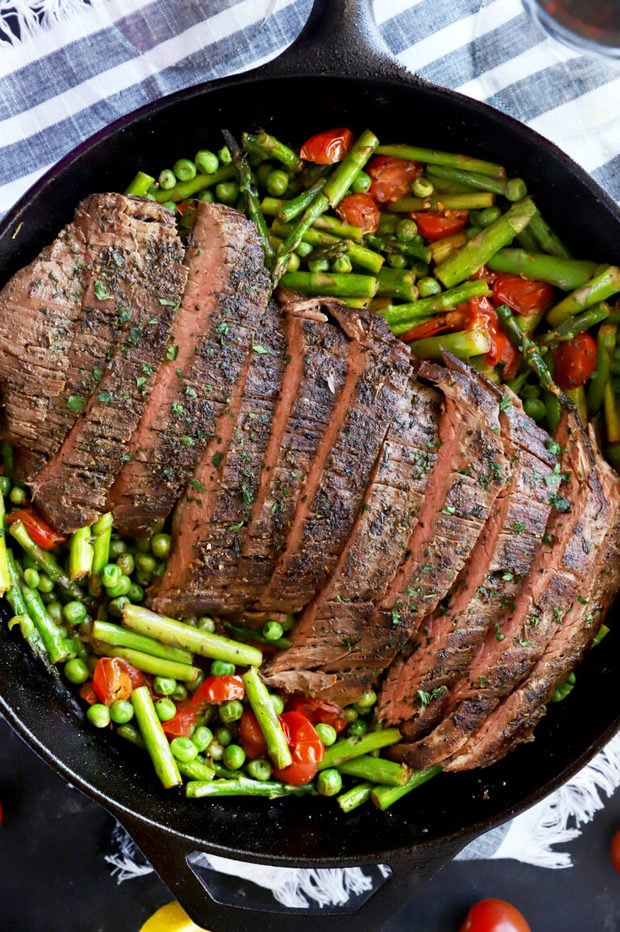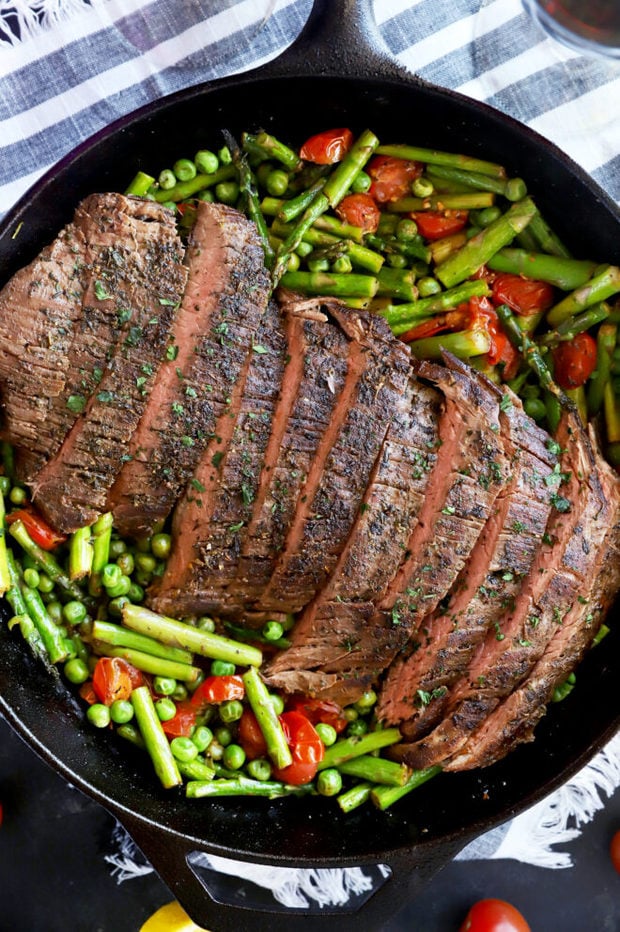 This Recipe's Must-Haves
For this recipe, you'll want one of your small mixing bowls to stir up the spice blend.
Everything for this recipe gets cooked up in a large skillet or cast iron skillet, depending on what you like to cook in.
You will need your cutting board, chef's knife, and butcher knife to both prep the vegetables as well as slice the steak once it is done cooking.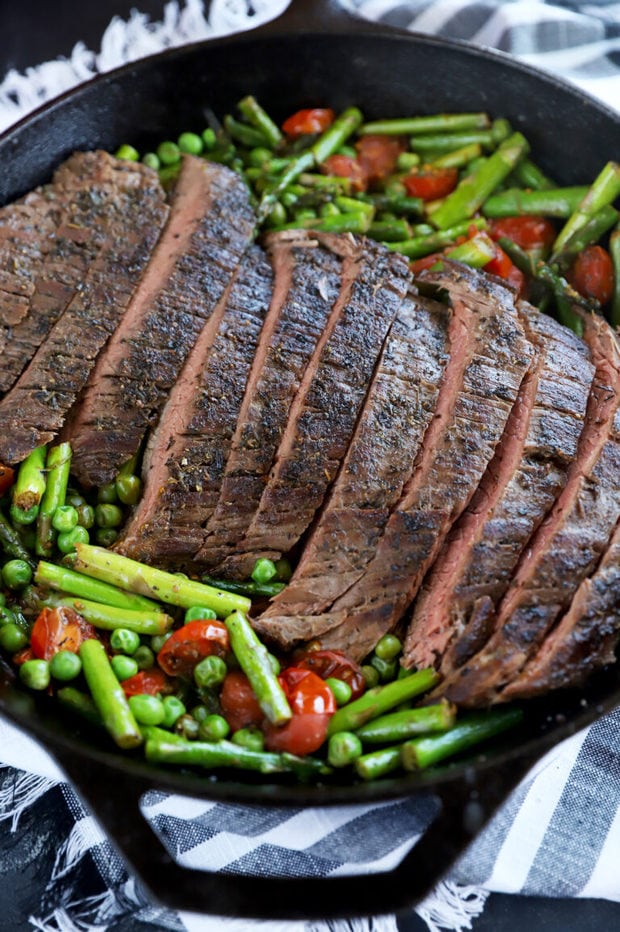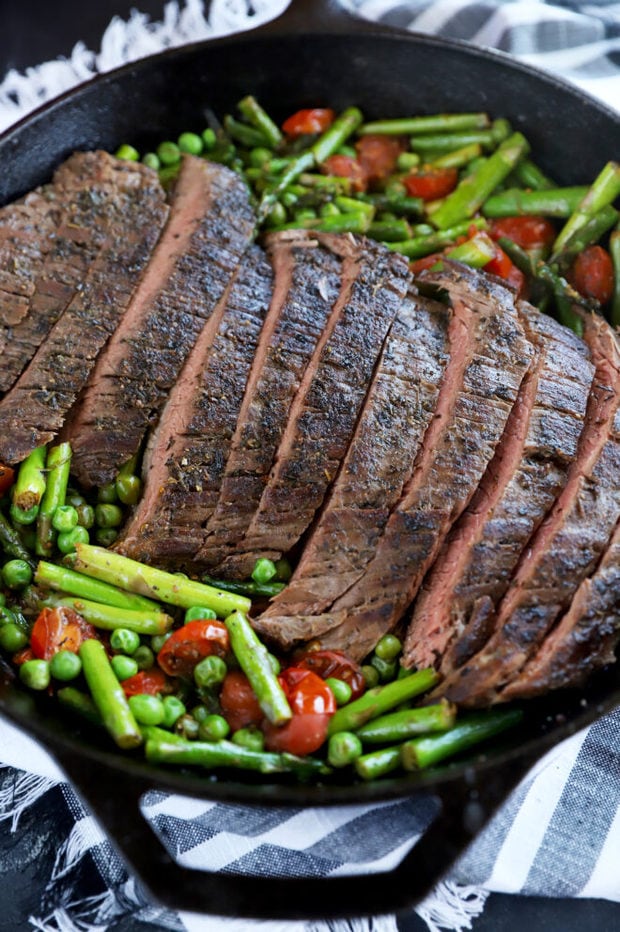 Here's How To Make One Pan Steak
Cook Steak
This recipe is as simple as two steps and it all comes together in one pan! Start by making the quick seasoning (you probably already have all the ingredients in your spice rack) and sprinkle it all over the steak.
Cook the steak in a skillet until it's at your desired temperature. For more details on that, scroll down to my questions section!
Cook Vegetables
While the steak rests, cook up the veggies! Start by cooking the fresh veggies first, which happens super fast (just a few minutes). Then add in the frozen peas and fresh lemon zest for a zing of flavor. The peas finish in just a minute or two.
Then all you have to do is slice the steak and serve it on top of the vegetables!
Need inspiration for spring cooking? Check out my Spring recipes page for some tasty ideas.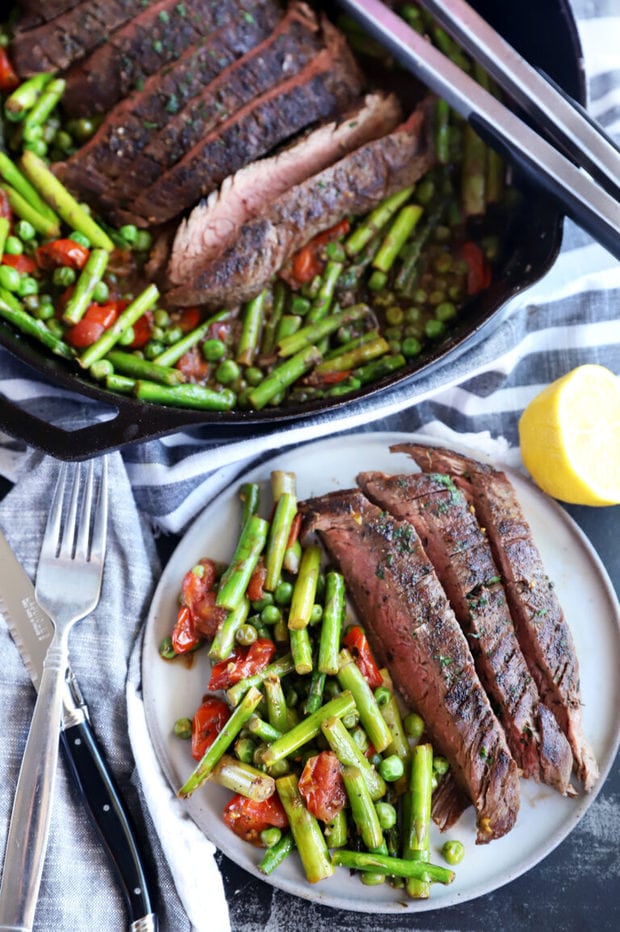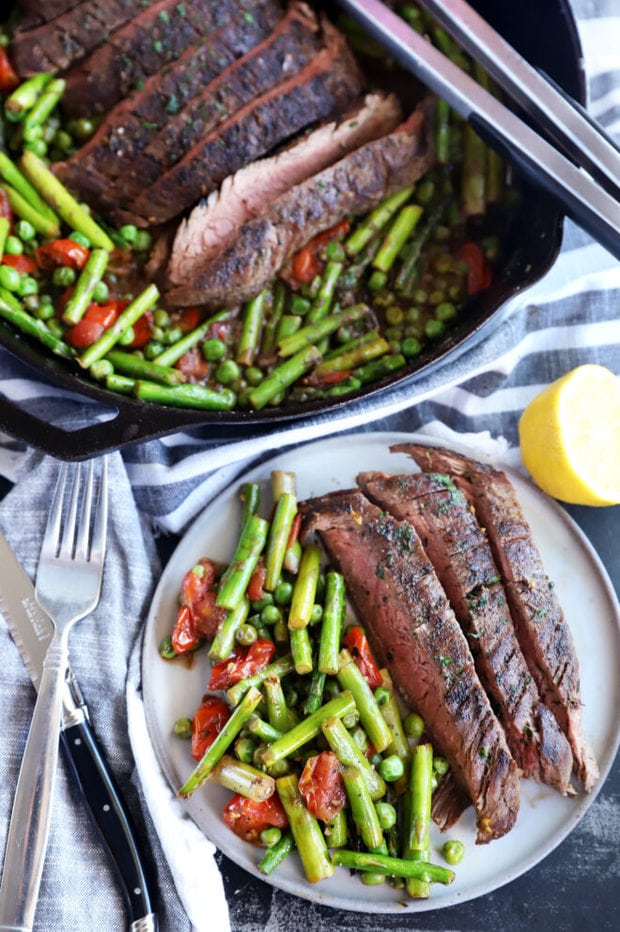 Got questions?
What temperature should the steak be when it's done?
This depends on how you like your steak cooked! For me, I love medium rare, but the Man prefers for of a medium temperature. Here's a quick reference list:
Rare –> 120 to 130˚F
Medium Rare –> 130 to 135˚F
Medium –> 135 to 145˚F
Well –> 145 to 155˚F
Well Done –> 155 to 165˚F
Can I use frozen vegetables?
I love to use frozen peas for this recipe! You can also use frozen asparagus, but the cooking time will be shorter than what is in the instructions below.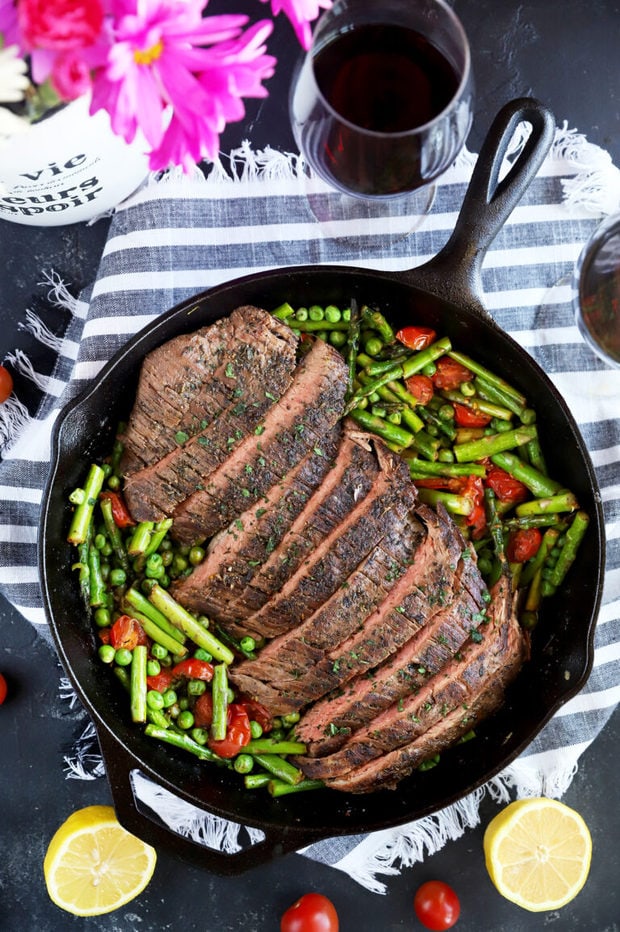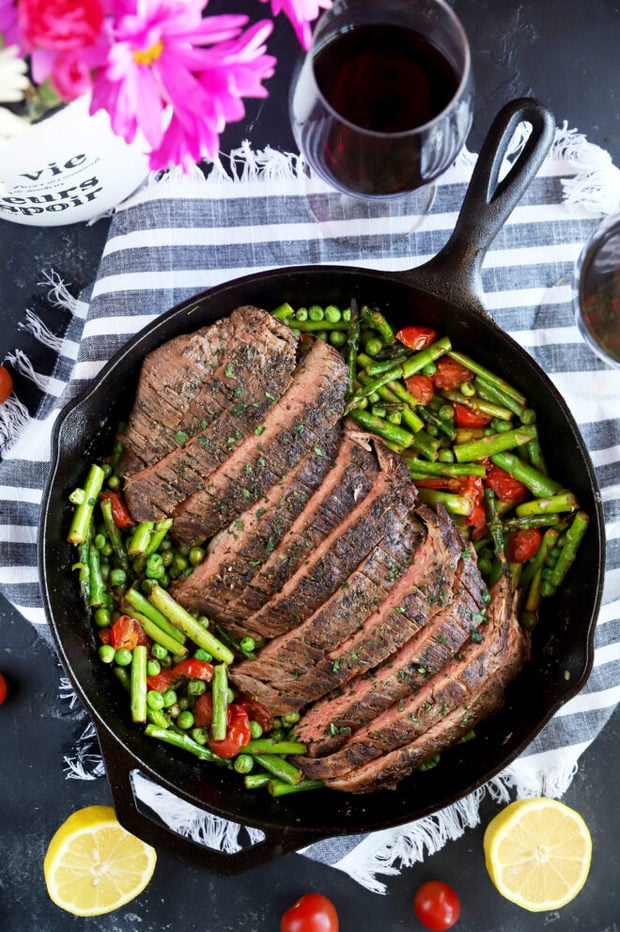 A Few Tips & Tricks
Make sure that you have your thermometer handy! This is the absolute best way to make sure you cook your steak to the perfect temperature.
Want to make it a little spicy? Add 1/2 tsp red pepper flakes to the spice rub for the steak.
If you can't get your hands on flank steak, you can also use skirt steak. Other options include sirloin steak or NY strip. However, cooking time for the steak will vary so use that thermometer 😉
If you want to serve a starchy side, I recommend these crunchy fried mexican potatoes!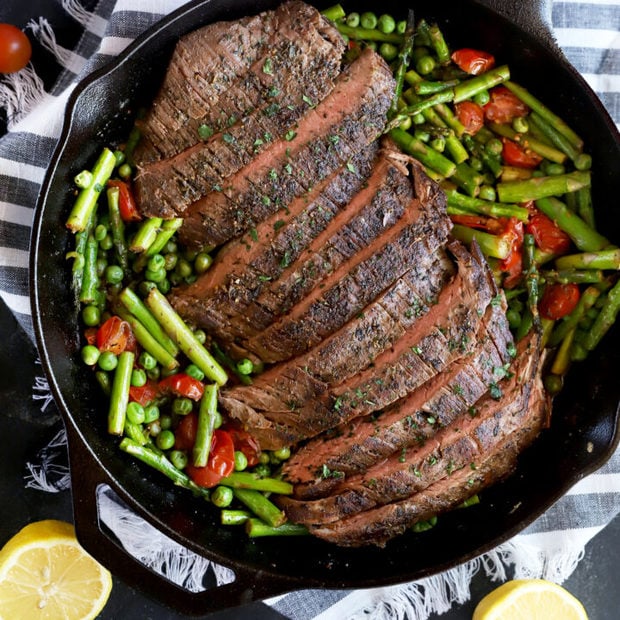 One Pan Steak and Spring Vegetables
Seasonal ingredients are what make this one pan steak dinner stand out!
Ingredients
1/2 tsp dried parsley
1/2 tsp dried basil
1/2 tsp dried thyme
1 tsp salt, divided
1 tsp black pepper, divided
2 Tbsp unsalted butter, divided
1 flank steak (about 2 lbs)
1 clove garlic, minced
1 lb fresh asparagus, trimmed and cut into 2-inch pieces
1 cup cherry tomatoes, halved
1 cup frozen peas
1 1/2 tsp fresh lemon zest
Instructions
In a small bowl, stir together dried parsley, dried basil, dried thyme, 1/2 tsp salt, and 1/2 tsp black pepper. Sprinkle seasoning evenly all over the steak.
Melt 1 Tbsp butter in a large skillet over medium-high heat. Once melted, add steak and cook until desired doneness. It took me about 4 to 4 minutes per side to reach medium rare. Remove steak to a cutting board and keep warm.
Melt the other Tbsp butter in the same skillet over medium heat. Add garlic, asparagus, and tomaotes. Cook, stirring occasionally, for 3 to 4 minutes until asparagus is bright green and crisp-tender.
Stir in peas, lemon zest, 1/2 tsp salt, and 1/2 tsp black pepper. Cook for another 1 to 2 minutes until the peas are warmed through.
Slice steak and place on top of the vegetables. Serve immediately.
Recommended Products
As an Amazon Associate and member of other affiliate programs, I earn from qualifying purchases.