Please note this post contains affiliate links.
A Bourbon Sazerac is my take on the classic cocktail (also known as the official cocktail of New Orleans, or so I've been told!). Bourbon and a touch of absinthe make this simple cocktail a new staple for your cocktail hour. Makes 1 cocktail.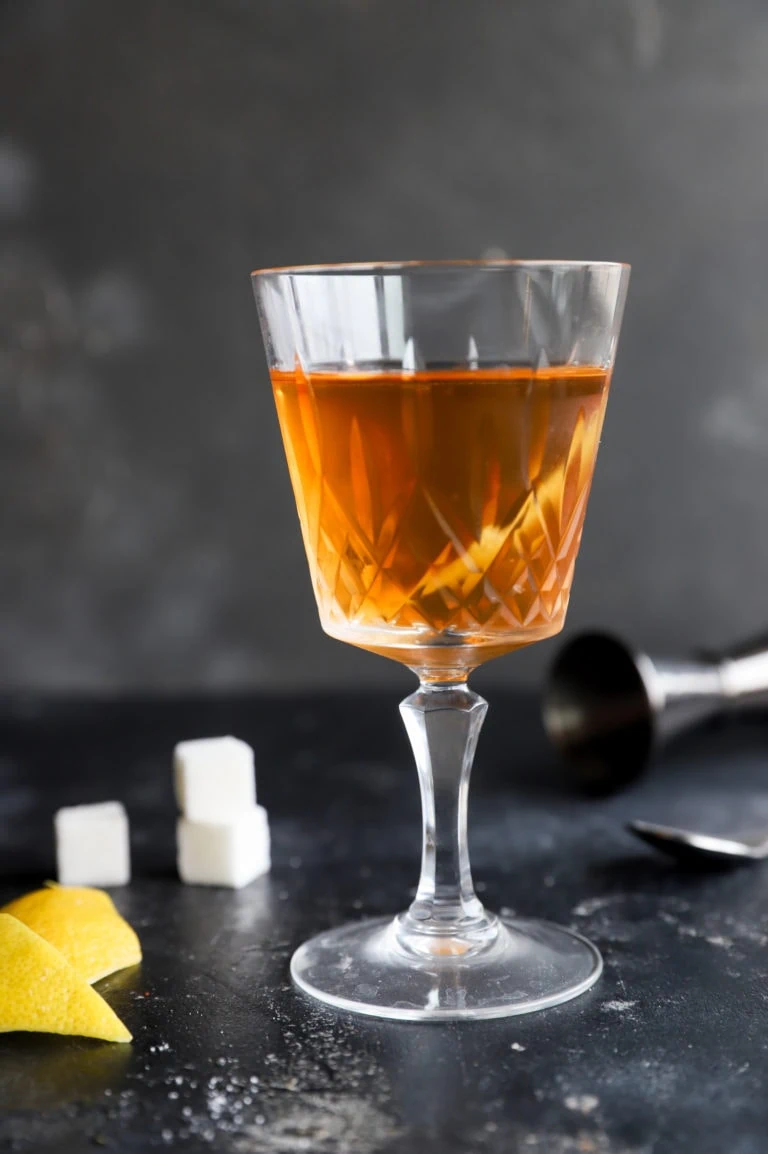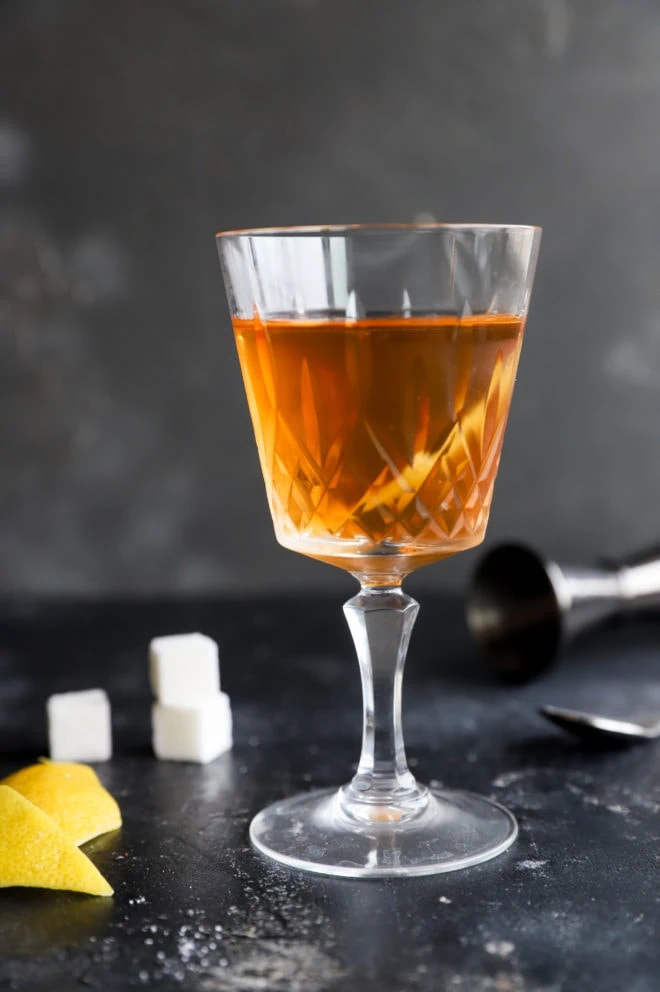 Say hello to my take on the classic Sazerac.
What is a sazerac you ask?
Well, it's a cocktail usually made with cognac, rye whiskey, absinthe, sugar cube, and Peychaud's bitters. Now I don't know the exact history of the cocktail, but I do know that every time I have enjoyed one, it's absolutely delicious.
My aunt is actually the one who convinced me to try my first sazerac since she is such a big fan, and I've enjoyed the cocktail ever since.
Instead of the usual combination of cognac and rye whiskey, I turn to bourbon. I like the flavor of bourbon in most whiskey cocktails, and this is no exception.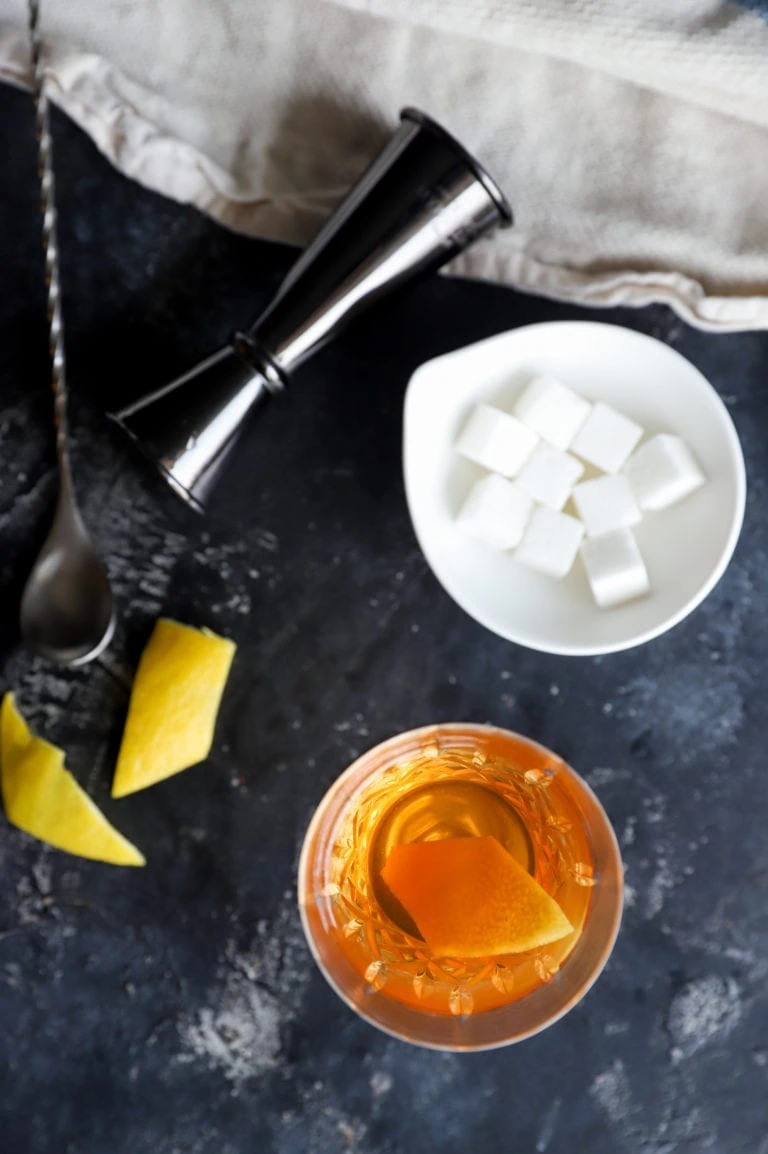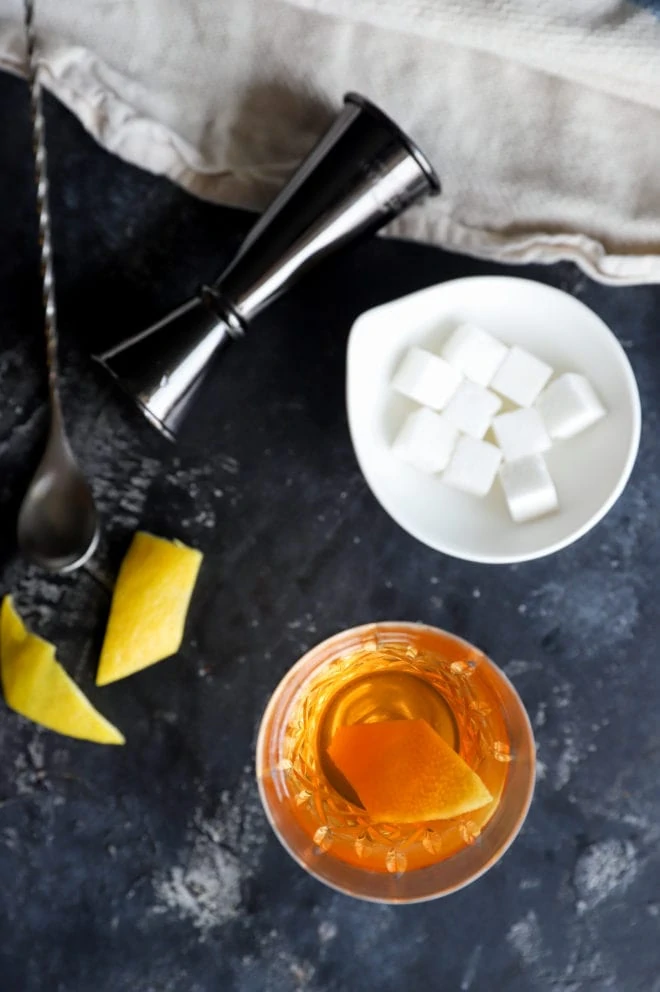 ingredients
bourbon – use your favorite bourbon here! I'm personally a fan of Bulleit or Law's, but I've even tried the Trader Joe's base brand in this recipe and it's delicious. Whatever your budget, just go with your favorite brand!
peychaud's bitters – this is a specialty ingredient that is a must for the sazerac cocktail. It's the "secret" to what was originally used in the sazerac. The flavor is a bit sweeter than Angostura bitters, plus it has hints of anise and mint that work well with the other ingredients.
sugar cube – I like to use a sugar cube instead of granulated sugar because it's easier to muddle with the bitters to help it dissolve. This allows it to blend better into the cocktail so it doesn't all sit at the bottom of the glass.
absinthe – this green anise-flavored spirit is made from a blend of botanicals. The Man actually adores absinthe, while I only like it in cocktails. You don't have to spring for the top shelf stuff, I'd say a middle of the road option like Pernod Absinthe or Absinthe Ordinaire will do great in this drink.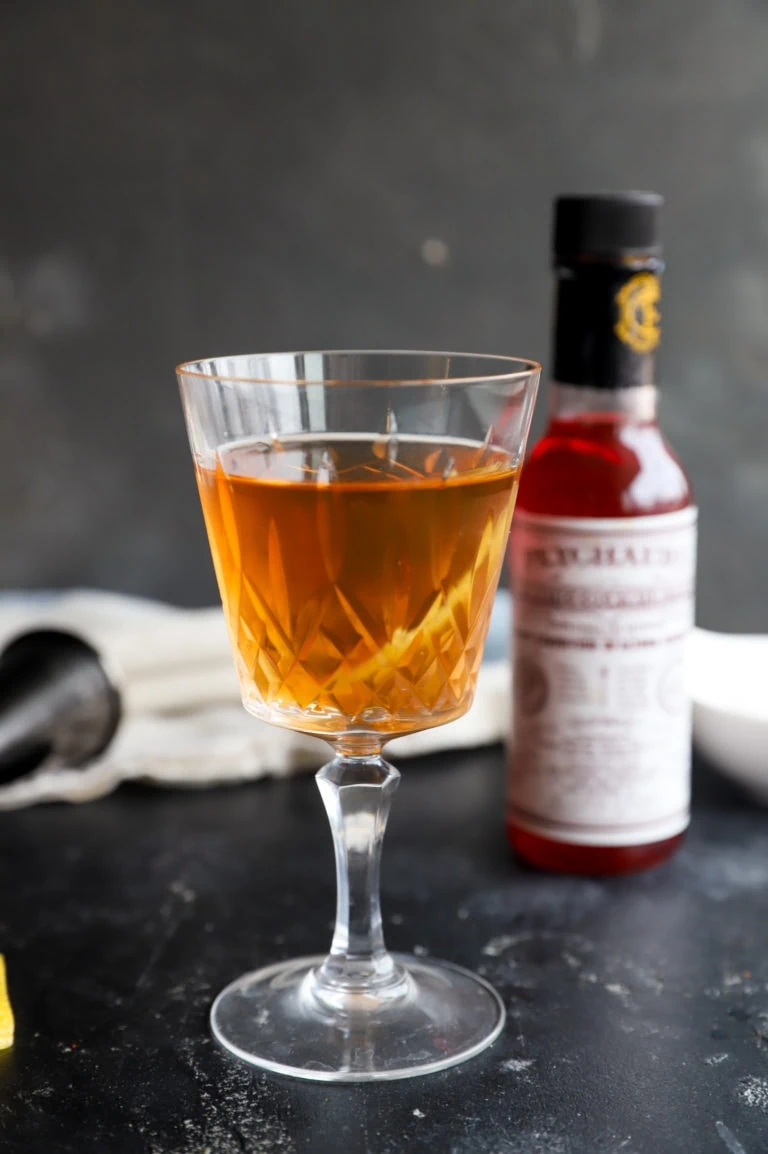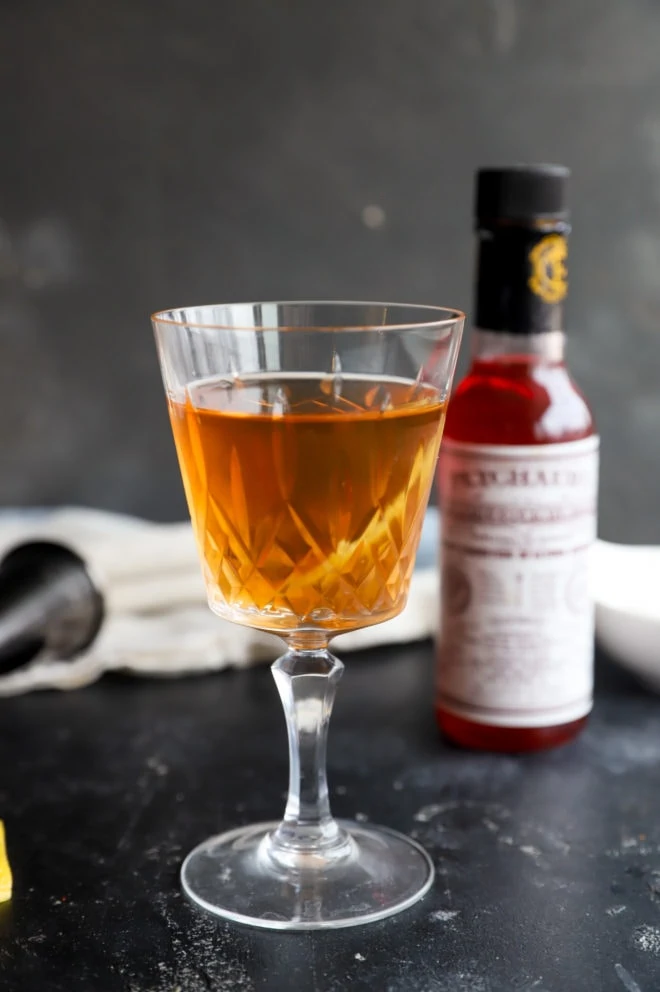 this recipe's must haves
I like to build my cocktail in a mixing glass! You'll need a muddler to combine the sugar cube and bitters in the bottom.
After you add the spirits with a jigger, stir everything together with a cocktail stirring spoon.
Strain through a cocktail strainer into your favorite cocktail glasses. I busted out the vintage glasses that have been sitting in a cupboard in our basement for way too long. I used to save them for a special occasion, but really, shouldn't a good cocktail be special enough to use the nice glassware?
If you don't have a cocktail glass, I like to use these double old fashioned glasses!
Need some more inspiration for cocktail hour? Check out my booze recipes page!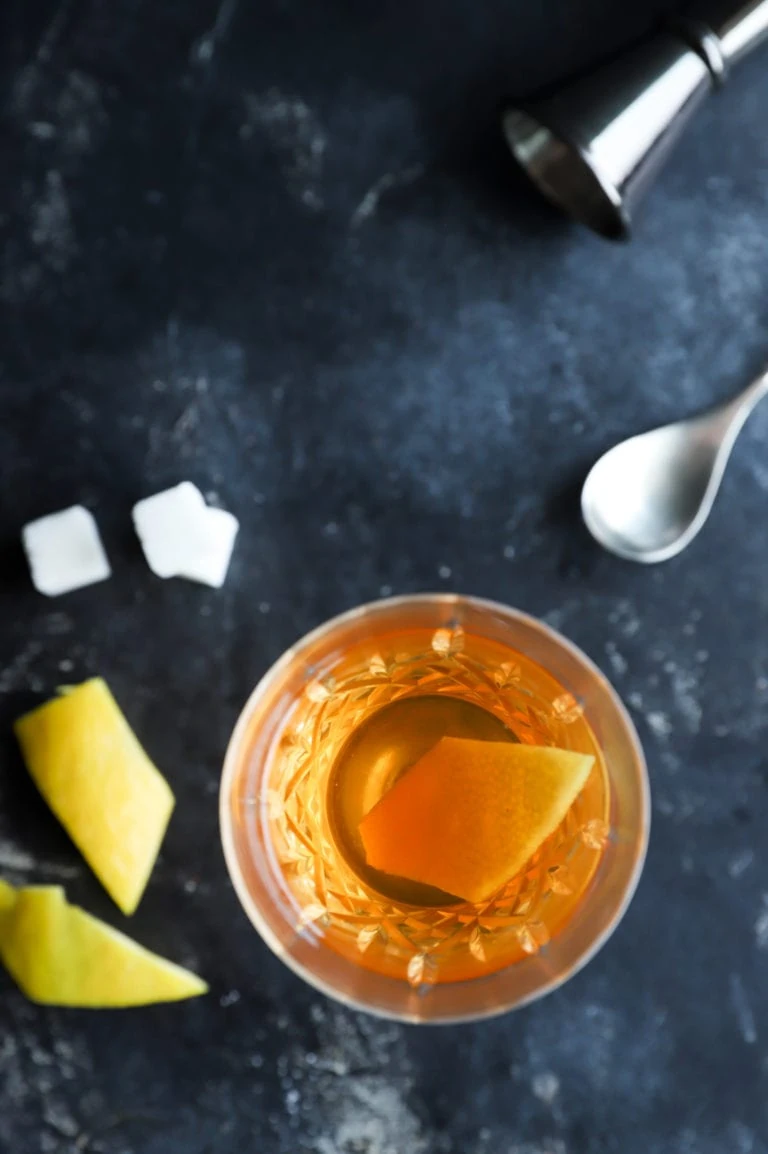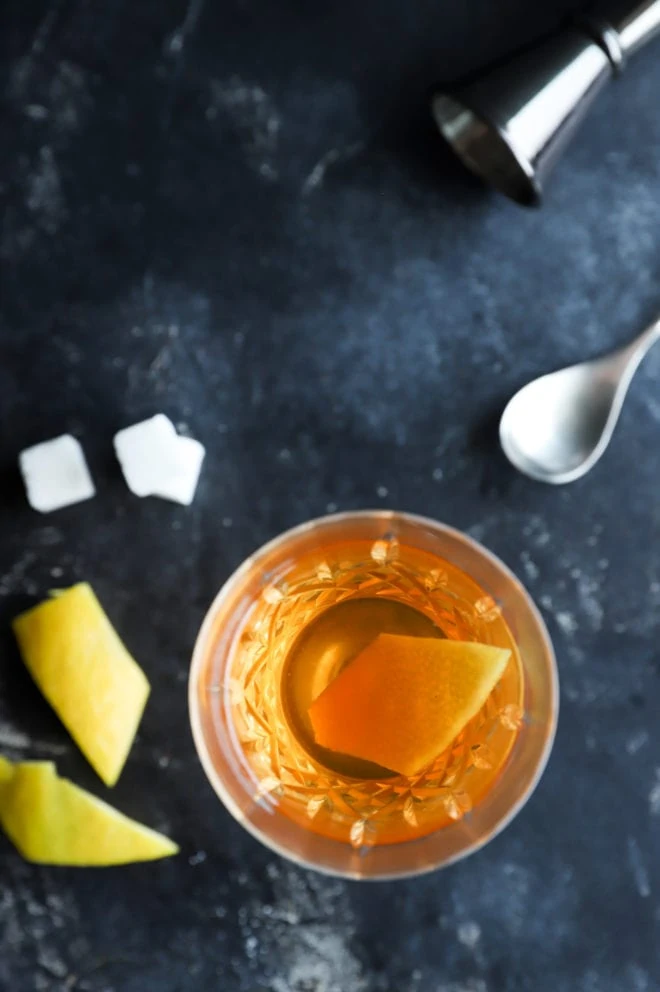 here's how to make a bourbon sazerac
Muddle
Add a sugar cube to a cocktail mixing glass. Pour the Peychaud's Bitters on top of the sugar cube and muddle until the sugar begins to dissolve.
Stir
Pour in bourbon and absinthe, then top with ice. Stir well until the sugar dissolves
Strain
Strain the cocktail into a chilled cocktail glass. Run a lemon peel piece around the edge of the glass, then add to the glass. Serve!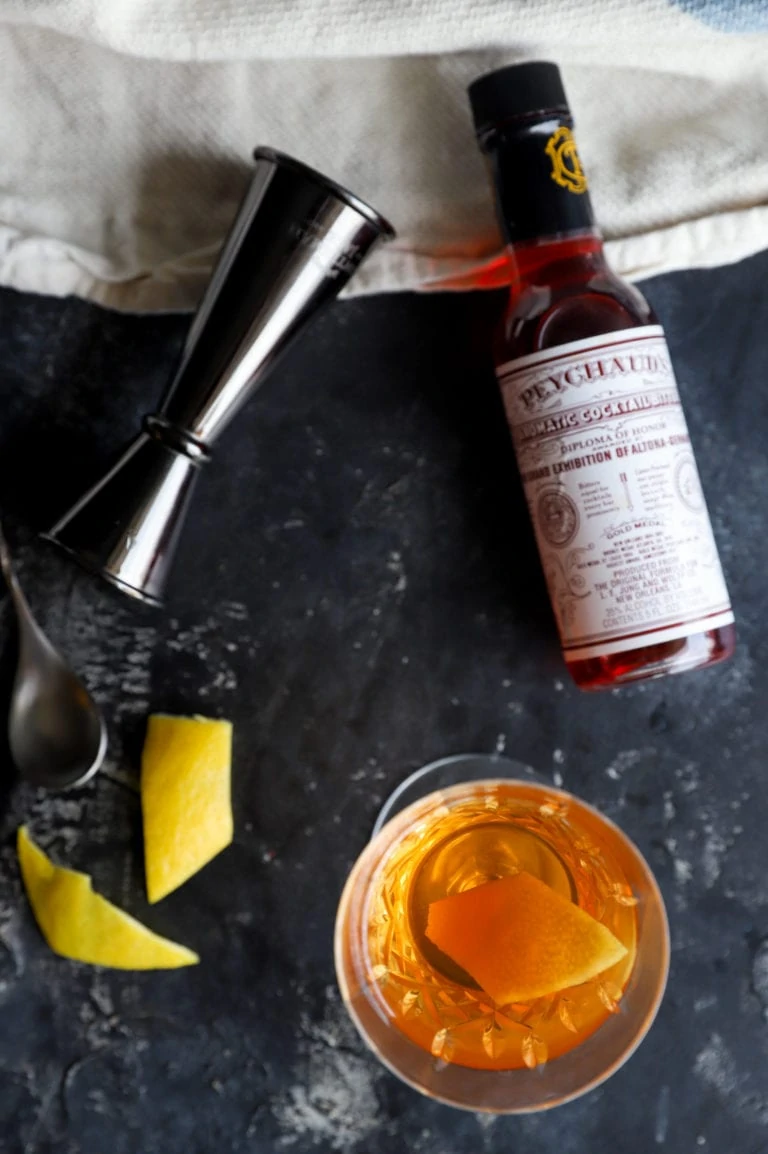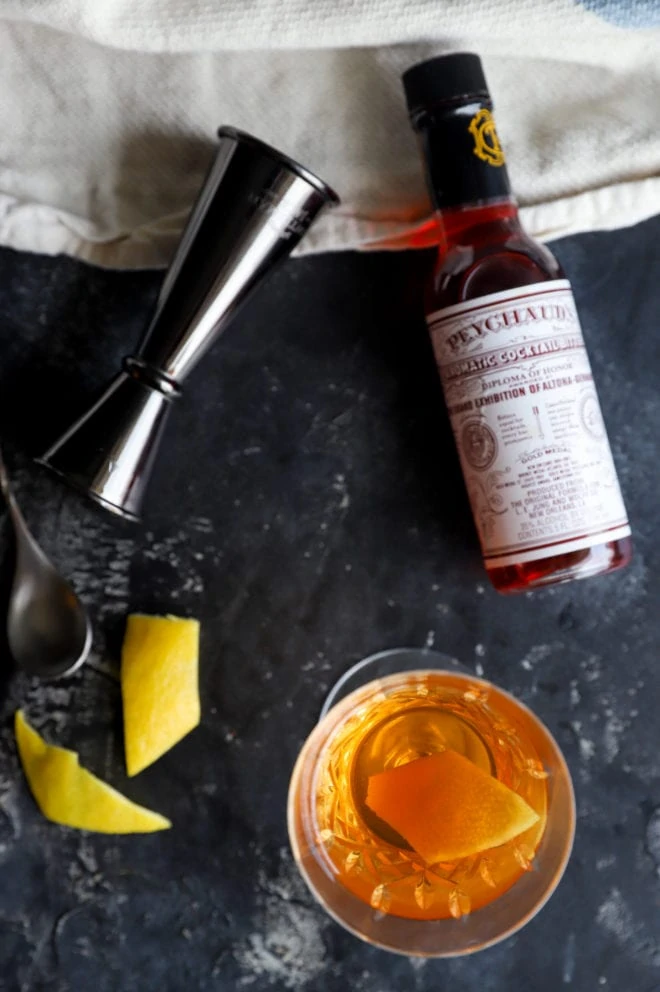 tips for success
Stir well. The key to this cocktail is making sure the sugar dissolves. If it doesn't, you'll have a pile of it in the bottom of the glass and that final hit of all sugar will skew the flavor of the drink!
The lemon peel is a flavor element. Don't skip the peel! The oils from the lemon peel around the edge is the first aroma that hits your nose as you sip.
what to serve with
I love to keep things rolling with the New Orleans theme when it comes to a sazerac! Whether you are celebrating Fat Tuesday, or perhaps you just want to be theme-y about it (which there is nothing wrong with!), but here are some ideas for what to serve with this cocktail:
Other yummy bourbon recipes: Apple Bourbon Smash | Cherry Bourbon Sour | Homemade Chai Infused Bourbon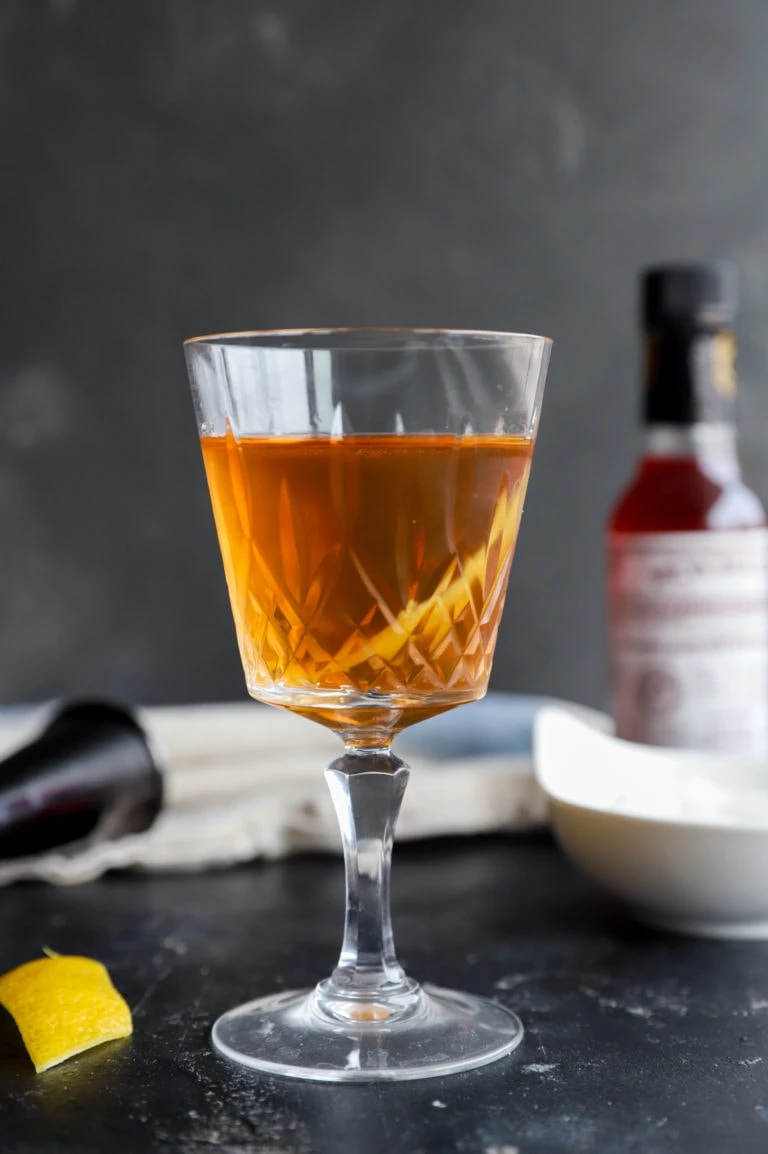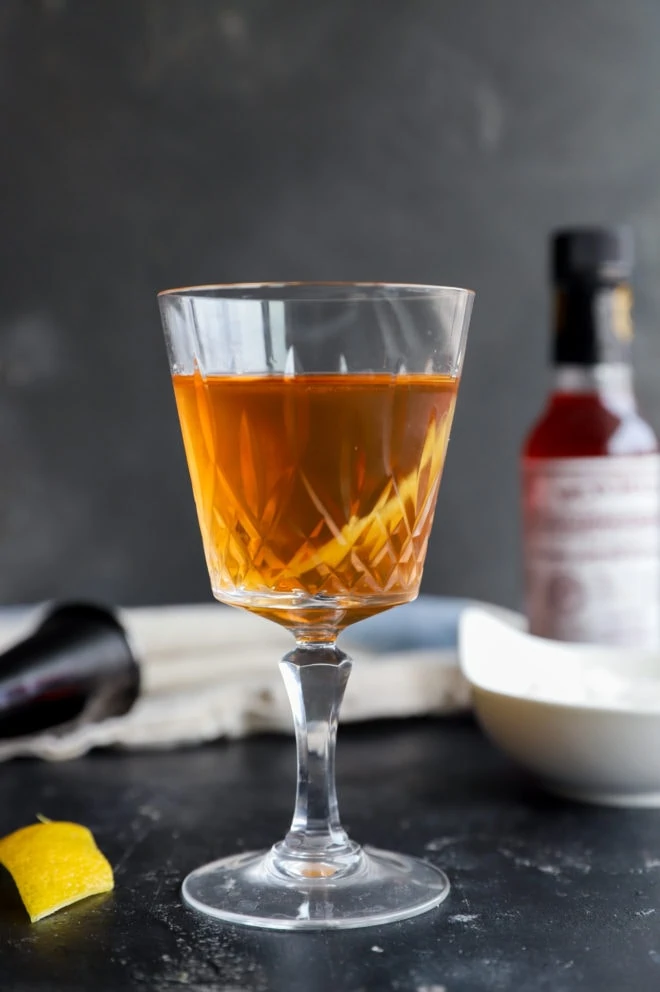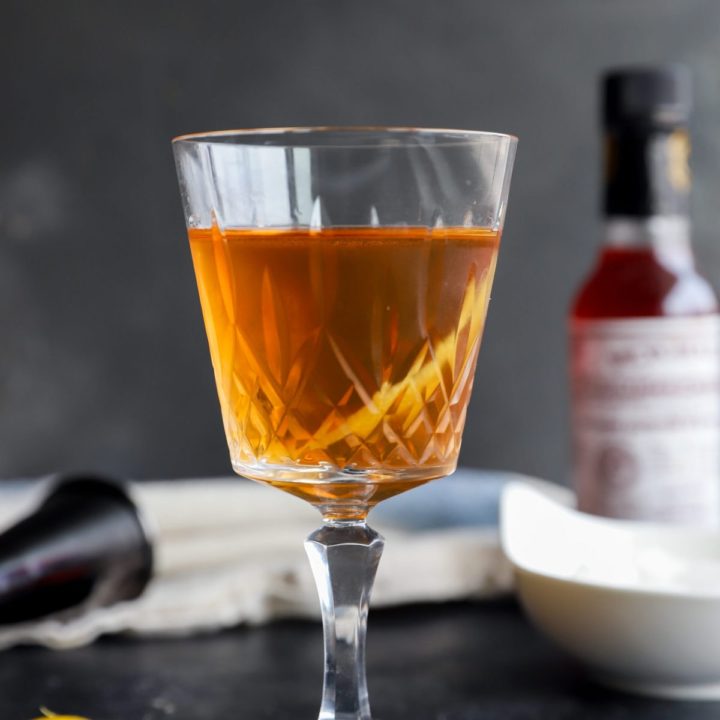 Bourbon Sazerac
My twist on the classic cocktail is simple and brings just the right touch of caramel sweetness to the drink!
Ingredients
3 dashes Peychaud's bitters
1 sugar cube
1/4 oz absinthe
2 oz bourbon whiskey
Lemon peel
Instructions
Add sugar cube to a mixing glass. Top with bitters and muddle well until the sugar is mostly dissolved.
Add absinthe and bourbon. Fill the mixing glass with ice and stir until chilled through and all the sugar is dissolved.
Strain into a cocktail glass. Rub the lemon peel around the edge of the glass and place in the glass. Serve.
Recommended Products
As an Amazon Associate and member of other affiliate programs, I earn from qualifying purchases.