Please note this post contains affiliate links.
An Irish Mule is the traditional Moscow Mule ratio, with Irish whiskey instead of vodka! Irish whiskey, no matter what brand you use, is a fantastic pairing with the bite of ginger and zest of lime. Make it for St. Patrick's Day or a sunny afternoon spent on a patio. Serves 1.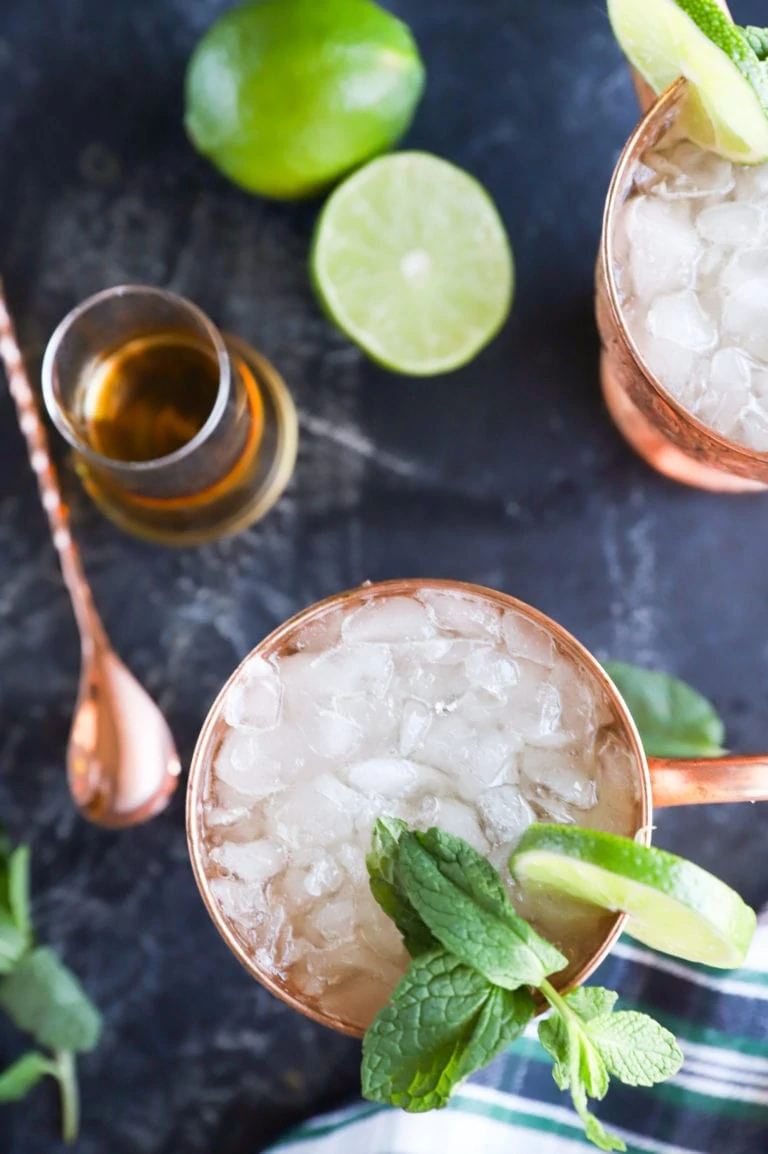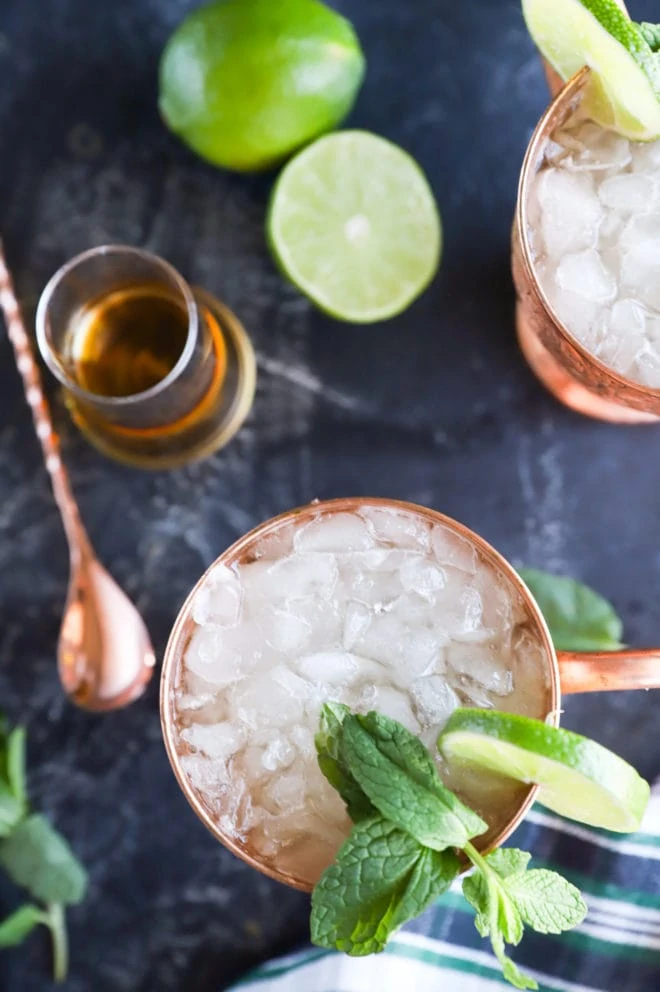 about this irish mule recipe
There are so many options for libations on St. Patrick's Day. For many it's a proper pint of Guinness. For others it's a shamrock shake. While for others, it's all about the Irish whiskey.
If you say you drink green beer, let me just say… NO. No, no, no.
The Irish whiskey cocktail zone is where you will find me every time. I love pairing use it in place of spirits in classic cocktails (I'll link to some others further below if you are interested in going down that rabbit hole with me!).
You really can't go wrong with the refreshing combination of ginger and whiskey, so why not add that Irish whiskey in place of vodka in a mule?
This is the Irish twist on the classic moscow mule cocktail, with Irish whiskey instead of vodka. You only need three ingredients and it's all built in a copper mug (I.e. less barware to clean once you are done making it). I love to throw on a green garnish of lime and mint leaves, especially in March, but it's just as fabulous without it for a weeknight spent on the patio.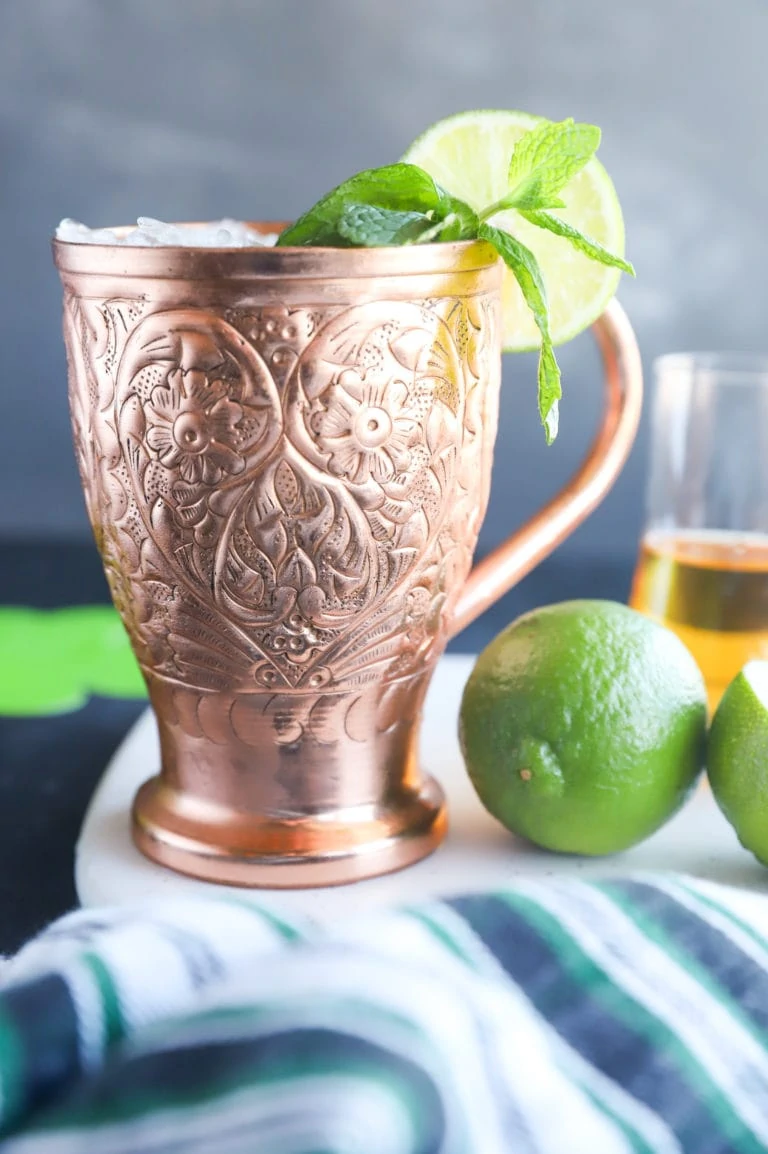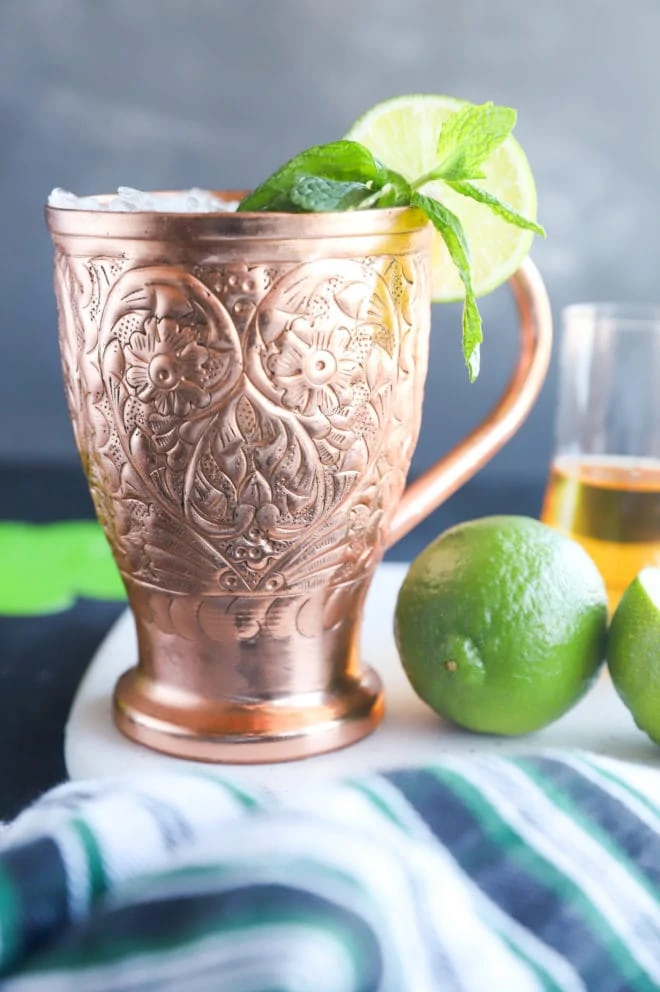 ingredients
Irish whiskey – personally, I like to use Jameson Irish Whiskey as the main ingredient for this cocktail! Of course, if there's a different Irish whiskey you prefer, you can use that instead.
lime juice – fresh squeezed lime juice is what I recommend versus store-bought, because the flavor is a lot more vibrant and light.
ginger beer – ginger beer is a non-alcoholic beverage that's bubbly and has a big kick of ginger! I prefer brands that are spicier like fever-tree ginger beer. However, if you prefer less spice, there are other brands out there that you can defer to like bundaberg ginger beer. Do not use ginger ale in this recipe! The ginger beer is what makes it a moscow mule cocktail.
this recipe's must haves
For this cocktail, you will need the standard barware including a jigger and a cocktail stirring spoon.
If you want to get the look you see here, check out these gorgeous (and totally affordable, btw) floral moscow mule mugs. I always recommend having a set of standard moscow mule mugs on hand for all your mule needs! They are also great for other chilled cocktails because the copper mugs keep them colder for longer.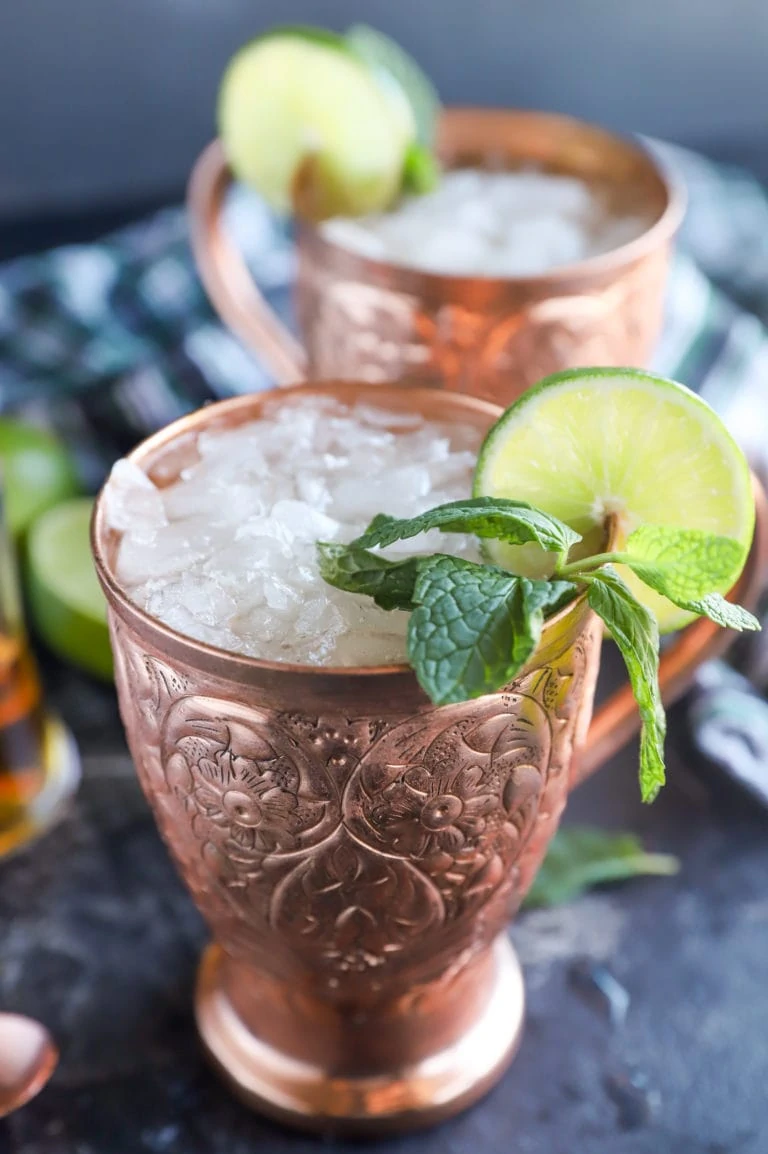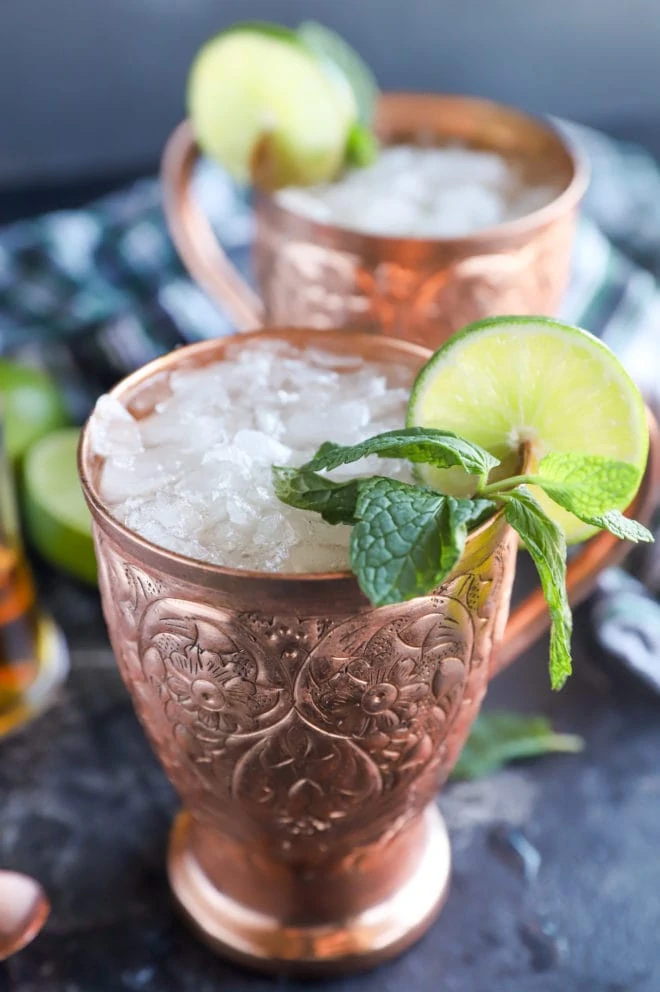 here's how to make an Irish mule
measure and stir
Fill a copper mug three-quarters full with crushed ice (don't have crushed ice? No worries! Regular ice cubes will do here too!). Add Irish whiskey, lime juice and ginger beer. Give a brief stir to combine.
garnish
I like to give my Irish mule a little glam up with a lime wheel and a fresh mint sprig. The scent of the mint really compliments the Irish whiskey, plus it looks a little more festive!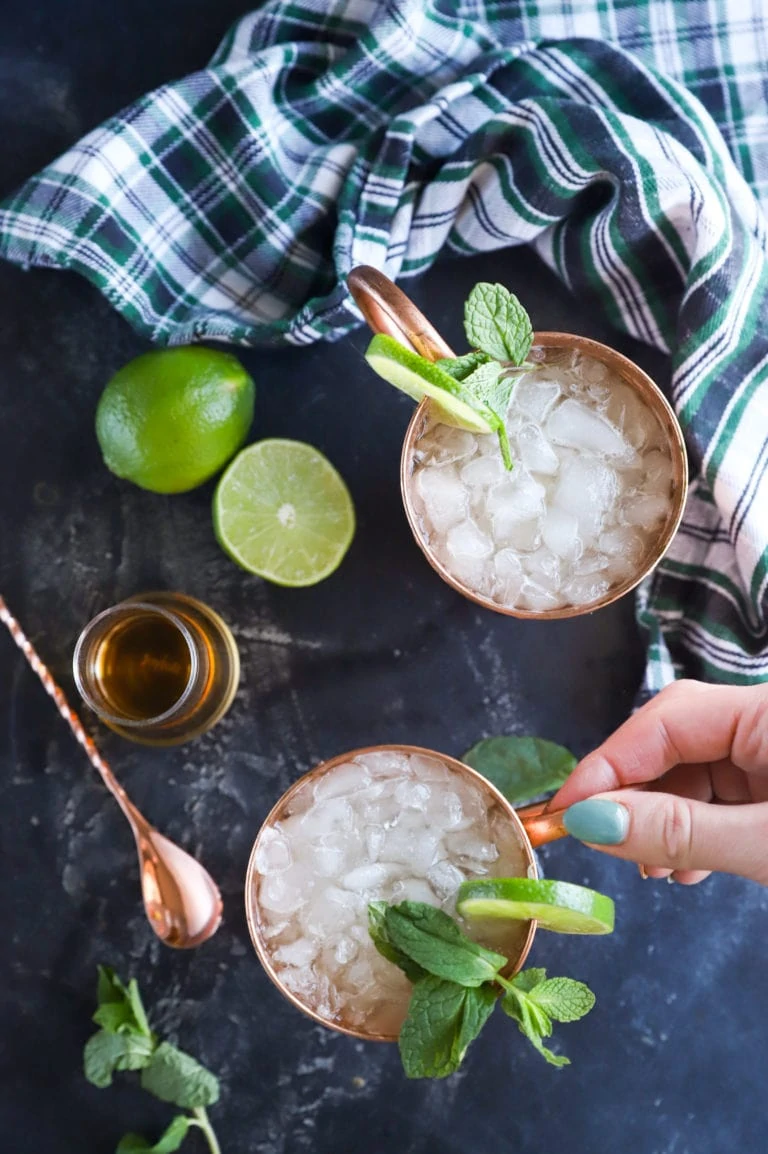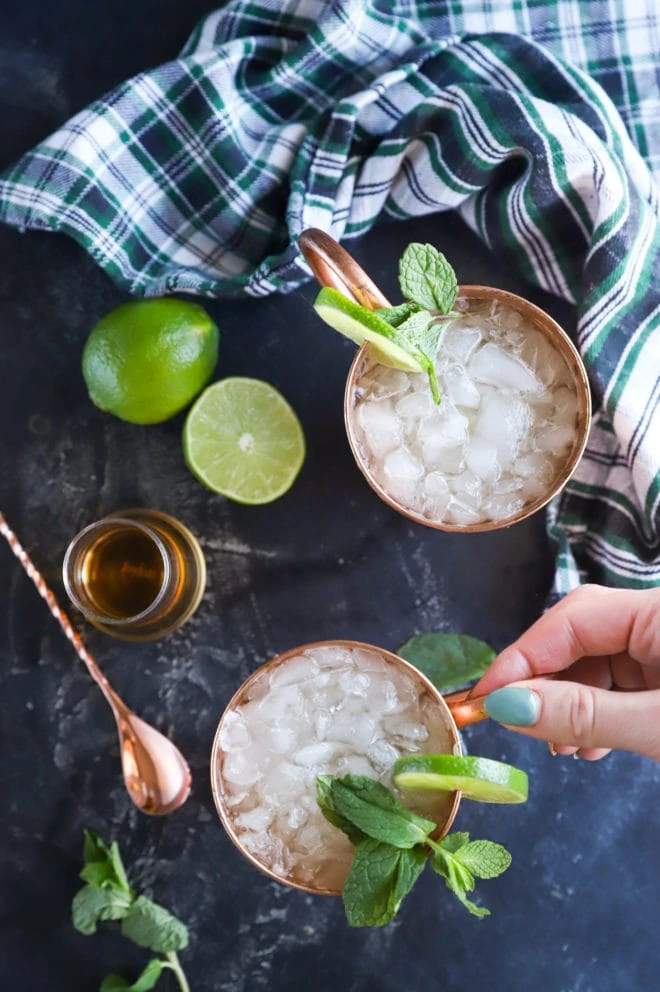 tips for success
Chill the ginger beer. I never like to use room temperature mixers in my cocktails, so I always recommend chilling your ginger beer before making this cocktail. It'll stay colder longer, therefore not letting the ice dilute it right away.
Serve it for a party! Thinking of having a party and want to serve this mule? This easy cocktail is fantastic for a "make your own" station! Simply write out the instructions below (I like to print mine since my handwriting is garbage LOL, and then stick it in a frame from the Dollar Store). Then have the three ingredients ready to go with jiggers, stirring spoons, mugs, and plenty of ice nearby. This also saves you from having to make everyone a cocktail throughout the party!
Roll your limes. Before you juice the limes for lime juice, firmly roll them on the countertop under your palm. This will help the juices in the lime release.
Other Irish whiskey cocktail recipes to explore: Jameson Manhattan | Jameson Old Fashioned | Jameson Whiskey Sour | Jameson & Ginger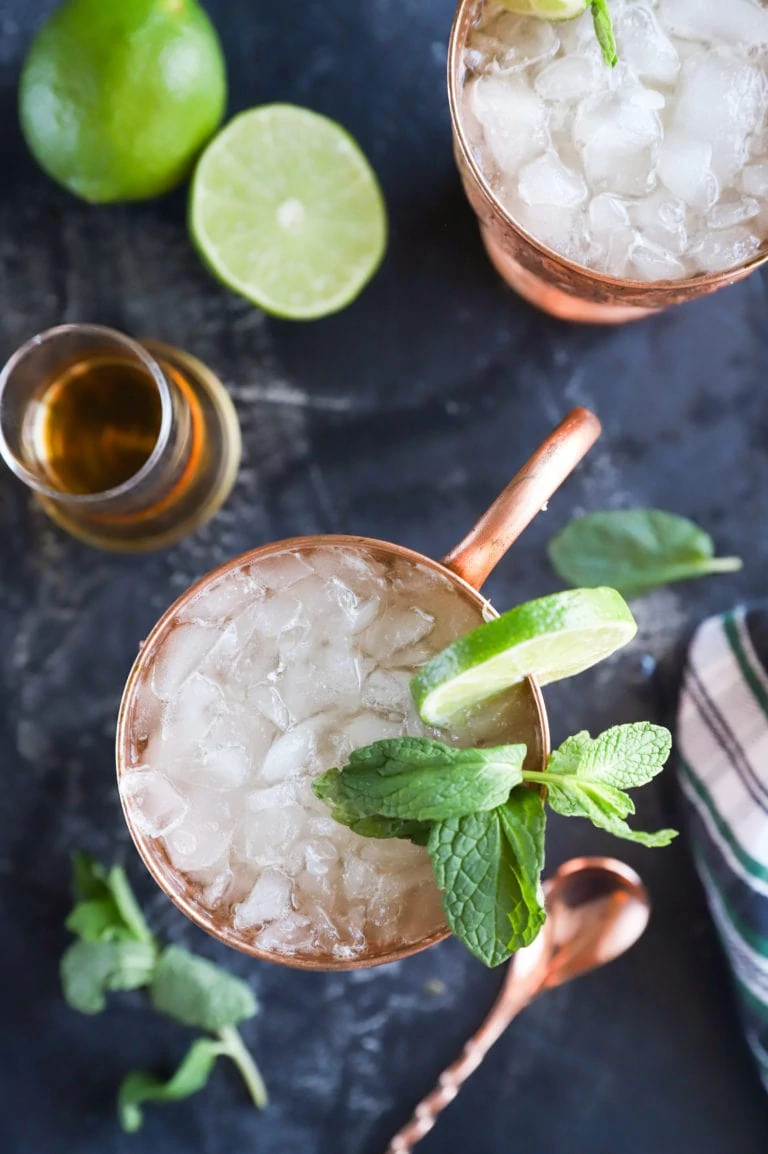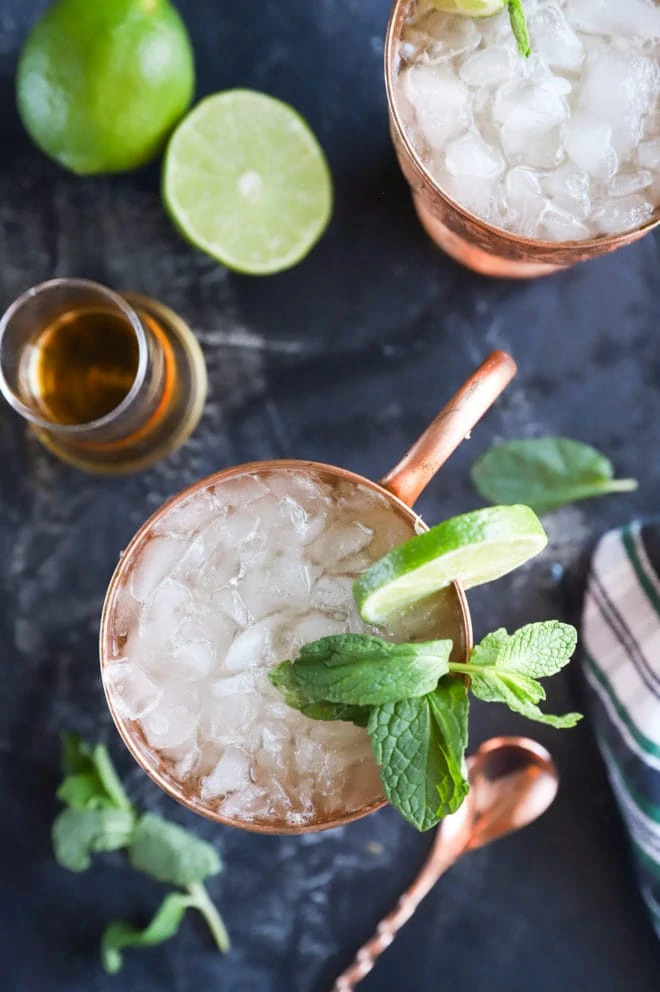 Why is a mule served in a copper cup?
Copper is actually very good at conducting temperature – that means that it'll keep cold drinks colder for longer! I love to serve a mule in copper mugs because the ice doesn't melt as fast, so the cocktail doesn't water down so quickly.
But don't worry, if you don't have a copper mug, this cocktail will work just as well in a highball cocktail glass!
How many cocktails does this recipe make?
This recipe makes one cocktail! That way you can easily scale it up as needed for however many you need.
can I make this a big batch recipe for a party?
Yes, you certainly can! Since this recipe gives you the ingredients for 1 cocktail, just multiply by the amount of people you want to serve.
Of course if you need a quick answer, here's the measurements to serve 8: 2 cups Irish whiskey (I use Jameson Irish Whiskey), 1/2 cup fresh lime juice, and 4 cups ginger beer. Stir together the drink in a large pitcher just before serving! I do not recommend making this cocktail ahead of time since it will lose it's carbonation. Since there's only three ingredients, it's easy to throw together a few minutes before guests arrive!
is ginger beer actually beer?
No, ginger beer is not actually beer! It is a non-alcoholic drink, but it should not be confused with ginger ale. Instead of being sweet like ginger ale, ginger beer is a spicy and pungent beverage that's essential for making moscow mules!
I don't have a muddler. What can I use instead?
Instead of using a muddler, you can use the bottom of a wooden spoon instead! It's good to use in a pinch, however, if you plan to make a lot of cocktails at home, I recommend picking up a muddler.
Need some more inspiration for the St. Patrick's Day? Check out my St. Patrick's Day recipes page.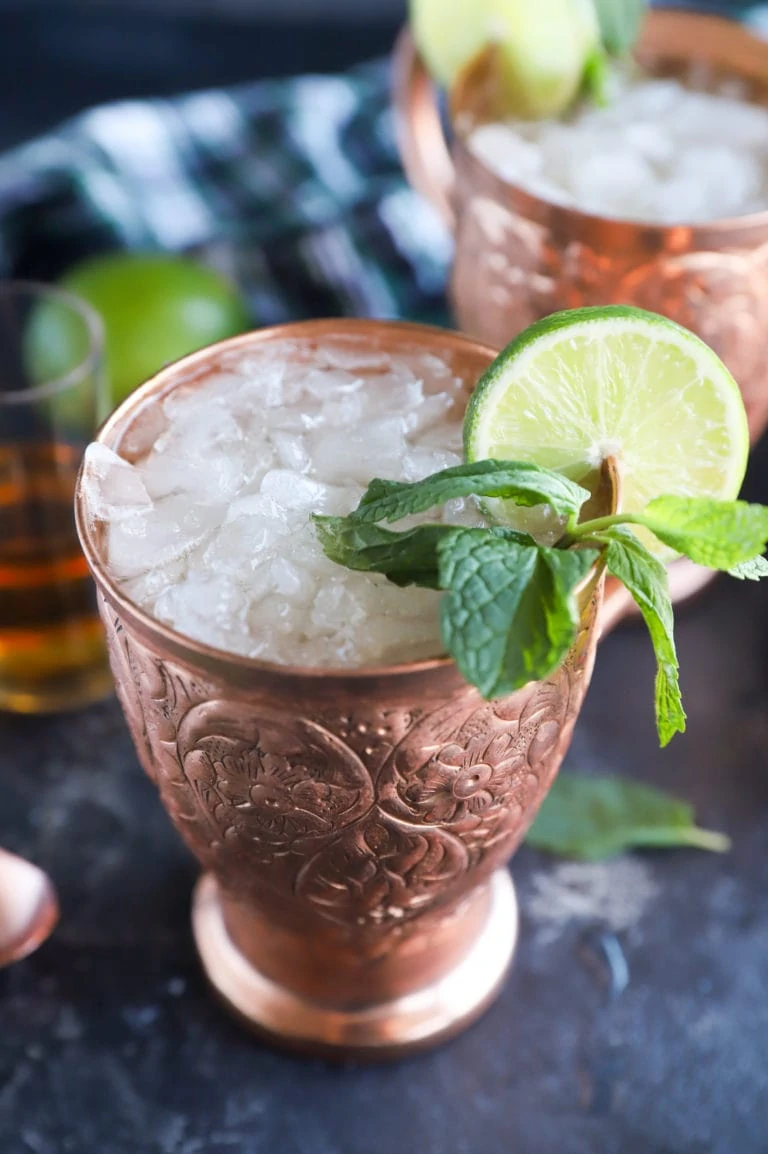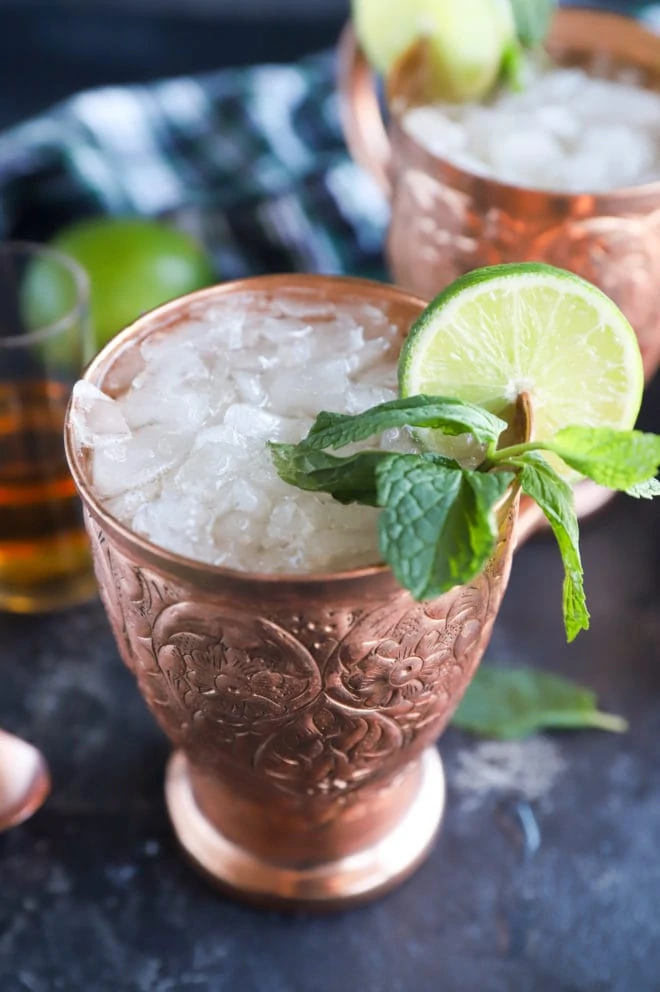 what to serve with an Irish mule
I usually gravitate towards Irish whiskey even more around St. Patrick's Day. Hey, I'm creature of habit, ok? Anyway, the sharp zest of this cocktail is primed for some seriously good eats with some heaviness to them. That's right, I'm talking about beef (both corned and not!). Here are a few favorites to try:
Instant Pot Guinness Corned Beef is how to make corned beef the easy way! Tender, juicy, and flavorful.
If you already have corned beef and need a creative way to use it, I suggest this Irish take on a Canadian classic – Corned Beef Poutine.
Just in case you want to warm up with something traditional, this Instant Pot Irish Beef Stew is warm and hearty. Perfect for serving over mashed potatoes!
If you are looking for a festive dessert to serve, here are some sweet treats to check out:
The easiest option is our four ingredients baileys fudge! It's super easy to make and only takes 15 minutes to throw together before chilling it.
If you love brownies and whiskey, this whiskey skillet brownie is super indulgent. Plus it's topped with an incredible no churn baileys ice cream!
Espresso brownie cups filled with baileys buttercream frosting are absolutely adorable and perfect for a party!
Need another mule to check out? A Kentucky Mule is a must for any bourbon lover!
For a warm cocktail that will tickle your fancy, this Irish Coffee is absolutely divine.
Finally, if you make this irish mule recipe, please be sure to give this recipe a rating or leave a comment! I love to hear when you all make recipes, and I do take the time to respond to every single comment. Feel free to drop questions below too, if you have them!
Oh and be sure to tag me on Instagram if you make the recipe! I love being able to see these recipes come to life in your homes – it's my favorite thing to look through those photos. It really means the world to me!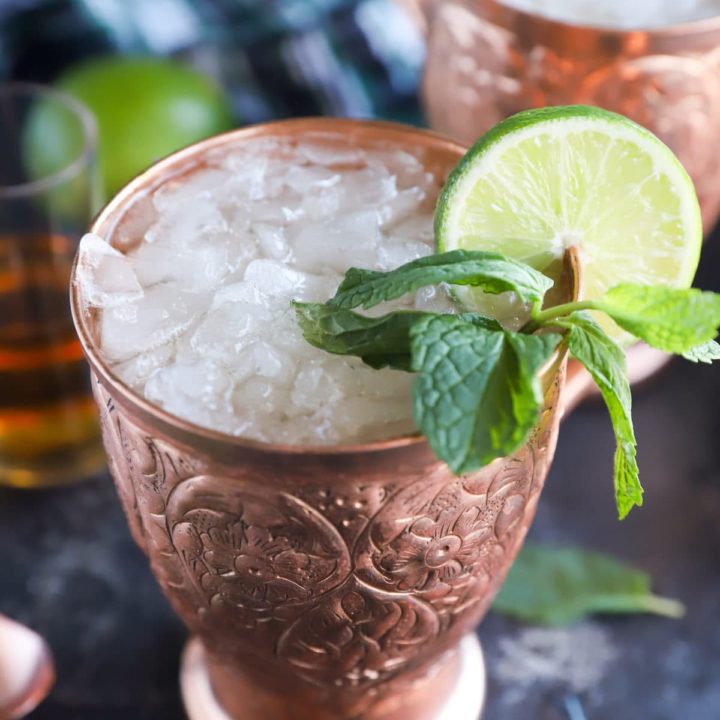 Irish Mule
The classic mule gets an Irish twist with Irish whiskey!
Ingredients
2 oz Irish whiskey
1/2 oz fresh lime juice
4 oz ginger beer
Crushed ice
Garnish: lime wedge, fresh mint
Instructions
Fill a copper mug halfway with crushed ice. Pour in Irish whiskey, lime juice, and ginger beer.
Add ice to fill the rest of the way and stir briefly. Garnish with a lime wheel and fresh mint sprig. Serve.
Recommended Products
As an Amazon Associate and member of other affiliate programs, I earn from qualifying purchases.