Please note this post contains affiliate links.
Corned Beef Poutine is an Irish take on my favorite way to eat fries! Made with a Guinness gravy and cheese curds, this savory dish is a one-two punch of flavor. It's impossible not to feel lucky when you chow down on this!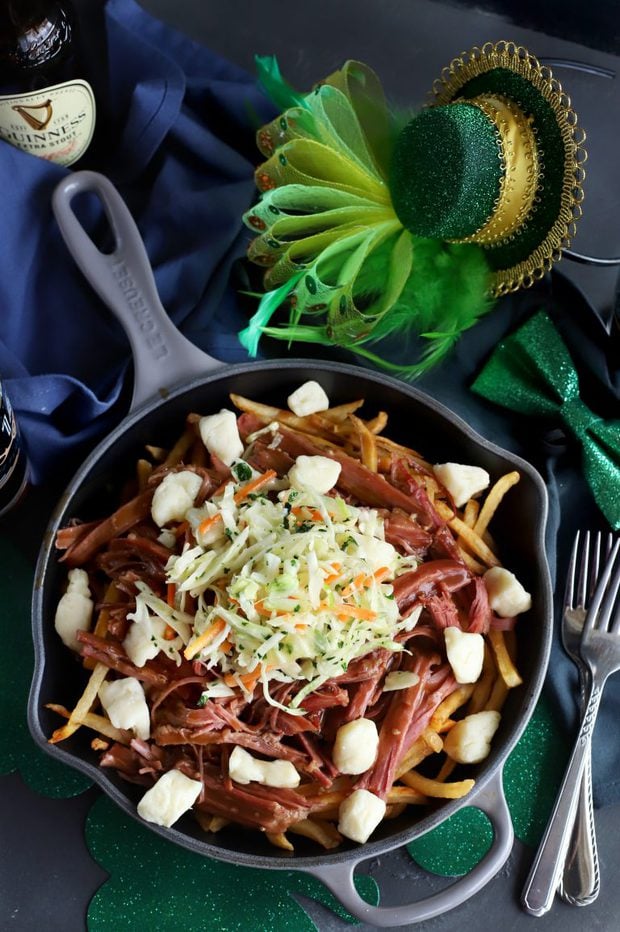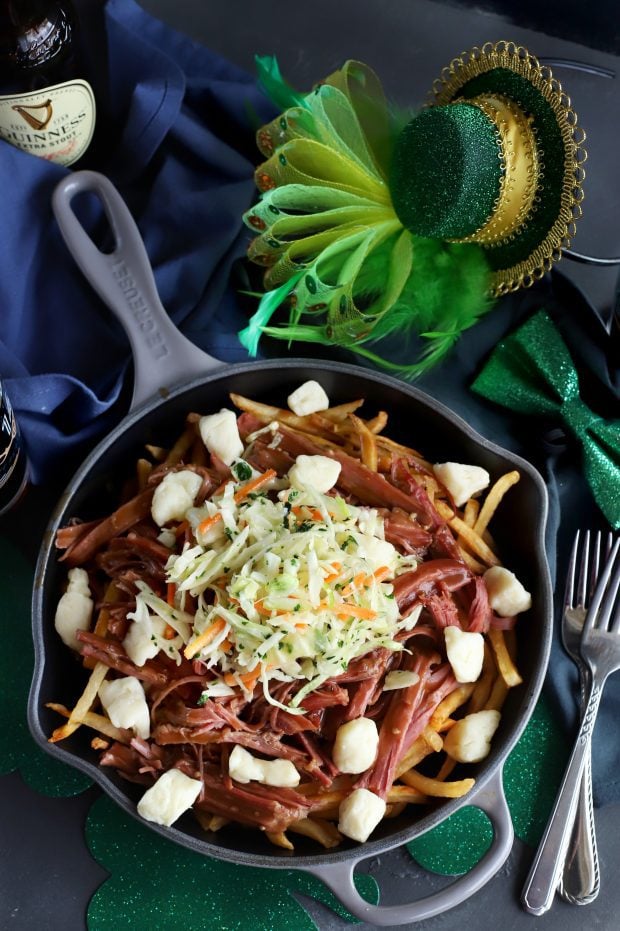 Please note that some of the links below are affiliate links. If purchases are made via these links, I will receive a small commission.

When you think of St. Patrick's Day, what do you think of?
For me, I always think of Guinness.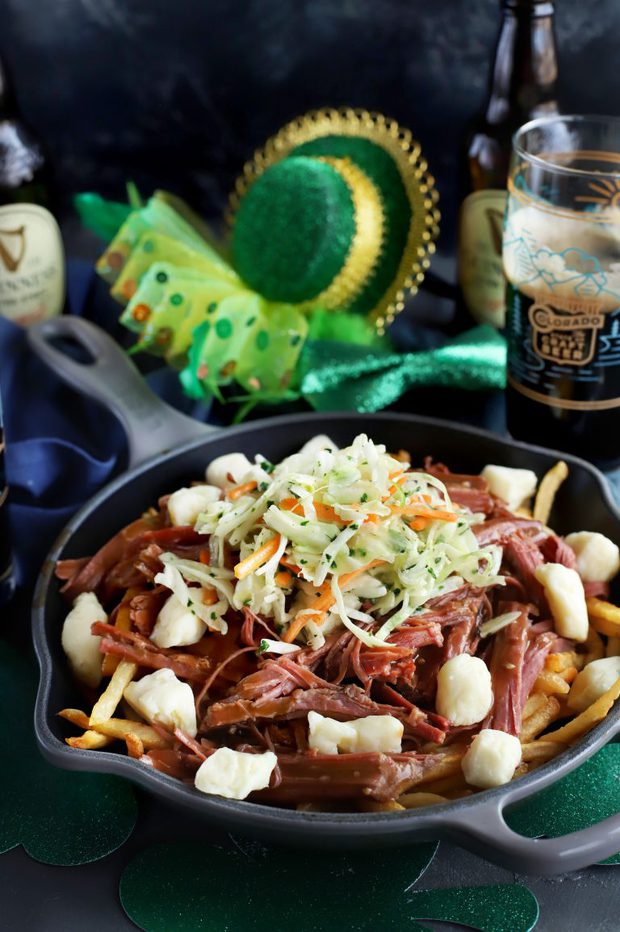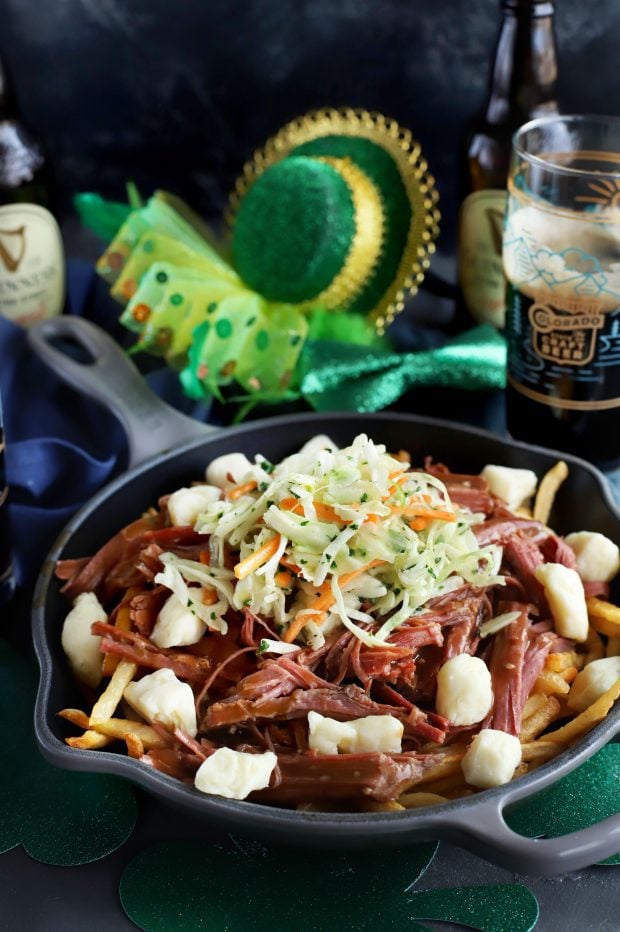 Perhaps it's because the first time I had Guinness was actually on St. Patrick's Day. I was in my senior year of college, and we were in a crowded bar with a young group of girls doing Irish step dancing on stage.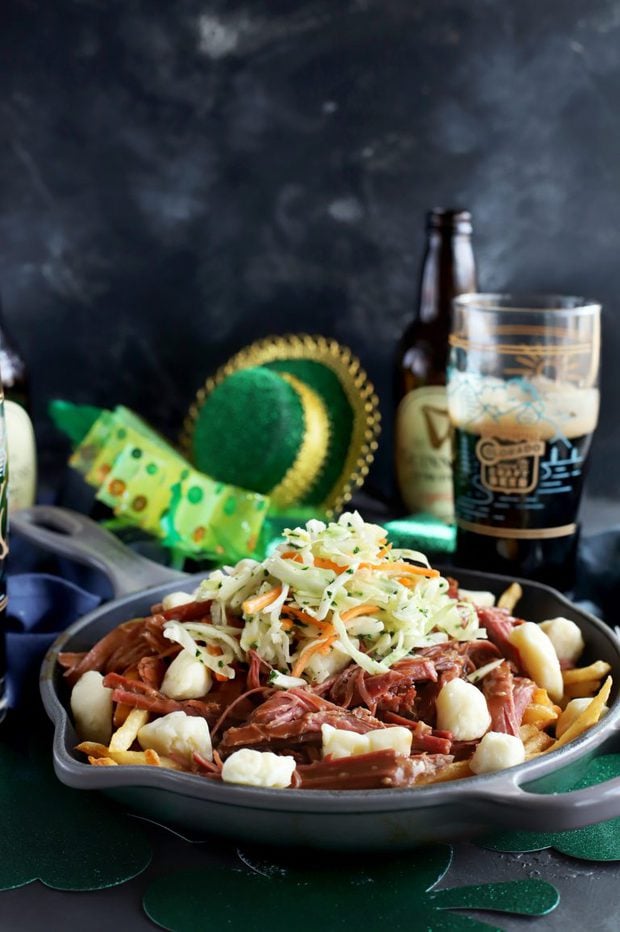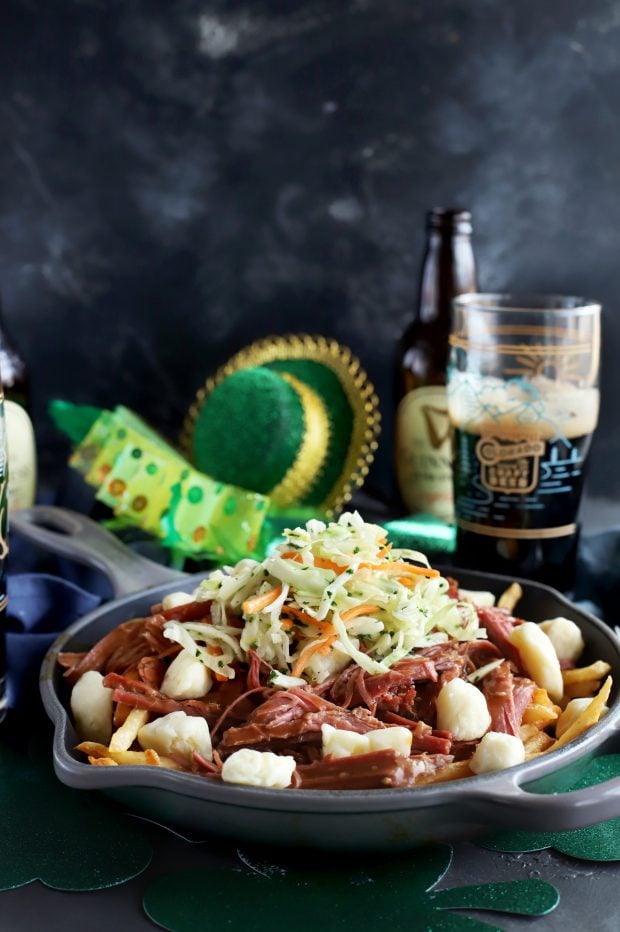 The place was packed and apparently they had run out of green beer (yes, I did drink green beer back then. I hated it but I didn't know anything different, and I really didn't want to give any guy any excuse to pinch me on St. Patrick's Day…).
So my friend ordered me a Guinness and I tried it. It was like drinking a milkshake, but beer. I remember the creamy top, the rich and hearty flavor, and feeling like I was drinking something truly decadent.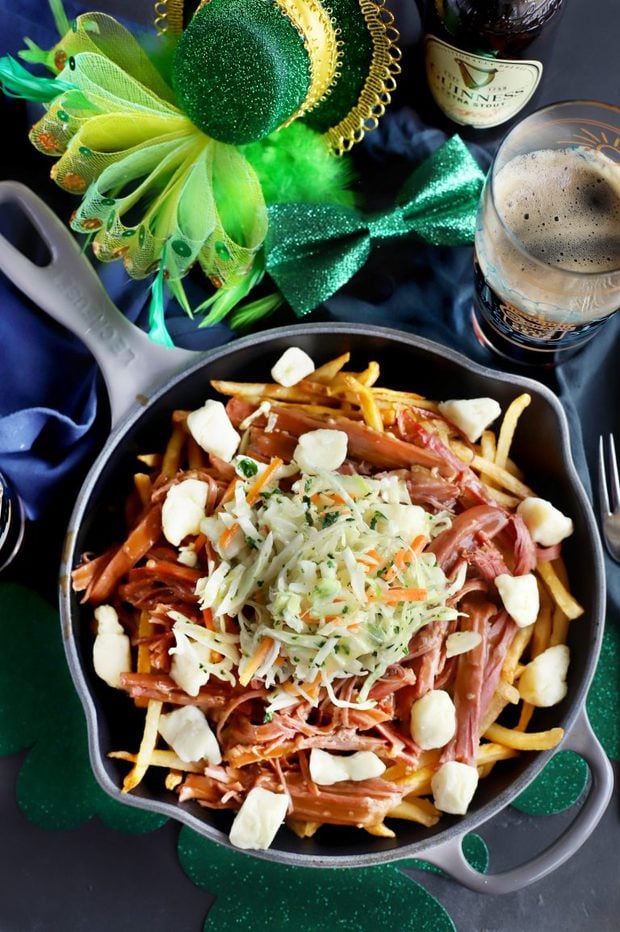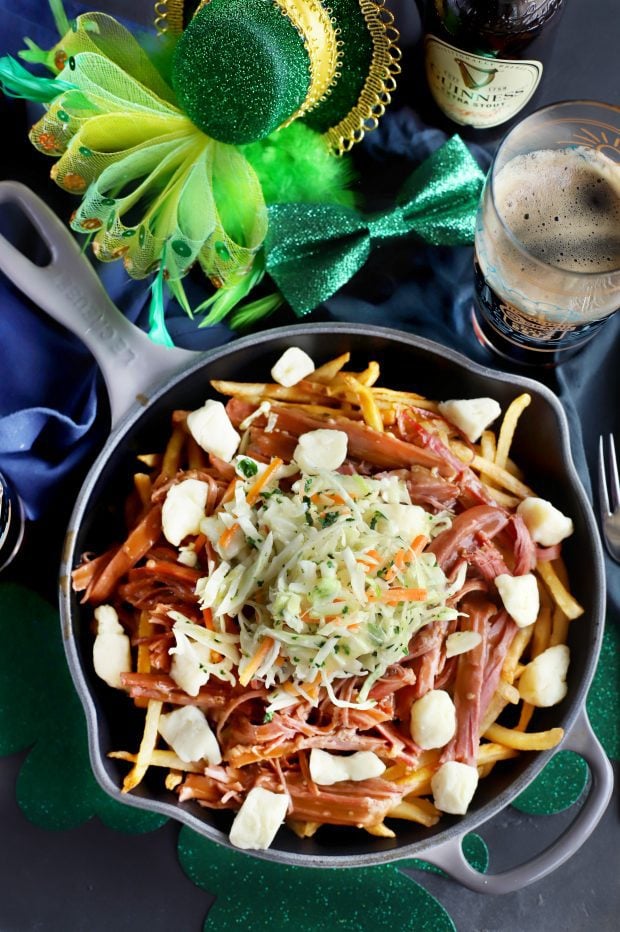 As an adult, for some reason Guinness only appeals to me in one way now – in food.
I tried this Guinness gravy once in Ireland and it's been on my mind ever since. The flavor just popped in a unique way, and over mashed potatoes… Well it was freaking life-changing.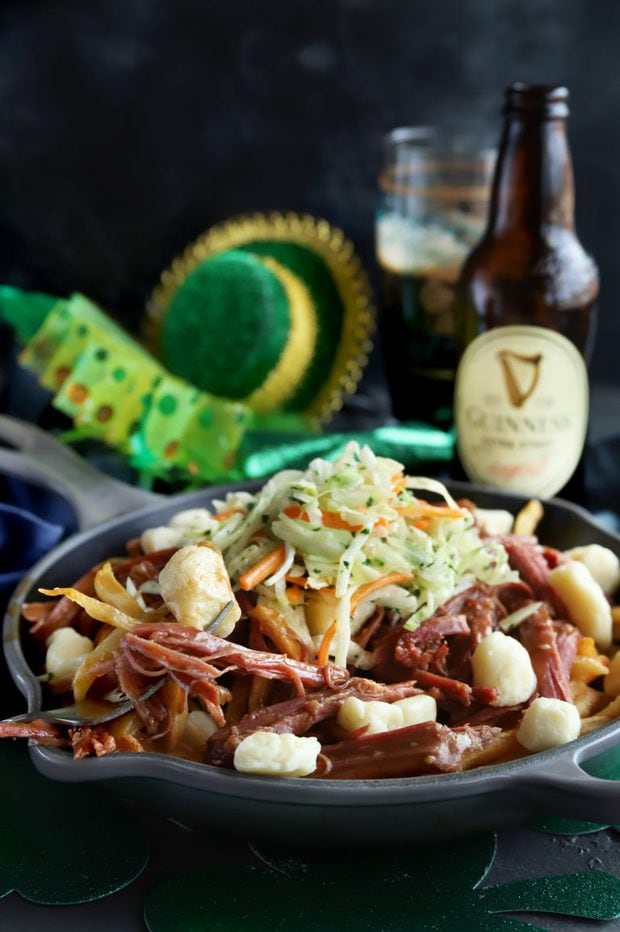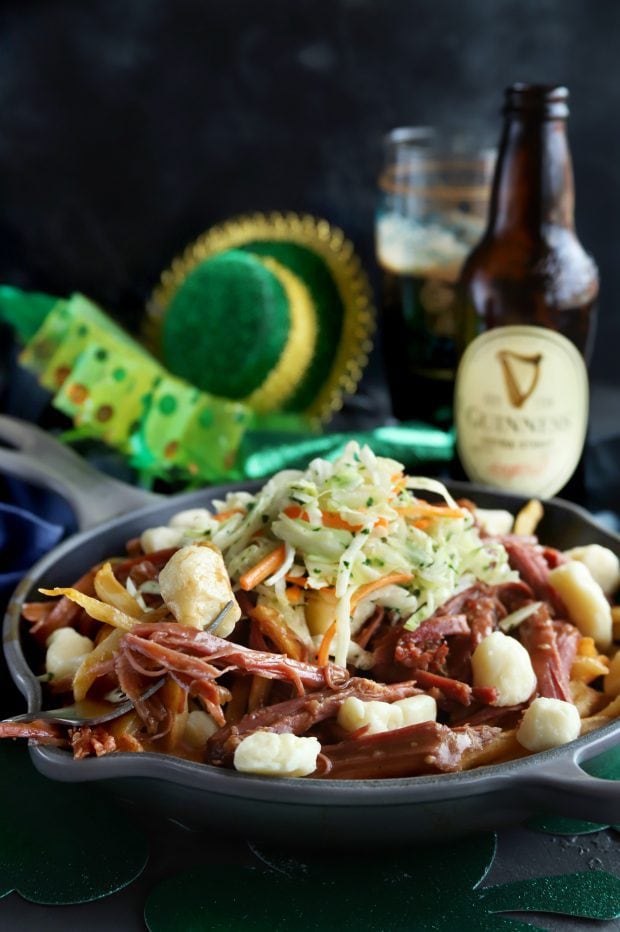 Every year as I prepare for St. Patrick's Day with Irish-themed recipes, I always try to think of a way to make Guinness gravy work.
This year, it finally hit me. CORNED BEEF POUTINE.
GAH. Genius, am I right?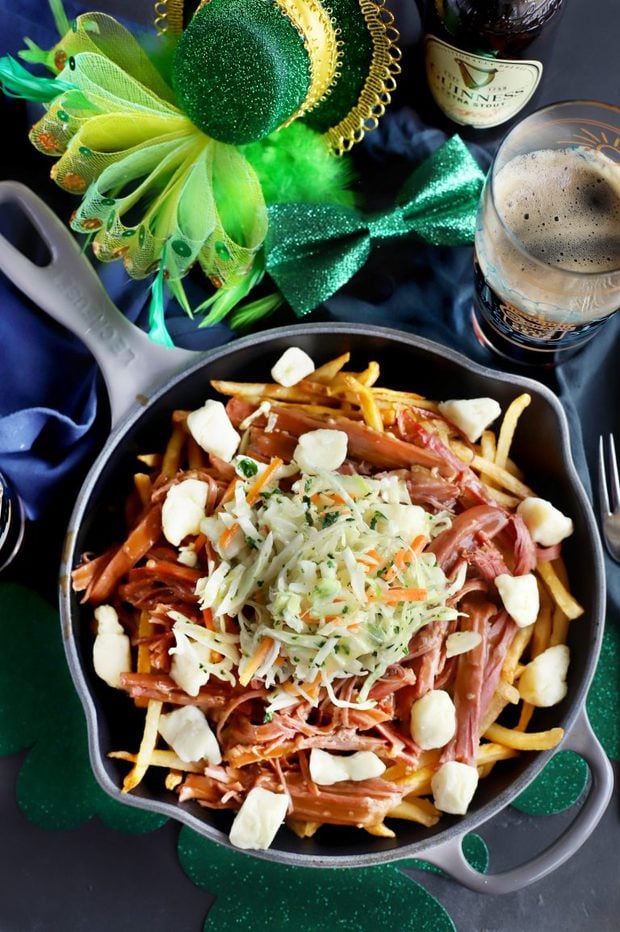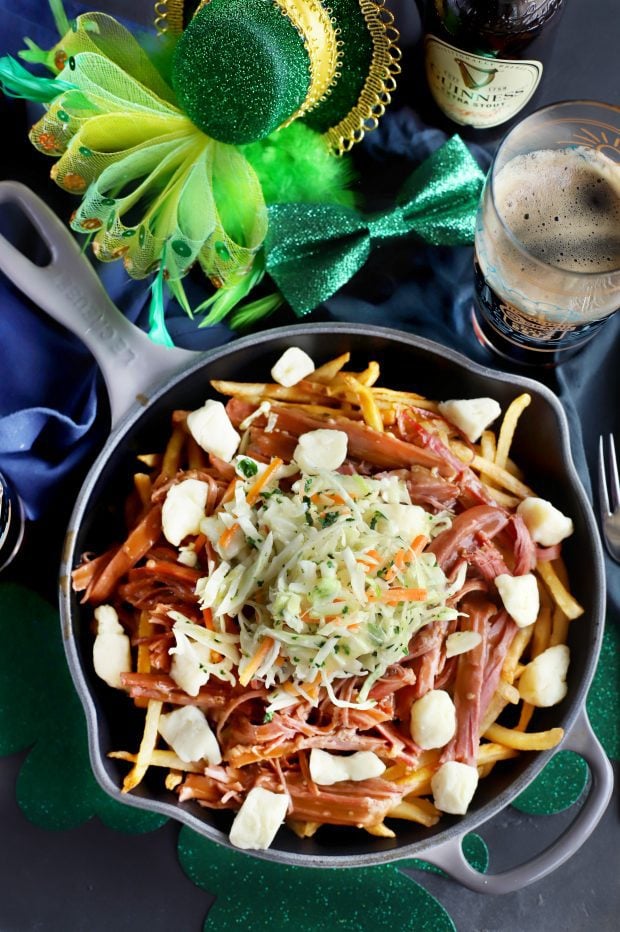 It's the perfect dish for that ladleful of saucy goodness. You start with your favorite fries (homemade or frozen, I won't judge), then you top it with a bunch of corned beef (I bought mine at the store and cooked it in the Instant Pot!).
After that, everything gets a good soak in the Guinness gravy. Finish it all off with a quick slaw for some crunch and the classic cheese curds. BOOM.
You've got the best meal to celebrate the good ol' luck of the Irish with!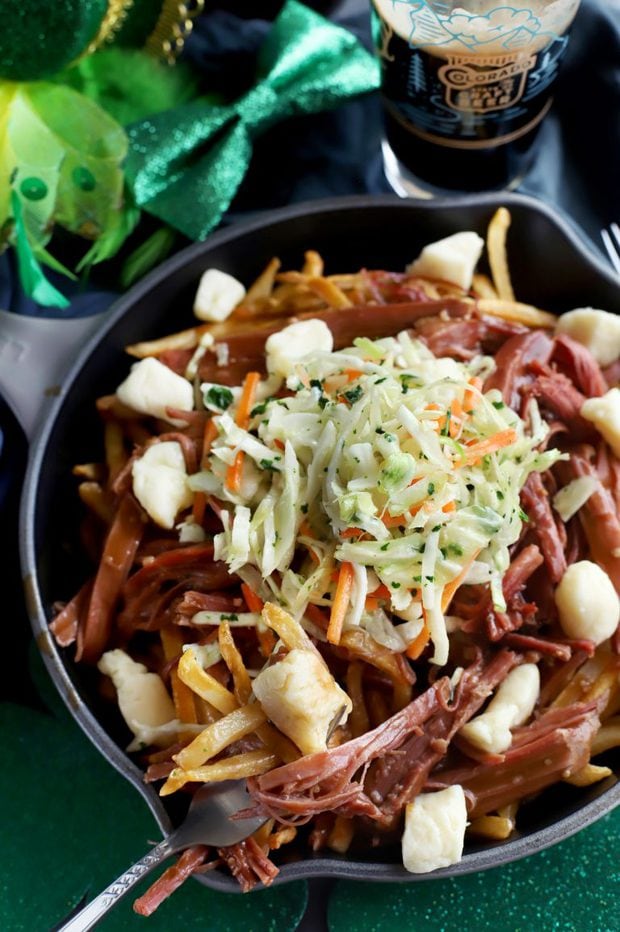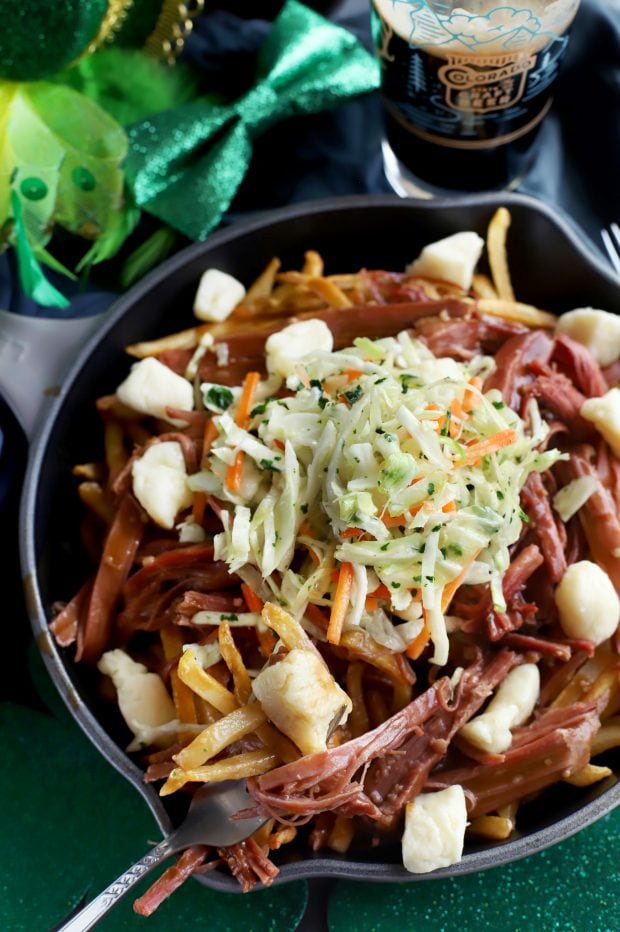 It also makes for killer leftovers when warmed up the next day. You know, when you are hungover AF and just need something carb-loaded to make your belly feel better?
Just be sure to remove the slaw before heating it up. No one likes warm slaw. Just to be clear.
What are your plans for St. Patrick's Day? Tell me in the comments below!
Want a sweet treat to pair with this recipe? Baileys fudge is only four ingredients and easy to make!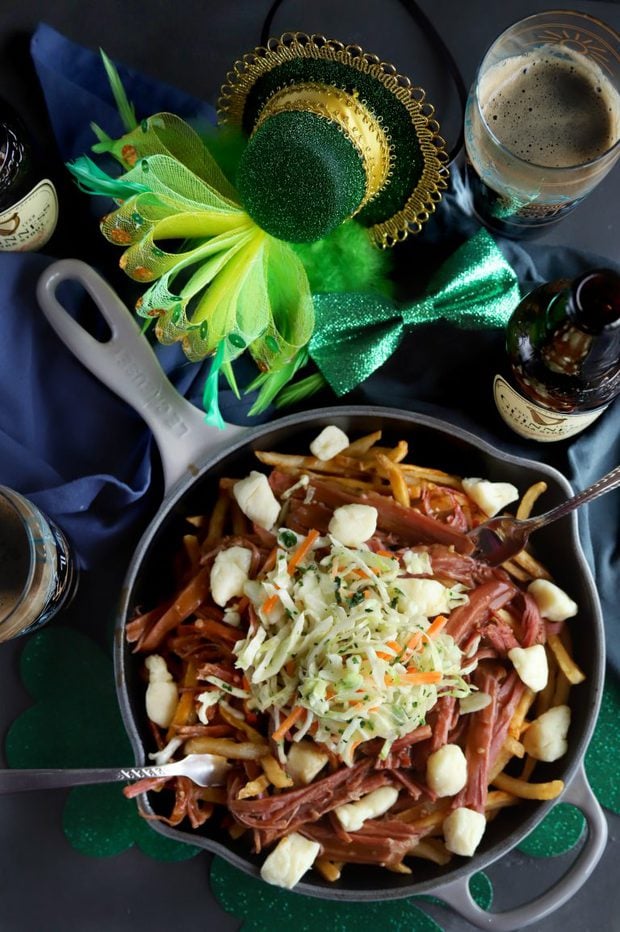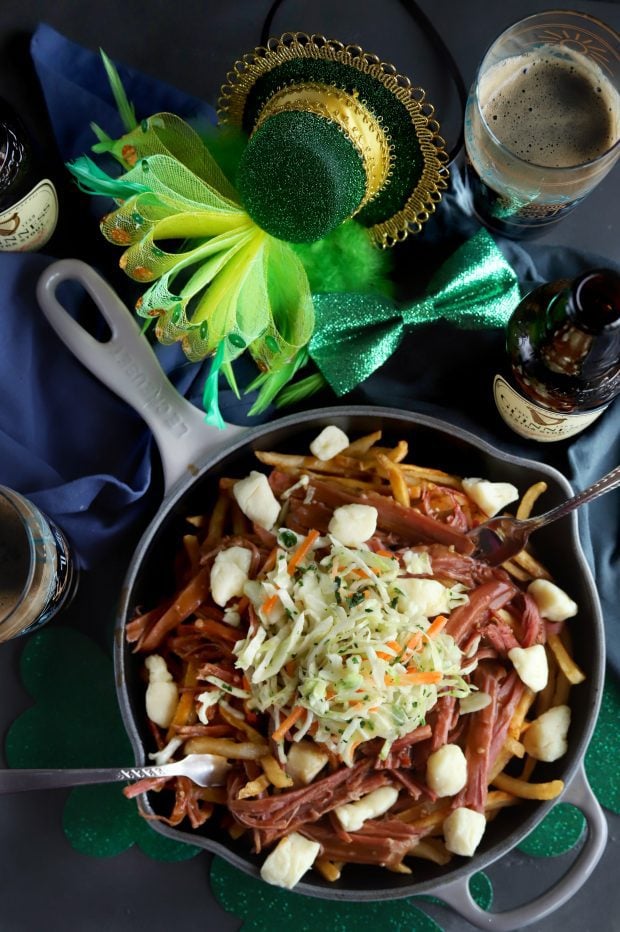 This Recipe's Must-Haves
To make the gravy, I love to use this All-Clad SS Copper Core 5-Ply Bonded Dishwasher Safe Saucepan because it retains the heat and cooks the gravy well.
I also like to reach for a sturdy OXO SteeL 9-Inch Better Wire Whisk to pull the roux for the gravy together.
For the coleslaw, a set of Stainless Steel Mixing Bowls is a must. I swear I use these things every single day in the kitchen.
Personally, I think this dish looks awesome in a cast iron skillet. The one pictured is Le Creuset, but if you want something more budget-friendly, check out this Lodge 12 Inch Cast Iron Skillet.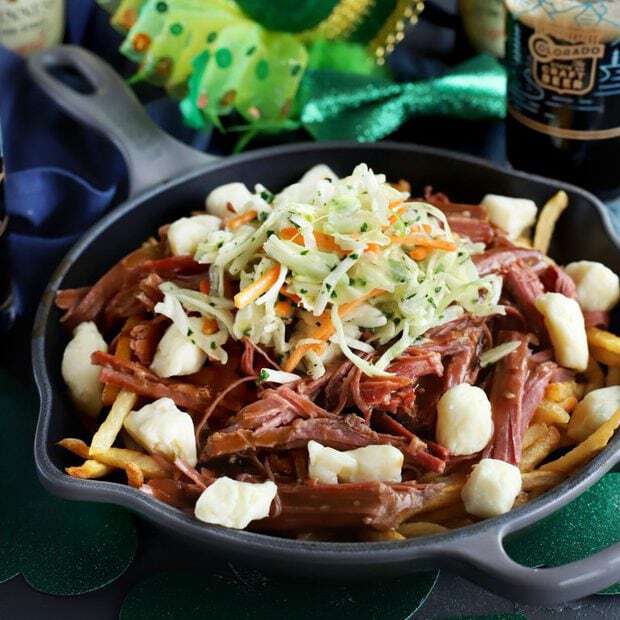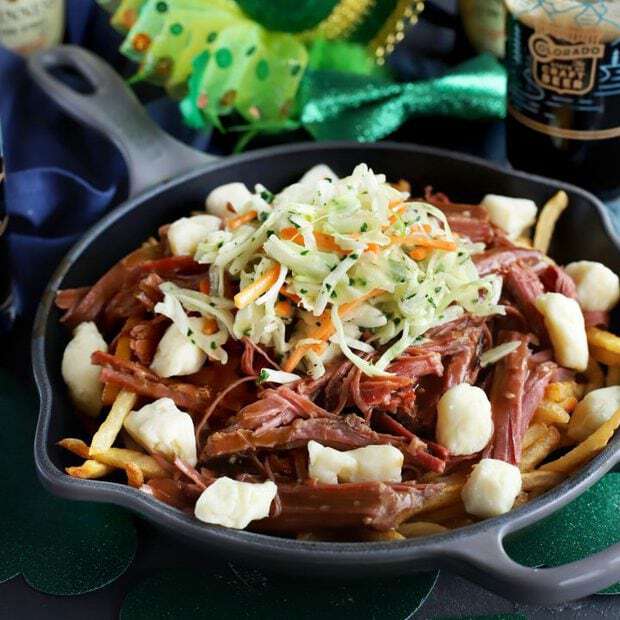 Corned Beef Poutine
Celebrate the luck of the Irish with this St. Patrick's Day themed poutine recipe. The Guinness gravy is the best part!
Ingredients
Gravy
2 Tbsp unsalted butter
2 Tbsp flour
2 cloves garlic, minced
2 cups Guinness Stout
1/2 tsp Worcestershire sauce
1 1/2 Tbsp ketchup
3/4 tsp salt
1/2 tsp black pepper
1/2 tsp granulated sugar
Poutine
3 lbs cooked French fries, warmed (whatever you want based on size preference!)
1 1/2 cups cooked corned beef, chopped and warmed
1 cup cheese curds
Quick Cabbage Slaw
1 1/2 cups cabbage slaw mix
1 Tbsp olive oil
1 Tbsp freshly chopped cilantro
2 tsp lime juice
Salt and pepper
Garnish: freshly chopped parsley
Instructions
Melt butter in a medium saucepan over medium-high heat. Stir in flour until the mixture is smooth.
Stir in garlic and cook until fragrant, approximately 1 minute. Add Guinness, Worcestershire, ketchup, salt, pepper, and sugar. Bring the mixture to a boil, stirring occasionally, until thickened, approximately 6 minutes. Season with additional salt and pepper to taste.
Cover gravy and keep warm on low heat until ready to serve.
In a large bowl, mix together all ingredients for the slaw.
Place fries on serving platter or in skillet. Top fries with corned beef, gravy, and cheese curds.
Pile up slaw in the center and garnish with a sprinkle of freshly chopped parsley.
Recommended Products
As an Amazon Associate and member of other affiliate programs, I earn from qualifying purchases.