Please note this post contains affiliate links.
Instant Pot Guinness Corned Beef is an easy way to make corned beef for St. Patrick's Day! Tender, juicy, and flavorful, this simple recipe is comforting and fantastic for entertaining! Serves 6 to 8.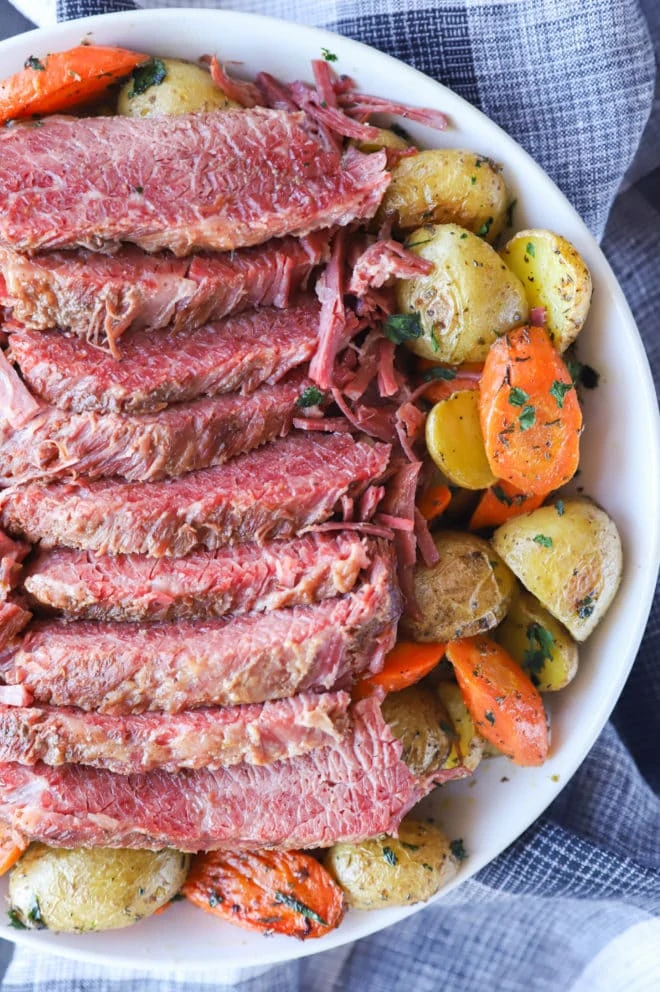 about this instant pot guinness corned beef
One of the signature dishes I think of when I think about St. Patrick's Day is corned beef.
Well, really anything that goes with Guinness to be honest.
So since we know we want Guinness and we know we want corned beef, let's just add them together!
This recipe is fab because it takes a lot of the hours of work out of the traditional recipe to cook corned beef, not to mention cutting down the time it takes. There's no dutch oven involved! It's hassle-free and has pretty much no prep time. All you have to do is add the ingredients to the pressure cook and cook. That is IT. Making corned beef shouldn't be difficult!
The corned beef cooks in the flavorful broth, soak in all that goodness to make it fork tender and falling apart (just like you can see in these pictures! And if I can't get perfect slices because it's too tender to hold together, well, I'm not going to complain now am I?).
Not to mention, any leftovers you have are KILLER on a reuben sandwich the next day. Heck, you can even add it to your avocado toast with a runny egg! Or perhaps a corned beef hash? The options are endless!
Maybe I should make a reuben eggs benedict? Is that too crazy? Share your thoughts in the comments below please!
This corned beef goes with so many sides (I have some personal favorites called out towards the end of this post!) and it really makes you get in the Irish mood!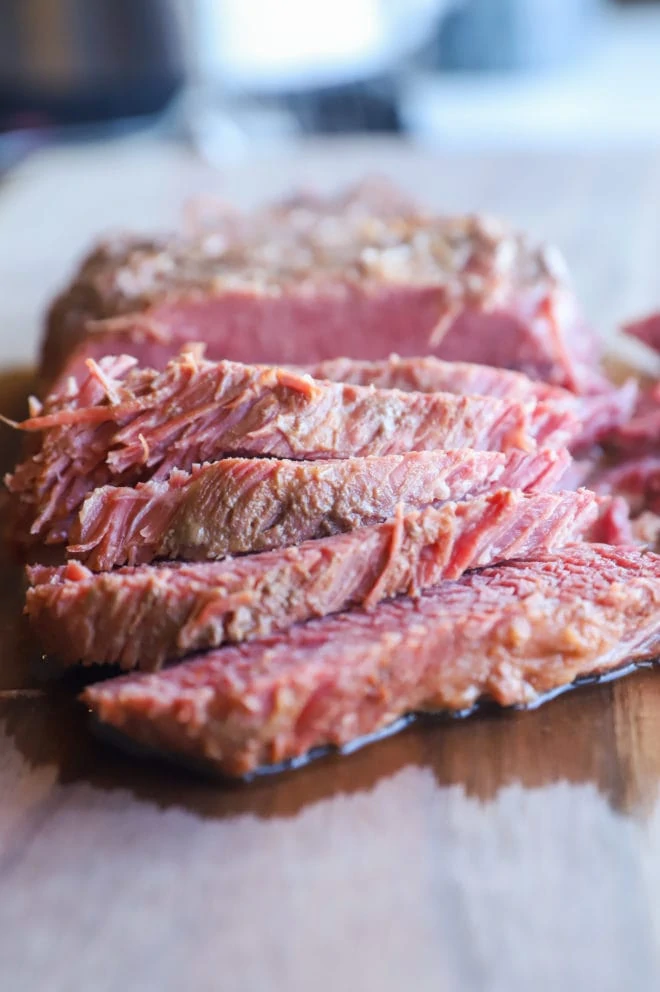 ingredients
corned beef – I look for a brisket cut – either flat or point cut. See my notes below under the "tips for success" section on how to select your corned beef brisket.
beef broth – store-bought or homemade!
Guinness – just the standard Guinness stout will do here. I would not recommend using any of the varietals they make like the Extra Stout or Blondes.
onion – you can use either a white or yellow onion for this recipe. Do not use red onion.
garlic – usually I am always using minced garlic, but since this is made in the Instant Pot and the garlic is discarded, you will want to use the whole, peeled cloves here.
bay leaves – I love the added flavor bay leaves impart to the mixture.
worcestershire – to create some depth and tang with the other ingredients in the cooking liquid.
brown sugar – you can use either light or dark brown sugar for this recipe.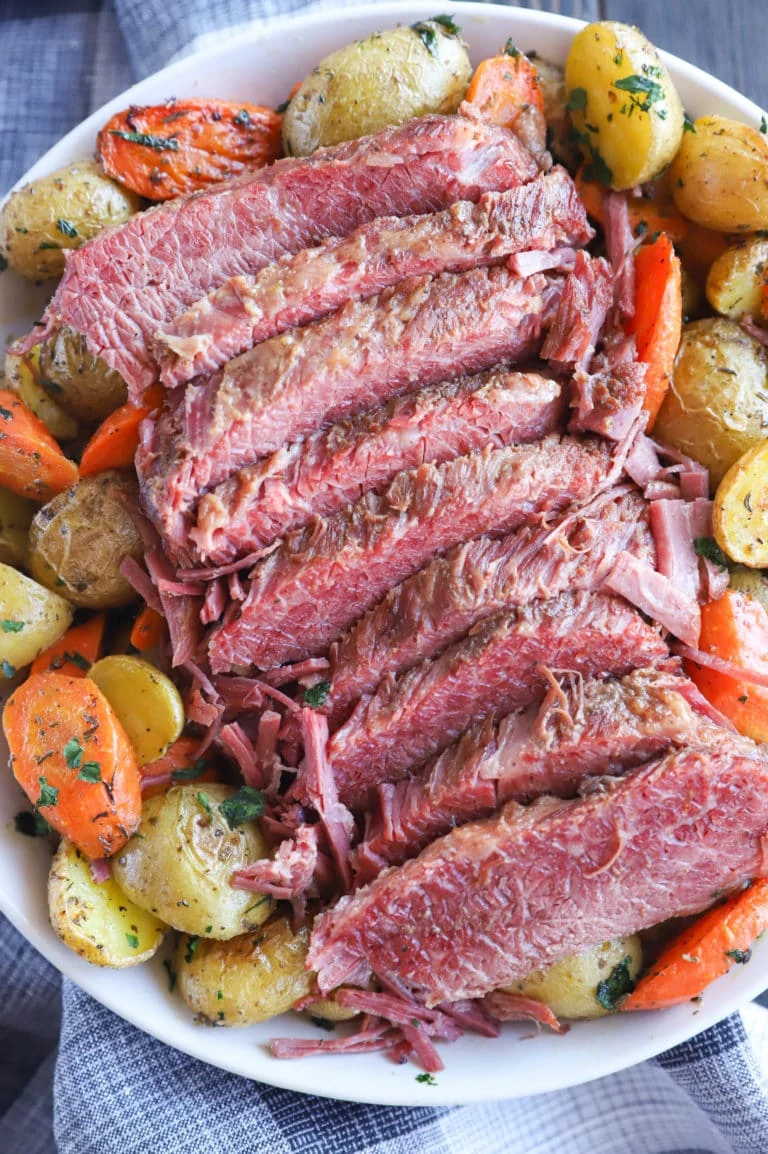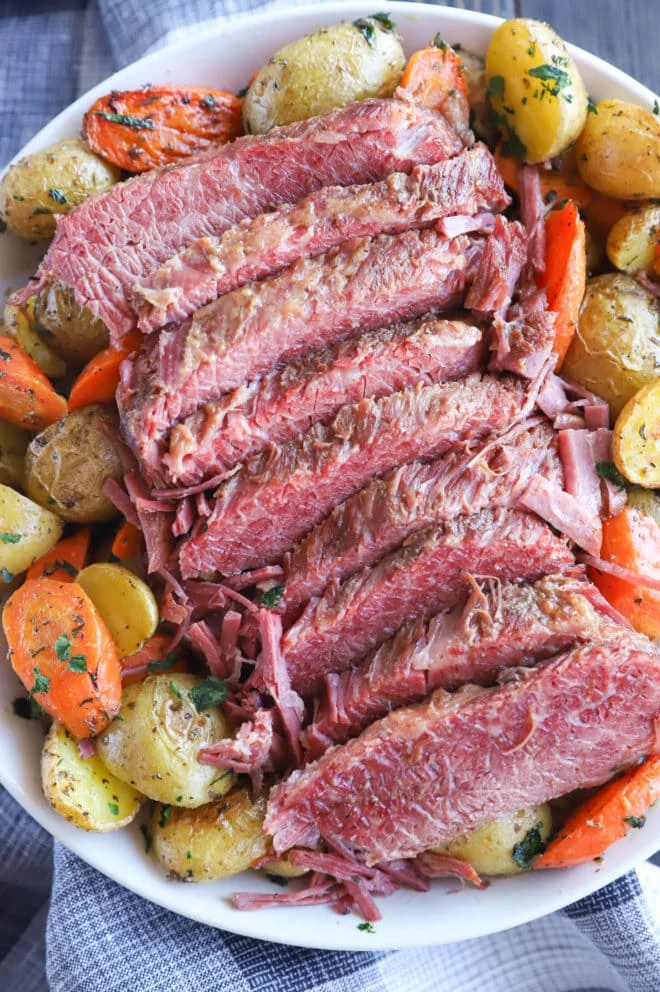 this recipe's must haves
For this recipe, obviously you will need an Instant Pot! I have the Instant Pot Ultra, but the Instant Pot Pro is a great intro model that is less expensive. Or if you are into the black appliances, check out this Instant Pot Duo!
You'll also need a butcher knife to carve the finished tender corned beef and a cutting board.
here's how to make guinness corned beef
pressure cook
Add all ingredients to the insert of the Instant Pot. Give everything a quick stir, then close and seal the lid.
Cook on High pressure for 90 minutes. Let pressure naturally release for 10 minutes before manually releasing the remaining pressure.
slice
Remove the cooked corned beef from the pressure cooker. Place on a cutting board. If you are waiting to slice and serve, cover it loosely with aluminum foil and prepare the rest of your meal.
When ready, be sure to cut corned beef against the grain in thick slices, or shred if you prefer. Serve warm.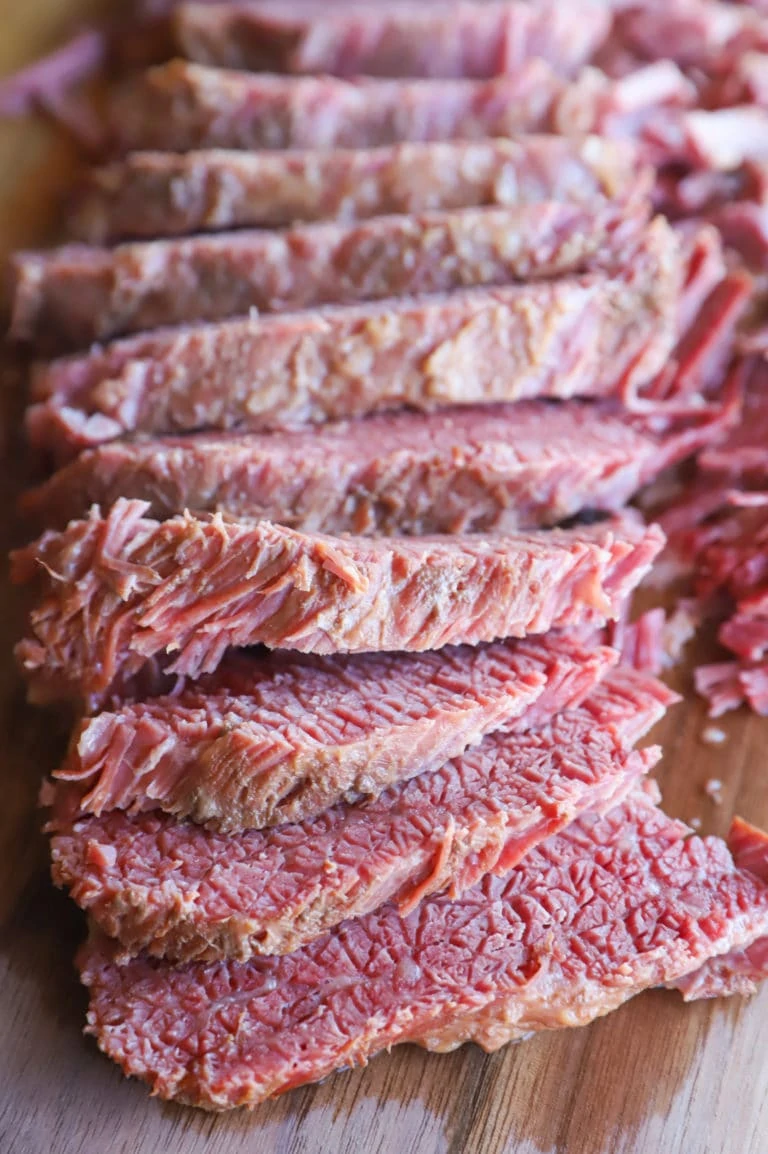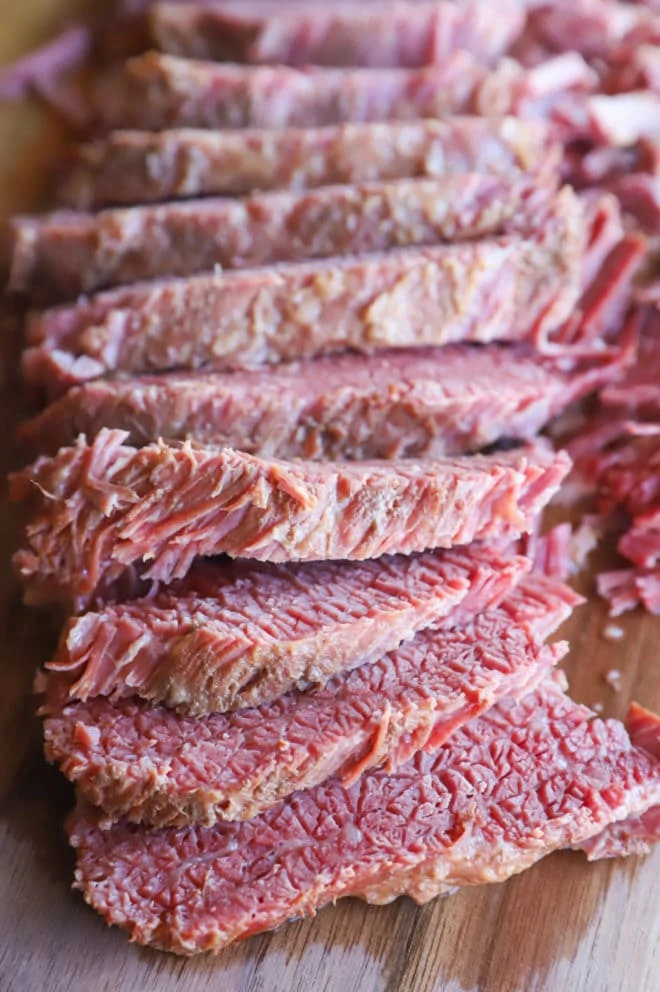 tips for success
How to buy corned beef. You shouldn't have a problem finding corned beef in March! There's either the flat cut brisket or the point cut. In this recipe, I used the flat cut brisket, but you can also use the point cut if that's all that is available to you. Point cuts just have a bit more fat, which means it can be even more tender.
Cut against the grain. When you slice corned beef, it's important to slice against the grain. To do this, look at your cooked meat and notice how the strands of meat lay in one direction. Cut against that grain at a perpendicular angle. This will help the meat be tender and not fibrous when you eat it. If your meat starts gently falling apart on the ends, you'll know you are doing it the right way!
Other St. Patrick's Day recipes to explore: Jameson Manhattan | Instant Pot Irish Beef Stew | Short Rib Guinness Beer Cheese Soup | Bailey's Chocolate Chip Bundt Cake
what about the seasoning packet?
Sometimes your corned beef brisket will come packaged with a seasoning packet. If it does, just add it in! All it will do is add more flavor to the meat, and that's never a bad thing.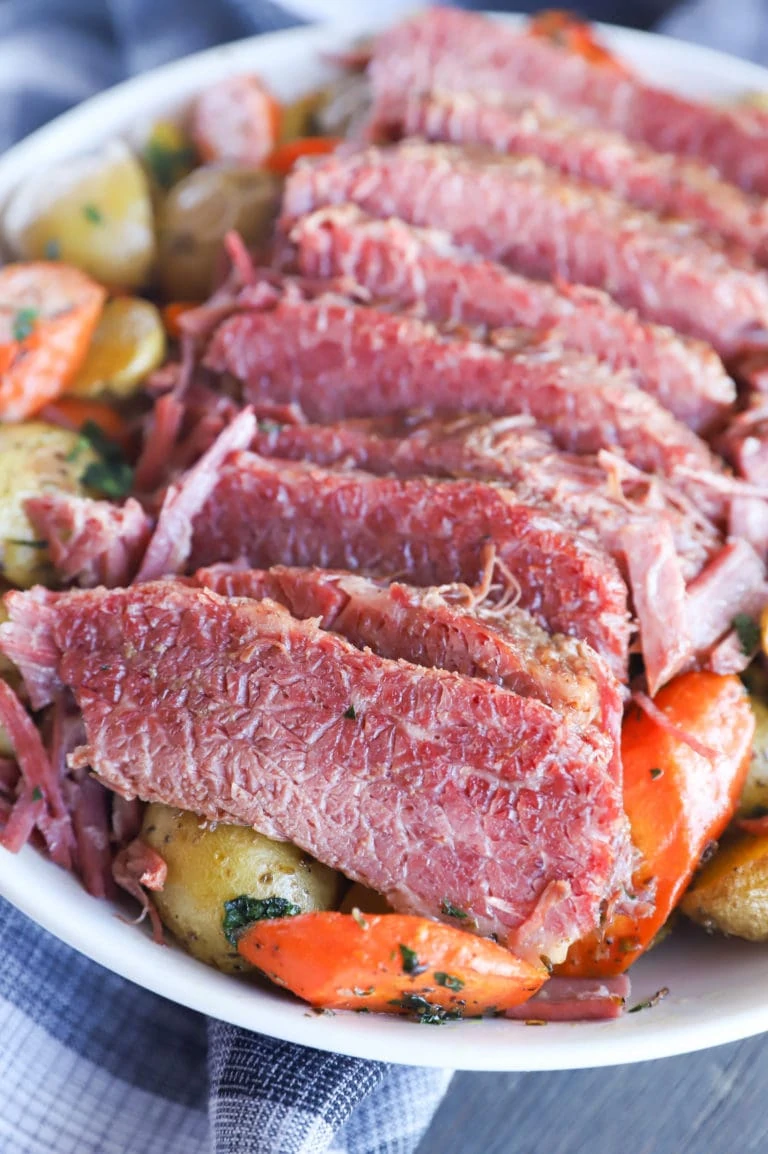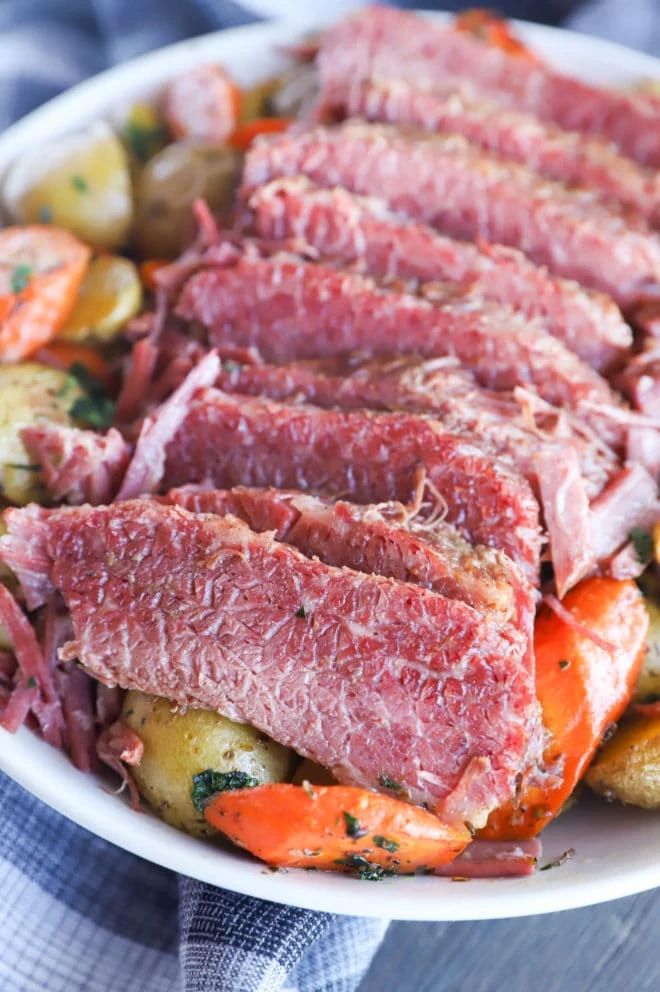 what beer is best for corned beef?
Guinness beer (or another Irish stout if you prefer a different brand) gives a big, bold flavor alongside the beef broth in this recipe. The flavor is dark and rich, while also helping the meat become more tender.
what can I substitute for beer in instant pot corned beef?
If you are sober or prefer not to cook with alcohol, you can simply swap in more beef broth instead of the Guinness!
what about the cabbage?
For me, the whole corned beef cabbage combination was never really up my alley. I went on a cabbage soup diet once in college and it's kind of ruined cabbage for me… Fad diets are never the solution!
If you have to have cabbage alongside this corned beef, I recommend trying this braised cabbage recipe. It's my mom's favorite so I trust it!
However, if you really want to get potatoes and cabbage in the mix, you can totally do that! After the corned beef is cooked, add cabbage (one head cut into wedges) and red potatoes (quartered) to the pressure cooker. Close the lid and cook on high pressure for an additional 4 to 5 minutes. Release pressure manually as soon as the timer goes off!
Need some more inspiration for the Instant Pot? Check out my Instant Pot recipes page!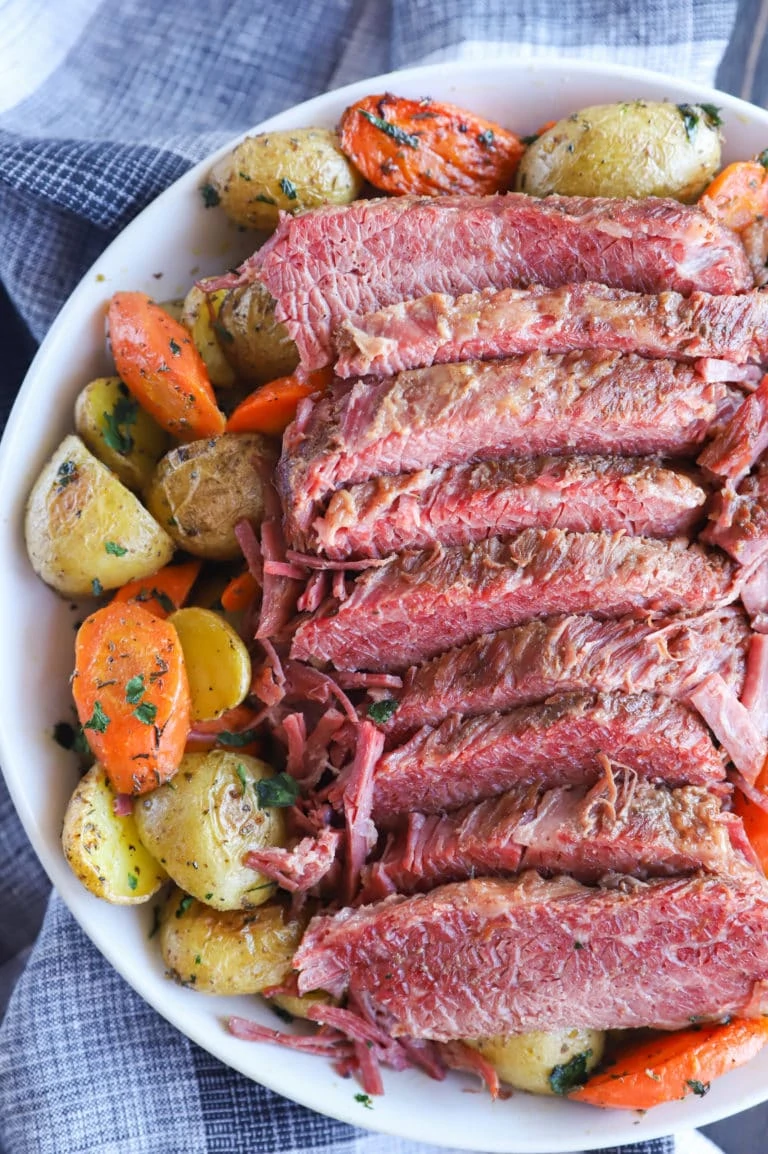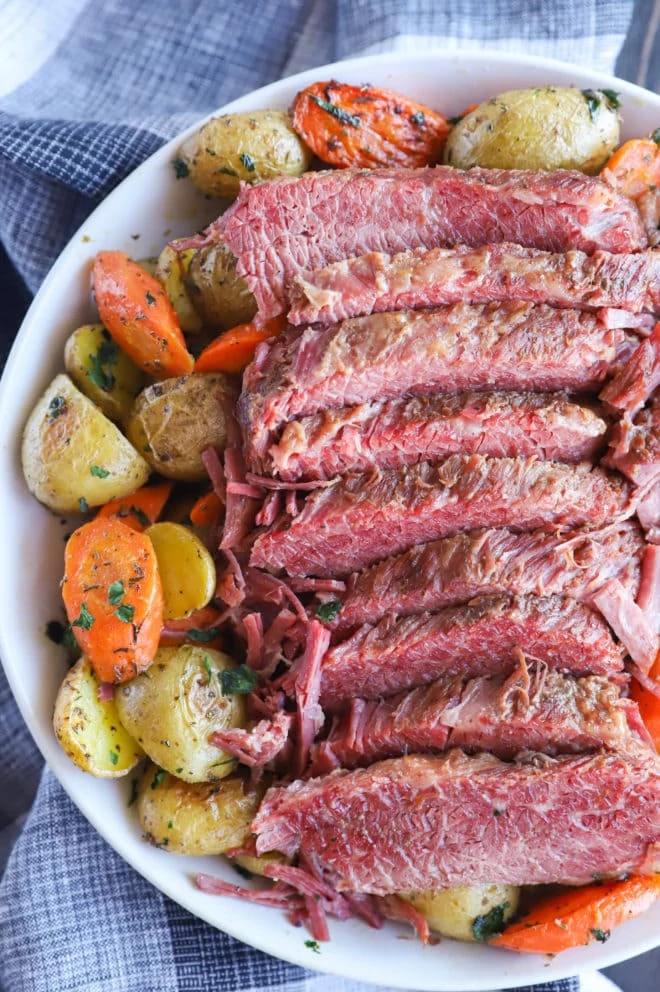 what to serve with guinness corned beef
When I think of corned beef in Guinness I am always thinking of something warm and comforting on the side. For me, this usually means some sort of potatoes since I'm not the biggest fan of the classic corned beef and cabbage combination.
Oh and don't forget dessert! Make a batch of this easy baileys hot fudge sauce to make ice cream sundaes. To close out the meal, a scotch coffee with a big ol' dollop of fresh whipped cream is the ideal way to end the evening!
Want to really go authentic with your flavors? Try one of these essential Irish whiskey cocktails to pair with this meal!
how to store and reheat
Cool the corned beef and store in an airtight container in the refrigerator for 3 to 4 days.
To reheat, wrap the meat in aluminum foil and place on a baking sheet. Reheat at 355˚F in the oven for about 5 minutes, or until warmed through.
Finally, if you make this instant pot guinness corned beef, please be sure to give this recipe a rating or leave a comment! I love to hear when you all make recipes, and I do take the time to respond to every single comment. Feel free to drop questions below too, if you have them!
Oh and be sure to tag me on Instagram if you make the recipe! I love being able to see these recipes come to life in your homes – it's my favorite thing to look through those photos. It really means the world to me!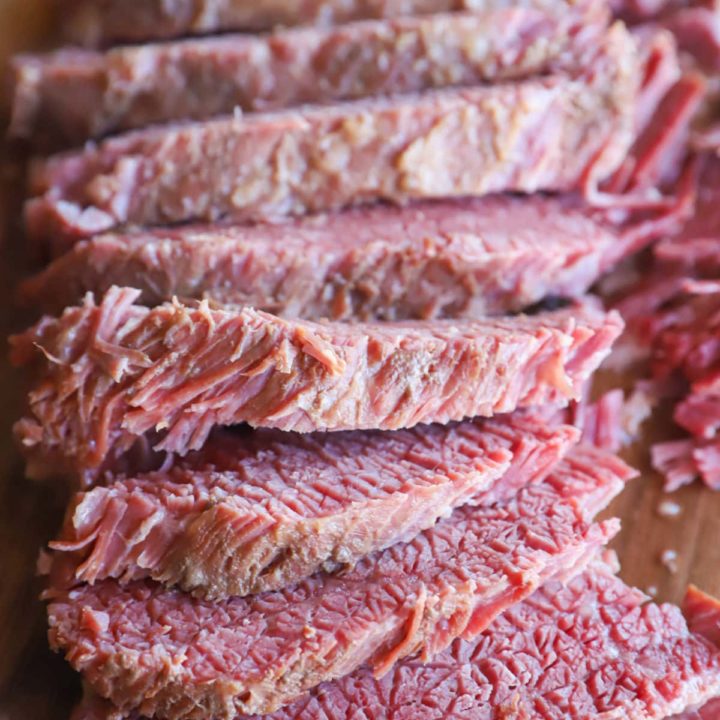 Instant Pot Guinness Corned Beef
Cook Time:
1 hour
30 minutes
Additional Time:
10 minutes
Total Time:
1 hour
45 minutes
Tender and juicy corned beef is made easy with the help of the Instant Pot!
Ingredients
3 lbs marinated uncured corned beef flat brisket
4 cups beef broth
12 oz Guinness
1 large onion, peeled and quartered
4 cloves garlic, peeled
2 bay leaves
1 tablespoon Worcestershire sauce
1/4 cup brown sugar
Instructions
In the insert of your electric pressure cooker, add the corned beef, beef broth, Guinness, onion, garlic, bay leaves, Worcestershire sauce, and sugar.
Close and seal the lid. Cook on High pressure for 90 minutes. Allow pressure to naturally release for 10 minutes, then manually release any remaining pressure.
Remove the corned beef from the pressure cooker and transfer to a cutting board. Slice and serve.
Recommended Products
As an Amazon Associate and member of other affiliate programs, I earn from qualifying purchases.