Please note this post contains affiliate links.
The ultimate comfort food for St. Patrick's Day has to be this Instant Pot Irish Beef Stew. Warm, hearty, and rounded out with some Guinness, it is one of my favorite stews to serve over mashed potatoes. Pair it with more Guinness or your favorite cider!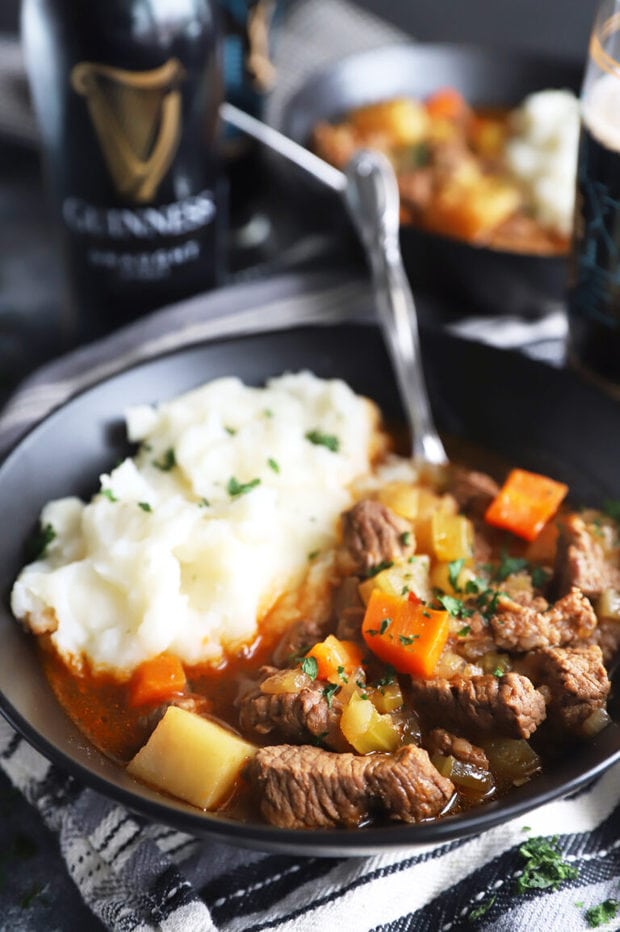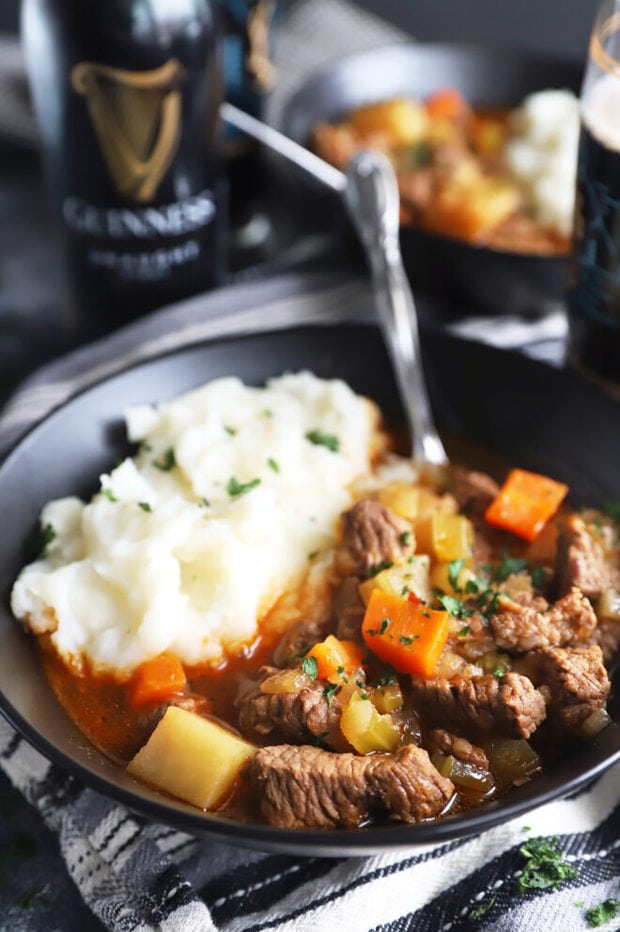 A meaty, hearty stew is what really feeds my soul, no matter what the temperature might be outside.
The first time I tried Irish stew was actually IN Ireland. Pretty lucky, if I do say so myself.
It was on a tour of Ireland that would take me to the gorgeous Cliffs of Moher. Halfway through there was a stop at a small pub that included a lunch of Irish beef stew. This was at a time when I didn't really LOVE soup and stew, but it was the one thing on the menu that sounded delicious at the time (probably because it came with a huge thing of bread and butter…).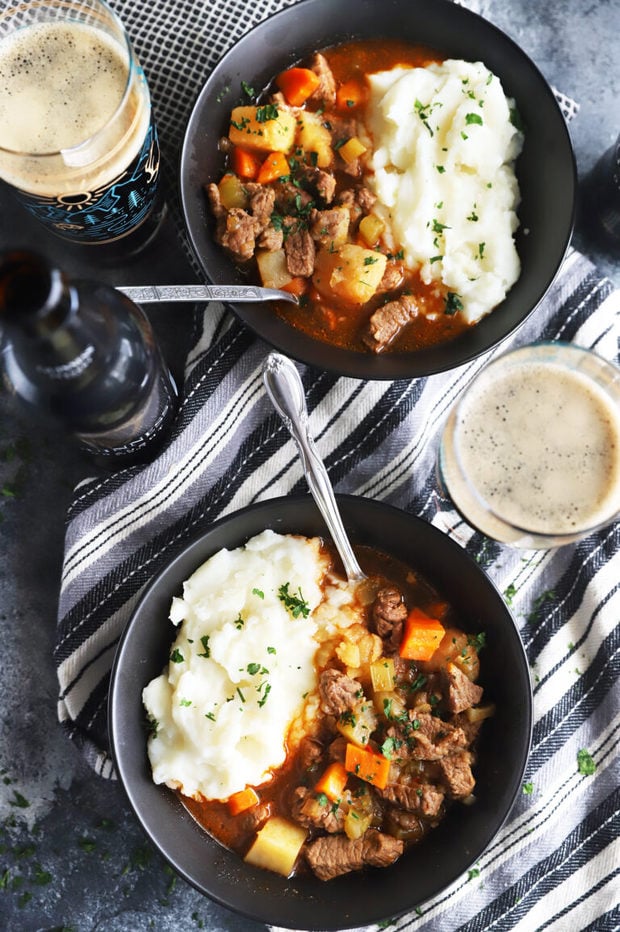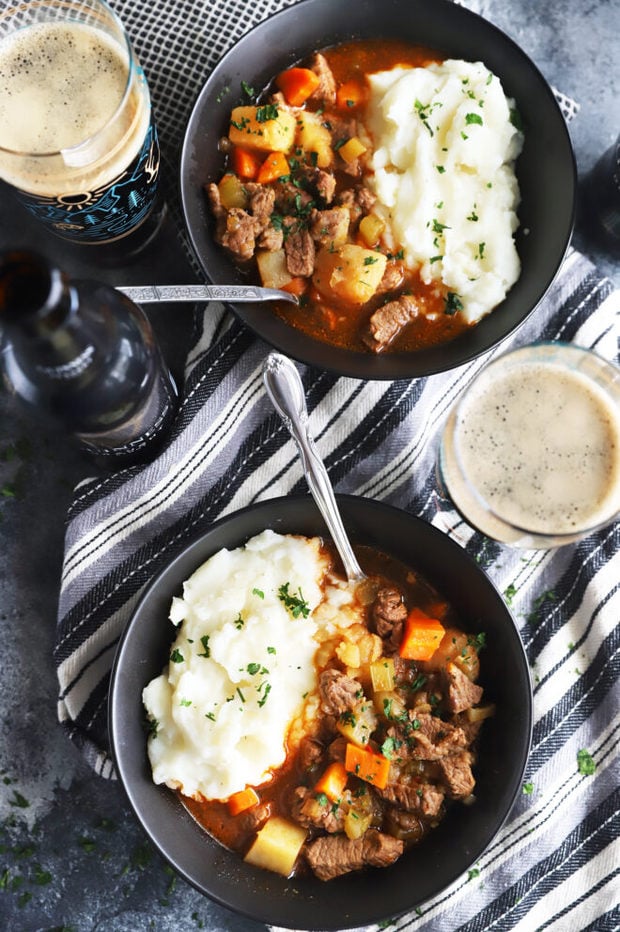 The stew was made with Guinness and it was miraculous. So full of simple flavors and absolutely comforting in the best way. I felt like I was being hugged from the inside out, which was something I definitely needed after hours of hopping on and off a crowded bus.
It's taken me years to actually make a version in the Instant Pot. I wanted to make it hearty and flavorful, but I didn't want it to cook under pressure too long.
After a couple tries, this is the recipe I came up with. Honestly, it's super straightforward, and that's how I want it to be! This is one of those recipes that you can easily throw together in just over a half hour, so it's perfect for a weeknight.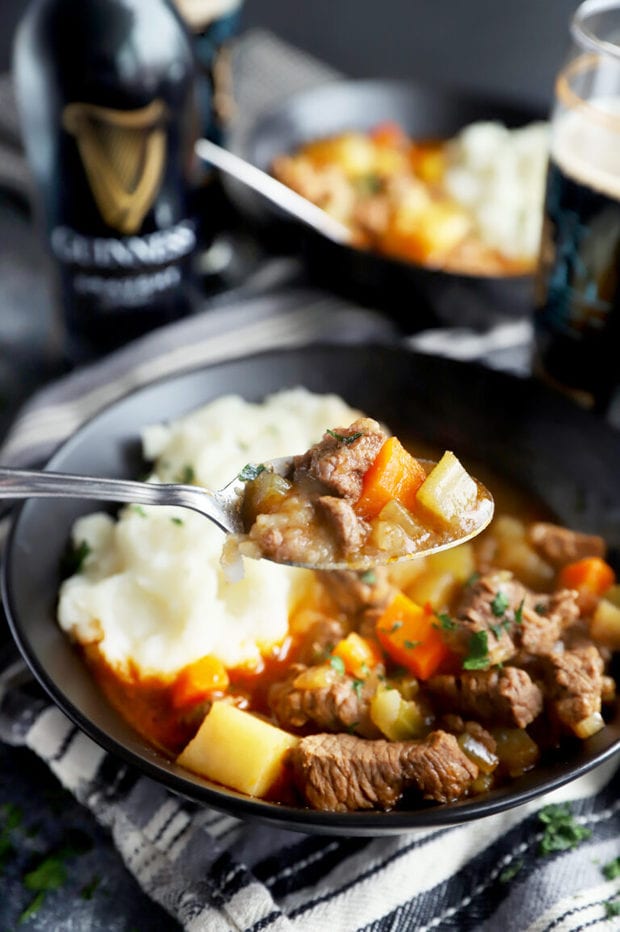 This Recipe's Must-Haves
Obviously, you'll need an Instant Pot! For me, the Instant Pot Ultra is my favorite model because it's easy to use and isn't the priciest one available.
You'll also need a chef's knife and a cutting board (or two) to cut up the beef and other veggies.
Finally, make sure you have a wooden spoon. I love using these whenever I am making a stew that starts with searing meat. It helps with getting the browned bits off the bottom, which is especially important in the Instant Pot.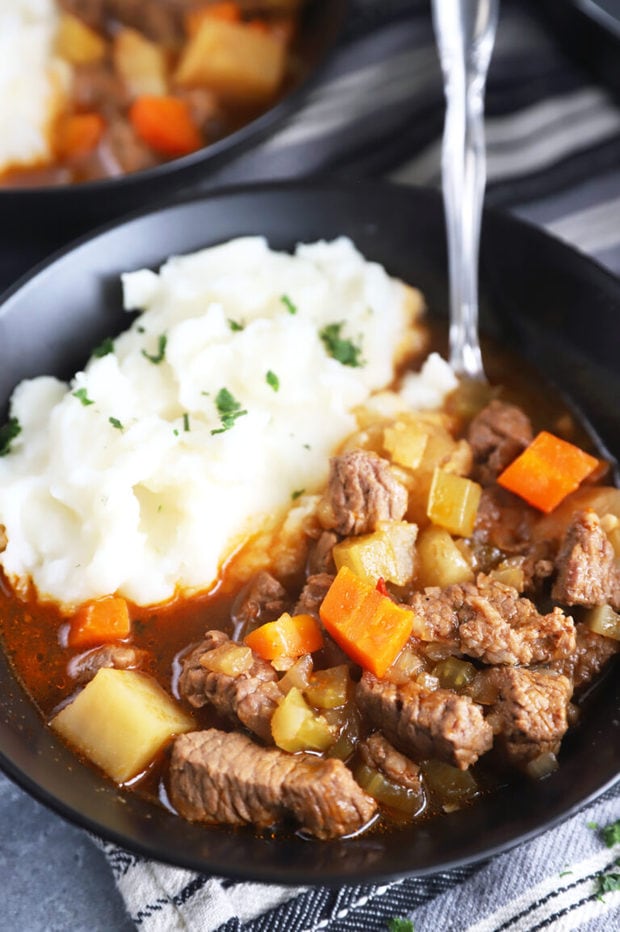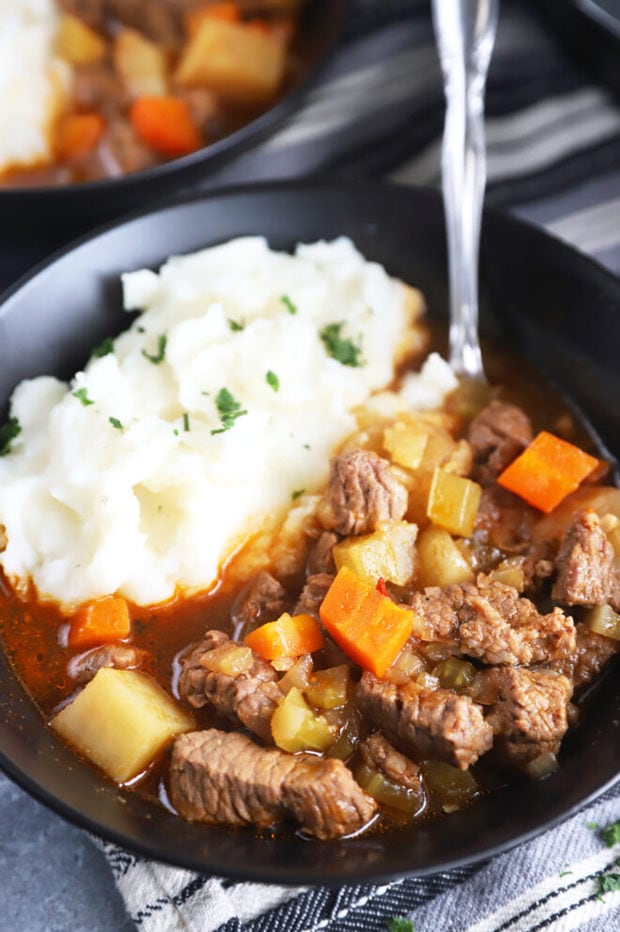 We're making Instant Pot Irish Beef Stew!
Sear Beef and Cook Veggies
With your Instant Pot on the Sauté function, heat up the oil and then drop in the beef. You'll cook the beef until it's browned on all sides, then remove it from the insert. After that, add in the veggies (onions, celery, and carrots) and cook those down.
After this you'll add in a few ingredients, letting the mixture cook a little after each addition as noted.
Finally, you stir in the rest of the ingredients and switch the Instant Pot to Manual.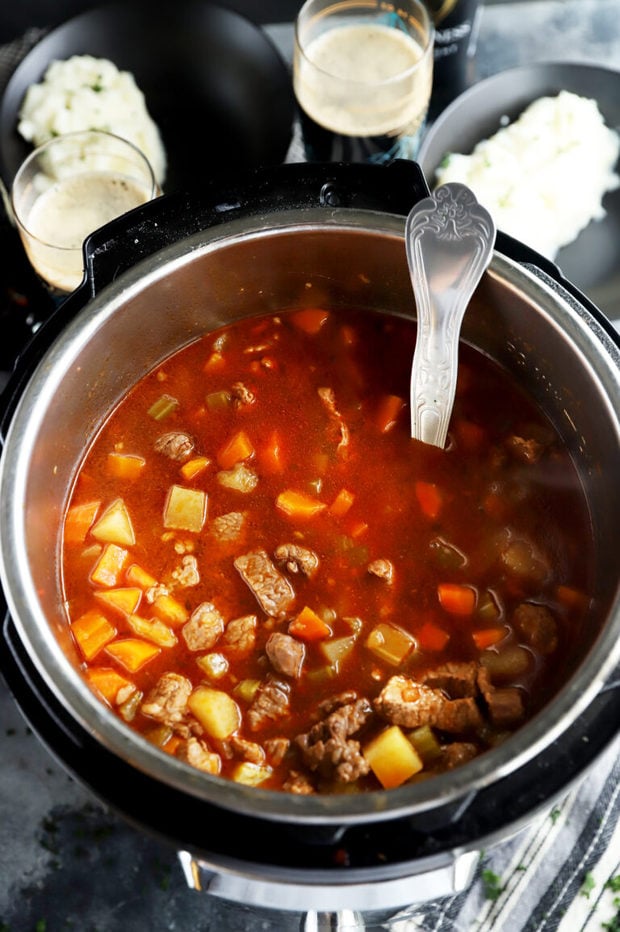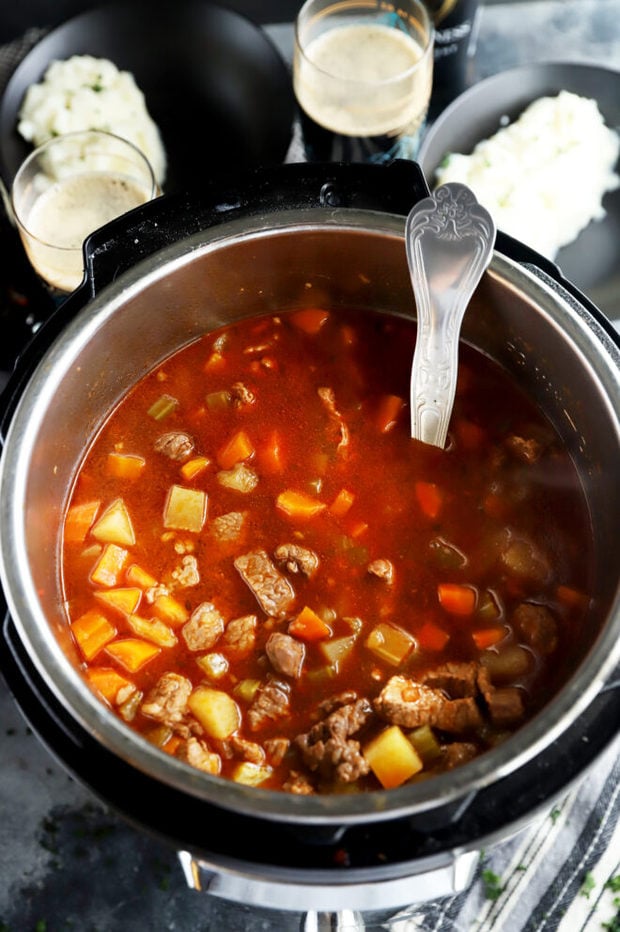 Pressure Cook
This stew cooks up really quick! Only 20 minutes on High pressure and you are ready to release pressure manually.
Make Slurry and Finish
To thicken the stew up a bit, you'll make a slurry and add it in. Then you cook it over the Warm setting, until it's thickened up just a bit. After that, it's time to serve! I LOVE to serve this stew with mashed potatoes, but you can also just serve it up in a bowl with a hunk of crusty bread.
Need inspiration for soups and stews? Check out my soup recipe page for some tasty ideas.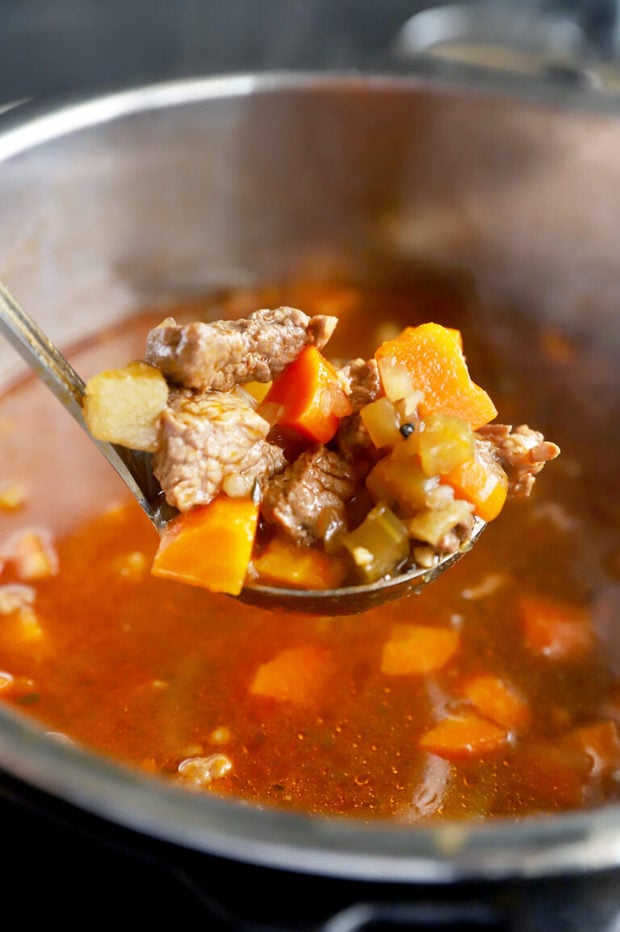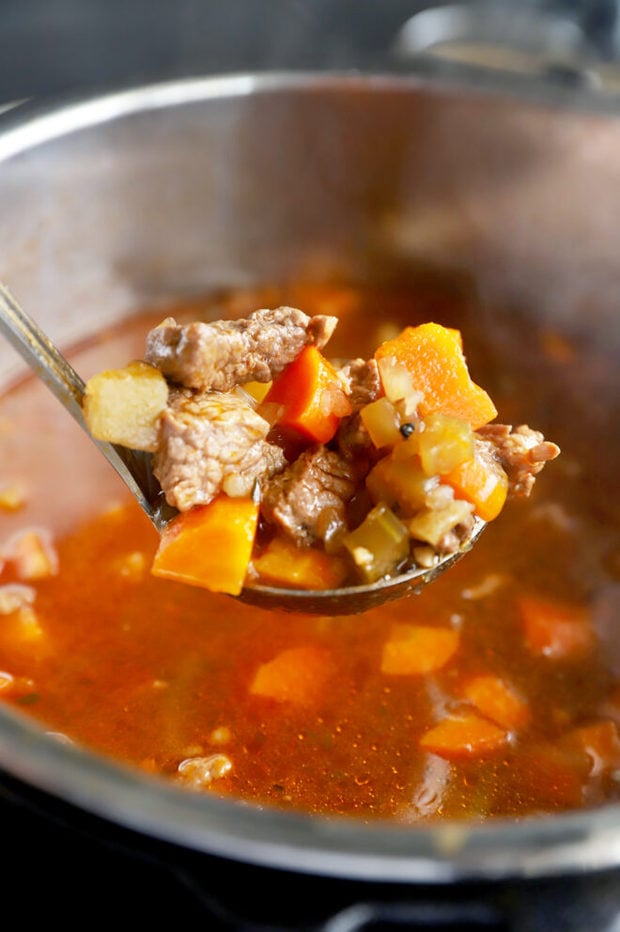 Got questions?
Can I make this on the stovetop?
You can! You would simply follow the steps as outlined except you will be sautéing in a Dutch oven. Instead of cooking on Manual pressure for 20 minutes, you'll bring the stew to a simmer and cook it for 30 to 45 minutes until the potatoes are cooked through.
Do I have to serve it with mashed potatoes?
No, you don't! Sometimes it's too much, and I totally get that. So instead you can simply serve this stew up in a bowl and eat it as is. You can pair it with a big piece of crusty bread if you want!
Can I substitute lamb for the beef?
Yes, you definitely can! You don't need to make any adjustments to the recipe, a straight substation works.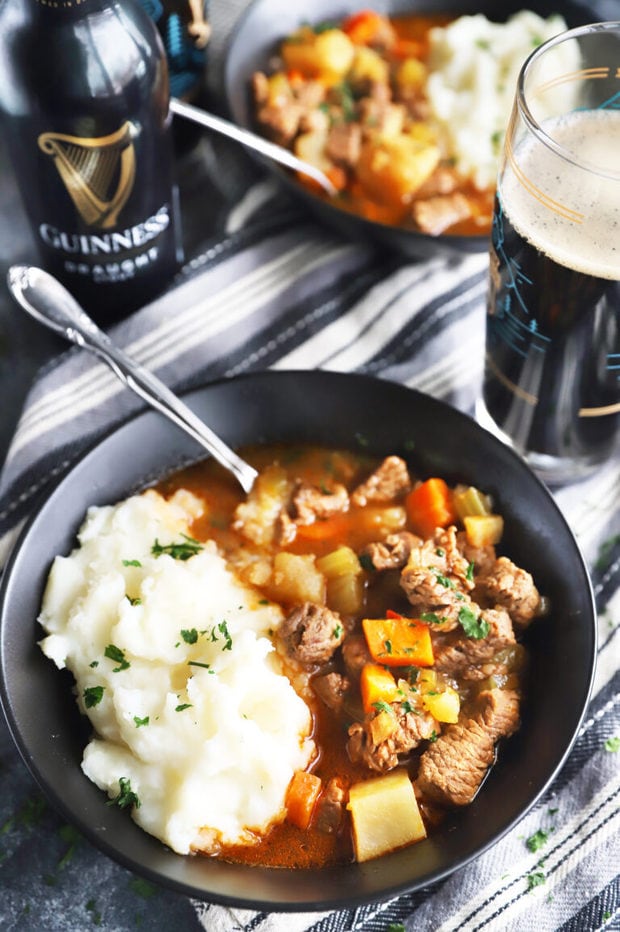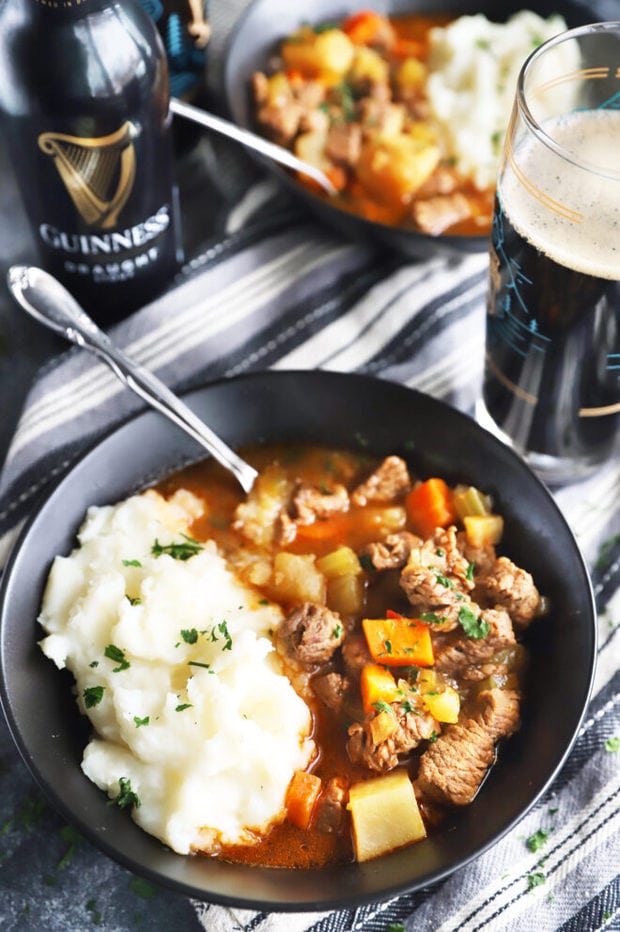 A Few Tips & Tricks
– If you want to spice the stew up a little more, up the amount of red pepper flakes.
– Enjoy the soup for up to 2 days after making it.
– You can also portion out this soup into freezer bags, then reheat whenever you want.
– Need a sweet treat for the end of the meal? This four ingredient baileys fudge is an easy add to any meal!
If you love everything beef, try out another global twist with these greek beef pitas.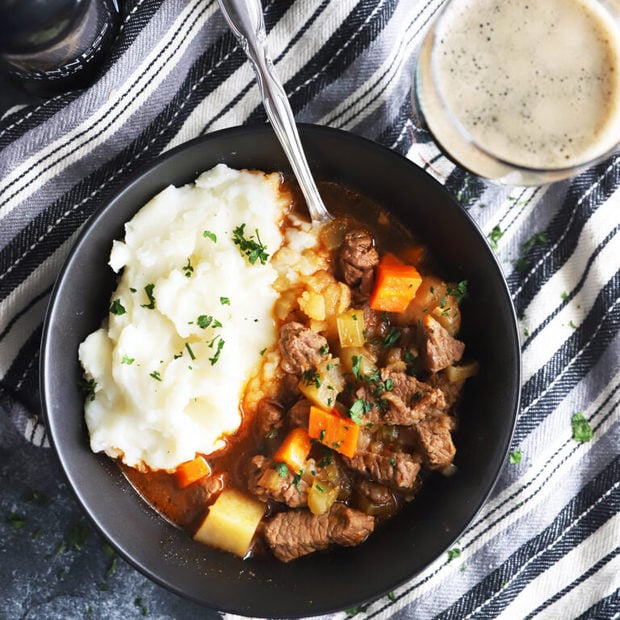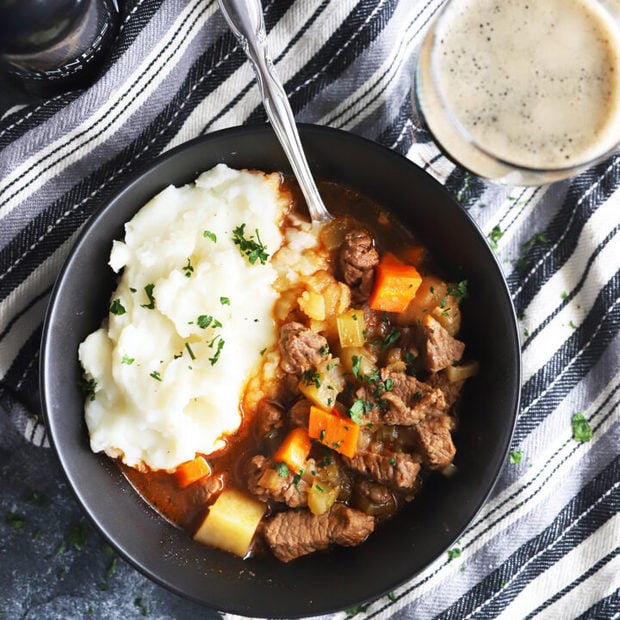 Instant Pot Irish Beef Stew
Hearty and comforting, this simple stew is a family favorite any night of the week!
Ingredients
2 Tbsp olive oil
2 lb stewing beef
1 tsp salt
1 tsp black pepper
3 carrots, peeled and chopped
3 stalks celery, chopped
1 yellow onion, chopped
2 cloves garlic, minced
2 Tbsp tomato paste
22 oz Guinness
3 cups beef broth
2 russet potatoes, peeled and chopped
1/2 Tbsp Worcestershire
1 bay leaf
2 tsp chopped fresh thyme
1/4 tsp red pepper flakes
2 tsp cornstarch
2 tsp water
1/4 cup chopped fresh parsley
Instructions
Set Instant Pot to Sauté function and add oil. Once hot, add beef, searing on all sides until browned, about 4 to 5 minutes. Remove beef from insert.
Add onion, celery, and carrots, cooking until the onions are softened, about 5 minutes. Stir in garlic and cook for 30 seconds. Stir in tomato paste and cook for another minute. Add Guinness and cook for another 5 minutes.
Stir in broth, potatoes, worcestershire, bay leaf, thyme, red pepper flakes, and beef. Set Instant Pot to Manual function. Cook for 20 minutes on High pressure. Release pressure manually.
In a small bowl, whisk together cornstarch and water to make a slurry. Stir into the stew, letting the stew cook on warm for a few minutes until slightly thickened.
Serve over mashed potatoes with a garnish of parsley.
Recommended Products
As an Amazon Associate and member of other affiliate programs, I earn from qualifying purchases.