A Whiskey Skillet Brownie with Bailey's No Churn Ice Cream is just the indulgent dessert that will make you feel like you found the pot of gold at the end of the rainbow! Irish whiskey give the dark chocolate brownie added richness, and when topped with easy-to-make Bailey's no churn ice cream, it's a flavor explosion of Irish classics that is perfect for any get-together you have planned for St. Patty's Day. Pair it with whiskey and you've got a party 😉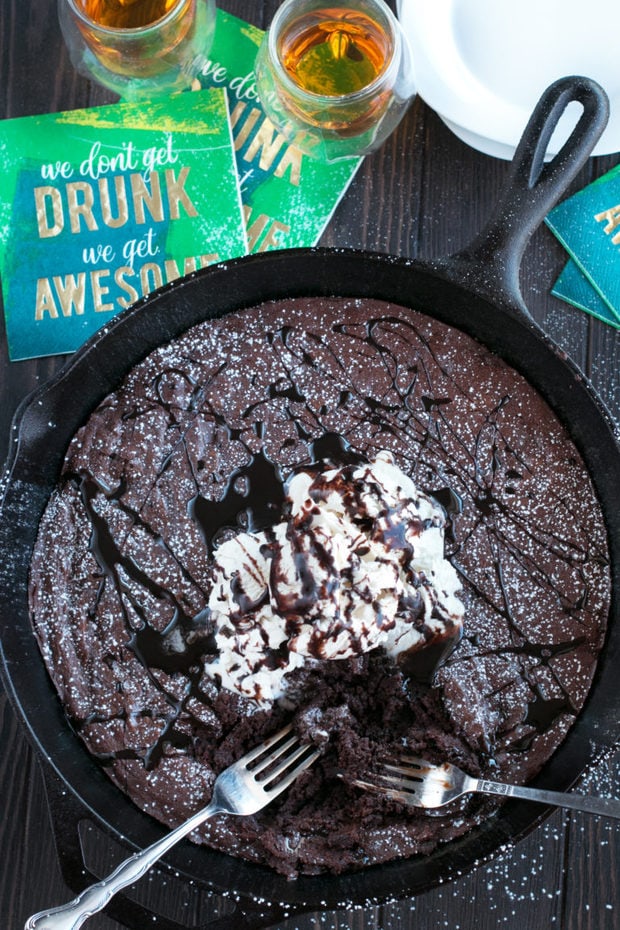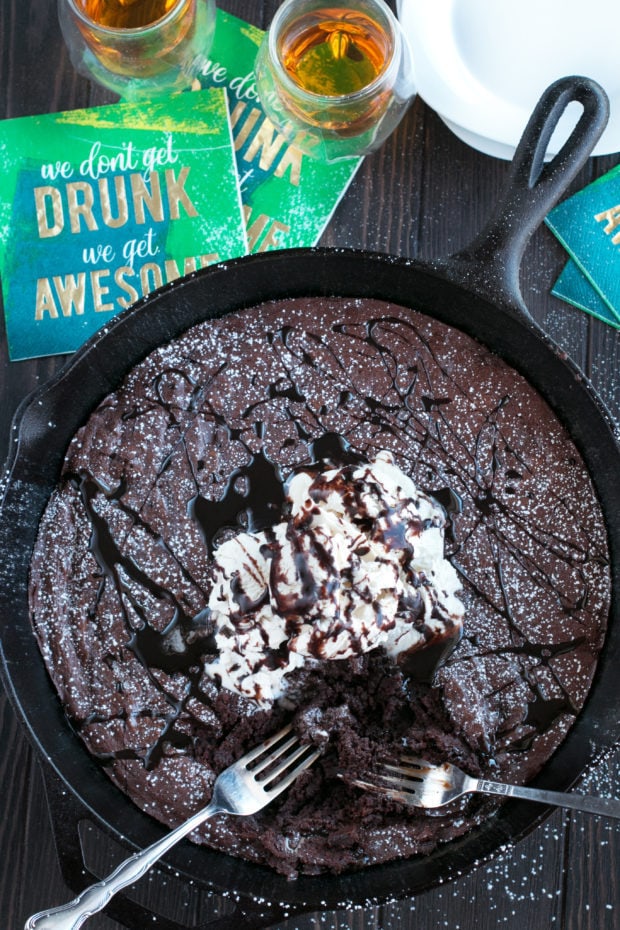 Please note that some of the links below are affiliate links. If you make a purchase through one of these links, I will receive a small commission.
Whiskey and chocolate is a wonderful thing.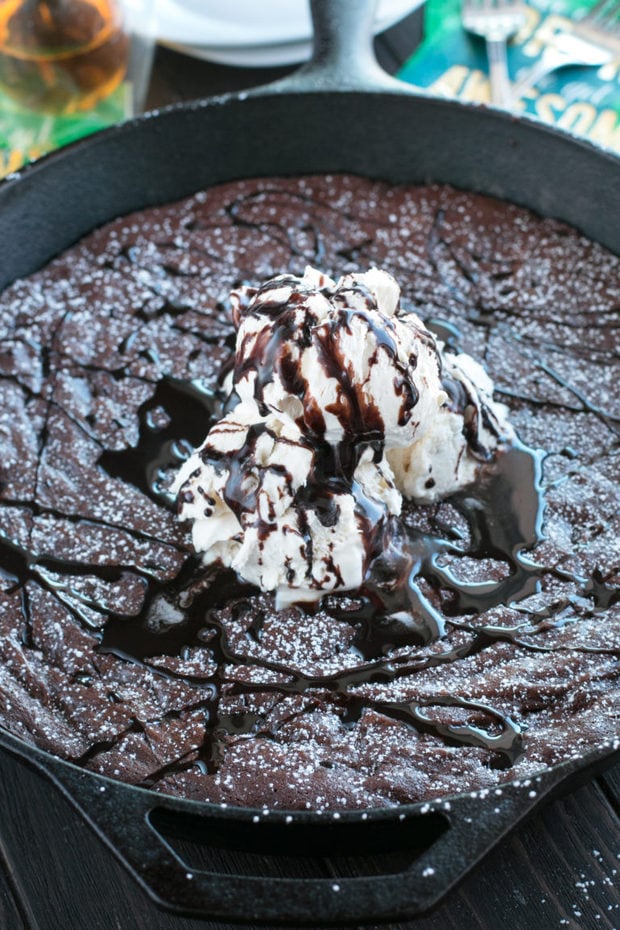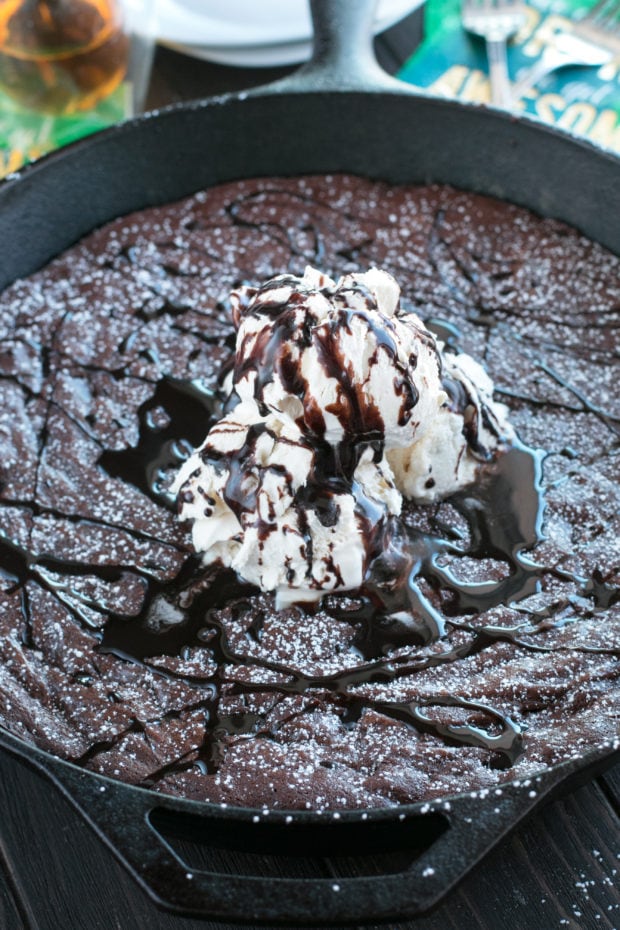 Really, this is what St. Patrick's Day should be about, isn't it?
A giant skillet of gooey chocolate brownie that's been infused with Irish whiskey and topped off with Bailey's No Churn Ice Cream (AND Bailey's Hot Fudge). Plus a side of your favorite Irish whiskey.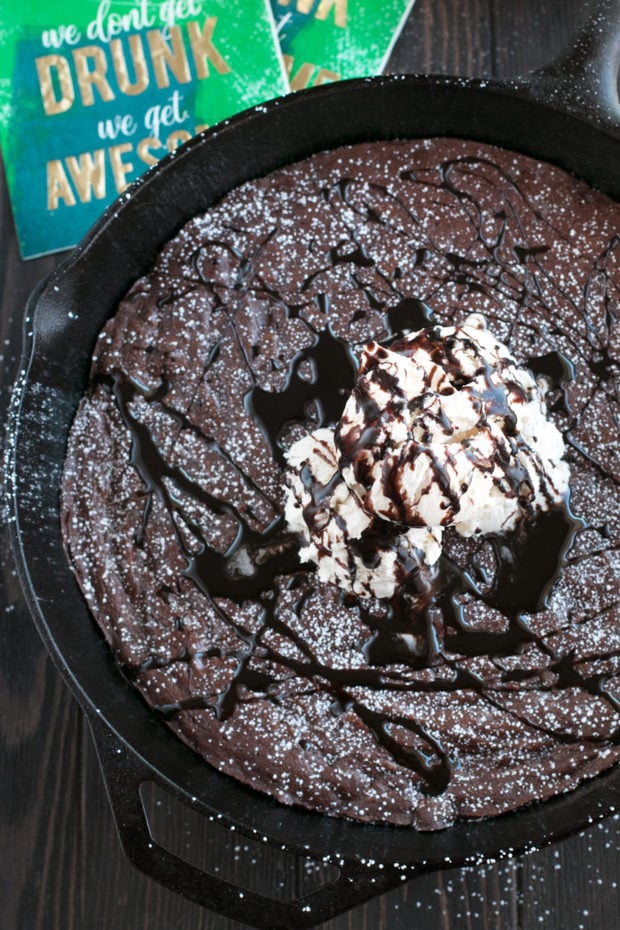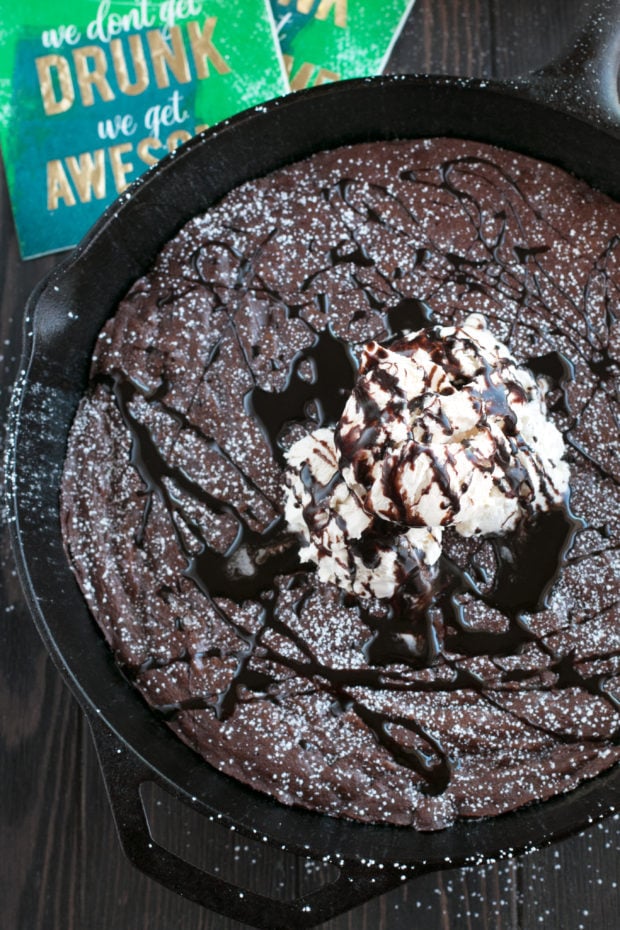 I mean, just gimme a spoon and let's freaking dive right IN.
The combination of whiskey and chocolate isn't utilized enough and it really should be. That sharp and rich whiskey with the bitter sweetness of the dark chocolate really makes it a memorable pairing that you honestly won't be able to stop going back to time and time again.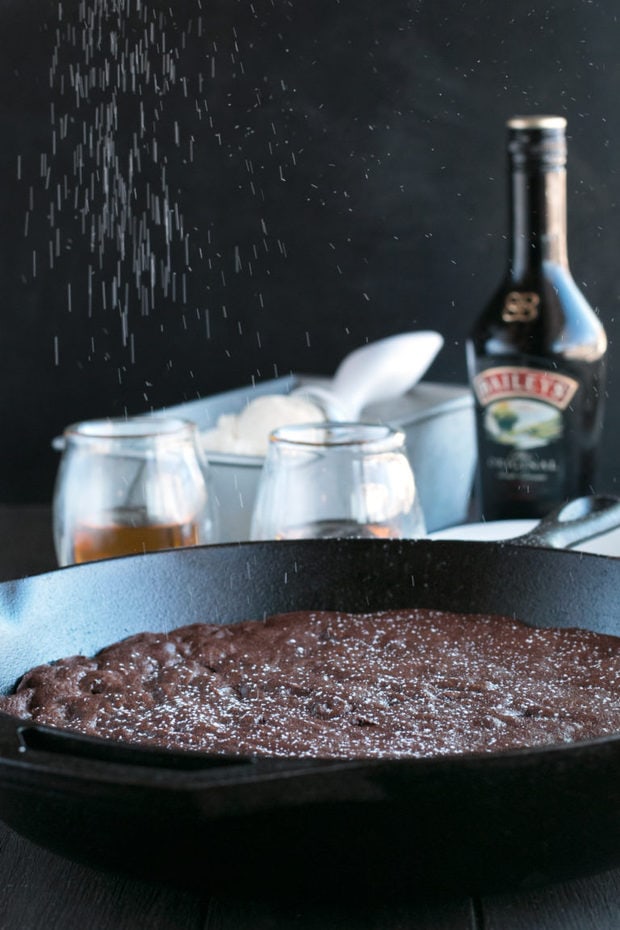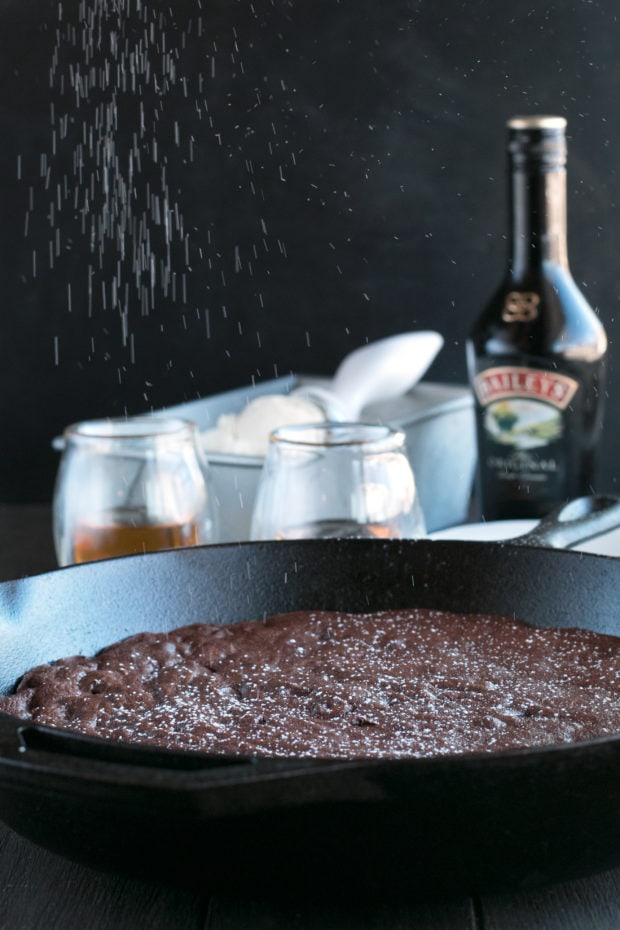 When I think about St. Patrick's Day, I think about gathering around the table with a bunch of beer, whiskey, and other Irish delights. That's why I thought of busting out this kind of dessert for the holiday!
It's an easily shareable dessert that will feed a crowd, and you can just serve it up right there in the skillet.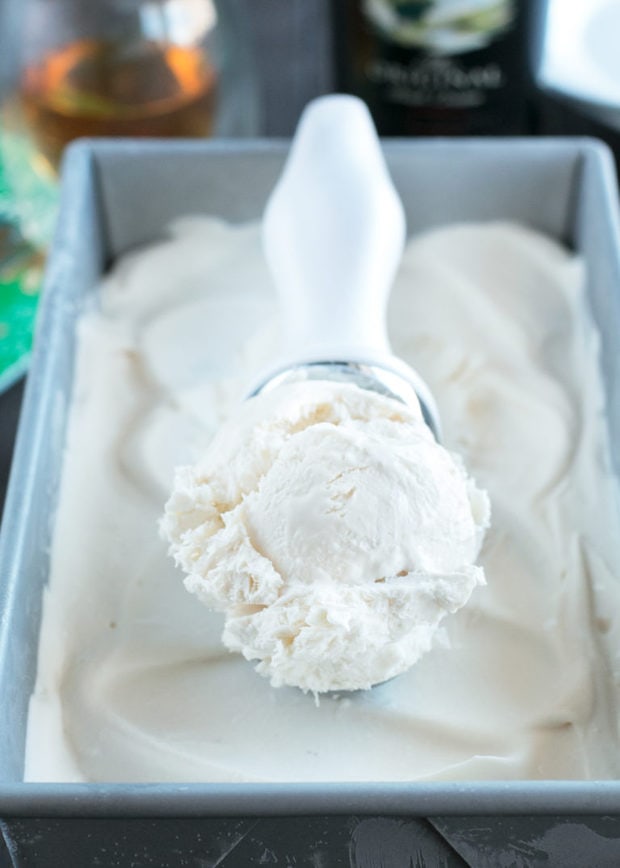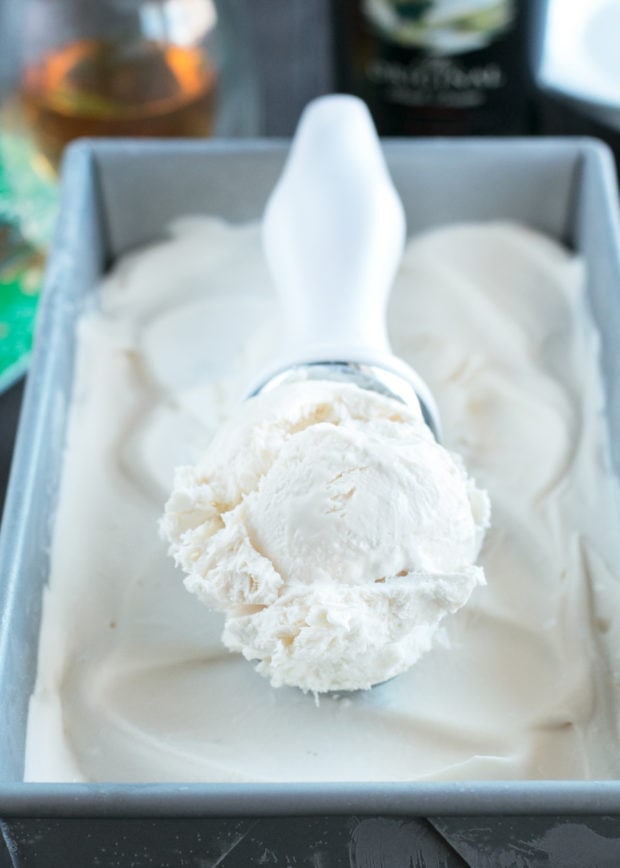 Because, as everyone knows, the less dishes to do the day after St. Patrick's Day, the better. Am I right?
If you have a bigger crowd coming you can easily make two skillets, and I would highly recommend try a different type of whiskey in each skillet batter. It's a fun way to experiment and really get those taste buds tingling.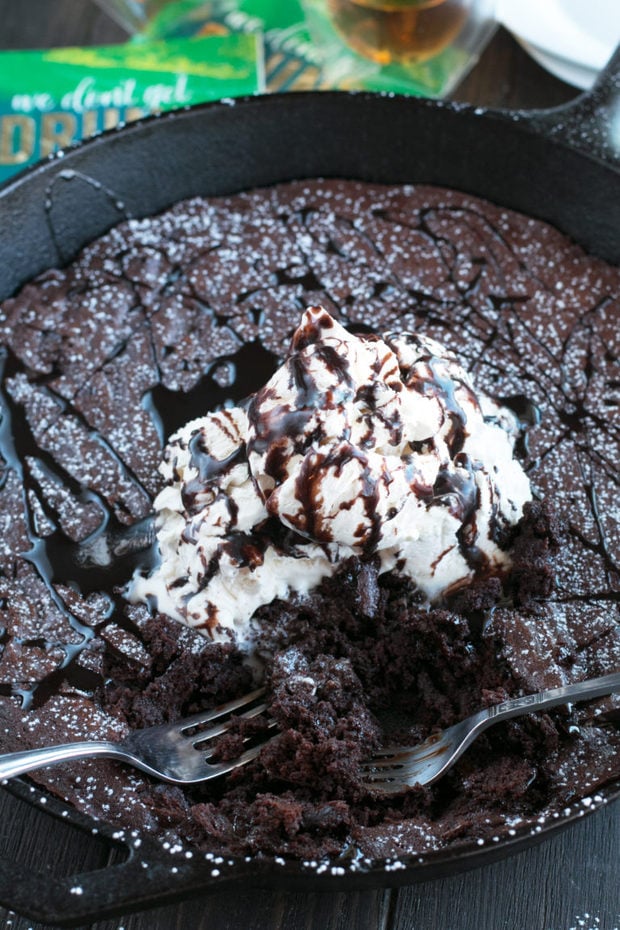 Any whiskey lover will definitely approve!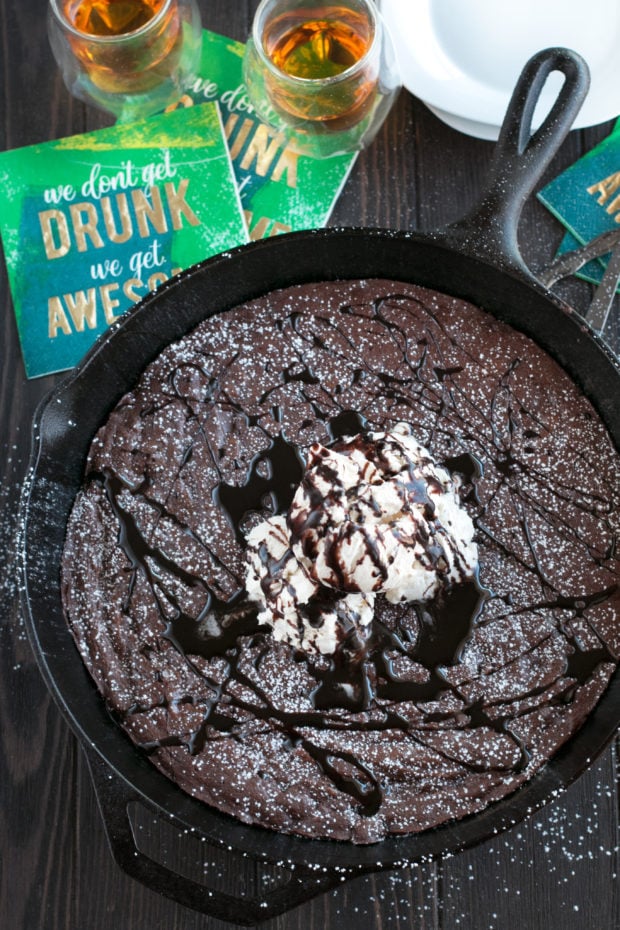 This Recipe's Must Haves
Pin this Whiskey Skillet Brownie with Bailey's No Churn Ice Cream recipe for later!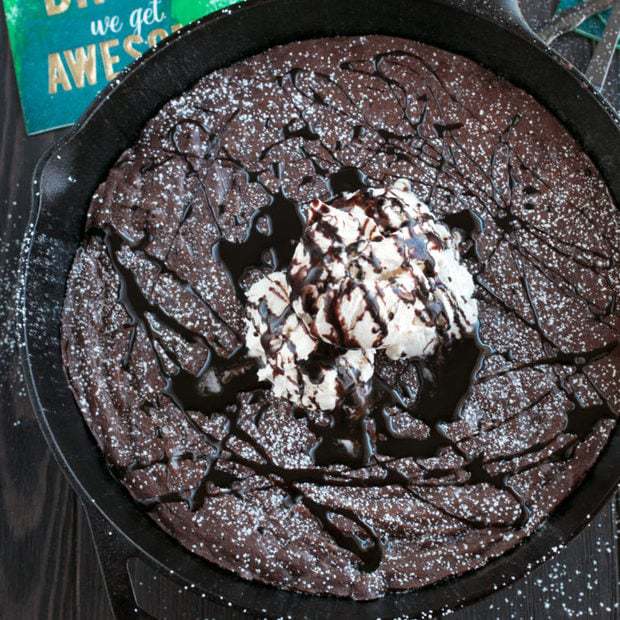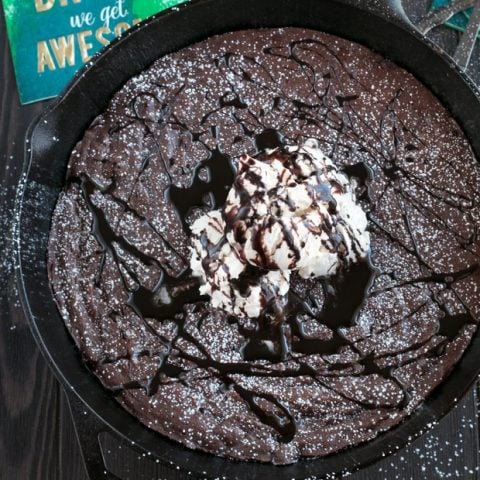 Whiskey Skillet Brownie with Bailey's No Churn Ice Cream
Total Time:
5 hours
55 minutes
Rich and chocolatey dark chocolate brownie is infused with a bit of Irish whiskey and topped with Bailey's ice cream for a true St. Patty's Day delight!
Ingredients
Bailey's No Churn Ice Cream
7 oz sweetened condensed milk
1 tsp pure vanilla extract
2 oz Bailey's Irish Cream
Pinch of salt
2 cups chilled heavy cream
Whiskey Brownie Skillet
10 Tbsp unsalted butter
8 oz quality dark chocolate, coarsely chopped
1 cup granulated sugar
3 eggs
1 tsp vanilla extract
1/2 cup + 2 Tbsp all-purpose flour
3 Tbsp unsweetened cocoa powder
1/4 tsp salt
1 cup dark chocolate chips
2 oz Irish whiskey
Instructions
To make the ice cream, in a medium bowl, whisk together sweetened condensed milk, vanilla, Bailey's Irish Cream, and salt. Set aside.
In a large bowl, beat whipped cream with an electric mixer until stiff peaks form, approximately 2 minutes. Fold approximately 1 cup of the whipped cream into the Bailey's Irish Cream mixture until combined. Fold the Irish cream mixture back into the whipped cream until well combined.
Pour the mixture into a metal loaf pan and cover with plastic wrap. Freeze for 5 hours.
To make the brownie, melt butter and 8 oz chopped dark chocolate over medium-high heat in a medium saucepan, stirring well. Remove from heat and add to a large bowl. Let cool for 10 minutes.
Preheat oven to 350 degrees F. Lightly grease a 10 to 11 inch cast iron skillet with butter.
Whisk sugar into the chocolate mixture. Add eggs, vanilla and whiskey, whisking until combined. Fold in flour, cocoa powder and salt. Once well-combined, fold in chocolate chips.
Add batter to the skillet. Bake for 30 minutes, until a toothpick when inserted in the center comes out clean. Remove from oven.
Serve with scoops of Bailey's ice cream on top. Top with Bailey's Hot Fudge, if desired, and powdered sugar.