Please note this post contains affiliate links.
A Jameson Manhattan is how to class up the Irish whiskey in a whole new way! The smooth spirit pairs perfectly with the classic Manhattan ingredients.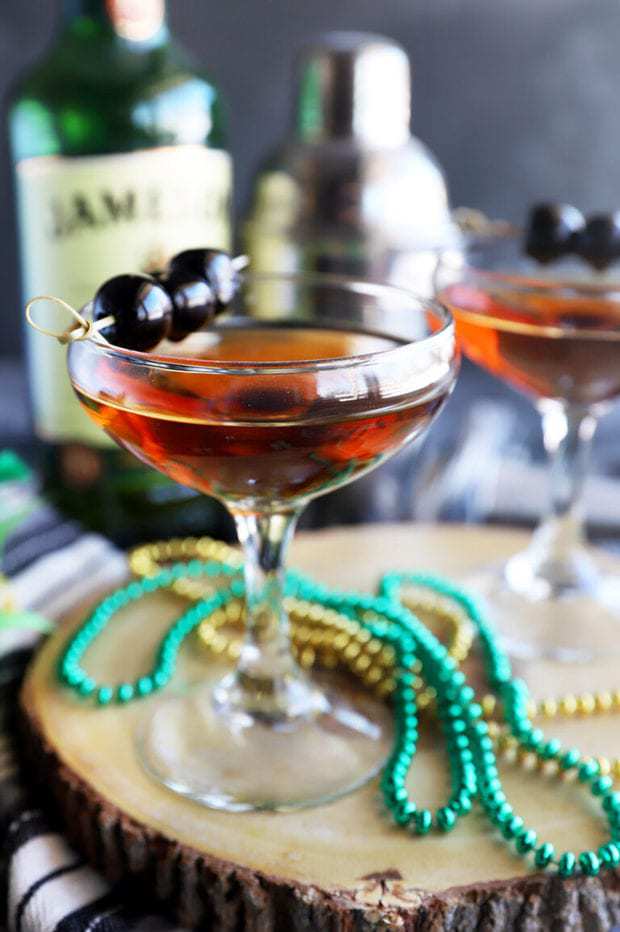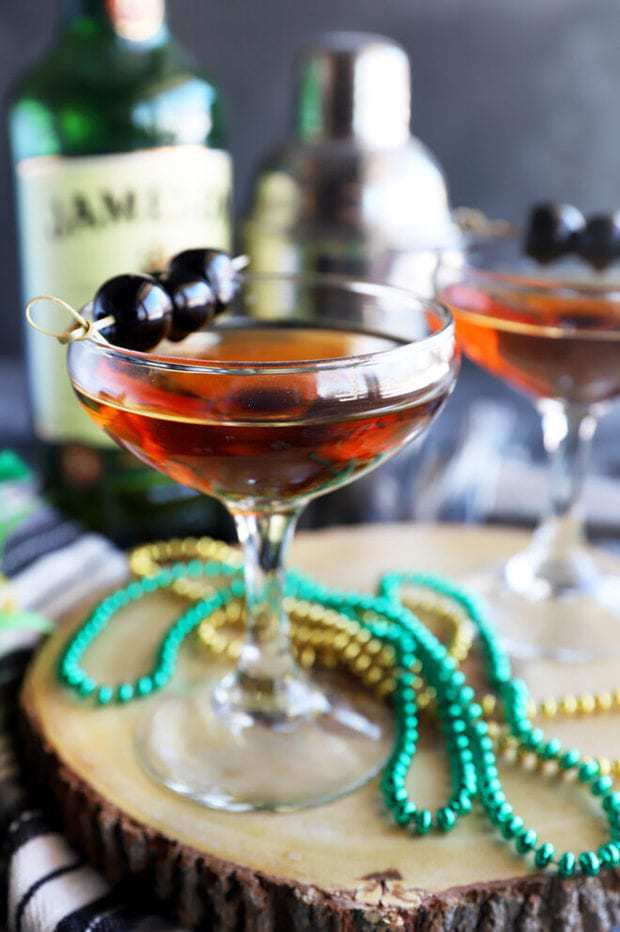 about this jameson manhattan recipe
I will take any excuse to treat myself, people. By now, you probably know this!
Whether it's a manicure, a little shopping, or a marathon of Harry Potter movies (oh yes, I am totally that girl), after long days of craziness, no matter what the time of year, there's nothing like kicking back with a stiff drink to nurse along with a pile of my favorite treat of the moment (currently ice cream, for those of you wondering).
I have to admit, I am a lover of classic cocktails. Anything from that whole Mad Men era is a weakness for me, especially Manhattans. I think it's because I can completely picture my grandparents in this era, sipping strong drinks and partying with their friends. I would have been right along with them if I was there.
Typically Manhattans are made with rye whiskey, however I love the flavor you get when you use Jameson whiskey instead. I suppose that's the true Irish girl coming out, but you really can't argue that this Jameson Manhattan is the smoothest one you'll ever taste.
It's the perfect reward for anything you do! It will also make you want to make the classic cocktail hour a regular thing at home again.
Remember the days when that was really a thing, with people making gimlets, martinis, and manhattans? Ok, so maybe I wasn't alive then, but I've read about it and been inspired.
With the comeback of the bar cart in a whole new way, it's just another reason to enjoy this tasty recipe.
Note: this is an updated post from the original posted on November 28th, 2014.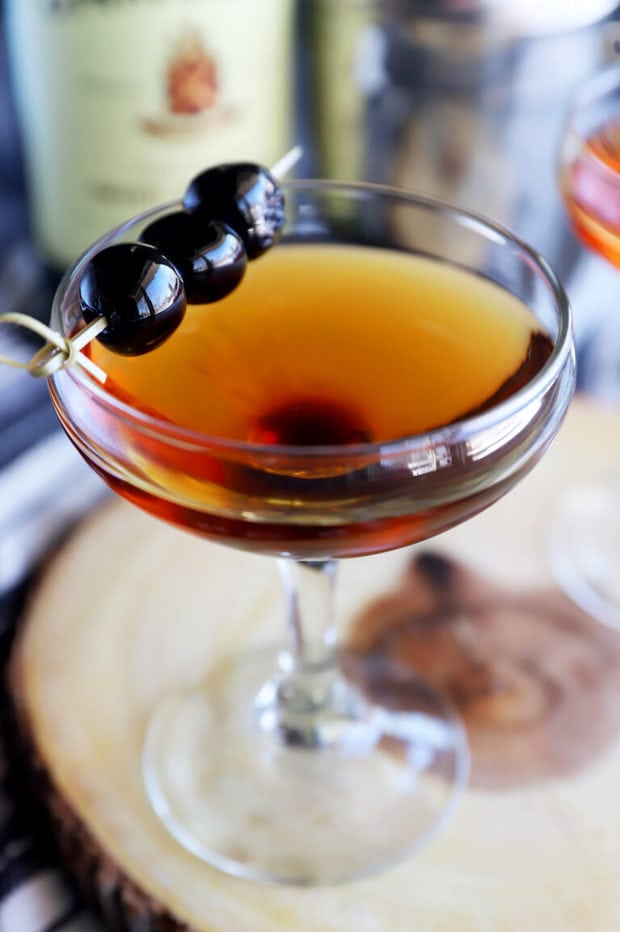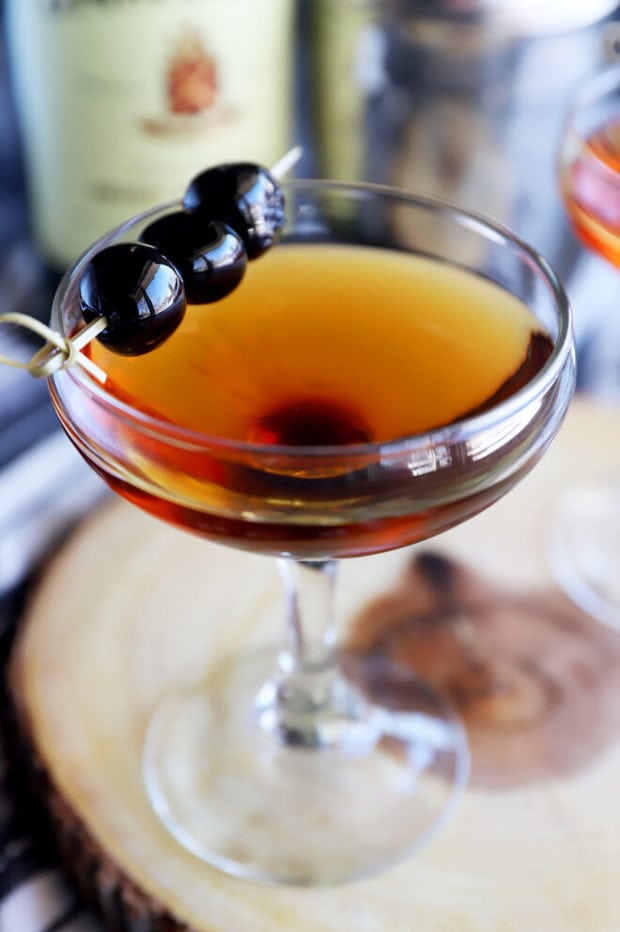 ingredients
irish whiskey. as you can see from the title of this post, Jameson Irish Whiskey is the main ingredient for this Jameson cocktail! If there's a different Irish whiskey you prefer, you can also swap the Jameson out for that.
vermouth. Be sure to select sweet vermouth when you hit the liquor store! I like to make sure I select a high-quality option because this cocktail has very few ingredients so each ingredient really shines. Brands I like are Dolin, Contratto, and Matthiason.
bitters. I use aromatic bitters for this recipe as a base. However, you can also use a variety of bitters from smoked orange to cherry if you want to mix it up. Fee Brothers Bar is my top brand, but I also love Hella Bitters!
cherries. Luxardo Maraschino Cherries are a MUST for this cocktail for me. They are absolutely DELICIOUS and well worth the price, trust me.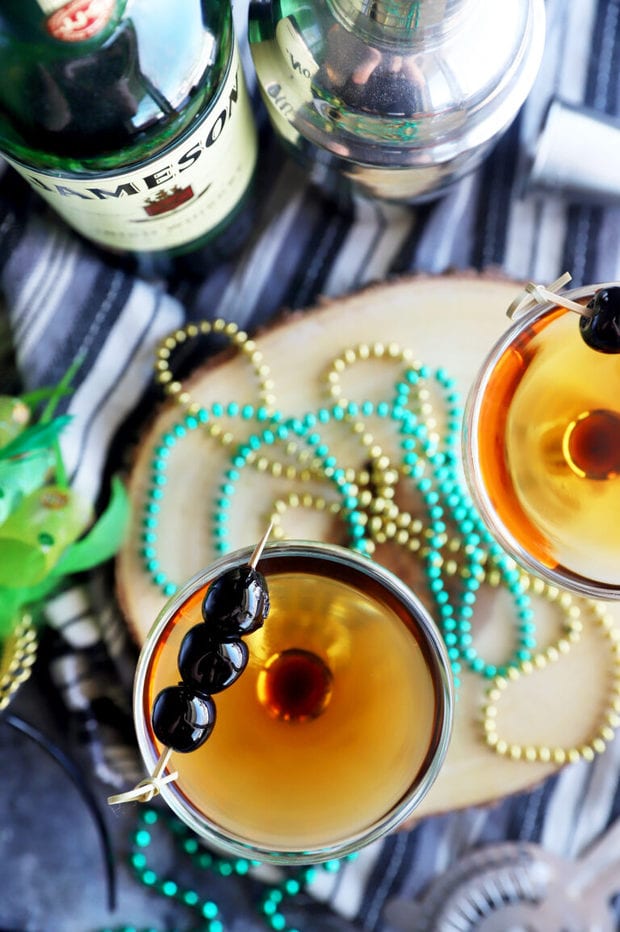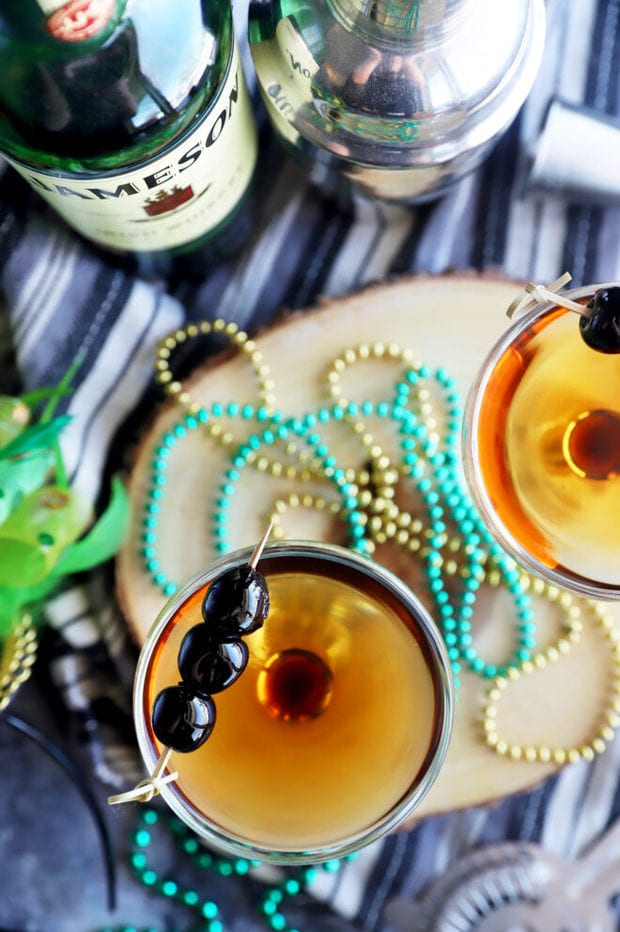 this recipe's must-haves
When it comes to making this cocktail, the equipment is pretty straightforward! You likely already have all the tools in your home bar right now.
I like to stir up this cocktail in a cocktail mixing glass with one of my cocktail stirring spoons. Then you can use a cocktail strainer to pour the cocktail into your favorite glass.
For me, I love serving a Manhattan in one of these coupe glasses! Note that the glasses linked here are not the ones pictured. Unfortunately I can't find the link for these anymore, but I also have the ones I linked here. They are SO gorgeous and have lasted me a long time!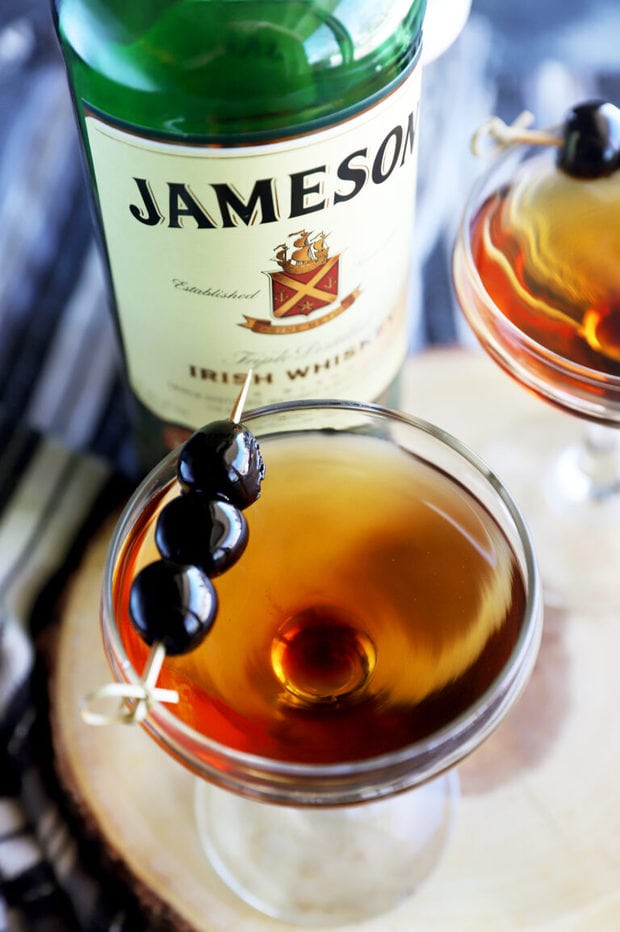 here's how to make a jameson manhattan
stir
Talk about the easiest cocktail ever, my friends… You simply stir together the ingredients!
strain
Then strain. That's all. Seriously. It takes a couple of minutes. Why aren't you making this cocktail right now…? GO ALREADY!
Other tasty Jameson recipes: Jameson Old Fashioned | Jameson and Ginger | Sparkling Whiskey Sour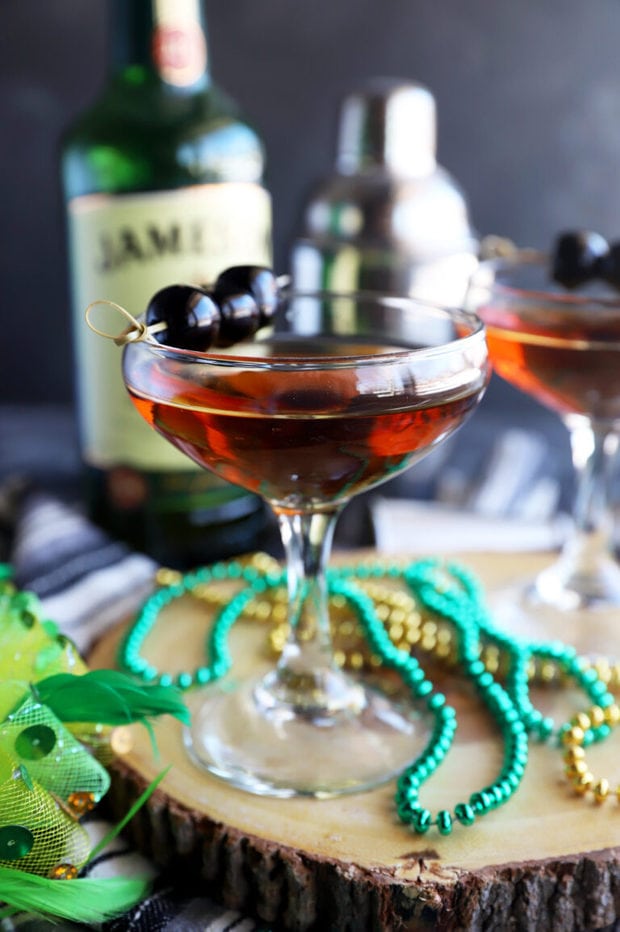 make it your own!
One of my favorite ways to play with classic cocktails like a Manhattan is to use different bitters! A particular favorite of mine for this Jameson Manhattan is cherry, smoked orange, and alpine.
Make sure that you are getting a nice vermouth. Honestly, investing in this will totally change your life when it comes to making Manhattan cocktails at home!
For the Irish whiskey lovers out there, check out my 7 essential Irish whiskey cocktails!
Need inspiration for cocktail hour? Check out my cocktail recipe page for some tasty ideas.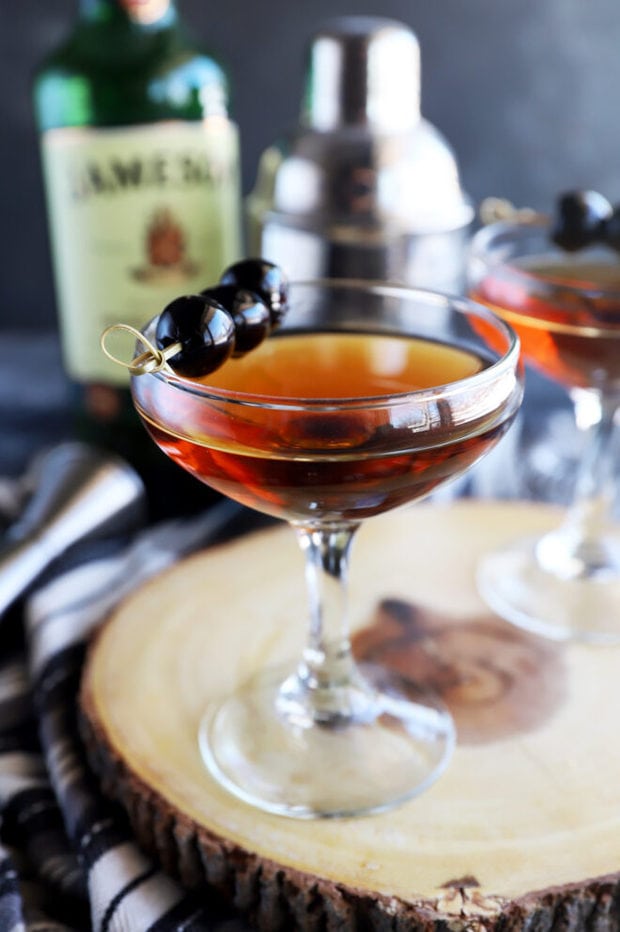 what to serve with a jameson manhattan
A Jameson Manhattan is such a classic drink that pair with anything. You can serve it as a cocktail on its own, or pair it with your favorite meal or appetizers.
Of course, I am one to love a theme, so I am always on the hunt for making a festive moment happen. When there's Irish whiskey on the table, you know that I am going to lean into a classic pairing for it… Anything with Guinness!
Finally, if you make this Jameson manhattan recipe, please be sure to give this recipe a rating or leave a comment! I love to hear when you all make recipes, and I do take the time to respond to every single comment. Feel free to drop questions below too, if you have them!
Oh and be sure to tag me on Instagram if you make the recipe! I love being able to see these recipes come to life in your homes – it's my favorite thing to look through those photos. It really means the world to me!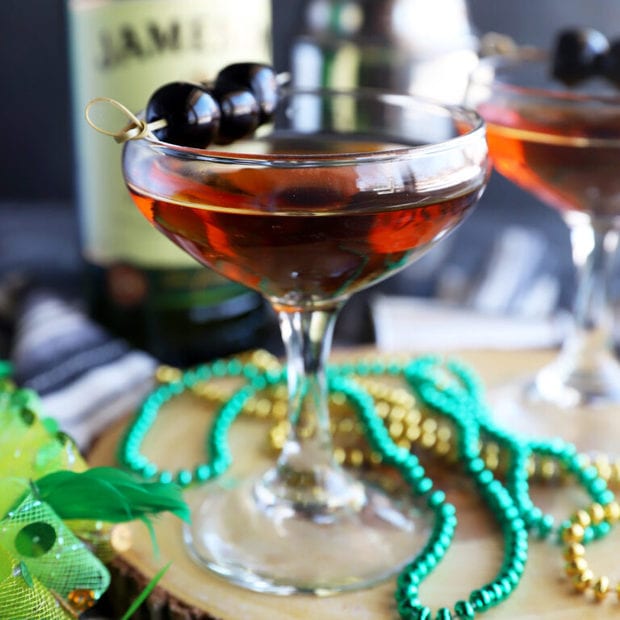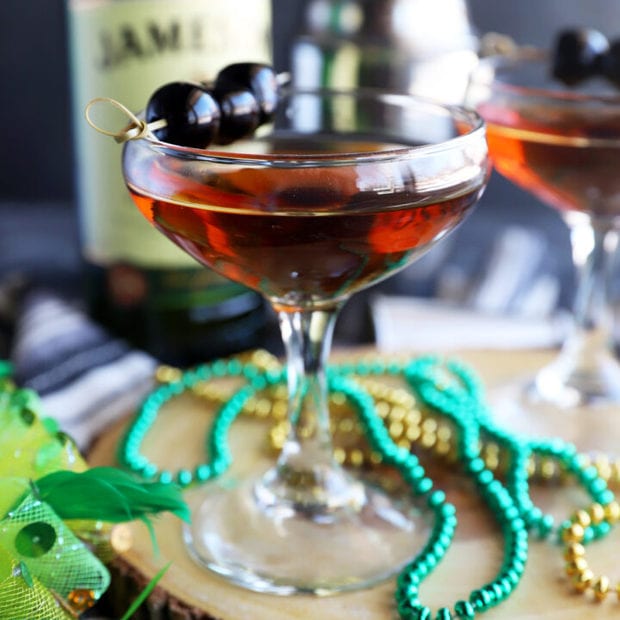 Jameson Manhattan
The classic Manhattan cocktail you know and love, made extra smooth with Jameson whiskey.
Ingredients
1 1/2 oz Jameson whiskey
3/4 oz sweet vermouth
2 dashes aromatic bitters
Garnish: Luxardo maraschino cherries
Instructions
Pour whiskey, sweet vermouth, and bitters into a mixing glass, which has been filled with ice.
Stir and strain into a martini glass.
Garnish with cherries.
Recommended Products
As an Amazon Associate and member of other affiliate programs, I earn from qualifying purchases.