Please note this post contains affiliate links.
Brighten up your week with a refreshing spicy blood orange margarita! The fresh citrus flavor and little kick of spice makes this cocktail shine in all the right ways. Serves 2.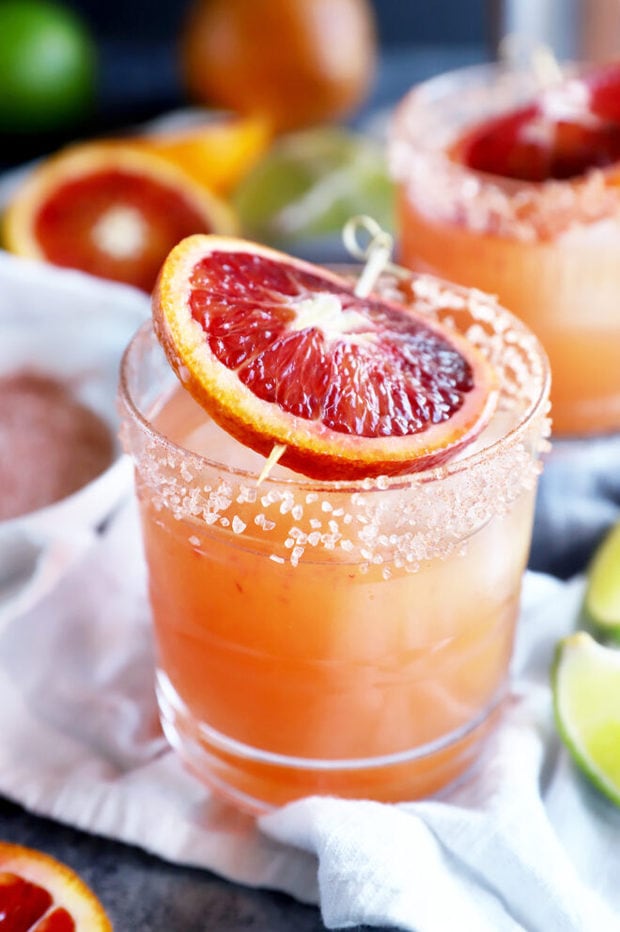 Well, I'm not gonna lie. I've had better months than March.
Heading into a new month usually brings an element of excitement and the feeling that you get to start a fresh new month…
However with the current lockdown and the state of the world, it's a little bit harder to feel that sense of hope.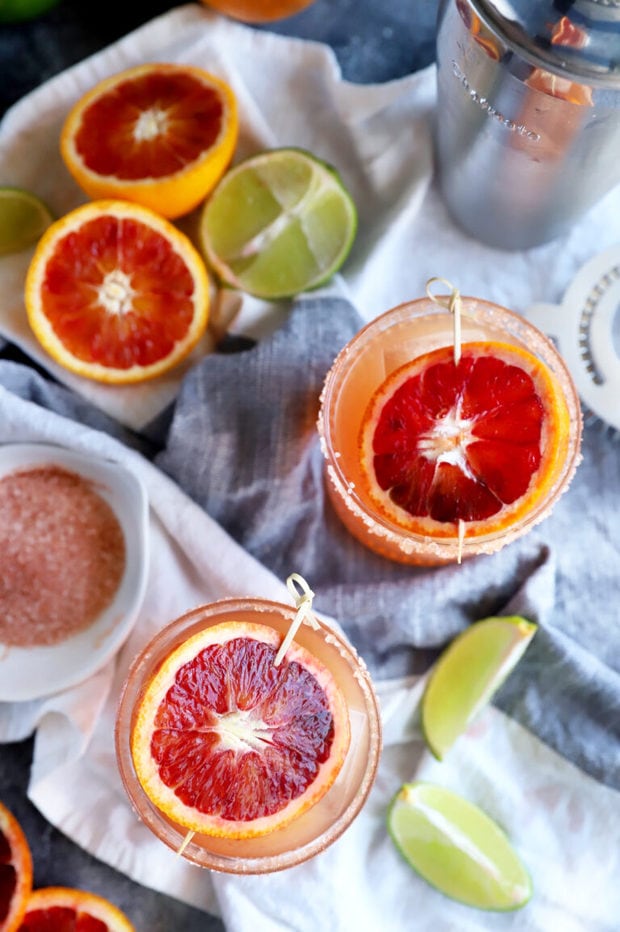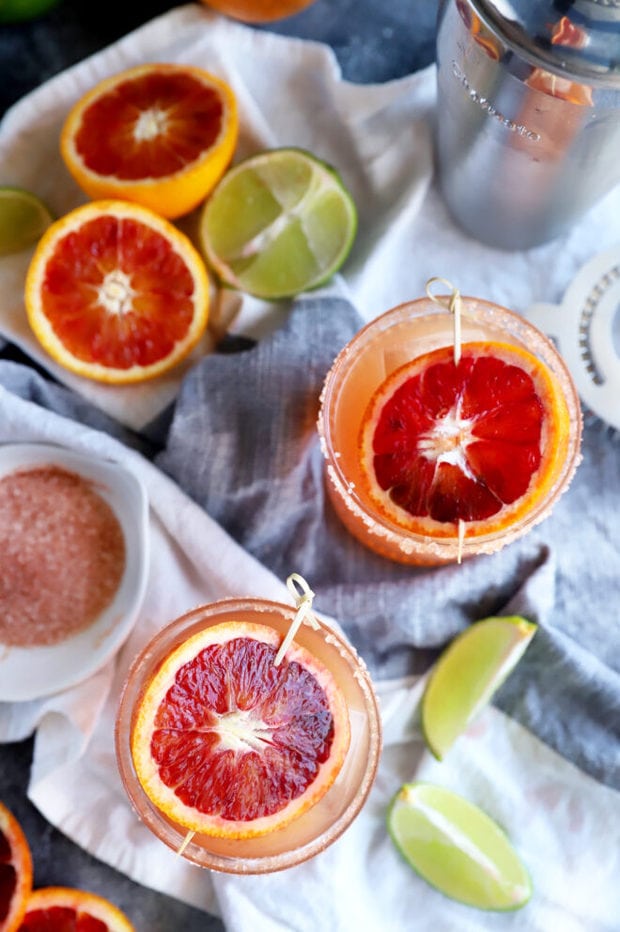 To be honest, I am struggling. Being away from my friends and family, not being able to go to the gym, not having my precious little fur baby to snuggle… Half the time I feel like I am stuck in tar and can't move.
I chatted with a good friend this week, and she really reminded me of something.
Take it one step at a time.
Since everything is so uncertain, thinking too far into the future can be more stressful than anything. So this is the time to take advantage of the whole "stay present" idea. I am trying to take each day one at a time, to find the little moments of joy, and to allow myself the time and space to feel/grieve.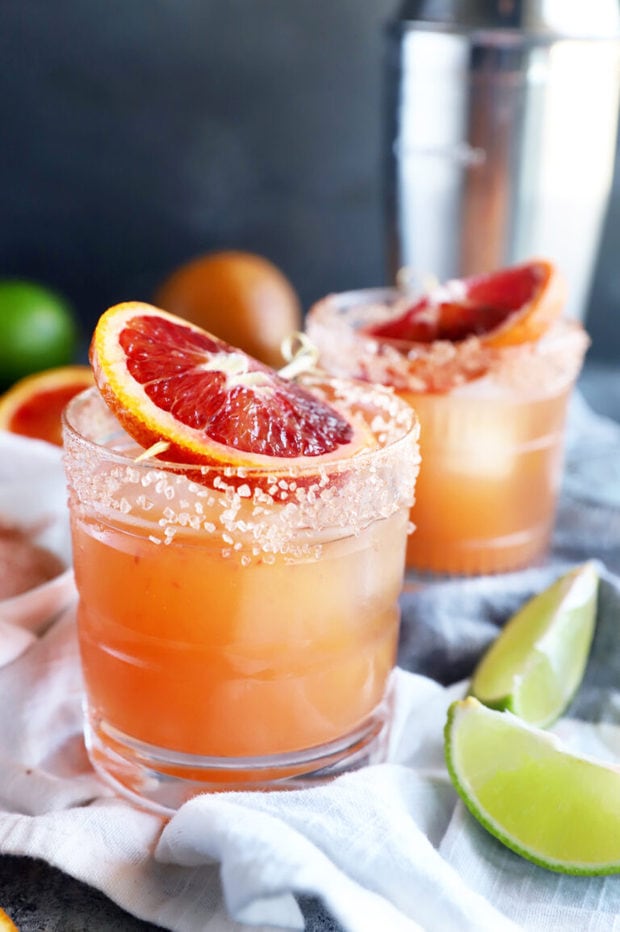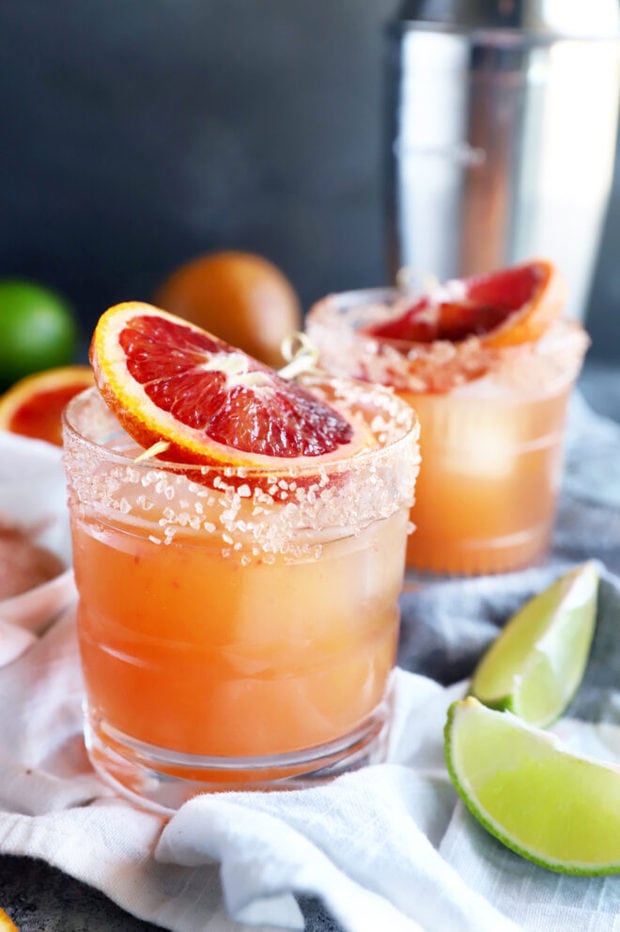 While I want to be productive and creative in this time, sometimes it's just not possible and that's ok. We need to be kind to ourselves because this adjustment isn't easy. AT ALL.
So today I wanted to bring you a simple cocktail that will brighten things up in your world.
Blood oranges are in season through May and the easiest way to take advantage is through a tasty spicy blood orange margarita. The fresh and rich juice from the fruit really elevates the from-scratch margarita, with a hit of heat!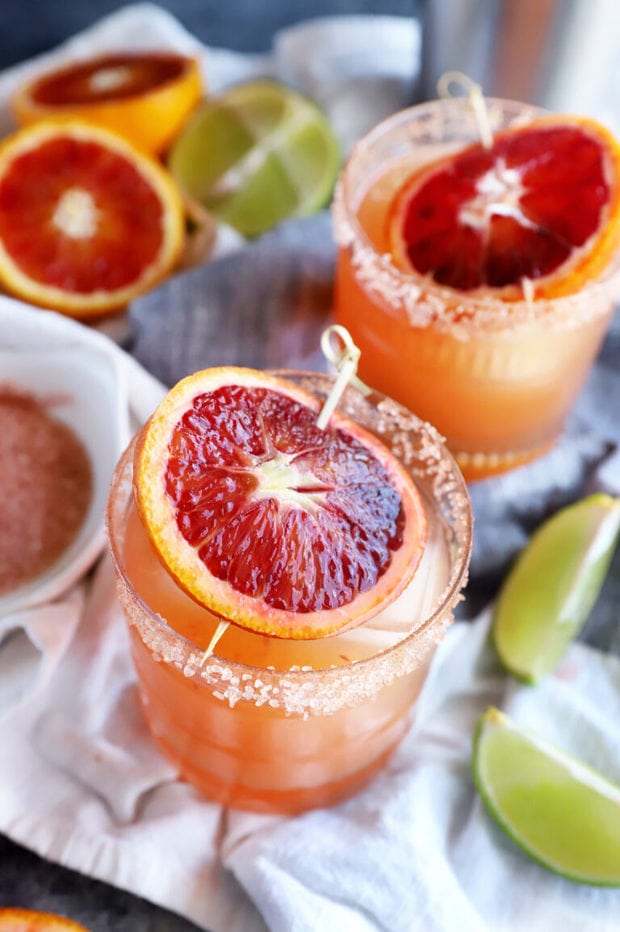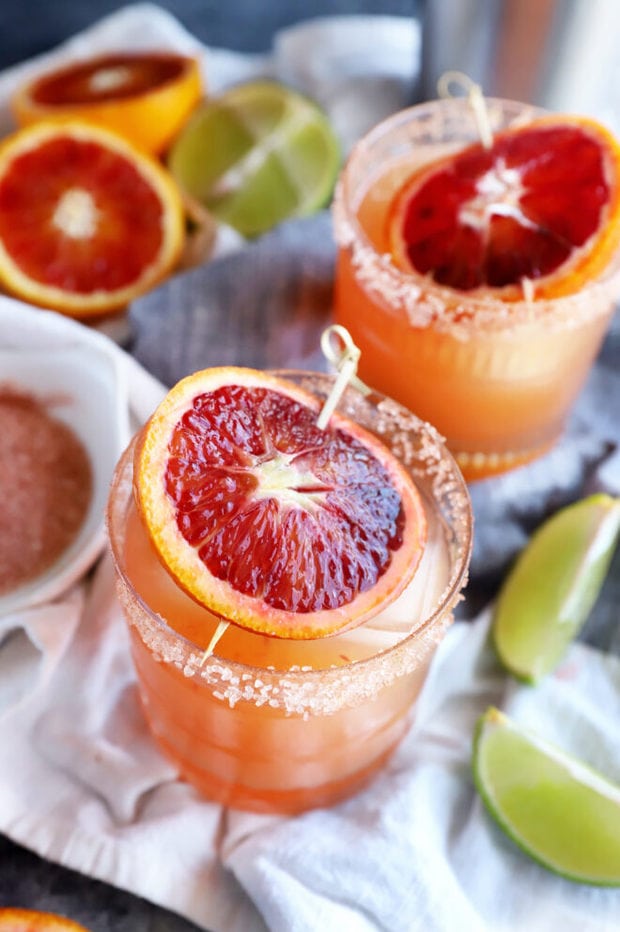 This Recipe's Must-Haves
You'll need a jigger to measure out all the liquid ingredients.
Have your cocktail shaker and cocktail strainer handy as well!
I like to serve margaritas in rocks glasses but you can also serve them in traditional margarita glasses.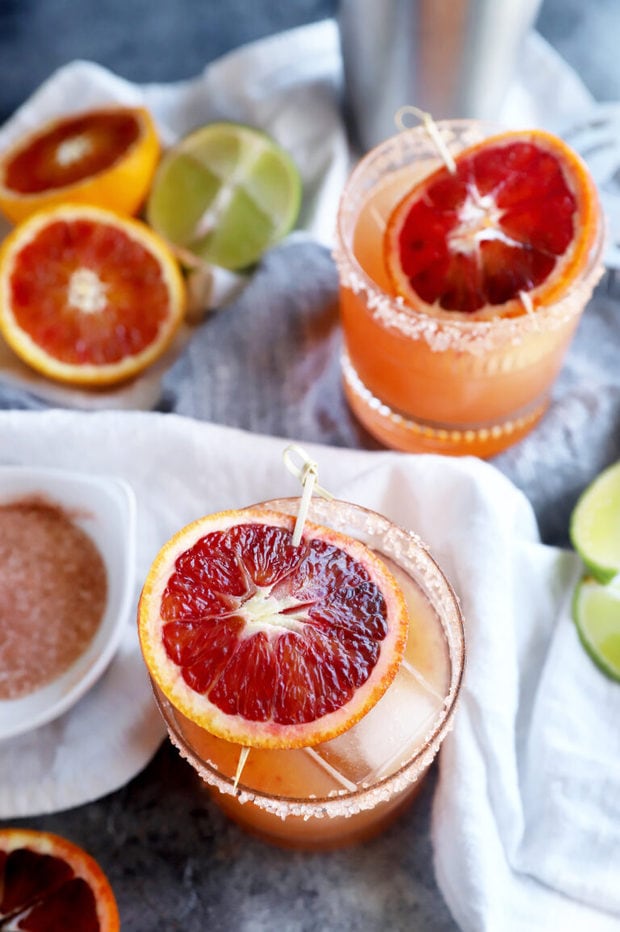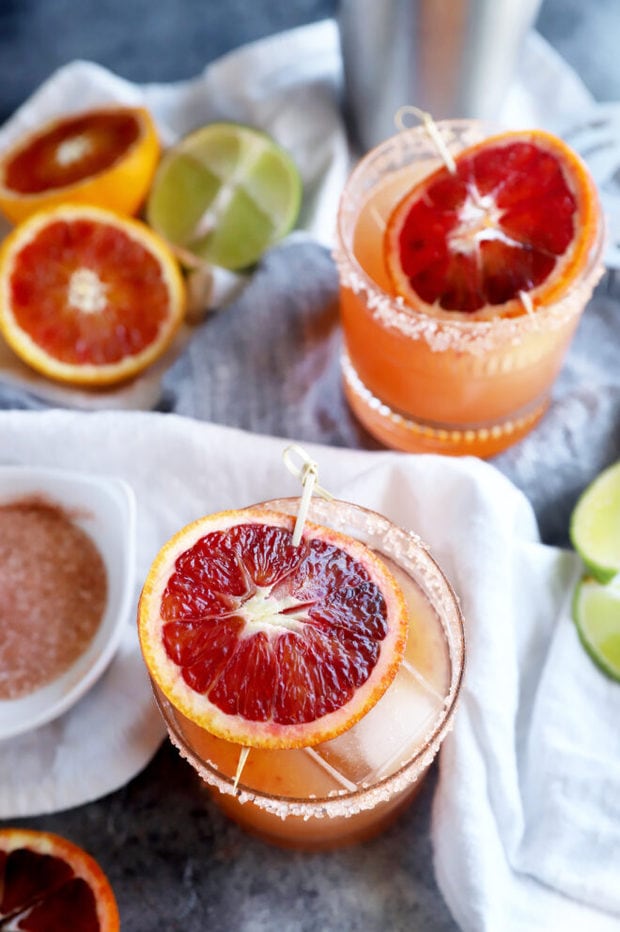 We're making delish spicy blood orange margaritas!
Rim the glasses
First, make the rimming salt for the glasses. Add salt and chili pepper to a small bowl, then stir to combine. Add the seasoned salt to a plate.
To rim the glasses, rub the rim of the glasses with lime wedges. Then roll the rim of the glass in the chili salt!
Shake & strain
All you have to do to make the cocktail is to shake everything together over ice!
Strain it into the rimmed glasses over ice and serve immediately.
If you need more inspiration for your at-home happy hour, check out my cocktail recipes page for some tasty ideas.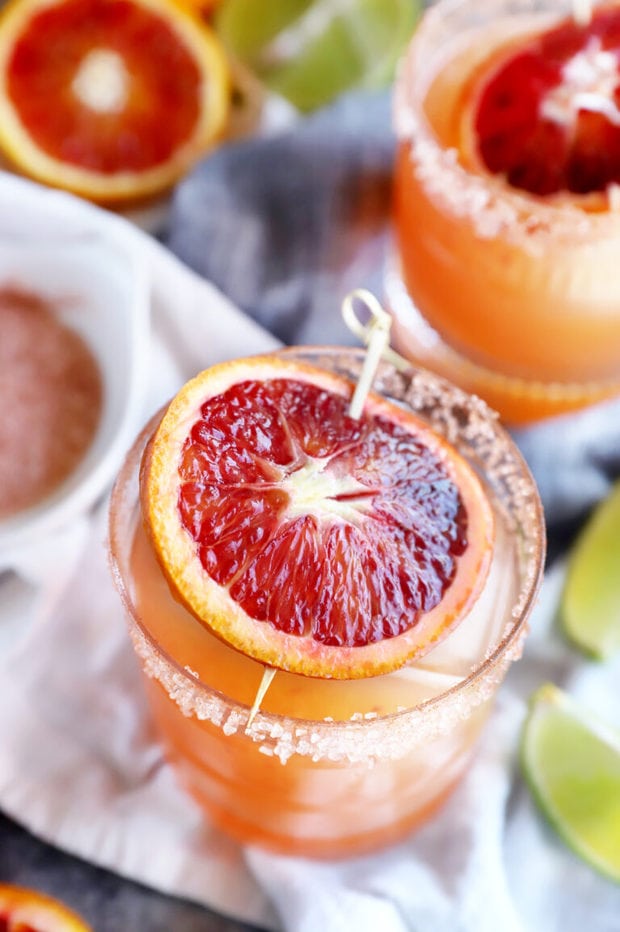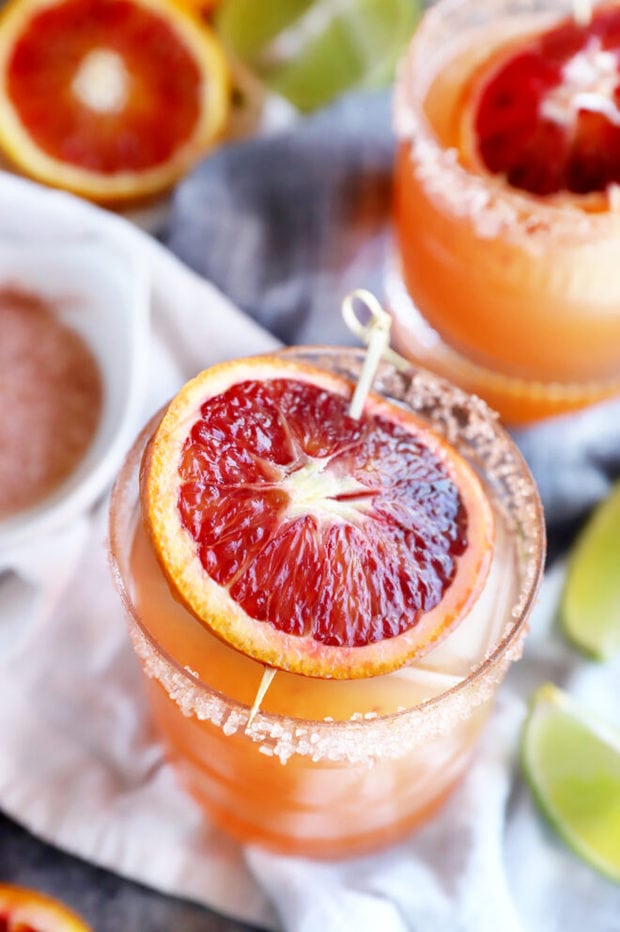 Got questions?
What if I can't find blood oranges?
During these times, I know it can sometimes be hard to find all the ingredients you need for ANY recipe. If you are having trouble finding blood oranges, try getting your hands on bottle blood orange juice.
When that's not an option, you can simply use any other orange from navel to cara cara to any other type you can find!
I am a wimp when it comes to spicy things… How spicy is this cocktail?
This cocktail has a mild to medium heat level, depending on whether you use a half or a whole jalapeño. If you want to really tone down the spice, remove the seeds from the jalapeño first.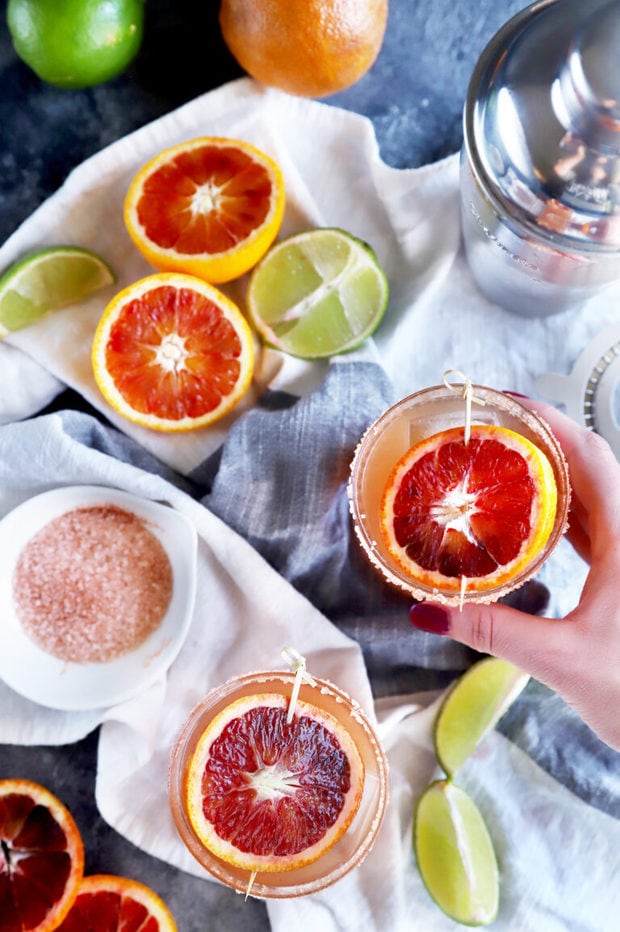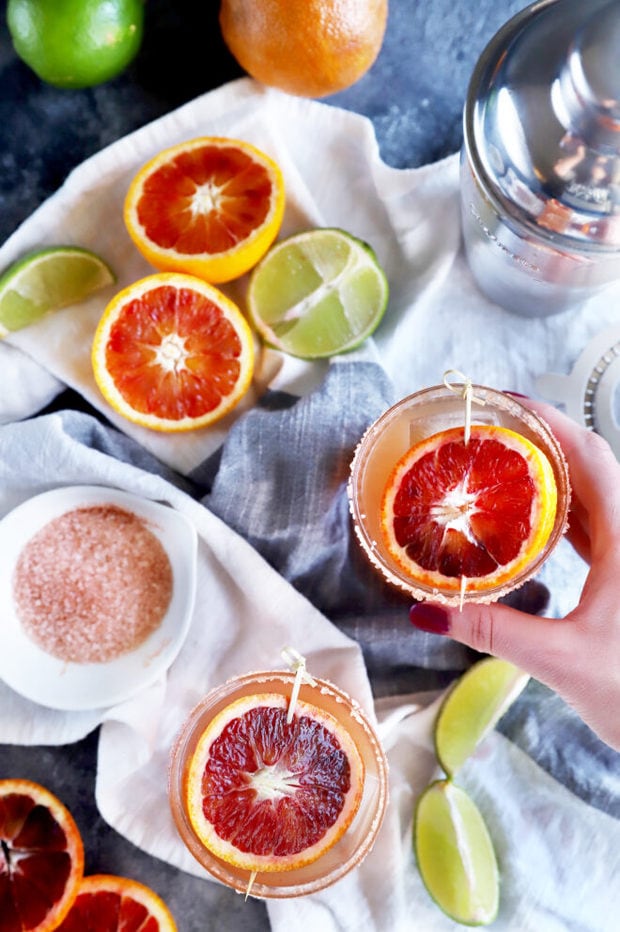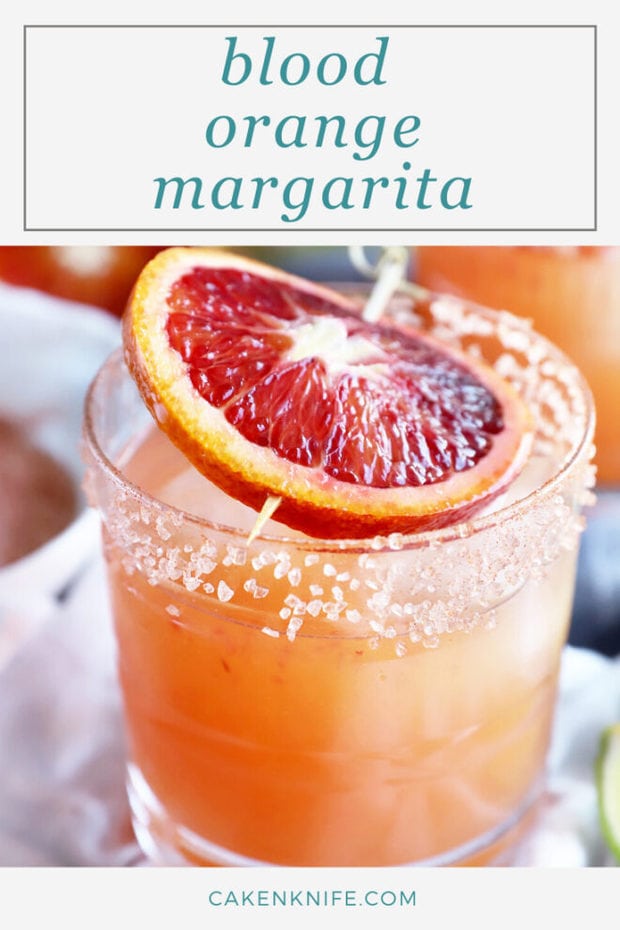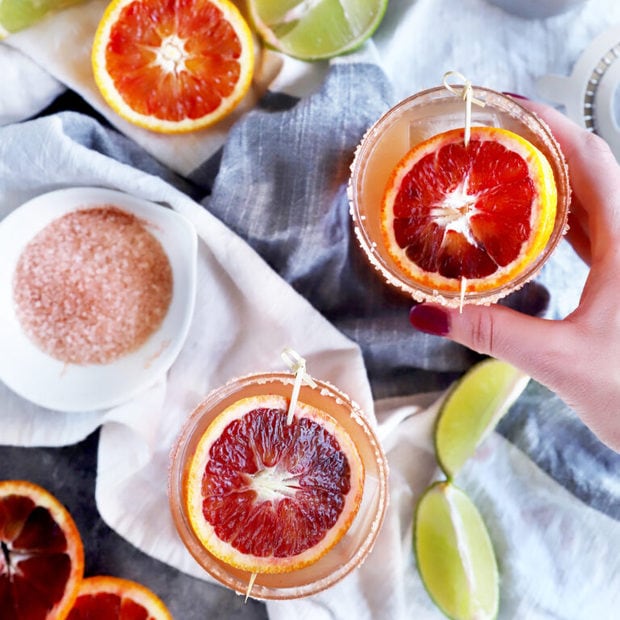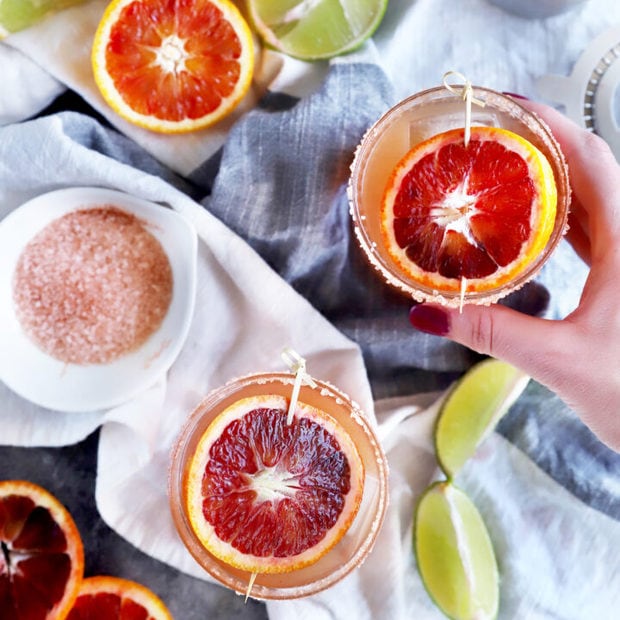 Spicy Blood Orange Margarita
Blood orange and jalapeno make this from-scratch margarita bright and rich in flavor!
Ingredients
Margarita
4 oz silver tequila
4 oz fresh blood orange juice
2 oz fresh lime juice
2 tsp agave
1/2 or 1 jalapeño, sliced into rounds
Rim
1 Tbsp
2 tsp chili pepper
Lime wedges
Garnish: blood orange slices
Instructions
In a small bowl, stir together salt and chili pepper for the rim. Pour out onto a small plate. Rub the rims of 2 cocktail glasses with a wedge of lime. Roll the wet rim in the chili salt mixture. Fill glasses with ice and set aside.
Add all ingredients for the margarita in a shaker filled with ice. Shake well.
Strain the cocktail into both glasses, dividing evenly between the two.
Garnish with blood orange slices and serve.
Recommended Products
As an Amazon Associate and member of other affiliate programs, I earn from qualifying purchases.