Chorizo, Cheese & Potato Croquettes with Red Wine Dipping Sauce are a savory and spicy fried delight that will take your taste buds to heaven. This fun appetizer will 100% get the party started right, every dang time.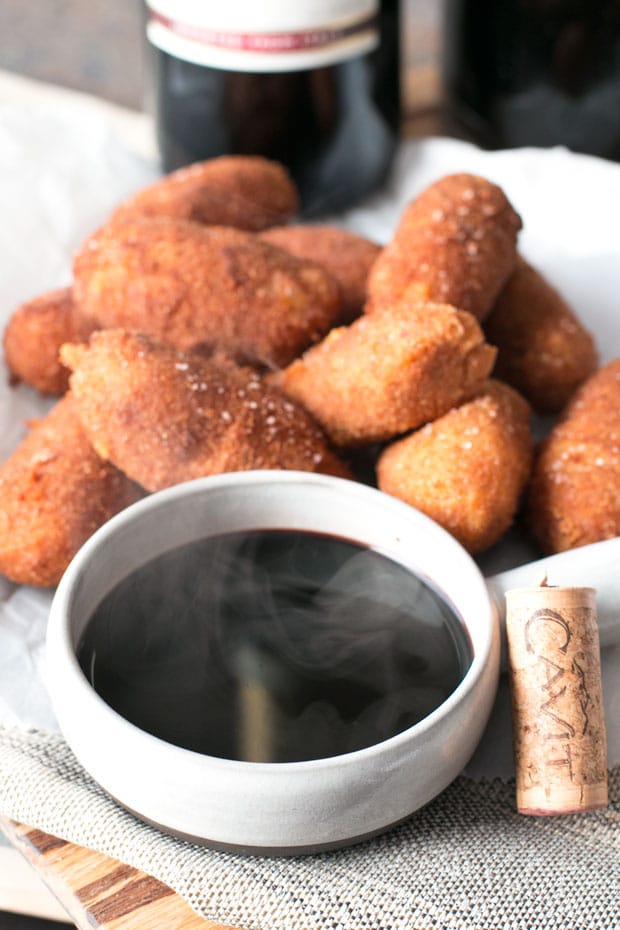 Disclosure: This post was sponsored by Cavit Collection. As always, all opinions and recipe are my own.
I remember trying croquettes for the first time at a little Belgian restaurant here in Denver a handful of years ago.
Now, why I hadn't experienced croquettes while I was traveling around Europe in my twenties, I have no idea. Once I experienced them, I knew that this would be the one way I would be using up my leftover mashed potatoes for the rest of my life.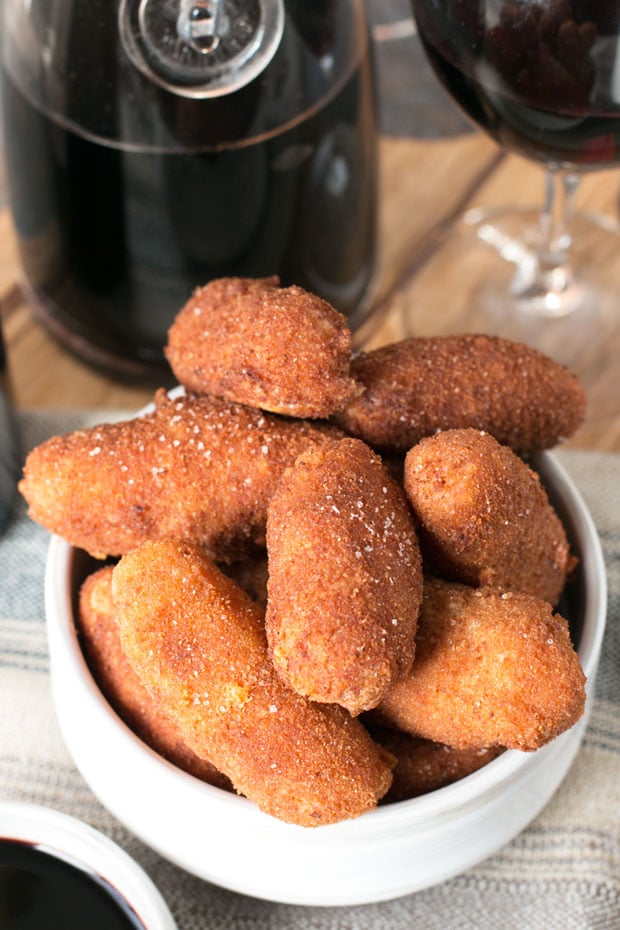 Honestly, I would make fresh mashed potatoes just to make this appetizer though…
This appetizer has that perfect balance of spicy, savory and hearty all wrapped up in a crunchy fried blanket. Then you take it for a dip in this tangy red wine dipping sauce…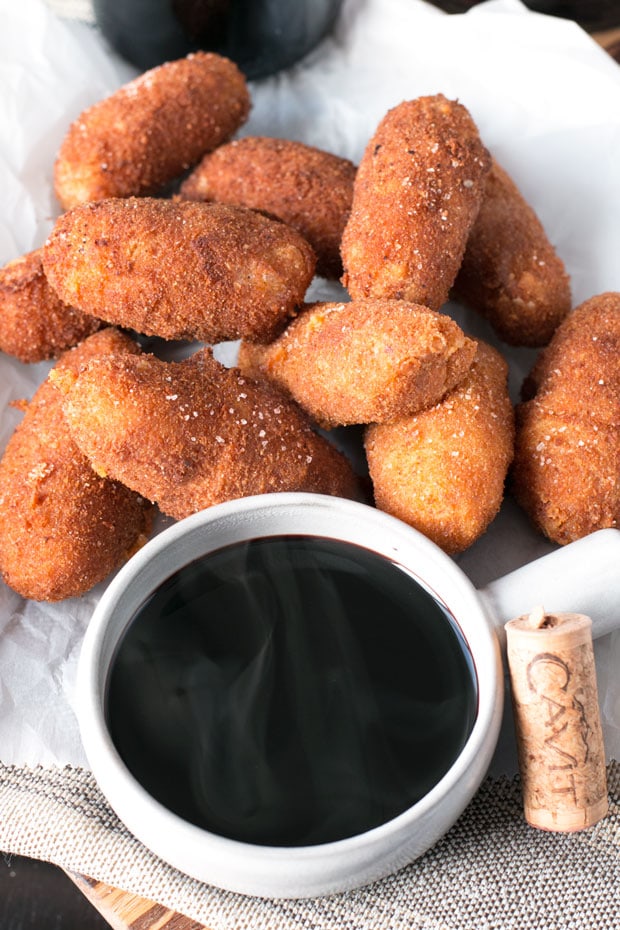 And your head explodes.
The sharp flavors in the dipping sauce really compliment the richness in the croquettes. I love adding the Cavit Collection Red Blend wine to the dipping sauce because it's just the right amount of depth in the red wine to make the sauce truly sing.
Pair all of this with a giant glass of Cavit Collection red wine and you have one of my favorite red wine appetizer pairings EVER.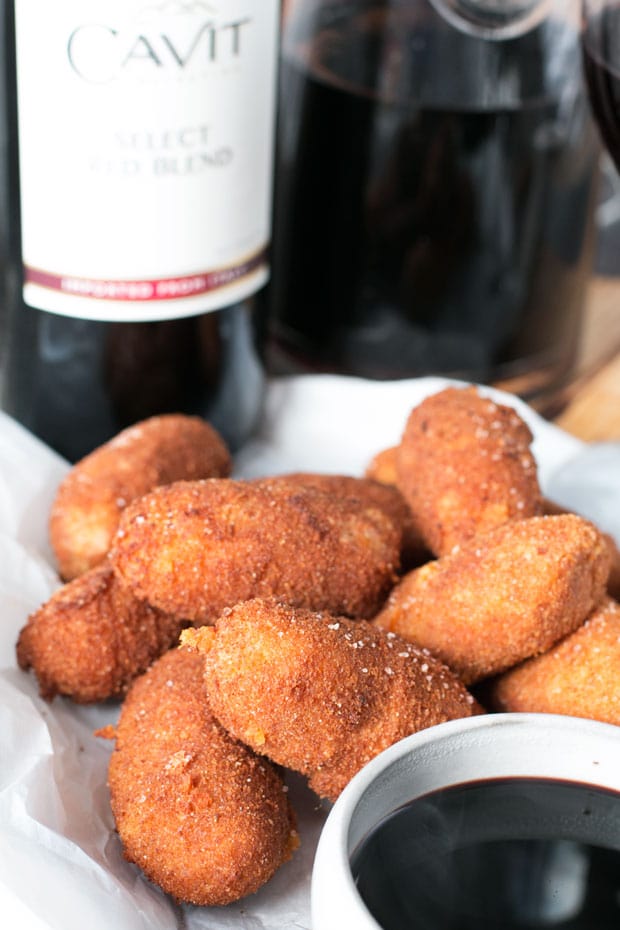 It gives an extra added element of fun at your holiday party to pair the appetizer with this wine because it becomes an actual experience (not simply devouring delicious food). Shared with friends and family, it's going to make all of your holiday celebrations insanely amazing.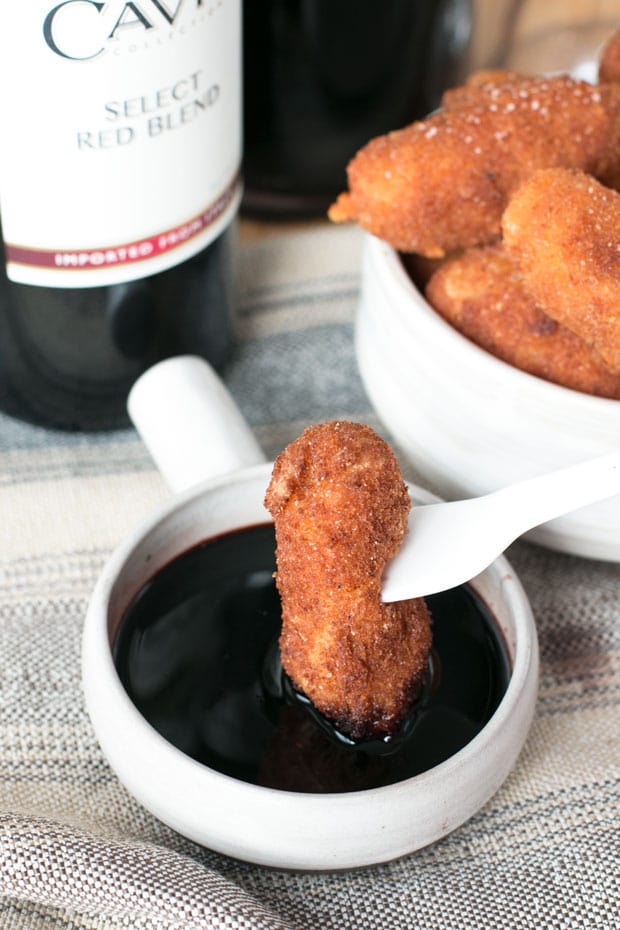 This Recipe's Must Haves
Pin this Chorizo, Cheese & Potato Croquettes with Red Wine Dipping Sauce recipe for later!

Chorizo, Cheese & Potato Croquettes with Red Wine Dipping Sauce
Spicy and hearty fried coquettes paired with a sharp and tangy red wine dipping sauce, perfect for warming up in these chilly months!
Ingredients
2 cups mashed potatoes
5 oz chorizo, cooked and finely chopped
8 oz freshly grated sharp cheddar cheese
1 cup all-purpose flour
1 large egg
1 Tbsp water
1 1/2 cups plain breadcrumbs
Vegetable oil
1 1/4 tsp salt
1/4 tsp pepper
1/2 tsp paprika
RED WINE SAUCE
1 cup balsamic vinegar
1 cup Cavit Red Blend wine
1/4 cup brown sugar
Instructions
In a small bowl. Stir together 1/2 tsp paprika and 1 tsp salt. Set aside.
In a small saucepan, combine balsamic vinegar, Cavit red blend, and brown sugar. Whisk until the sugar is dissolved. Bring to a boil and reduce to a simmer, cooking until the sauce has thickened, approximately 5 to 8 minutes.
In a large bowl, stir together potatoes, 1/4 tsp salt, pepper, chorizo, and cheddar. Set aside.
Add flour to one bowl, beat egg and water together in another bowl and breadcrumbs in a third bowl.
Heat 3 inches of vegetable oil in a heavy-bottomed pot over medium-high heat.
Form 2-inch logs out of the potato and chorizo combination. Dredge the logs first in flour, then egg wash, and finally in breadcrumbs. Working in batches, fry until golden on all sides, approximately 2 minutes, and remove to a paper towel lined plate. Season with paprika salt. Serve with red wine dipping sauce.