Explore the long list of what's in season in August with our produce guide! From peaches and watermelons to bell peppers and cucumbers, the end-of-summer harvest is here for you to take advantage of before the season is over. We are sharing a comprehensive seasonal produce list along with recipes to elevate your cooking this month!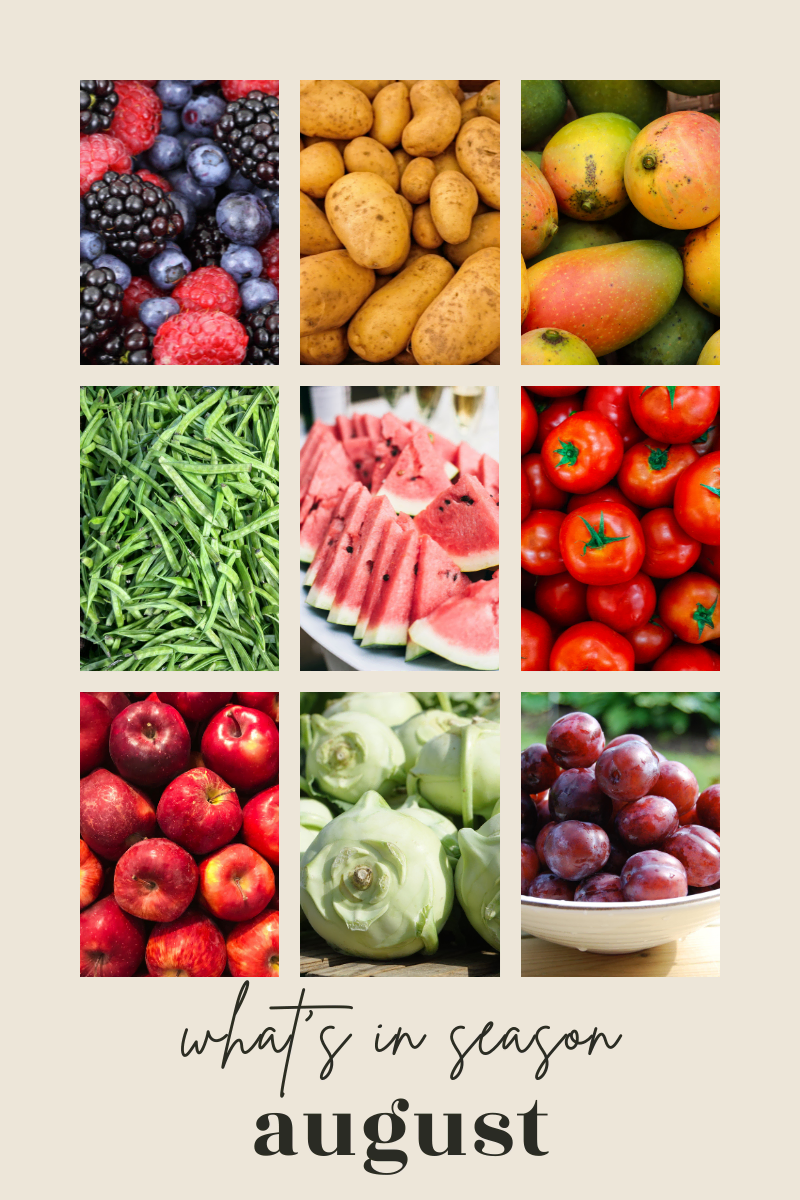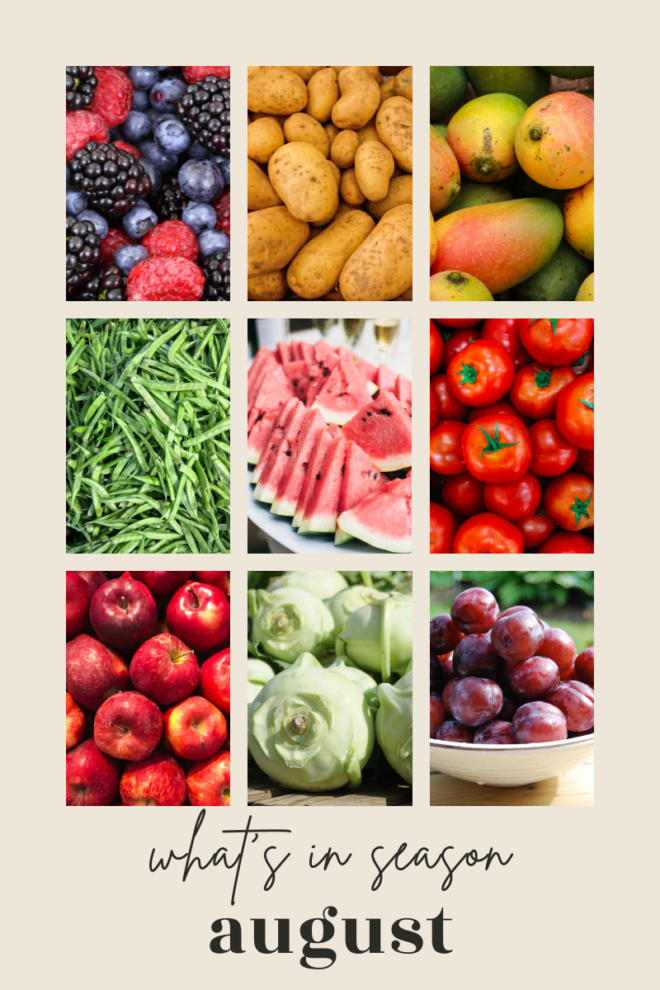 august produce guide
Though the heat will be lingering past August, it's hard not to think of this month as the official end of summer.
It's the month when school begins and we all eagerly look forward to the sweet relief of a crisp breeze and leaves turning colors in the coming months.
August is the best time to take advantage of the end-of-summer harvest. Cherries are making their way out of season. Peaches are in peak season in this moment. Different types of squash are coming into season.
Incorporating these seasonal gems into your cooking allows you to create dishes that are not only bursting with flavor but also packed with nutrients. Since the produce is at its freshest, it requires minimal effort to shine in simple, delicious recipes (if you need some inspiration, be sure to scroll down to the august recipes list below!).
Whether you're grilling vegetables, blending fresh fruits into smoothies, or tossing them into vibrant salads, seasonal cooking in August is all about celebrating the beauty of nature's bounty.
vegetables in season in august
Below is the ultimate list of every vegetable that is in season in August. This is your guide to shopping the produce section or your local farmers market for vegetables!
Acorn squash
Bell peppers
Butternut squash
Corn
Cucumbers
Eggplant
Green beans
Hot peppers
Kohlrabi
Lettuce
Okra
Potatoes
Serrano peppers
Shishito peppers
Summers squash
Swiss chard
Tomatoes
Winter squash
Zucchini
fruits in season in august
Here is a comprehensive list of all the fruits that are in season in August!
Apples
Apricots
Blackberries
Blueberries
Cantaloupe
Figs
Honeydew
Kiwi
Mangoes
Peaches
Plums
Pluots
Raspberries
Strawberries
Watermelon
august seasonal recipes
Is your mouth watering yet…? There's so many produce options to enjoy here, but how do you know what to cook first?
Below I'm sharing my favorite July seasonal recipes. You can make these recipes for any occasion, whether it's for a summer gathering or if you need a new recipe to try for the summer. Don't forget to scroll to the bottom for a graphic to save to make remembering this produce a little easier!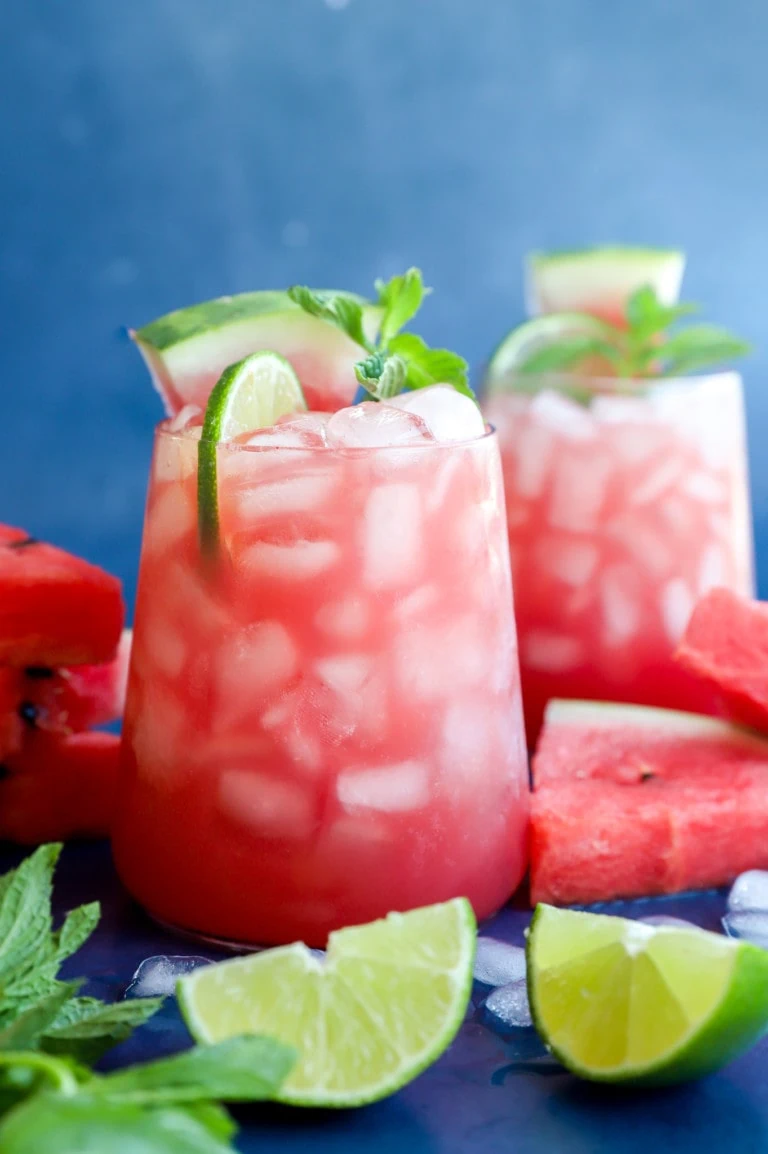 Watermelon Vodka Cocktail
A mouthwatering Watermelon Vodka Cocktail is the epitome of summer refreshment! This invigorating drink combines the natural sweetness and juiciness of fresh watermelon with the smooth, clean notes of vodka. It's a tasty fusion of flavors that will keep you cool and revitalized, making it the ideal choice for hot summer days.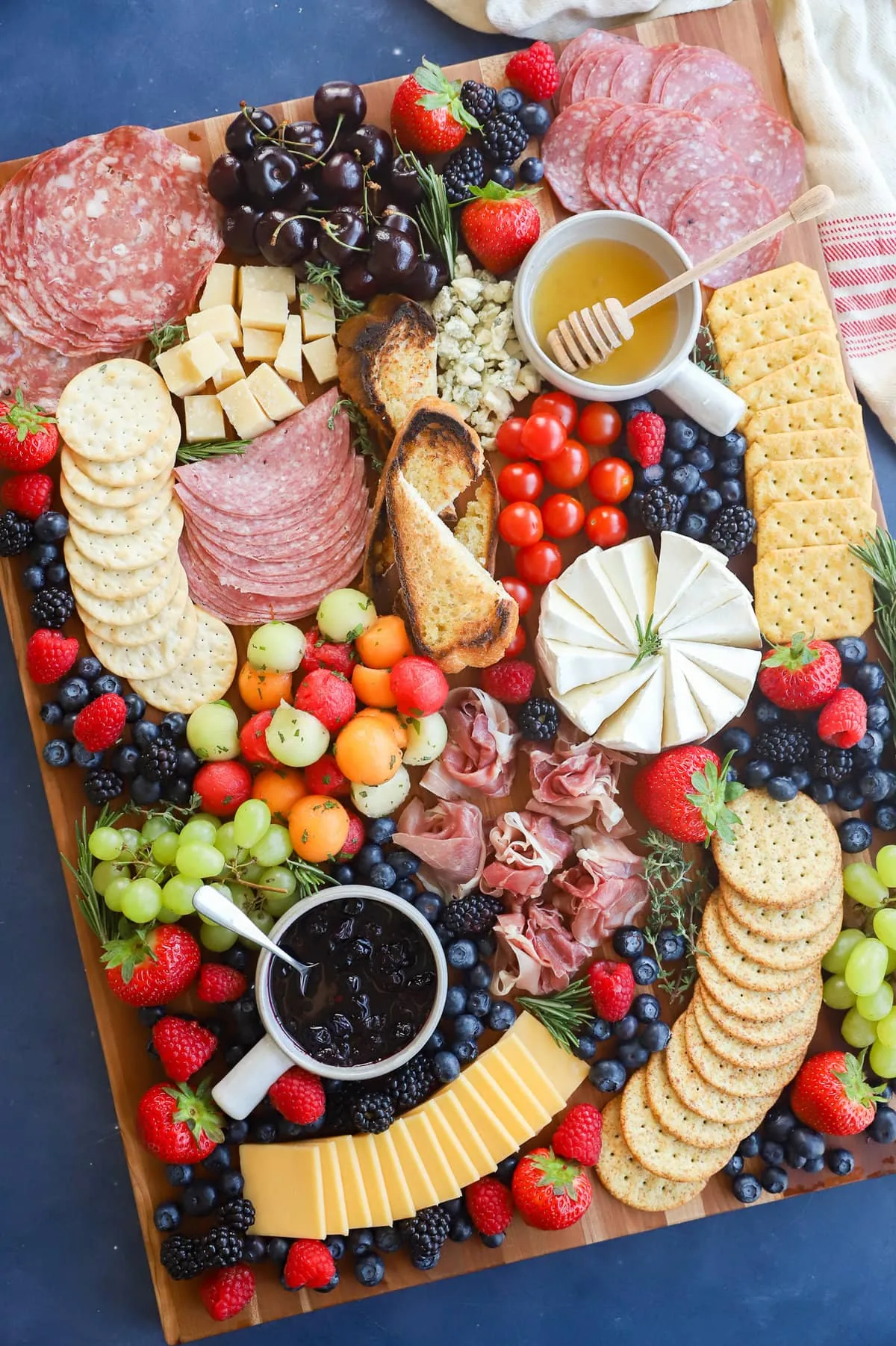 Summer Charcuterie Board
A Summer Charcuterie Board is the ultimate way to embrace the flavors of summer! Bursting with an array of seasonal fruits, refreshing dips, and a tempting assortment of artisanal cheeses and cured meats, this board is a grazer's ultimate dream. It is an unforgettable centerpiece for any summer gathering!
BBQ Glazed Grilled Bratwurst with Spicy Peach Bacon Salsa
BBQ Glazed Grilled Bratwurst with Spicy Peach Bacon Salsa is a simple recipe with big bold flavors that are ideal for celebrating the end of summer. The grilled brats have a sweet and savory glaze from the Head Country BBQ Sauce, which pairs perfectly with the smoky, spicy, and fruity salsa on top. Easy enough to make any night of the week, but totally wow-worthy for a party!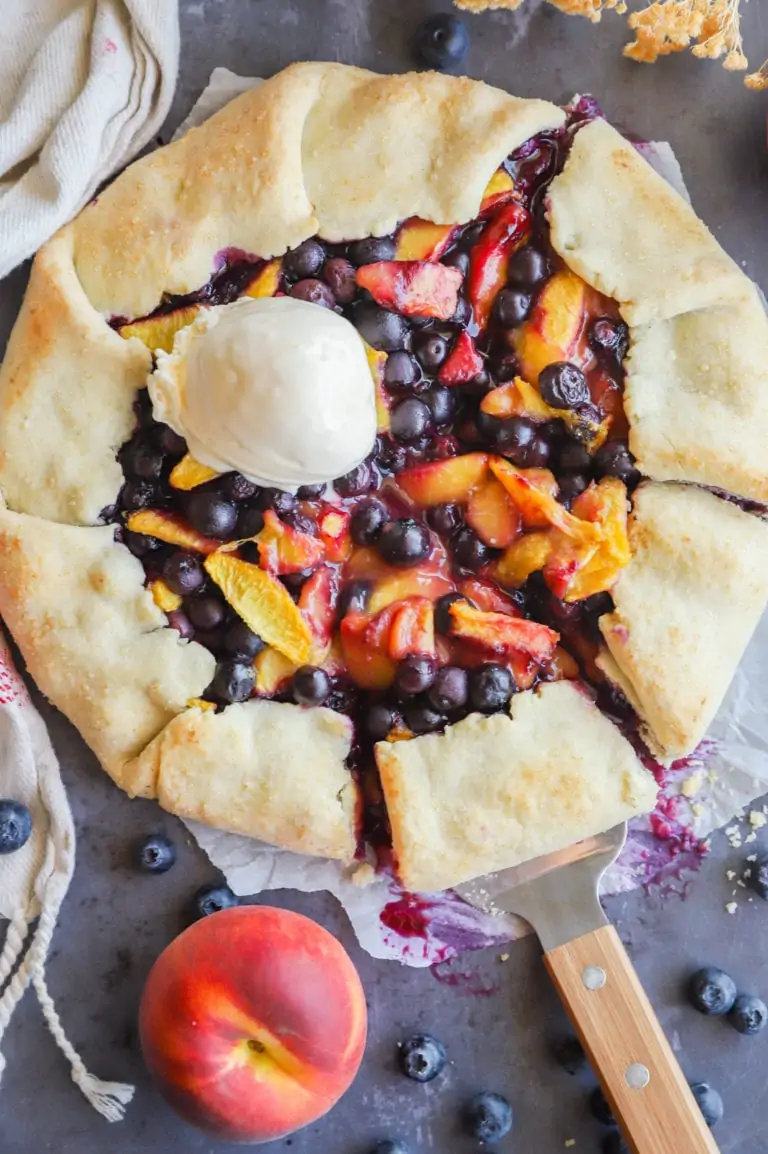 Peach Blueberry Galette
A peach blueberry galette is a rustic fruit dessert that's much easier to make than pie! The buttery free form crust gets folded over the juicy filling and then baked. Serve with vanilla ice cream for a real treat.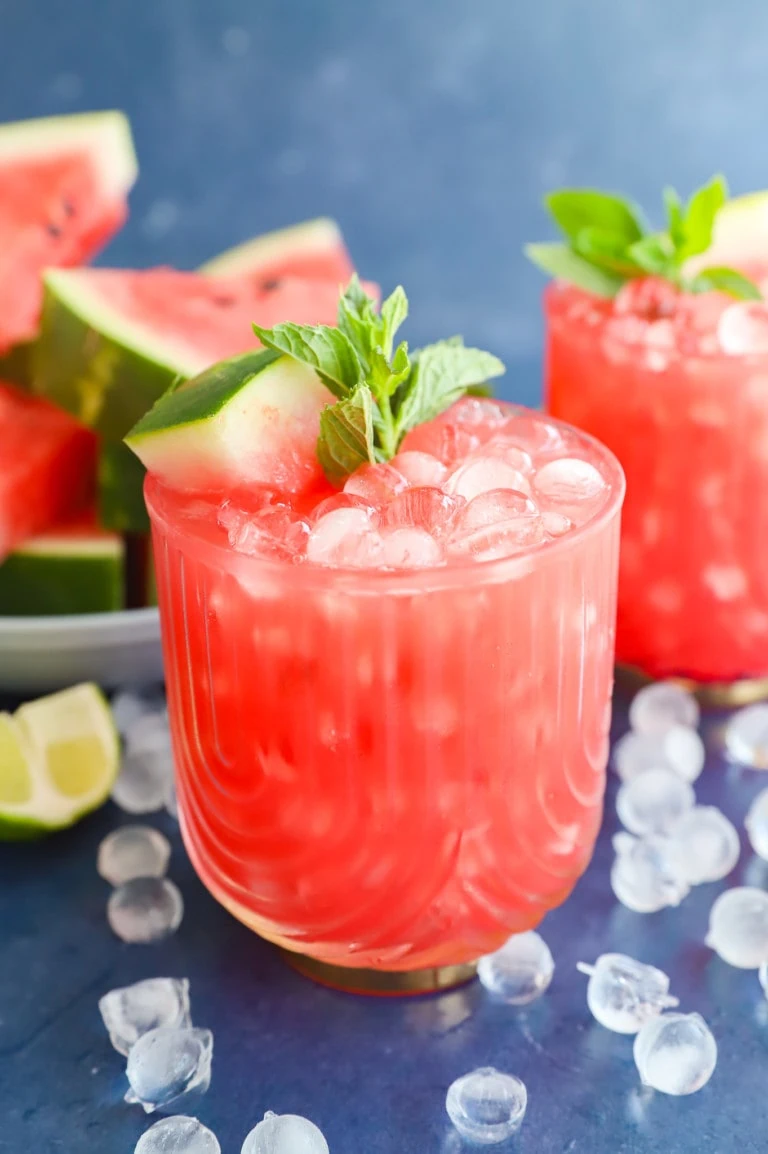 Watermelon Gin Cocktail
A watermelon gin cocktail is the best way to quench your thirst this summer! The combination of fresh juicy watermelon, refreshing mint, and floral gin is one that will have you coming back for more. Plus you can easily make it in a big batch to serve at your next gathering!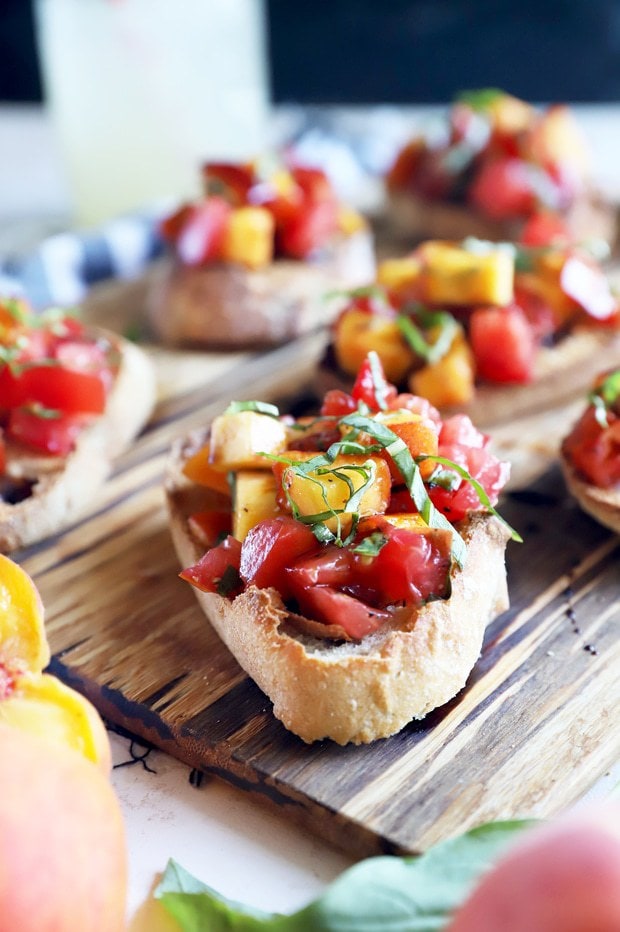 Tomato Peach Bruschetta
Tomato Peach Bruschetta is a fruity upgrade on the Italian appetizer that you will not be able to stop eating. The sweet peaches with the meaty tomatoes, garlic, and fresh basil are the easiest and tastiest bread topping ever!
Spicy Italian Stuffed Peppers
Spicy Italian Stuffed Peppers are a fresh twist on a family favorite! Sweet bell peppers are stuffed with a hearty mixture of ground beef, marinara sauce, Italian herbs, cheese, and veggies. Each stuffed pepper is a dinner unto itself, but without the carbs that you typically see in stuffed peppers!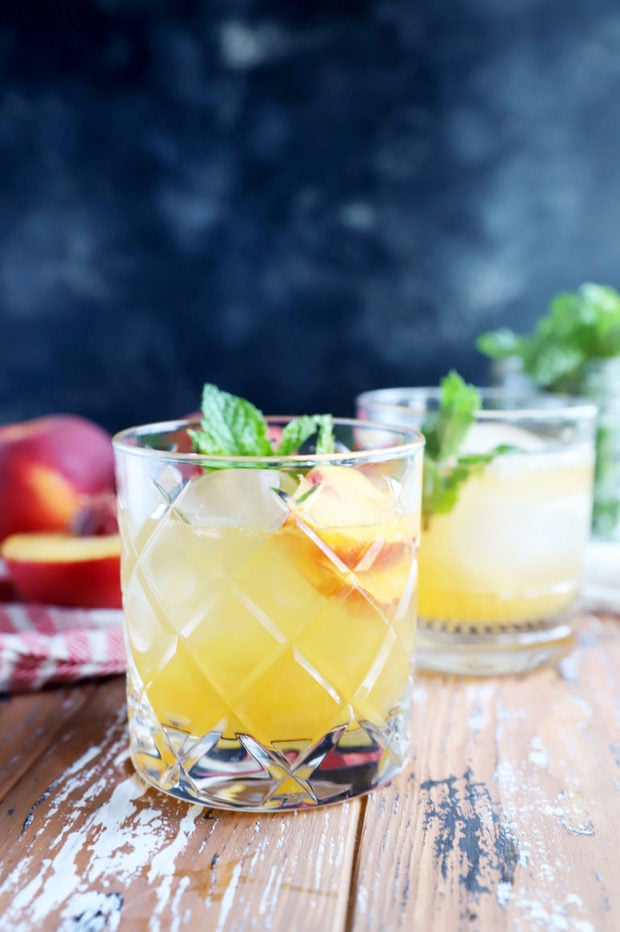 Bourbon Peach Smash
A Bourbon Peach Smash is fruity, boozy, and refreshing. Make the most of peak peach season with this sensational mixture of peaches, mint, lemon, and bourbon.
Grilled Salmon with Charred Corn Avocado Tomato Salsa
Grilled Salmon with Charred Corn Avocado Tomato Salsa brings a bunch of spice to the party, without any guilt! The bright and flavorful salsa on top of a heartily spiced fish is a simple way to make the most of fresh summer flavors. This is going to become your new favorite summertime dinner.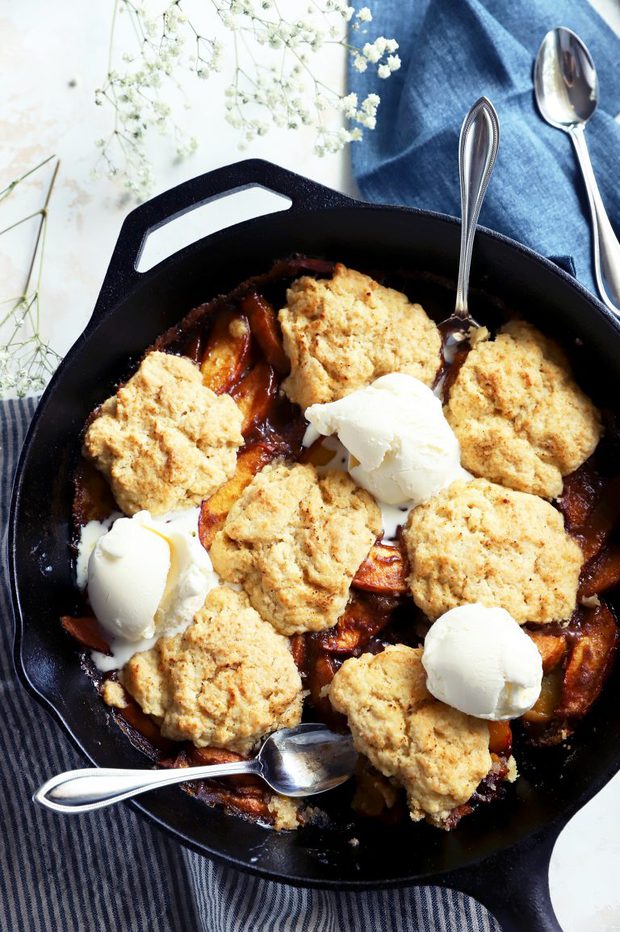 Grilled Peach Cobbler
Grilled Peach Cobbler is summery and fresh, making the most of the seasonal fruit and grilling season! The entire recipe comes together in a cast iron skillet, and can even be made straight on the campfire.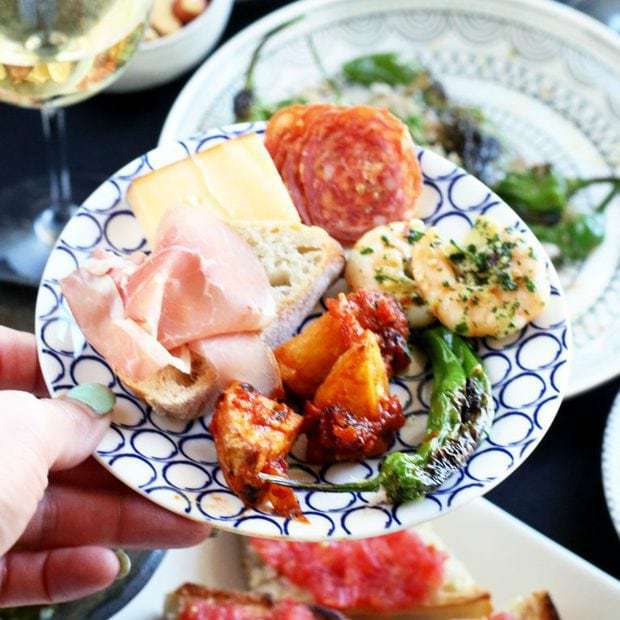 blistered shishito peppers
Here you'll find the blistered shishito peppers with bonito flakes (based off a recipe I had in Asheville many years ago on a foodie trip). They are oh-so flavorful and simple to make!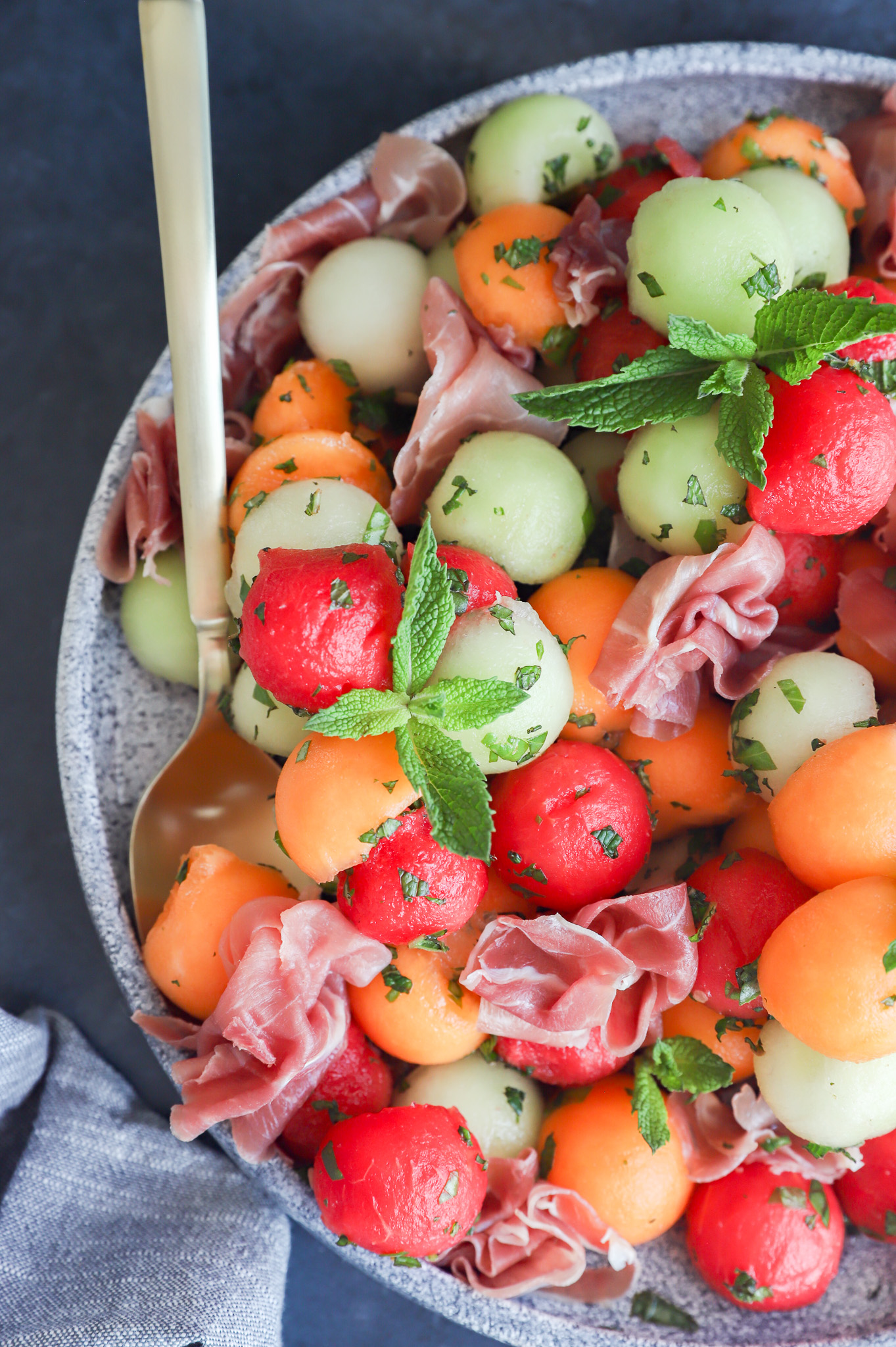 Melon Prosciutto Salad
An easy melon prosciutto salad is a refreshing combination of watermelon, cantaloupe, and honeydew. With the addition of a honey citrus dressing made with fresh citrus juice and herbs, you'll find yourself making this recipe over and over again for a side dish or even a poolside snack.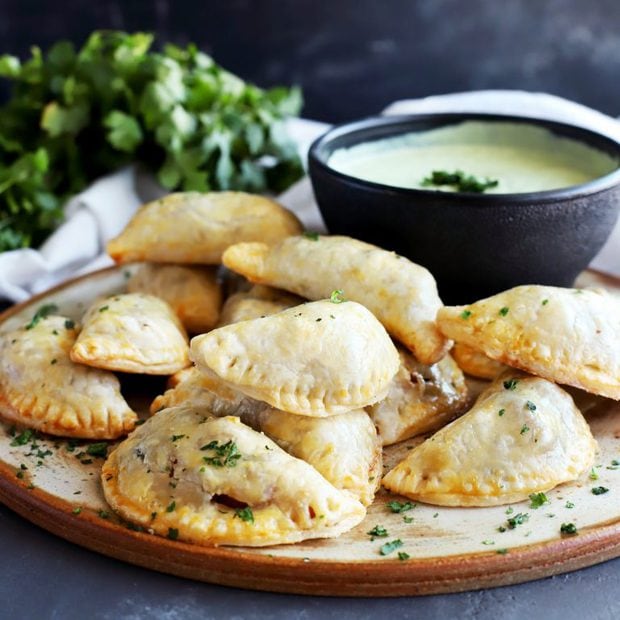 Butternut Squash Goat Cheese Empanadas with Avocado Dipping Sauce
Butternut Squash Goat Cheese Empanadas with avocado dipping sauce are the ideal hearty, warm, and cheesy vegetarian handheld pies. Filled with plenty of vegetables and tangy goat cheese, the flavors dance across your taste buds in the best way! Going vegetarian for a night has never been tastier.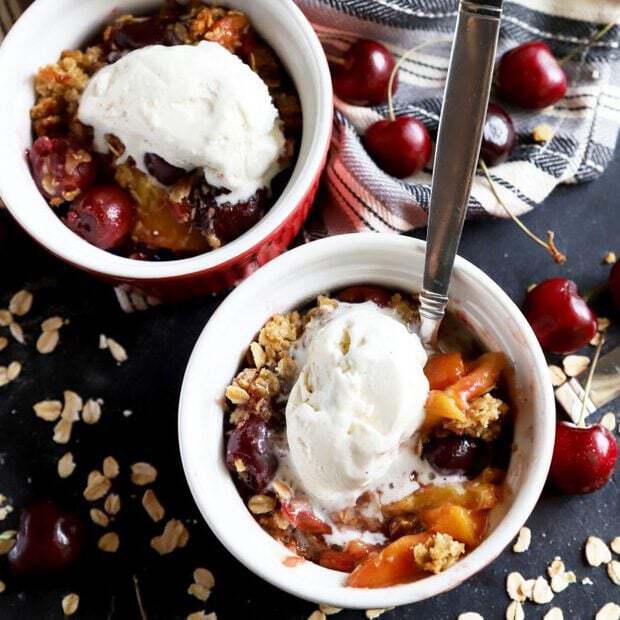 Bourbon Cherry Peach Crumble
This Bourbon Cherry Peach Crumble is a delightful combination of tart cherries and juicy peaches, topped with a brown sugar oatmeal topping. It's one of those recipes that's easy to make and everyone always goes crazy for! Just be sure to have some ice cream handy to serve it with.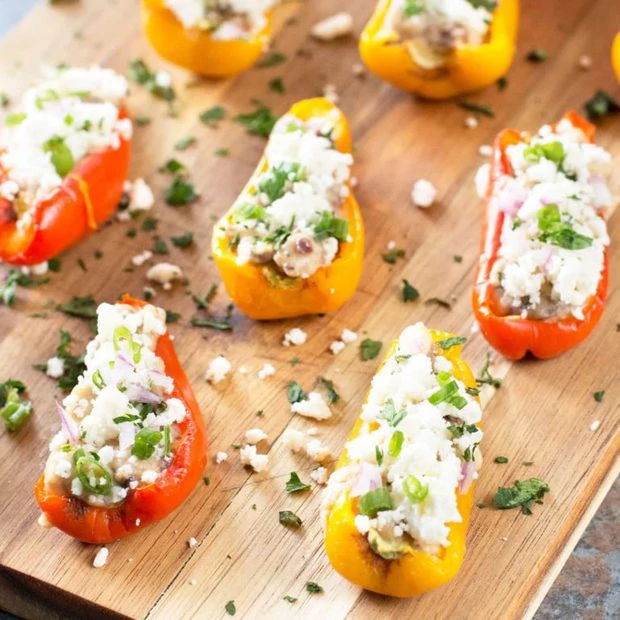 Greek Stuffed Roasted Sweet Peppers
Greek Stuffed Roasted Sweet Peppers are one of the easiest appetizers to make, but that doesn't mean they are light on flavor! Olive tapenade hummus paired with the sweet and savory roasted peppers is a delicious way to start a meal.
Need more inspiration for summer cooking/baking? Check out my summer recipes page!
what's in season in august? Pin this august produce guide!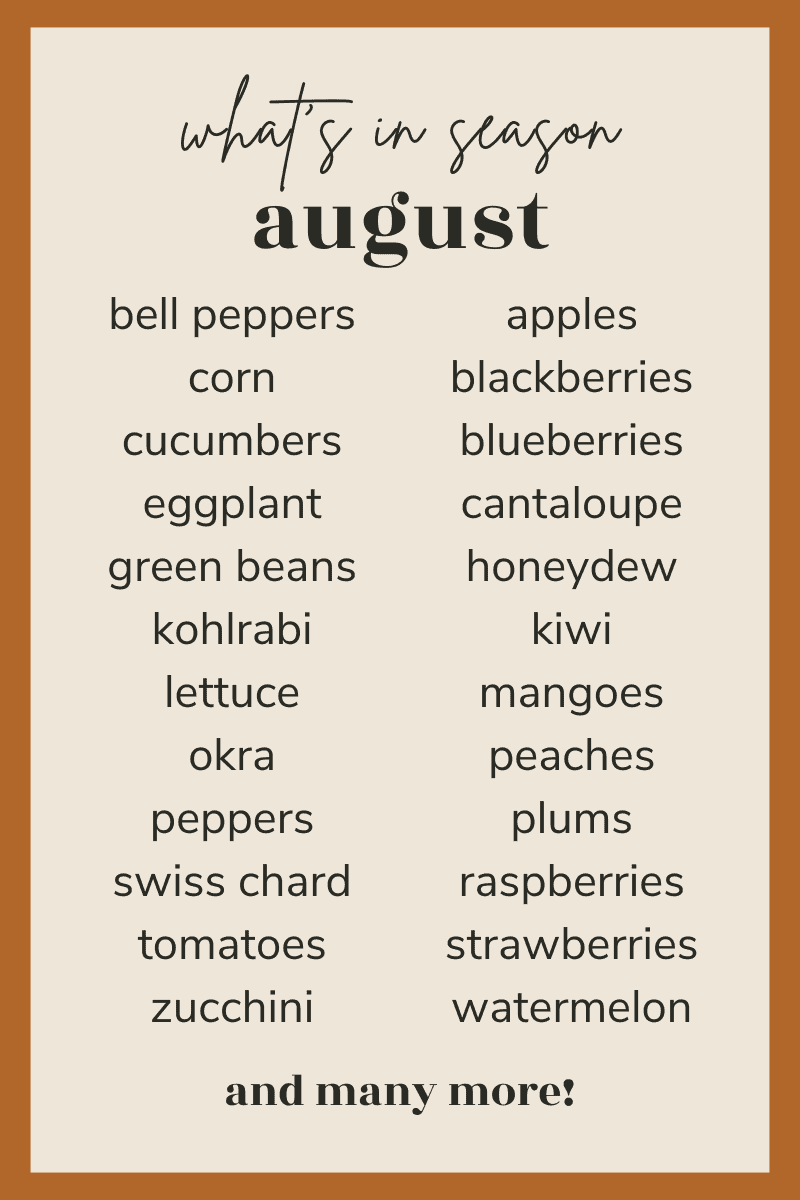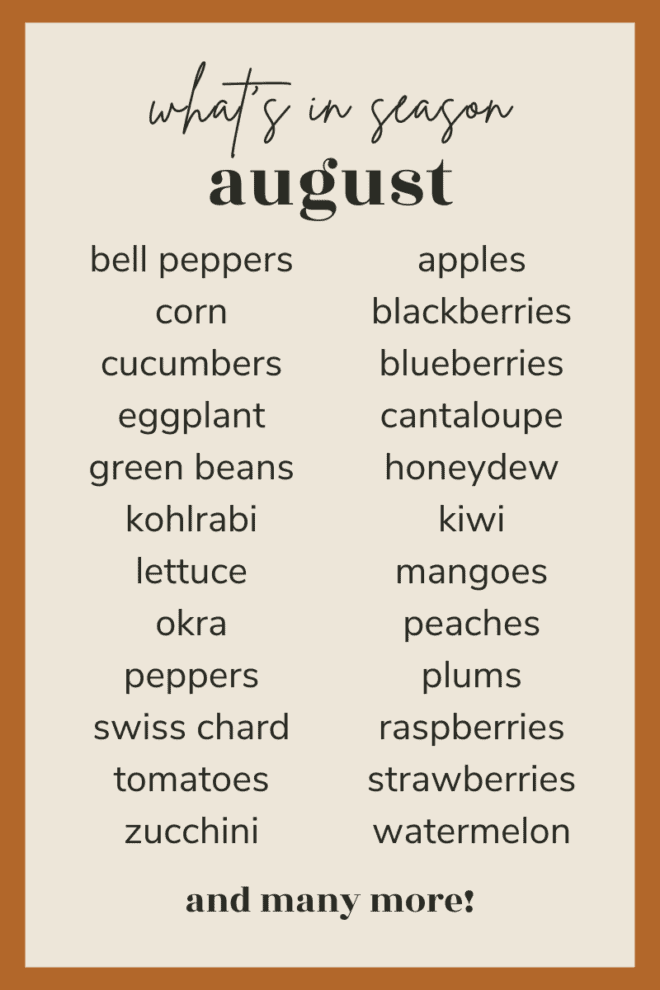 Looking for next month's list?
Check out my september produce guide!