Please note this post contains affiliate links.
A Bourbon Peach Smash is fruity, boozy, and refreshing. Make the most of peak peach season with this sensational mixture of peaches, mint, lemon, and bourbon. Makes 1 cocktail.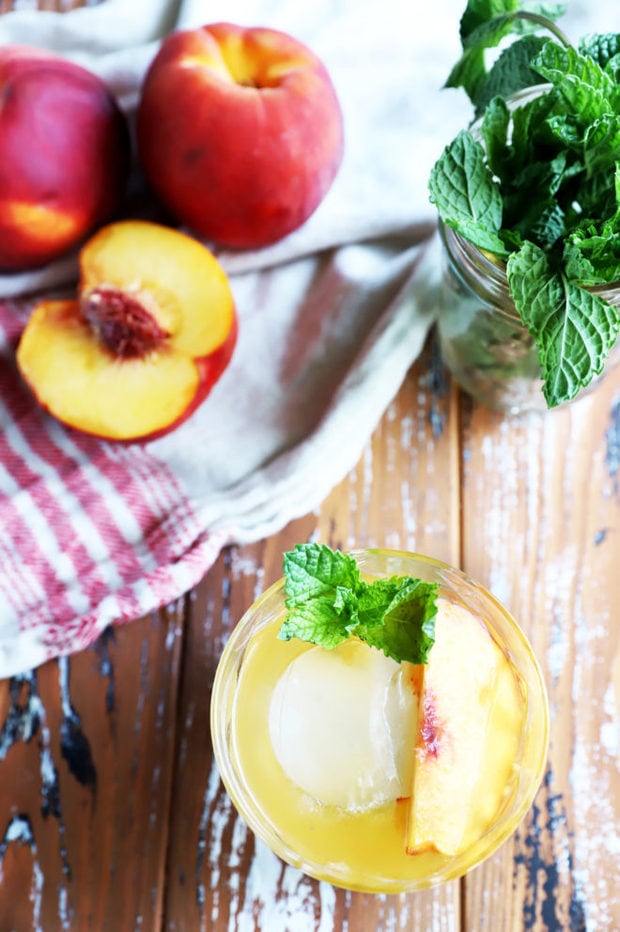 If you've been around for a bit, you know that I am a bourbon girl at heart. It's the spirit of choice for me, and it just so happens to be the ideal pairing for all those fresh peaches that are in season right now.
This peach smash cocktail is just the right refreshment for a hot summer night spent out on the patio with a plate full of tasty, smoky BBQ.
Gosh doesn't that just sound lovely right about now? I don't know if it's the time of year or what, but I am CRAVING BBQ this week. I just want a giant slab of ribs with a side of pulled pork and some extra coleslaw please!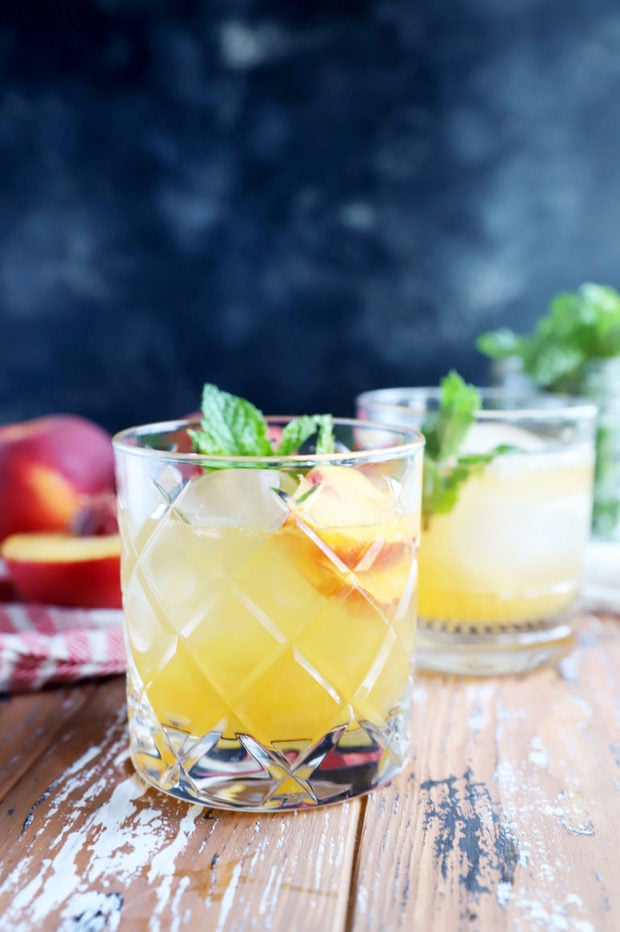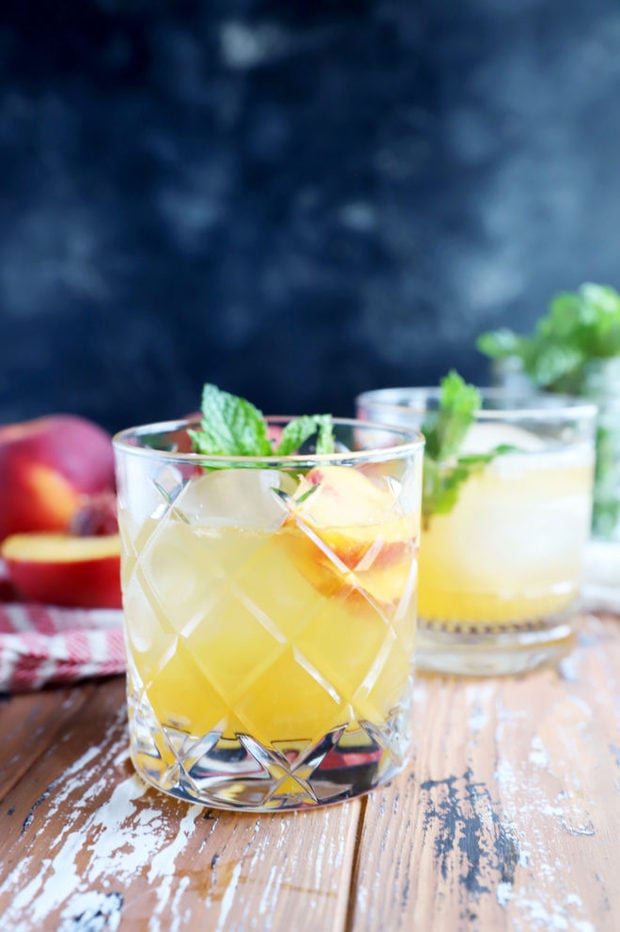 It's fresh and bright, with tons of ripe peach flavor to pair with the sweeter heat of the bourbon!
I have to say, it's been a minute since I've gotten into the kitchen to make a cocktail (ok maybe it was only a week or so), but it felt really good. Maybe that's just the bourbon haze talking, but I think I might be finally balancing this whole working mom thing? At least in this particular moment in time I can confidently say that… I'll get back to you next week when he decides to pop another tooth.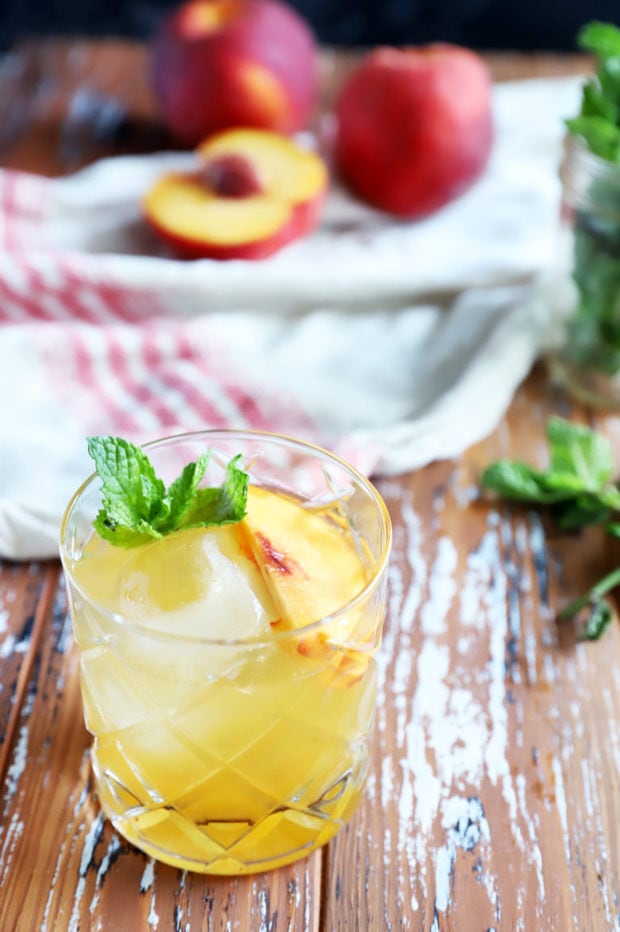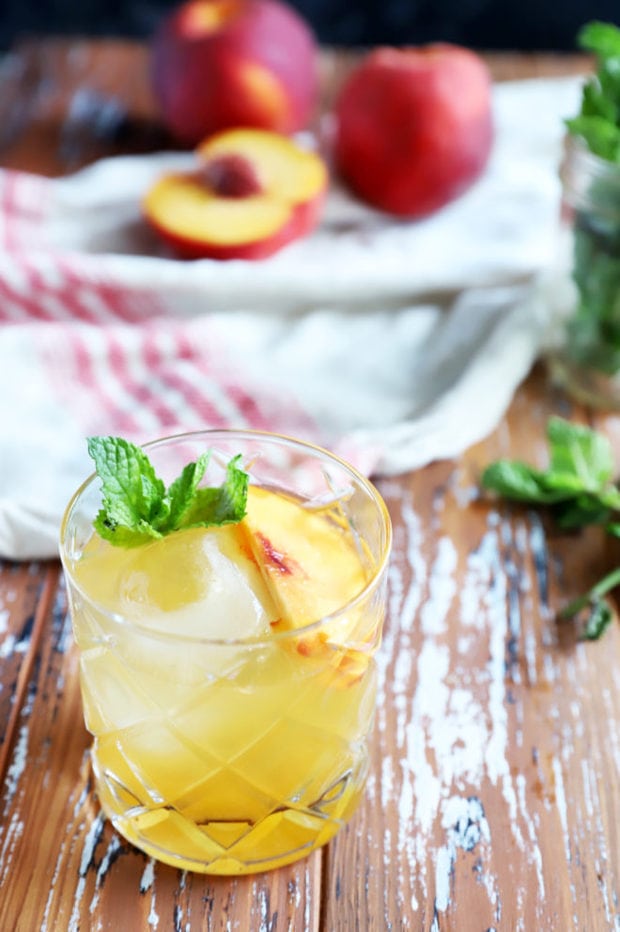 this recipe's must-haves
To make the cocktail, I use the glass for my favorite cocktail shaker and a muddler to bring all the ingredients together.
You'll also need a cocktail strainer to strain it into one of these double old fashioned glasses.
Plus these ice sphere molds are awesome!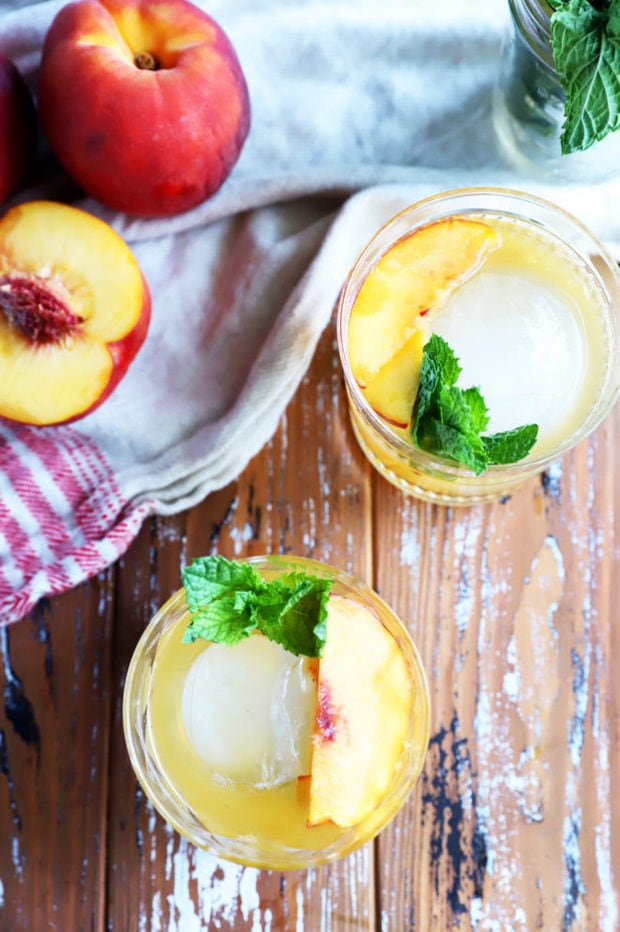 we're making a bourbon peach smash!
Muddle
Add the simple syrup, peach slices, mint leaves, and lemon wedge to a cocktail shaker and muddle well.
Top with bourbon and ice.
Shake
Shake the cocktail well. This will take about 30 seconds or so.
Strain
Strain the cocktail into a glass filled with ice. Garnish with a couple of slices of peach and a mint sprig. Serve.
Need some more inspiration for cocktails? Check out my cocktails recipe page!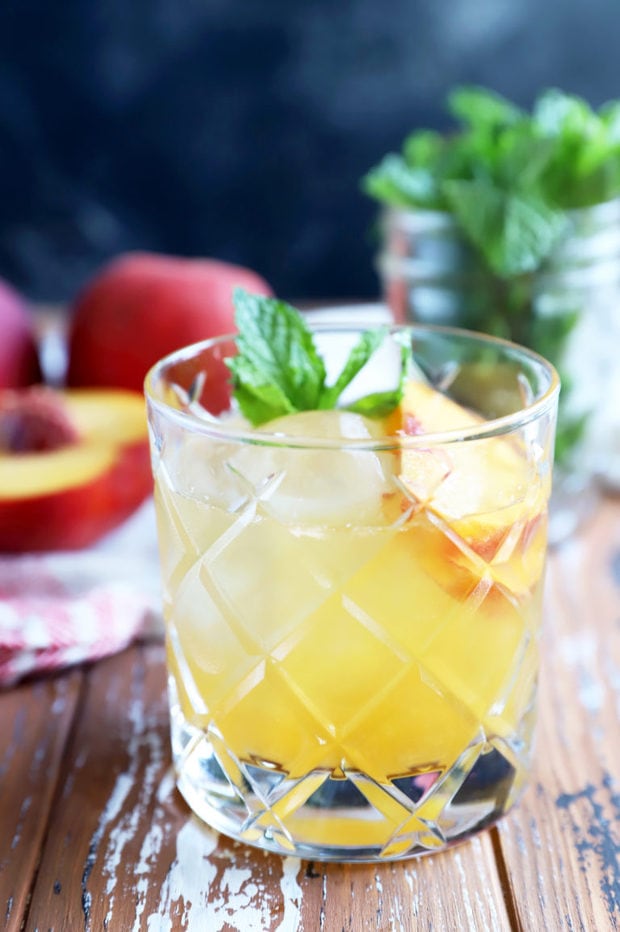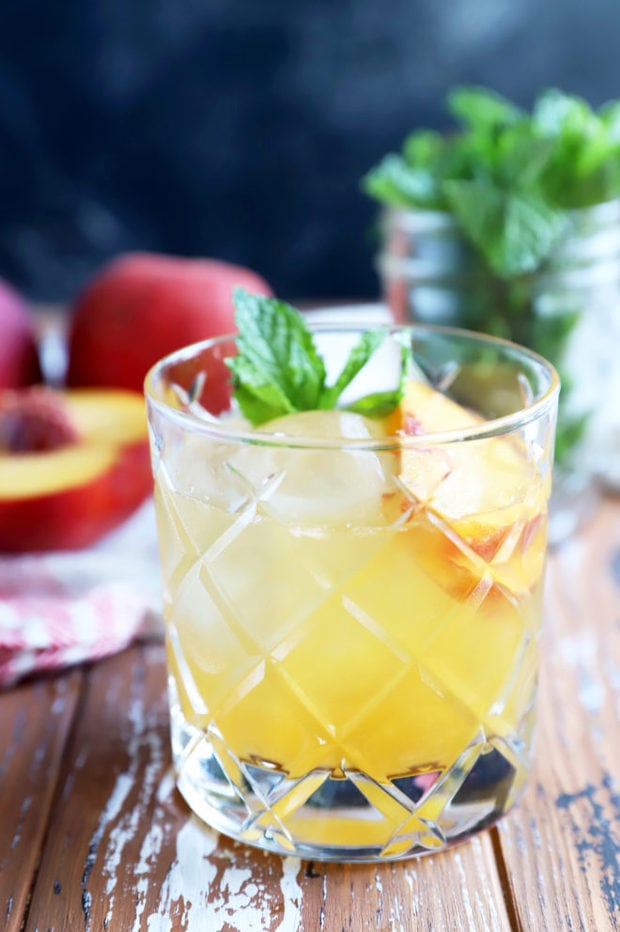 can I use rye whiskey instead of bourbon?
You can! Whiskey is a great pairing for peach, so you can use that if you prefer a stiffer drink. The mixture will just be a little less sweet overall.
why is it called a smash cocktail?
Because you smash all the fresh ingredients together! It's actually a type of julep – a mixture of spirits, sugar, and mint. Of course this one adds in fruit – the glorious PEACH. The extra fruit is actually what makes it a proper smash cocktail. The wild thing is that this type of cocktail dates all the way back to 1862. Sometimes they are made with bourbon, but they can also be made with rye or brandy.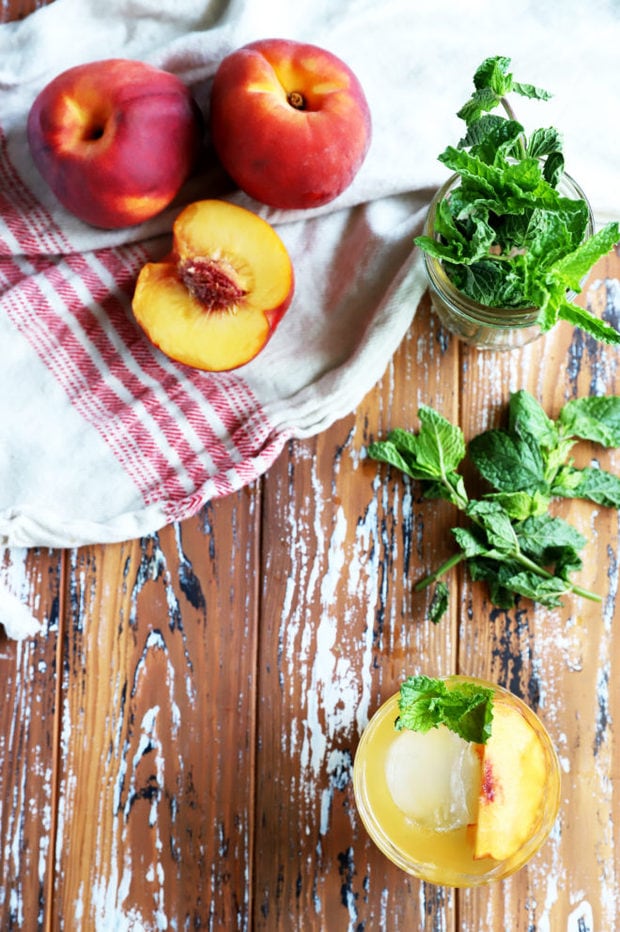 If you are looking for some recipes to serve with this summery cocktail, these delicious backyard bbq dishes are the place to get some inspiration!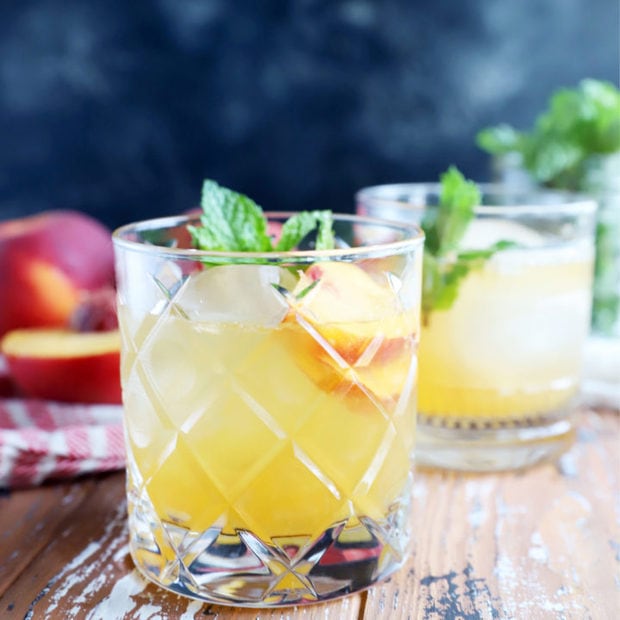 Bourbon Peach Smash
Sweet, tart, and boozy, this summery cocktail is downright delicious.
Ingredients
1 oz simple syrup
1/2 large peach, cut into slices
6 fresh mint leaves + more for garnish
1 wedge lemon
2 oz bourbon
Garnish: peach slices, mint sprig
Instructions
Add simple syrup, peach slices, mint leaves, and lemon wedge to a cocktail shaker. Muddle together well.
Add bourbon and fill with ice. Shake well.
Strain into a cocktail glass filled with ice.
Garnish with peach slices and mint sprig.
Recommended Products
As an Amazon Associate and member of other affiliate programs, I earn from qualifying purchases.