Greek Stuffed Roasted Sweet Peppers are one of the easiest appetizers I've ever made, but that doesn't mean it's light on flavor! The Sabra olive tapenade hummus paired with the sweet and savory roasted peppers is a delicious way to start a meal, or satisfy a random afternoon craving.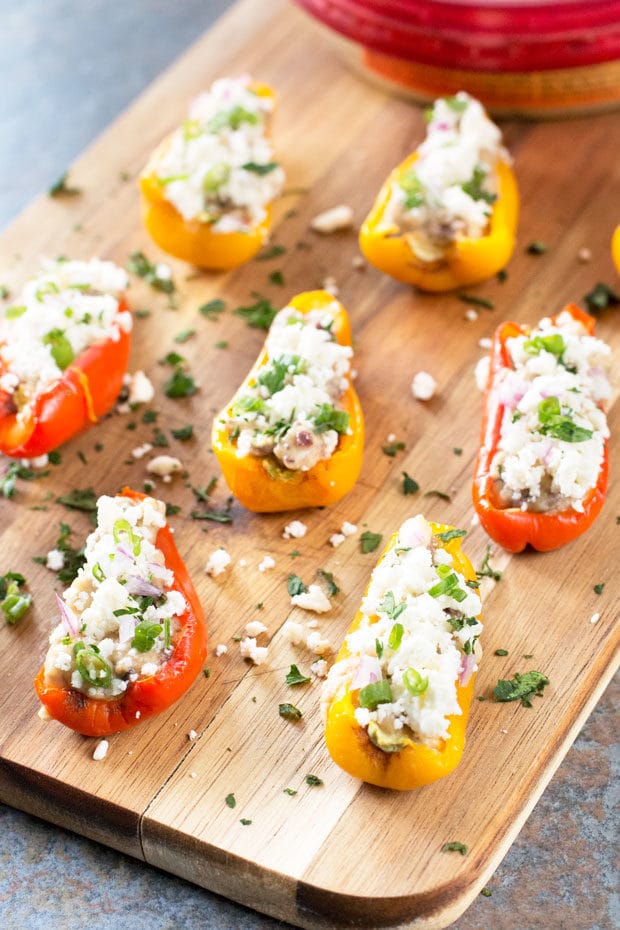 You guys, today is kind of a big deal.
Why is it a big deal, you ask? Is it because it's Friday the 13th? Is it because I can't wait to start the weekend? Nope, it's because today is National Hummus Day! Bet you didn't know that, did you?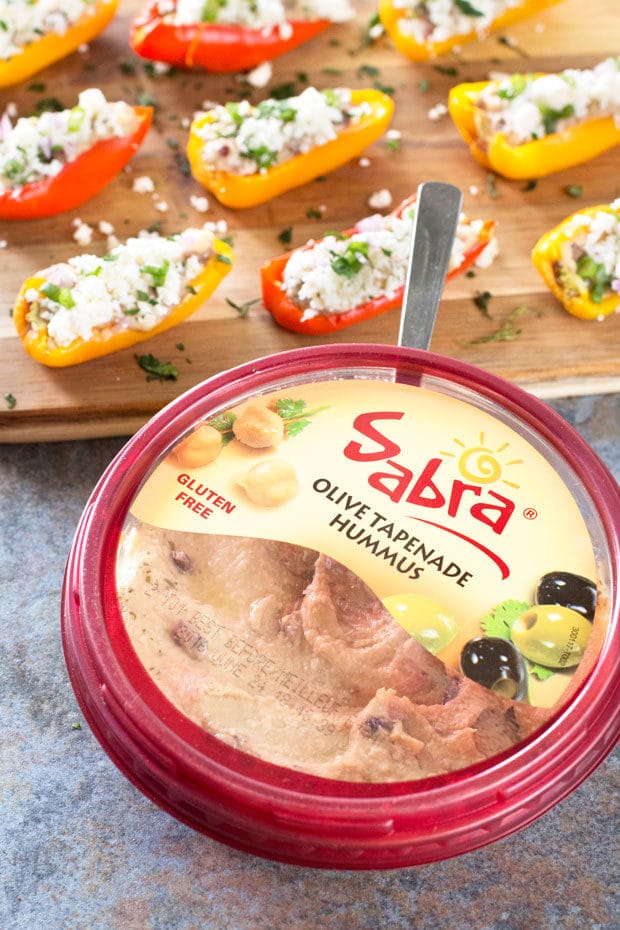 If you did know, you just earned uber brownie points in my world.
I'm celebrating National Hummus Day with the one hummus brand I know and love – Sabra! Since Sabra has been all about the Unofficial Meal lately, I wanted to whip up an easy appetizer/snack recipe that'll satisfy your hunger craving before you dig into the main event on National Hummus Day (or any day of the week really). These stuffed peppers are such a ridiculously simple recipe I almost hesitated to share it… I mean, it literally takes less than 15 minutes. I should be bringing you something more challenging shouldn't I?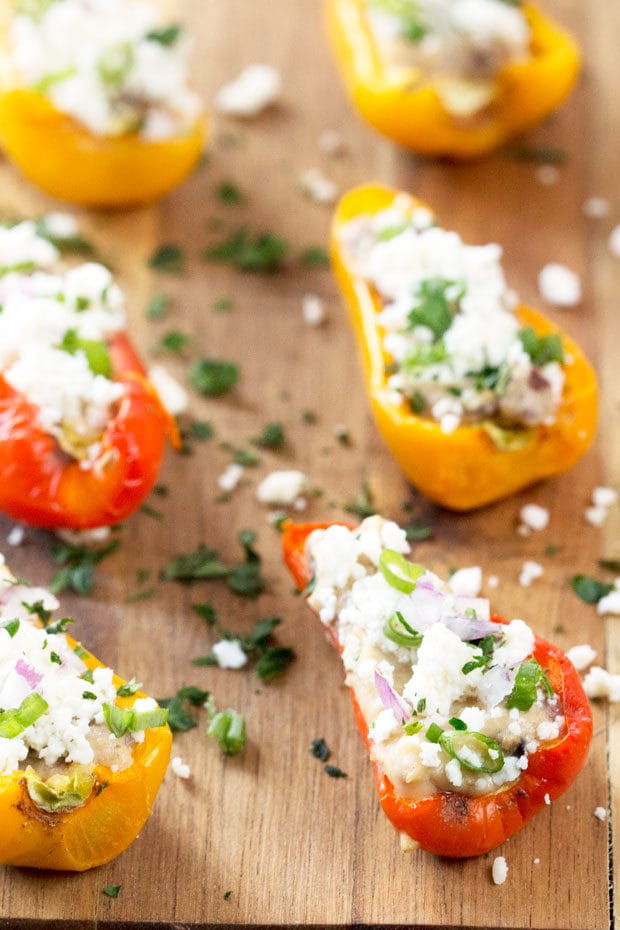 Psh, nah…. You have it hard enough as it is with work, friends, family, dogs/cats/pets, activities and just life in general to have to deal with a complicated recipe with too many ingredients. You need something quick and easy to either munch on between meals or to serve as an appetizer at your next summer gathering.
Don't worry, I gotcha covered here.
Sabra's Olive Tapenade Hummus is an awesome way to stuff these roasted sweet peppers and really get a ton of flavor out of them. The roasted peppers lend themselves so well to the salty tangy olive tapenade hummus. Piling the peppers with feta, green onion, red onion and parsley doesn't hurt either…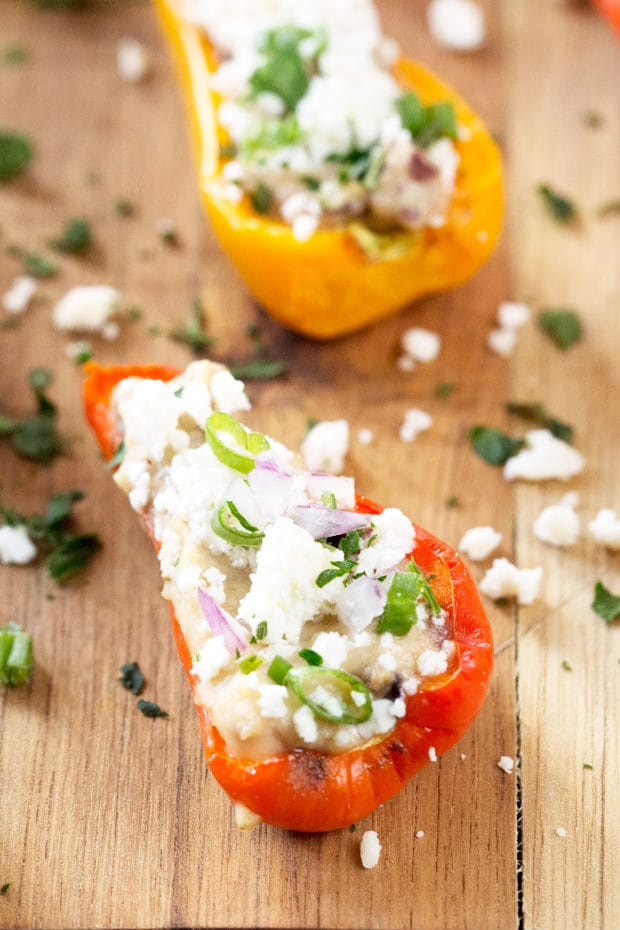 I hope you have as much fun as I plan to have today! Celebrating #NationalHummusDay is hard work, but someone's gotta do it. Don't miss out on the bonus deal below!!!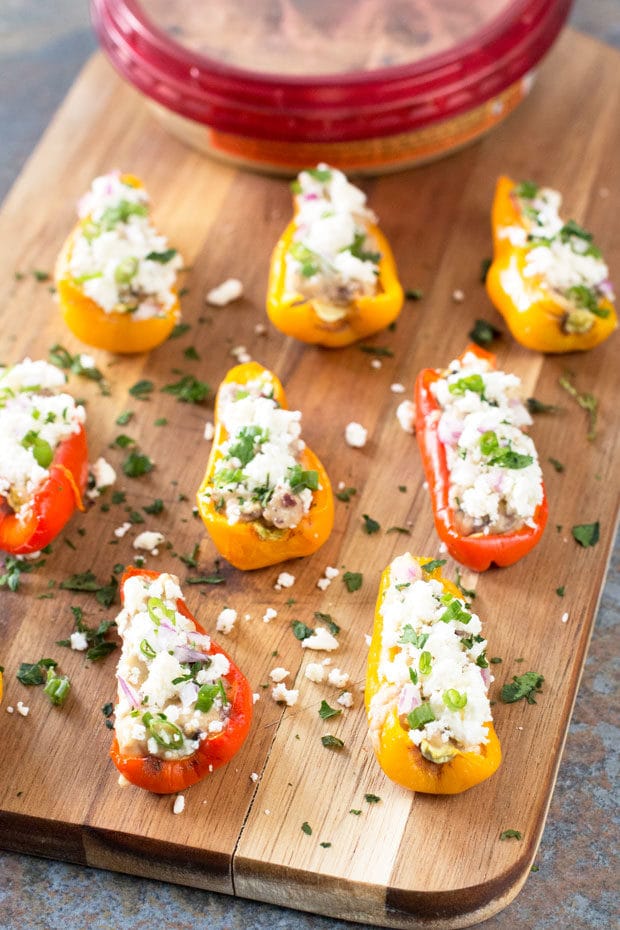 BONUS DEAL! Since it's #NationalHummusDay, you're getting in on a killer deal with Sabra (thank you for hooking up my readers!). Hit up Sabra's website and you will get a $2 off coupon TODAY ONLY. Grab the coupon now and carry the hummus love right on into the weekend.
Disclosure: I received free product from Sabra and was compensated for my time as part of this post. As always, all opinions and recipe are my own. Thanks for supporting the brands that support Cake 'n Knife!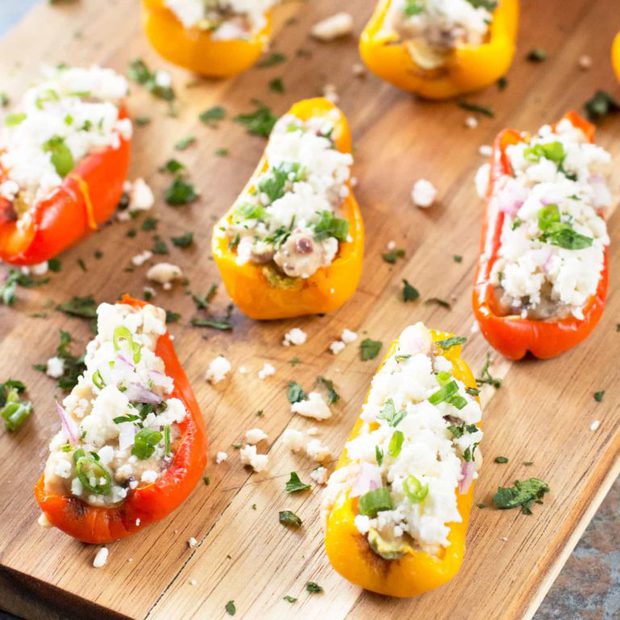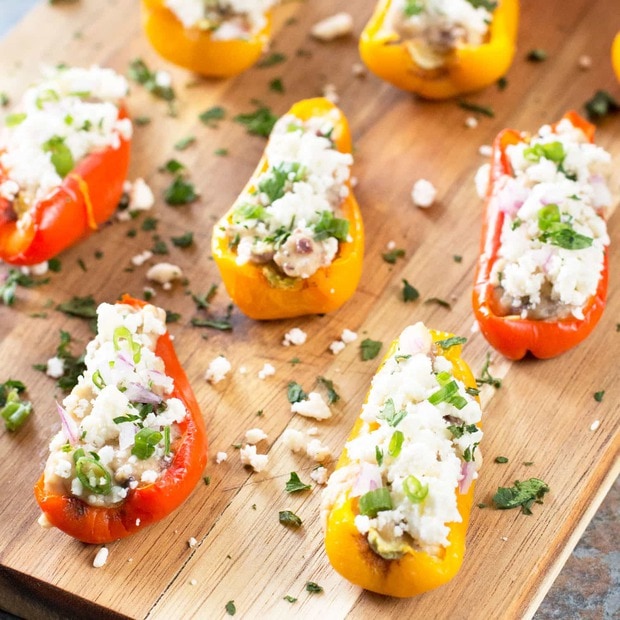 Greek Stuffed Roasted Sweet Peppers
Packed with all the Greek flavor you love, these roasted peppers are too easy to pop in your mouth!
Ingredients
12 sweet peppers, halved and seeded
1 cup Sabra Olive Tapenade hummus
1/4 cup feta crumbles
1/4 cup red onion, chopped
2 Tbsp green onion
1 Tbsp parsley, chopped
Instructions
Preheat oven to 425 degrees. Grease a rimmed baking sheet.
Place sweet peppers on the baking sheet in an even layer. Bake for 5 to 7 minutes.
Remove from oven and fill with 1 to 2 Tbsp of Sabra Olive Tapenade hummus.
Top with feta, red onion, green onion and parsley. Serve immediately.
Pin this Greek Stuffed Roasted Sweet Peppers recipe for later!