Please note this post contains affiliate links.
Grilled Salmon with Charred Corn Avocado Tomato Salsa brings a bunch of spice to the party, without any guilt! The bright and flavorful salsa on top of a heartily spiced fish is a simple way to make the most of fresh summer flavors. This is going to become your new favorite summertime dinner.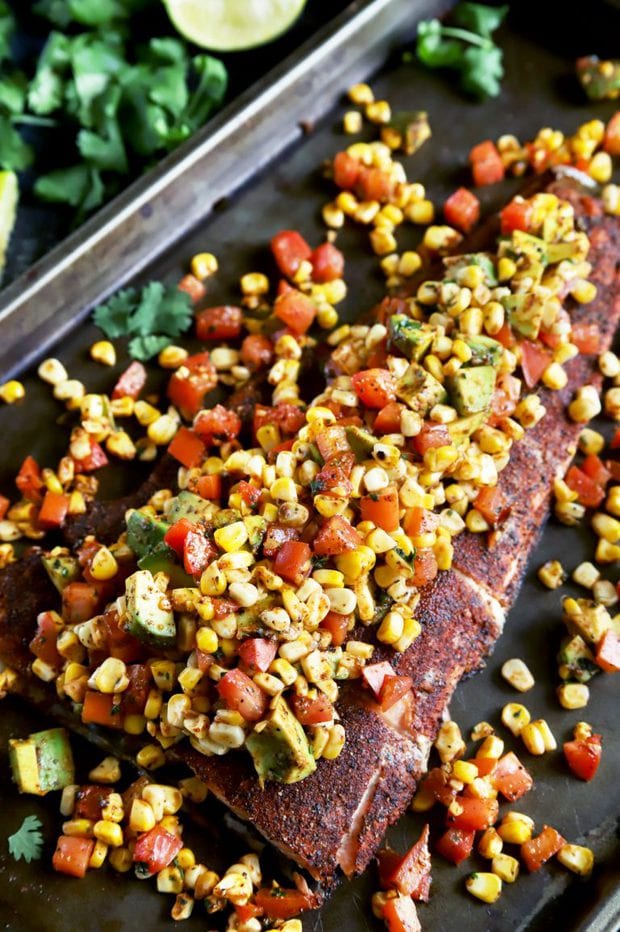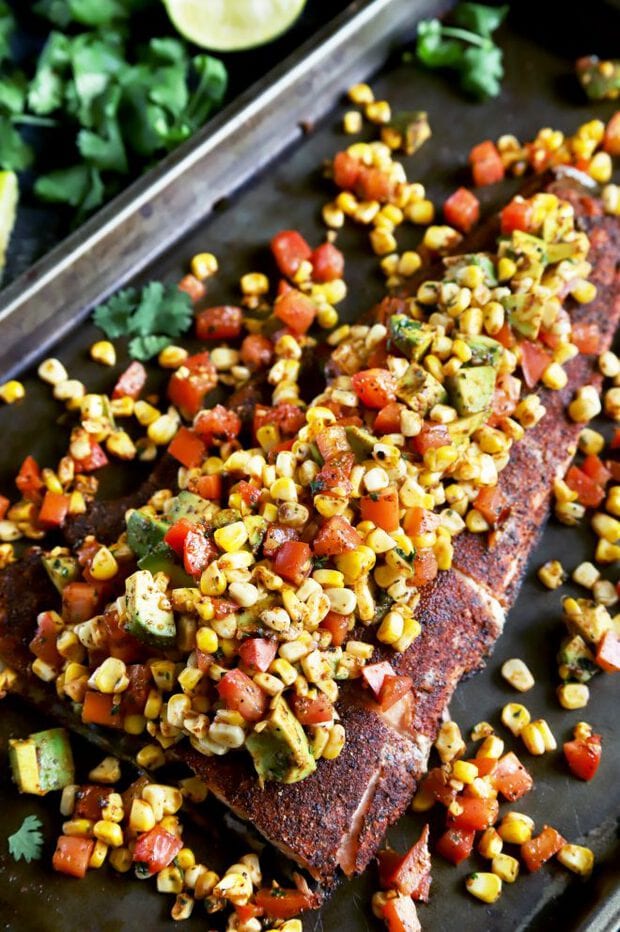 I am so obsessed with salmon right now.
Maybe it's because it's my favorite fish out of all the fish in the sea (well, that's not counting sushi so don't quote me on that, ok?). Perhaps it's because we are trying to be healthy and we've been eating too much chicken lately.
Regardless, that flaky flavorful seafood is one that I can never get enough of.

This is one of my favorite ways to devour salmon right now is hot off the grill.
First you start with a spice rub that really highlights that savoriness of the salmon, without completely overpowering it.
It's slightly smoky, with a nice hit of spice and a touch of sweetness. The result is absolutely divine, especially when you get those flavors of the grill.
The charred corn avocado salsa comes in to cool everything off, with a burst of bright and fresh flavors. My husband is obsessed with all things corn right now, especially when it is charred.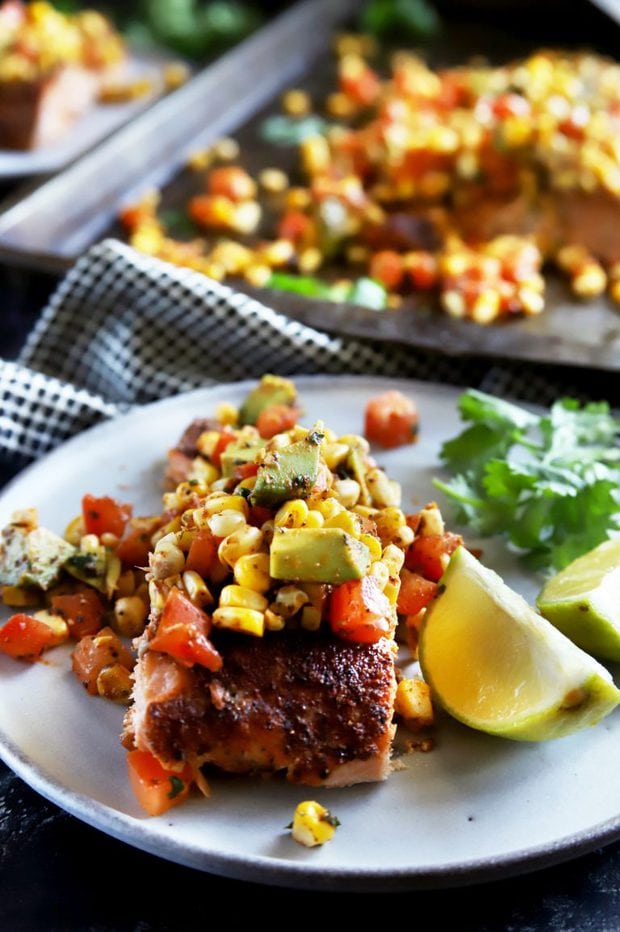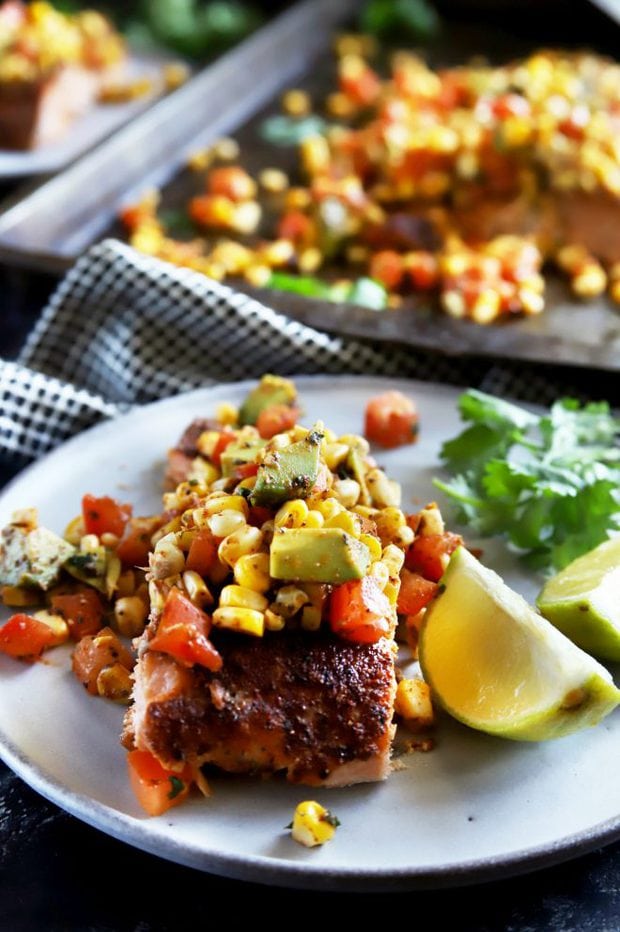 That's why I added it as an element to this salsa!
It pairs so well with the tomatoes and avocado, giving a cooling element to counter the heat in the rub on the salmon.
The whole meal comes together in just 20 minutes, making it a weeknight healthy meal that you'll soon want to eat every single week.
I highly recommend making this with a whole filet, but you can also use individual filets. You may need to cut the cooking time down, so check it halfway through and keep an eye on it!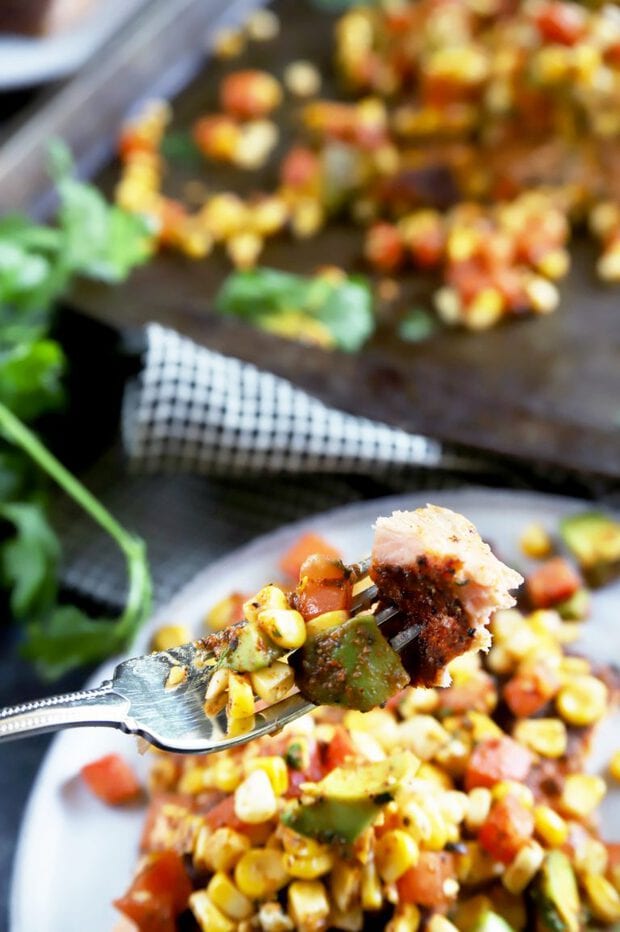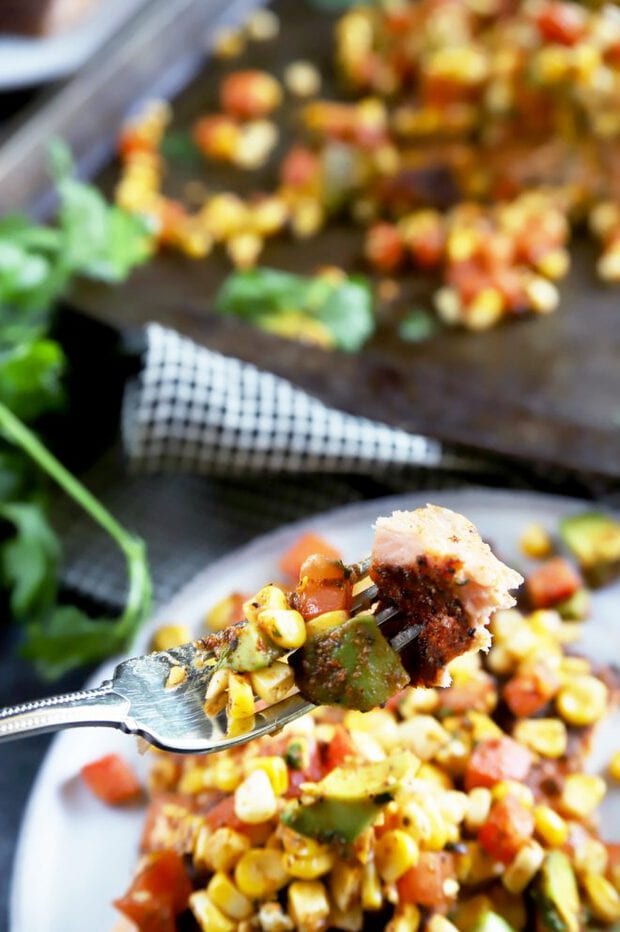 This Recipe's Must-Haves
Obviously I love my Traeger grill. It not only is super easy to use, but it adds a lot of flavor to the mix. I personally like to use Traeger grill signature pellets, but you can also use pecan or hickory!
Don't forget the Traeger grill tongs to turn the corn on the grill.
You'll need a set of mixing bowls to make both the rub for the salmon and also to whip up the easy peasy charred corn tomato avocado salsa!
I love this chef's knife and cutting board combination because it works great for everything, especially salsa recipes though.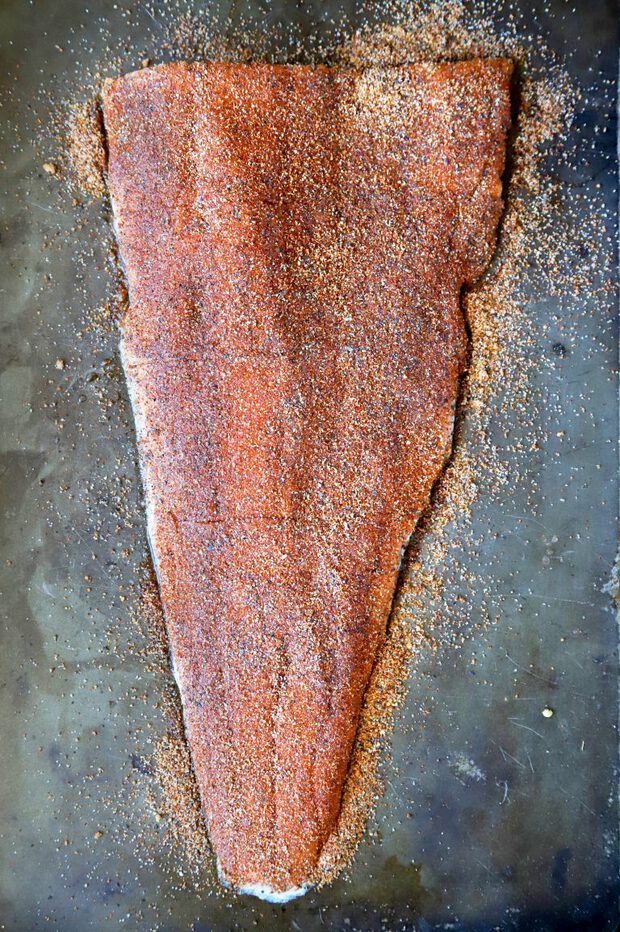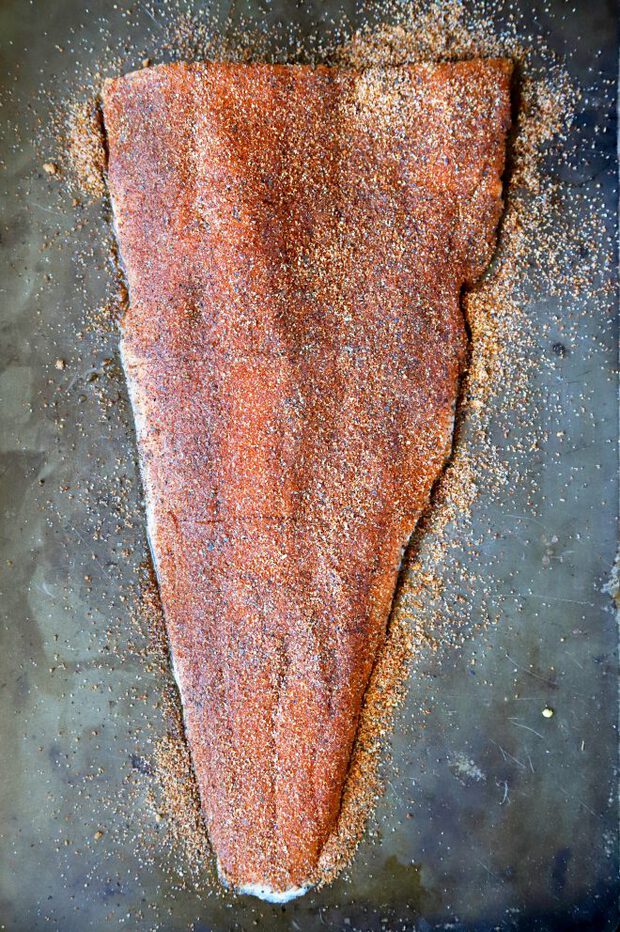 How to tell when grilled salmon is done
I like to use an instant-read thermometer, but you can also test by eye using a fork to flake the fish. The fish should flake easily or the skin should pull away from the flesh.
If you are using a thermometer, the grilled salmon is cooked when it reaches 145˚F. I remove mine when it reaches 130˚F to account for carry over cooking that will happen when the salmon rests for a few minutes.
Be sure not to let white beads appear on the surface of side of the fish. This is a sign of overcooking!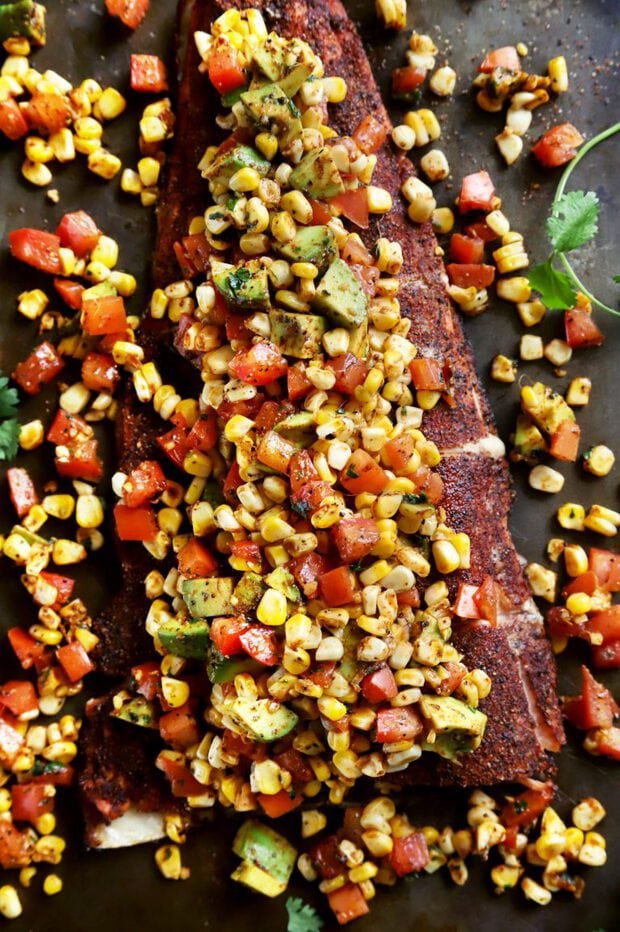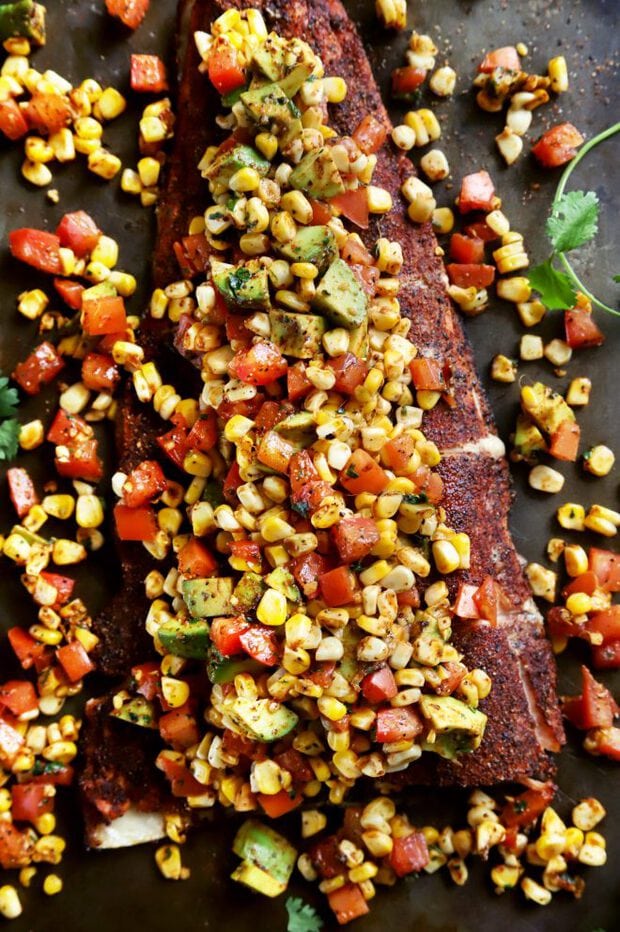 Is grilled salmon good for you?
Salmon is so good for you! The combination of omega-3's, selenium, and vitamins A and D are awesome for immunity and heart health. It also is a great source of healthy protein, especially because it is a fatty fish. Protein not only is good for you but it'll fill you up, curb cravings (my current life battle) and will leave you satisfied for longer.
As someone who is actually trying to diet like an adult (I might as well lose the 10 lbs I plan to gain in Europe now, right), this recipe is my favorite to rely on. I'll make it for meal prep on a Sunday, then separate out the filets and salsa with some additional vegetables. It's perfect and oh-so flavorful!
It's especially good for expecting moms!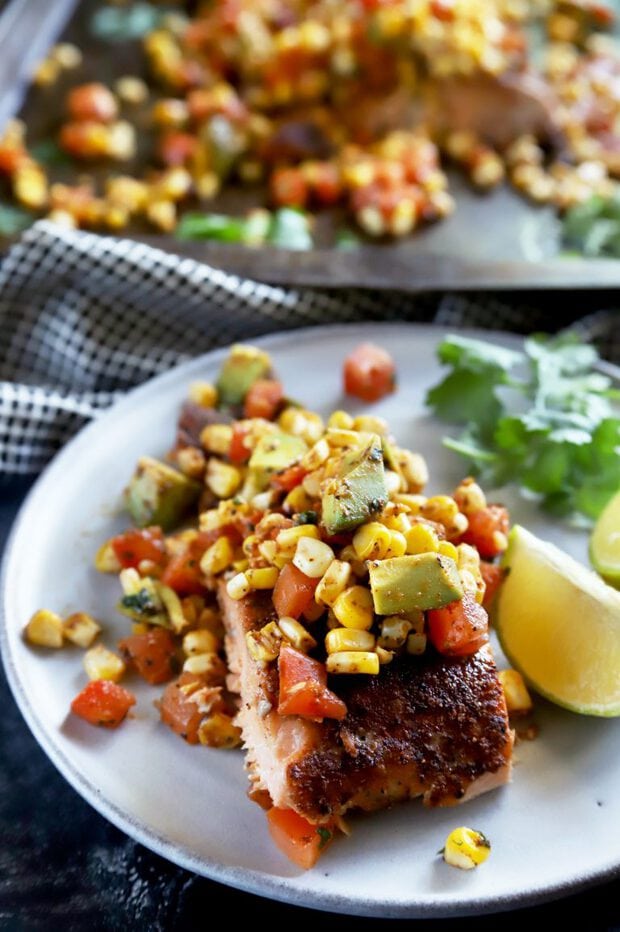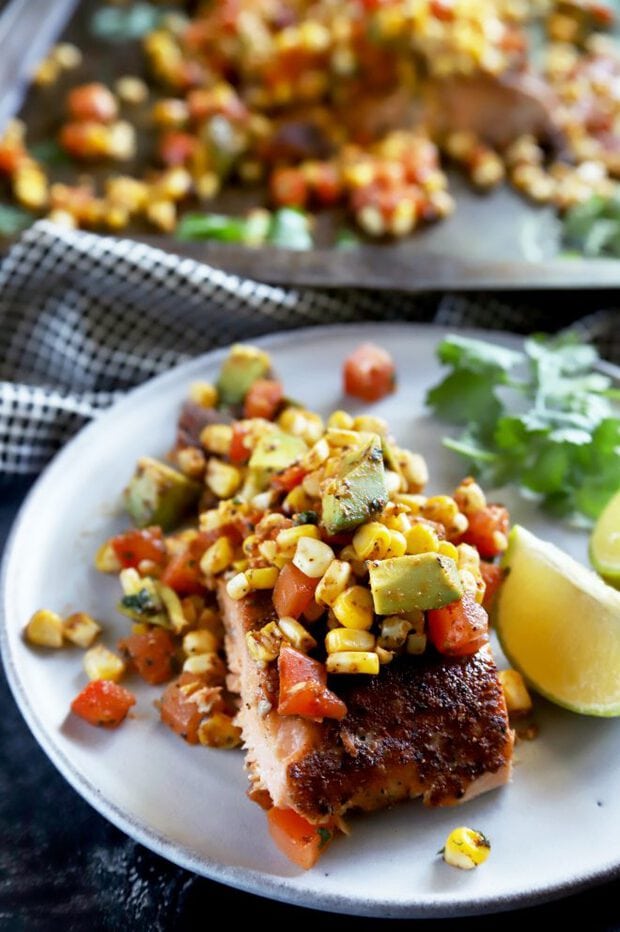 Tips For The Perfect Grilled Salmon
Buy skin-on salmon. The skin actually helps hold the fish together and prevents sticking on the grill. Just be sure to check for pin bones and pat it dry before applying the seasoning.
Make sure you oil the grates of your grill well!
With a whole big filet like this, I like to portion out the filets before adding them to the grill. To do this, you simply slice into the salmon, portioning the filets out without cutting through the skin. You want to cut about 3/4 of the way through the flesh. This way the filet will stay together on the grill, but it will be super easy to portion after grilling is done!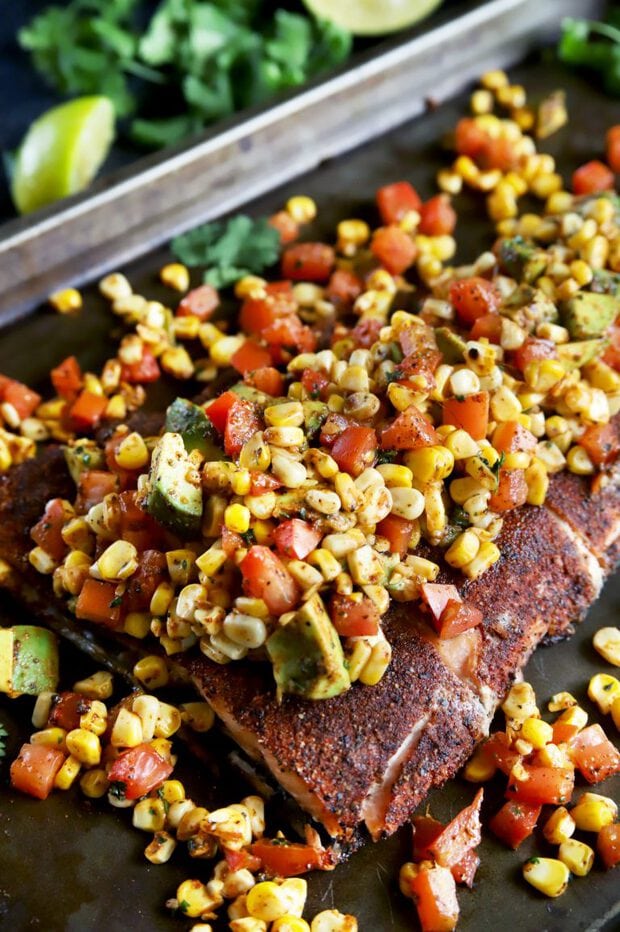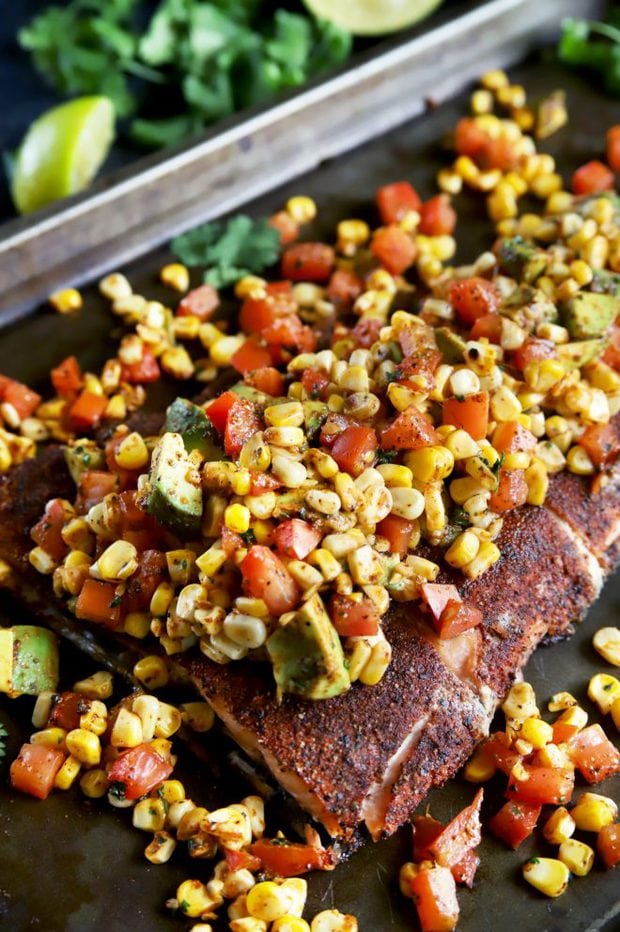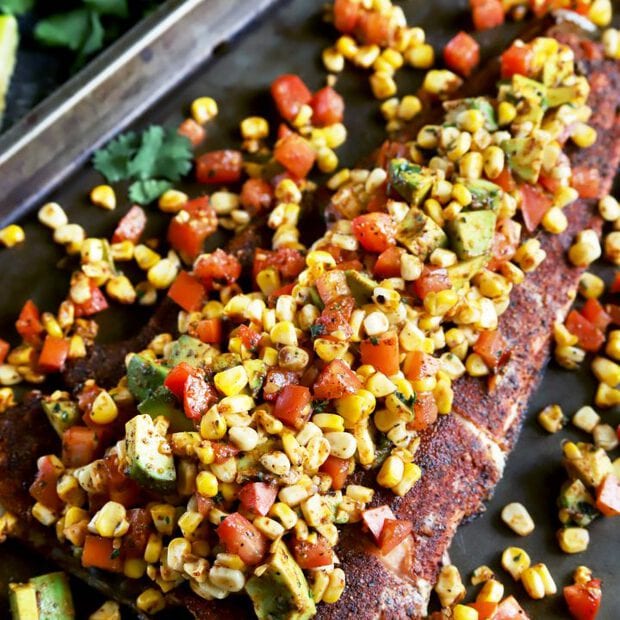 Grilled Salmon with Charred Corn Avocado Tomato Salsa
Grilled salmon is flaky and flavorul with a tasty homemade rub and charred corn salsa!
Ingredients
For the Salmon:
1 lb Atlantic Salmon Fillet
1 tsp Olive Oil
1/2 tsp Salt
1/2 tsp Black Pepper
1/2 tsp Smoked Paprika
1/2 tsp Chili Powder
1/2 tsp Onion Powder
1/2 tsp Brown Sugar
1/4 tsp Ground Cayenne Pepper
For the Corn Avocado Salsa:
2 Corn on The Cobs, husked
1 Avocado, chopped
2 Roma Tomatoes, seeded and chopped
1 Tbsp Fresh Cilantro, chopped
1 Tbsp Fresh Lime Juice
1 clove Garlic, minced
1/2 tsp Smoked Paprika
1/2 tsp Salt
1/2 tsp Freshly Cracked Black Pepper
1/4 tsp Ground Cayenne Pepper
Instructions
Preheat grill to medium-high heat.
In a small bowl, stir together seasonings for the salmon.
Rub the salmon with oil, then top with the seasoning mixture.
Oil grates well with your preferred oil (I use canola), making sure you oil them really well.
Add the salmon, skin side down, and corn cobs once the grill is hot. Cover and grill for about 10 to 12 minutes, until cooked through. Turn the cobs a couple of times during the cooking process.
Set aside salmon and let rest.
Remove the corn kernels from the cob and place in a medium bowl. Add chopped avocado, tomatoes, cilantro, lime juice, garlic, smoked paprika, salt, pepper, and cayenne pepper. Stir to combine.
Top salmon with salsa and serve.

Recommended Products
As an Amazon Associate and member of other affiliate programs, I earn from qualifying purchases.