Please note this post contains affiliate links.
Brûléed Instant Pot Eggnog Cheesecake will have you wishing you could eat cheesecake for breakfast, lunch, and dinner. The eggnog filling with gingersnap crust and crunchy brûléed topping is a real show stopping recipe for the holiday season. Plus, it's made in the Instant Pot!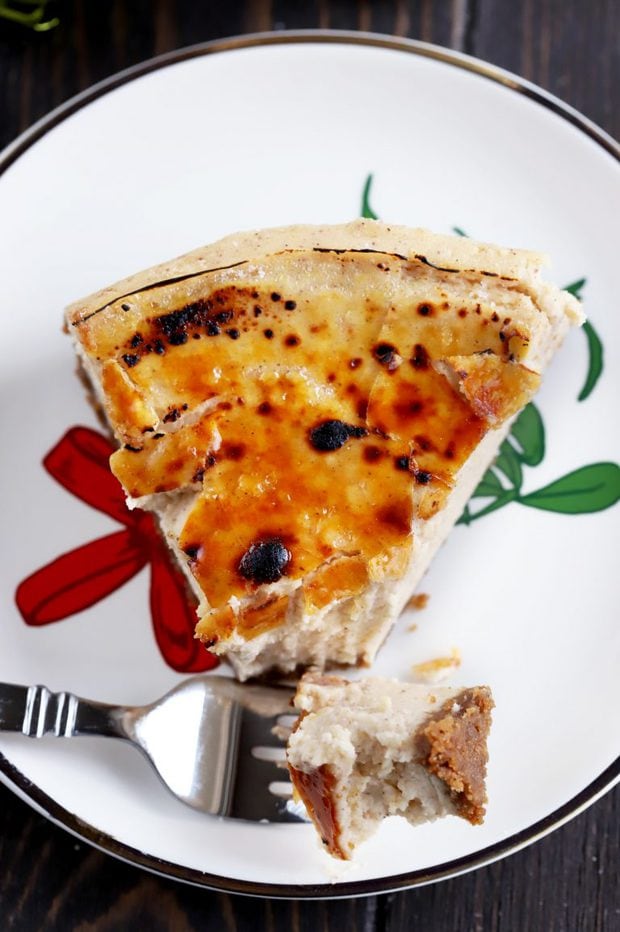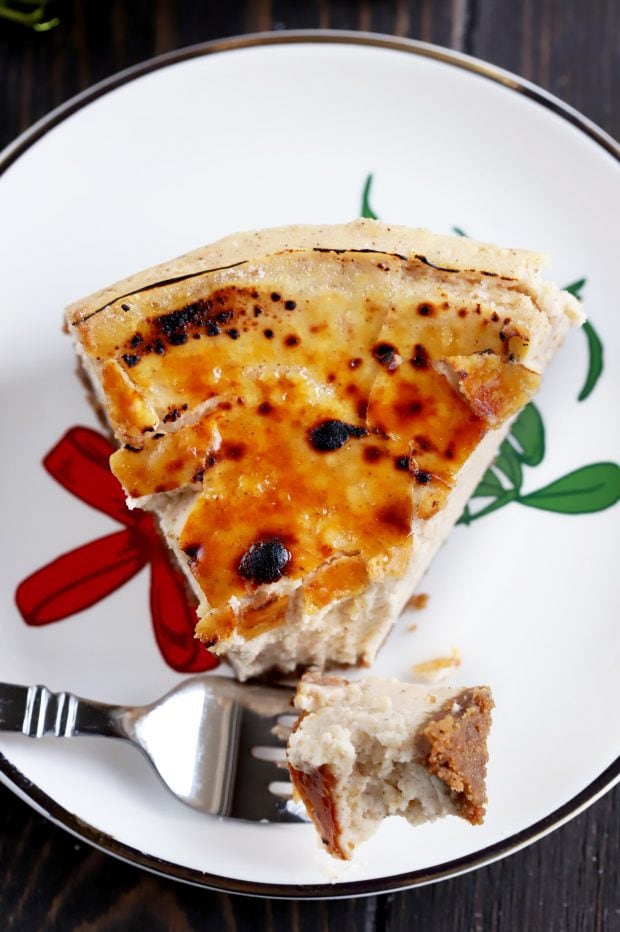 Disclosure: This post is sponsored by Instant Pot! As always, all opinions are my own. Thanks for supporting the brands that support Cake 'n Knife!
Are you preparing for Christmas like I am??
Right now it's all I can think about. I am just counting down the hours between now and Saturday, ready to take a much-needed four day weekend to relax and be merry.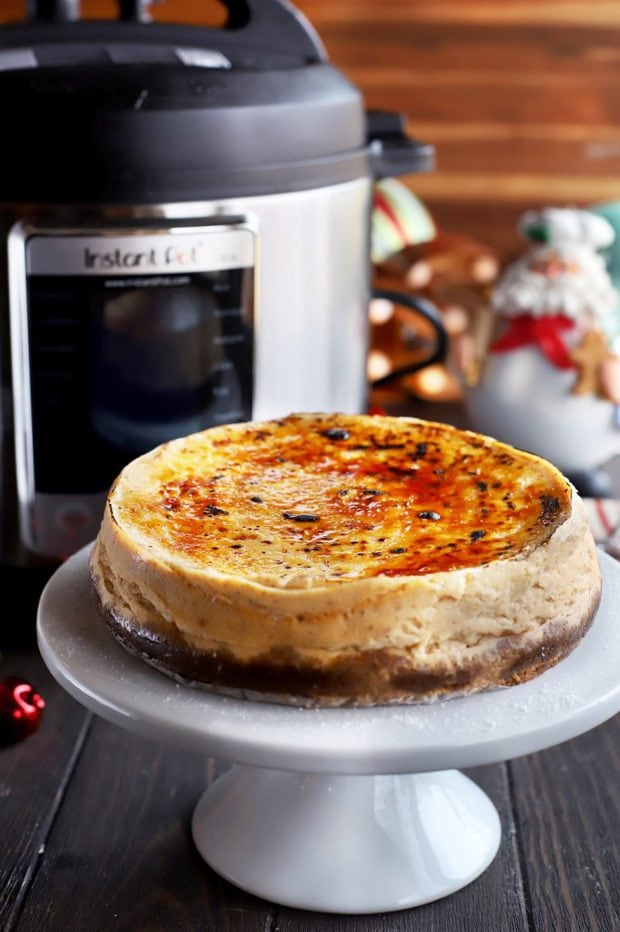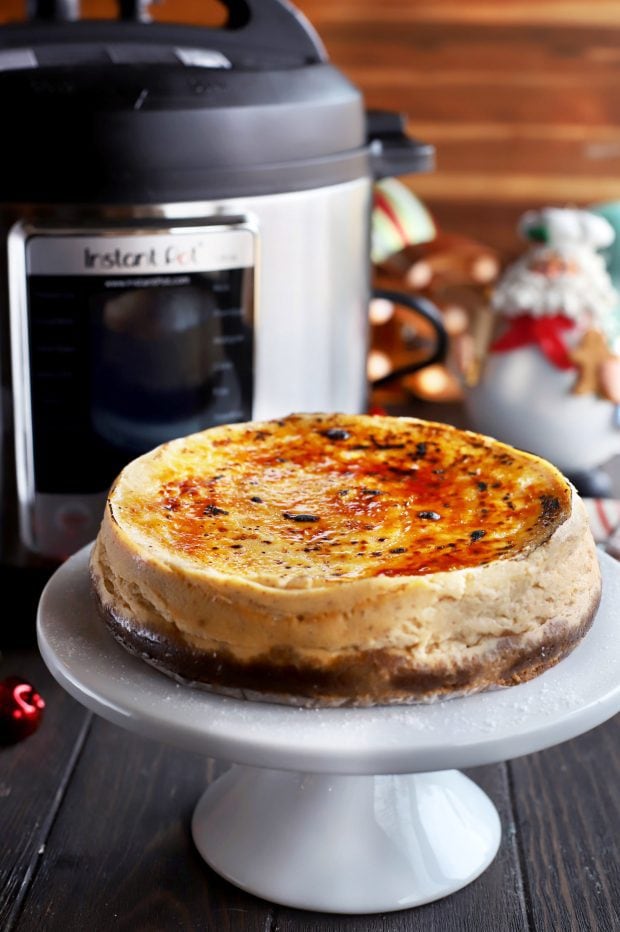 Who doesn't need a slice of cheesecake to pair with all that revelry? Especially when it tastes like eggnog and there's a perfectly crunchy brûléed topping!
this recipe's must-haves
To make both the crust and the filling, you'll need a food processor. It makes it SO much easier to pull the recipe together!
Obviously you'll need an Instant Pot and the Instant Pot Ultra is my personal favorite model.
I bought a small springform pan to fit in my Instant Pot and this one is the perfect size, plus it's really durable and not too expensive.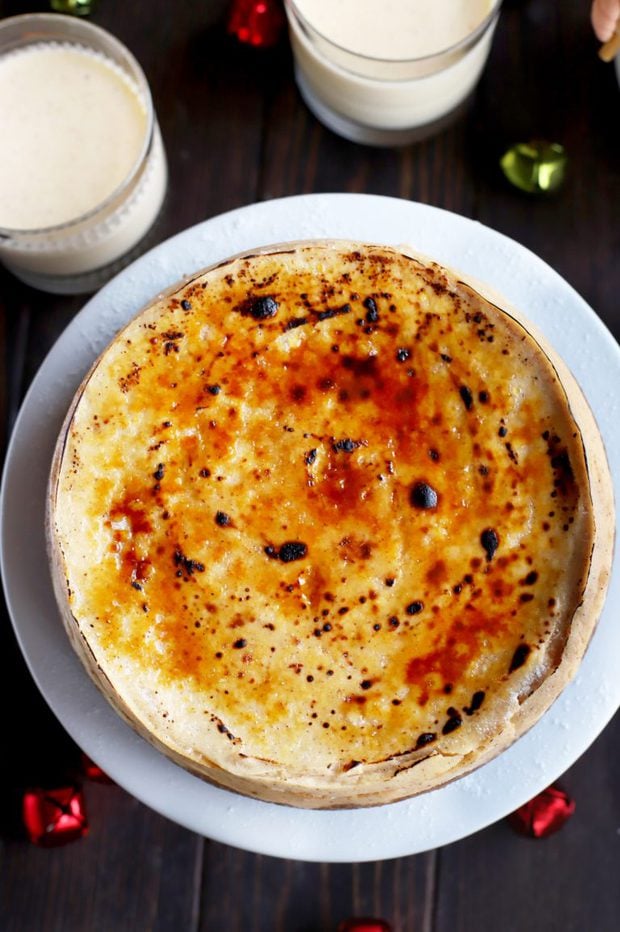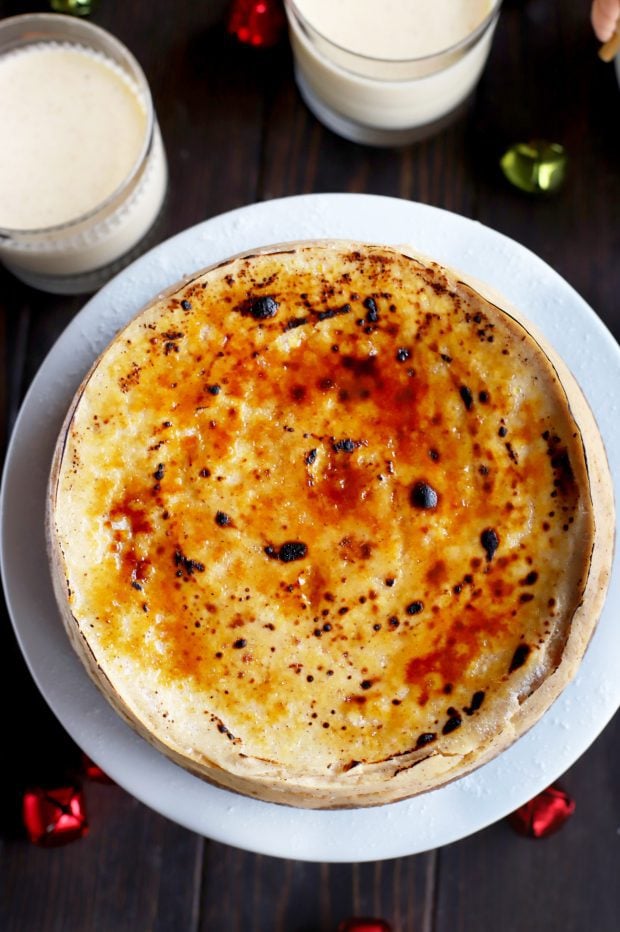 Did you know you can make cheesecake in the Instant Pot? Because I seriously had no idea.
It's so funny because I heard of the Instant Pot YEARS ago and it wasn't until the last year or so that I discovered just how much you can do with it. I got one of the early models way back when, and as soon as I got my hands on the Ultra model…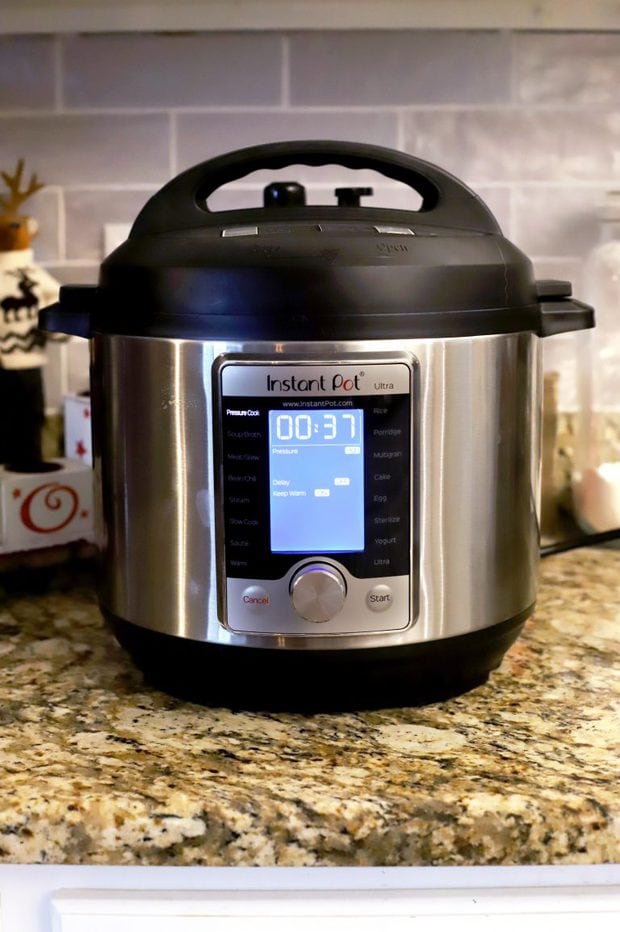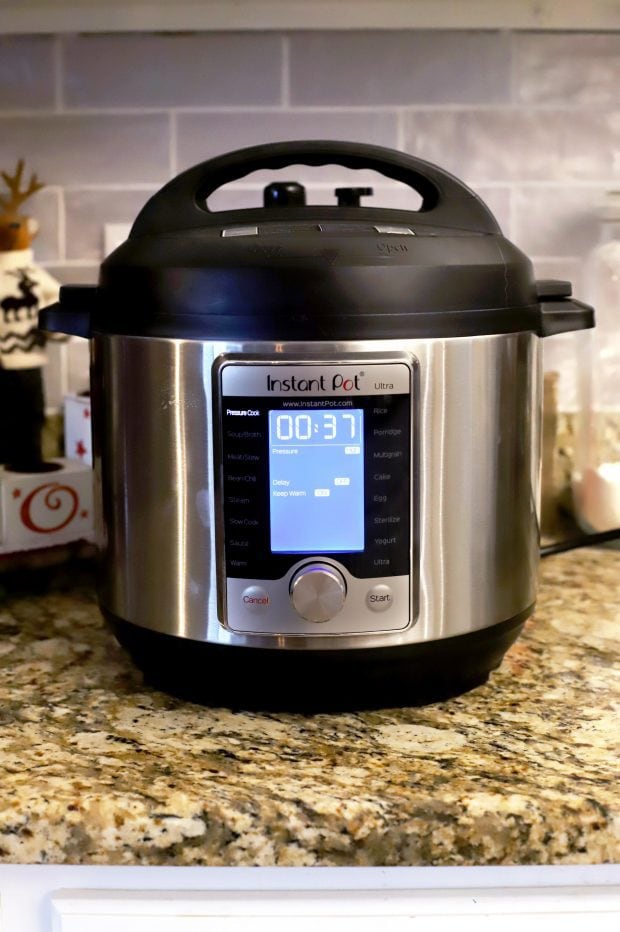 Well, let's just say I fell in love with the Instant Pot all over again.
I put my Instant Pot Ultra 10-in-1 Multi-Use Programmable Pressure Cooker to WORK in our home.
I have yet to go without using it almost every single say, whether it's for rice, pork shoulder, shredded chicken, or cheesecake.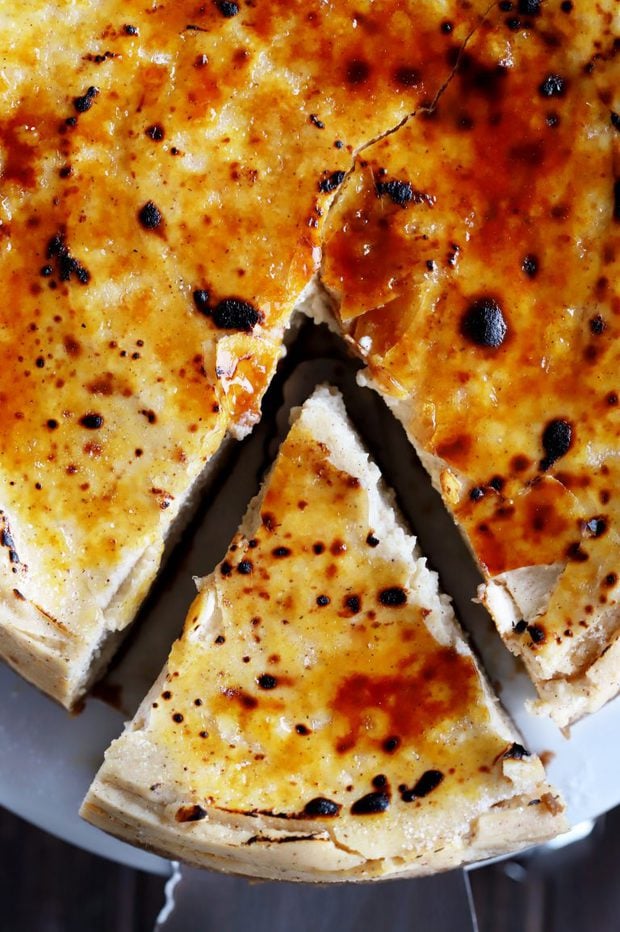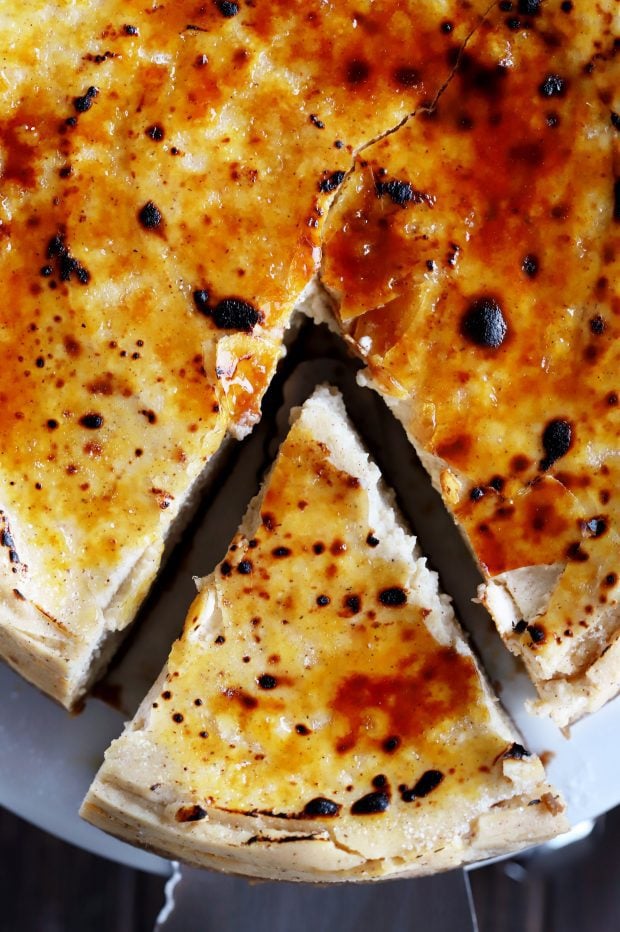 This appliance is the one that I depend on the most in my kitchen, and the Ultra model steps it up a notch with just how much it speeds up cooking time while also being energy-efficient.
There are SO many functions to choose from, including the new "Ultra" setting that lets you customize your cooking on a whole other level.
There's even an altitude setting that you can select – perfect for all you Coloradans!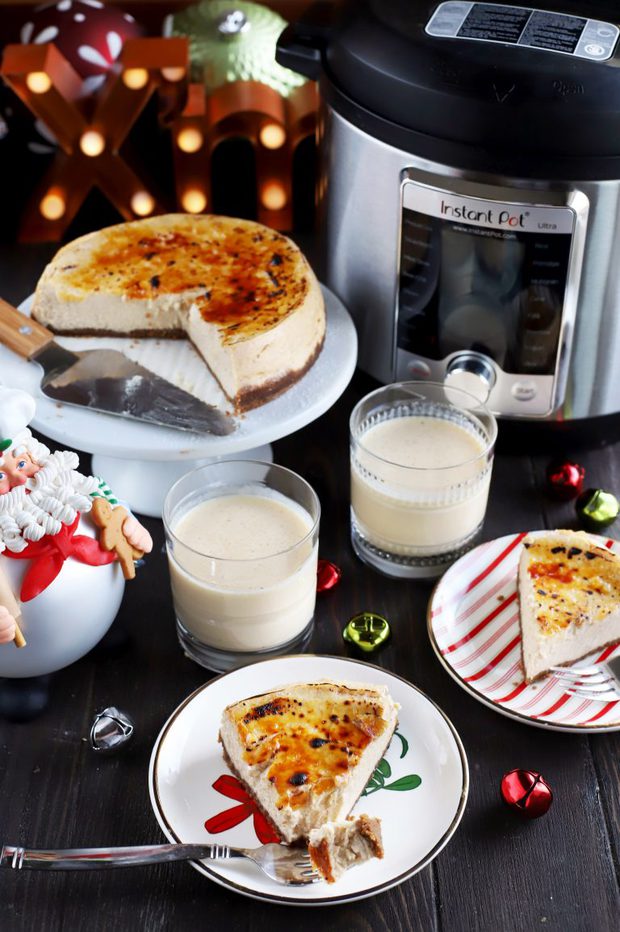 I am personally a big fan of the LCD display where I can be nerdy and see exactly what stage the dish is at from preheating through cooking and keeping warm.
Honestly I could write a love song for the Instant Pot… But I'll spare you for now. 😉
This recipe is honestly the tastiest cheesecake I've made in a LONG time. It tastes creamy and rich, with warming spices and a bite of gingersnap in the crust.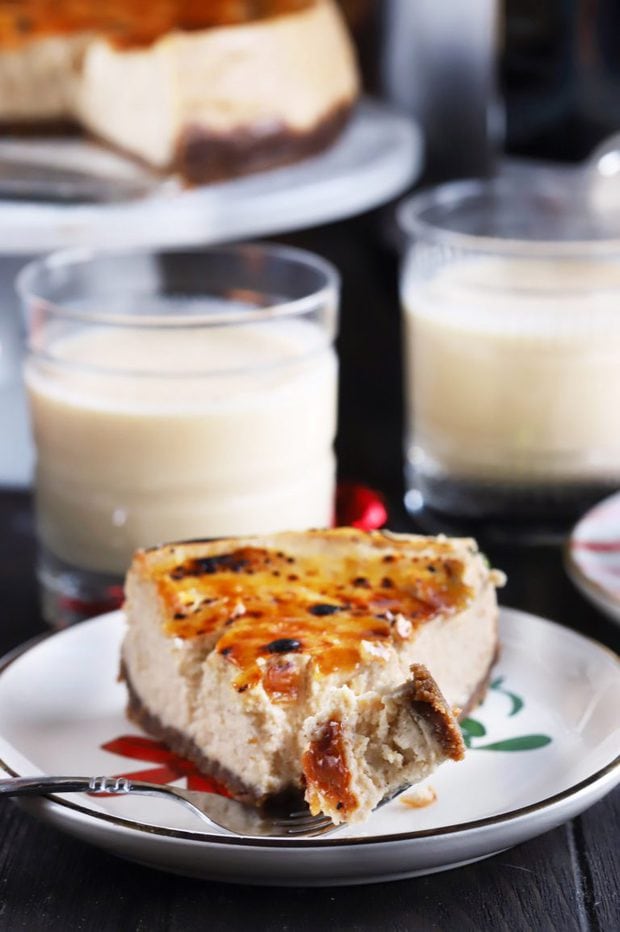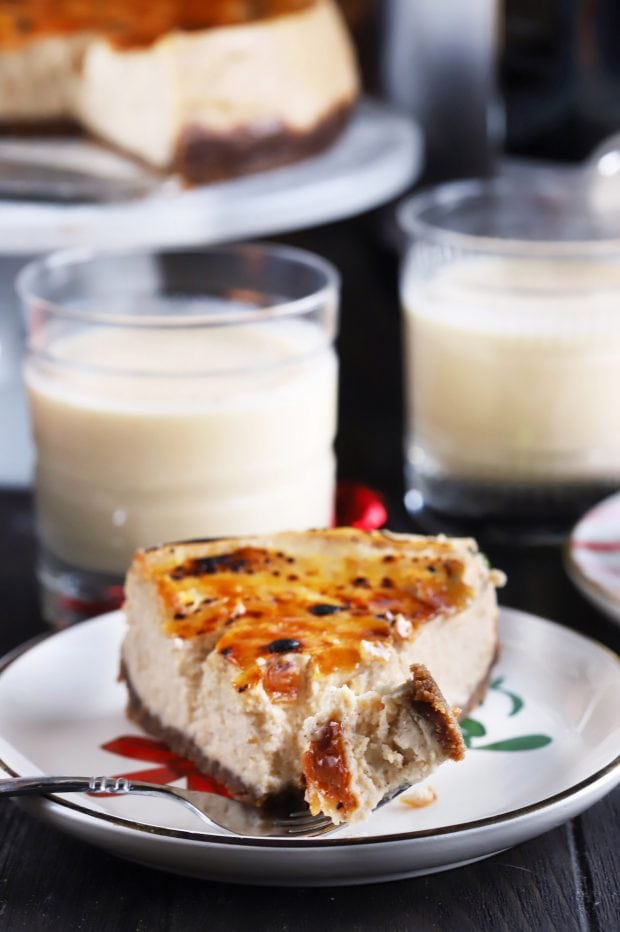 The real showstopper is that topping… It's golden and crunchy, making it a fun textural pairing for the smooth and creamy cheesecake. I absolutely love how stunning it looks and it really is a surprising topping that delights everyone.
Not to mention you get to bust out the kitchen torch which is oh-so rare, at least in my house.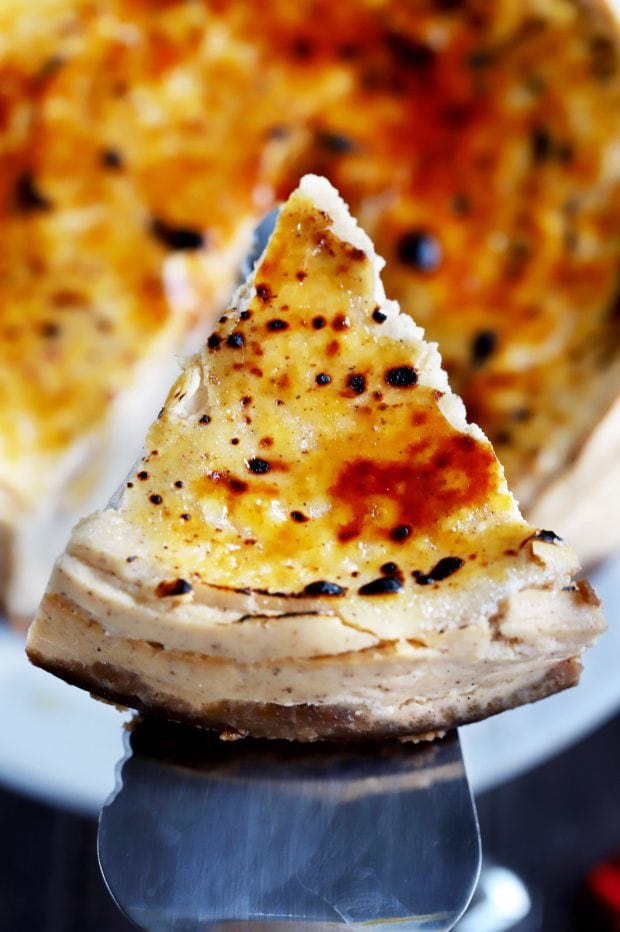 All of this goodness comes together in the Instant Pot in a snap. It cooks so much faster than baking it in the oven, which gets you that much closer to eating it.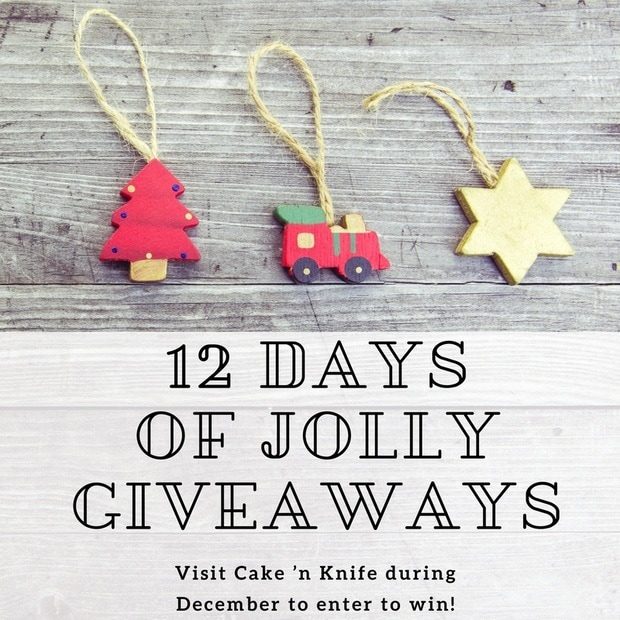 THIS GIVEAWAY IS NOW CLOSED.
Here we are at Day Seven of the 12 Days of Jolly Giveaways! This is the big final week of giveaways!
I am absolutely THRILLED to announce that Instant Pot and I have partnered up to giveaway one Ultra 10-in-1 Multi-Use Programmable Pressure Cooker! That's right, you can make your Instant Pot dreams come true, just in time for the New Year.
Be sure to keep up with all of the giveaways this year – check out this page for all the current posts!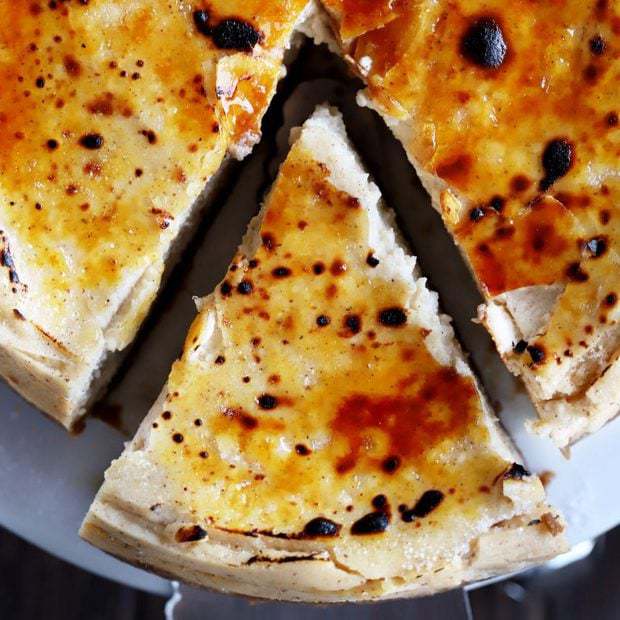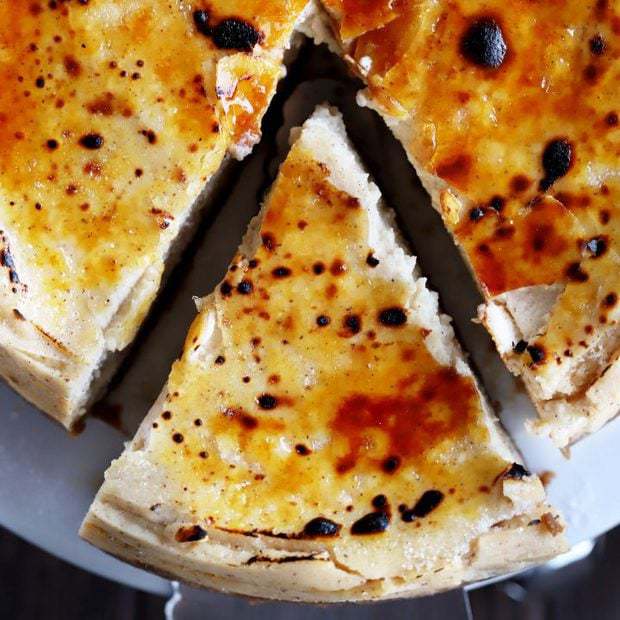 Brûléed Instant Pot Eggnog Cheesecake
Creamy eggnog filling with a spiced gingersnap crust and crunchy brûléed topping! It's the easiest cheesecake EVER for the holiday season.
Ingredients
CRUST
20 gingersnap cookies
1 Tbsp light brown sugar
3 Tbsp unsalted butter, melted
Pinch of salt
FILLING
16 oz cream cheese, room temperature
1/2 cup granulated sugar
3/4 cup eggnog, room temp
1 1/2 tsp cornstarch
1 tsp vanilla bean paste (or vanilla extract)
1 tsp brandy
3/4 tsp ground cinnamon
1/8 tsp freshly grated nutmeg
3 large eggs, room temperature
TOPPING
Instructions
Lightly grease a 7-inch springform pan with baking spray. Cut a piece of parchment paper to fit the bottom of the pan, greasing the parchment paper lightly as well.
Pour 1 1/2 cups of water into the insert of the Instant Pot.
Add cookies and brown sugar to the bowl of a food processor. Pulse until fine crumbs. Add melted butter, pulsing until combined and all crumbs are wet.
Press crust mixture into the bottom of the pan. Press the crust mixture in firmly on the bottom and coming up slightly on the sides.
Place crust in freezer until ready to fill.
Add cream cheese and sugar to the clean bowl of a food processor or high-speed blender. Process until mixture is smooth and creamy. Pour in eggnog, cornstarch, vanilla bean paste (or extract), brandy, cinnamon, and nutmeg. Pulse until combined.
Add eggs and pulse again until combined.
Add filling to the crust. Cover the pan with paper towel and cover tightly with aluminum foil on top of that. Seal the edges well around the pan.
Place pan on the Instant Pot trivet, and carefully place in the insert of the Instant Pot. Make sure the pan is even and not tilted.
Seal the lid and make sure the release knob is set to Sealing position.
Choose Manual pressure on High and cook for 42 minutes.
Naturally release pressure for 15 minutes, then manually release the rest.
Remove lid and lift the trivet out of the insert with the cheesecake pan still on it. Place pan on wire cooling rack.
After 10 minutes remove foil and paper towel. The center of the cheesecake should be set but not wet and liquid.
Chill in the refrigerator for at least 4 hours before serving, or overnight.
When ready to serve, remove sides of the pan and place cheesecake on a serving dish.
Evenly sprinkle superfine sugar over the top of the cheesecake. Use a kitchen torch to caramelize the sugar, slowly moving the torch back and forth to get even golden color. This will take some time to accomplish so be patient with it.
The sugar is caramelized when the sugar bubbles and smokes. Let set for a minute to allow the sugar to harden before serving.
Notes
Don't have superfine sugar? Add 3 Tbsp of granulated sugar to a high-speed blender and blend until fine.
Recommended Products
As an Amazon Associate and member of other affiliate programs, I earn from qualifying purchases.