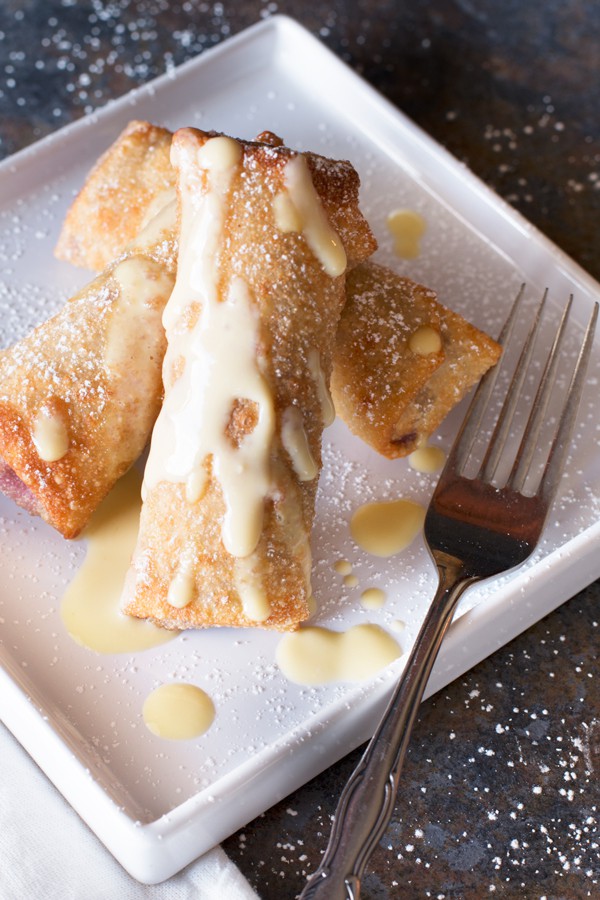 You know when you want cheesecake but are too lazy to actually make a cheesecake? That's exactly the moment that I thought up these bad boys.
I had all these leftover berries and wanted to turn them into a cheesecake, but had no patience to take the time to bake an entire cheesecake. Why not throw it in a crisp egg roll wrapper that would satisfy my craving within minutes versus hours?!
Cheesecake craving solved!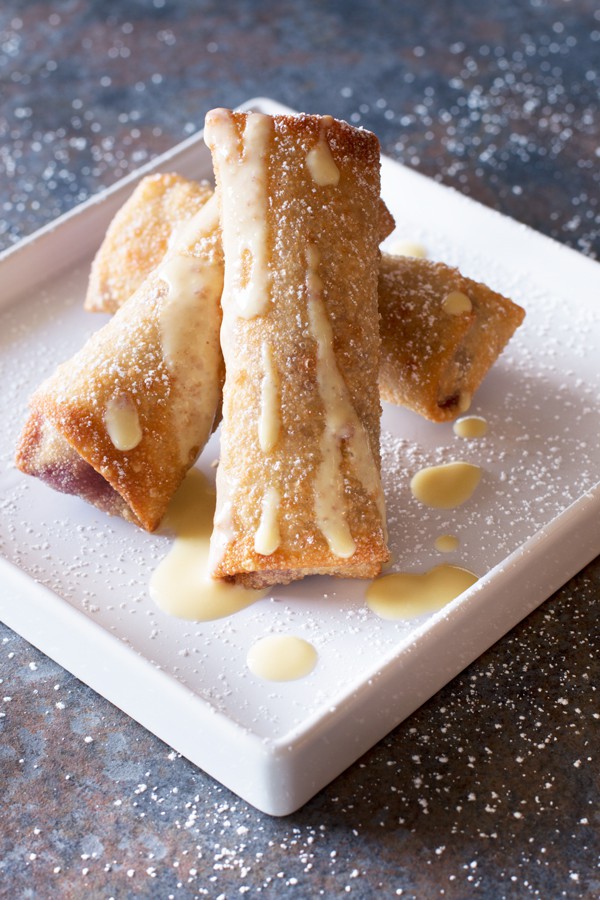 Talk about an easy solution – stir together berries and a few other ingredients, wrap in egg roll wrappers, fry and top with creme anglais and powdered sugar (or ice cream… or whipped cream… or all of the above…). Isn't it great when recipes come together in a snap and get you to the stuffing your face part faster?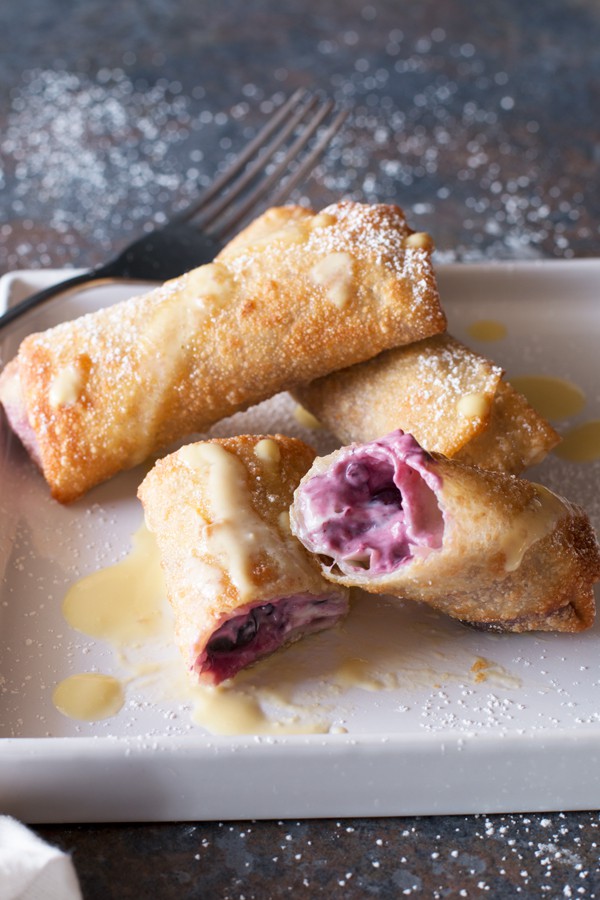 I love crunching through the crisp exterior of these berry cheesecake eggrolls, letting the warm, gooey, tart centers practically explode in your mouth. GAH and the creme anglaise, don't even get me started on that. I had to put the bowl out of reach because I was standing in the kitchen, devouring it by the spoonful while the egg rolls were frying. I almost didn't have enough left for pictures!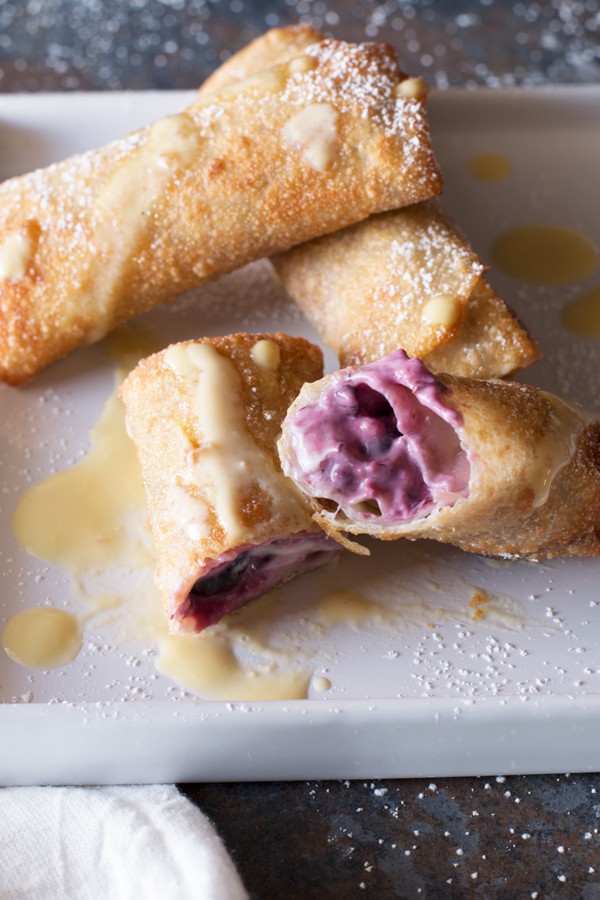 Self-control really isn't my strong suit when it comes to dessert… 😉
Note: This recipe can be made with frozen berries. Thaw the berries completely and strain out any juices before combining with other ingredients.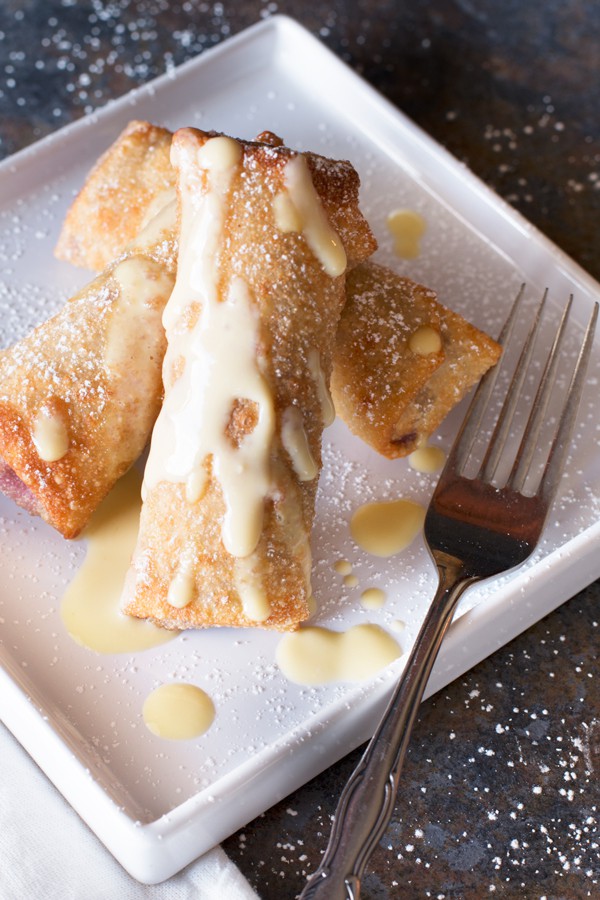 Berry Cheesecake Eggrolls
Crispy egg rolls are stuffed with berry cheesecake filling and served with a smooth, creamy creme anglaise. The perfect dessert in a pinch!
Ingredients
EGG ROLLS
8 egg roll wrappers
8 oz cream cheese, room temp.
1 Tbsp sugar
2 tsp lemon juice
1/3 cup raspberries
1/3 cup blueberries
1/3 cup blackberries
1 Tbsp cornstarch
1/4 cup cool water
Oil for frying
CREME ANGLAISE
1 cup whole milk
1 tsp vanilla extract
1/3 cup sugar
4 egg yolks
Instructions
In a medium bowl, beat cream cheese until smooth and creamy. Beat in sugar and lemon juice until combined. Gently fold in raspberries, blueberries, and blackberries. Place the bowl in the freezer for approximately 20 minutes to firm up slightly.
In a medium saucepan, heat milk and vanilla extract for the creme anglaise on low until simmering. Whisk together sugar and egg yolks on a small bowl. Whisk in 1/4 cup of the warm milk mixture. Once combined, pour the egg mixture back into the saucepan and continue to cook over medium heat until thickened, approximately 4 to 5 minutes.
Fill a large bowl with ice water and set a medium bowl inside. Strain the creme anglaise mixture into the medium bowl to stop the mixture from cooking. Set aside.
In a small bowl, stir together the cornstarch and water.
To wrap your egg roll, start with a clean, flat surface. Lay the wrapper so one of the corners is facing you (like a diamond). Dip your fingers in the cornstarch water and spread on each edge of the egg roll wrapper. Add approximately 1 to 2 Tbsp of the berry cream cheese mixture in the lower half of the wrapper. Lift the bottom corner up and begin to roll away from you, making sure you tuck the corner under as you roll. Once you are halfway up the wrapper, fold in the left side and then the right side towards the center. Continue rolling away from you until only the final corner is ready to roll. Dip your fingers in the cornstarch and water mixture you made earlier and brush it over the final corner. Finish the roll, brush a little more of the cornstarch mixture along the seam, and place seam-side down. Make sure you roll the egg rolls tightly. If they are too loose, they will fall apart when you fry them.
To fry the egg rolls, fill a pot with 4-5 inches of cooking oil. Heat the oil to 350 degrees. Gently add the egg rolls to the hot oil, frying no more than 3 or 4 at a time, turning occasionally. Fry until the egg rolls are golden brown, approximately 2 minutes. Place on paper towels to drain and cool.
Sprinkle with powdered sugar and serve with the creme anglaise.
Pin this Berry Cheesecake Egg Rolls recipe for later!