Salsa Verde Chorizo Pizza is a favorite summertime grilled pizza! Featuring flavorful LA VICTORIA® Thick 'N Chunky Salsa Verde as the base of the pizza, it's also topped with chorizo, queso fresco, tomatoes, and onion. Serves 2 to 4.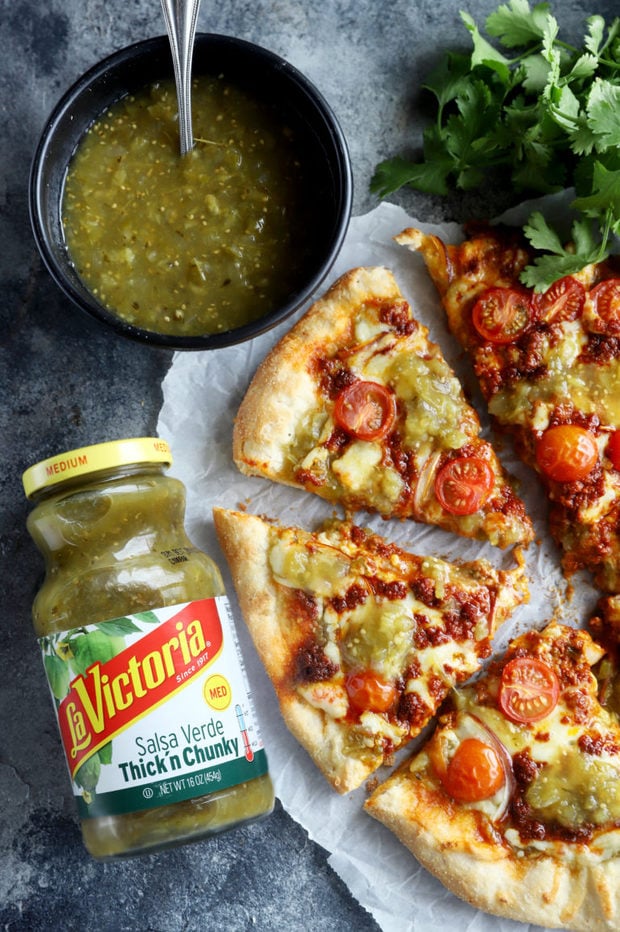 This post has been sponsored by the makers of the LA VICTORIA® brand. All thoughts and opinions are my own.
Summertime is the perfect time to grill pizza!
When you don't have a pizza oven, the grill is quite honestly the best way to get that crispy exterior on the crust, with a little added smoky flavor. That's why this salsa verde chorizo pizza is going to become a new favorite for you and the family.
Save Now on LA VICTORIA® Salsa here!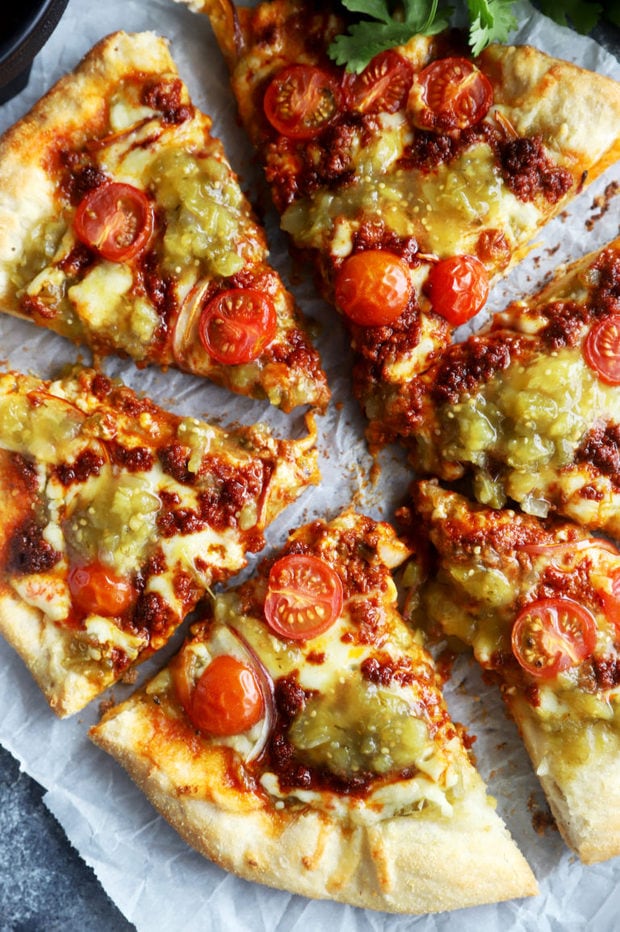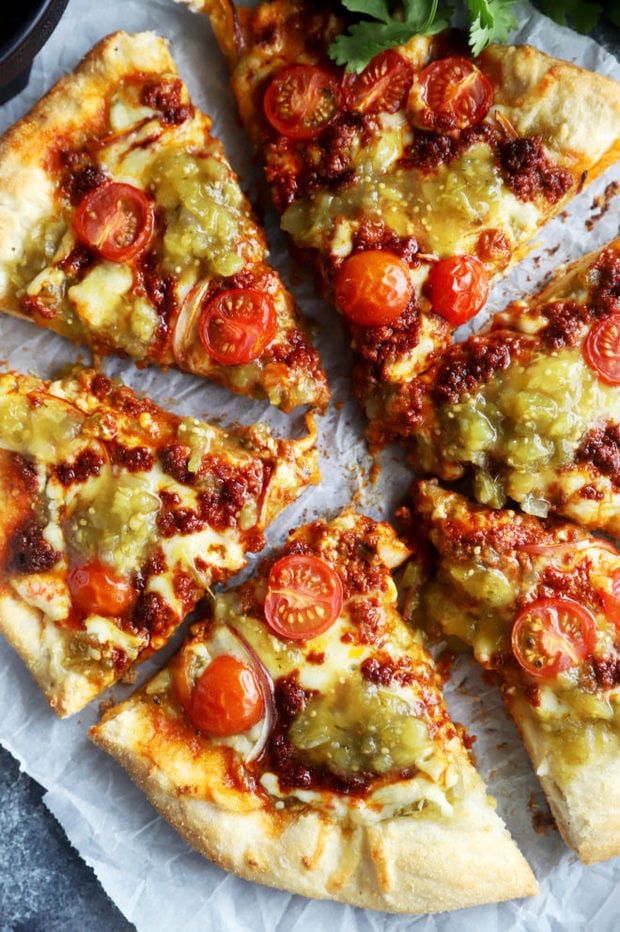 Instead of going the traditional route with a red sauce base, I am switching things up to feature my favorite spicy flavors with a delicious salsa verde and chorizo!
Today I am using LA VICTORIA® Thick 'N Chunky Salsa Verde to make this delightful recipe. I personally love the variety and versatility of their Mexican-inspired products and flavors! They've been reinventing salsa flavor experiences for over 100 years with reliable quality of flavor in every single bottle.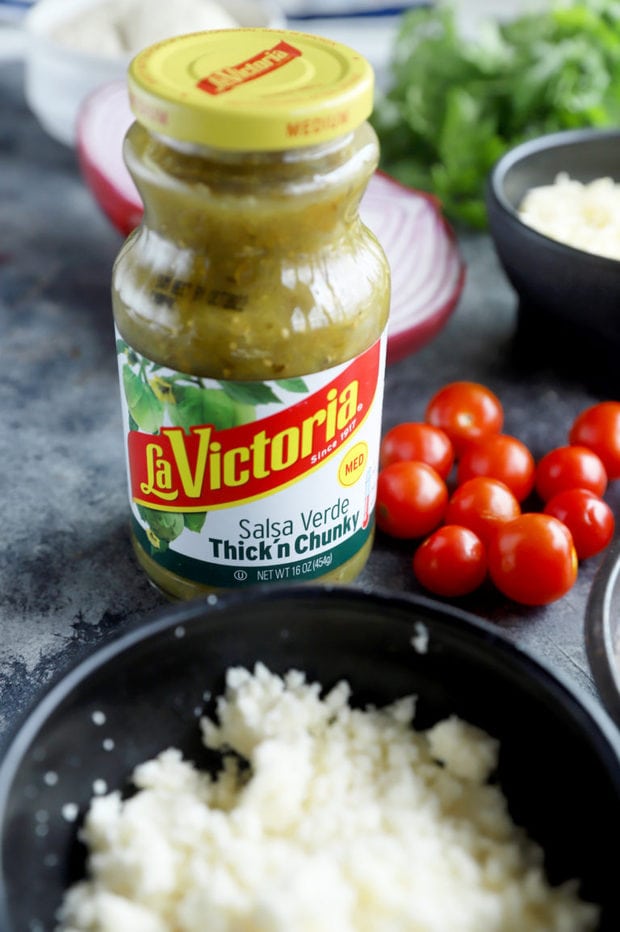 If you haven't had LA VICTORIA® Thick 'N Chunky Salsa Verde, you need to run out and grab a jar as soon as possible. This salsa verde is one you can use while topping off your favorite recipes or within the recipe, just like this recipe does! Not only is it the base of the pizza, it's also used as a topping once the pizza is finished grilling.
The salsa verde brings unexpected flavor, making pizza night a whole new ballgame when you try out this recipe!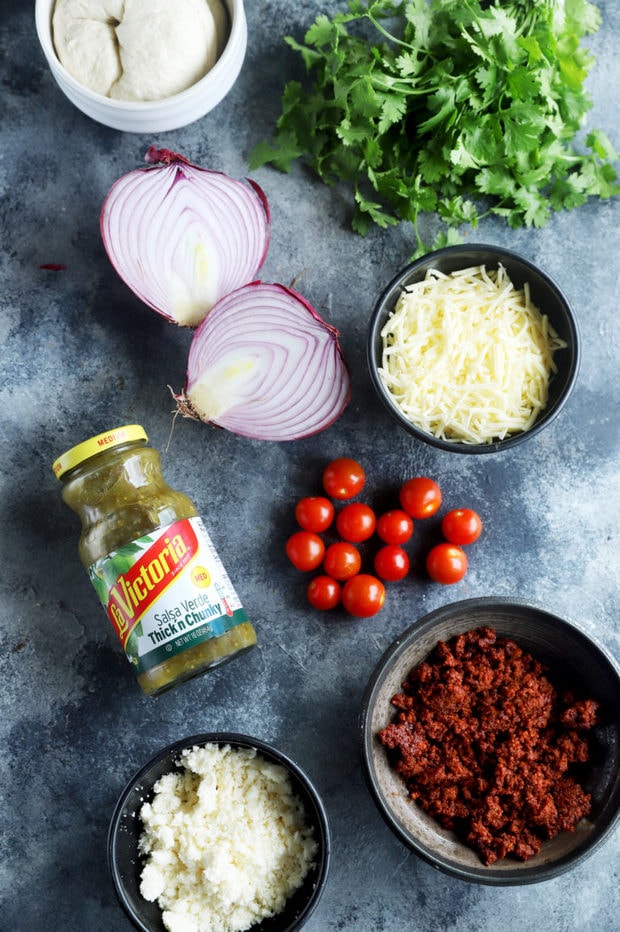 let's make yummy salsa verde chorizo pizza!
Prep Ingredients
Before you start this recipe, be sure to prep all your ingredients. That means measure out everything, crumble the chorizo, halve the tomatoes, and slice the red onion! It's so much faster for your assembly process once you get the pizza going.
While you are preparing the ingredients, be sure to also place your pizza stone on the grill and preheat it.
Want to make this in the oven? Scroll down a bit to find out how!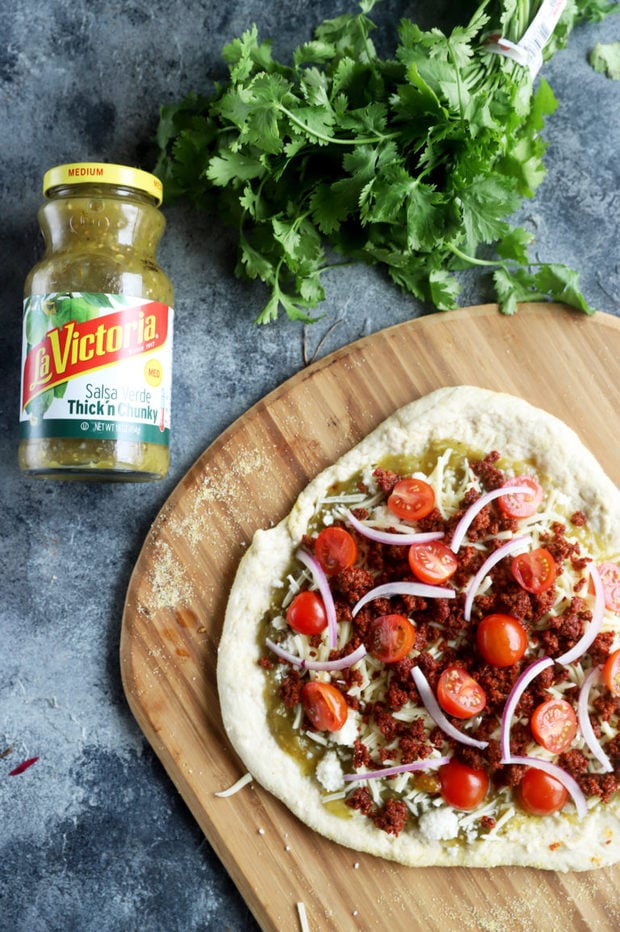 Assemble
Stretch out the dough to your desired shape. I personally like a rough circle. If I could ever make a perfect circle I would, but I know my limits and an imperfect circle is my permanent goal at this point, haha!
Top the dough with a layer of LA VICTORIA® Thick 'N Chunky Salsa Verde, making sure to leave a small border for a crust. Add the cheeses on top, then the remaining toppings including chorizo, tomatoes, and red onion.
Grill
Grill the pizza until the crust is golden brown and the cheese has melted. This will take about 7 to 10 minutes. Top with additional LA VICTORIA® Thick 'N Chunky Salsa Verde as desired!
Need some more inspiration for pizza? Check out my pizza recipe page!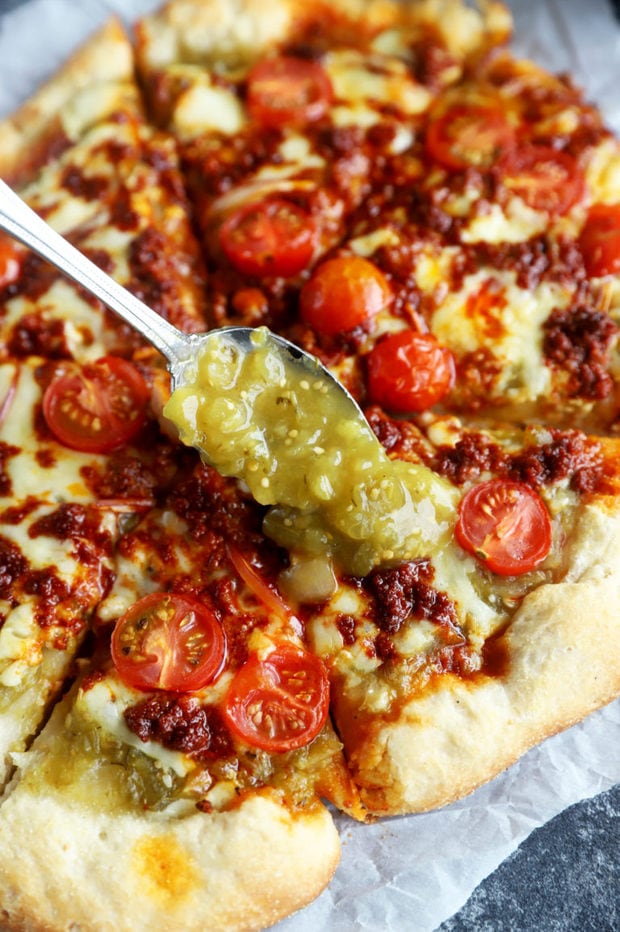 can I bake the pizza instead of grilling?
If you don't have a grill, or if there isn't great grilling weather where you are, you can use a conventional oven. Preheat the pizza stone in the oven to 500˚F. Bake for the same amount of time mentioned in the recipe below.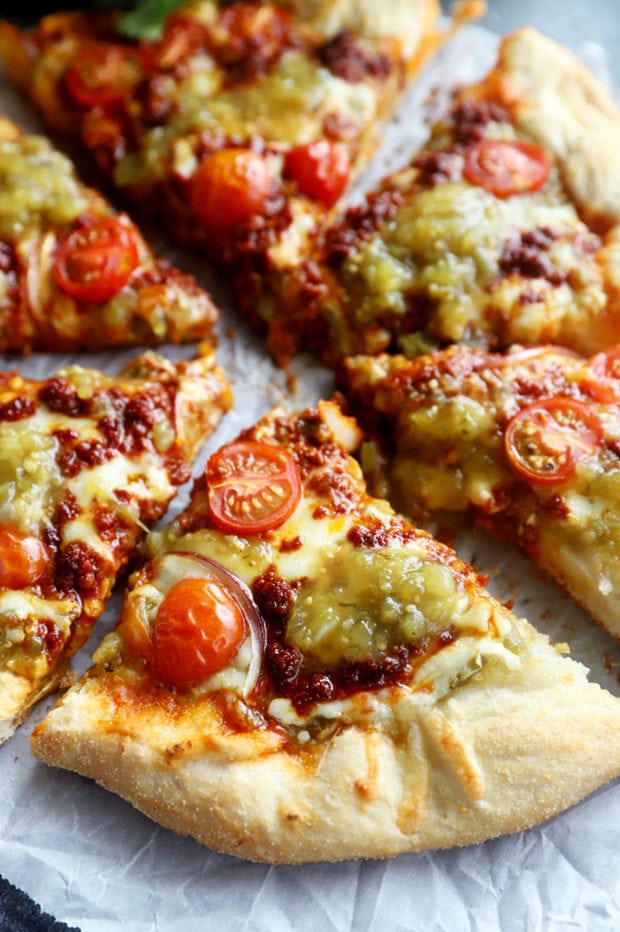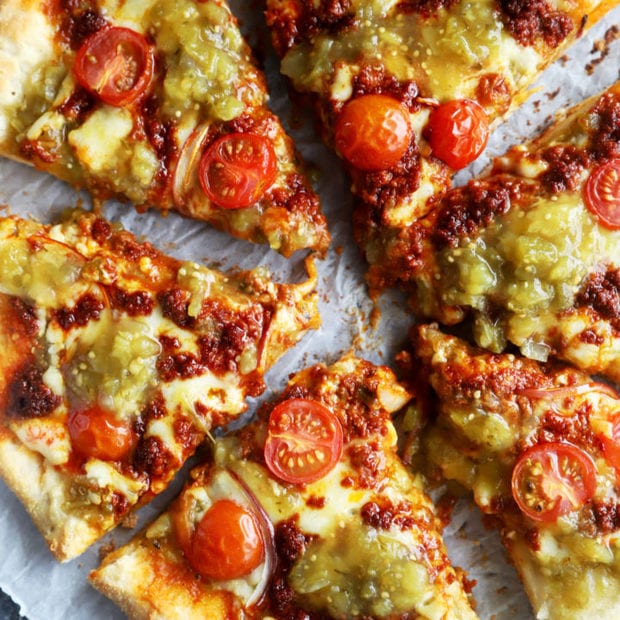 Salsa Verde Chorizo Pizza
This spicy pizza is delicious straight off the grill, but it can also be made in the oven!
Ingredients
1 lb pizza dough, homemade or store-bought
1/2 cup LA VICTORIA® Thick 'N Chunky Salsa Verde + more for topping
1 cup shredded Monterey Jack cheese
1 cup queso fresco, crumbled
6 oz cooked crumbled chorizo
1/2 cup cherry tomatoes, halved
1/2 cup thinly sliced red onion
Instructions
Place a pizza stone on the grill and preheat over medium-high heat (about 550˚F).
Stretch dough into desired shape. Place it on a pizza peel dusted with cornmeal if you have one for easy transfer.
Spread LA VICTORIA® Thick 'N Chunky Salsa Verde over dough in an even layer, leaving a small border for the crust.
Top evenly with Monterey Jack cheese and queso fresco. Sprinkle over chorizo, tomato halves, and slices of red onion.
Transfer to pizza stone and grill for 7 to 10 minutes until the crust is golden on the edges.
Remove from grill and top with additional LA VICTORIA® Thick 'N Chunky Salsa Verde as desired.