Chicken Spinach Artichoke Dip Puffs are the bite-sized version of your favorite dip, made heartier with the addition of chicken. It's the easy-to-make rich and creamy appetizer that's ready to eat in 45 minutes! They'll disappear quick, so be sure to set a couple aside for yourself 😉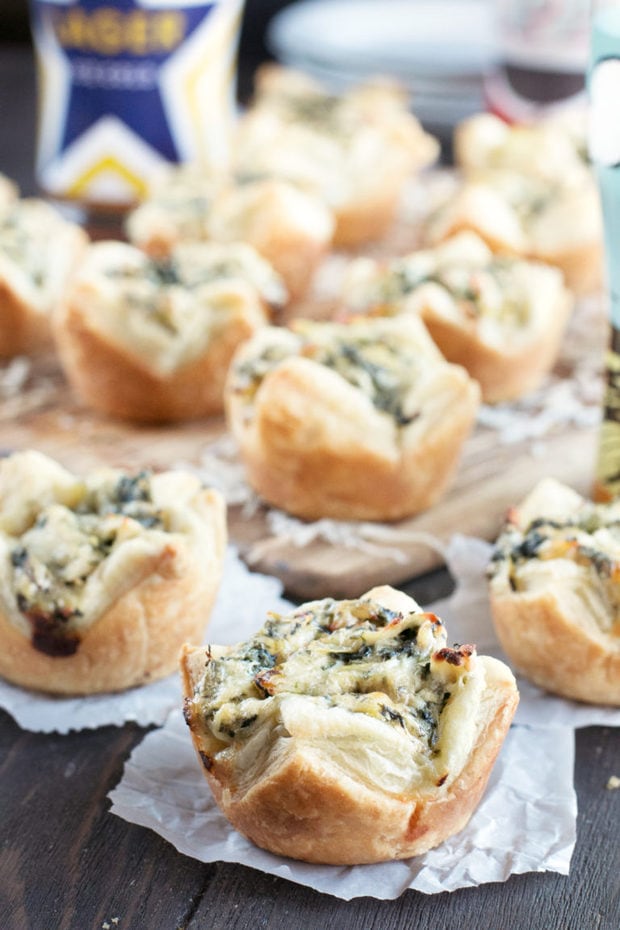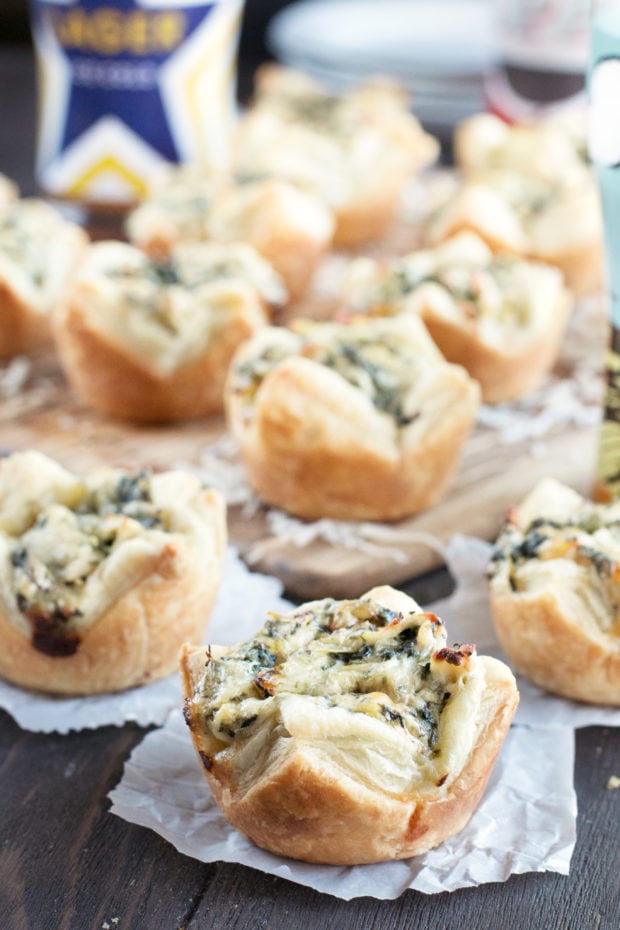 Please note that some of the links below are affiliate links. If you make a purchase through one of these links, I will receive a small commission.
Are you a spinach artichoke dip fan?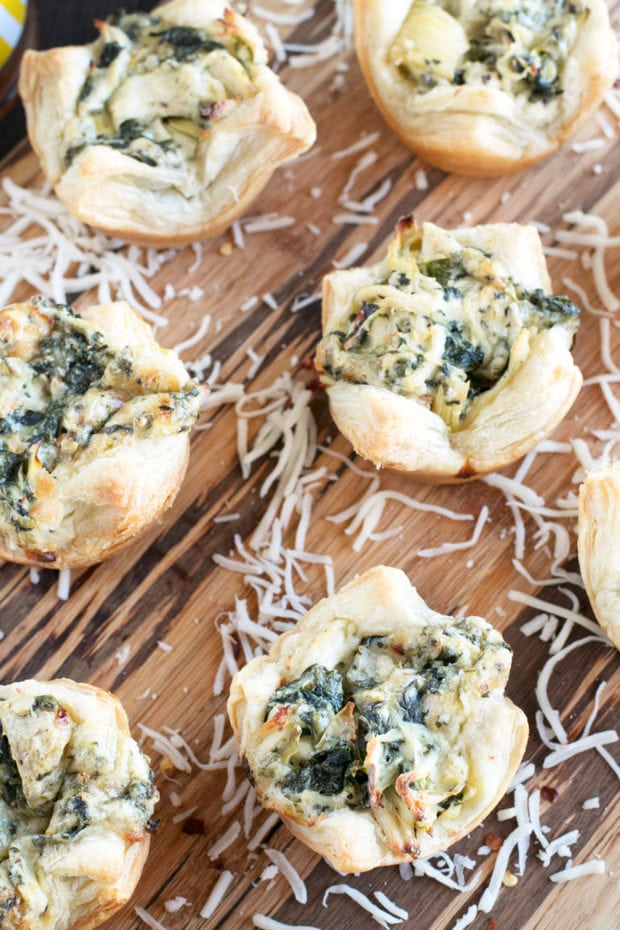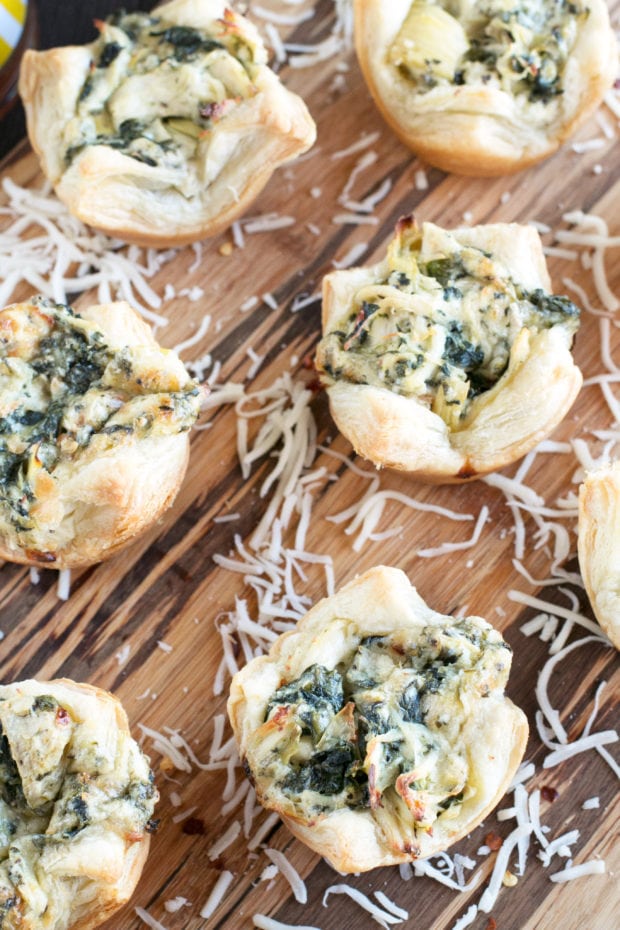 I mean, obviously you are in some way, or else you wouldn't be reading this right now and drooling over the pictures…
Yes, I assume you are drooling. Honestly how could you not?? I promise, there will be no judgement from me if you lick the screen. It'll be our little secret…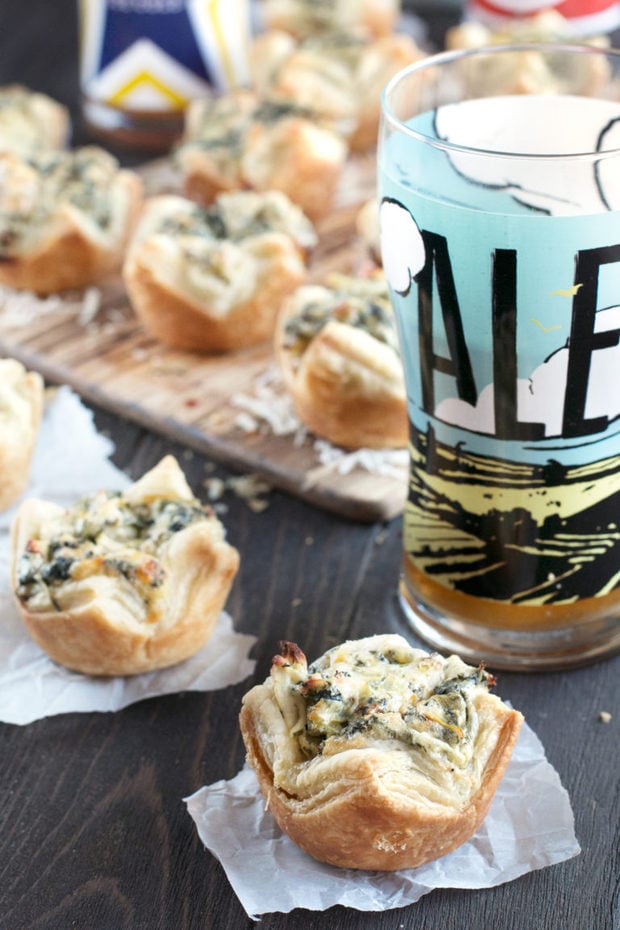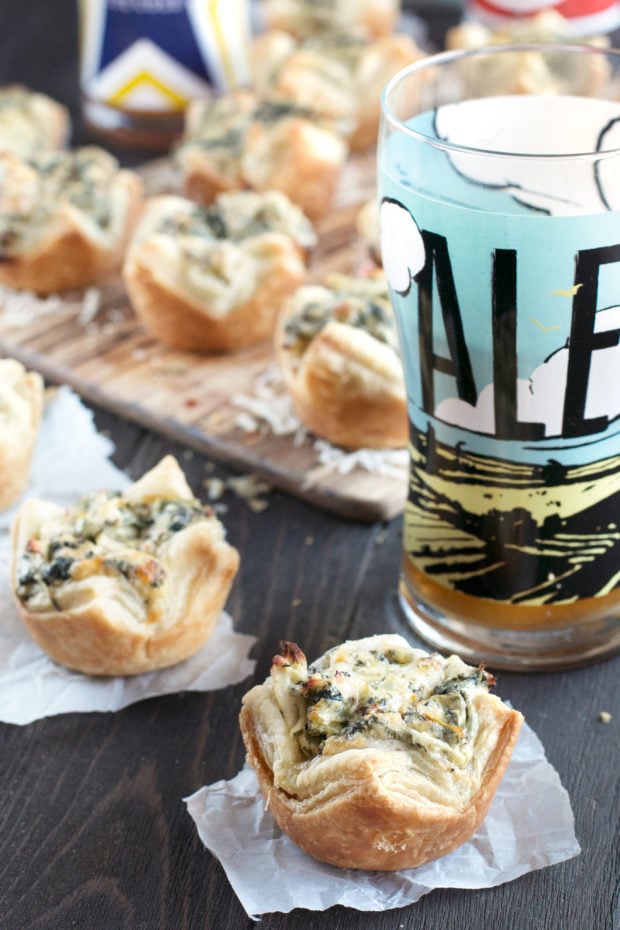 Spinach artichoke dip is one of those appetizers that I will ALWAYS order when I see it on the menu.
It's almost a way to judge a new restaurant if they do have it on the menu.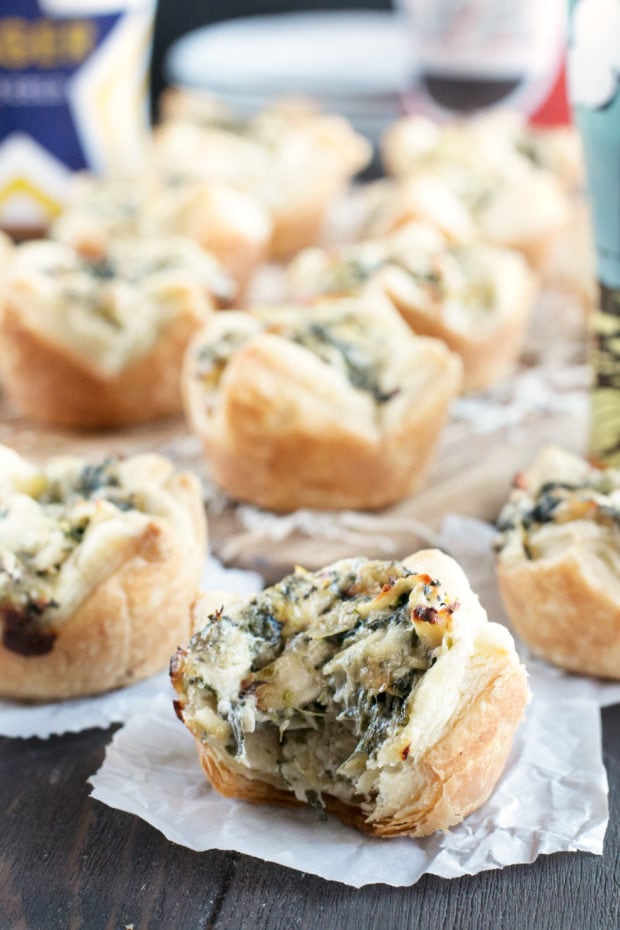 Did you nail the spinach artichoke dip?
Yes?
Then I'll be returning.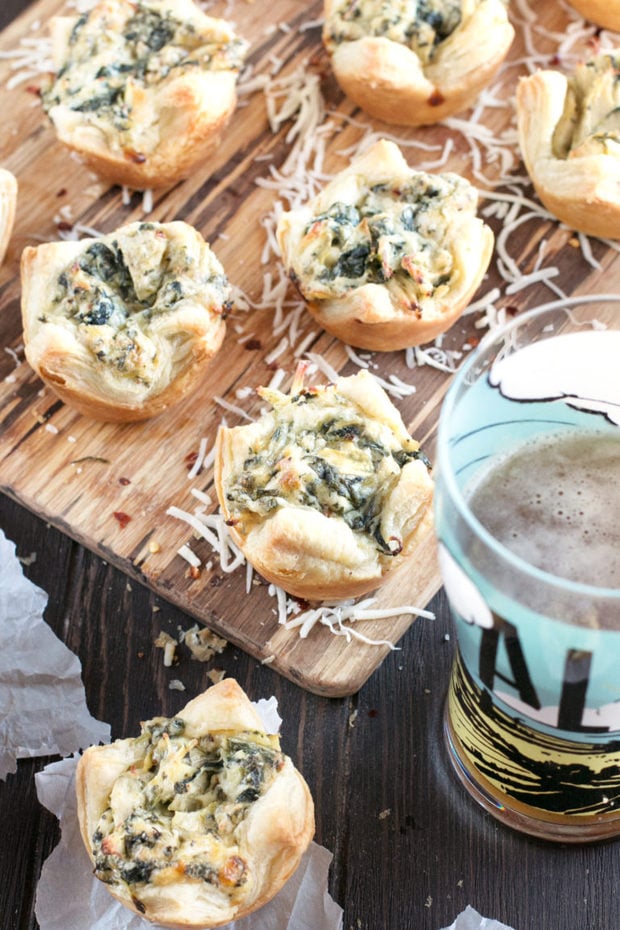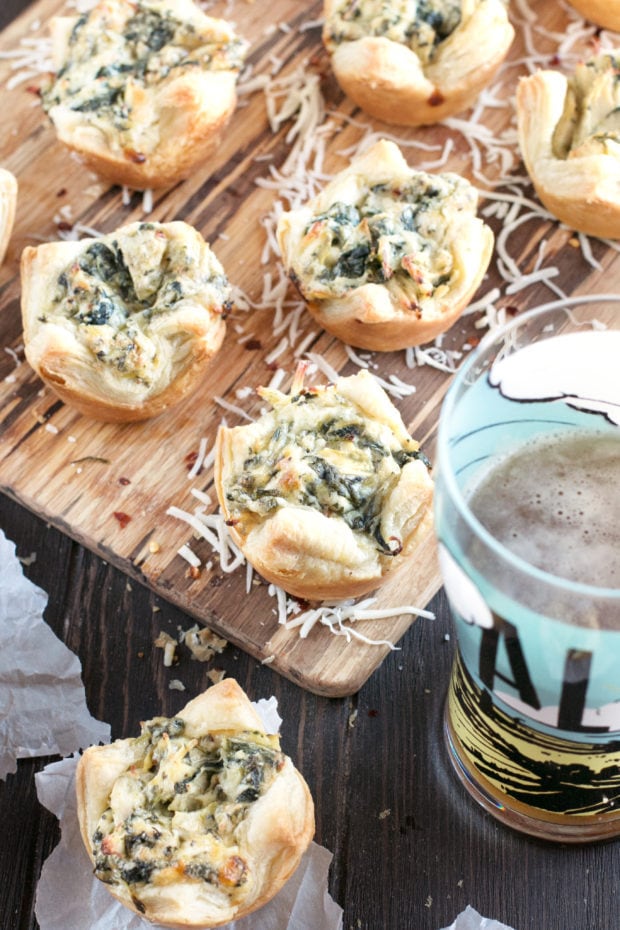 You may have already stumbled across my infamous Chicken Spinach & Artichoke Dip French Bread on the site (if you haven't, pop over to the post and pin it for later!), so you already know that spinach artichoke dip and I have a thing going on…
? *Me and, Mr… Mr. Spinach Artichoke Diiiiiiiip* ?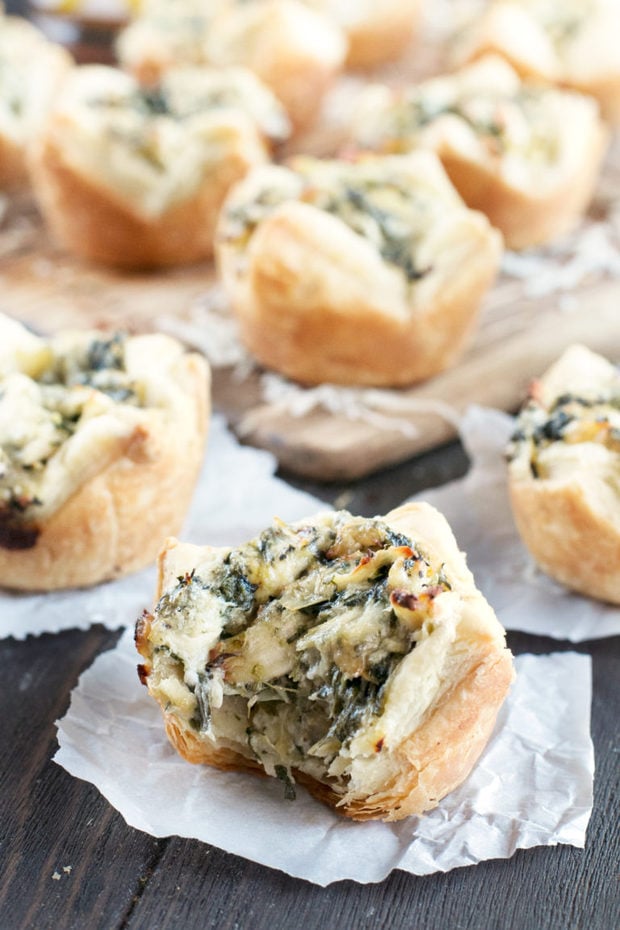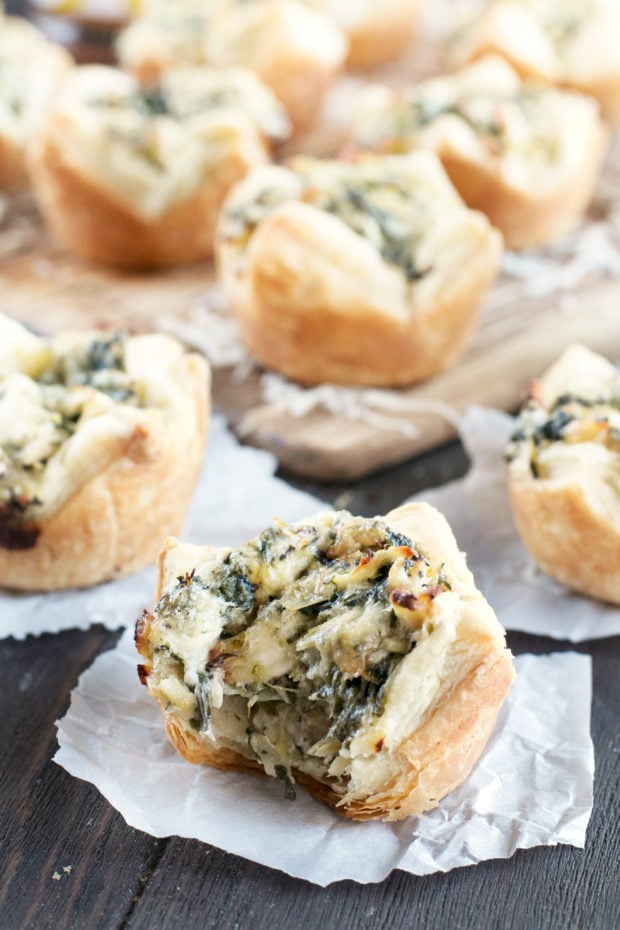 Chicken really lends itself to spinach artichoke dip, making the already rich and creamy dish a little heartier. Now as good as that bread is, it lends itself more to small gatherings than big parties with everyone milling around.
That's where these little guys come in…
They are the bite-sized version of the delicious dip, with a bit of chicken mixed in and stuffed into an adorable cup of puff pastry! These puffs are perfect for serving up at your party, not only because you get a good amount of them out of the recipe, but because they will really wow the crowd.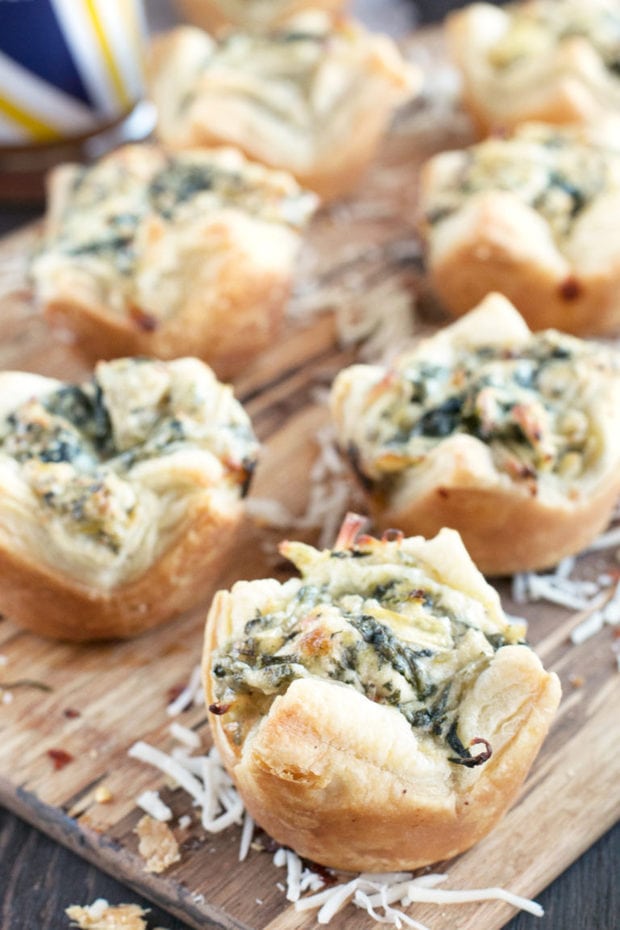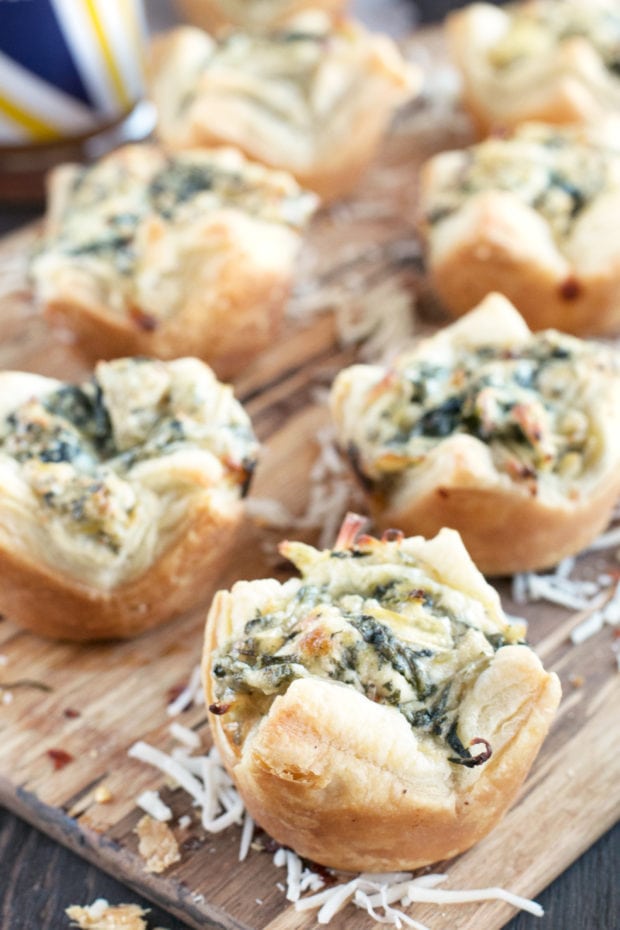 I promise they'll be gobbled up in minutes!
PLUS you can pin this as a "green" recipe for St. Patrick's Day next month. #winning
This Recipe's Must Haves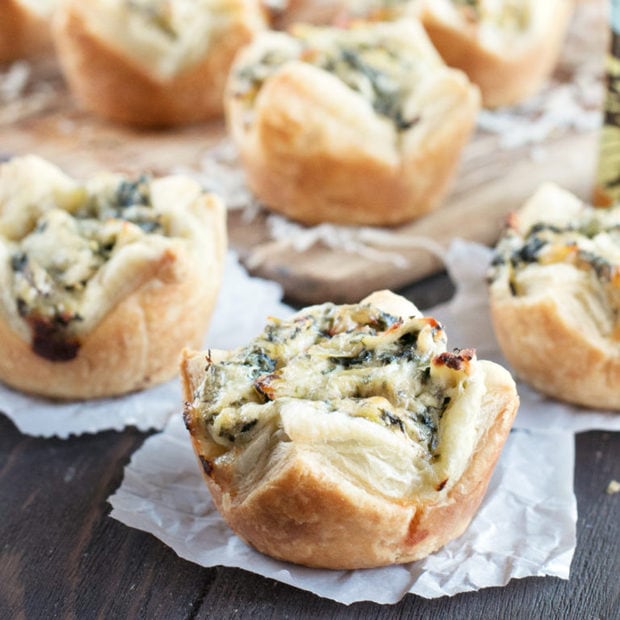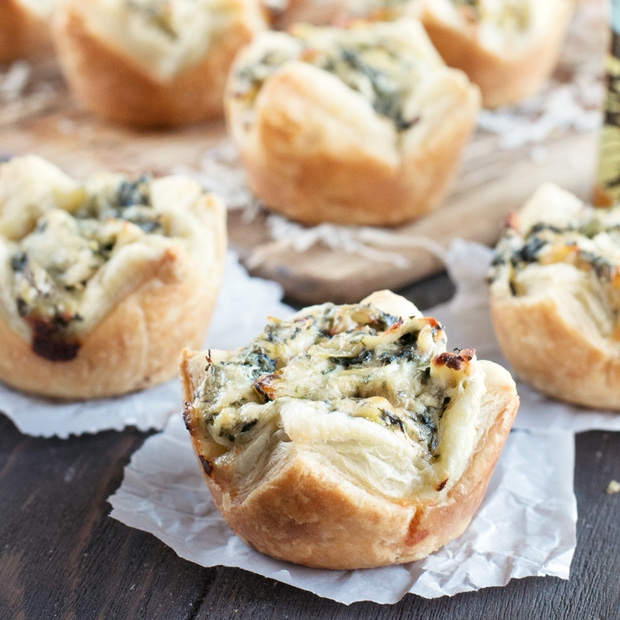 Chicken Spinach Artichoke Dip Puffs
Spicy spinach and artichoke dip is made heartier with chicken, then served up in adorable puff pastry cups!
Ingredients
4 oz cream cheese, softened
1/4 cup sour cream
1 1/2 cup shredded mozzarella
1/4 cup Parmesan cheese
1 cup chopped artichoke hearts
6 oz frozen spinach, drained and chopped
2 cups cooked shredded chicken
2 cloves garlic, minced
1/2 tsp salt
1/2 black pepper
1/2 tsp red pepper flakes
1 package puff pastry, thawed
Instructions
Preheat oven to 375 degrees F. Lightly grease a 2 12-cup muffin tins with cooking spray.
In a large bowl, combine cream cheese, mozzarella, Parmesan, artichokes, spinach, chicken, garlic, salt, pepper and red pepper flakes. Stir until well combined. Set aside.
Lay out each sheet of puff pastry on a clean, flat work surface. Cut each sheet into 9 equal squares.
Place each square of puff pastry in a greased muffin tin.
Distribute the filling evenly into each of the puff pastry cups.
Bake for 30-35 minutes, until the dough is golden and the filling cooked through.