With all the craft beer that's out there, take your beer experience to a whole new level with beer cocktails. My How To Make Craft Beer Cocktails (Part One) guide is just the beginning stepping stone you need to start experimenting with different combinations of beers and liquors. You'll never guess how easy it is to make your own concoctions at home!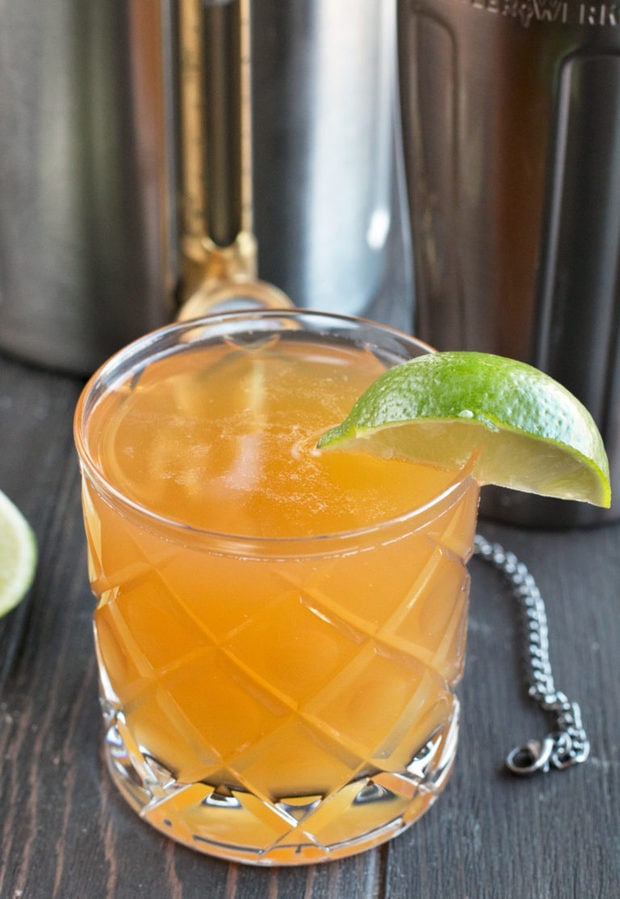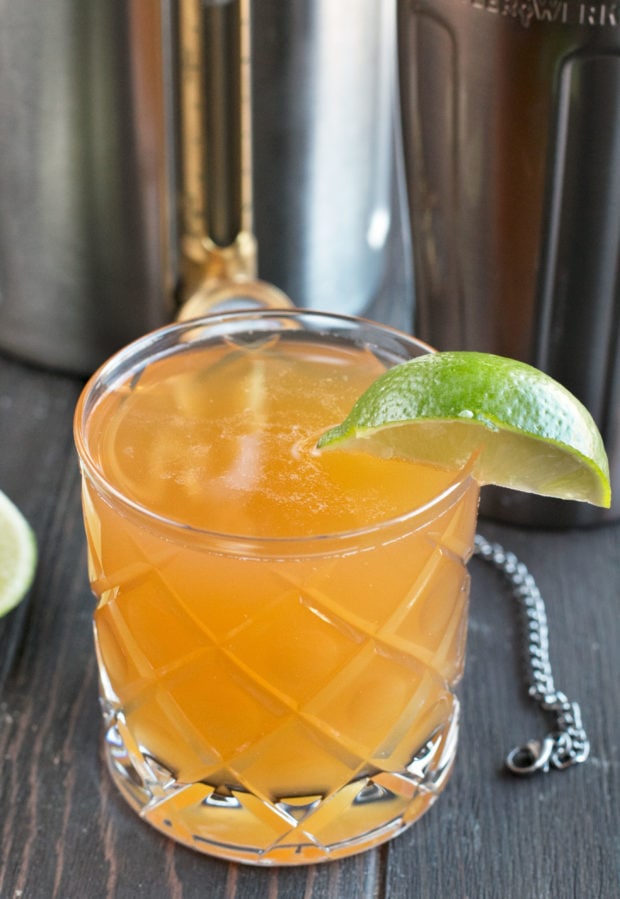 Disclosure: I received free product and compensation from GrowlerWerks as part of this post. As always, all opinions and recipe are my own. Thanks for supporting the brands that support Cake 'n Knife!
I don't know if you all have this in your hometown, but here in Denver beer cocktails are a thing and they are wonderful.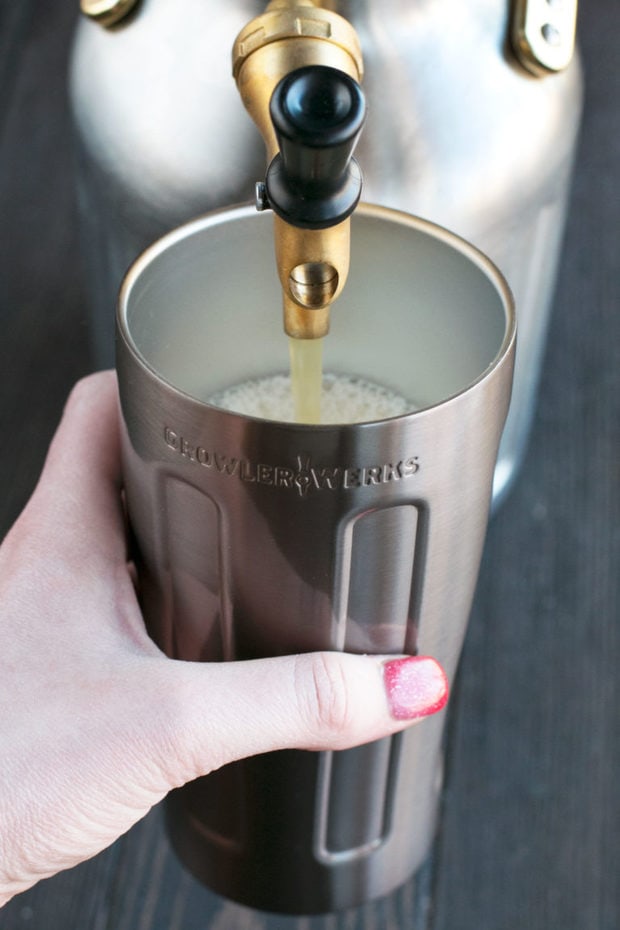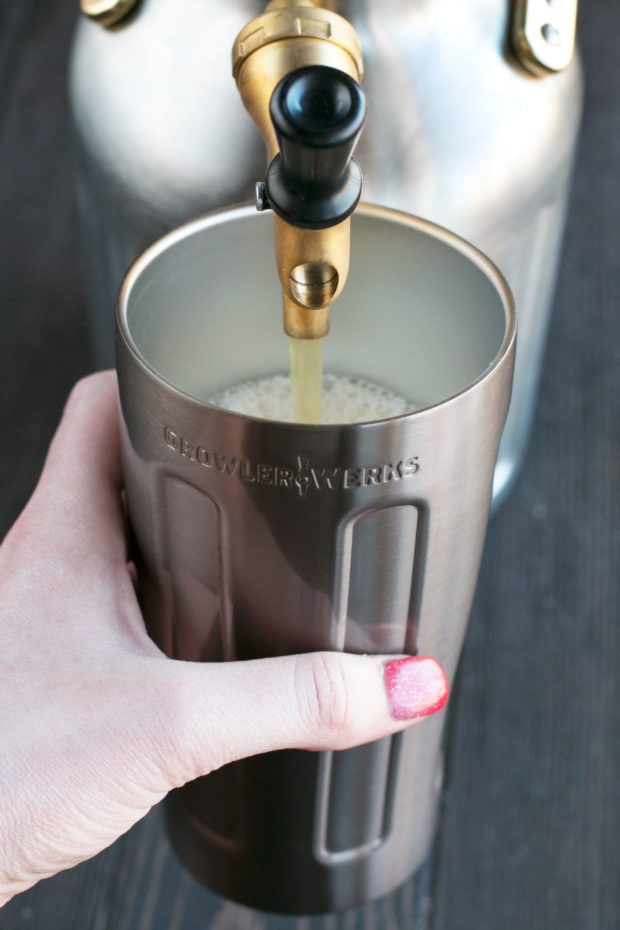 There are a lot of beer purists out there who get all offended whenever I even suggest trying a beer cocktail, but poo on them because beer cocktails open up a whole new world of amazing experimentation.
As a beer and cocktail enthusiast, the idea of pairing beers and liquor seems really natural to me.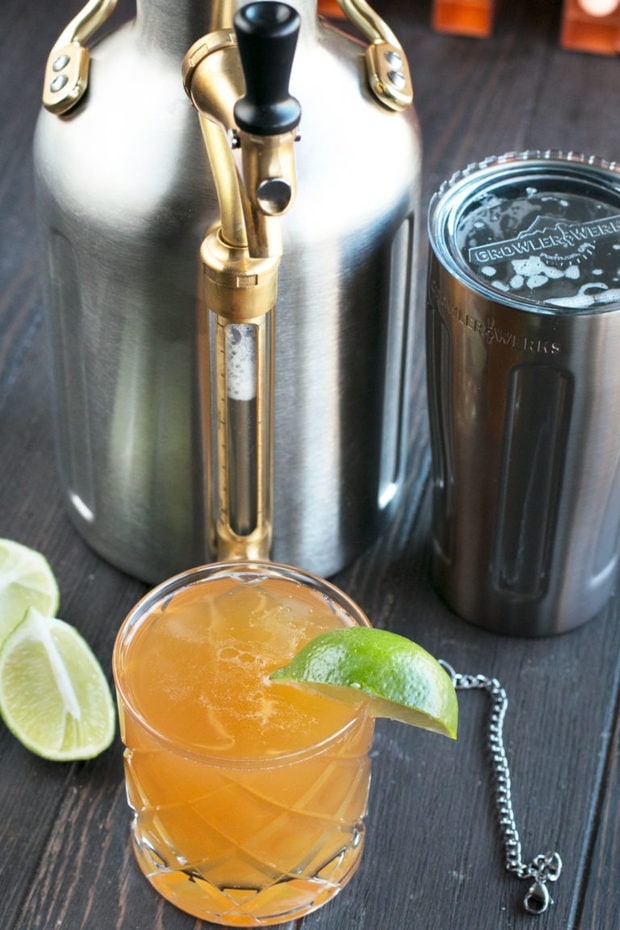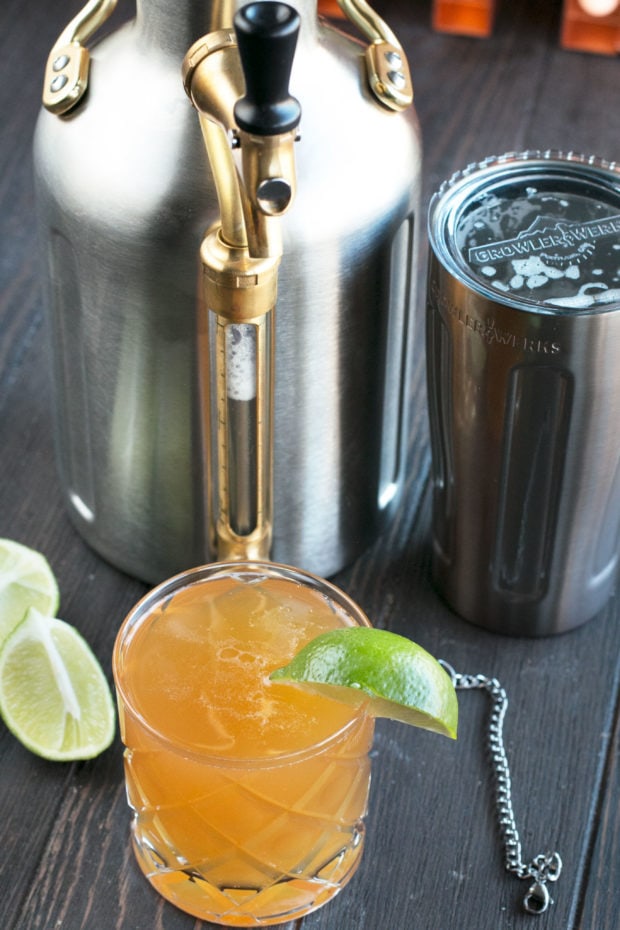 Please note that some of the links below are affiliate links. If you make a purchase through one of these links, I will receive a small commission. Thank you for supporting Cake 'n Knife!
With all those barrel-aged beers and boozy barleywines out there, the boozy tang at the end of a sip of rich beer is absolutely delightful.
So why not spin it around and give the booze a gorgeous beer tang at the end of each sip?
Why not indeed…
This is part one of a series on beer cocktails, so let's start with the first and foremost most important ingredient.
THE BEER.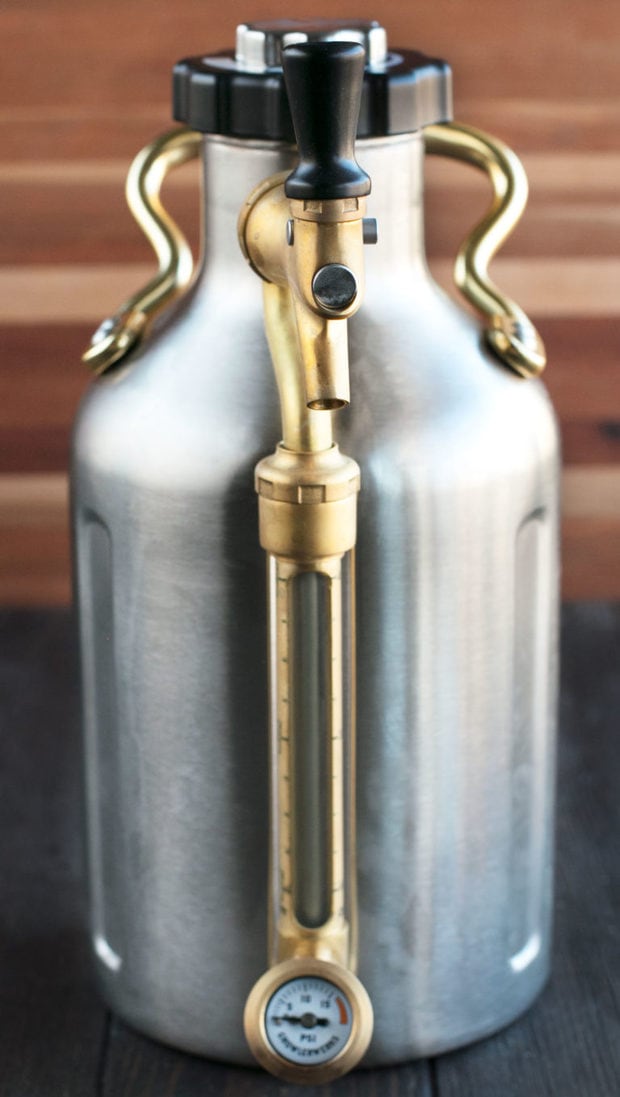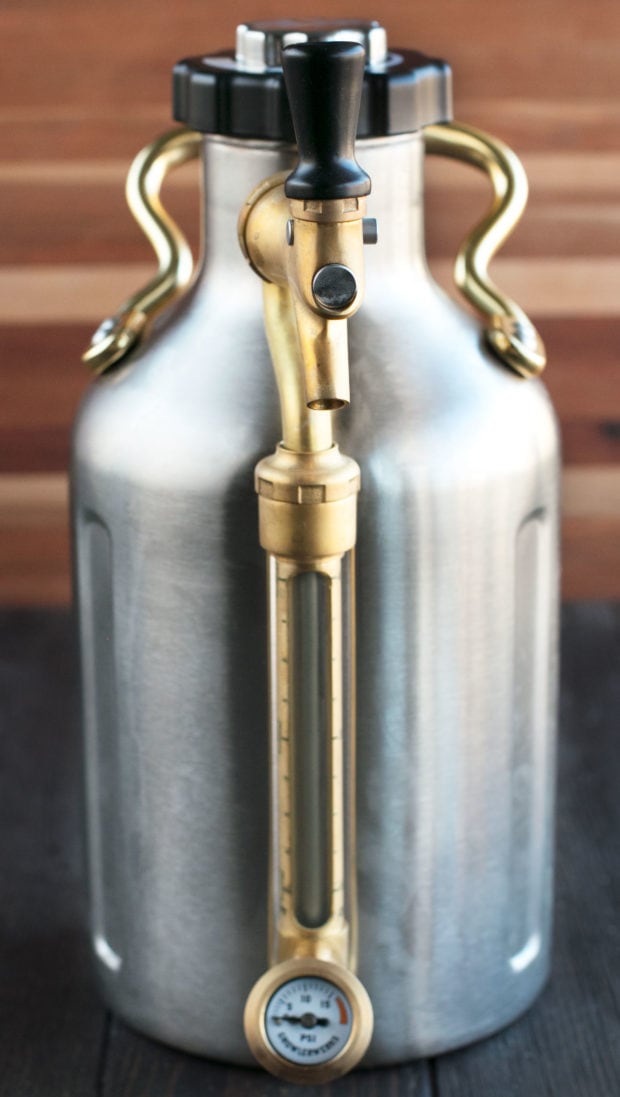 Going out and grabbing a growler of my favorite beer isn't something I would often to. Generally that meant I would have to down the entire thing with the Man in one evening, because Lord knows the beer doesn't stay perfectly carbonated once it's been sitting around in a growler.
This is where GrowlerWerks came in a changed my entire freaking like with their magnificent GrowlerWerks uKeg 64 Pressurized Steel Growler with Tap. This thing is a miracle for all you craft beer lovers out there. All those beers you love to enjoy and aren't available in bottles or cans, are now accessible and for more than one day.
With this uKeg, you can enjoy beer for up to 2 weeks!
It's a pressurized system with a tap that you can fill and then store in your refrigerator, and it's oh-so easy to use. All you do is head to your favorite brewery, have them fill up your growler and you easily pressurize the thing right there and then. Once you get home add it to the refrigerator or take it straight to a friend's house to share!
I just love that it gives me the opportunity to enjoy my favorite beers without having to go to the brewery and without having to chug it all in one sitting.
PLUS it gives you an extra excuse to make your own beer cocktails and experiment as much as you want!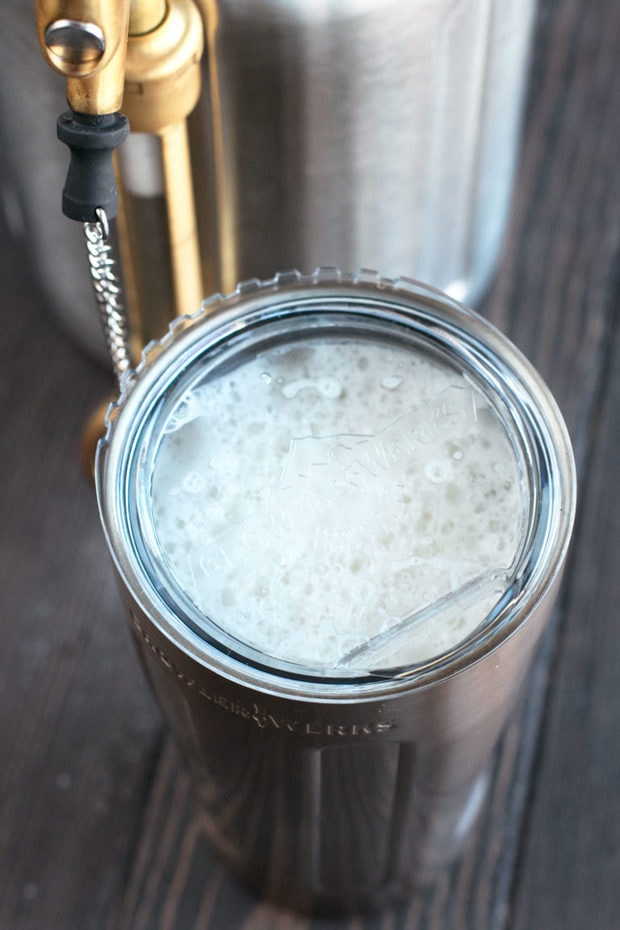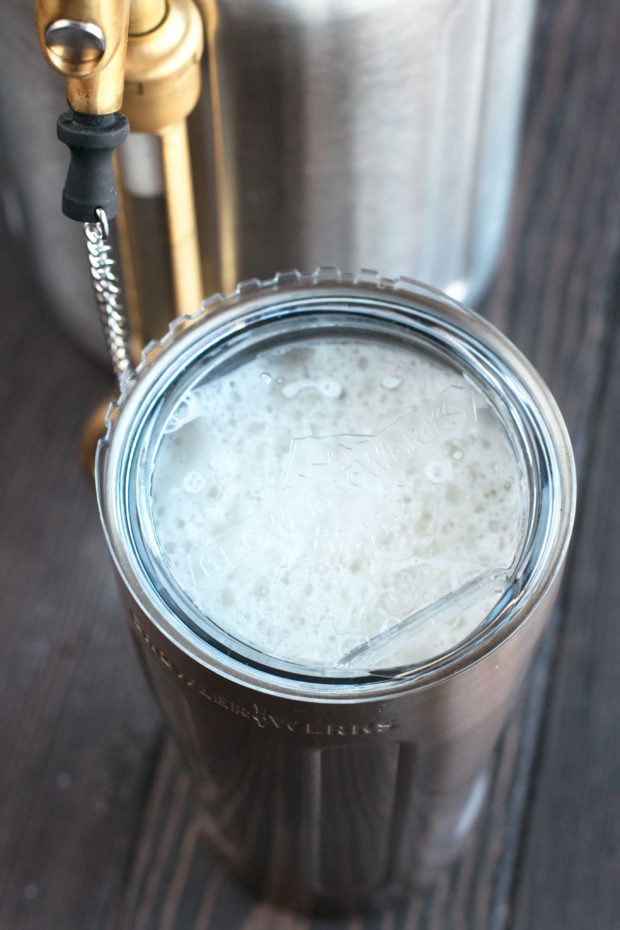 To start, here are a couple of my personal favorite recipes for simple beer cocktails that are great to start with…
If you like sours:
Try a new take on a Whiskey Sour! With this simple recipe, you will fall in love yet again with this amazing cocktail:
Ingredients:
2 oz. whiskey
1/3 oz simple syrup
2 dashes orange bitters
3 oz. your favorite sour beer (it's fun to experiment with flavored sours here to! Think raspberry or wild berry)
Combine all ingredients in a shaker filled with ice. Gently shake and strain over an ice-filled highball glass.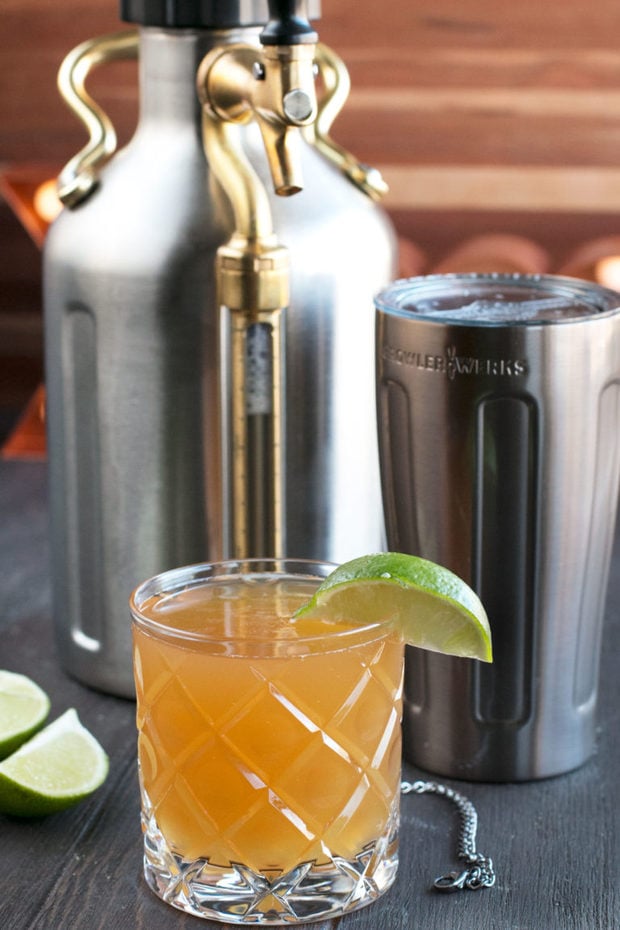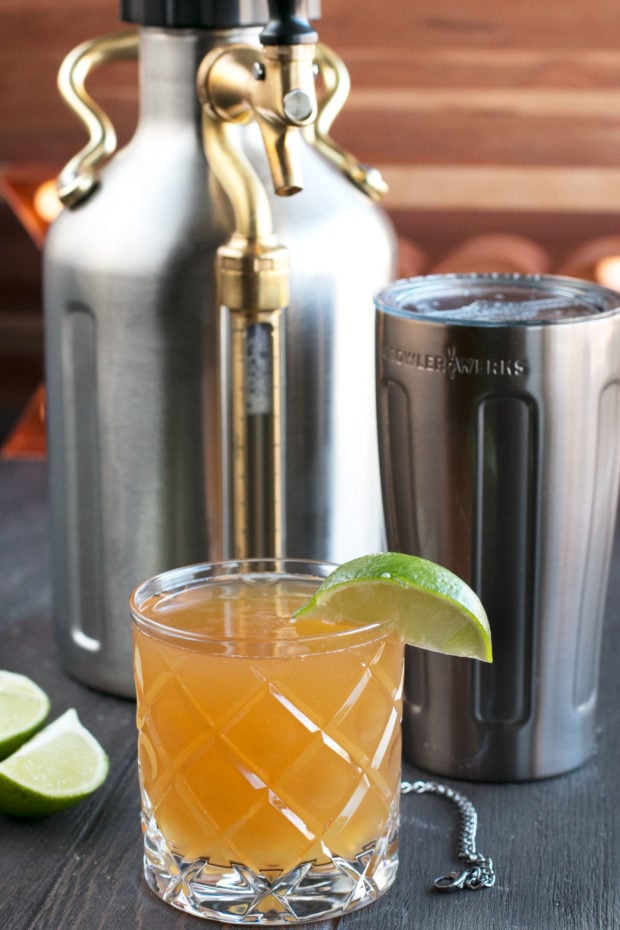 If you like saisons:
Tequila and saisons pair together in a really dramatic and bright way! I like to add beer to my favorite tequila cocktail – The Paloma.
Ingredients:
2 oz silver tequila
1/2 cup grapefruit juice
1 cup your favorite saison (grapefruit saisons are a particular favorite here, obviously)
1 lime wedge
Fill a cocktail glass that's been rimmed with salt with ice.
Pour over tequila and grapefruit juice. Stir to combine.
Top with saison and garnish with a lime wedge.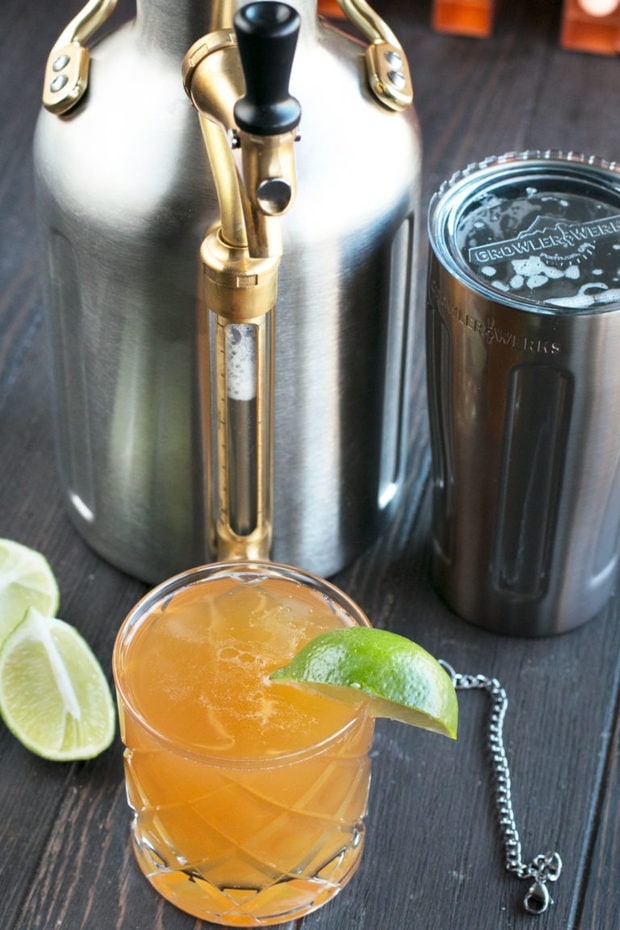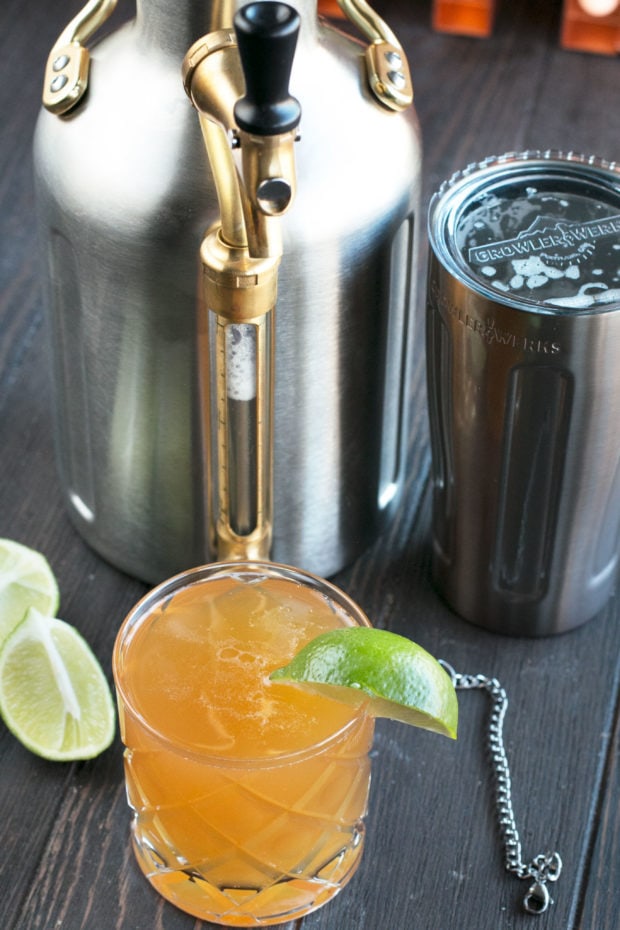 Try a Little Imagination!
IPAs pair really well with gin and whiskey. Try perhaps a take on an Old Fashioned with a dash of IPA or a Gin, IPA & Tonight?
Love those crazy flavored beers like coconut stouts and chocolate porters? Vodka always goes with those big, bold beers and doesn't take over the flavor!
Get outside the box and try some port wine with an Imperial Stout!
Rum, especially when it's a spiced rum, goes terrifically in barrel-aged stouts, whether they are bourbon barrel-aged and rum barrel-aged.
So get out there with your GrowlerWerks uKeg 64 Pressurized Steel Growler with Tap and start trying some new combinations with your favorite beers. Then be sure to come back and tell me what you tried, what you loved or what you hated ;)!
In my next part of the guide I'll be bringing you more cocktail recipes and suggested pairings so get. excited.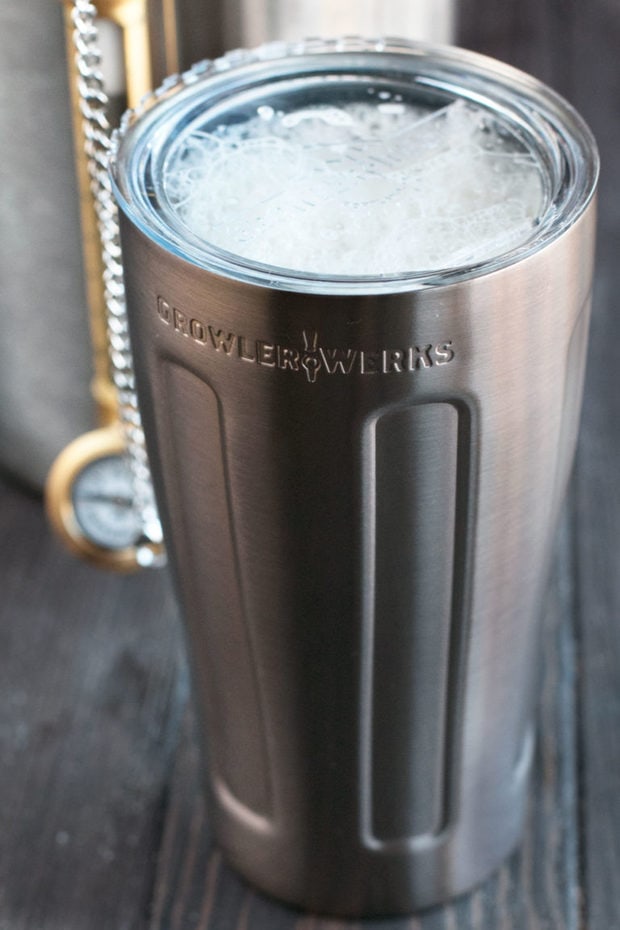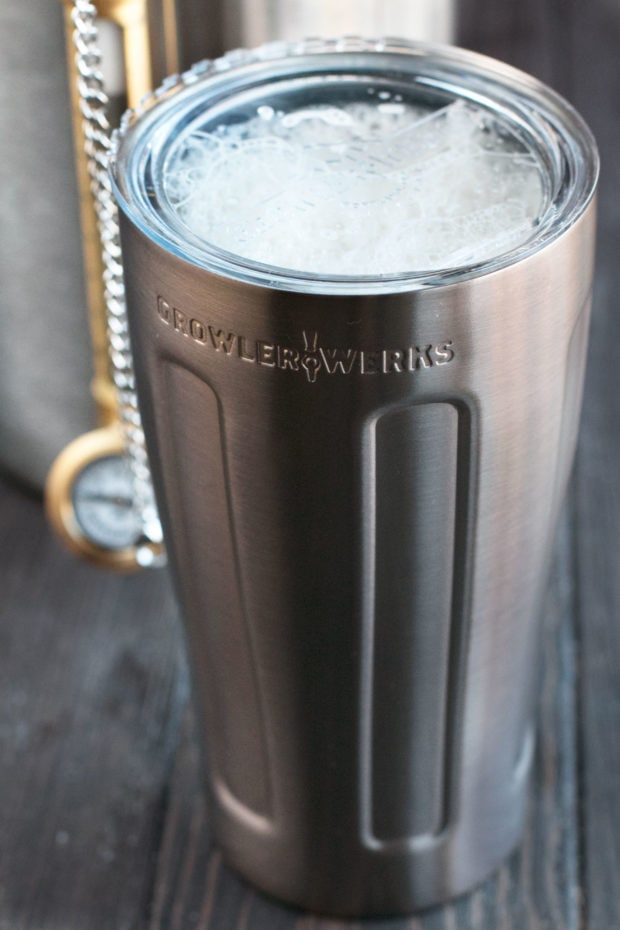 But before you do that… don't forget what special time of year it is!


THIS GIVEAWAY IS NOW CLOSED.
As many of you know, it's the 12 Days of Jolly Giveaways and we are in the second half of the giveaway madness! Today is Day #9 and with all of this good beer we have going on, it's time to help you get in on the GrowlerWerks action.
That's right, I'm giving away ONE GrowlerWerks uKeg 64 Copper-Plated Steel Growler with Tap! You'll be able to enjoy beer fresh on tap from your very own fridge and experiment with all the beer cocktails as much as you want with this bad boy. Just head below the pin and enter the giveaway for a chance to WIN.
Don't forget to check out the other holiday recipes I've shared for the 12 Days of Jolly Giveaways (Day 8's giveaway is still open!)!
Day One – Red Wine Slow Cooker Short Rib Ragu
Day Two – Gingerbread Challah Bread
Day Three – Mini Beef Wellingtons
Day Four – Bourbon Gingerbread Punch
Day Five – Twice-Baked Chicken Shawarma Stuffed Potatoes
Day Six – Head Country BBQ Prize Pack
Day Seven – White Chocolate Dipped Dark Chocolate Peppermint Cookies
Day Eight – Red Christmas Single Serve Sangria
Day Nine – How to Make Craft Beer Cocktails, Part One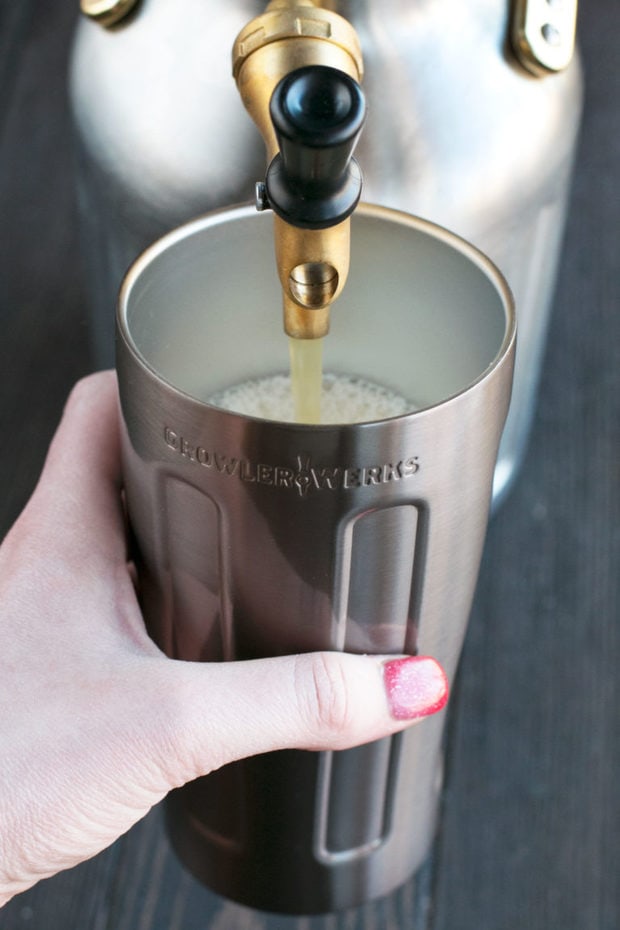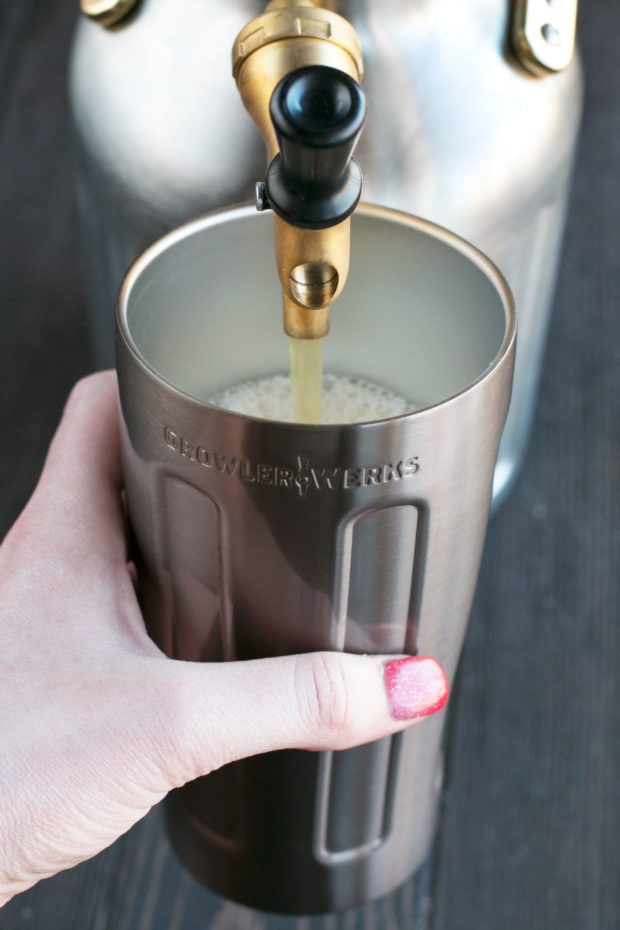 This Recipe's Must Haves
Pin this How To Make Craft Beer Cocktails, Part One Guide for later!