Gingerbread Challah Bread is my favorite mashup of holiday flavors, all in one beautifully swirled loaf of bread. The classic spices in gingerbread cookies are what make up the heavenly swirl and the fluffy homemade challah will melt in your mouth. 'Tis the season for baking and indulgence!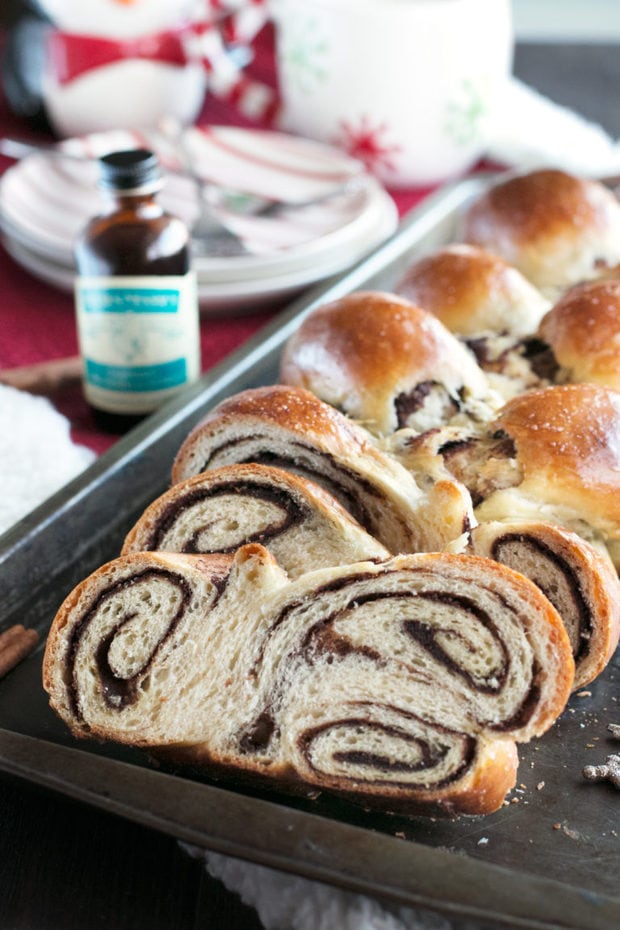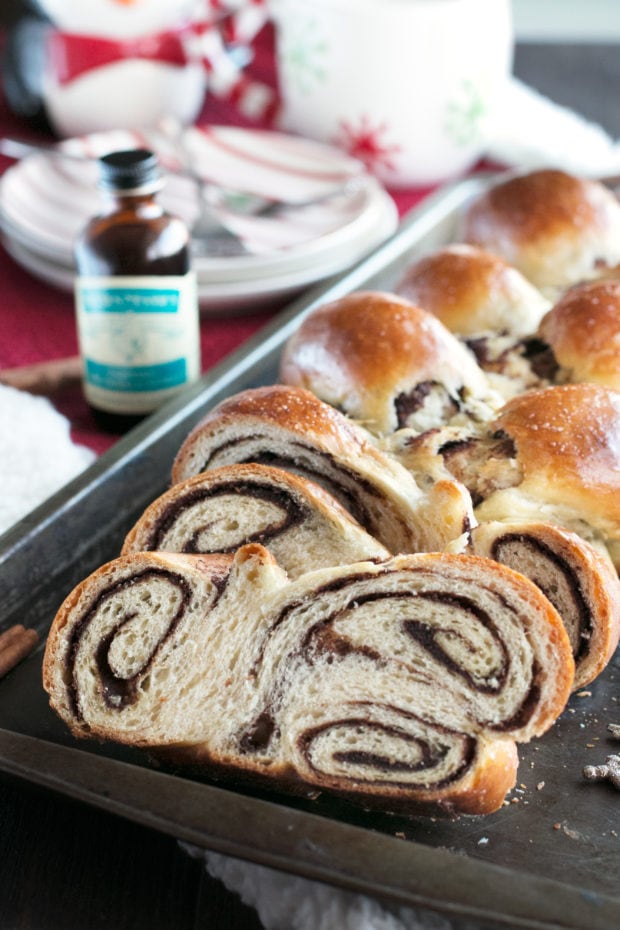 Disclosure: This post is sponsored by Nielsen-Massey Vanillas! As always, all opinions and recipe are my own. Thanks for supporting the brands that support Cake 'n Knife!
This challah is by far one of the best I've ever made, or eaten.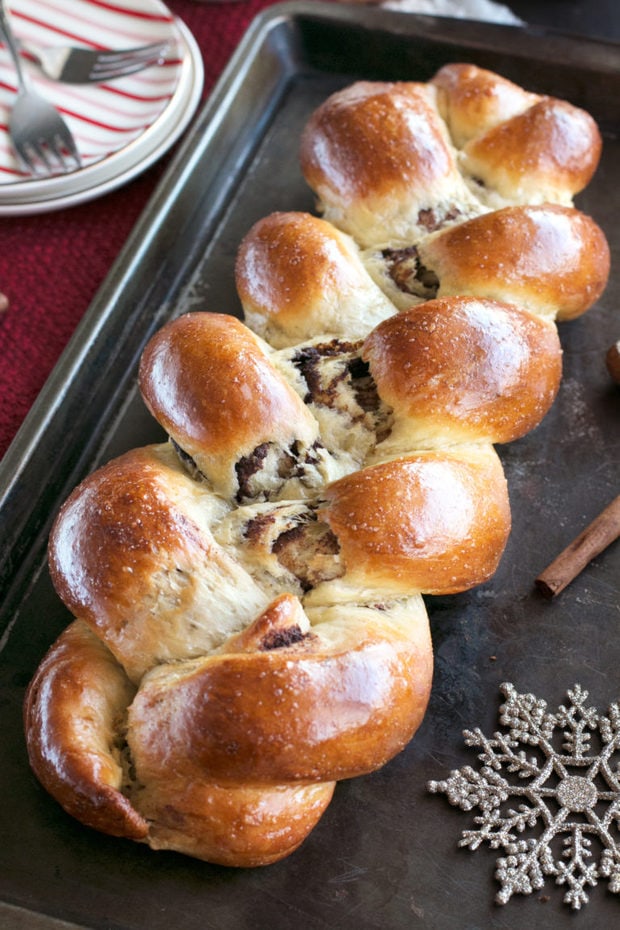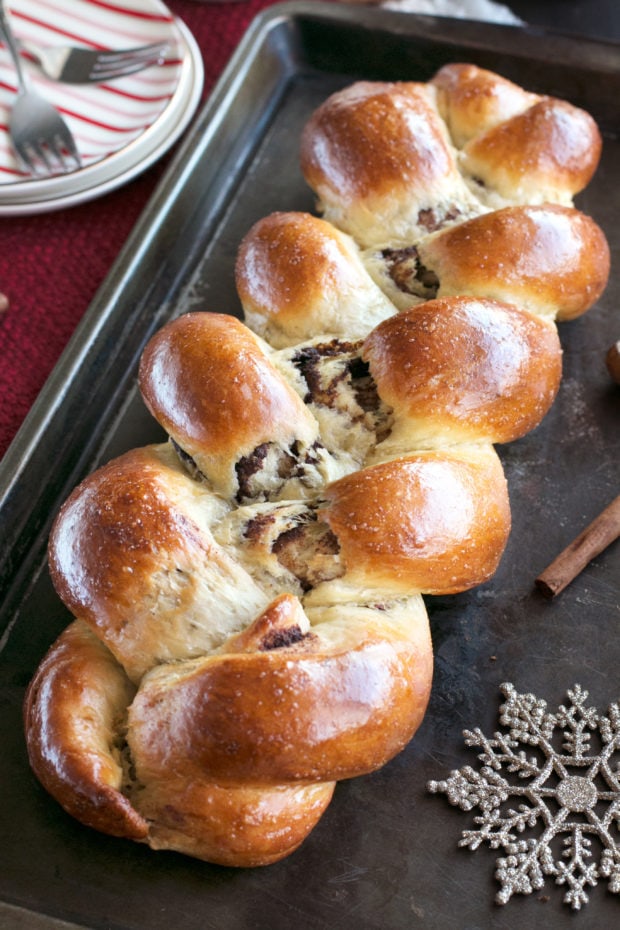 I know that's a pretty big and bold statement to open with, but dangggggggg is this bread amazing.
It's light and fluffy, it's buttery, and it's filled with those classic spices that you find in gingerbread, giving it that unique swirl and a flavor that you have to taste to believe.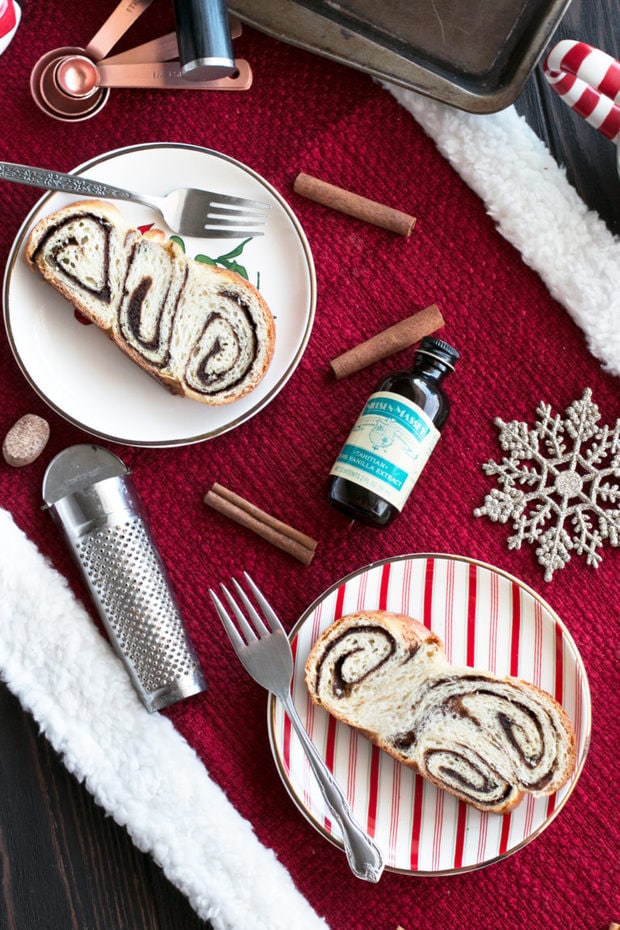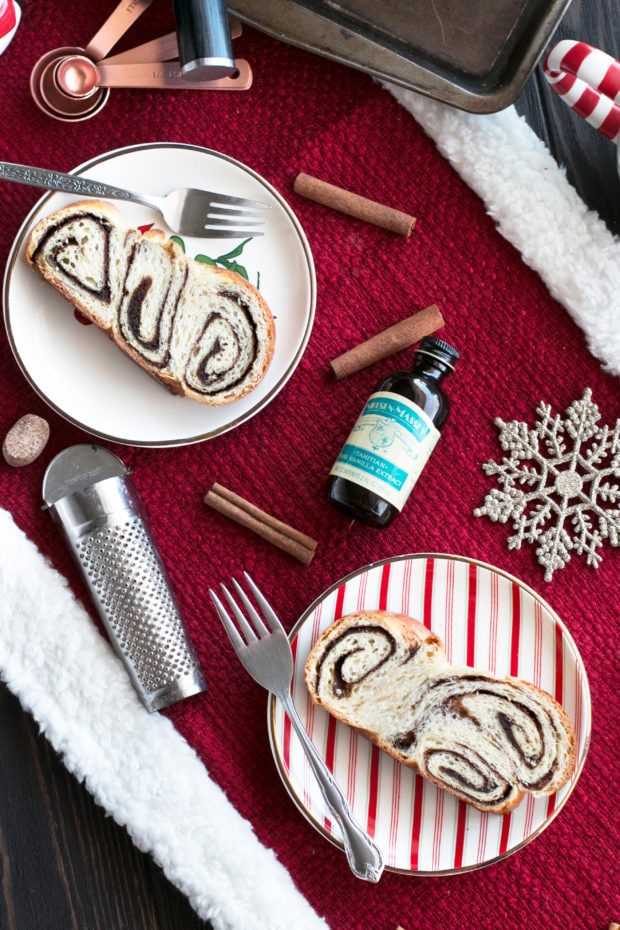 Please note that some of the links below are affiliate links. If you make a purchase through one of these links, I will receive a small commission. Thank you for supporting Cake 'n Knife!
I grew up in a household that was half Jewish and half Catholic. That meant that as a child I was pretty spoiled considering I would celebrate all the Jewish holidays and all the Catholic holidays…
Of course, that was like a gold mine to a child who hasn't fully grasped the weight behind the holidays and only knowing that it meant presents, lights, candles, and tons of food.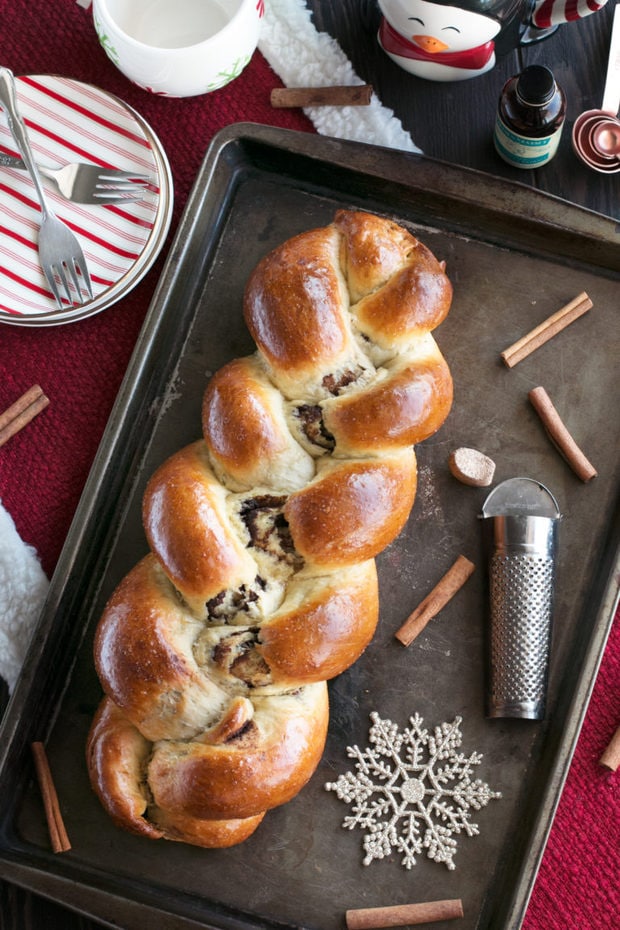 Challah happens to be one of my favorite traditions from the Jewish side of my family. We never went through the effort of making it at home, but we seemed to have it around a lot. It's light and buttery flavor is something I remember diving into with a zest for life (I am addicted to bread after all).
I've taken to making more things from scratch lately, and this challah is the direct product of that. It might seem a little intimidating, but honestly, it's a lot easier than you would think! While it is a little time-consuming to let the dough rise a couple of times, the effort is well worth it.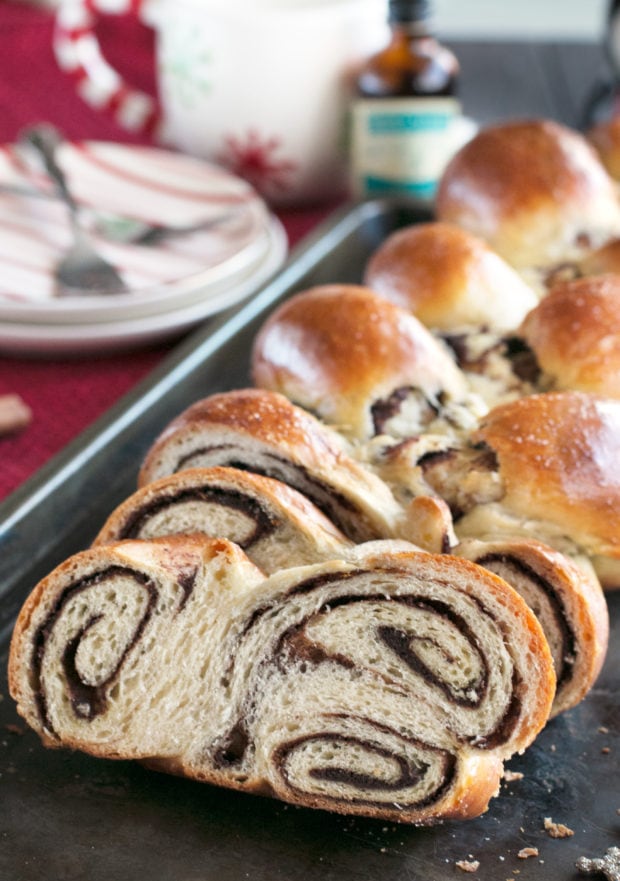 I mean, just look at that gorgeous swirl!
That swirl right there is busting with amazing bold flavors, including my new favorite vanilla extract to work with… Nielsen Massey's Tahitian Pure Vanilla Extract.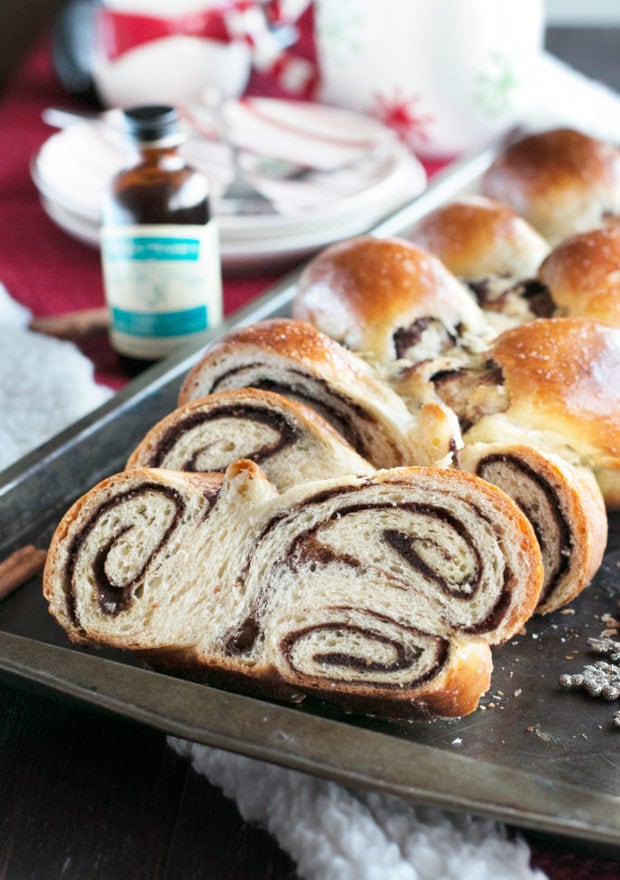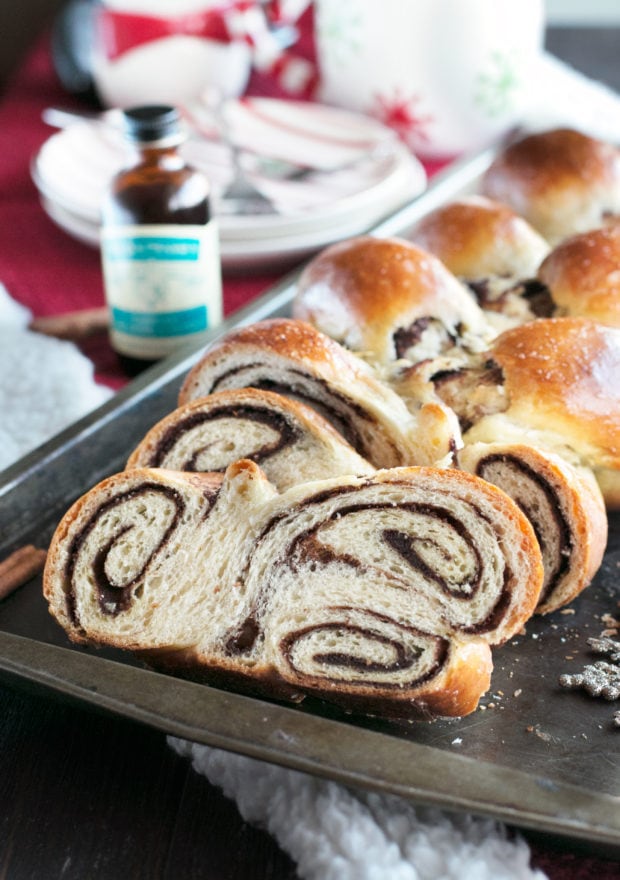 The flavor in this particular pure vanilla extract is quite lovely. It's made from hand-selected beans cultivated in Tahiti and it's made for any baking you have on your holiday list. It's floral, fruity and brings out the depth of the spices in the gingerbread swirl, enhancing it to a point of indulgent deliciousness.
Plus it's delicate enough not to completely overpower the other flavors in play here!
Have a baker in your life you want to shop for? Here's my baking favorites gift guide!

THIS GIVEAWAY IS NOW CLOSED.
You might have seen that I have a special promotion going on in December… It's the 12 Days of Jolly Giveaways! I kicked off Day One on Monday (you still have another day to enter, so grab the link in my roundup below!). To go along with this incredible Gingerbread Challah Bread, I have a HUGE giveaway for all of you flavor fanatics out there. 🙂
Day One – Red Wine Slow Cooker Short Rib Ragu
Day Two – Gingerbread Challah Bread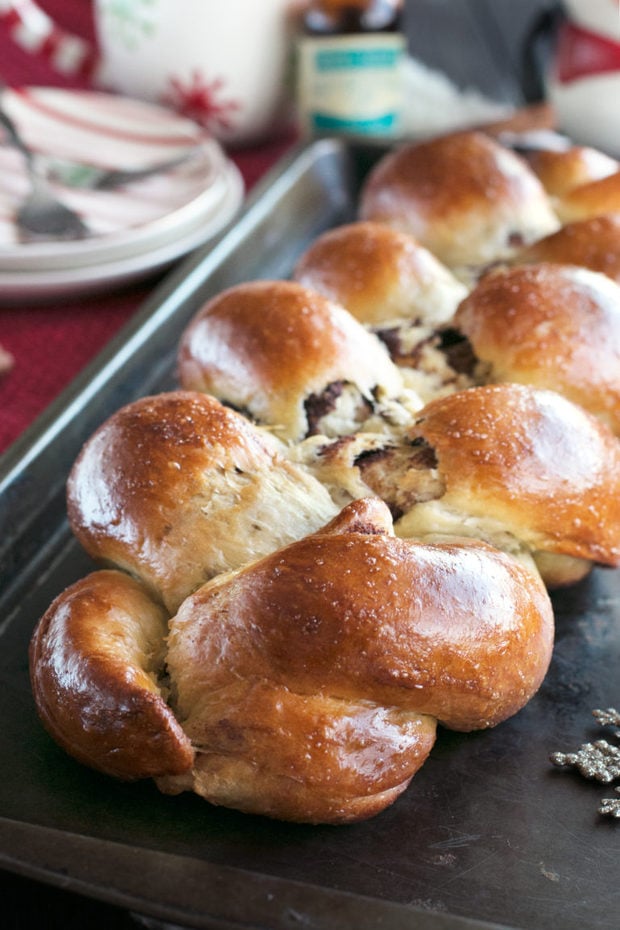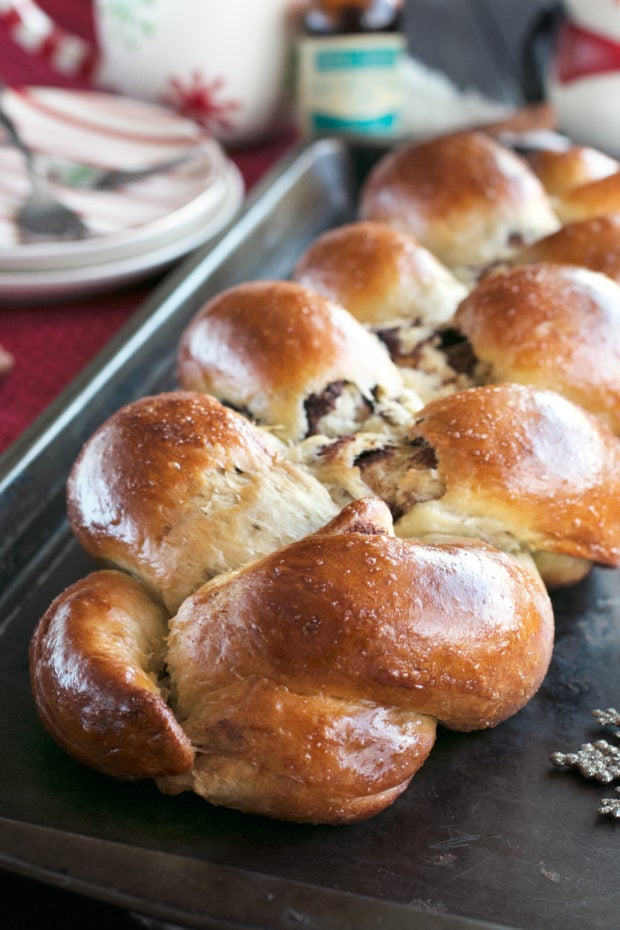 Nielsen-Massey Vanillas is giving one lucky reader a RIDICULOUSLY amazing spread of their products! It's the perfect package for anyone looking to amp up their holiday baking or if you simply want to experiment with flavor extracts in your savory holiday meals. Here's exactly what they are giving away:
2 oz Madagascar Bourbon Pure Vanilla Extract
4 oz Madagascar Bourbon Pure Vanilla Bean Paste
7.5 oz Madagascar Bourbon Pure Vanilla Sugar
2 oz Pure Almond Extract
2 oz Pure Peppermint Extract
2 oz Pure Lemon Extract
2 oz Pure Orange Extract
2 oz Pure Chocolate Extract
2 oz Pure Coffee Extract
2 oz Orange Blossom Water
2 oz Rose Water
Scroll below the recipe to enter for your chance to win!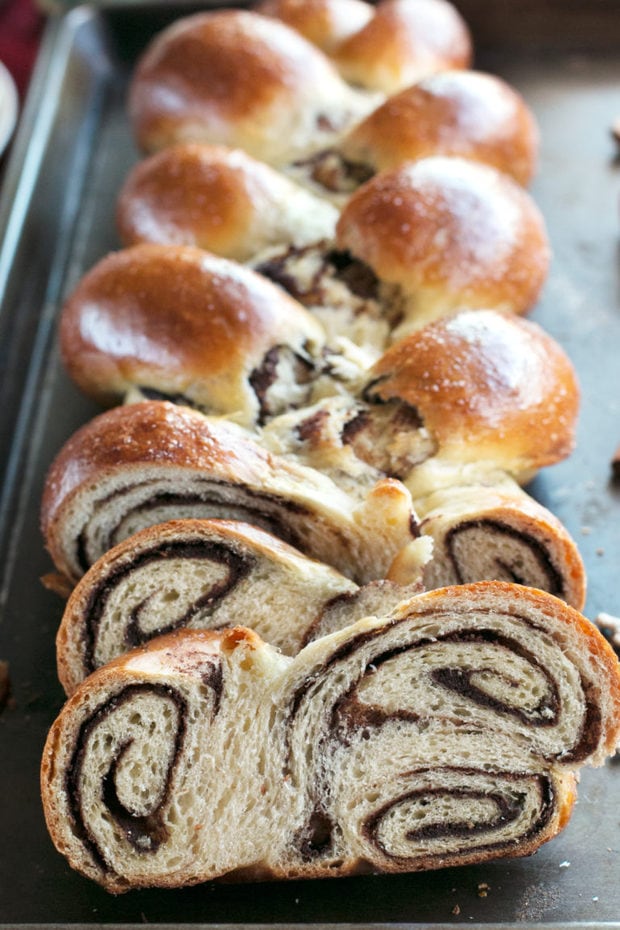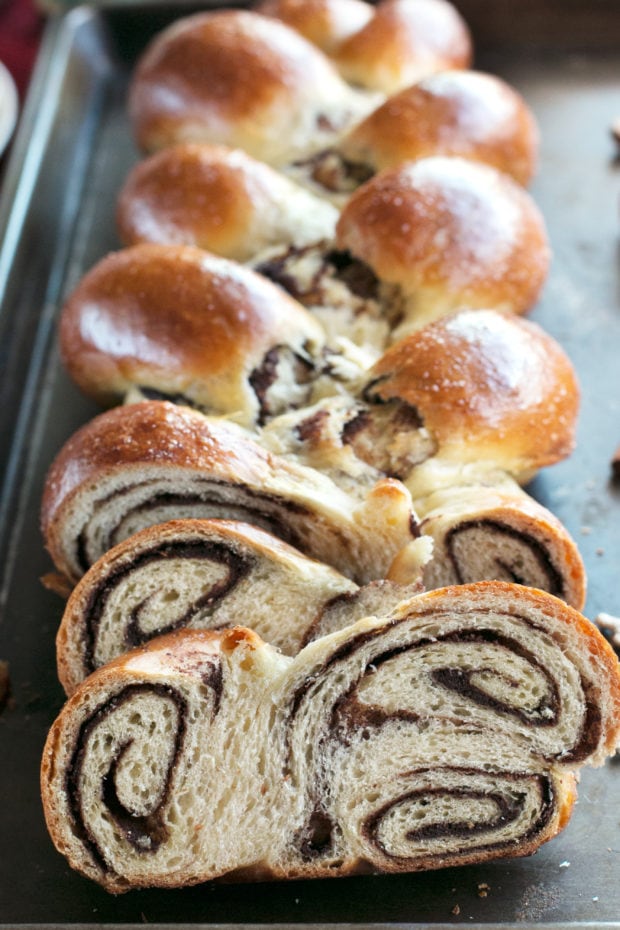 This Recipe's Must Haves
Pin this Gingerbread Challah Bread recipe for later!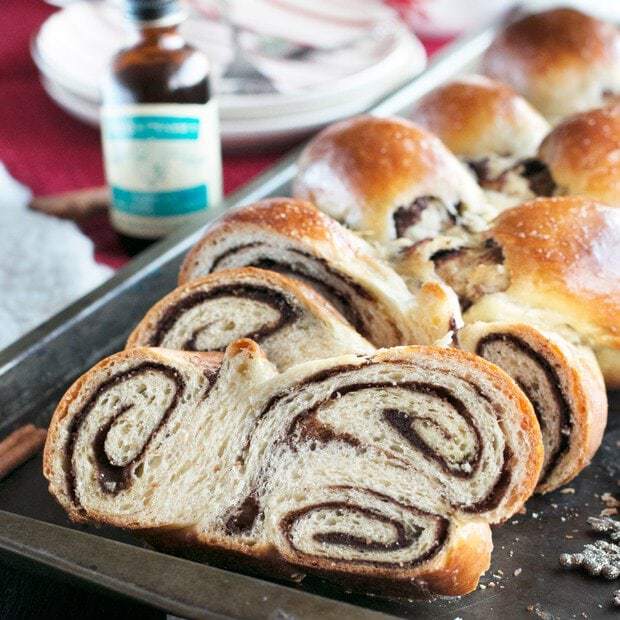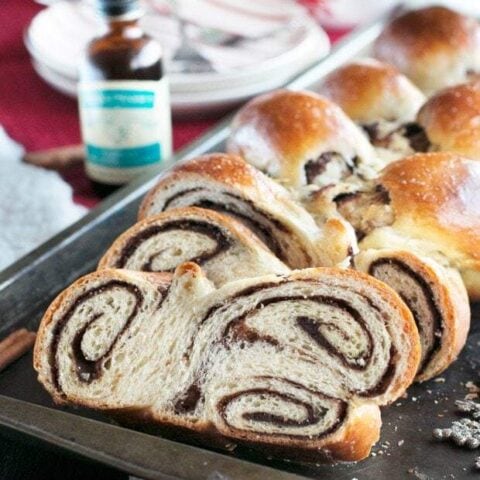 Gingerbread Challah Bread
Total Time:
2 hours
50 minutes
The flavors and spice you love in gingerbread, now making an appearance in challah (my favorite homemade bread). While it might look intimidating to make, it really couldn't be easier to pull together for the holiday season!
Ingredients
DOUGH
3 1/2 cups flour
2 eggs
2 1/2 tsp active dry yeast
3 1/2 Tbsp honey
1/3 cup olive oil
1 tsp salt
2/3 cup warm water
FILLING
1/3 cup vegetable oil
2 tsp cinnamon
1 tsp ground nutmeg
2 tsp ground allspice
1 tsp ground ginger
2 tsp Nielsen-Massey Tahitian Pure Vanilla Extract
2/3 cup brown sugar
Pinch of salt
1 egg, lightly beaten
Instructions
Add flour to a clean, flat work surface. Make a well in the center of the flour. Add eggs, yeast, honey, olive oil, salt, and half the warm water to the well in the middle of the flour. Gently begin to mix together the dough. As the dough comes together, make another well in the center and add the remaining warm water.
Continue to mix the dough until it forms a ball. Knead dough on a clean work surface for 5 to 7 minutes. Cover with a linen cloth and let rise for 1 hour.
In a small bowl, whisk together filling ingredients vegetable oil, cinnamon, ground nutmeg, ground allspice, ground ginger, Nielsen-Massey Tahitian Vanilla Extract, brown sugar and salt. Set aside.
Once the dough has risen, divide dough into thirds. Roll out each third of dough into a long thin rectangle. Spread one third of the filling on top of each piece of dough.
After the filling is spread, roll up the dough into a long log. Repeat with other two pieces of dough.
Place the logs of dough in three rows next to each other. Start the braid in the middle of the dough, alternating down one side, then repeating the braiding process with the other side.
Cover with a linen cloth and let rise for 30 minutes.
Preheat oven to 375 degrees.
Brush the top and sides of the challah loaf with beaten egg. Place loaf on a baking sheet lined with a silicon mat or parchment paper.
Bake for 30 minutes. Serve warm.
1. Enter the giveaway through the Rafflecopter widget below. Everyone gets a free entry! You can enter multiple times by following and sharing on social media. (If you've followed in the past, that counts! Just enter the information as prompted.) All entries will be verified. No purchase is necessary to win.
2. The giveaway is open until Tuesday, December 5th at 11:59 p.m. CST. One winner will be chosen at random and e-mailed within 48 hours. Winners must claim prize within 48 hours of initial contact. The retail value of the prize is approximately $140. Prizes listed above are the only ones available.
3. Open to U.S. residents over the age of 18 years old with a valid shipping address only.