Please note this post contains affiliate links.
Red Wine Slow Cooker Short Rib Ragu is a bowl of comforting, warm and hearty pasta that sets just the right tone for the holiday season. With the weather getting chilly outside, there's nothing like a rich and meaty meal to bring everyone around the dinner table. Plus it's oh-so easy to make with your handy dandy slow cooker or electric pressure cooker!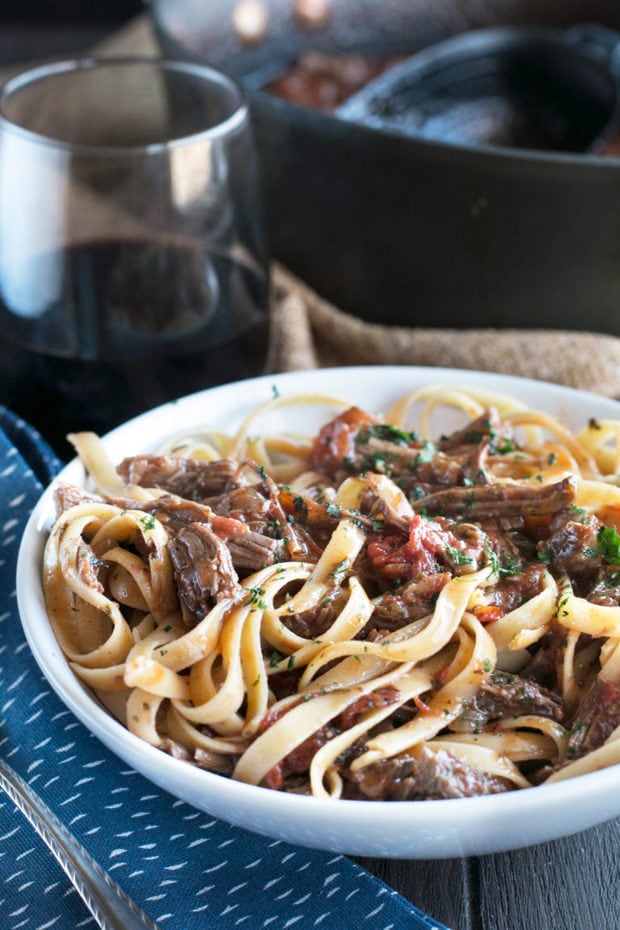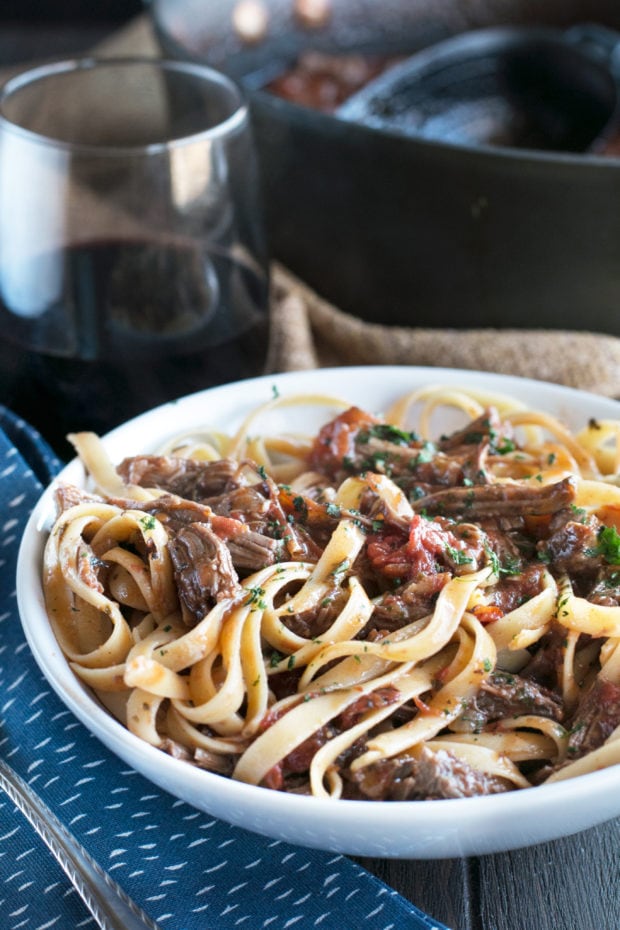 Disclosure: This post is sponsored by Dreamfarm! As always, all opinions and recipe are my own. Thanks for supporting the brands that support Cake 'n Knife!
This time of year, I just want to eat all of the beef and carb things.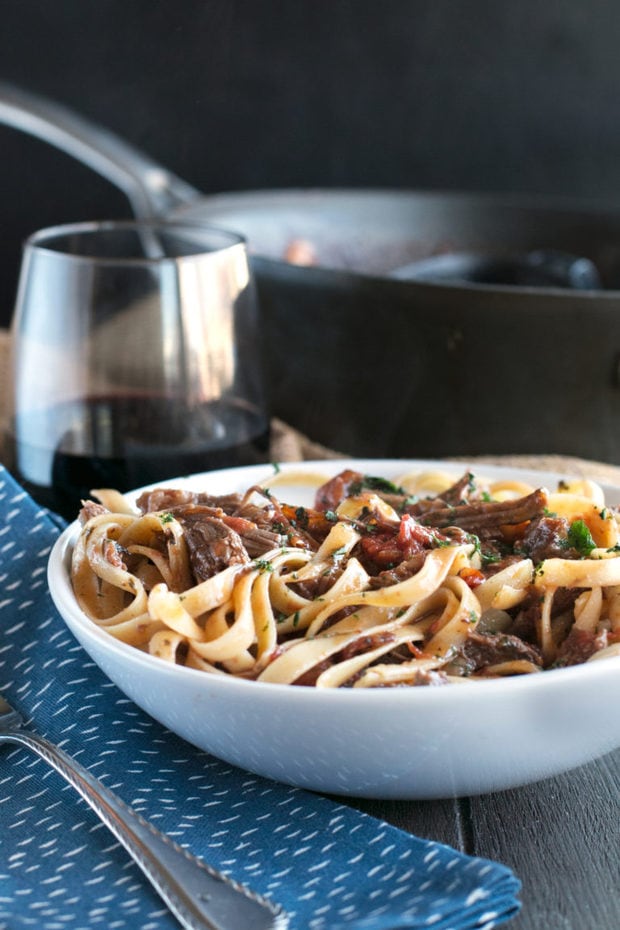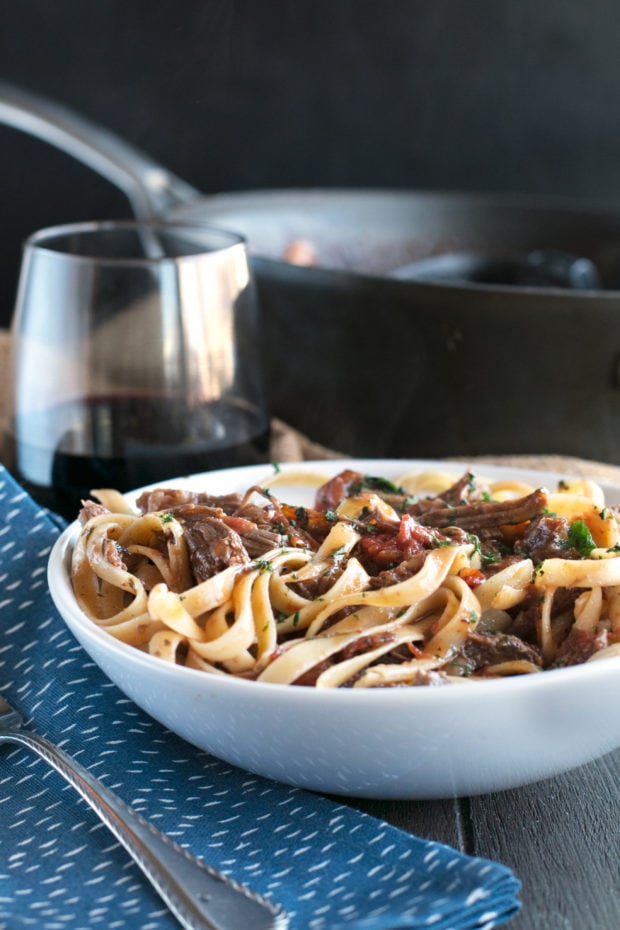 Curling up with a big ol' bowl of something warm and comforting is basically my life, as I snuggle up on the couch watching the Christmas tree sparkle and the dogs fight over their toys.
With a little Christmas music in the background, it's impossible to resist this little scene of festive joy!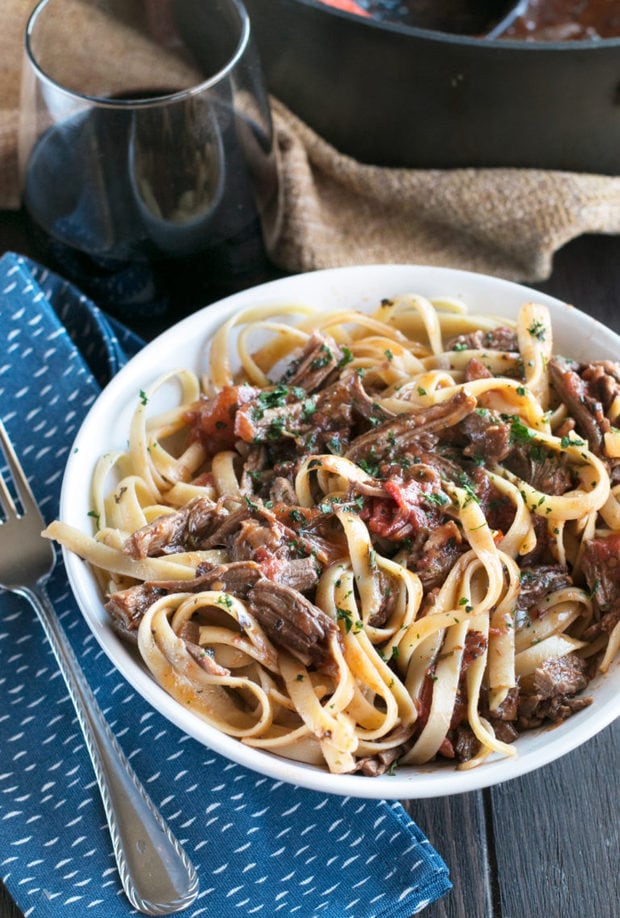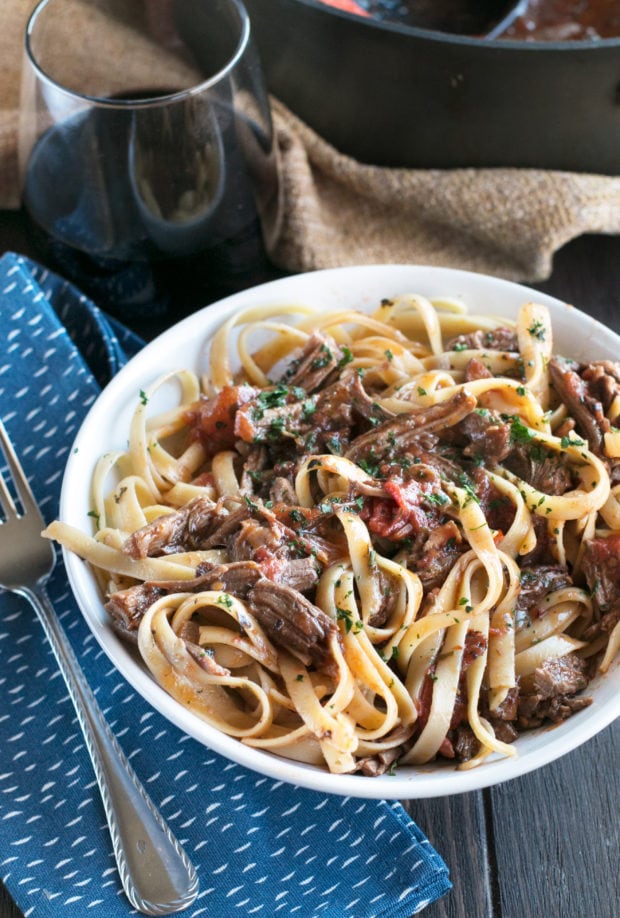 Please note that some of the links below are affiliate links. If you make a purchase through one of these links, I will receive a small commission. Thank you for supporting Cake 'n Knife!
Of course, this is also the ideal meal to be serving up for your holiday dinner parties! It's an incredibly easy dinner to make and you can easily double the recipe in any standard slow cooker or electronic pressure cooker with ease.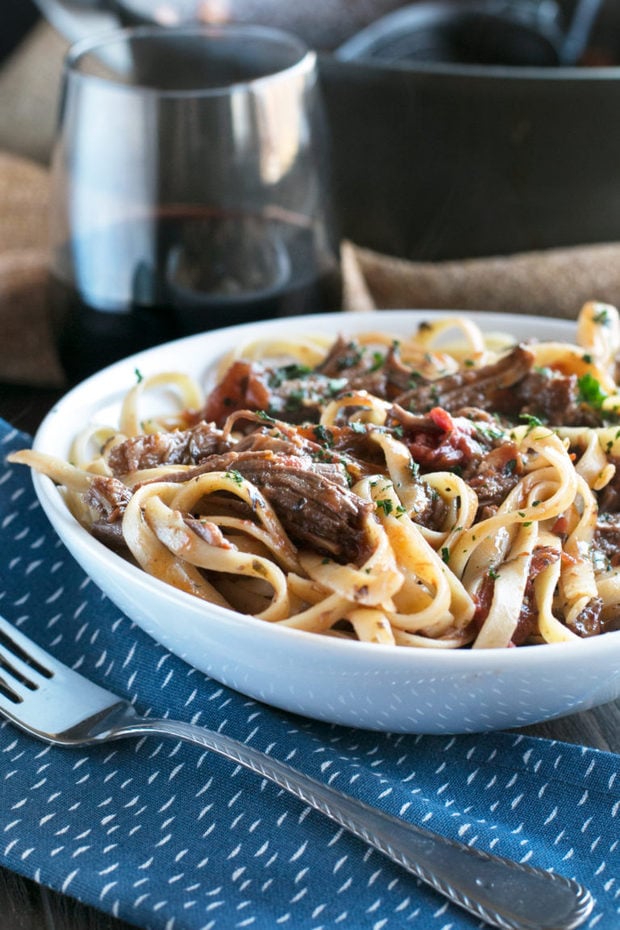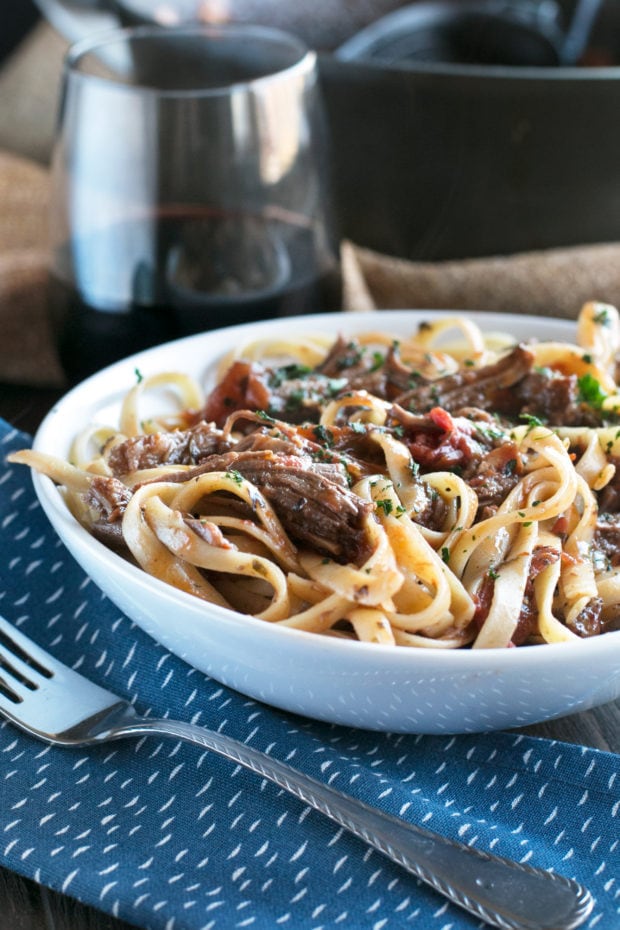 I personally love this dish because it is so rich and savory. The red wine and brandy in the sauce help break down the short ribs to be tender and oh-so juicy. Once you shred the meat and return it to the sauce, it forms this ragu with such an intense depth of flavor to it. It's savory but balanced, herbaceous but with a touch of acidity.
Besides being able to throw this dish in the slow cooker to do the majority of the work, there's some other key tools here that make my life in the kitchen wayyyyy easier.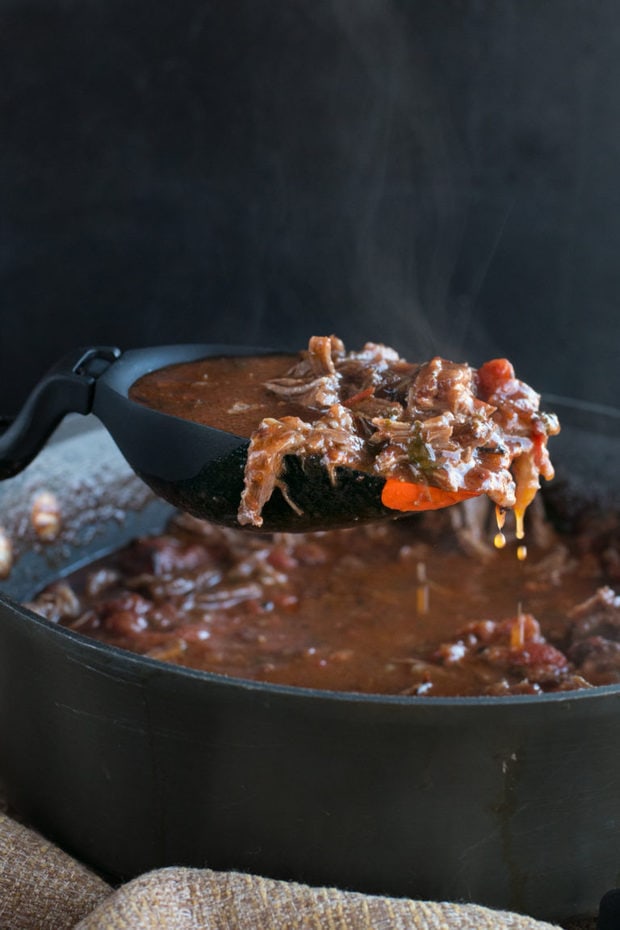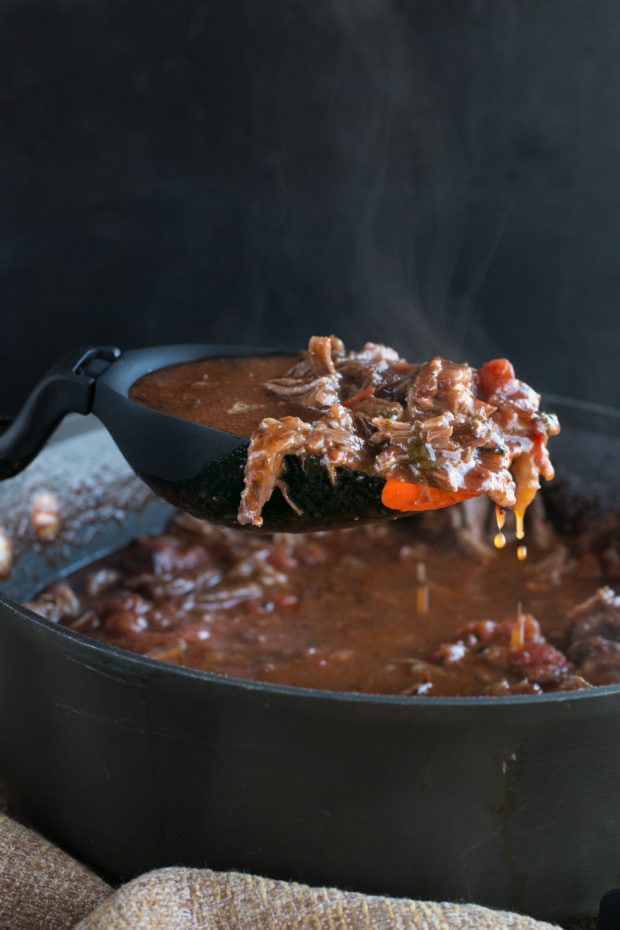 It all starts with Dreamfarm's lineup of their Set of the Best and Clongs!
Dreamfarm really won me over the first time with their ridiculously genius Scizza pizza cutters that changed my life (they work SO much better than a pizza wheel).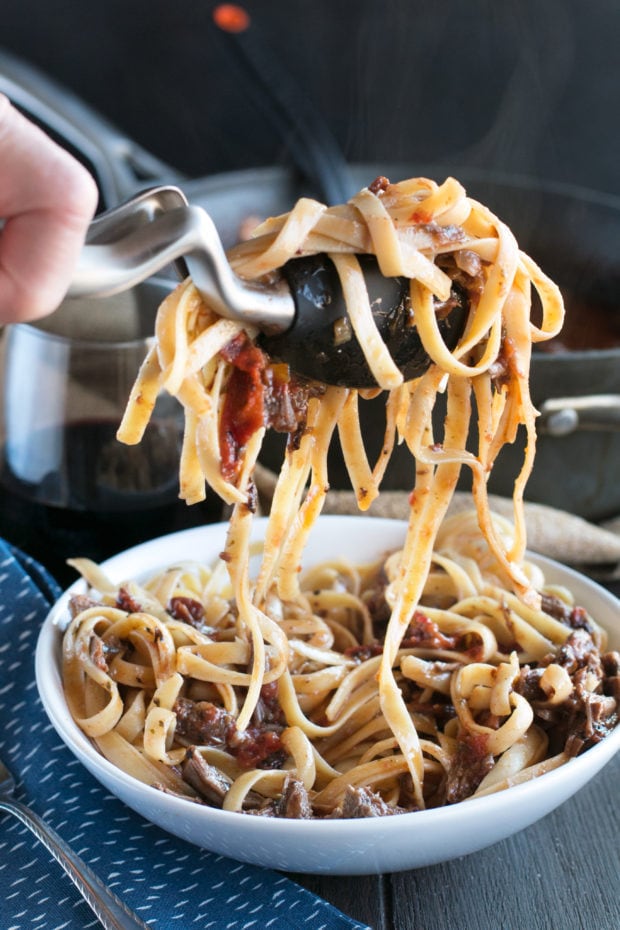 Ever since then, I've hopped on their kitchen tool bandwagon. I love that they have multi-purpose tools (or multi-tankers, as Alton Brown would say) so instead of a ladle and a spoon, for example, I can have both in one with their Spadle. Their clongs are also particularly handy with the clicking end and silicone ends that grip like nobody's business.
You'll want to use all their tools for this meal, especially!
Have a cook in your life you want to shop for? Here's my kitchen favorites gift guide!


THIS GIVEAWAY IS NOW CLOSED.
In case you missed my newsletter (if you haven't subscribed, do so in the right-hand column of my site!), the 12 Days of Jolly Giveaways has kicked off and this is Day ONE! I am SO excited to be sharing my favorite products with you leading up to Christmas and giving you a chance to win so you can make these amazing recipes just like you see in the photos. I mean, obviously I had to start with the hearty winner of a dinner for you all 😉
Dreamfarm is being oh-so generous and not only giving away their Set of the Best (including 5 incredible kitchen essentials I use on a daily basis), but also a set of their locking Clongs that are SO much better to use than those boring ol' tongs sitting in your utensil jar on your counter.
Day One – Red Wine Slow Cooker Short Rib Ragu
Day Two – Gingerbread Challah Bread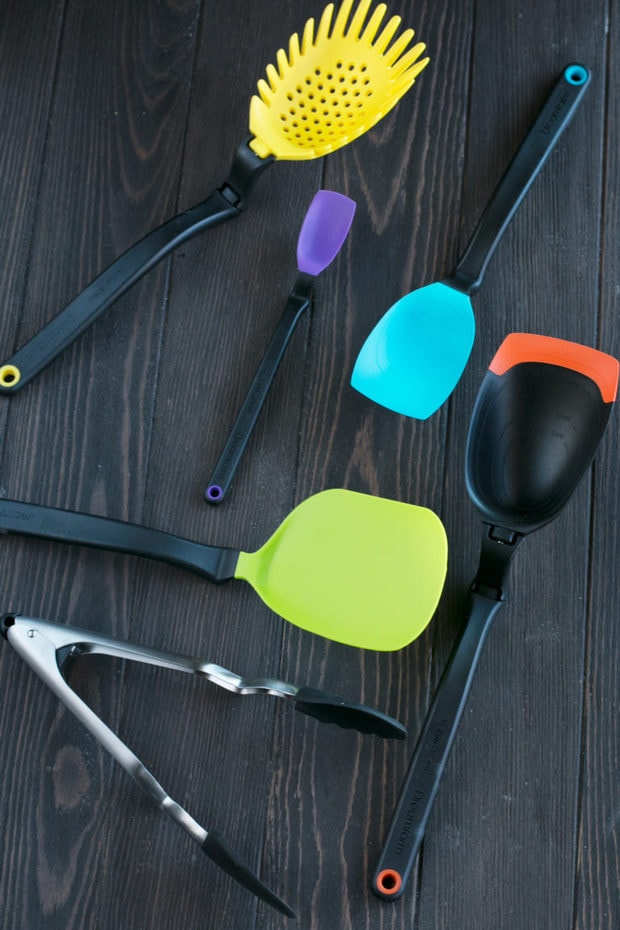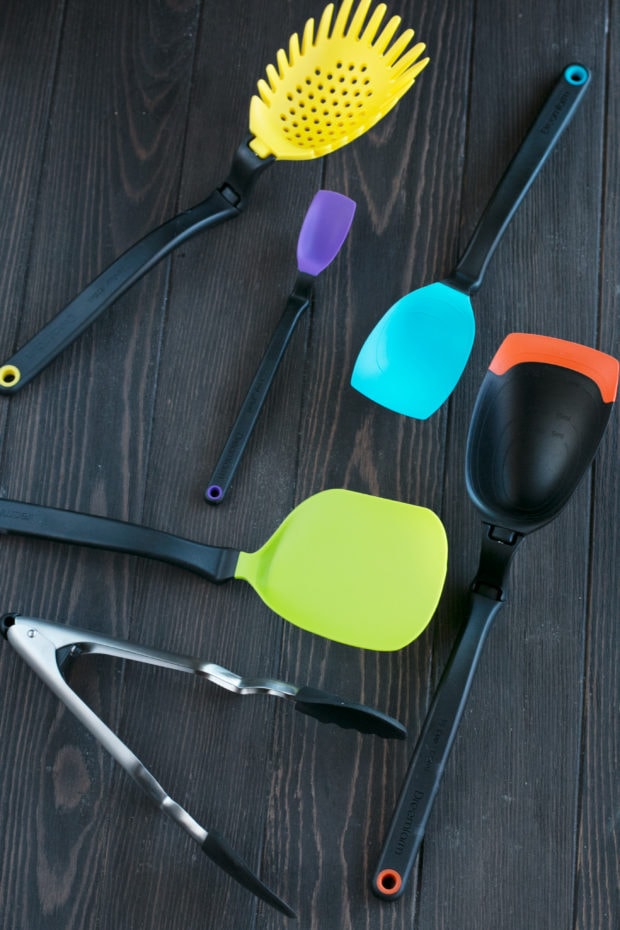 Head below the recipe for your chance to win the first of TWELVE giveaways!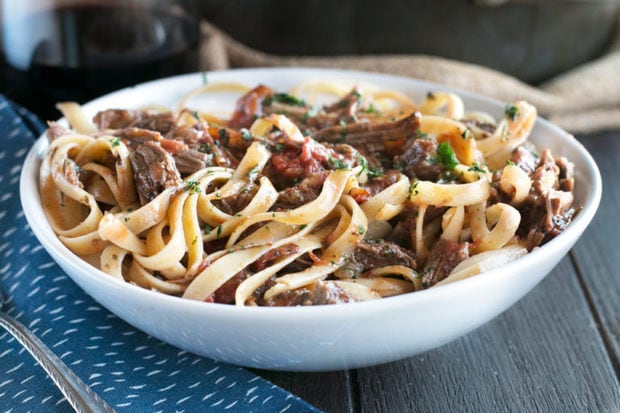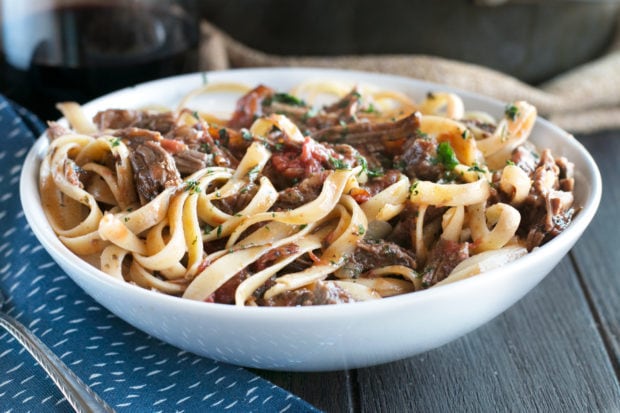 This Recipe's Must Haves
Pin this Red Wine Slow Cooker Short Rib Ragu recipe for later!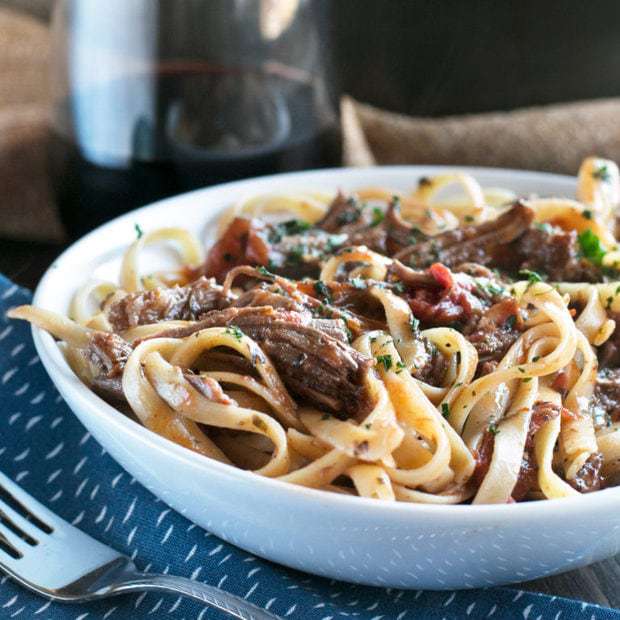 Red Wine Slow Cooker Short Rib Ragu
Cook Time:
8 hours
20 minutes
This rich and hearty ragu is just the hearty meal your holiday dinner needs! It's filling and warm, making it irresistible as the weather gets colder outside.
Ingredients
Salt & pepper
2 lbs. bone in short ribs
2 tsp olive oil
3 slices bacon, chopped
1/2 tsp red pepper flakes
2 cloves garlic, diced
1/2 yellow onion, diced
1 Tbsp flour
1/2 cup red wine (I used cabernet)
1/4 cup beef broth
1 oz brandy
28 oz can of whole, peeled San Marzano tomatoes
1/2 tsp dried thyme
1/2 tsp dried oregano
1 bay leaf
2 Tbsp freshly chopped parsley + more for garnish
2 Tbsp freshly chopped basil
1 lb fettuccine
Instructions
Season all sides of the short ribs with salt and pepper.
Heat olive oil in a dutch oven or heavy-bottomed pot over medium high heat. Once hot, add the short ribs and brown on all sides, approximately 2 minutes per side. Remove and set in the bottom of a slow cooker.
To the same pot, add bacon and fry for approximately 3 to 4 minutes. Add in red pepper flakes, garlic and onion. Cook until the onion is tender and bacon is cooked through, approximately 5 minutes.
Reduce heat to low and sprinkle in flour. Stir to coat the veggies and bacon, and cook approximately 30 seconds. Pour in red wine, beef broth and brandy, stirring to scrape the brown bits off the bottom of the pot.
Stir in tomatoes and break up the whole tomatoes a bit with the back of your stirring spoon.
Add in fresh and dried herbs. Stir to combine. Season with salt and pepper to taste.
Pour the sauce over the short ribs in the slow cooker. Cover and cook on low for 6 to 8 hours. You can also cook this in an electric pressure cooker for 35 to 40 minutes. When the ribs are fork tender, discard the bay leaf and remove short ribs from slow cooker to a cutting board.
Using two forks shred the meat and discard bones and unwanted fat. Place shredded meat back in the slow cooker and let them cook on low while the pasta cooks.
Bring a pot of salted water to a boil. Cook pasta according to package instructions.
Drain pasta in a colander. Divide between serving bowls and top with ragu. Serve immediately with a sprinkle of freshly chopped parsley.
1. Enter the giveaway through the Rafflecopter widget below. Everyone gets a free entry! You can enter multiple times by following and sharing on social media. (If you've followed in the past, that counts! Just enter the information as prompted.) All entries will be verified. No purchase is necessary to win.
2. The giveaway is open until Saturday, December 2nd at 11:59 p.m. CST. One winner will be chosen at random and e-mailed within 48 hours. Winners must claim prize within 48 hours of initial contact. The retail value of the prize is $80. Prizes listed above are the only ones available.
3. Open to U.S. residents over the age of 18 years old with a valid shipping address only.