Twice-Baked Chicken Shawarma Stuffed Potatoes is a whole new take on the twice-baked potato that I am completely OBSESSED with. From Climbing Grier Mountain's new cookbook, Modern Comfort Cooking
, this recipe is full of Middle Eastern flavors and it couldn't be easier to whip up! That plain ol' russet potato ain't so plain now, is it??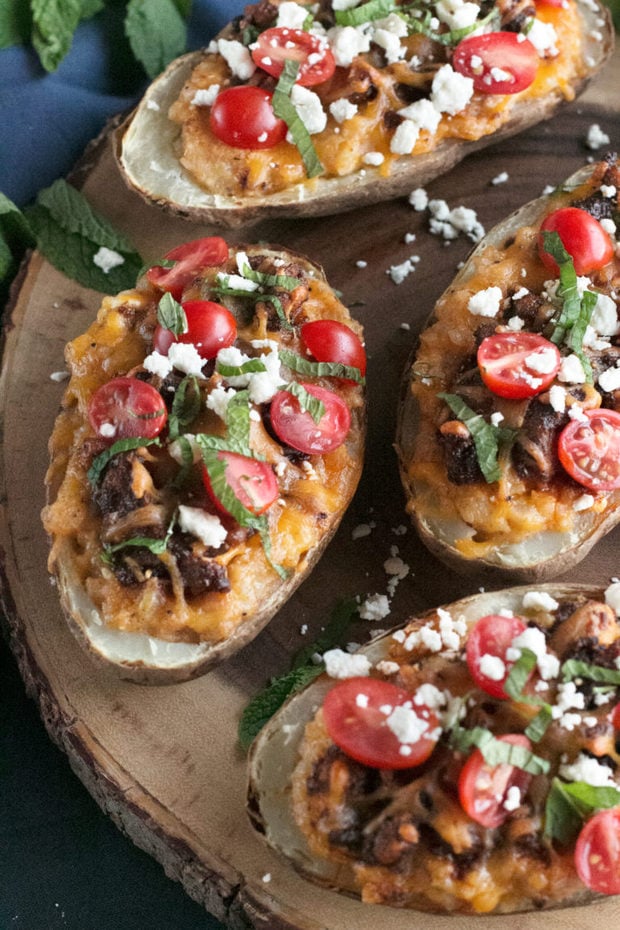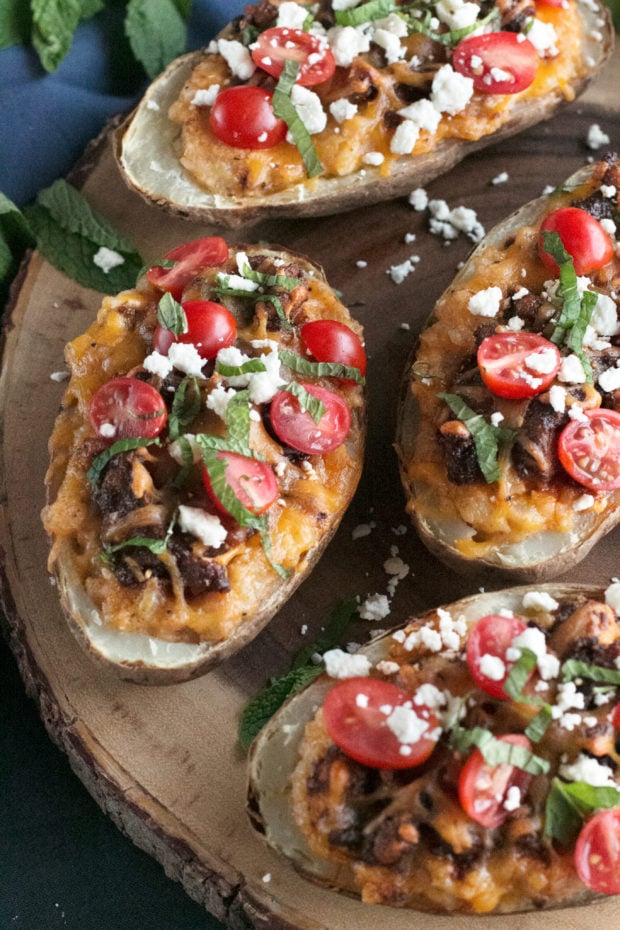 Please note that some of the links below are affiliate links. If you make a purchase through one of these links, I will receive a small commission. Thank you for supporting Cake 'n Knife!
BIG NEWS!
My friend Lauren Grier of Climbing Grier Mountain has a gorgeous new cookbook called Modern Comfort Cooking that is going to blow. your. mind.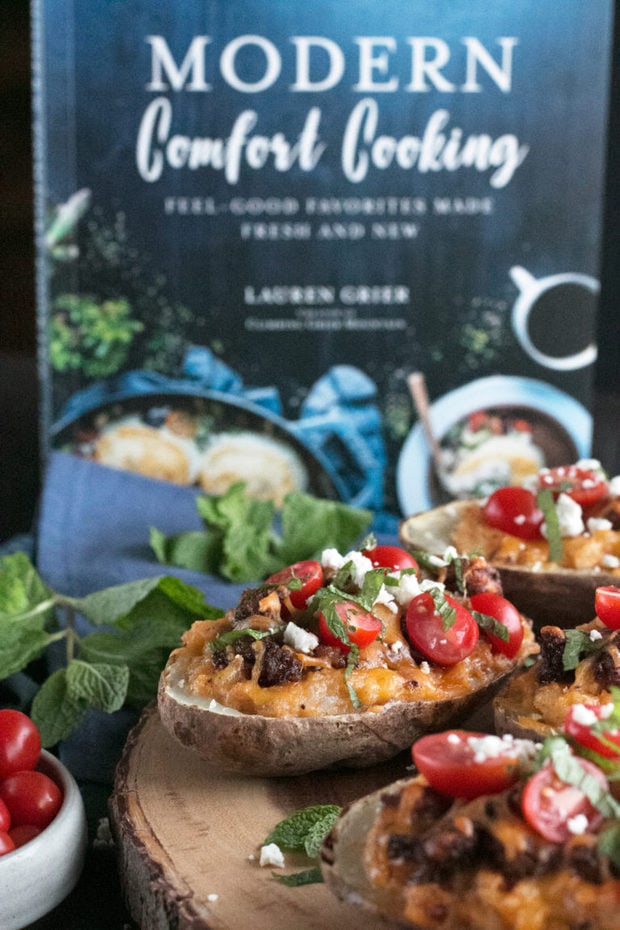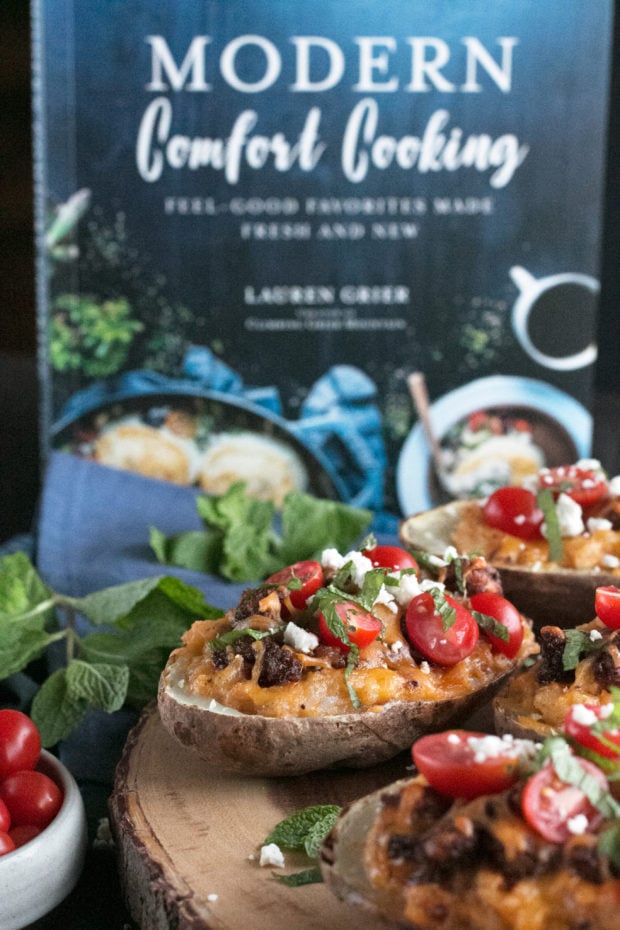 Since you all are already here on this site, and obviously love all the things on it (because hello, who wouldn't? JK JK I am so not that full of myself), you are going to find everything in this cookbook totally delectable.
I've always love Lauren's blog, but getting to know her in real life (you know, outside of online blogger world) has been the real treat. That's why it means sooooo much to see her gorgeous cookbook come to fruition, and to see it on bookshelves in my favorite bookstores.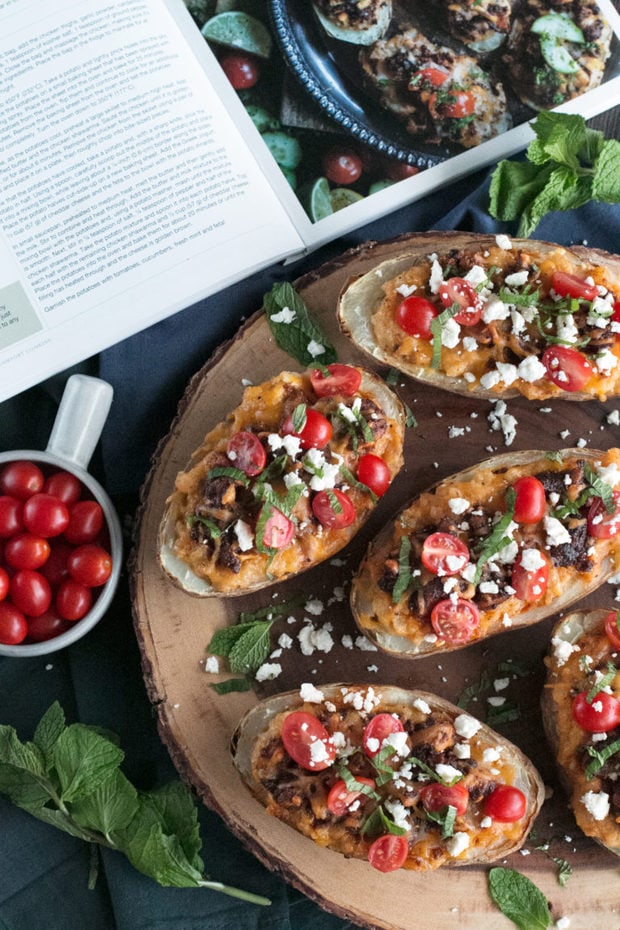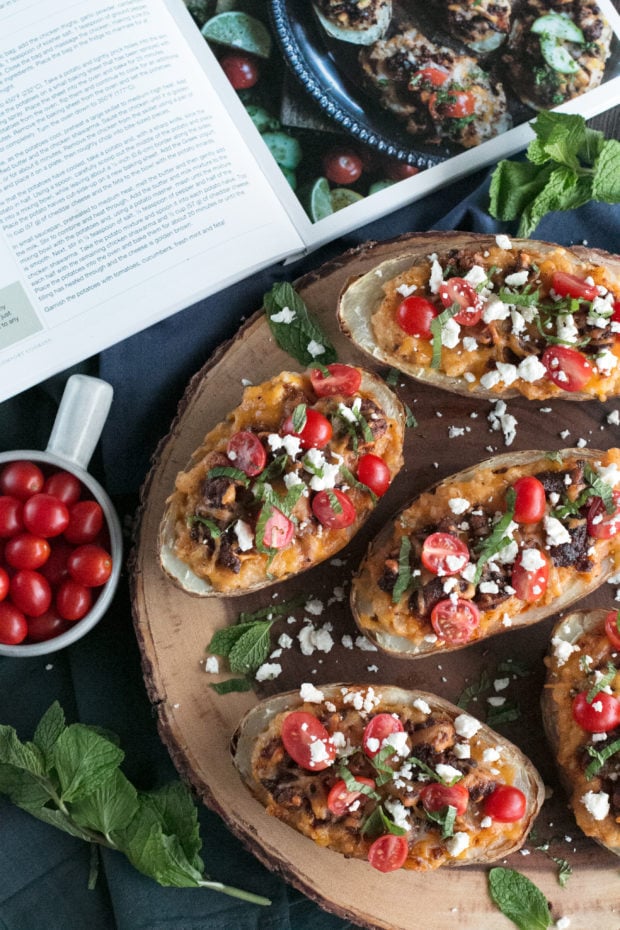 There's so much to love about this book. There's a killer brunch section, a section of mash-ups (can you say Shepherd's Pie Poutine?!), and a East Meets West section that has everything I could ever want to cook – plus oh-so many more.
Obviously I was drawn to the East Meets West section first, and as soon as I laid eyes on this Twice-Baked Chicken Shawarma Stuffed Potatoes recipe, I knew exactly what I had to try first.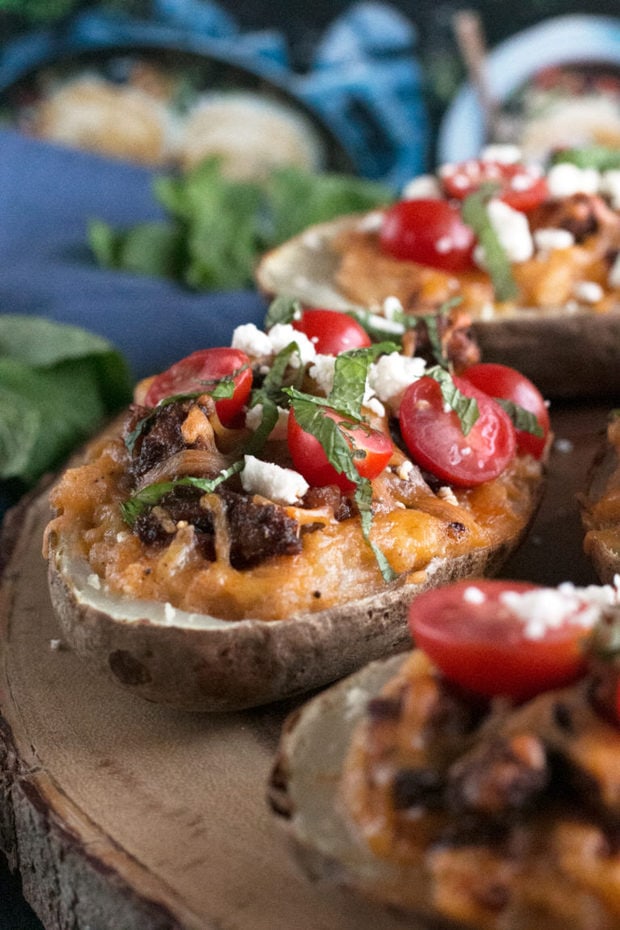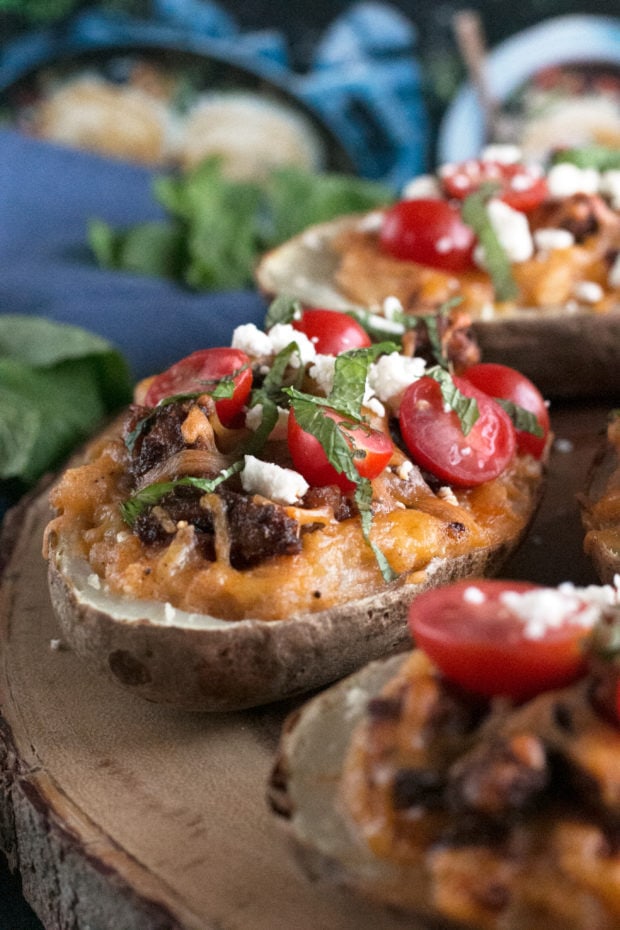 The flavors in these stuffed potatoes is absolutely stellar. The marinade for the chicken alone fills the kitchen with a rich and sultry scent, and when you bake it all up together, it's a blissful meal that reminds you the plain ol' russet potato can do SO much more than just being a plain Jane baked potato!
I just love that Lauren really made this cookbook approachable for a cook of any skill level! There's honestly a recipe to fit every mood and every taste bud in this book, so I know I am going to be cooking from it throughout the holidays for SURE.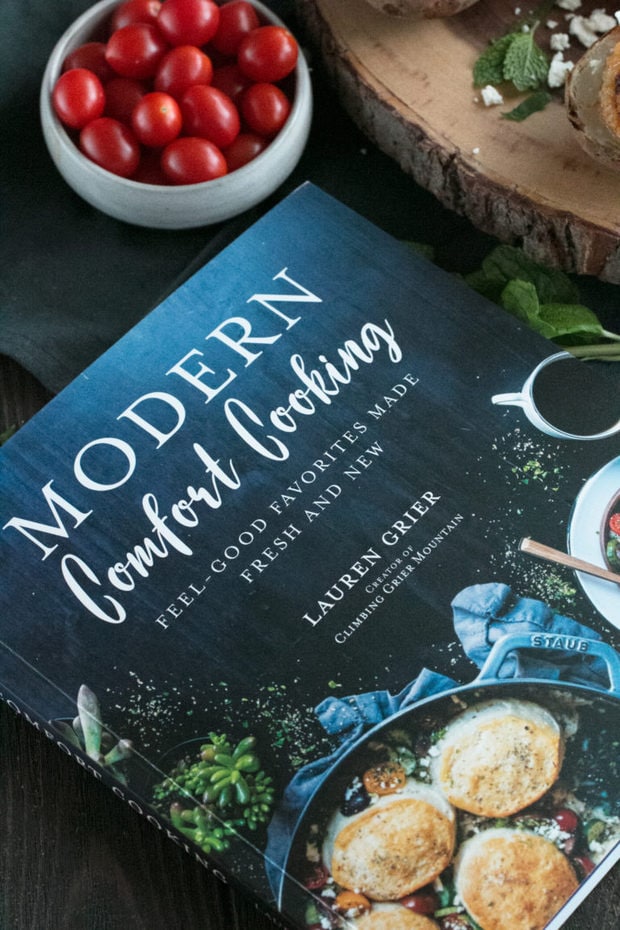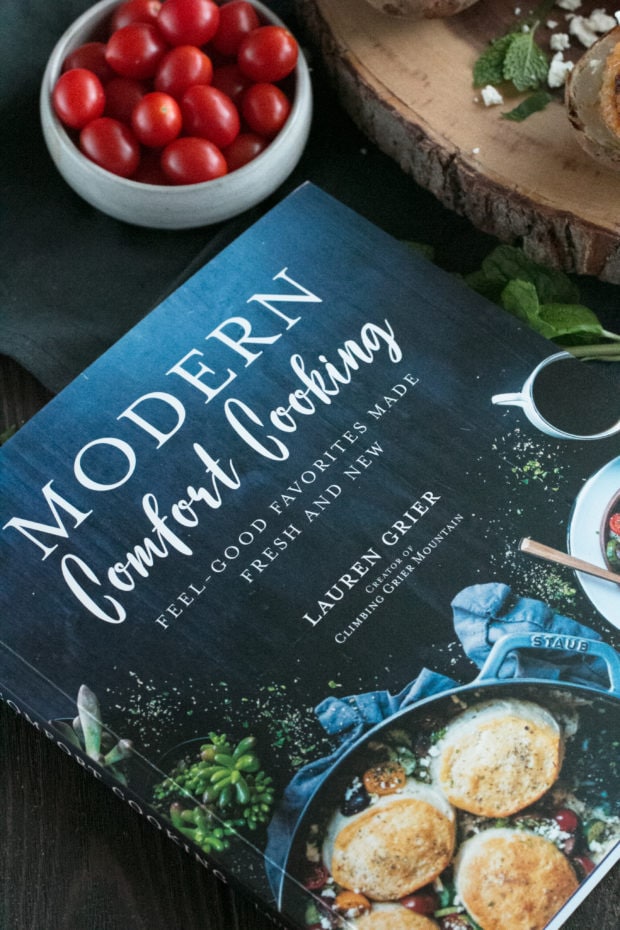 Next up, Miso-Caramel Apple Slab Pie! Because ummmmm, YUM.
Modern Comfort Cooking is out right NOW, so go get a copy for yourself!
Of course you could also scroll down a little because…


THIS GIVEAWAY IS NOW CLOSED.
It's Day FIVE of the 12 Days of Jolly Giveaways! Today I am giving away a copy of this amazingly stunning cookbook! So scroll on down past the recipes for the giveaway rules and to enter to win. 🙂
PLUS don't forget to check out previous posts – Day 3 and 4 giveaways are still open to enter! Even if you don't win this day's giveaway, be sure to stick around for more days of jolly giveaways… I'll be giving away a SECOND copy with some other goodies later this month!
Day One – Red Wine Slow Cooker Short Rib Ragu
Day Two – Gingerbread Challah Bread
Day Three – Mini Beef Wellingtons
Day Four – Bourbon Gingerbread Punch
Day Five – Twice-Baked Chicken Shawarma Stuffed Potatoes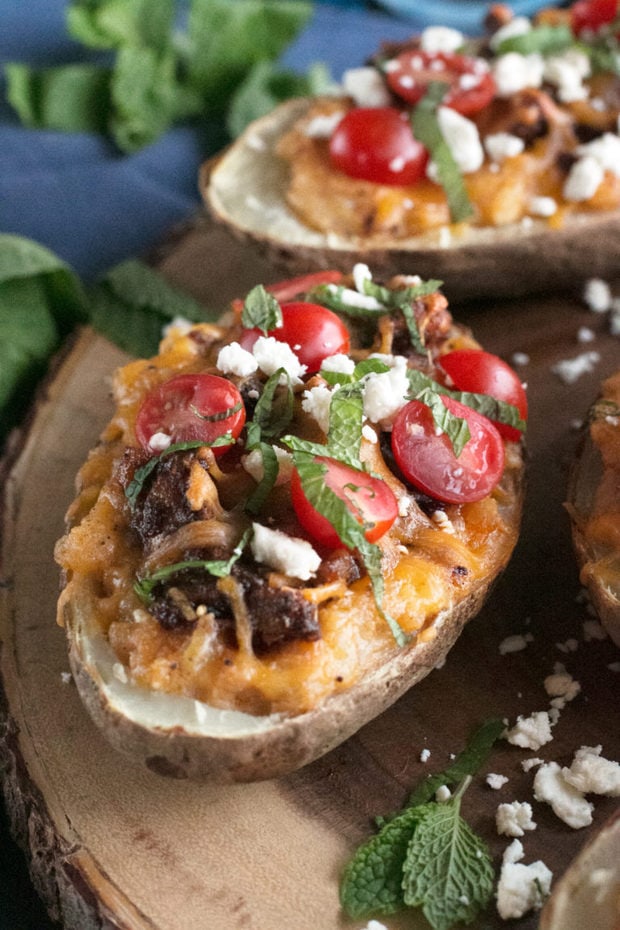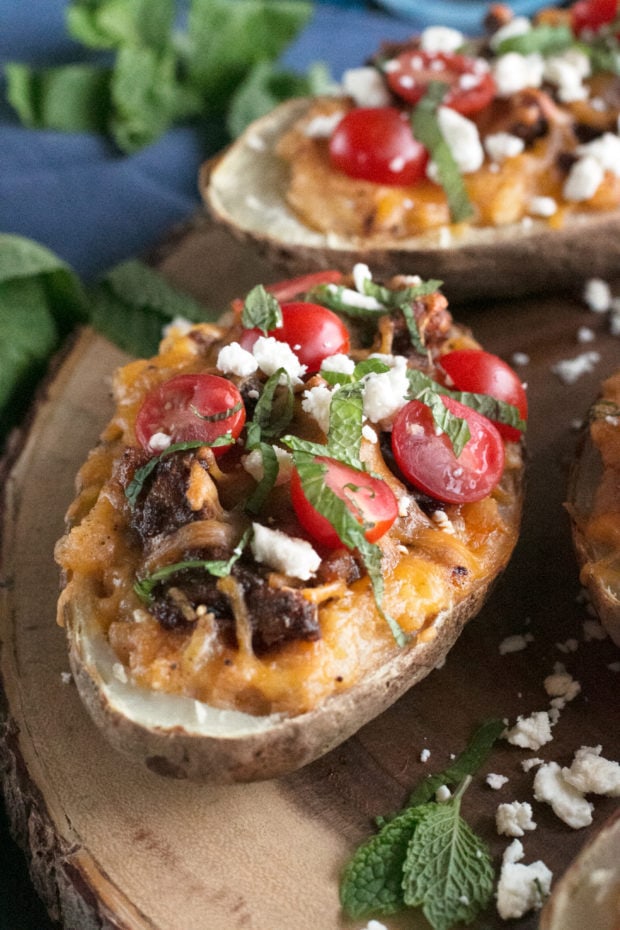 This Recipe's Must Haves
Pin this Twice-Baked Chicken Shawarma Stuffed Potatoes recipe for later!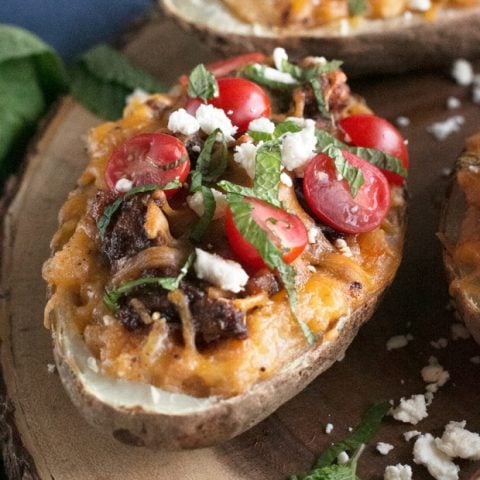 Twice-Baked Chicken Shawarma Stuffed Potatoes
Cook Time:
1 hour
30 minutes
Total Time:
1 hour
45 minutes
From Climbing Grier Mountain's new cookbook, Modern Comfort Cooking, this recipe is full of fresh Middle Eastern flavors taking that humble potato to a whole new level of delicious!
Ingredients
1 lb thinly slices boneless, skinless chicken thighs
1 Tbsp garlic powder
1 Tbsp ground cardamom
1 Tbsp ground cumin
1 Tbsp ground coriander
1 Tbsp ground paprika
1 1/4 tsp kosher salt, divided
1 1/4 tsp ground pepper, divided
1/4 cup olive oil
2 Tbsp lemon juice
4 russet potatoes
1 Tbsp clarified butter
1 cup plain Greek yogurt
1 cup shredded mild cheddar cheese, divided
1/4 cup crumbled feta cheese
3 Tbsp unsalted butter
1/3 cup whole milk
Halved grape tomatoes, for garnish
Fresh mint, for garnish
Instructions
In a large resealable bag, add the chicken thighs, garlic powder, cardamom, cumin, coriander, paprika, 1 tsp kosher salt, 1 tsp ground pepper, olive oil and lemon juice. Close the bag and massage the chicken, making sure it's well coated with the ingredients. Place the bag in the fridge to marinate for at least 4 hours or overnight.
Preheat oven to 450 degrees F. Take a potato and lightly prick holes into the skin using a fork. Place the potatoes on a small baking sheet that has been sprayed with non-stick cooking spray. Place the sheet into the oven and bake for 25 minutes. Remove the potatoes from the oven, flip them and continue to cook for an additional 20 to 25 minutes. Remove the baking sheet from the oven and set the potatoes aside to cool completely. Turn the oven down to 350 degrees F.
Meanwhile, as the potatoes cool, preheat a large skillet to medium-high heat. Add the clarified butter and the chicken shawarma. Saute the chicken until it is golden brown, or for about 6 minutes. Remove the chicken from the skillet using a pair of tongs and place it on a plate, then roughly chop into bite-sized pieces.
Now that the potatoes have cooled, take a potato and, with a sharp knife, slice the potato in half. Using a spoon, carefully scoop out the middle of the potato and place it into a mixing bowl, while leaving about a 1/4-inch border along the sides. Place the potato halves cut-side up on a new baking sheet. Add the Greek yogurt, 1/2 cup of cheddar cheese and the feta to the bowl with the potato innards.
In a small saucepan, preheated to medium heat, melt the butter and then gently add the milk. Stir to combine and heat through. Add the butter and milk mixture to the mixing bowl with the potatoes, and using a potato masher, mash until the mixture is smooth. Next, stir in 1/4 tsp salt and 1/4 tsp pepper and half of the chicken shawarma. Take th potato mixture and spoon it into each potato halve. Top each with the remaining chicken shawarma and 1/2 cup of cheddar cheese. Place the potatoes into the oven and bake them for about 20 minutes or until the filling has heated through and the cheese is golden brown.
Garnish the potatoes with tomatoes, cucumbers, fresh mint and feta!