Sheet Pan Pineapple Chipotle Chicken Tacos with Jalapeño Sauce gets dinner on the table in less than 30 minutes, with as little work as possible. Everything is roasted on a sheet pan, the sauce goes into the blender, and the taco fillings are sliced up. Super easy mix of spicy, sweet, and smoky!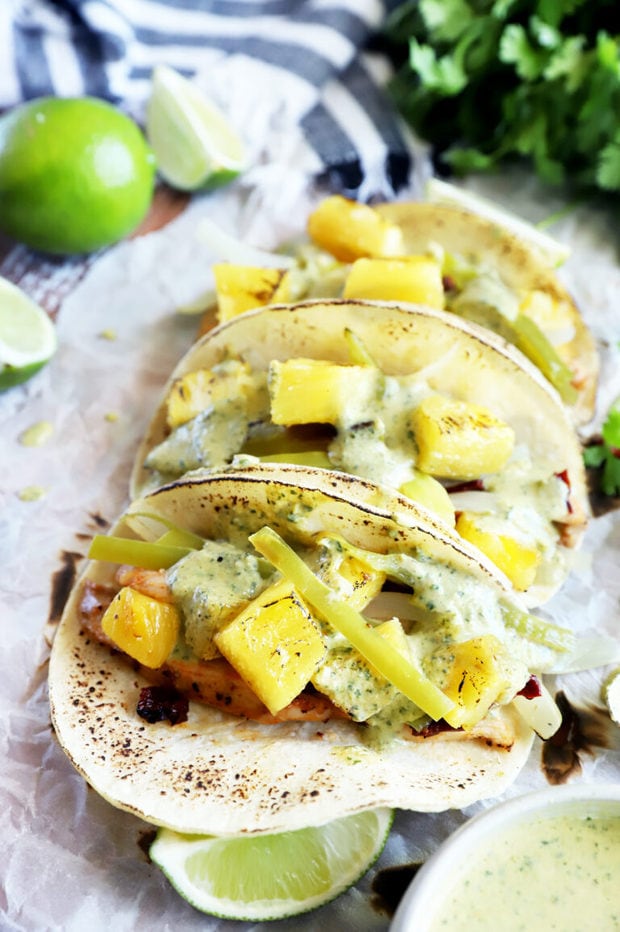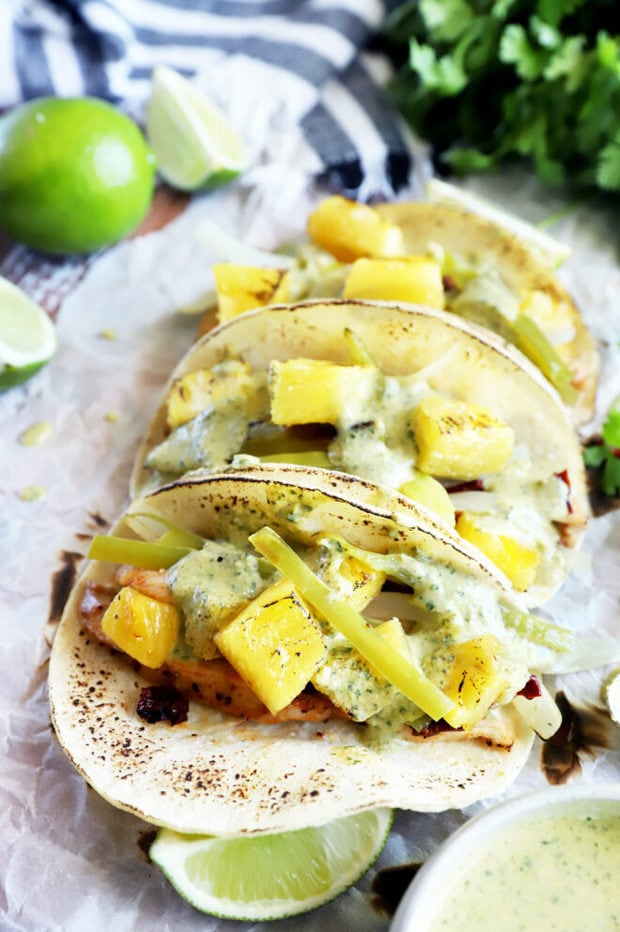 Disclosure: This post is sponsored by Sprouts. As always, all opinions and thoughts are my own.
As much as I absolutely love cooking and baking, there are times when I am just too exhausted to even think about putting together a recipe for dinner.
This is when the sheet pan dinner comes to the rescue.
Lately, it's been all about adjusting to a new normal. The world has changed and it's been a new challenge to accept these changes, especially being pregnant.
The summer that I thought would be spent on crowded patios and parks has shifted to one at home, playing with Mochi and Otis in the backyard, and trying to find new hobbies to fill our time.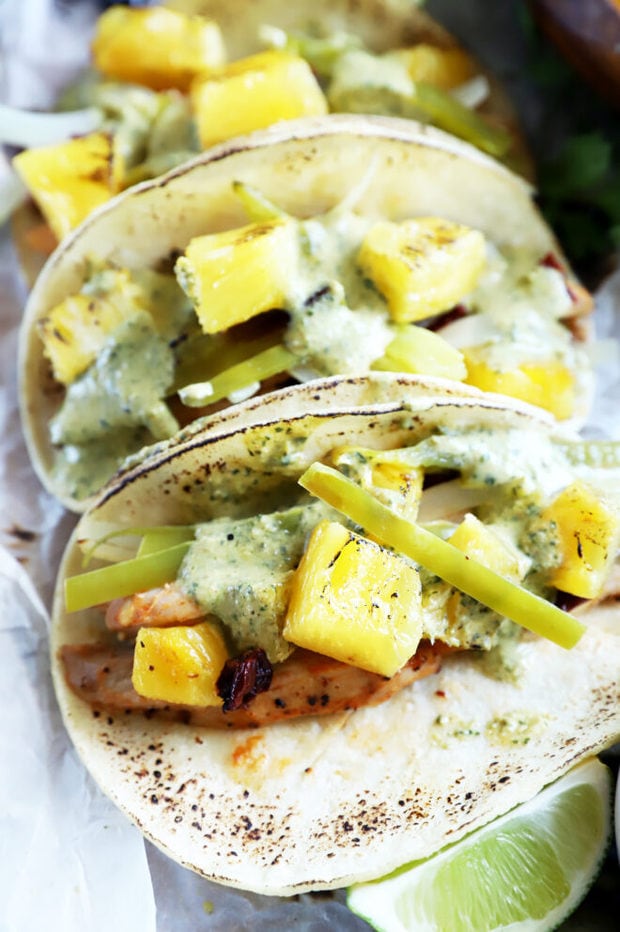 As we adjust, my new dinner routine has adjusted as well. Where there used to be more going out to eat, there's more eating at home and I'm reaching for easy sheet pan dinners to fill the bill.
Usually, my sheet pan dinners are simple with meat and veggies that I simply pile onto my plate and devour.
Once you make about 4 of these in a week though, you start wondering if there's anything else the traditional sheet pan dinner can offer… turns out, THERE IS.
Say hello to a whole new way to do tacos!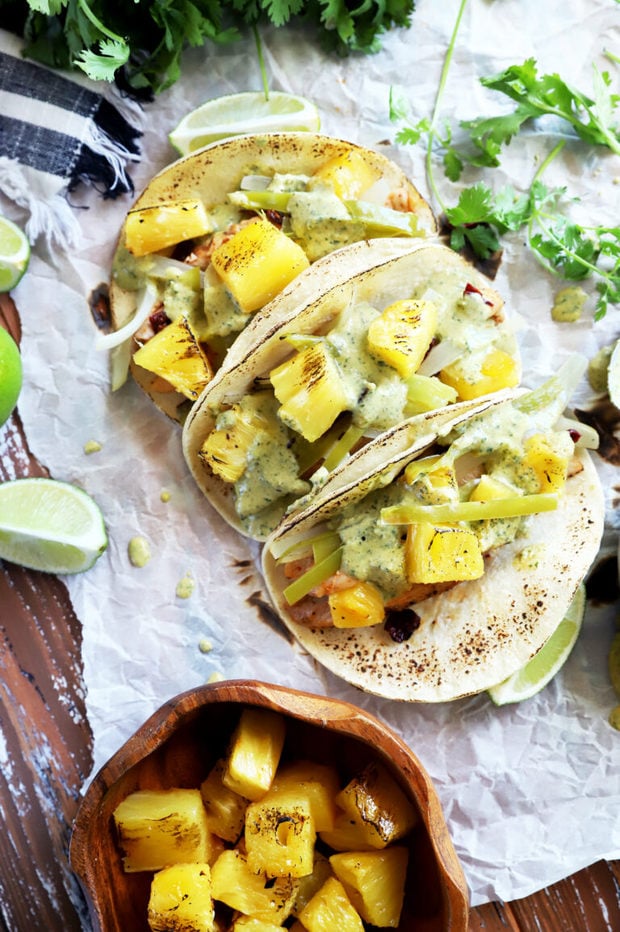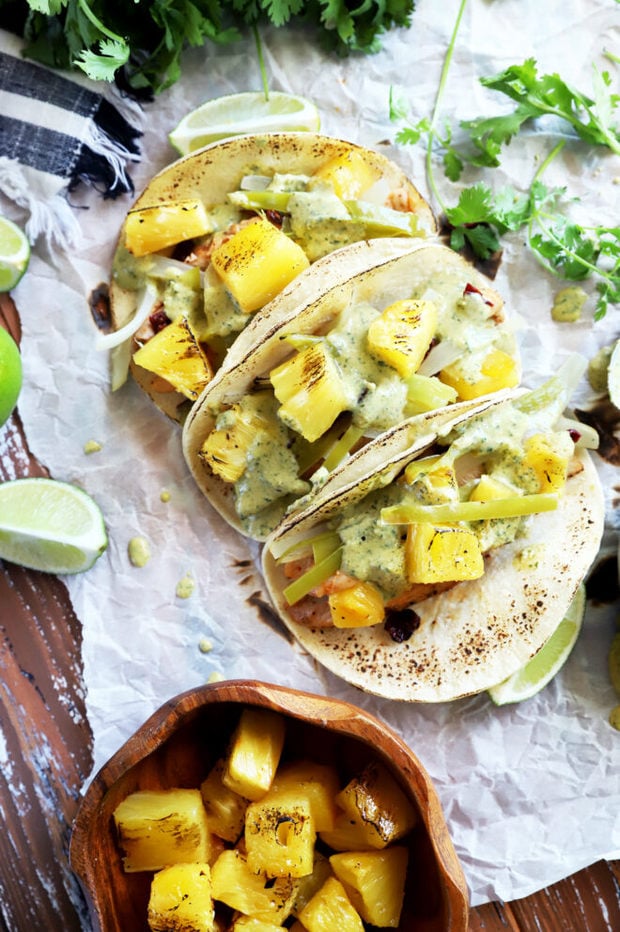 The miracle of these pineapple chipotle chicken tacos is that they are so stinking easy. Literally all the cooked elements go right on the sheet pan to roast away. Even the jalapenos for the sauce get roasted so you can add an extra depth to the condiment that goes on top of the tasty tacos.
I'm partnering with Sprouts on these tacos today to help you get your new normal feeling smooth and, most importantly, delish.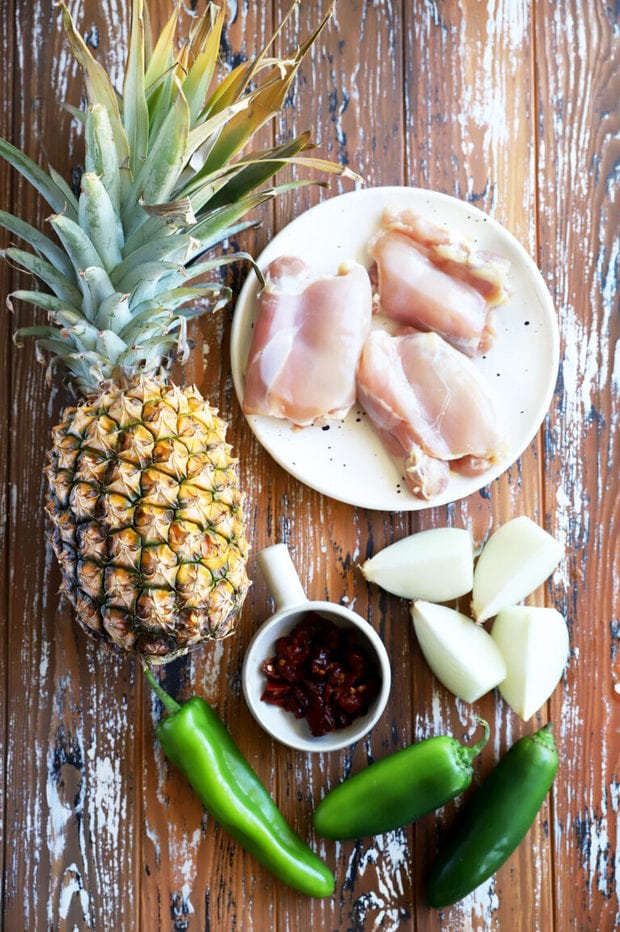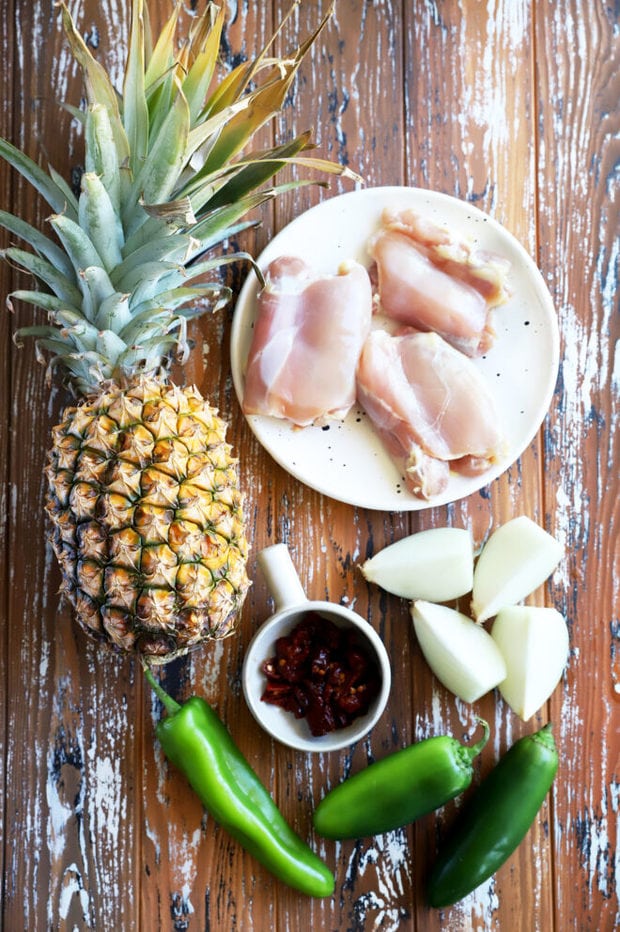 In the past, I've chatted about Sprouts from way before quarantine even happened. Since March, Sprouts has been the only store I've truly been passionate about going to. They are safe, clean, and take their social distancing measures very seriously (as do all the customers, I've happily found).
PLUS, Sprouts is always the one to go to for the ingredients I'm looking for. Even if they happen to be out of stock of something, there's always something else I can pivot to whether it's fresh produce and herbs or fantastic meat/poultry.
You can taste the difference!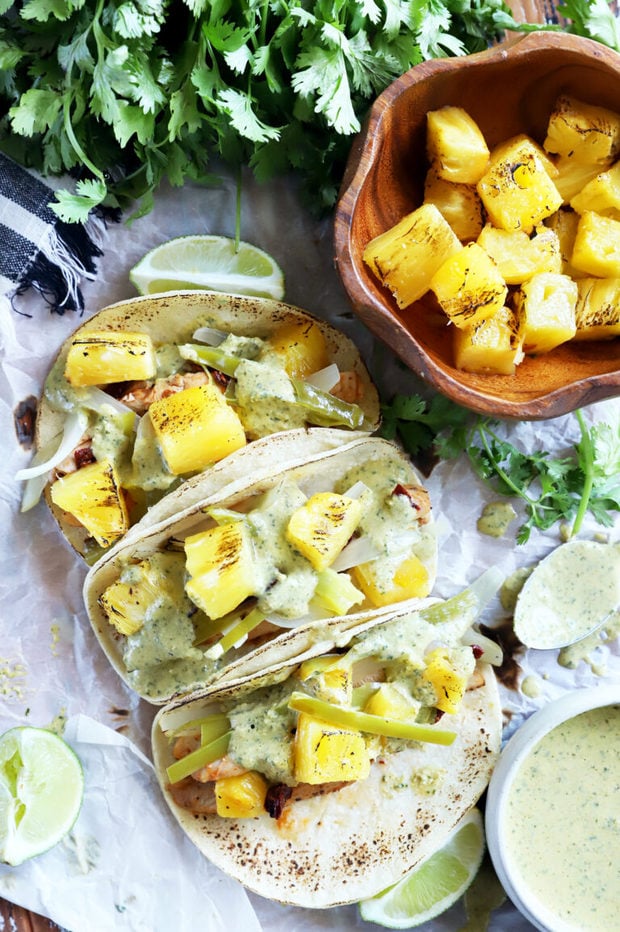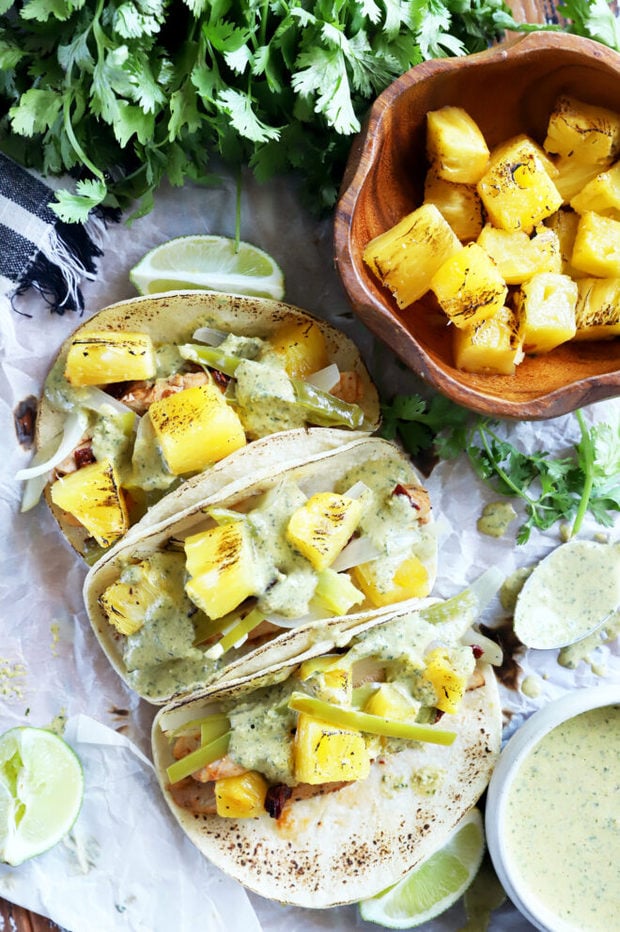 This Recipe's Must-Haves
All you need is a sheet pan for cooking and I use a half sheet baking pan that's rimmed so none of the juices flow into the bottom of your stove.
You will need a blender like a Vitamix to blend up the flavorful and creamy jalapeno sauce.
Other than that, you need a mixing bowl to coat the chicken in the chipotles. That's it!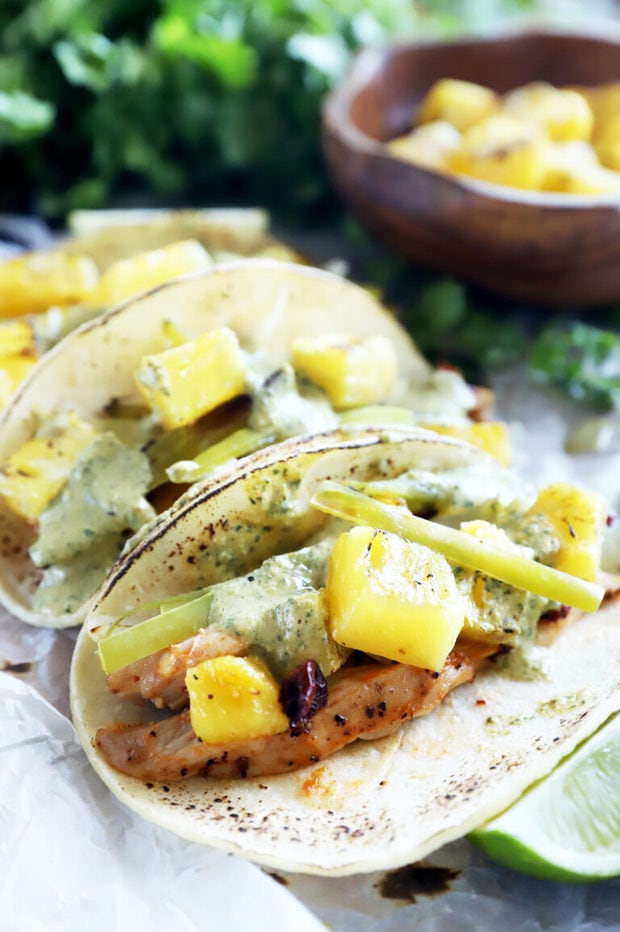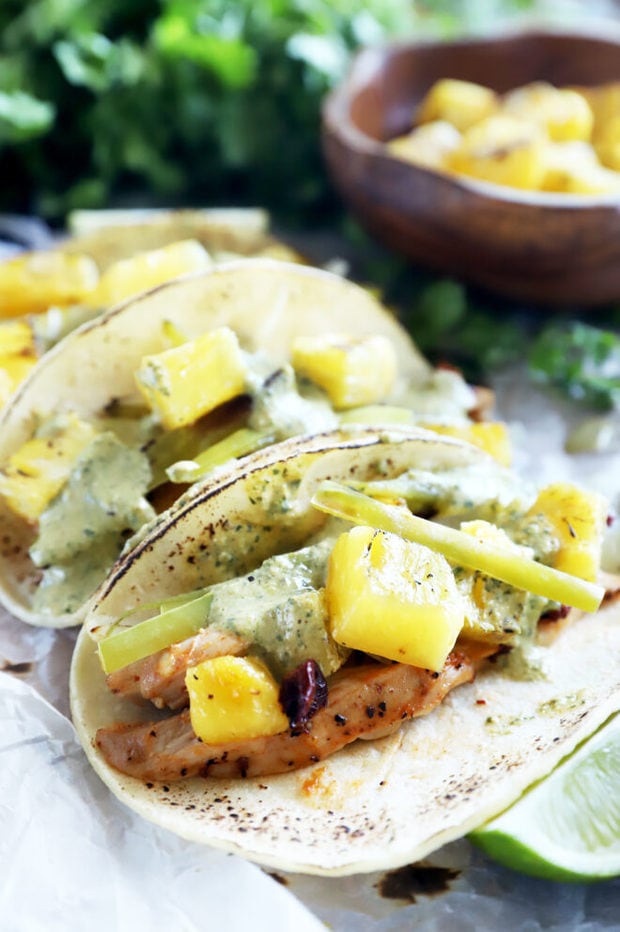 Here's how to make delish sheet pan pineapple chipotle chicken tacos!
Roast
All the main components of the tacos, including the chipotle chicken, peppers, onion, and pineapple go on the sheet pan.
They only roast for 15 minutes, until the chicken is cooked through.
Broil
Remove the chicken from the sheet pan and set aside on a cutting board to slice later.
Return the veggies and pineapple to the oven to broil for a couple of minutes. This step adds so much yummy smoky flavor to the dish!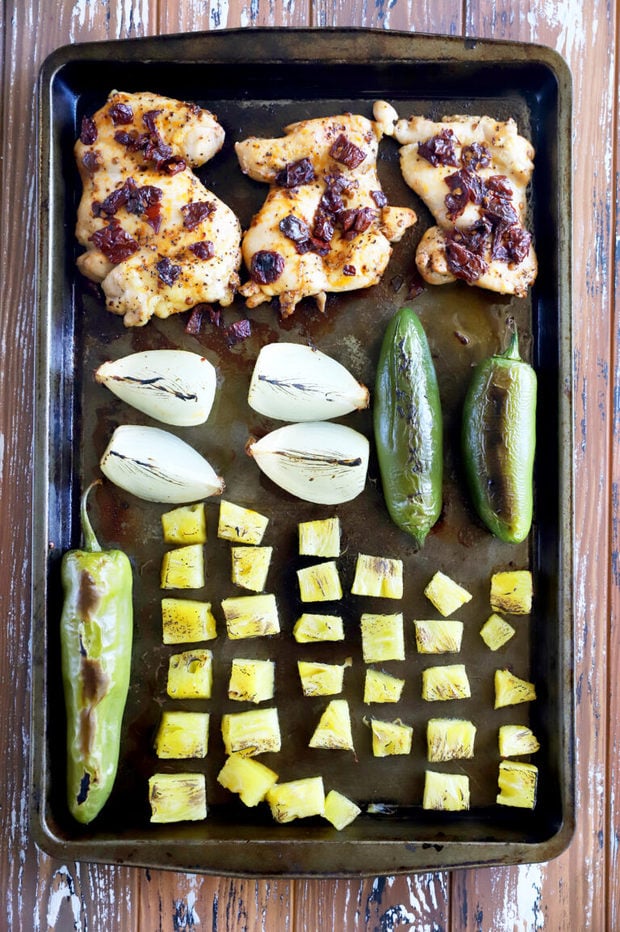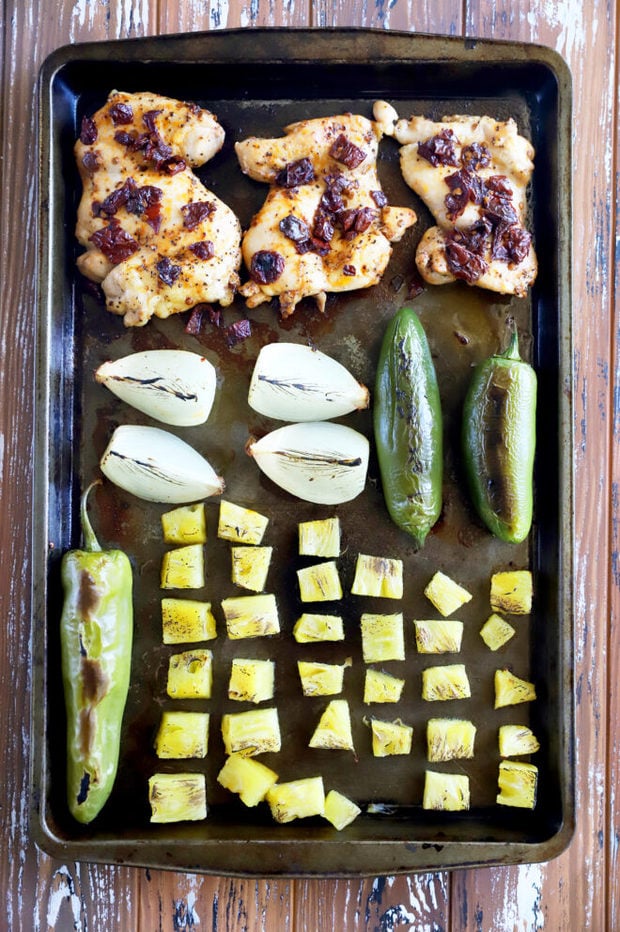 Make Sauce
The ingredients for the sauce go straight into the blender and are processed until smooth. While that's going, I quickly slice up the chicken, pepper, and onion.
Assemble
Assembly is easy! Just load up the tacos with chicken, pepper, onion, and pineapple. Top with the creamy jalapeno sauce and serve right away.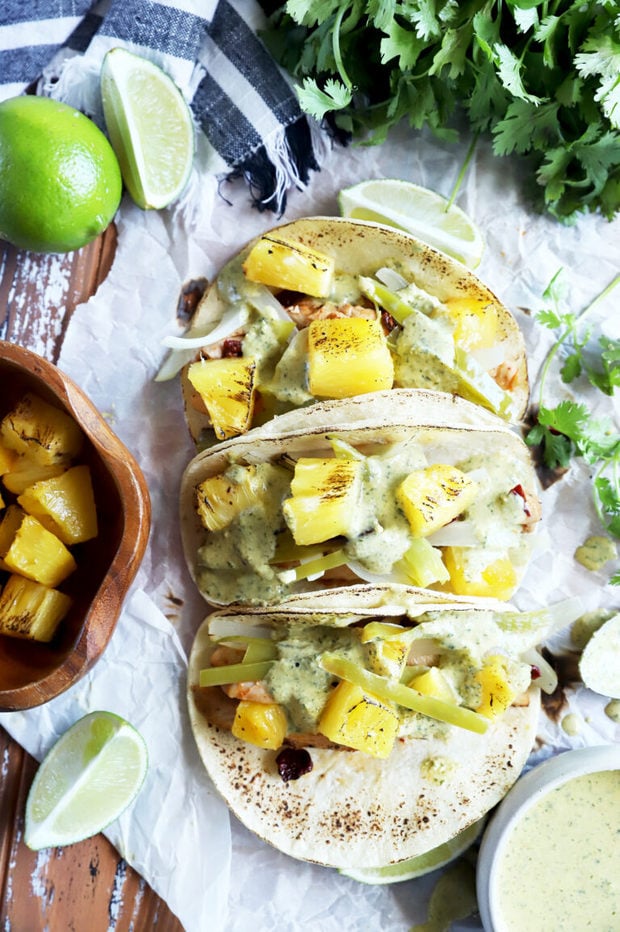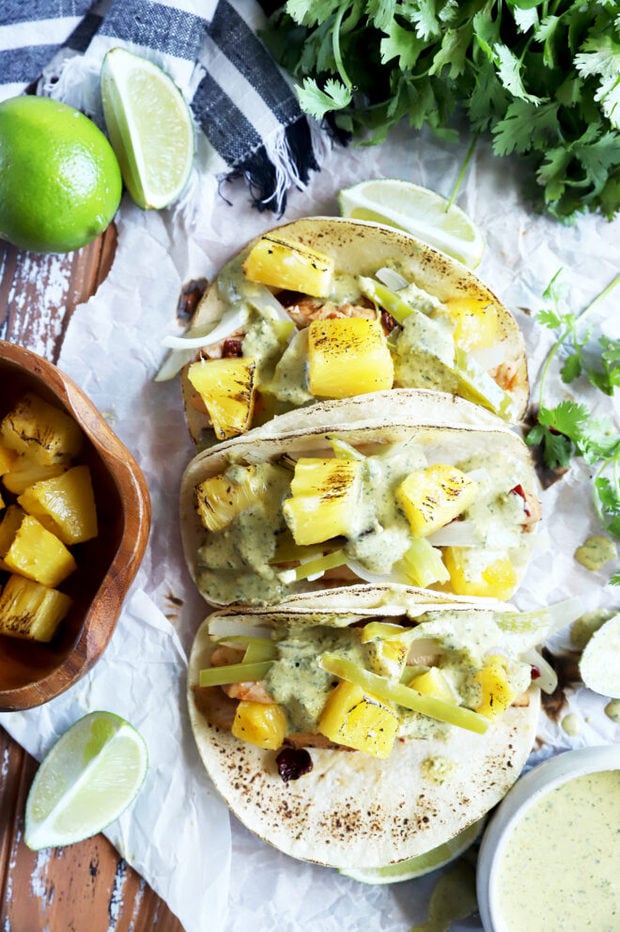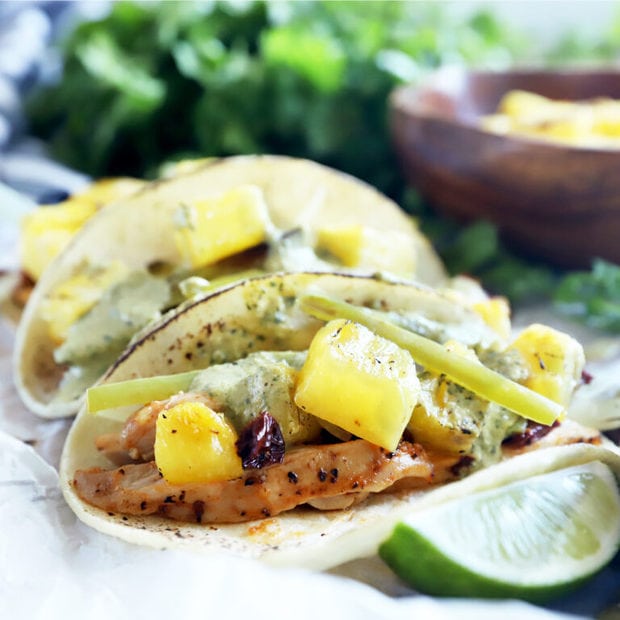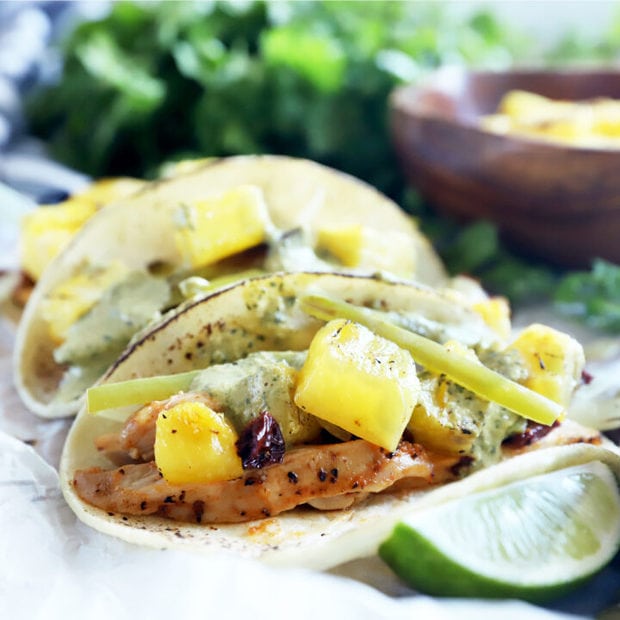 Sheet Pan Pineapple Chipotle Chicken Tacos with Jalapeño Sauce
A ridiculously easy sweet, smoky, and spicy combination that all comes together on the sheet pan.
Ingredients
Chicken
1 lb boneless, skinless chicken thighs
2 Tbsp olive oil
4 chipotle chilies in adobo, chopped
1/2 tsp salt
1/2 tsp black pepper
1 poblano or anaheim pepper
1 yellow onion, quartered
1 1/2 cups fresh pineapple chunks
Creamy Jalapeño Sauce
1 to 2 jalapeños (I used 2 jalapenos because I like the sauce to be spicy!)
1/2 cup plain greek yogurt
Juice of 1 lime
1 tsp honey
1/4 tsp smoked paprika
1/4 cup cilantro leaves
Tacos
12 corn or flour tortillas, warmed
lime wedges
freshly chopped cilantro
Instructions
Preheat the oven to 425˚F.
Place chicken thighs, olive oil, chiles, salt, and pepper in a medium bowl. Toss together to coat and place on a rimmed sheet pan in a single layer.
On the other half of the same pan, add poblano or anaheim pepper, onion quarters, pineapple chunks, and jalapenos. Roast for 15 minutes, until chicken is cooked through. Remove chicken from the sheet pan and set aside.
Place the pan with veggies and pineapple back in the oven and turn on the broiler to High. Cook for an additional 1 to 2 minutes. Remove from the oven.
Slice chicken, onion, and poblano or anaheim pepper. Set aside.
Place the two jalapenos with remaining ingredients for the jalapeno sauce in a blender. Blend together well and taste. Season with salt and pepper to taste.
Assemble tacos, dividing the chicken, sliced veggies, and pineapple between the tortillas. Top with creamy jalapeno sauce and serve with lime wedges and freshly chopped cilantro.

Recommended Products
As an Amazon Associate and member of other affiliate programs, I earn from qualifying purchases.