Please note this post contains affiliate links.
This Cheesy Pumpkin Gnocchi Bake is fall comfort food at its finest! The simple combination of classic flavors with pumpkin and sage elevates a humble pasta bake to something a little more sophisticated (without adding more work!). Serves 4 to 6.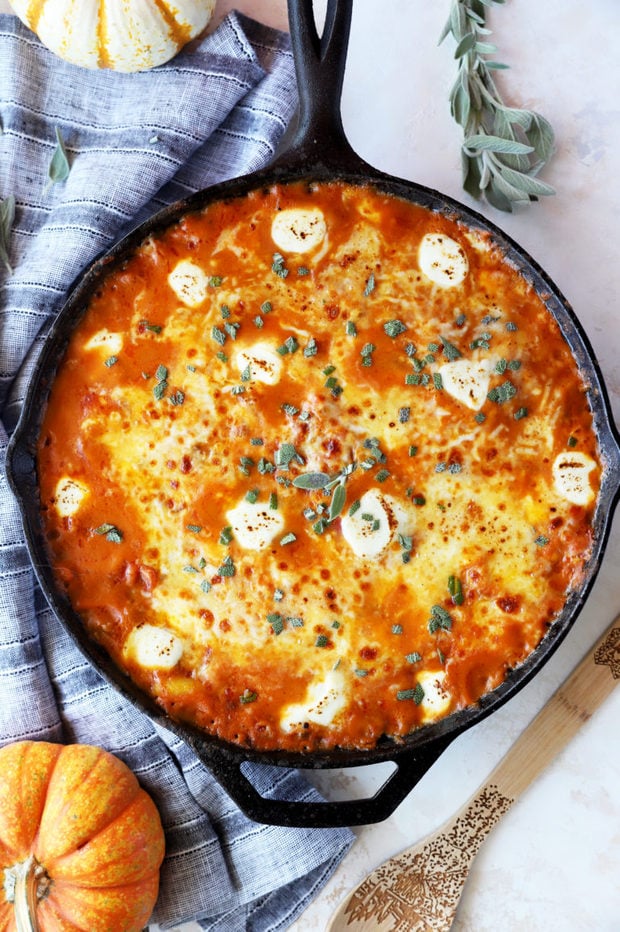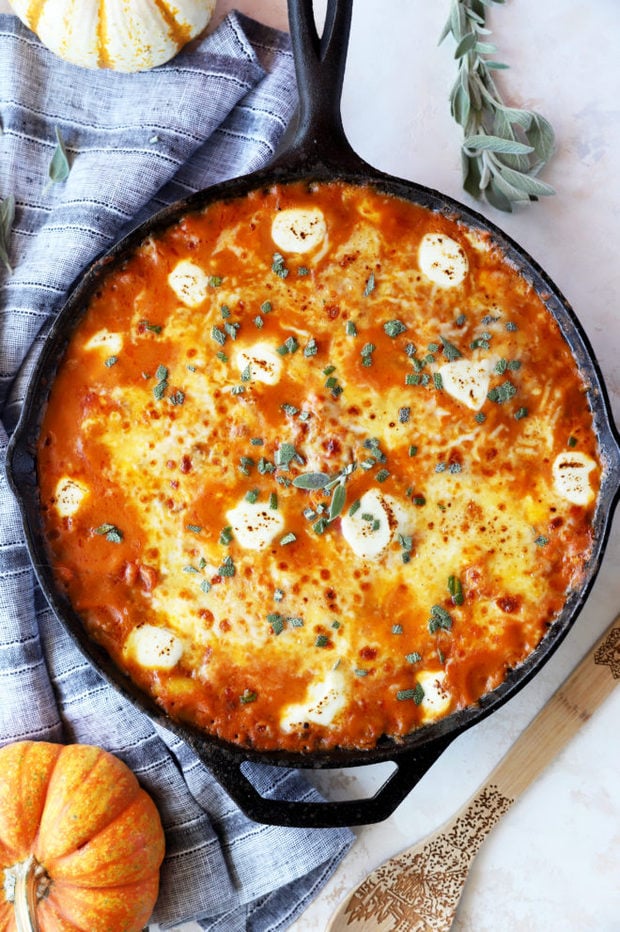 Yesterday was SO crisp and chilly, it was the perfect day for this pumpkin gnocchi bake…
I have been aching for fall temps so that I could really get deep into the comfort food cooking I've been craving!
And this dish is the one that knocked my socks off the moment I made it.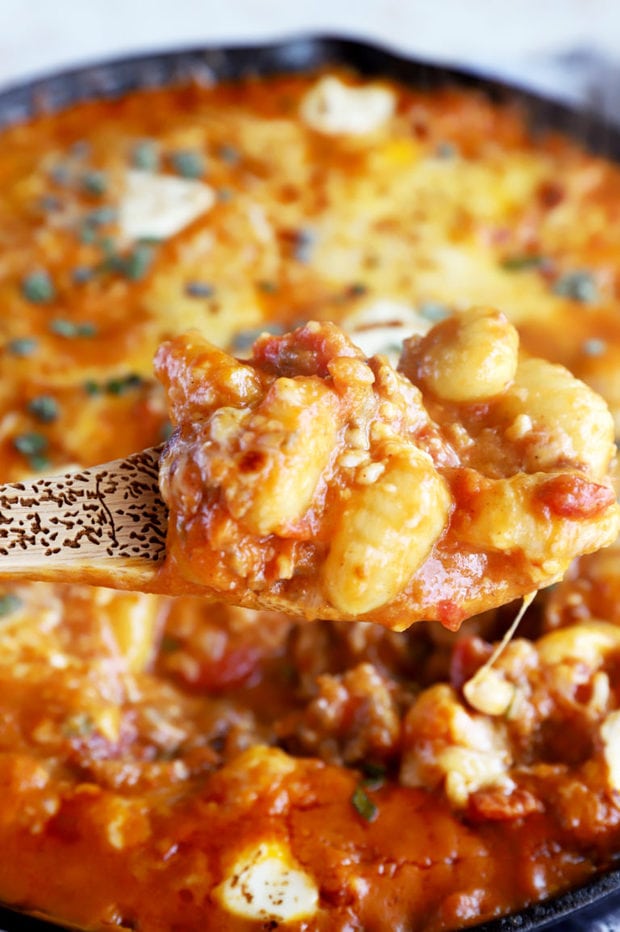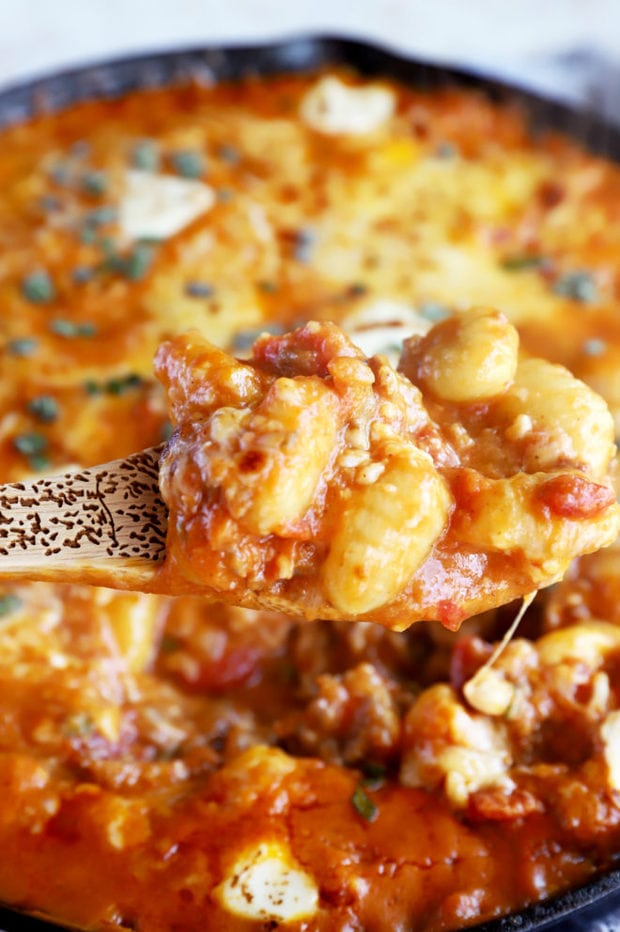 There are so many different ways to cook gnocchi, but one of my favorites is in a classic pasta bake.
It gives me an extra excuse to have a layer of gooey cheese on top, you know?
This is a new take on the classic meaty bake, with spicy italian sausage and the addition of pumpkin and sage to really bring out some fall flavors. The pumpkin isn't super overpowering, but it does bring an added richness and creaminess to the party. And of course, any fall dish wouldn't be complete without some sage!
A bonus was how much Babycakes LOVED it. He literally screamed for more for multiple meals as he helped us polish off the leftovers (not that we needed the help LOL, but we were willing to share with him at least!).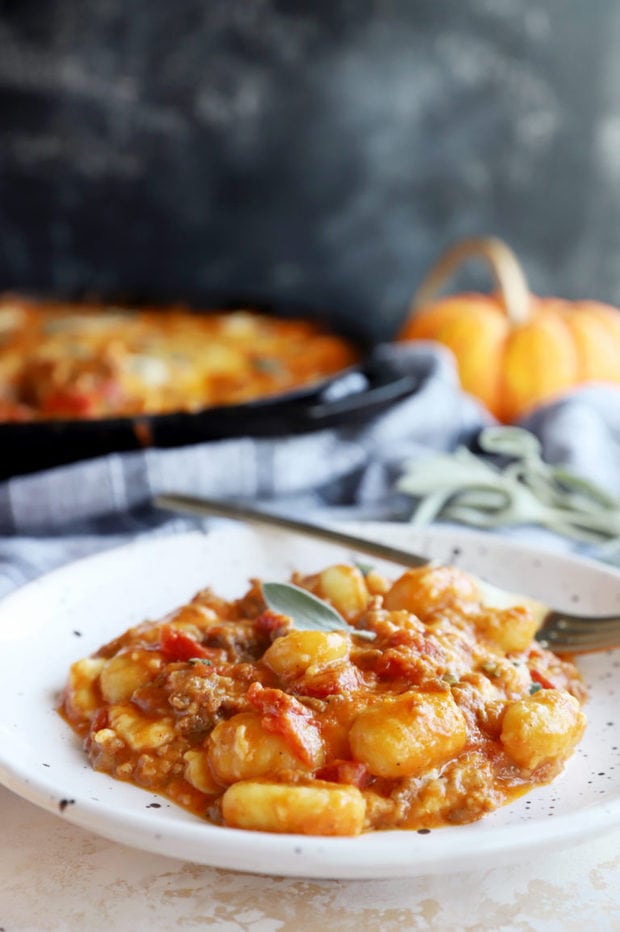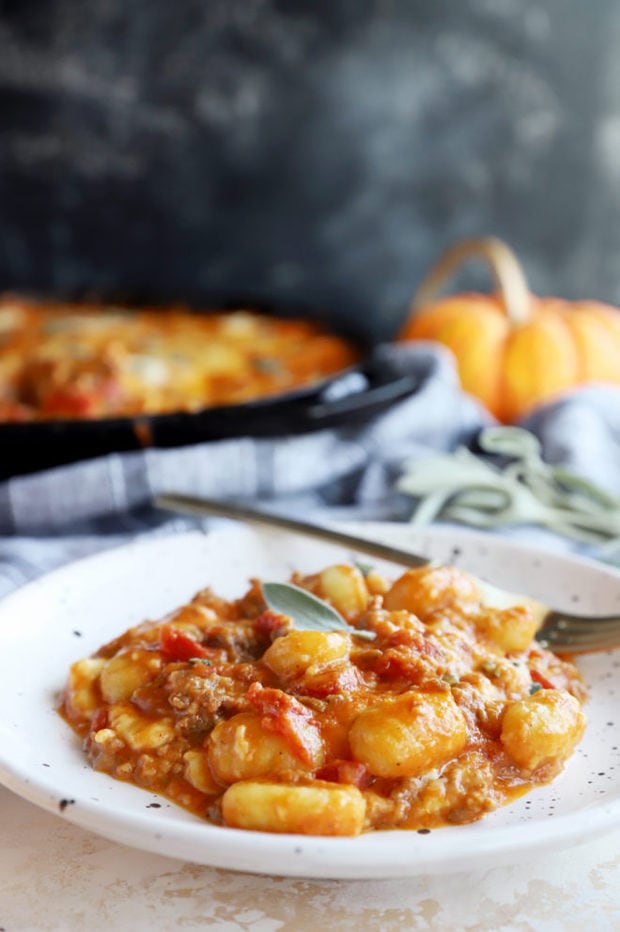 this recipe's must-haves
To prep the onion, I used my favorite chef's knife and cutting board.
For making this skillet, I love to use cast iron. My particular favorite is the Lodge cast iron skillet because it's affordable and lasts FOREVER. I still have my grandmother's that is decades old. Note that I am not sponsored by Lodge, but a really big fan of all their products!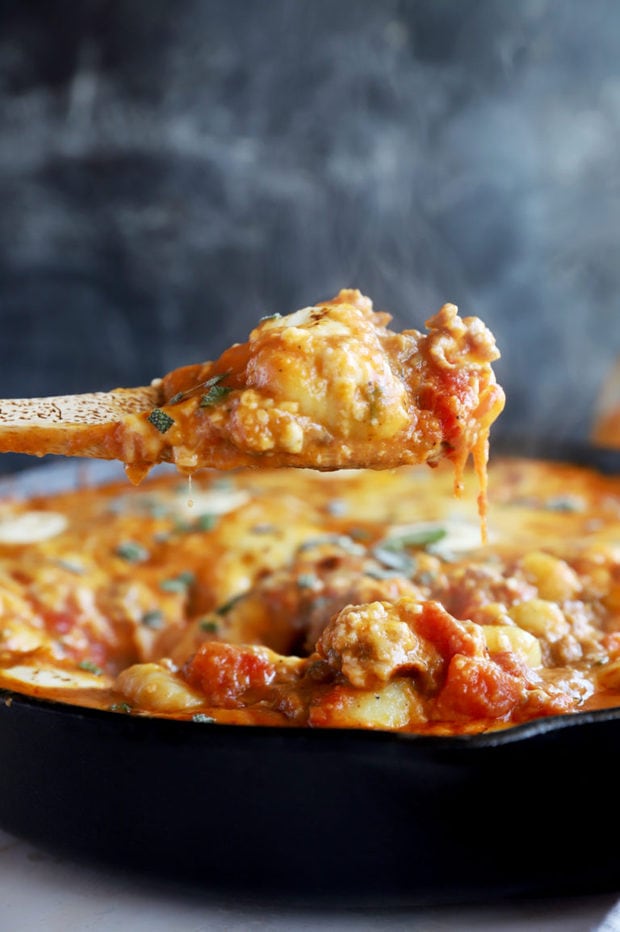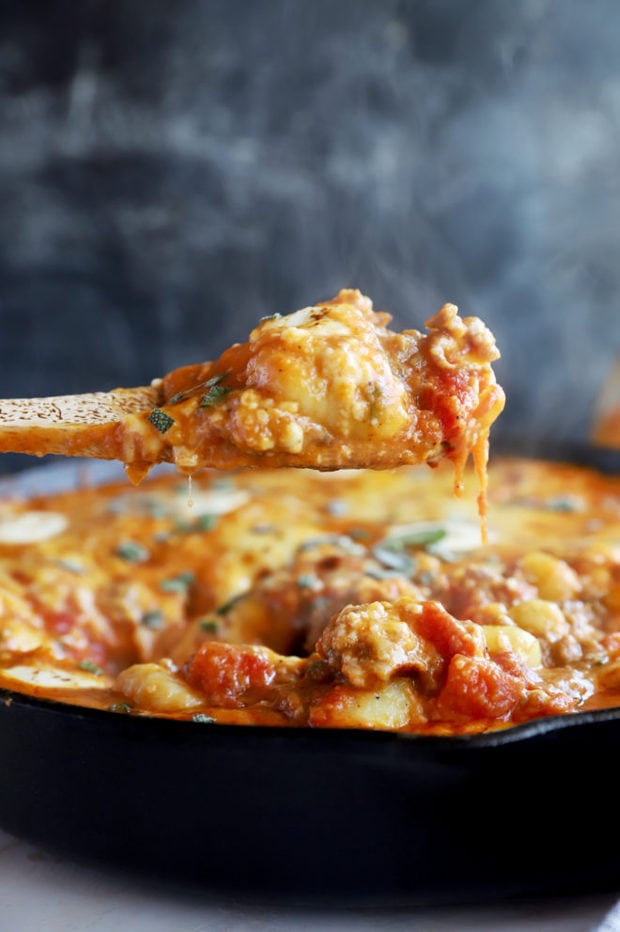 here's how to make a cheesy pumpkin gnocchi bake!
Cook Onion and Sausage
In an oven-safe skillet over medium-high heat, heat the oil. When hot, add onion with salt and pepper. Cook until softened, about 3 to 5 minutes. Add in sausage and garlic, cooking until the sausage has browned, about 8 to 10 minutes. Make sure to break up the sausage into smaller chunks as it cooks.
Make Sauce
Once the sausage is browned, stir in tomatoes, milk, puree, and broth until combined. Stir in sage, chili powder, and nutmeg. Cook for about 5 minutes, simmering until thickened.
Add Gnocchi
Stir in gnocchi and bring the mixture to a boil. Let cook for about 7 to 10 minutes. Remove from heat and top with both cheeses.
Bake
Bake at 425˚F for 15 minutes until bubbling and golden. Serve warm with toasted bread.
Need some more inspiration for pasta night? Check out my pasta recipes page!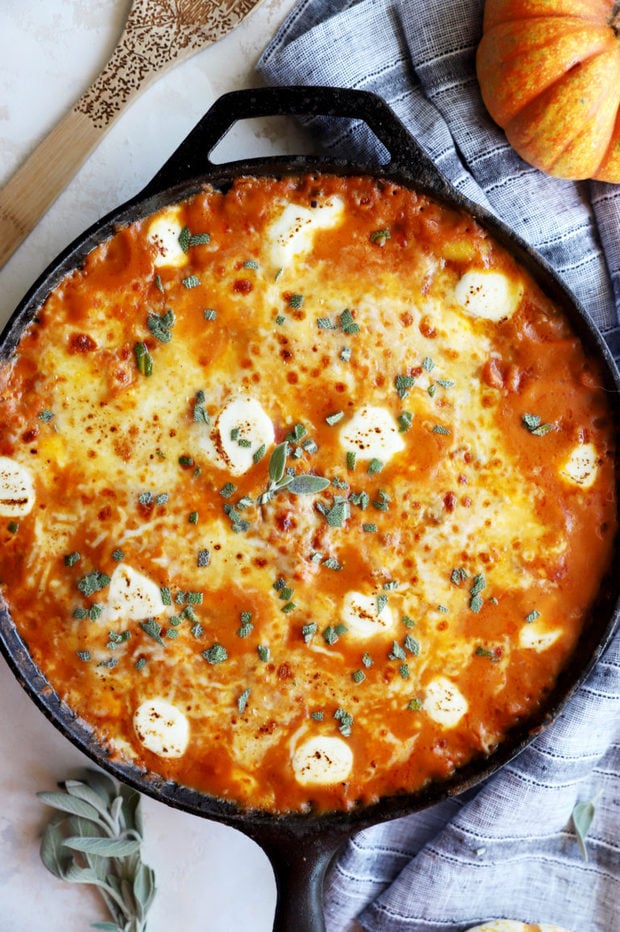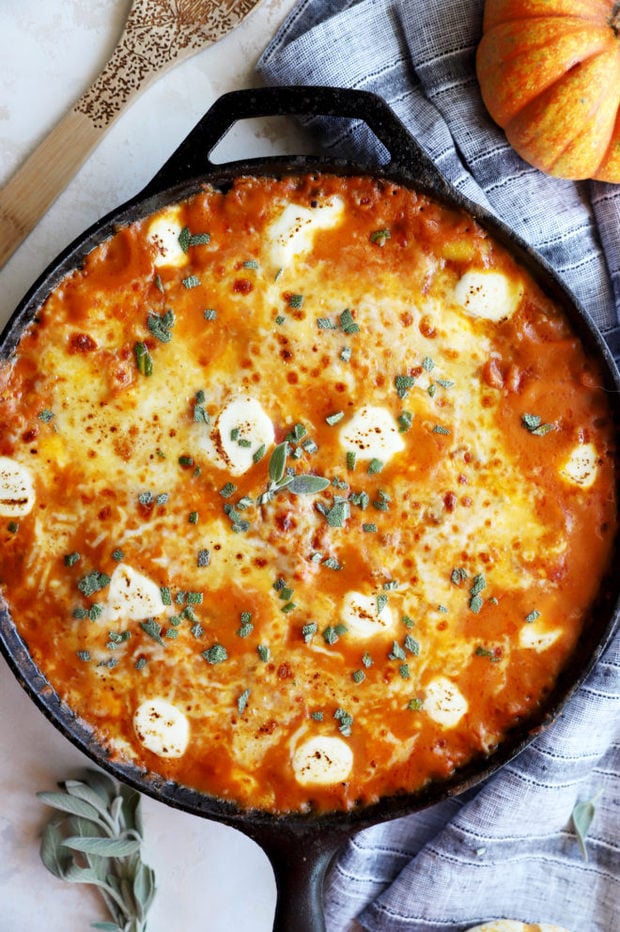 do you have to boil gnocchi?
Nope! With this bake you don't have to worry about boiling the gnocchi separately before adding to the sauce. Instead, the gnocchi cooks in the sauce, giving it more flavor!
what wine is best to pair with this dish?
I love a light red like a Chianti, but you can also choose a crisp white like a pinot grigio.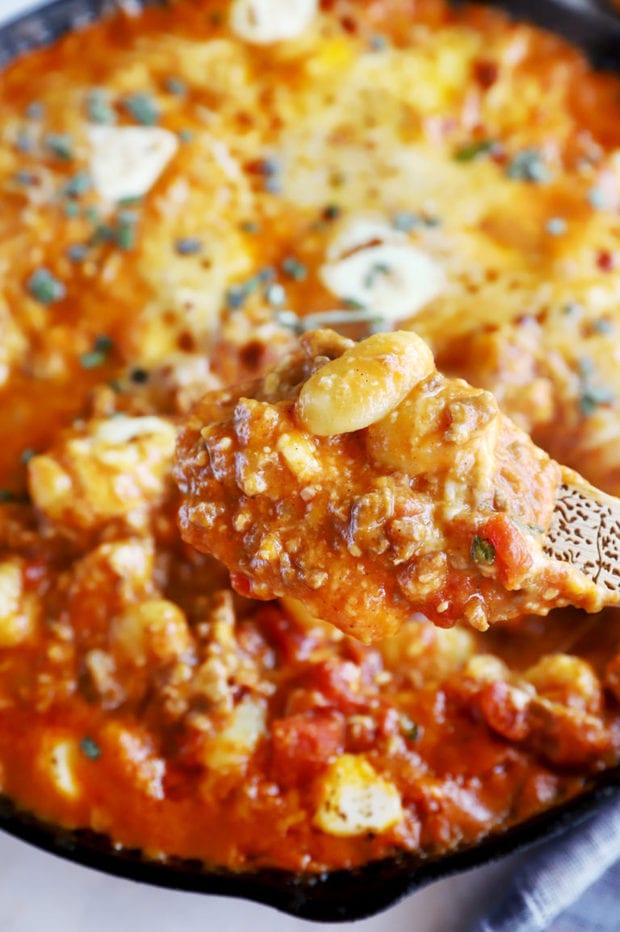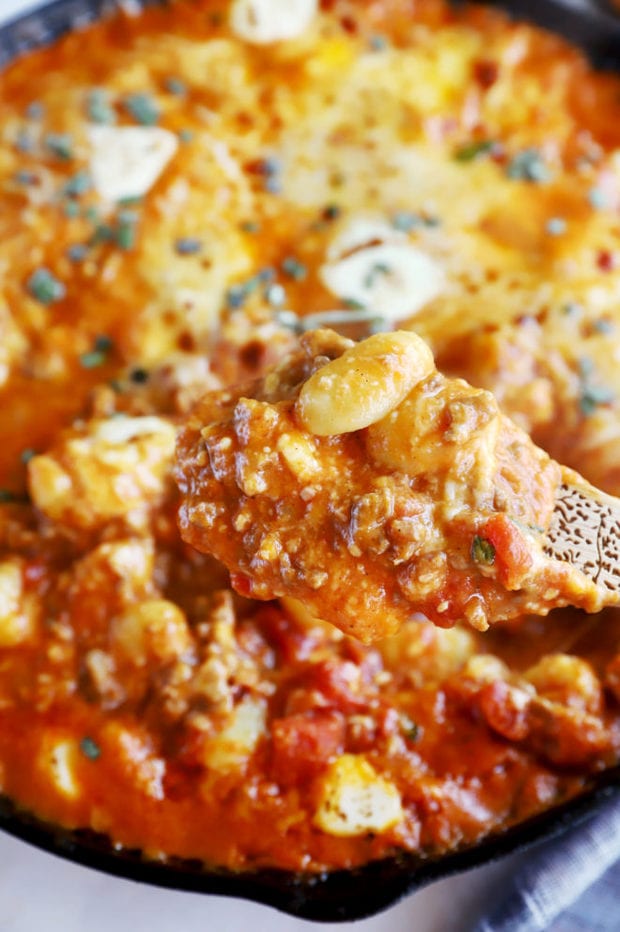 can I use fresh pumpkin?
If you love making your own pumpkin puree, you can certainly use homemade instead of canned. Just measure out 15oz (by weight) and swap it for the canned.
how do I store the leftovers?
Cool and store leftovers in an airtight container in the refrigerator for up to 3 days. To reheat, simply do so in the microwave in a microwave-safe dish until warmed through (about 1 1/2 to 2 1/2 minutes).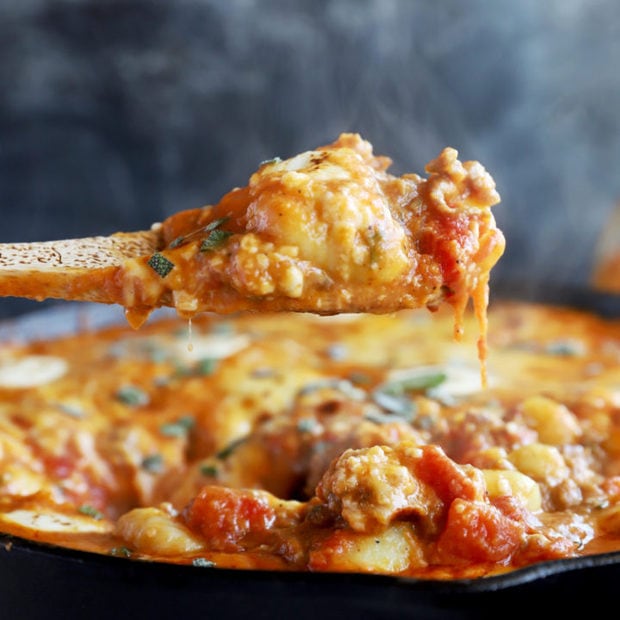 Cheesy Pumpkin Gnocchi Bake
Rich, creamy comfort food at its finest! Perfect for a cozy fall meal.
Ingredients
2 Tbsp extra virgin olive oil or canola oil
1 small yellow onion, diced
3/4 tsp salt
1/2 tsp black pepper
1 lb spicy Italian sausage
3 cloves garlic, minced
1 28-oz can San Marzano tomatoes
1 cup whole milk
1 15-oz can pumpkin puree
1 1/2 cups vegetable broth
2 tsp fresh sage leaves, chopped + more for topping
1/2 tsp chili powder
1/4 tsp nutmeg
1 16-oz package potato gnocchi
8 oz fresh mozzarella cheese, torn
1 cup shredded provolone cheese
Instructions
Preheat oven to 425˚F.
In an oven-safe skillet over medium-high heat, heat oil. Add onion, salt, and pepper, cooking until softened, stirring occasionally, about 5 minutes.
Add sausage and garlic, cooking until browned, about 8 to 10 minutes, breaking up the large chunks as needed.
Stir in tomatoes, milk, pumpkin, and broth. Add sage, chili powder, and nutmeg. Stir until combined and simmer for 15 minutes until thickened a bit.
Stir in gnocchi and bring the mixture to a boil. Cook for about 5 to 10 minutes until gnocchi is cooked.
Remove from heat and top with cheeses. Bake for 15 minutes until golden and bubbling. Serve warm. Garnish with fresh sage, if desired.
Recommended Products
As an Amazon Associate and member of other affiliate programs, I earn from qualifying purchases.