Please note this post contains affiliate links.
This Cheesy Pumpkin Gnocchi Bake is fall comfort food at its finest! The simple combination of classic flavors with pumpkin and sage elevates a humble pasta bake to something a little more sophisticated (without adding more work!).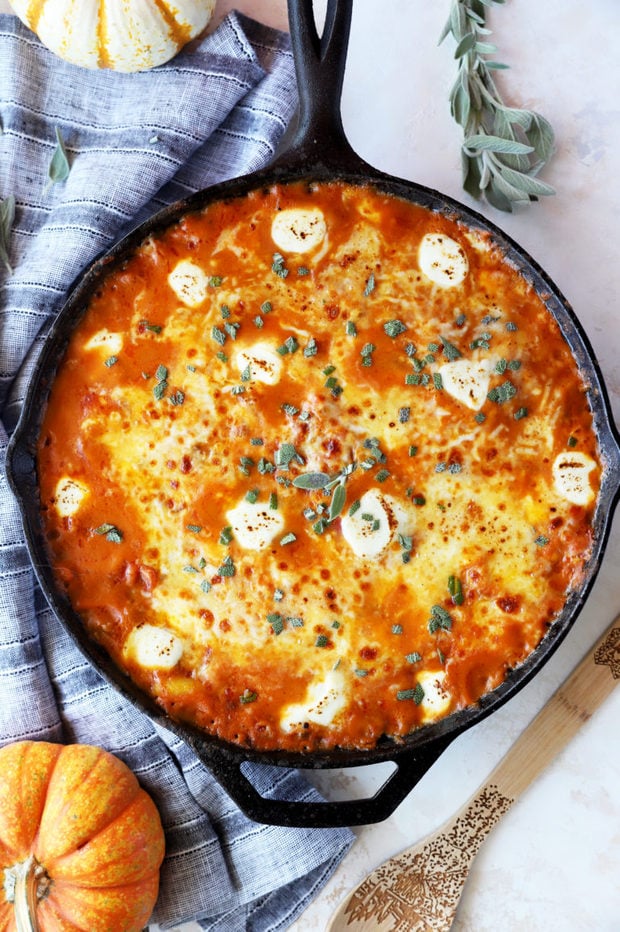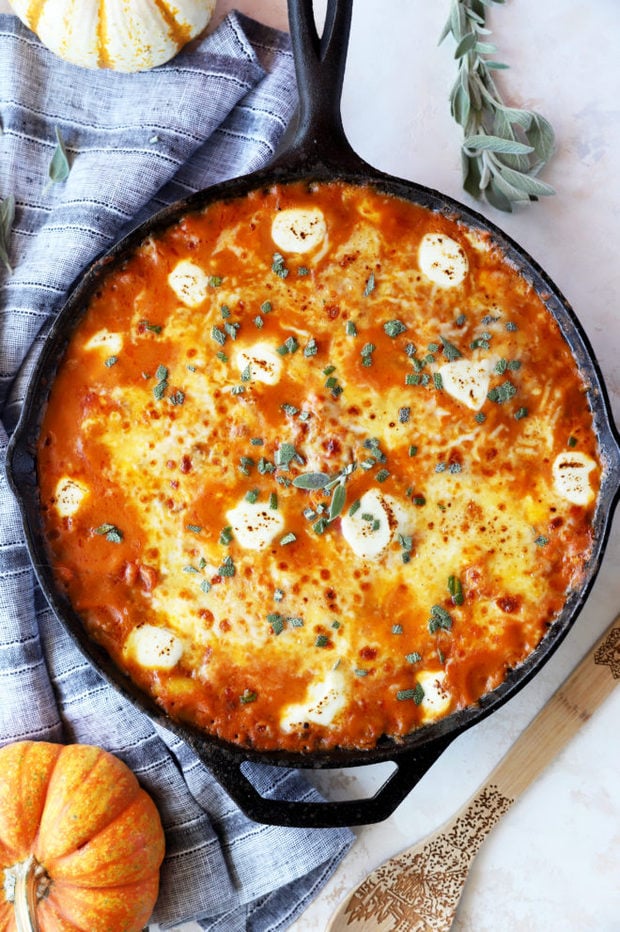 about this cheesy pumpkin gnocchi bake recipe
Yesterday was SO crisp and chilly, it was the perfect day for this pumpkin gnocchi recipe…
I have been aching for fall temps so that I could really get deep into the comfort food cooking I've been craving!
And this dish is the one that knocked my socks off the moment I made it.
There are so many different ways to cook gnocchi, but one of my favorites is in a classic pasta bake.
It gives me an extra excuse to have a layer of gooey cheese on top, you know?
This is a new take on the classic meaty bake, with spicy italian sausage and the addition of pumpkin and sage to really bring out some fall flavors. The pumpkin isn't super overpowering, but it does bring an added richness and creaminess to the party. And of course, any fall dish wouldn't be complete without some sage!
A bonus was how much Babycakes LOVED it. He literally screamed for more for multiple meals as he helped us polish off the leftovers (not that we needed the help LOL, but we were willing to share with him at least!).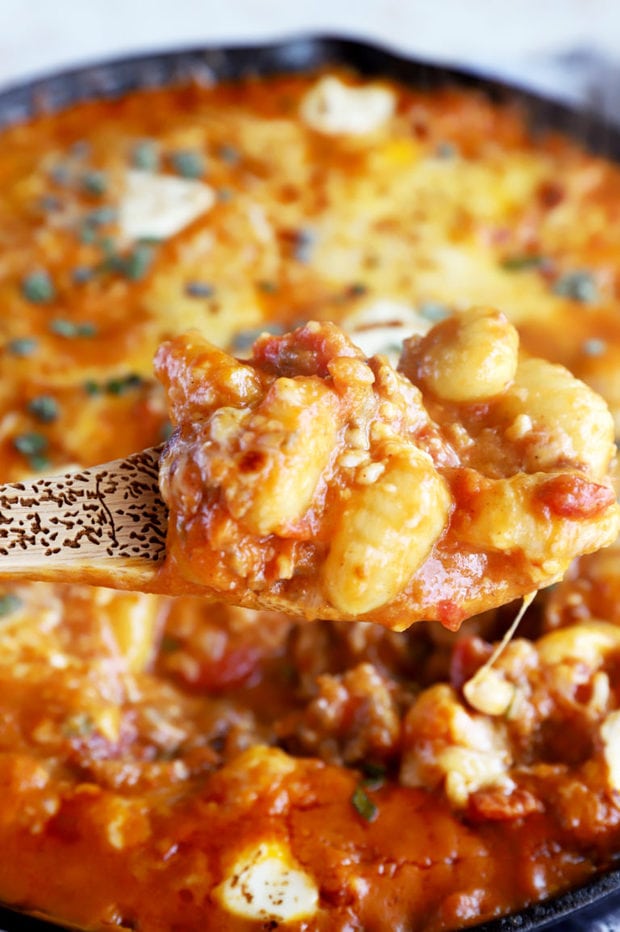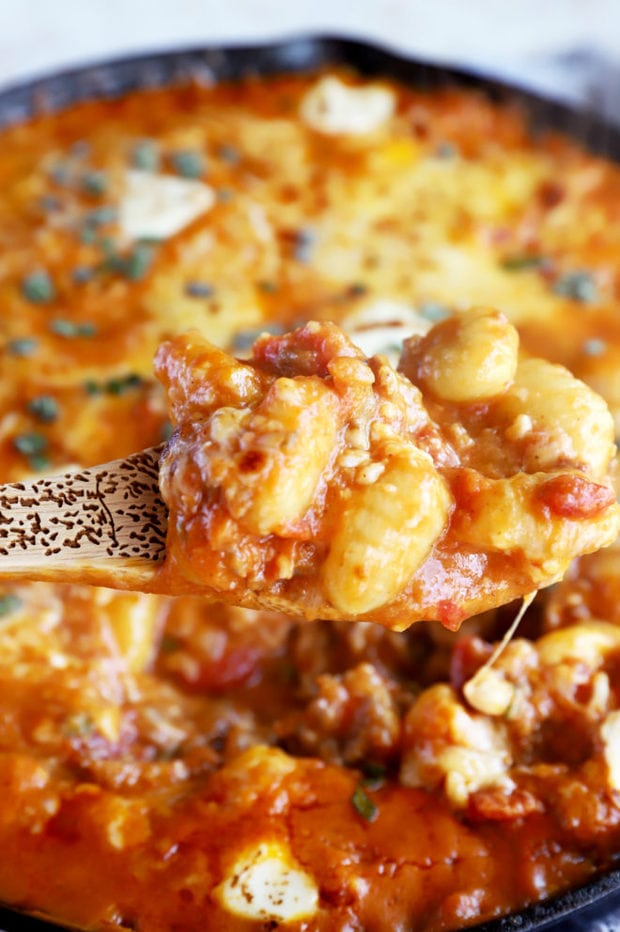 ingredients
oil. You can use extra virgin olive oil, canola oil, or whatever cooking oil you prefer to use when cooking. The oil will be used to cook down the onion!
onion. I prefer to use a sweet yellow onion for this recipe for the flavor. You could also use a white onion, if you prefer.
spices. The spices you will need for this recipe include salt, black pepper, chili powder, and ground nutmeg. Freshly ground nutmeg is best, if you have it!
sausage. I use spicy Italian sausage in this pumpkin gnocchi bake because I love the heat it brings. However, sweet Italian sausage will also work. Just make sure to buy it ground. If you buy it in links, you can remove the casing.
garlic. garlic is a must for EVERYTHING, so I have a jar of minced garlic living in my fridge at all times. No smelly hands, no peeling garlic. The best shortcut to pay for, in my opinion.
tomatoes. make sure to grab a 28-ounce can of the San Marzano tomatoes for this recipe. It's so much better than the regular diced tomatoes! You can buy them diced, or buy them whole and chop them yourself. Just be sure to use all the tomatoes and their juices in the recipe.
pumpkin. Use 100% canned pumpkin puree and not pumpkin pie filling as the filling is sweetened. You can also make your own homemade pumpkin puree and use that! Note that you could also use butternut squash puree or sweet potato puree in place of pumpkin for a fun twist on the recipe.
broth. Vegetable broth is what I use in this recipe. However, you could also use chicken broth if that's what you have on hand.
sage. Fresh is always best when it comes to herbs, and it's the same for the sage in this recipe. If you only can find dried, be sure to use half the amount called for in the recipe. Fresh sage leaves are highly recommend though.
gnocchi. You can find potato gnocchi packaged and sold either in the Italian section of the dry foods, or in the refrigerated section. In my experience, the refrigerated brands are much better than the dried. You could also use homemade gnocchi in this recipe!
cheese. You will need both fresh mozzarella cheese (the kind sold in a ball, not shredded) and shredded provolone cheese for the pasta bake. You could also use shredded mozzarella cheese in place of the provolone.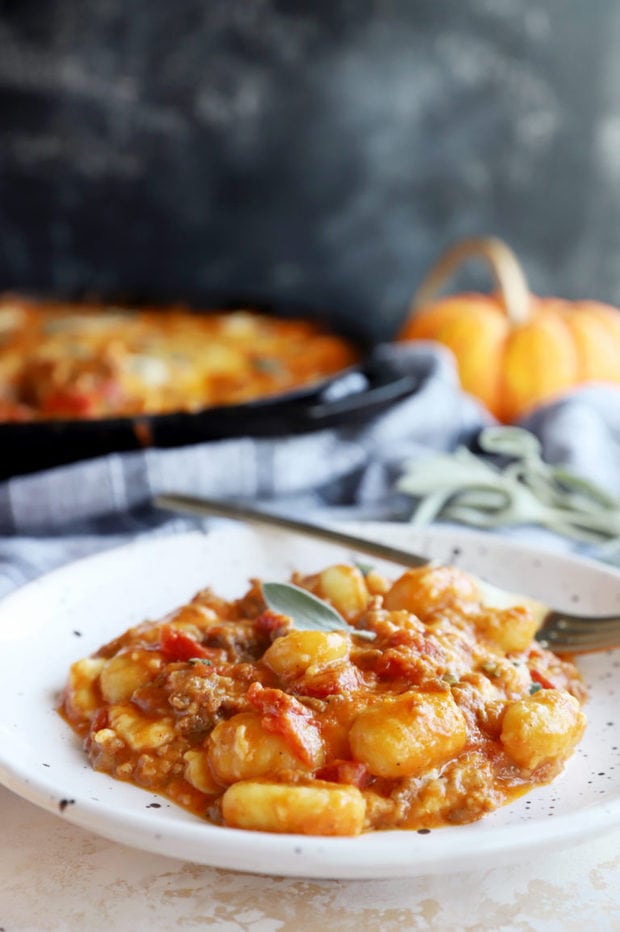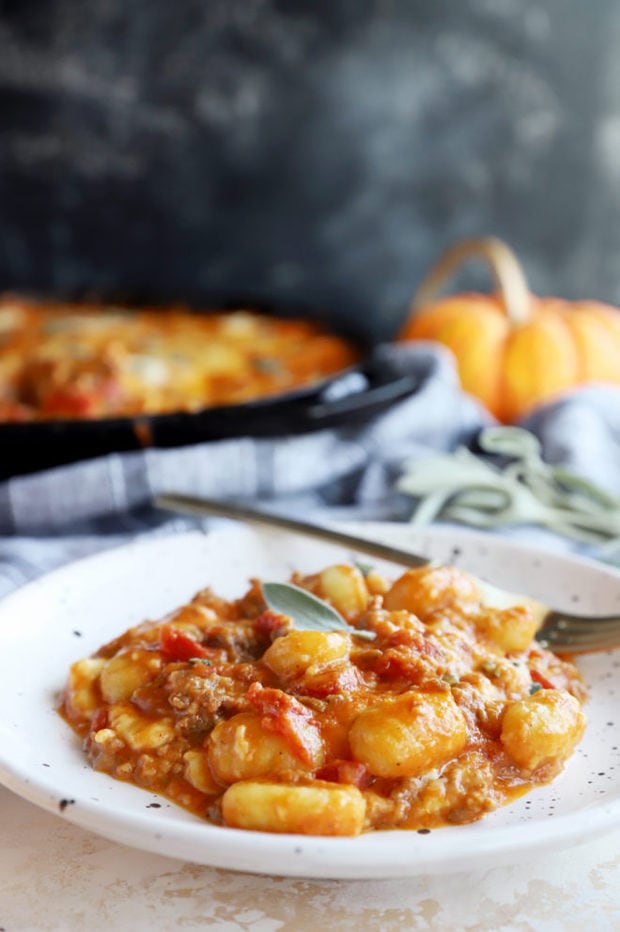 this recipe's must-haves
To prep the onion, I used my favorite chef's knife and cutting board.
For making this skillet, I love to use cast iron. My particular favorite is the Lodge cast iron skillet because it's affordable and lasts FOREVER. I still have my grandmother's that is decades old. Note that I am not sponsored by Lodge, but a really big fan of all their products!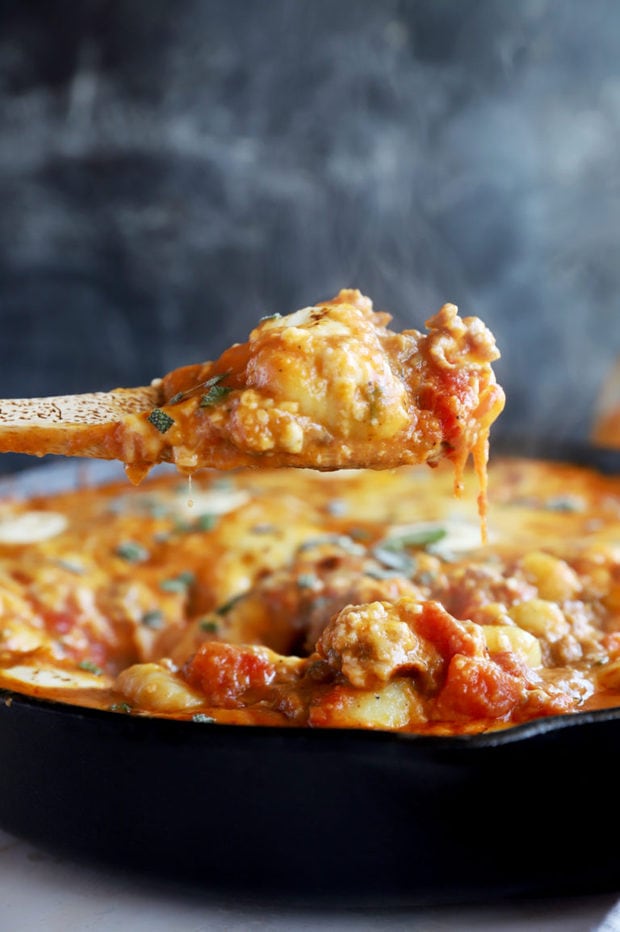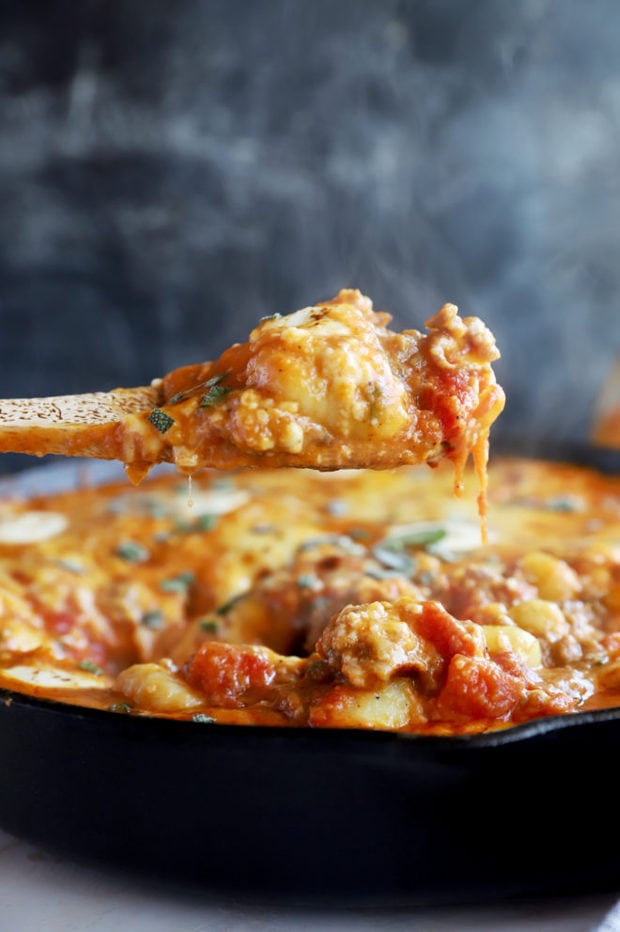 here's how to make a cheesy pumpkin gnocchi bake!
Cook Onion and Sausage
In an oven-safe skillet over medium-high heat, heat the oil. When hot, add onion with salt and pepper. Cook until softened, about 3 to 5 minutes. Add in sausage and garlic, cooking until the sausage has browned, about 8 to 10 minutes. Make sure to break up the sausage into smaller chunks as it cooks.
Make Sauce
Once the sausage is browned, stir in tomatoes, milk, puree, and broth until combined. Stir in sage, chili powder, and nutmeg. Cook for about 5 minutes, simmering until thickened.
Add Gnocchi
Stir in gnocchi and bring the mixture to a boil. Let cook for about 7 to 10 minutes. Remove from heat and top with both cheeses.
Bake
Bake at 425˚F for 15 minutes until bubbling and golden. Serve warm with toasted bread.
Other yummy gnocchi recipes: Gnocchi Bolognese Bake | Brown Butter Gnocchi with Asparagus and Peas | Pan Fried Curry Ricotta Gnocchi | Ricotta Gnocchi with Lemon Cream Sauce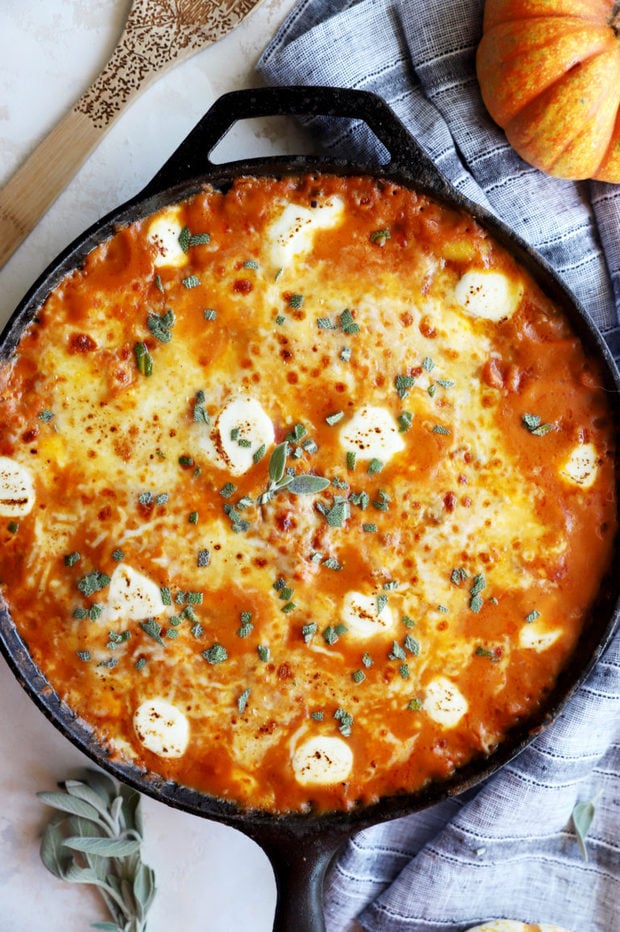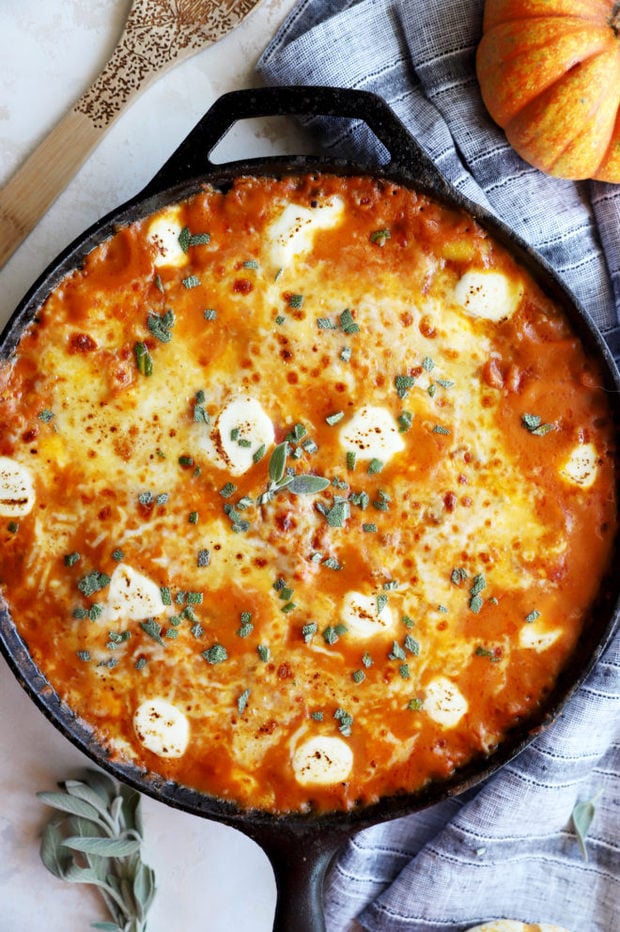 is gnocchi a noodle or potato?
Gnocchi is not a form of pasta! It's actually a dumpling made out of potato. While it is sometimes referred to as a pasta (heck I even refer to it as a pasta from time to time), technically that's incorrect. You will see this potato dumpling serves with a broad range of sauces or toppings, or incorporated into skillet meals like this one!
do you have to boil gnocchi?
Nope! With this bake you don't have to worry about boiling the gnocchi separately before adding to the sauce. Instead, the gnocchi cooks in the sauce, giving it more flavor!
what wine is best to pair with this dish?
I love a light red like a Chianti, but you can also choose a crisp white like a pinot grigio.
can I use fresh pumpkin?
If you love making your own pumpkin puree, you can certainly use homemade pumpkin puree instead of canned. Just measure out 15oz (by weight) and swap it for the canned.
how do I store the leftovers?
Cool and store leftovers in an airtight container in the refrigerator for up to 3 days. To reheat, simply do so in the microwave in a microwave-safe dish until warmed through (about 1 1/2 to 2 1/2 minutes).
Need some more inspiration for pasta night? Check out my pasta recipes page!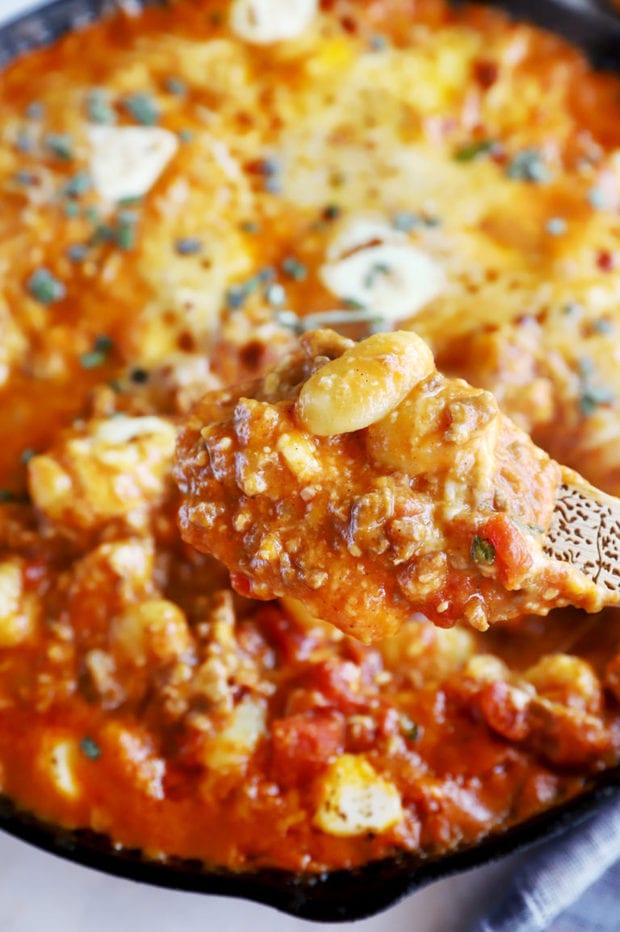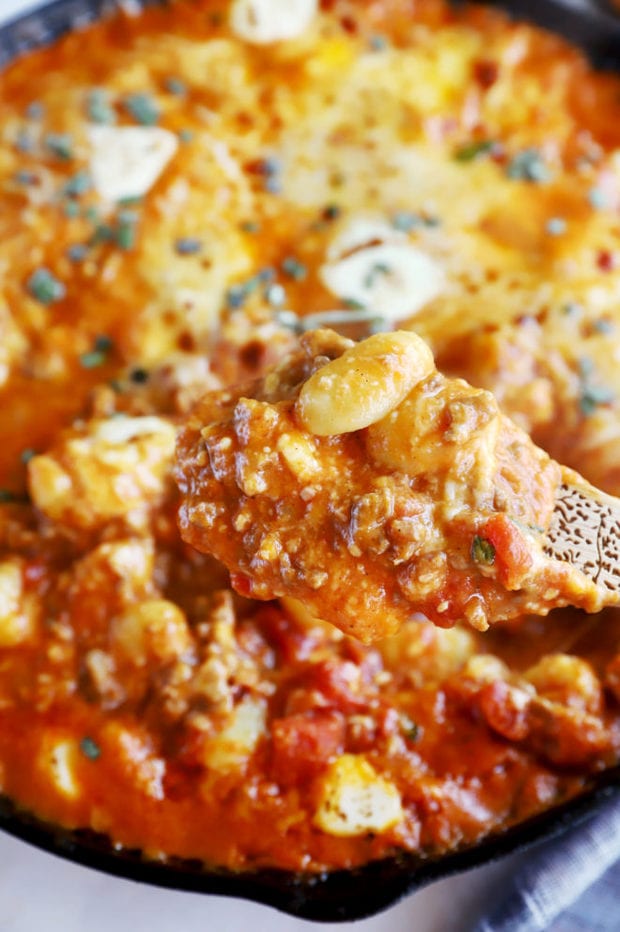 what to serve with this perfect pumpkin gnocchi bake
I like to serve mine with plenty of freshly grated parmesan cheese to be served at the table! You'll also want to sprinkle over some freshly chopped sage on top as a final garnish to the entire skillet or over each individual serving.
When it comes to pairing this meal with a side, I am all about anything light, bright, and green! To me, sides like roasted potatoes are too heavy to pair with the already rich and comforting dish. Here's some of our favorite sides to serve alongside this baked skillet:
If you love brussels sprouts, this crispy brussels sprouts recipe tastes like it's right off the menu at your favorite restaurant. Crispy, lots of balsamic and lemon, and totally addictive.
Don't love brussels sprouts? Turn to broccolini! My spicy-sweet roasted broccolini is a simple side dish that can bake in the oven with this skillet.
For a fresh and classic fall salad, try this bacon cranberry shaved brussels sprouts salad. The citrus dressing is what really sets it apart from other recipes.
If you are looking for the perfect fall dessert, this french apple crumb cake is an elegant end to the meal!
how to store and reheat
Store. Cool leftovers before placing in an airtight container. They will keep in the refrigerator for up to 3 days.
Cool and store leftovers in an airtight container in the refrigerator for up to 3 days. To reheat, simply do so in the microwave in a microwave-safe dish until warmed through (about 1 1/2 to 2 1/2 minutes).
Reheat. Reheat refrigerated leftovers in a microwave-safe dish in the microwave until warmed through, about 1 1/2 to 3 minutes depending on the portion size.
Freeze. This entire skillet can be frozen for up to a month. Store in a baking dish after baking and cooling it down completely. Wrap in a layer of plastic wrap followed by a layer of aluminum foil. Store in the freezer for up to one month. To reheat, thaw in the refrigerator overnight. Bake at 350˚F for 20 to 30 minutes until piping hot all the way through.
Finally, if you make this cheesy pumpkin gnocchi bake recipe, please be sure to give this recipe a rating or leave a comment! I love to hear when you all make recipes, and I do take the time to respond to every single comment. Feel free to drop questions below too, if you have them!
Oh and be sure to tag me on Instagram if you make the recipe! I love being able to see these recipes come to life in your homes – it's my favorite thing to look through those photos. It really means the world to me!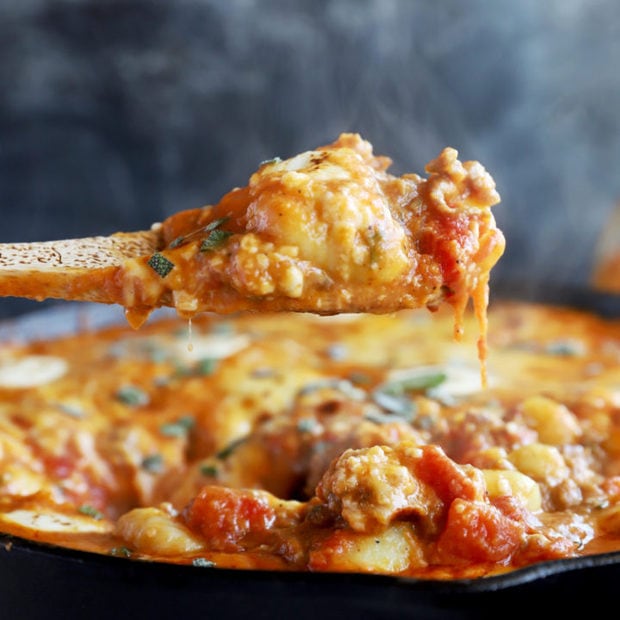 Cheesy Pumpkin Gnocchi Bake
Rich, creamy comfort food at its finest! Perfect for a cozy fall meal.
Ingredients
2 Tbsp extra virgin olive oil or canola oil
1 small yellow onion, diced
3/4 tsp salt
1/2 tsp black pepper
1 lb spicy Italian sausage
3 cloves garlic, minced
1 28-oz can San Marzano tomatoes
1 cup whole milk
1 15-oz can pumpkin puree
1 1/2 cups vegetable broth
2 tsp fresh sage leaves, chopped + more for topping
1/2 tsp chili powder
1/4 tsp nutmeg
1 16-oz package potato gnocchi
8 oz fresh mozzarella cheese, torn
1 cup shredded provolone cheese
Instructions
Preheat oven to 425˚F.
In an oven-safe skillet over medium-high heat, heat oil. Add onion, salt, and pepper, cooking until softened, stirring occasionally, about 5 minutes.
Add sausage and garlic, cooking until browned, about 8 to 10 minutes, breaking up the large chunks as needed.
Stir in tomatoes, milk, pumpkin, and broth. Add sage, chili powder, and nutmeg. Stir until combined and simmer for 15 minutes until thickened a bit.
Stir in gnocchi and bring the mixture to a boil. Cook for about 5 to 10 minutes until gnocchi is cooked.
Remove from heat and top with cheeses. Bake for 15 minutes until golden and bubbling. Serve warm. Garnish with fresh sage, if desired.
Recommended Products
As an Amazon Associate and member of other affiliate programs, I earn from qualifying purchases.