Please note this post contains affiliate links.
Singapore Street Noodles are simple, flavorful, sweet, and a little spicy! The whole dish comes together in just 15 minutes. I love this take on the recipe for a vegetarian night in, but you can also liven things up by using up leftover chicken, shrimp, pork, or beef.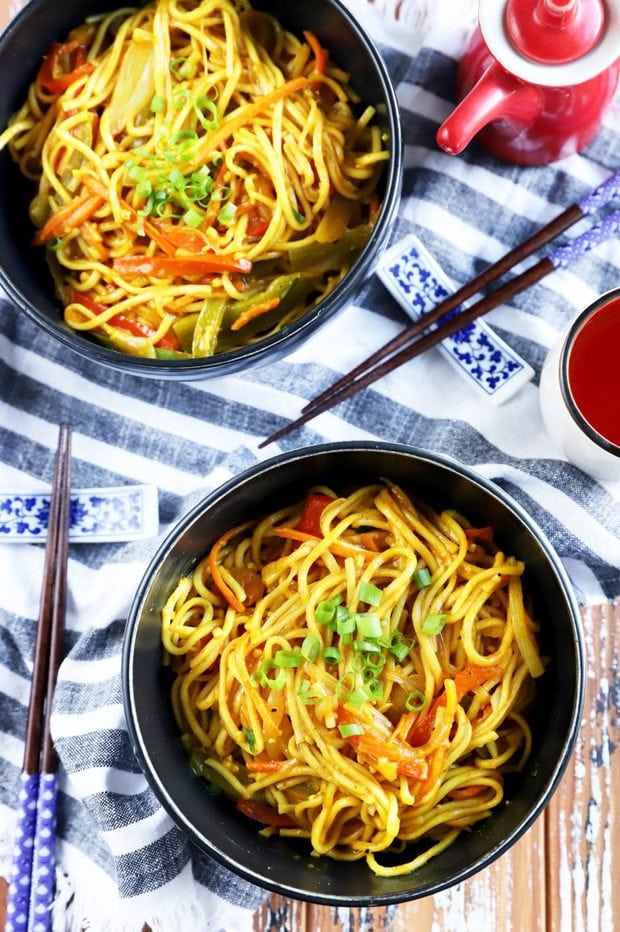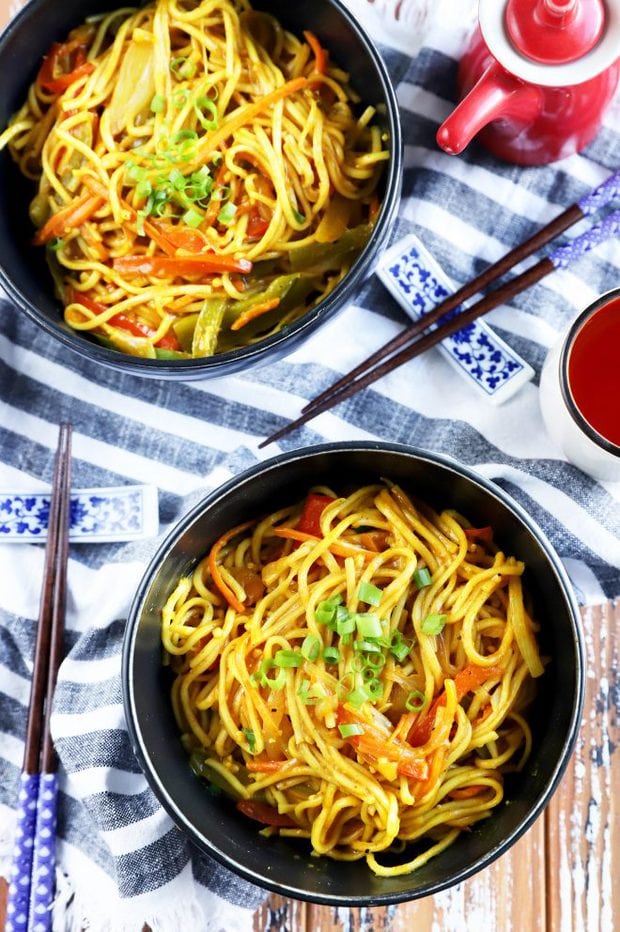 about these singapore street noodles
The first time I even heard about Singapore street noodles was watching a finale of Top Chef where the finalists were sent to Singapore.
There they were, in the bustling food market, eating every street food they could possibly shove into their mouths. I was SO JEALOUS.
Just thinking about it now makes me even MORE jealous, since travel is off limits still and probably will be for a while for this preggo lady!
The one dish that really caught my eye was the Singapore street noodles.
Now I have no idea where this actually originated – I have heard in Hong Kong and not Singapore, but my research has been mild. I'm no expert and I'm not claiming to be.
All I know is that they are totally unique and one of the most well-known characteristics is the addition of curry. That's how you get that yellow color on the noodles!
These noodles are super customizable, so you can serve them completely vegetarian or you can add in whatever meats you like. It's actually a great way to use up leftover meats like shredded chicken and pork. You can also throw in some fresh shrimp and cook 'em up real fast at the end of tossing up the dish!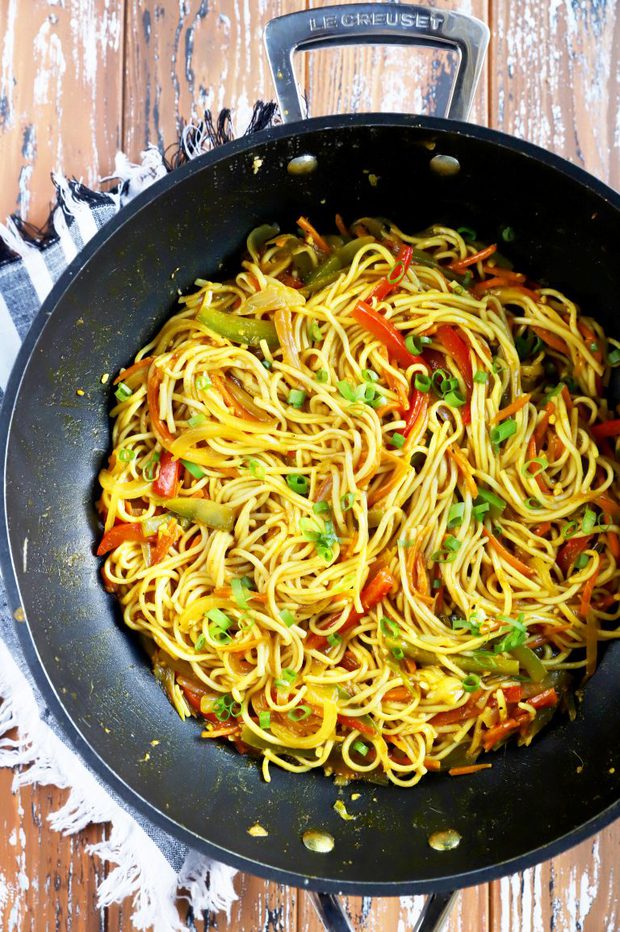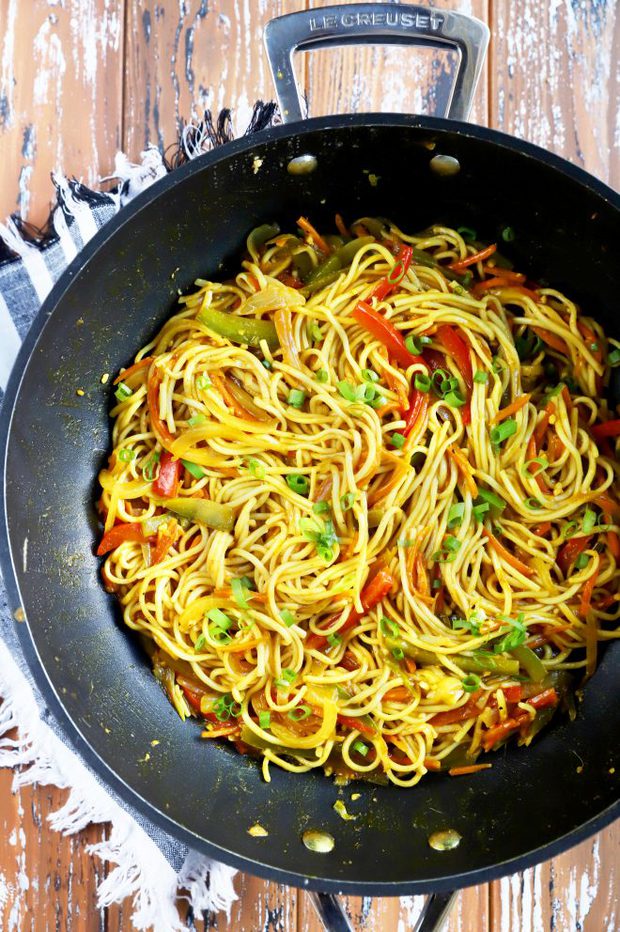 ingredients
rice noodles. Use thin rice noodles for this recipe! I find they work best with all the other ingredients in the noodle dish.
sesame oil. Sesame oil is derived from sesame seeds and has a very strong flavor. Be sure not to accidentally add too much to the recipe or the flavor will overpower the whole dish!
bell pepper. I recommend using two different color bell peppers! I like orange, red, and/or yellow.
shallot. If you've been around the blog a bit, you know that I am in love with shallots! Shallots are so versatile and add so much flavor to any dish you use them in.
onion. I like to use sweet onion because the flavor is really nice and not as abrasive as white or red onion can be.
carrot. You can peel and shred the carrots yourself, or simple buy a bag of shredded carrots!
ginger. For the noodles you will need roughly chopped garlic, and for the sauce you will need minced ginger (or ginger paste, which is what I prefer to use).
garlic. You'll need garlic in two different forms – roughly chopped for the noodles and minced for the sauce (like the ginger I referenced above, you can also use garlic paste).
green onion. I use sliced green onion as garnish on top!
broth. Use low-sodium chicken or vegetable broth in this recipe.
soy sauce. I like to use low-sodium soy sauce, but you can also use full sodium soy sauce, depending on the brand you usually use in your home.
spices. The only spices you need for the sauce are curry powder and turmeric powder. I like to make sure I get my hands on high-quality versions of both!
mirin. Mirin is a subtly sweet Japanese rice wine. It's one of my favorite ingredients to use in my Asian-inspired dishes so I highly recommend adding it to your pantry! If you can't get your hands on it, you can also use rice vinegar or dry white wine vinegar in its place.
sriracha. This is what brings the heat to the party! You can use the amount listed, or add more to really amp up the spice as desired.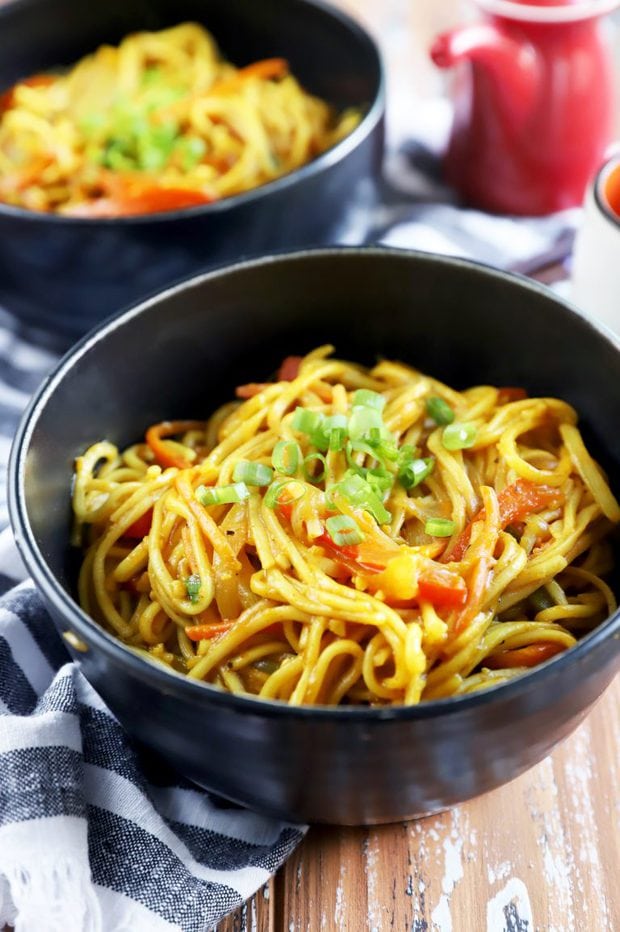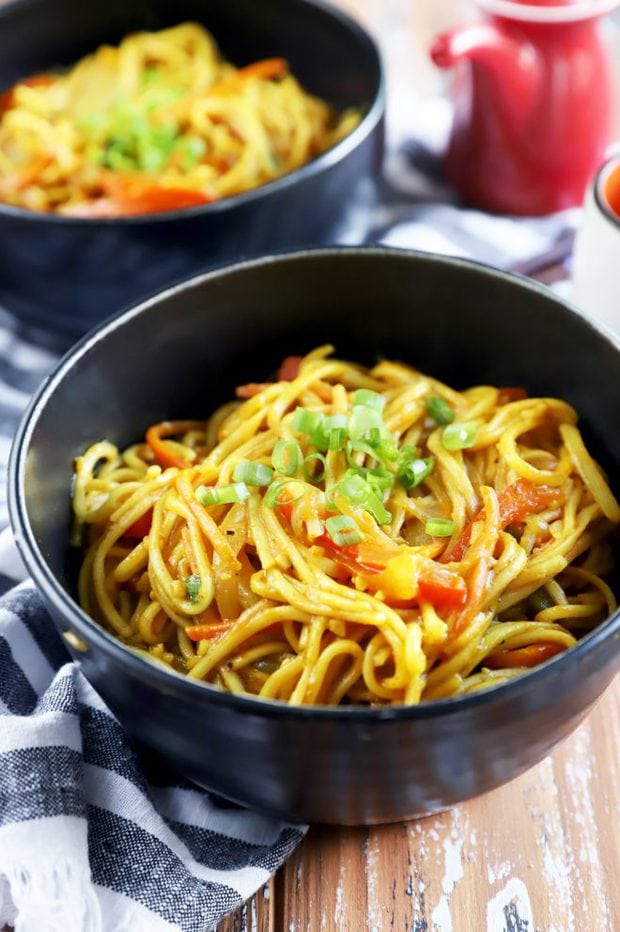 this recipe's must-haves
To slice up all the ingredients for this veggie-loaded dish, make sure that you have a chef's knife and your favorite cutting board handy.
This entire recipe comes together in just one pan, and I prefer to use a nonstick wok!
Finally, to make the sauce, use one of your mixing bowls and a whisk. Pretty low maintenance, am I right?
Other yummy noodle recipes: Instant Pot Bolognese | Flank Steak with Creamy Kale Peanut Noodles | Stir Fry Pasta | Gochujang Noodles with Chicken and Greens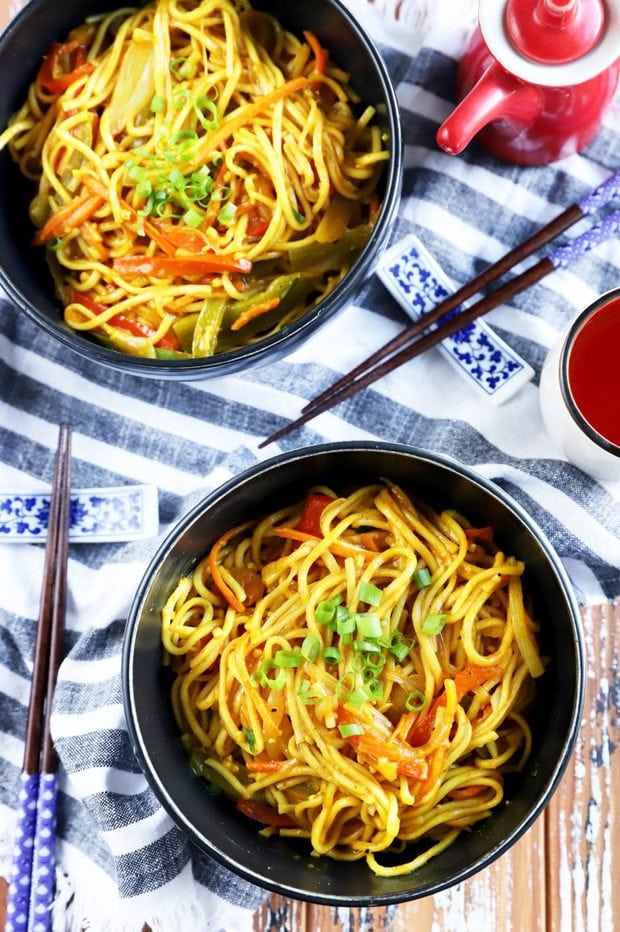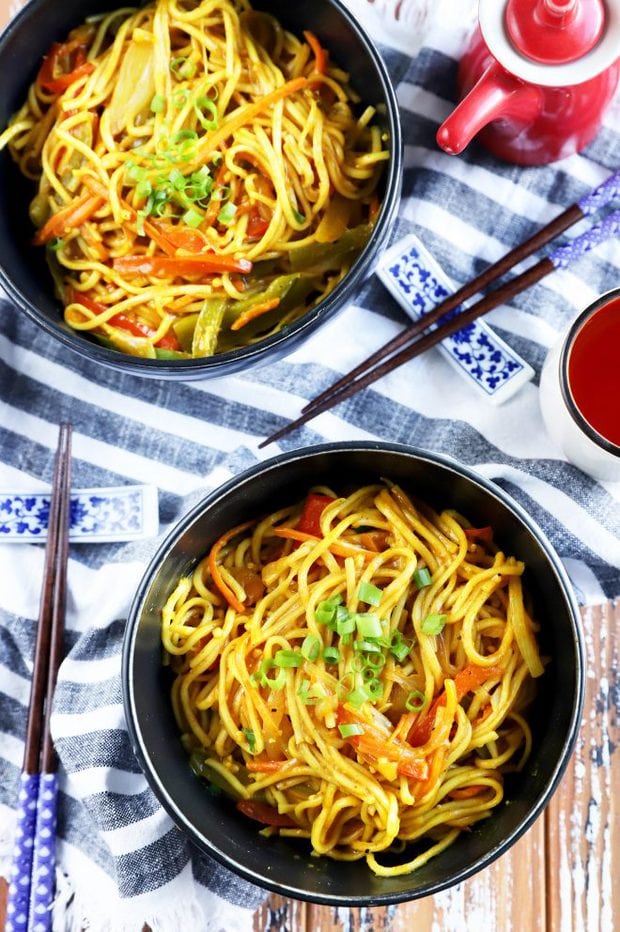 let's make delish Singapore street noodles!
Make Sauce
In a small bowl, whisk together all ingredients for the sauce. Set aside.
In a separate small bowl, whisk together cornstarch and water for the slurry. Set aside.
Cook Pasta
Bring a large pot of water to a boil and cook the noodles according to the directions on the package. Drain and set aside.
Cook Veggies
Heat up oil in a wok or nonstick skillet over medium-high heat. Once the oil is shimmering, add peppers, shallots, onion, and carrots. Cook until softened, tossing occasionally, about 5 to 8 minutes.
Stir in ginger and garlic. Cook for another 2 minutes, then push the veggies over to the side.
Finish Dish
Pour the sauce into the empty side of the pan with the slurry. Cook for 2 minutes until the sauce has thickened a bit. Now toss in those noodles until everything is mixed together well! Taste and season with salt and pepper, then serve with a sprinkle of scallions on top!
Need some more inspiration for dinner this week? Check out my main dish recipe page!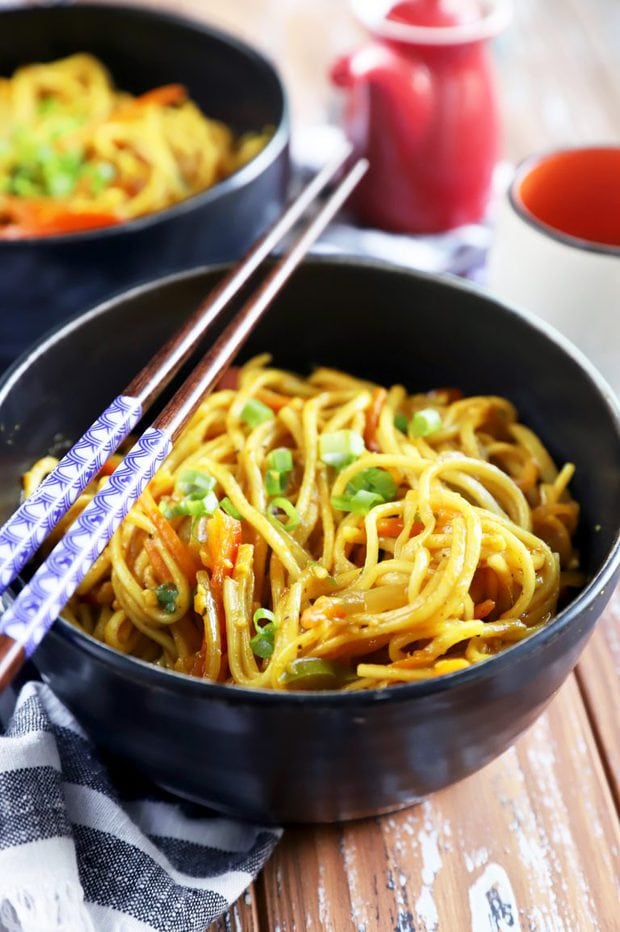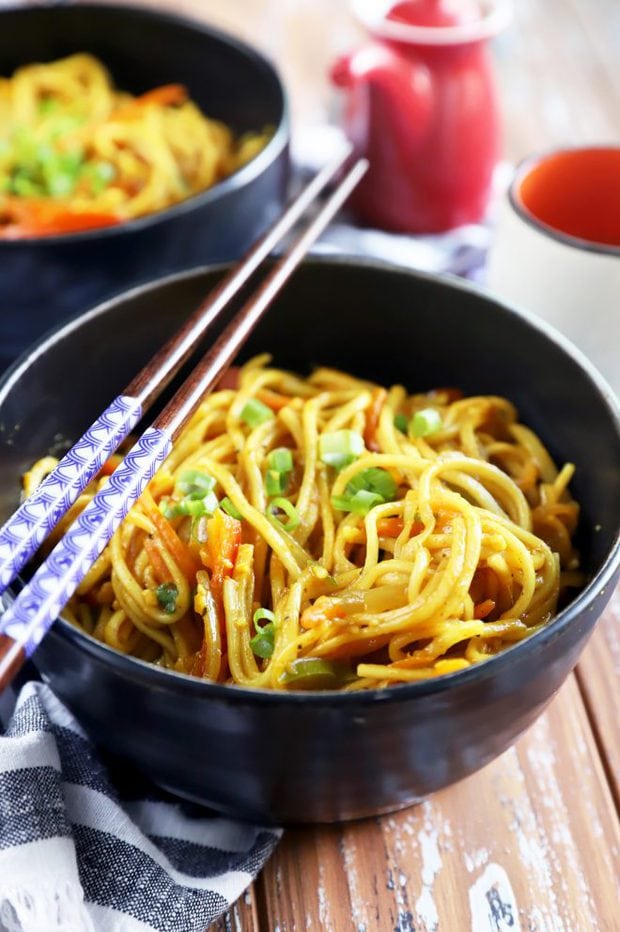 tips for success
prep your ingredients. Be sure to prep all your ingredients before you start the recipe! While this recipe only takes 15 minutes to pull together, it takes such little time when you are prepped to start with. So assemble all your ingredients first, then dive in!
add protein! Want to add some protein to round out the dip? Add in shredded chicken, shredded pork, cubes of steak, tofu bites, and more.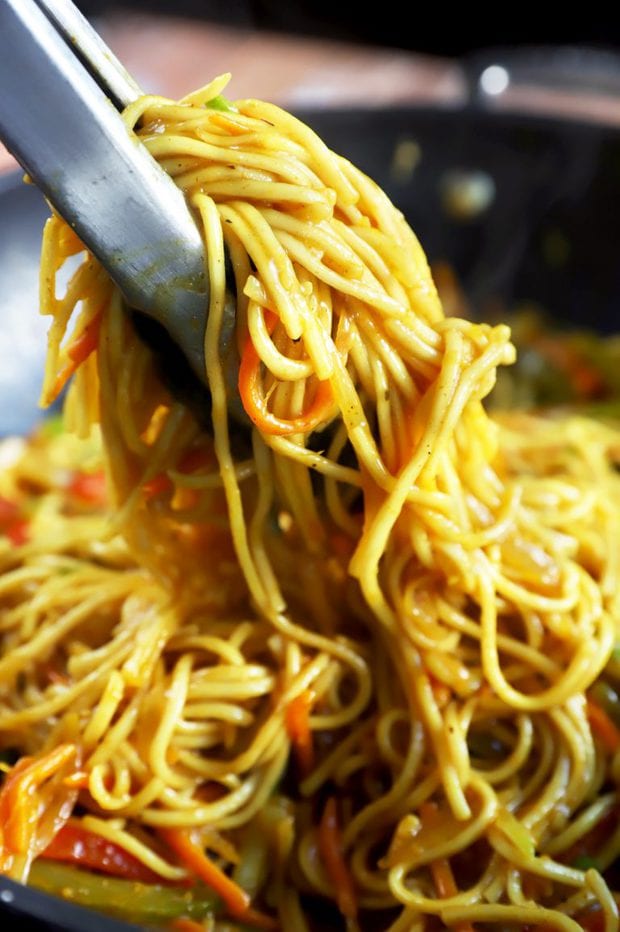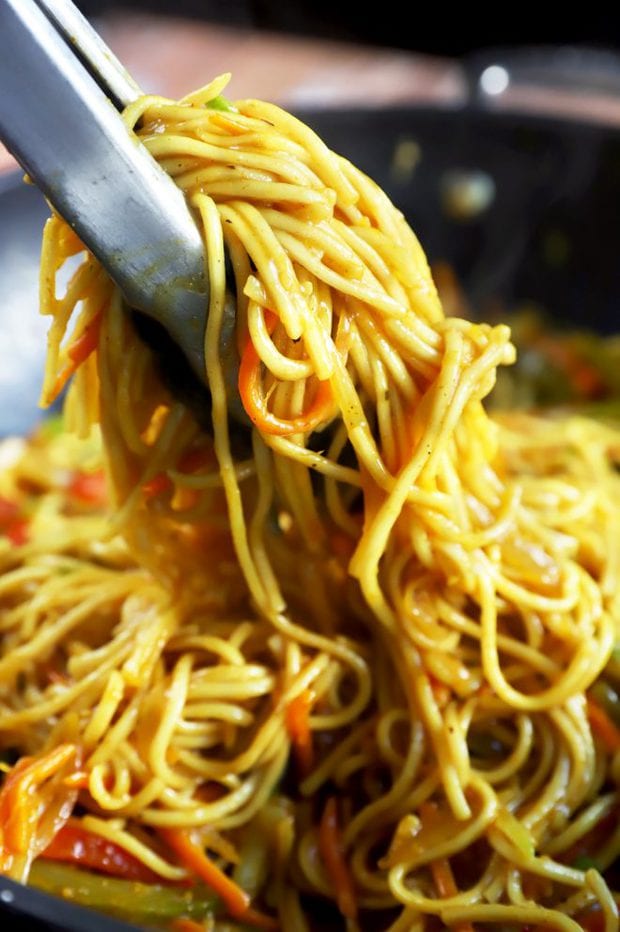 what do singapore street noodles taste like?
Singapore street noodles are a kind of like a Lo Mein or Pad Thai! The difference? There's curry powder in the sauce. The end result is slightly spicy, salty, tangy, and just a touch of sweet. It's not as saucy as a Thai curry, but it is a creamy curry sauce that is absolutely delicious and totally easy to make.
how can I turn up the spice level?
If you want more spice, add more Sriracha! It's the easiest way to add more heat without overpowering the flavor of the sauce.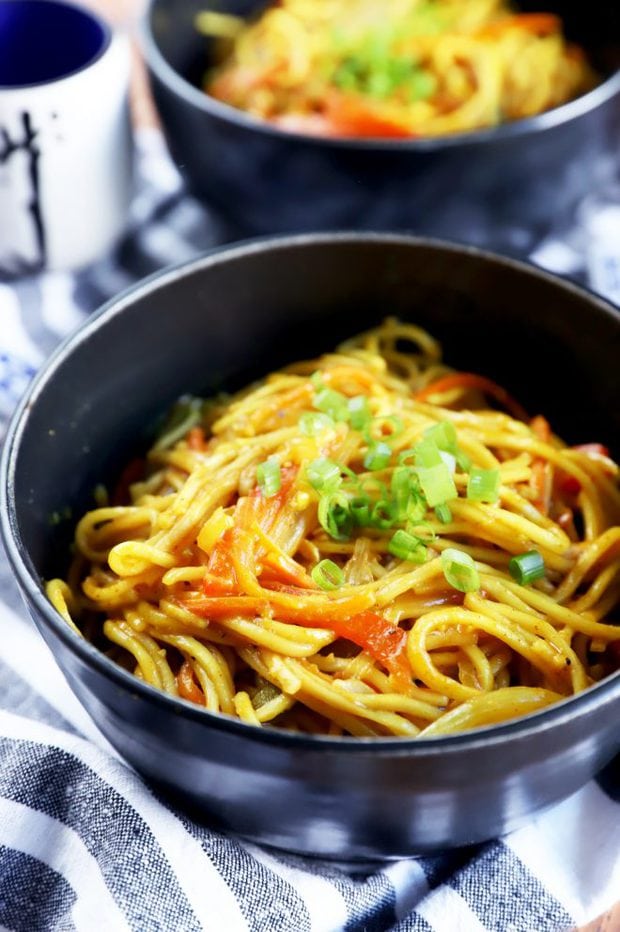 Finally, if you make this singapore noodles recipe, please be sure to give this recipe a rating or leave a comment! I love to hear when you all make recipes, and I do take the time to respond to every single comment. Feel free to drop questions below too, if you have them!
Oh and be sure to tag me on Instagram if you make the recipe! I love being able to see these recipes come to life in your homes – it's my favorite thing to look through those photos. It really means the world to me!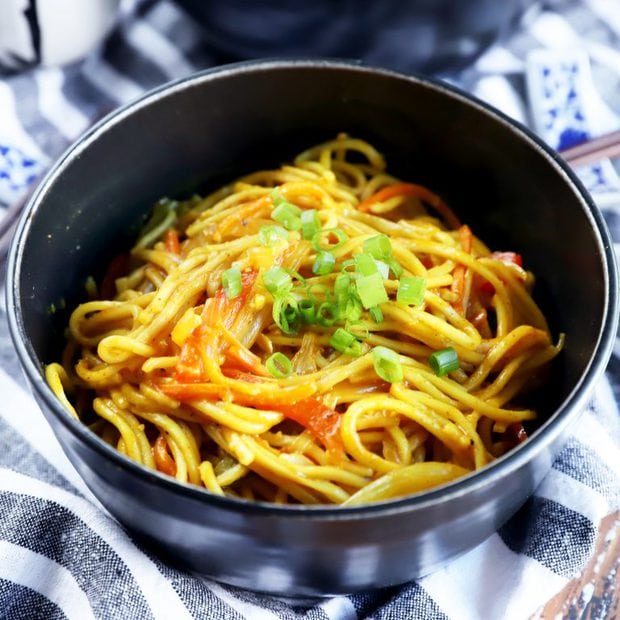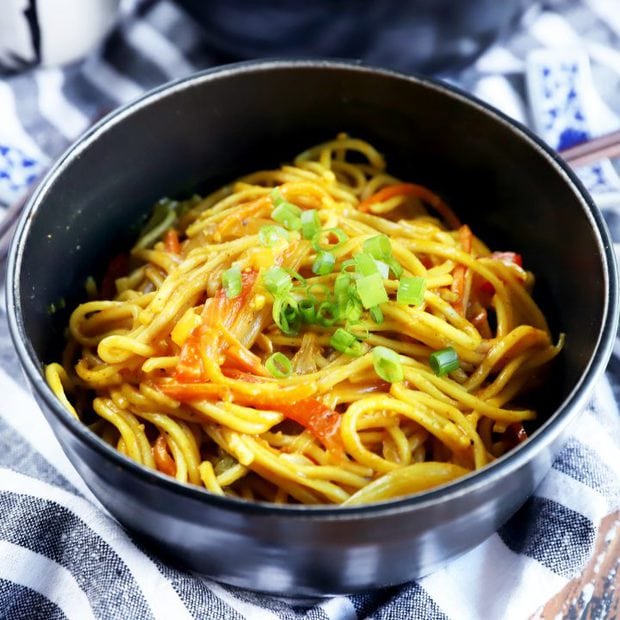 Singapore Street Noodles
A little bit of spicy and a little bit of sweet, makes this dish a weeknight winner!
Ingredients
Noodles
8 ounces thin rice noodles
1 tablespoon sesame oil
2 bell peppers, thinly sliced
2 shallots, thinly sliced
1 large onion, cut into thin strips
1/2 cup carrots shredded
1 tbsp fresh ginger roughly chopped
4 cloves garlic roughly chopped
sliced scallions for topping
Sauce
1 cup low sodium chicken or vegetable broth
1/4 cup low sodium soy sauce
2 tsp curry powder
1/2 tsp turmeric
3 tablespoons mirin
2 teaspoons minced garlic
1 teaspoon minced ginger (I used a ginger paste)
1 Tbsp Sriracha
Slurry
1/2 tsp cornstarch
2 tsp water
Instructions
In a small bowl, whisk together ingredients for the sauce. Set aside.
In a separate small bowl, whisk together ingredients for the slurry. Set aside.
Bring a pot of water to a boil and cook noodles according to the directions on the package. Drain and remove from heat. Set aside.
Heat sesame oil in a wok or nonstick skillet over medium-high heat. Once the oil is shimmering, add peppers, shallots, onion, and carrots. Cook the vegetables, stirring occasionally, until softened, about 8 minutes.
Stir in ginger and garlic, cooking for another minute or 2 until fragrant.
Push the vegetables over to the side and add the sauce and slurry to the empty side. Cook until the sauce is thickened, about 2 minutes, then stir in vegetables.
Stir in noodles and toss until the whole mixture is coated evenly.
Taste and season with salt and pepper as desired. Garnish with sliced scallions and serve immediately.
Recommended Products
As an Amazon Associate and member of other affiliate programs, I earn from qualifying purchases.