Please note this post contains affiliate links.
Bloody Sangria Halloween Punch is a simple cocktail recipe for spooky season! With only four main ingredients (plus fruit!), you can whip this up easily without more than 5 minutes of prep time. The longer it sits, the better it will taste! Serves 6.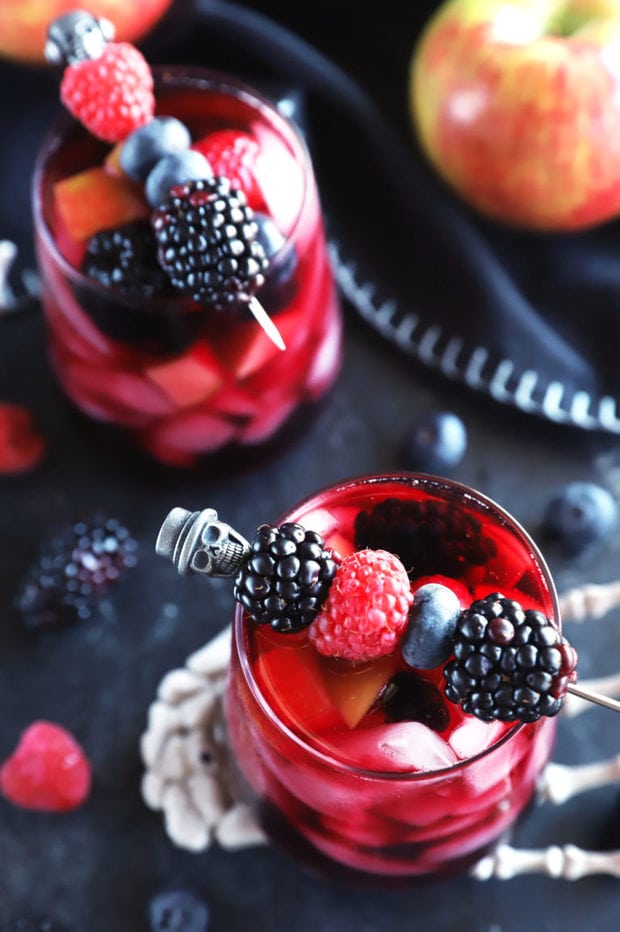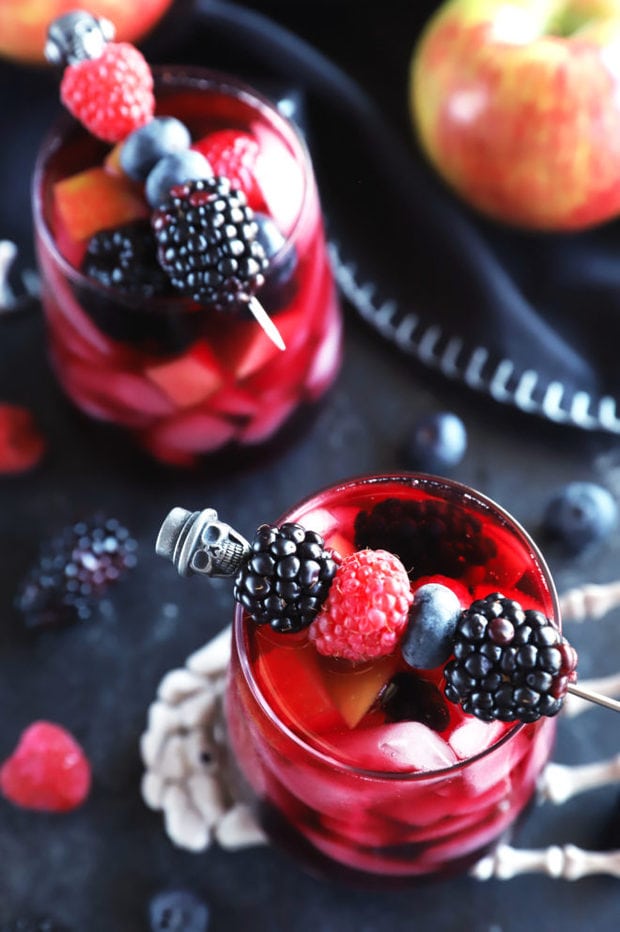 Halloween is coming up FAST, isn't it?
I feel like we all say this every year. It starts with Halloween and before you know it, it's the new year.
It doesn't help that I am already seeing Christmas items hitting the shelves… It's not even Halloween yet – I haven't even bought Halloween candy!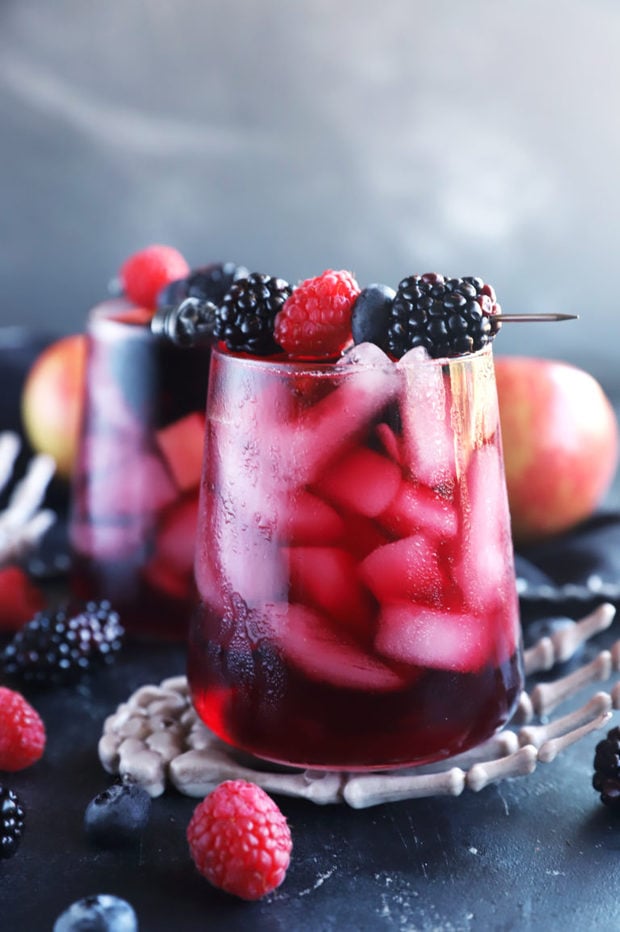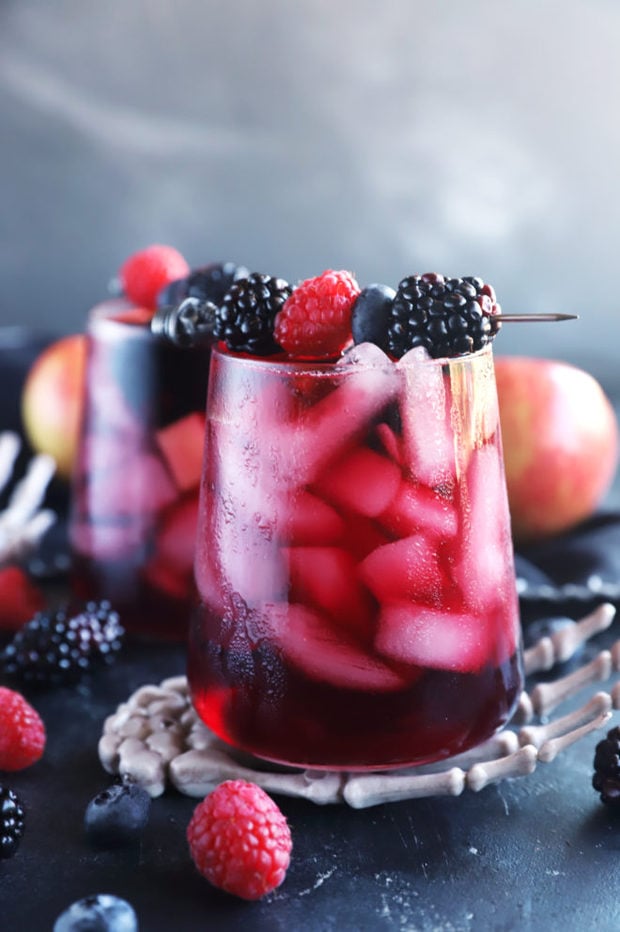 This is actually the first year in a LONGGGG time that we are dressing up for Halloween. I use the term "dressing up" loosely since it's just matching salt and pepper sweatshirts to go with Babycakes being avocado toast LOL. At least it's better than nothing right?
Since this isn't a big kiddo Halloween year for us, I'm thinking about the adults and what they might like.
Enter this bloody sangria Halloween punch.
It's absolutely delicious, not too sweet, and totally a snap to make. It only requires four liquid ingredients, and a bunch of fruit! I like that this is a bit drier than other sangrias, because I always find those a bit hard to drink and enjoy all that tasty fruit.
Plus, we don't need much more sugar with all that Halloween candy, am I right??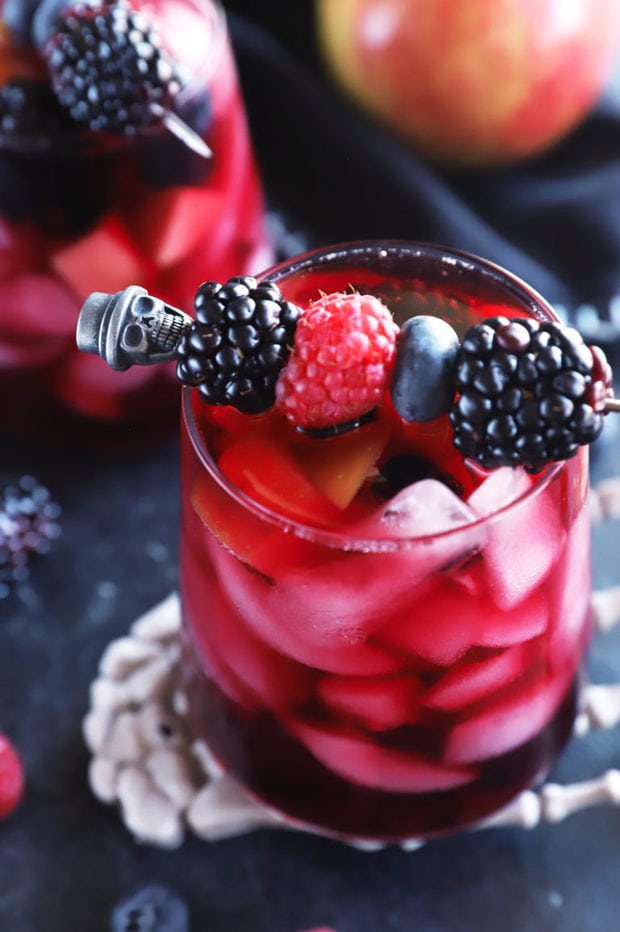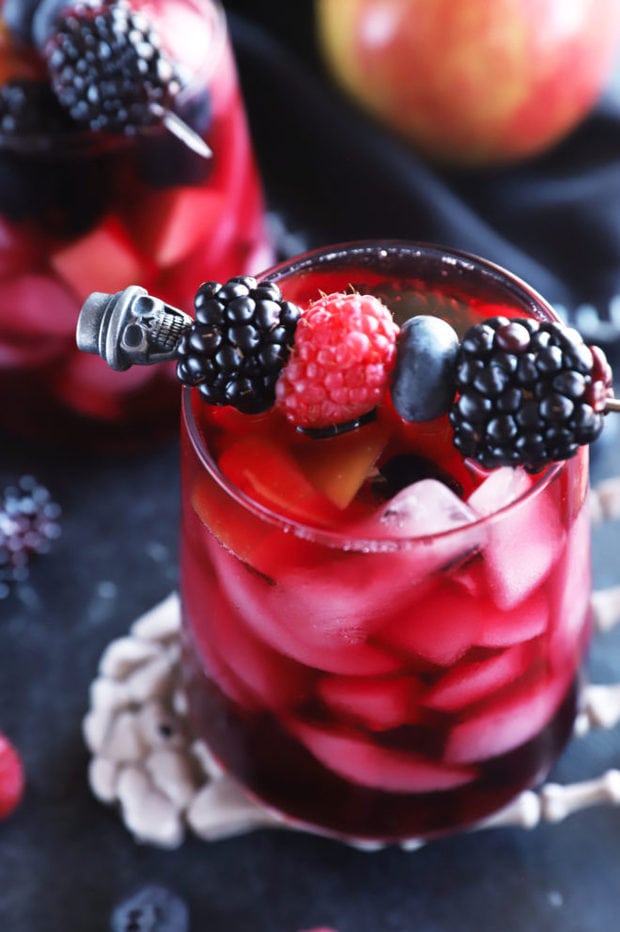 this recipe's must-haves
To make this cocktail, you will need a chef's knife and cutting board to chop up the apple.
For measuring, I use measuring cups, but you can also use this glass measuring cups set. Both are must-haves in my kitchen!
I like to serve my sangria in this pitcher, but you can also use a copper pitcher if you prefer that look!
To get a little extra festive, I thought these skull metal picks were just way too cute to pass up.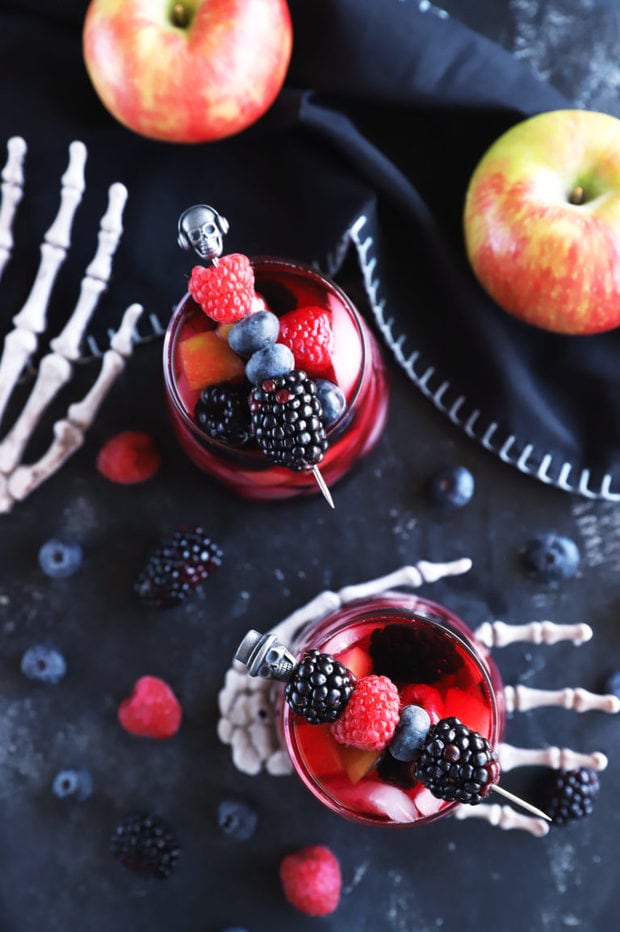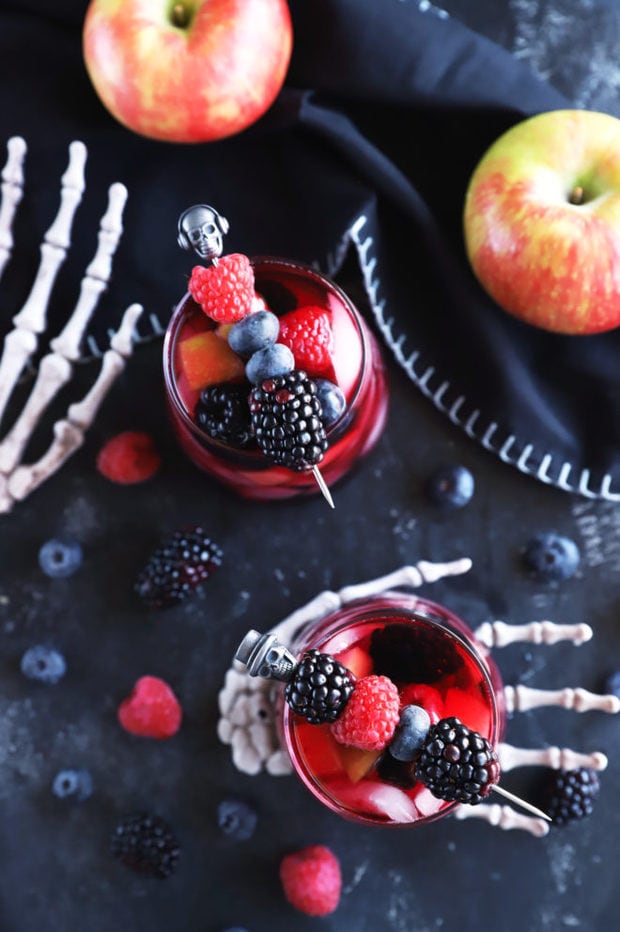 we're making sangria halloween punch!
Combine Everything
Throw all the ingredients in your favorite pitcher! Give everything a good stir to combine.
Let Chill
Set in the refrigerator for at least 30 minutes and up to 4 hours before serving. If you want to make it further in advance, check out my tips on this in the questions section below!
Need some more inspiration for Halloween? Check out my Halloween recipes page!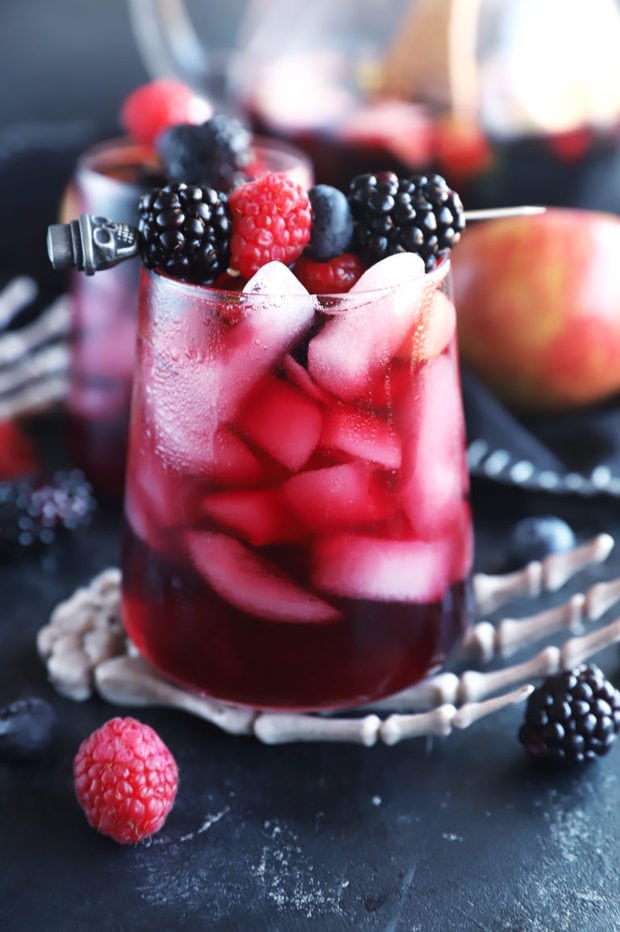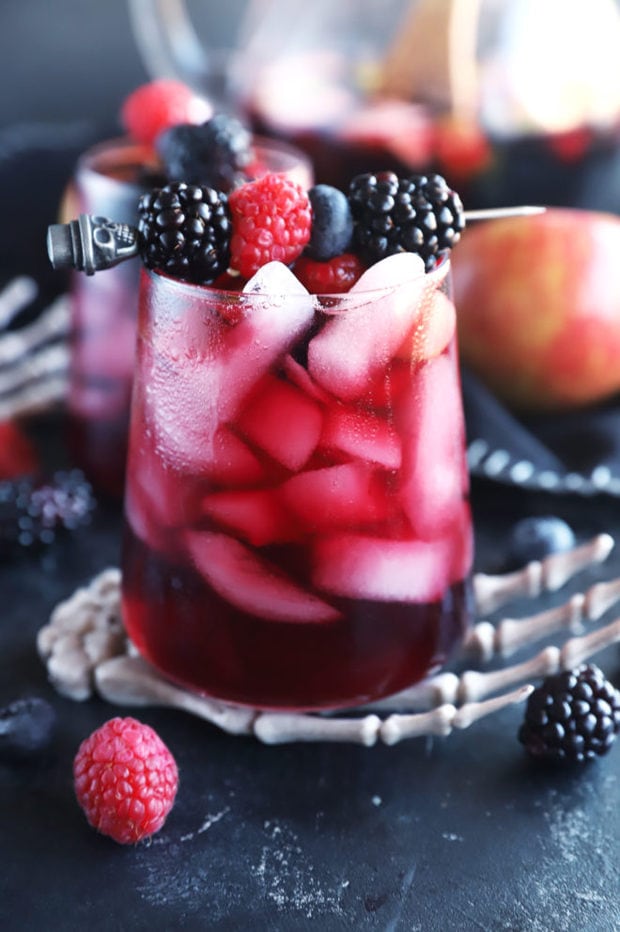 how can I make this halloween punch smoke?
If you are looking for a more spoooooky impact, you can use food-grade dry ice to make the sangria smoke! Note that the fruit at the bottom might freeze, but it'll still be tasty and it will act like ice! Just don't let anyone get any in their glasses – it can be easy to accidentally ingest. I like to use one big piece at the bottom of a punch bowl and everyone can ladle out a glass safely!
can I make this ahead of time?
This sangria tastes better the longer it sits! If you are using an open container, it'll last up to 4 hours in the fridge before serving. However, if you want to make it even further ahead of time, simply store it in a sealed container or pitcher for up to 4 days.
If you need a main to serve up with this bloody red wine halloween punch, check out these mummified sirloin wellingtons!
For dessert, these spooky chocolate peanut butter rice krispie treats are festive and super easy to make!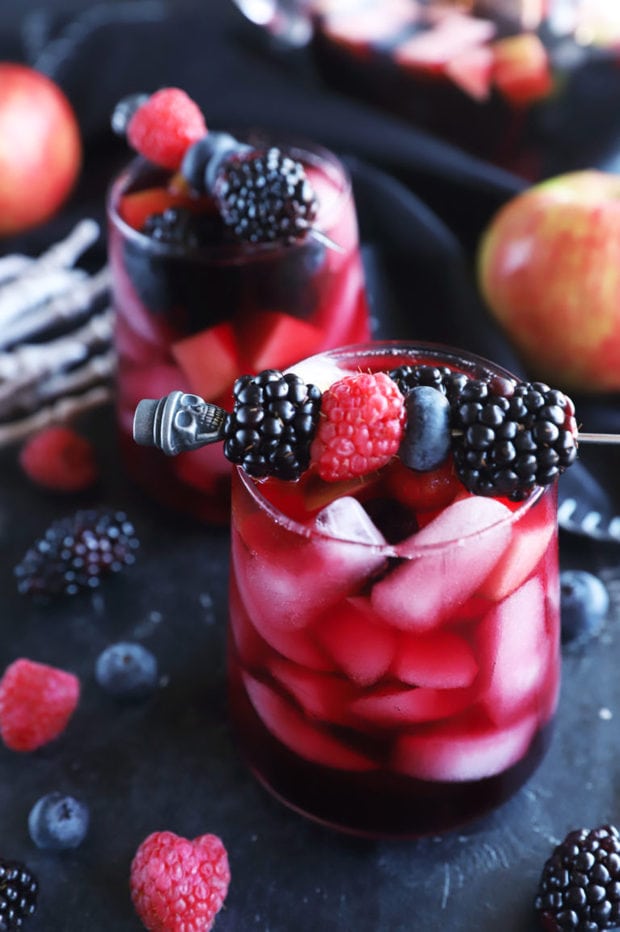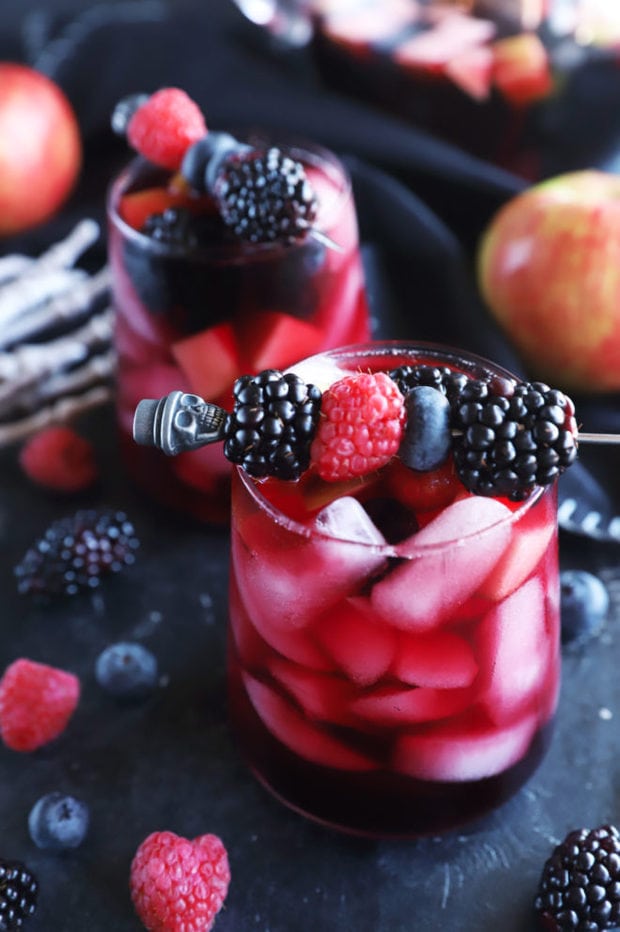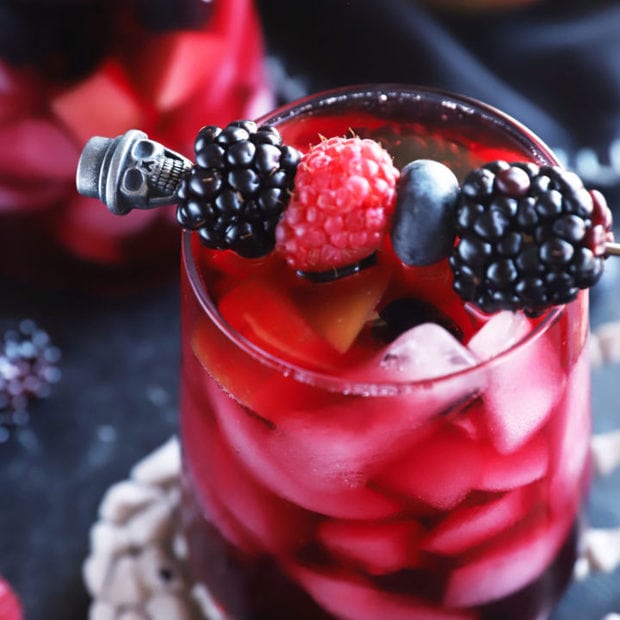 Bloody Sangria Halloween Punch
Additional Time:
30 minutes
Deliciously dry, crisp, and with a hint of sweetness, this punch is a hit for any spooky celebration!
Ingredients
1 bottle dry red wine (I used pinot noir)
1 cup vodka
1 cup cranberry juice
1/2 cup apple juice
1 apple, chopped
1/2 cup blackberries
1/2 cup raspberries
1/2 cup blueberries
Instructions
Combine all ingredients in a pitcher.
Place in the refrigerator to chill for at least 30 minutes, up to 4 hours*, before serving.
Notes
*to store longer, let sit in a sealable container or pitcher in your refrigerator for up to 3 days.
Recommended Products
As an Amazon Associate and member of other affiliate programs, I earn from qualifying purchases.