Please note this post contains affiliate links.
Sweet Potato Souffle is a fluffy and light side dish with a crunchy pecan topping. The rich and creamy filling gets its sweetness primarily from the sweet potatoes themselves. It's a simple recipe that always steals the show at the table!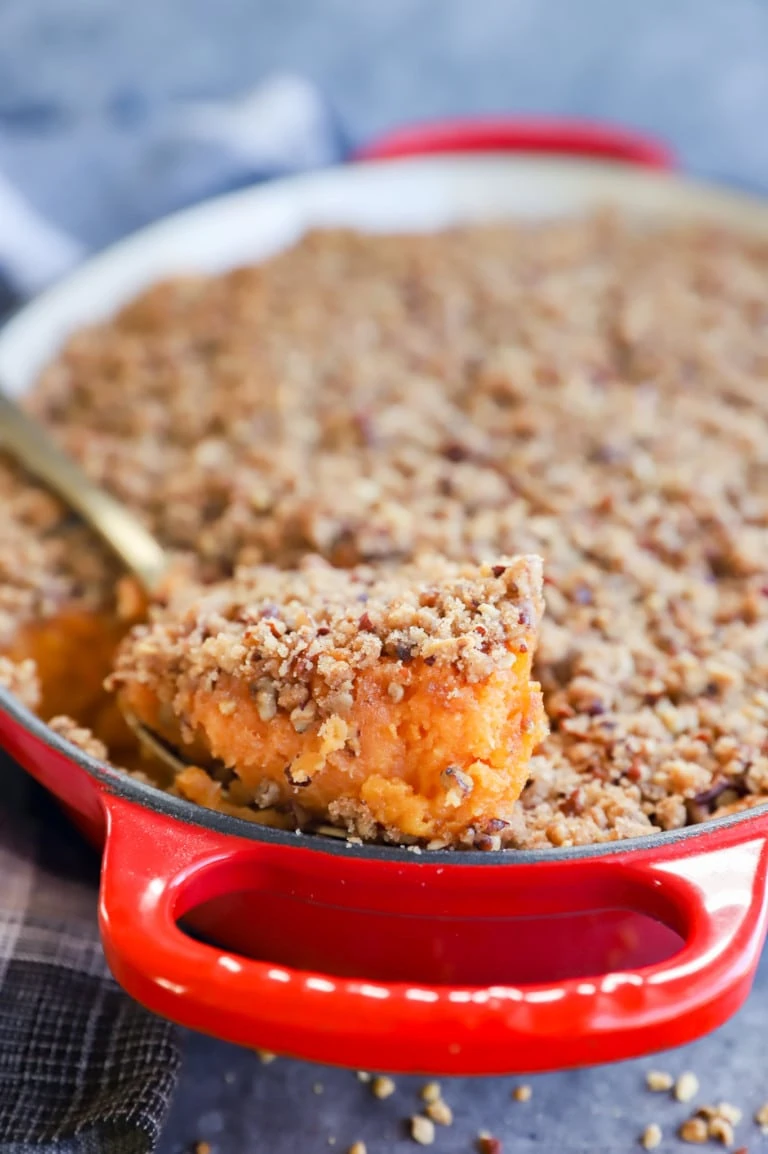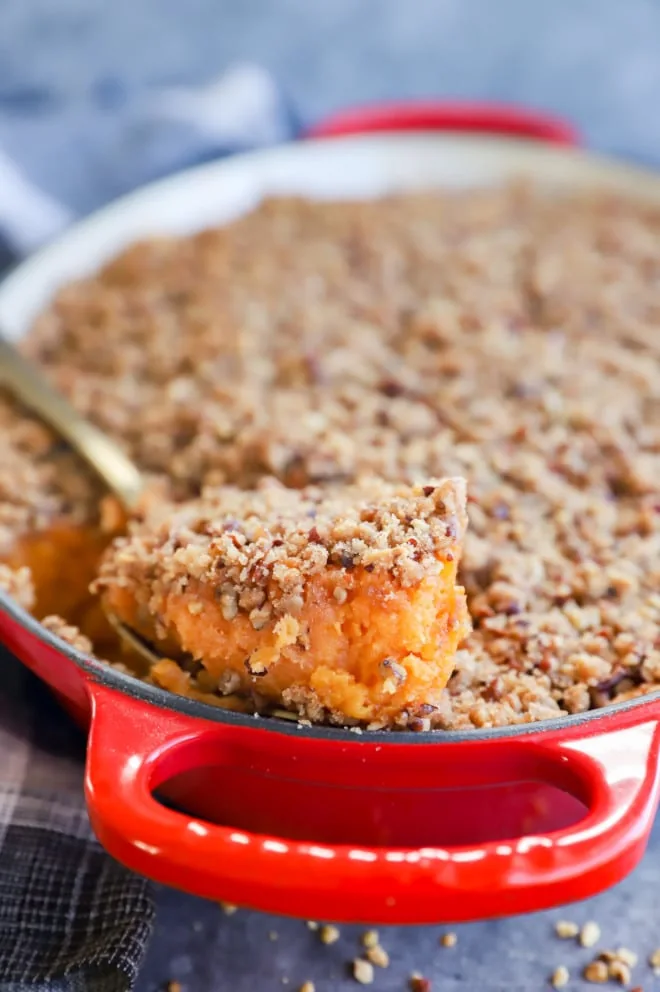 about this sweet potato souffle
I am sure we all remember the classic preparation of sweet potato casserole from our childhood. The one where little lines of marshmallows got perfectly toasted on top? The one that basically tasted like dessert and all the children devoured it within minutes (way before eating anything green or even a bite of turkey)?
Well, these are the memories I have of Thanksgiving and sweet potatoes as a kid.
While I absolutely love sweet potatoes, as I got older, I realized I didn't love the cloyingly sweet taste of the classic casserole. As I attended Thanksgivings at various friends' houses, I was introduced to the sweet potato soufflé.
This casserole dish of sweet potatoes is still sweet, but it doesn't have the overly sweet topping. It is the superior recipes among all the sweet potato recipes out there! The recipe itself derives most of its sweetness from the potatoes themselves, something that I am all about consider my passion for seasonal cooking.
I now simply cannot make sweet potatoes any other way. The flavor of the sweet potatoes, plus a light and fluffy texture combined with crunchy pecans on top is the essence of fall. It makes for the ideal Thanksgiving side dish!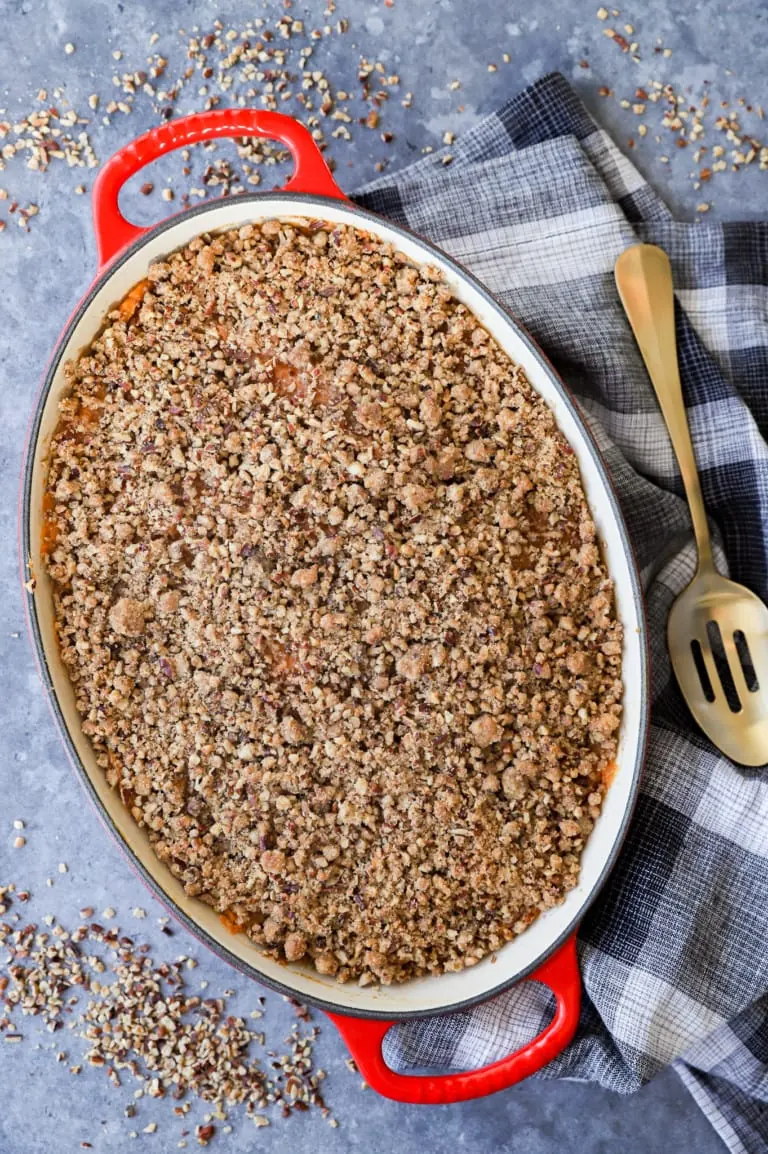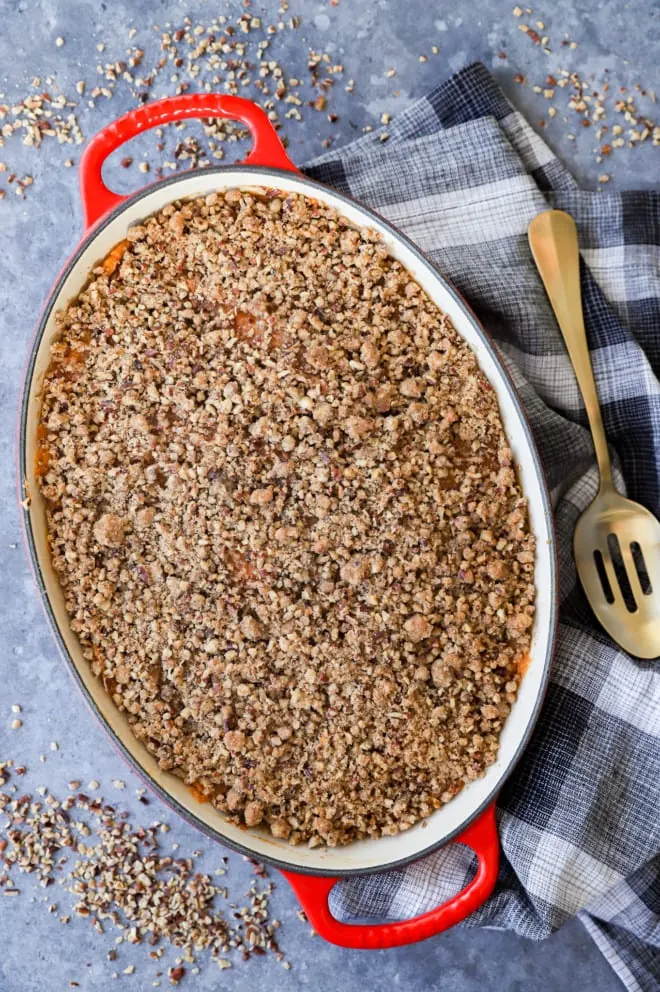 what is sweet potato souffle?
Sweet potato soufflé, though called a soufflé, isn't like a classic French soufflé. There are no egg whites that you have to whip to the perfect consistency. You don't need to worry about tending to it as it bakes in the oven. Instead, a sweet potatoe soufflé is a light and fluffy preparation of sweet potatoes, primarily because of the addition of eggs to the mixture.
All you have to do is prepare the filling, make the topping and bake until golden brown on top.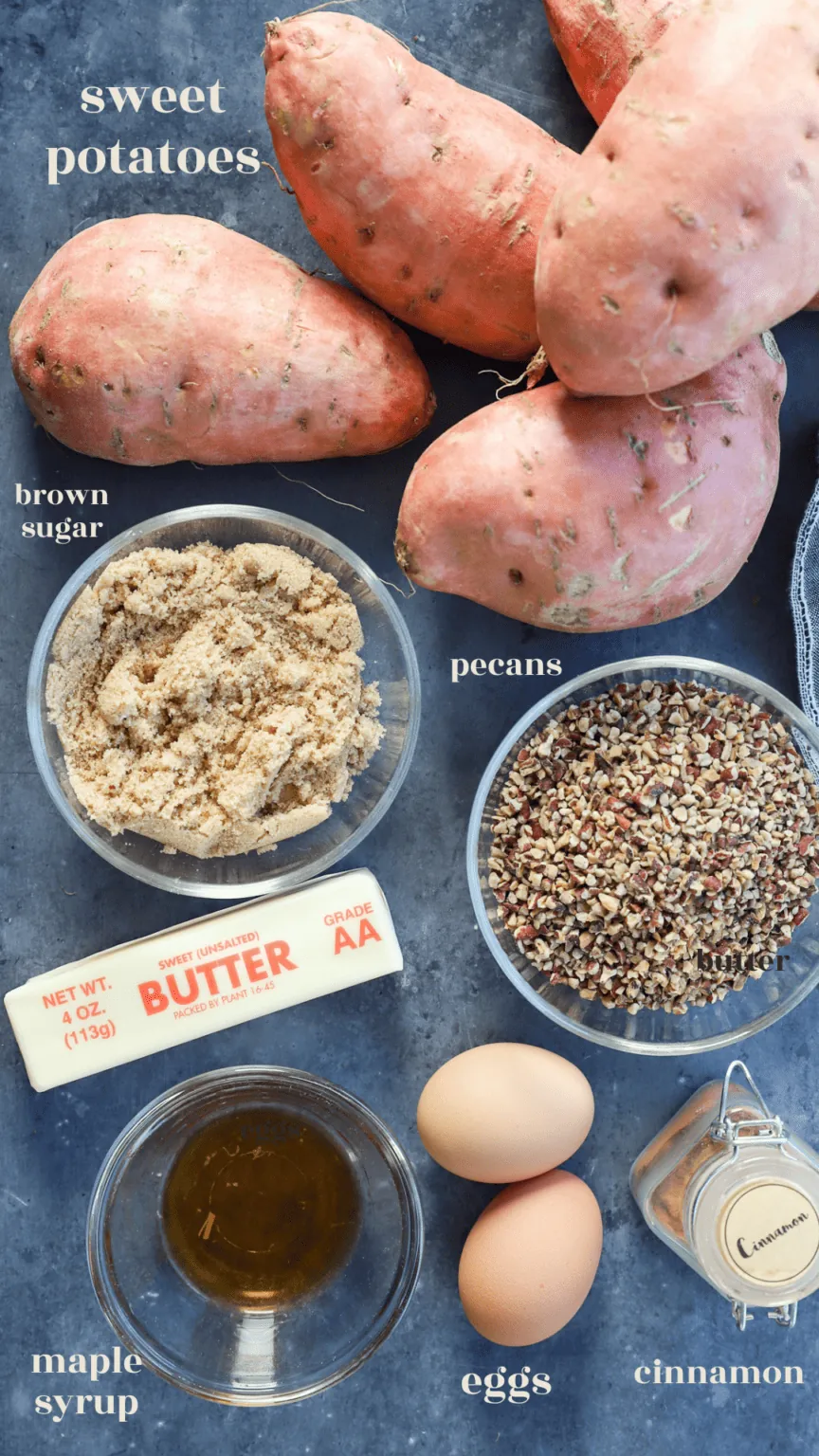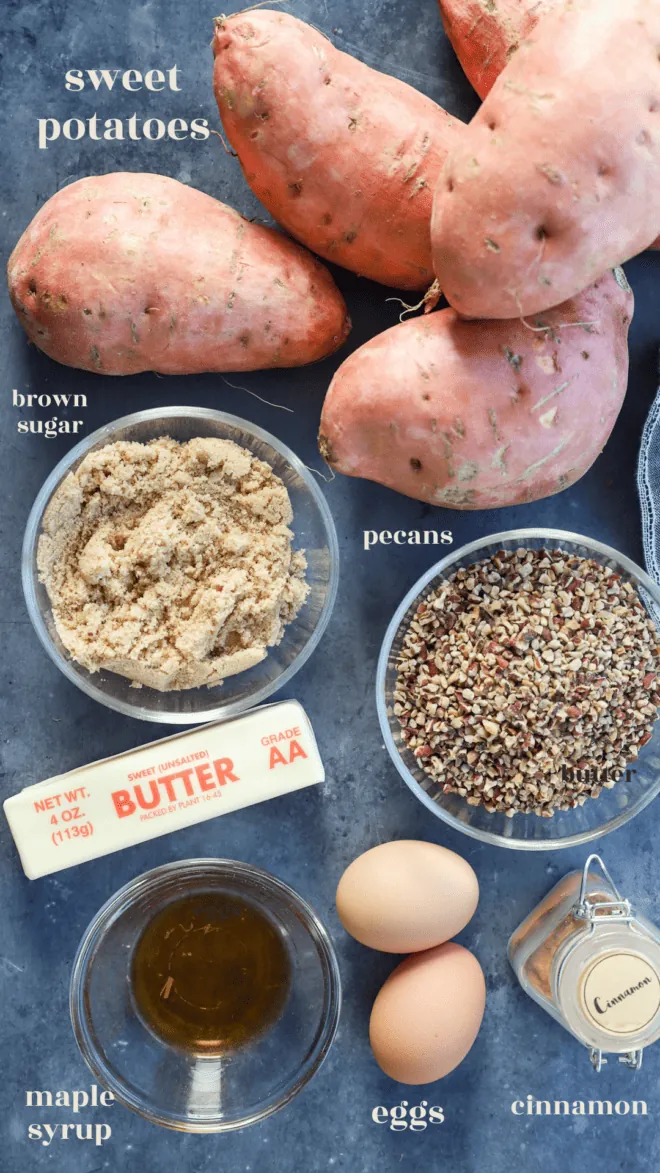 ingredients
butter – I recommend using unsalted butter for both the soufflé and the topping.
potatoes – use orange sweet potatoes (also called yams) for this recipe. Medium size is best. I do not recommend using canned sweet potatoes or canned yams.
eggs – all you need are 2 large eggs.
sugar – use brown sugar in both the soufflé and the topping. You can use light or dark brown sugar. I prefer to use light brown sugar.
vanilla – always reach for the pure vanilla extract! I recommend learning how to make homemade vanilla extract because it's so much cheaper than buying it and it's easy to adjust the flavor to your liking. If you need a recommendation to purchase, this Madagascar Bourbon Pure Vanilla Extract is fantastic.
milk – I recommend using whole milk or 2% milk. You can use a lactose-free milk instead if you have an allergy. Almond milk is another good option – just make sure it is unsweetened and not flavored.
salt – use fine kosher salt.
pecans – you will need chopped pecans for the topping. Either buy them chopped, or chop them yourself. If you are chopping them yourself, I recommend using a food processor to pulse the whole nuts until they are chopped.
cinnamon – ground cinnamon really enhances the flavor of the pecan topping!
flour – all you need is all-purpose flour for the topping.
this recipe's must haves
A stand mixer or a large bowl from a set of mixing bowls with an electric hand mixer is handy for making the filling. You will also need measuring cups and measuring spoons.
To bake, you will need one 2 1/2 quart baking dish (or a 9×13 inch baking pan – ceramic is preferred) to bake this recipe in.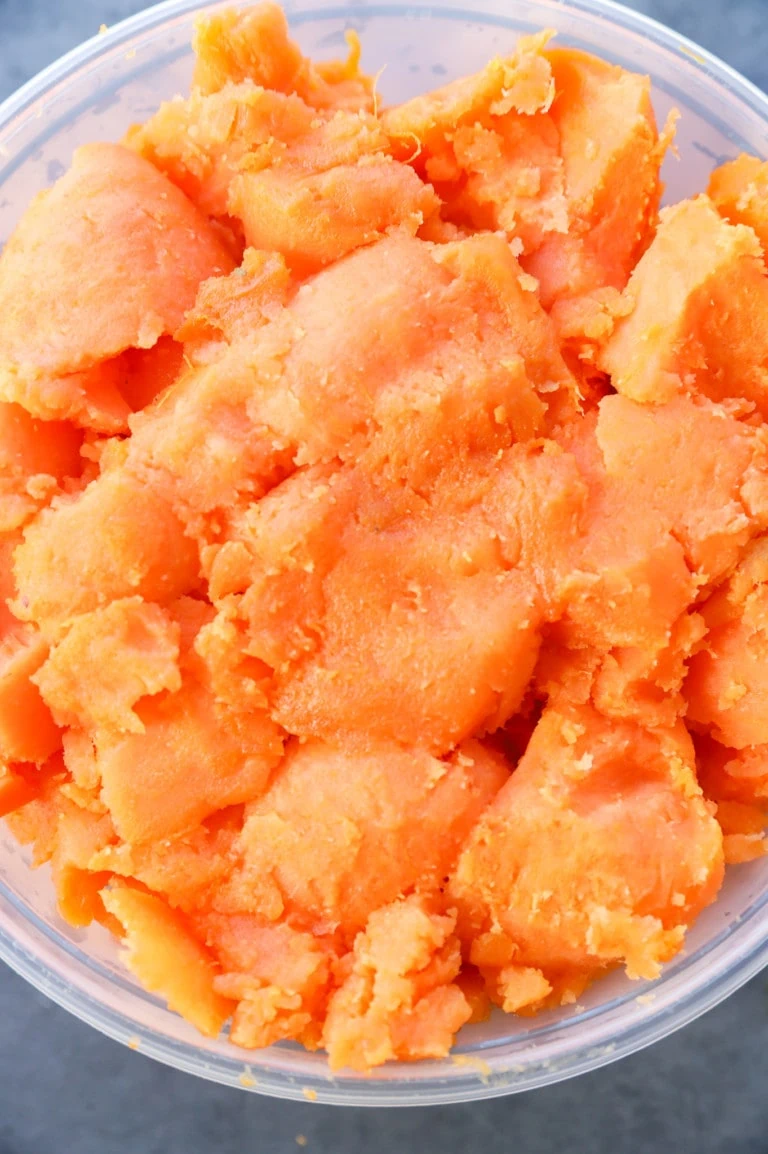 here's how to make sweet potato souffle
roast sweet potatoes
Poke the sweet potatoes with a fork all over. Place on a baking sheet that has been lined with aluminum foil or a silicone mat.
Bake for 1 hour until soft. When cool enough to handle, peel the potatoes and scoop the flesh into a large mixing bowl.
Mash the potatoes until smooth. Cool to room temperature.
Note: you can also peel and chop the sweet potatoes into chunks to boil in a large pot until fork tender. I prefer to simply roast them as it takes less effort and time. If you do boil them, drain them completely before mashing and cooling.
make filling
Add eggs, sugar, vanilla extract, milk, and salt to the bowl with the mashed sweet potatoes. Combine well with an electric mixer or a stand mixer. Place the filling mixture into a 2 1/2-quart baking dish and smooth the top well.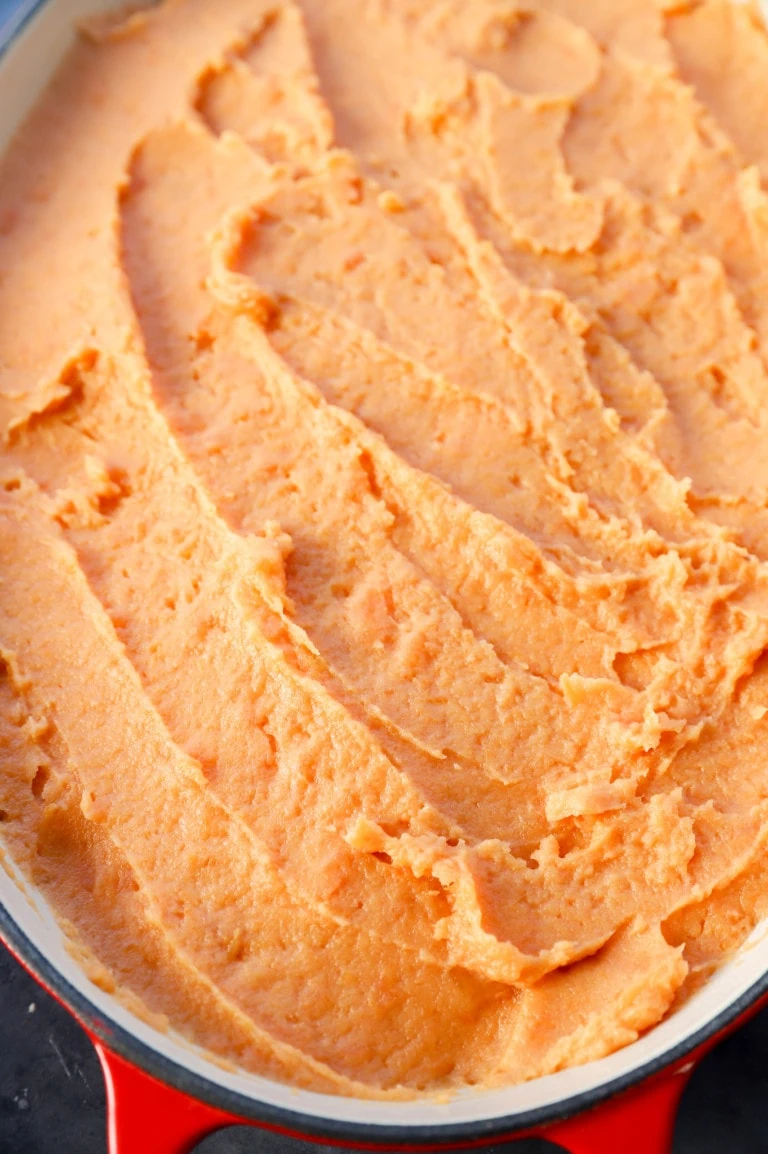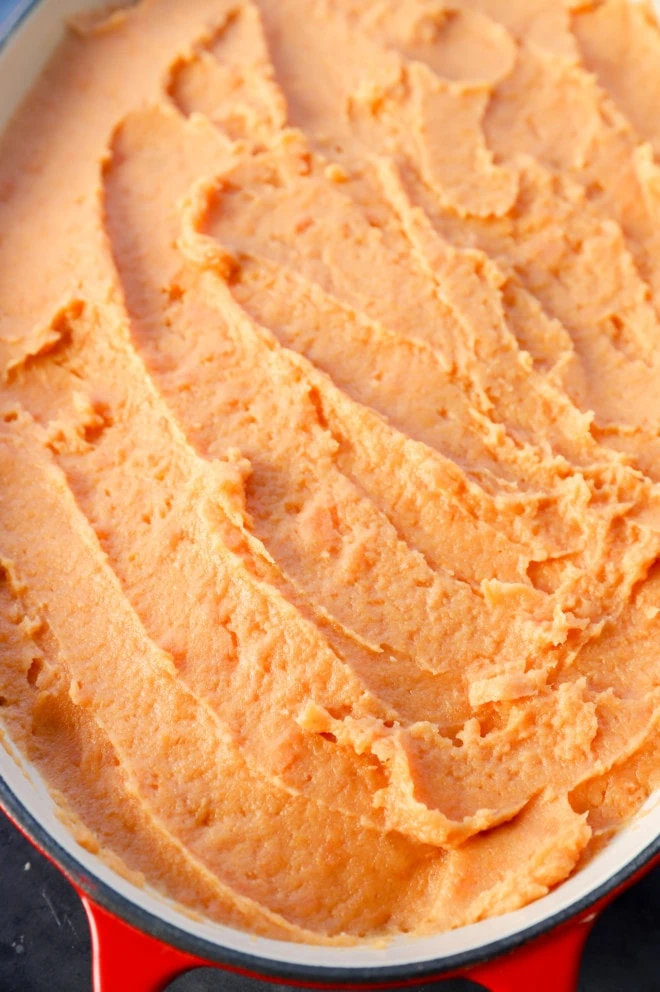 make topping
Add pecans, brown sugar, cinnamon, flour, and melted butter to a medium bowl. Stir to combine well.
Spoon the topping mixture over the top of the sweet potato mixture in the baking dish in an even layer.
bake
Bake for about 40 minutes, until slightly browned. Let the soufflé rest for 5 minutes before serving. Note that you can also easily serve this at room temperature!
Pro Entertaining Tip: When it comes to showcasing your sweet potato soufflé, presentation is key. And what better way to elevate your dish than by baking it in a beautiful and elegant baking dish? When you're preparing this delectable side dish, don't forget to choose a baking dish that will make your recipe truly shine.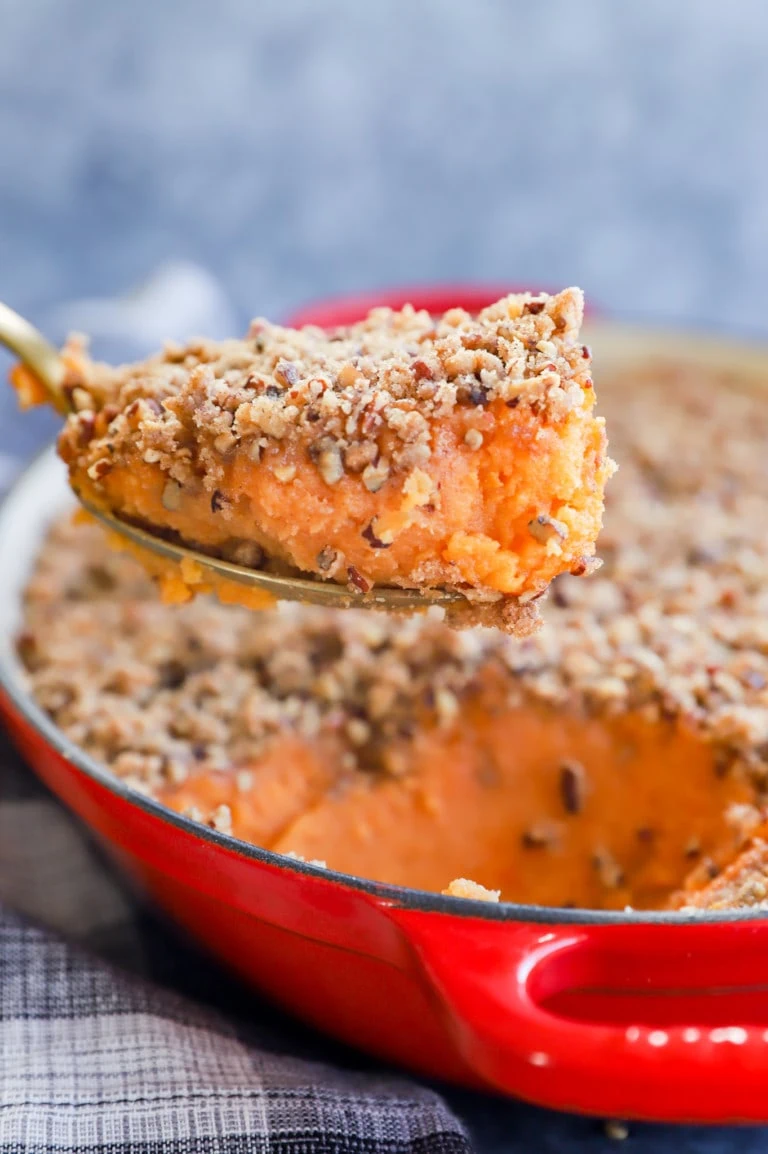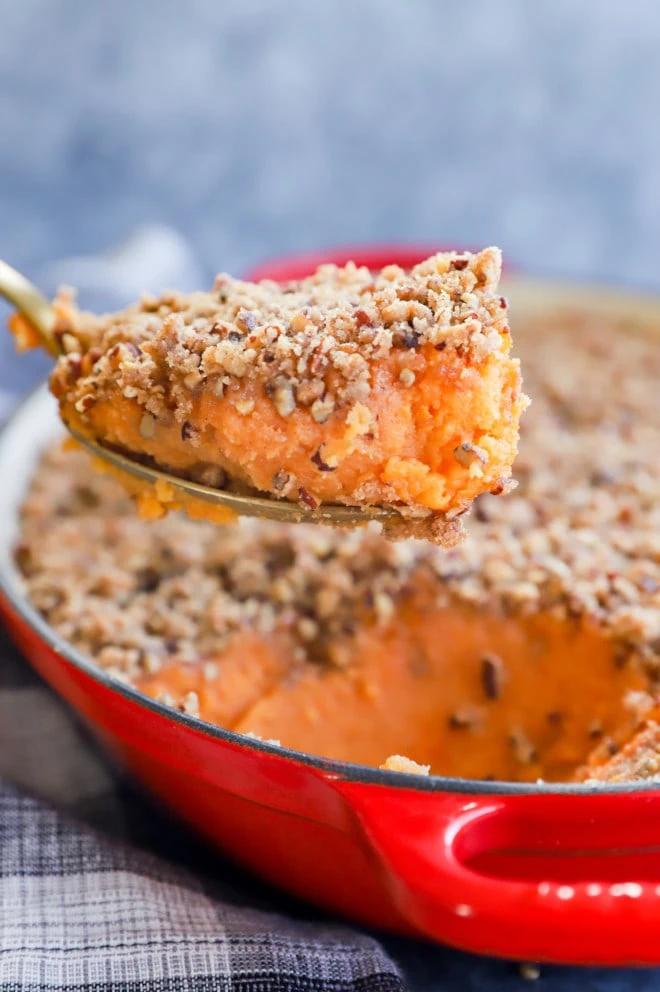 tips and tricks
let the sweet potatoes cool. Before using the sweet potatoes in the soufflé, make sure that you cool them down completely. If you do not, you will be mixing hot potatoes with eggs, causing the eggs to scramble when you stir them together.
try different nuts. If you don't like pecans, you can use chopped walnuts or even chopped almonds for the pecan streusel topping instead.
do not add extra sugar. Trust me, this recipe is the ideal balance of sweet. You don't want to add more sugar as the sweet potatoes are already sweet after they cook!
do not use canned yams. I am always a fan of fresh ingredients, but this recipe is specifically made using fresh sweet potatoes (yams). Canned yams or sweet potatoes are often sweetened, therefore they would make this dish way too sweet.
More Thanksgiving side dish recipes to check out: Caramelized Onion Apple and Sausage Stuffing | Instant Pot Mashed Potatoes | Bacon Butternut Squash Risotto | Sage and Onion Stuffing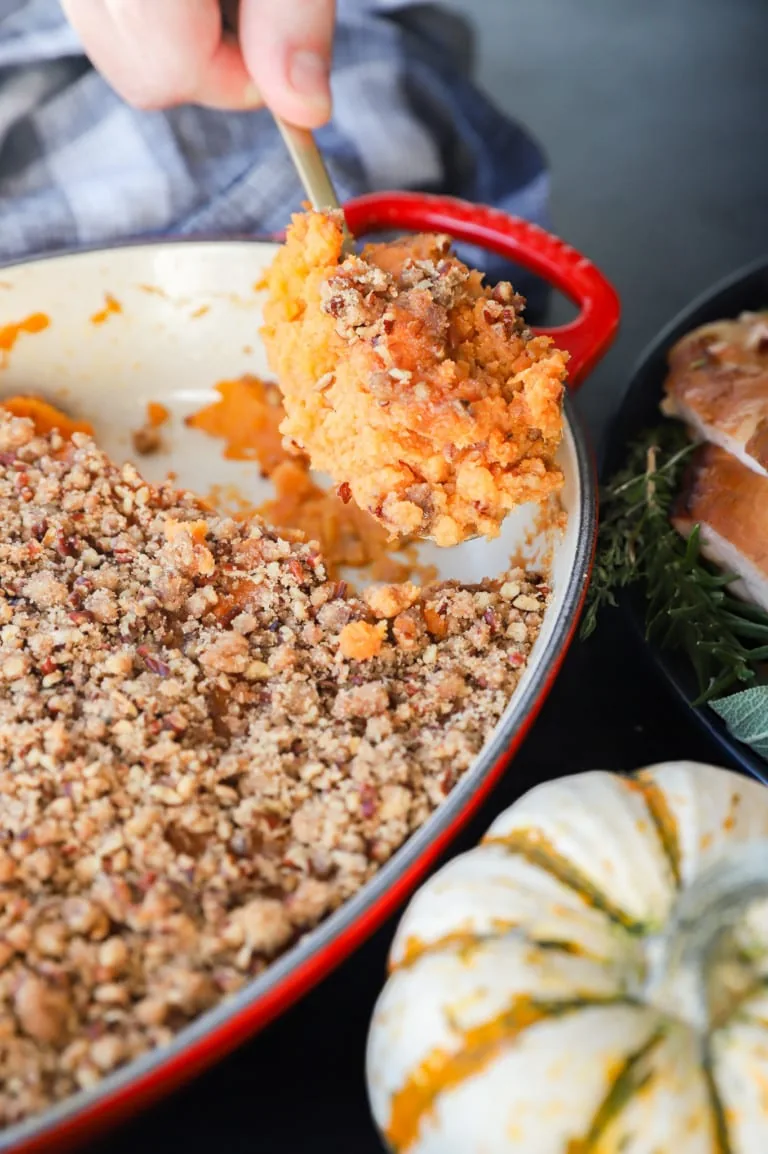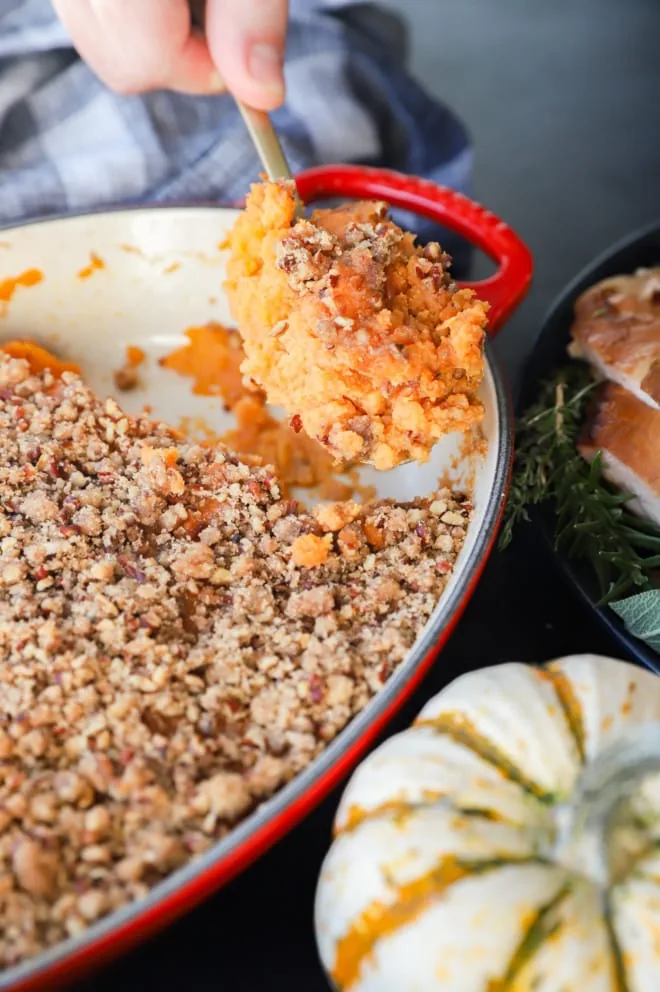 what is the different between sweet potato souffle and casserole?
There are a few differences between a soufflé recipe like this one and a casserole. The primary difference is the texture. The texture is very different as a souffle is much more light, fluffy, tender, and smooth. Casseroles usually just involve mashing the potatoes, while a souffle requires a blender to blend the ingredients together until smooth and well combined.
can I serve this at room temperature?
Yes! This recipe is still delicious when it cools to room temperature.
can I make this ahead of time and freeze it?
Yes! This is a simple recipe to make ahead of time and freeze to bake the day you plan to serve it.
Assemble the recipe without the pecan topping (you should make and add this the day you plan to cook it). Let it cool completely to room temperature if it is warm. Place a layer of plastic wrap directly on top of the soufflé, touching the top of it. Wrap tightly in an additional layer of plastic wrap, followed by a layer of aluminum foil. Freeze for up to 3 months.
Thaw overnight in the refrigerator before making the topping and following the instructions for assembly and baking.
Need more inspiration for a sweet treat? Check out my dessert recipes page!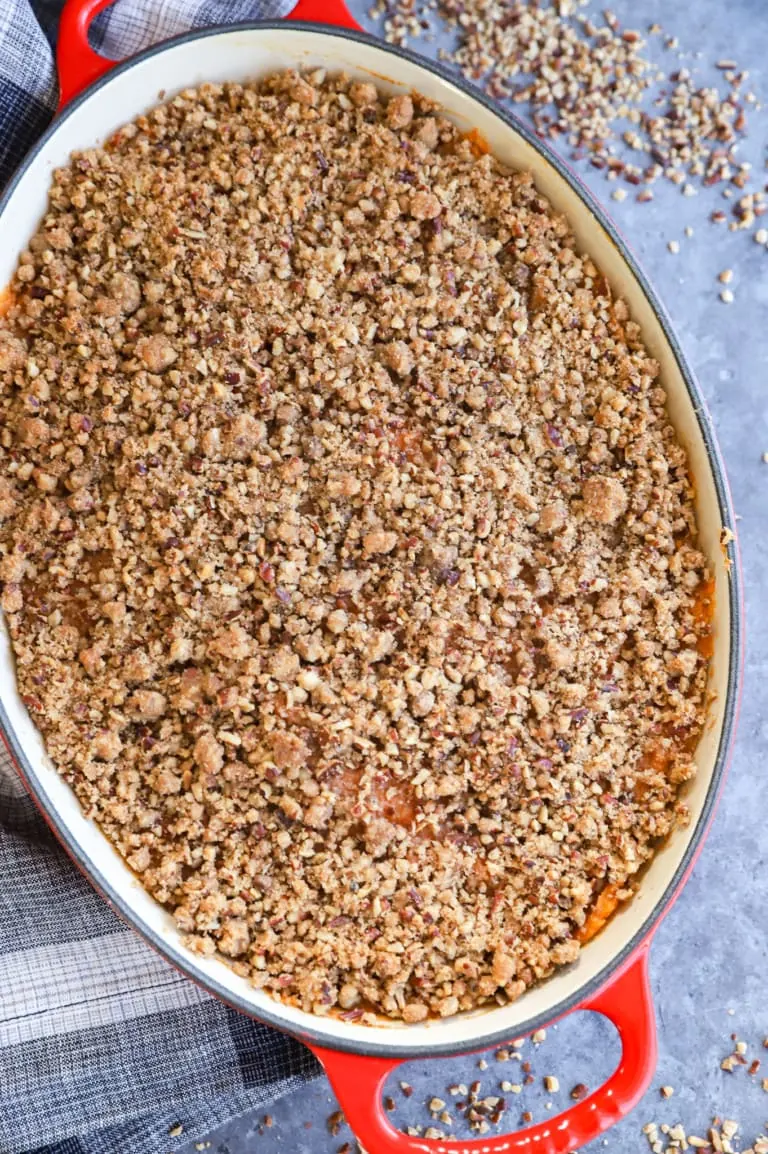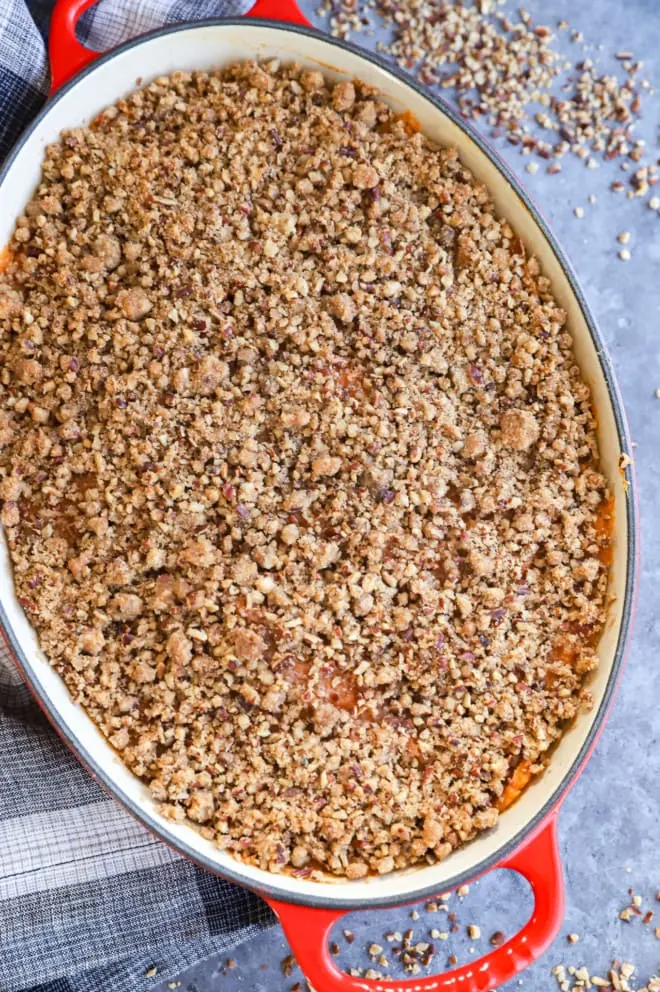 what to serve with sweet potato souffle
Sweet potato soufflé is a classic side dish that always makes me think of Thanksgiving. Therefore, I think about the full Thanksgiving menu when I am deciding what to serve with this recipe.
I like to start off the meal with an appetizer like a warm bowl of creamy roasted butternut squash soup topped with bacon croutons. A gooey baked camembert topped with cranberries and walnuts is also perfect for dipping.
For the main meal, I love a juicy smoked turkey. If you are serving a smaller group, opt for making a smoked turkey breast instead. Either way, be sure to use a turkey brine! This will ensure the bird is moist, juicy, and flavorful – no matter how you choose to cook it.
Don't forget the Thanksgiving cocktail or a bourbon pumpkin smash to cheers with!
End things on a sweet note and tie in the pecans with a slice of pecan pie cheesecake.
how to store
Store. Cool the sweet potato soufflé completely to room temperature before storing in an airtight container in the refrigerator. Leftovers will last for up to 3 days.
Reheat. To reheat, place leftovers in a microwave-safe bowl or on a plate. Microwave in 1 minute increments, stirring between each, until warmed through. It should take about 1 to 3 minutes depending on the amount of leftover soufflé you are reheating.
Freeze. If you have leftovers you want to freeze, you can do so by placing in a freezer bag and removing all the excess air. Freeze for up to 1 month. If you are freezing the sweet potato souffle before baking it, I have noted instructions for this in the post above.
Thaw. Thaw overnight in the refrigerator before reheating.
more thanksgiving recipes
For another side dish for your table, this simple sage and onion stuffing is a classic for a reason.
This make-ahead friendly pumpkin spice cheesecake mousse is full of fall flavor, but doesn't require as much work as a pie does.
Got leftovers? These thanksgiving leftover stuffed egg rolls are the BEST way to use them up!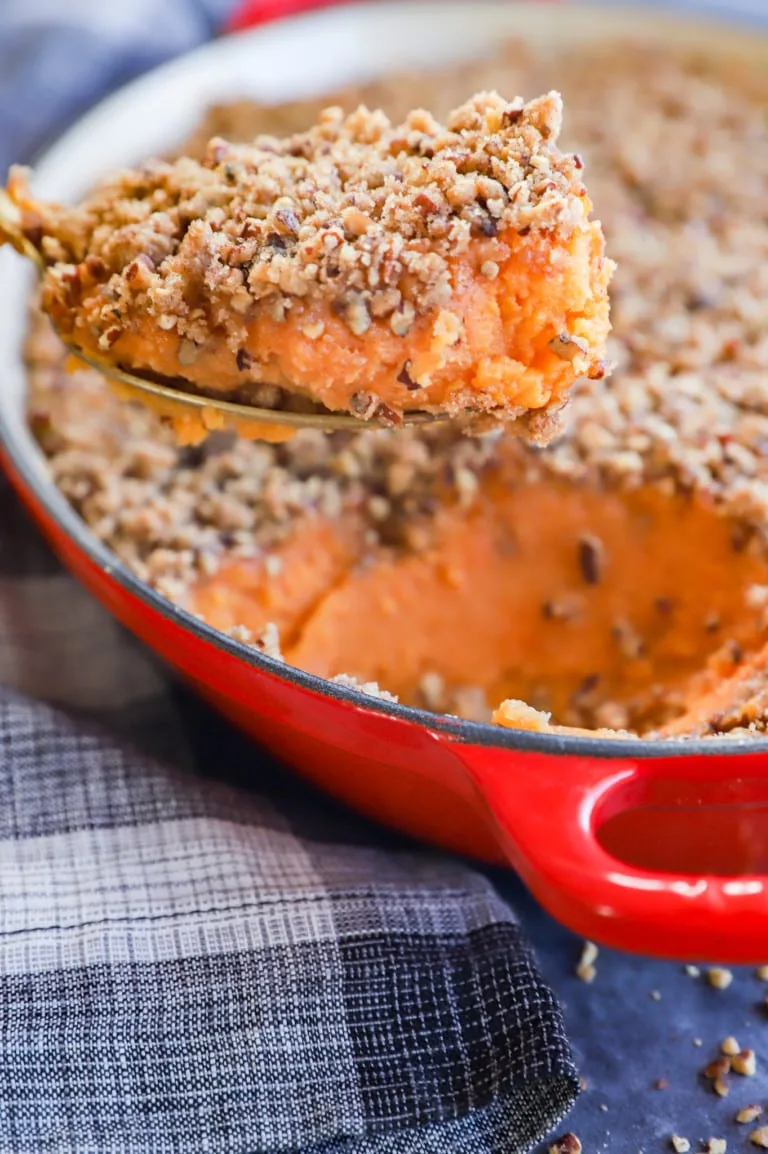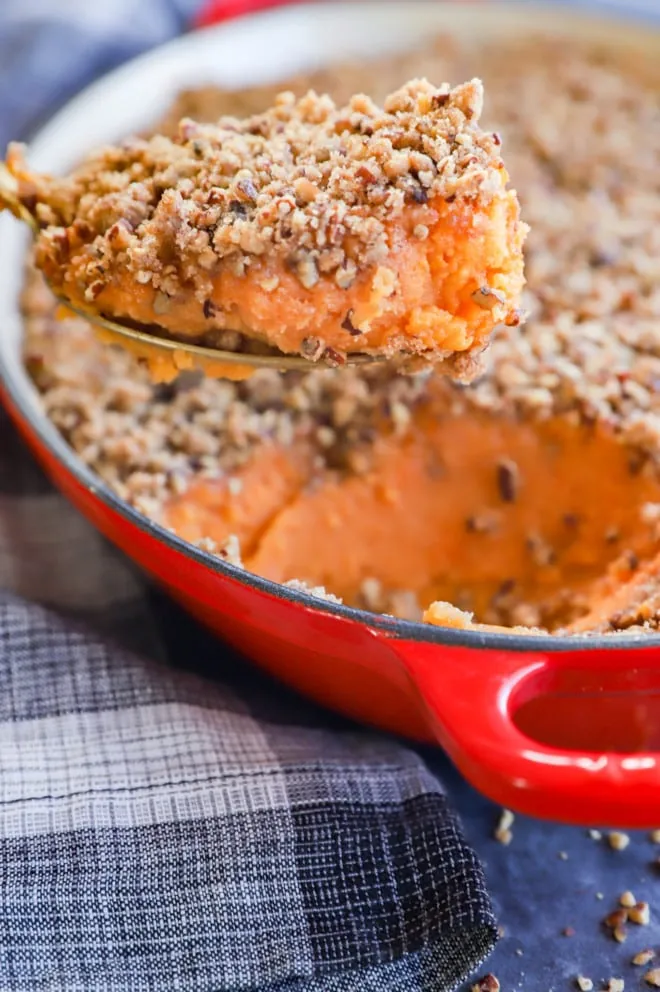 seasonal tip
Choose the best sweet potatoes! Ripe sweet potatoes should have pink-ish brown skin. You can use your nail to scrape off a small spot of skin to check the flesh, making sure it is orange. Avoid sweet potatoes with cracks and bruises, if you can.
Finally, if you make this sweet potato souffle recipe, please be sure to give this recipe a rating and/or leave a comment! I love to hear when you all make recipes, and I do take the time to respond to every single comment.
Feel free to drop questions below too, if you have them!
Oh and be sure to tag me on Instagram if you make the recipe! I love being able to see these recipes come to life in your homes – it's my favorite thing to look through those photos. It really means the world to me!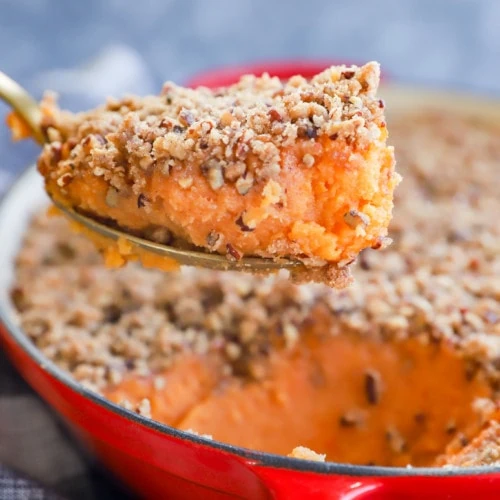 Sweet Potato Soufflé
A rich, creamy filling with crunchy pecan streusel topping makes this simple recipe the star of the dinner table.
Print
Pin
ingredients
Soufflé
5

medium sweet potatoes

2

large eggs

3/4

cup

brown sugar

light or dark

1/2

cup

butter

1 stick, softened

2

tsp

vanilla extract

1/2

cup

milk

1/4

tsp

kosher salt
Topping
1

cup

chopped pecans

3/4

cup

brown sugar

light or dark, packed

1/2

tsp

ground cinnamon

1/2

cup

all-purpose flour

1/4

cup

unsalted butter

1/2 stick, softened
instructions
Preheat the oven to 350˚F. Lightly grease a 2 1/2 quart baking dish with cooking spray (or butter).

Poke the sweet potatoes with a fork all over. Place on a baking sheet lined with aluminum foil or a baking mat. Bake until soft and fork tender, about 1 hour. When cool enough to handle, scoop the flesh out of the skins and place in a large bowl. Mash potatoes until very smooth. Set aside to cool to room temperature (you can also speed this up by placing the bowl in the fridge or freezer).

Add eggs, sugar, butter, vanilla, milk, and salt. Using an electric hand mixer (or stand mixer), beat until very smooth and fluffy. There should be no lumps left. Add the mixture to the prepared baking dish, smoothing into an even layer with a spoon.

Add the topping ingredients to a medium bowl and stir to combine. Sprinkle the nut mixture on top of the sweet potato in an even layer.

Bake for 40 minutes, until the topping is slightly browned. Let the casserole rest for 5 minutes before serving.
nutrition
Calories:
775
kcal
|
Carbohydrates:
104
g
|
Protein:
9
g
|
Fat:
38
g
|
Saturated Fat:
17
g
|
Polyunsaturated Fat:
5
g
|
Monounsaturated Fat:
14
g
|
Trans Fat:
1
g
|
Cholesterol:
118
mg
|
Sodium:
367
mg
|
Potassium:
854
mg
|
Fiber:
8
g
|
Sugar:
63
g
|
Vitamin A:
27551
IU
|
Vitamin C:
5
mg
|
Calcium:
158
mg
|
Iron:
3
mg