March Madness has been waiting for a snack like this…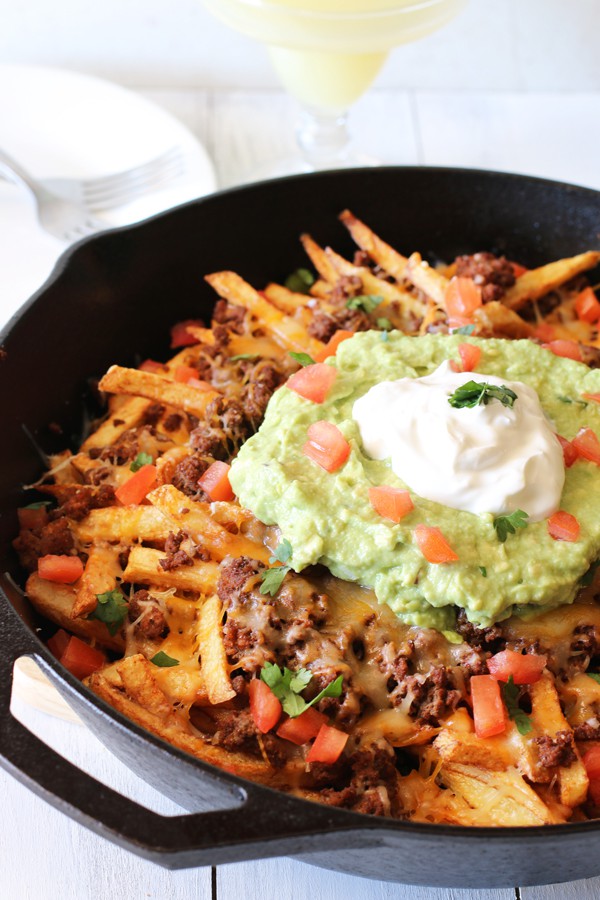 I wish I could say I thought of this in an effort to give you the perfect snack food for the final rounds of NCAA March Madness, but I am not that into basketball (I'm a football girl!).
The idea for this unbelievably gorgeous mess of French fry nachos stems solely from a photo of French fries Julie from The Little Kitchen posted on Instagram.
Her favorite food? French fries. My favorite food? Guacamole. Put them together aaaaaaaand….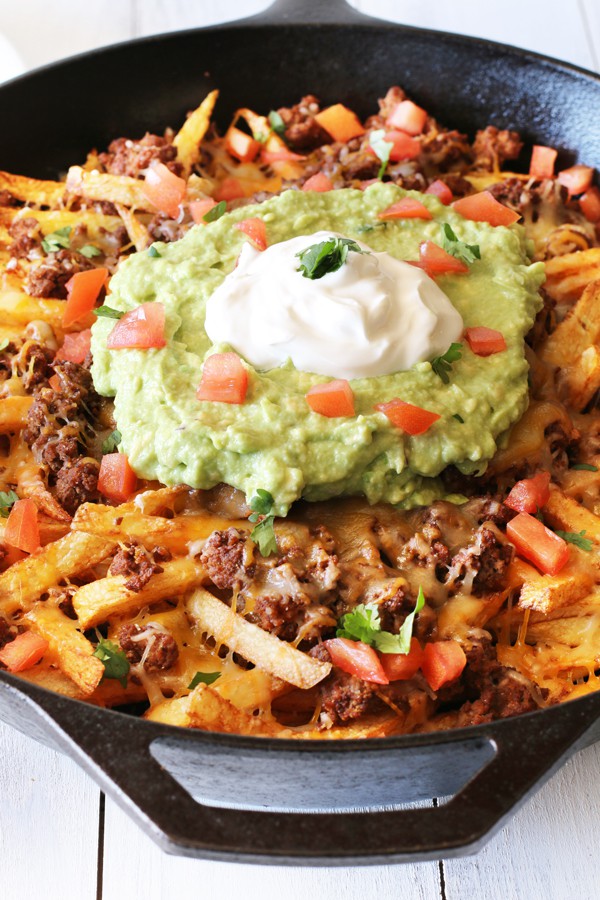 BOOM. Is your mind blown? Because it should be.
There's nothing like a pile of crispy fries loaded with everything you love about nachos, from the beef and cheese to the guacamole and sour cream.
It's all of the gooey, crispy and spicy things you yearn for piled on top of perfectly fried potatoes. All the colors and textures make this dish playful and bright, with just the right amount of fried goodness. It's perfect to pair with beers while you're watching the game or with a big glass of wine (hello, my life!) out on the back patio enjoying the spring weather!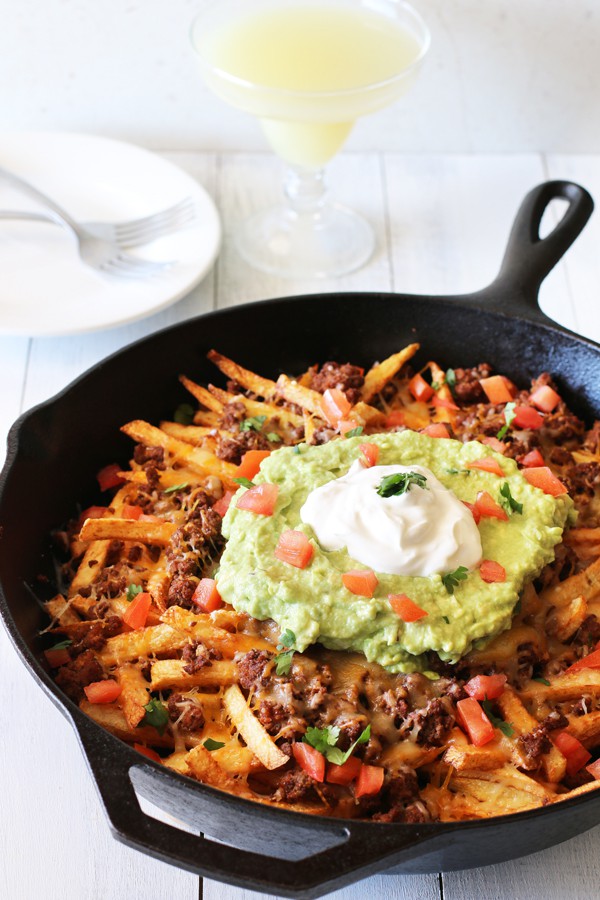 The only thing I am still struggling with is what to name the darn thing – I want something cute like "totchos" (tater tot nachos, for those of you scratching your head right now), but how do I smash "French fries" and "nachos" into one word?
Frenchos?
Frychos?
Frachos?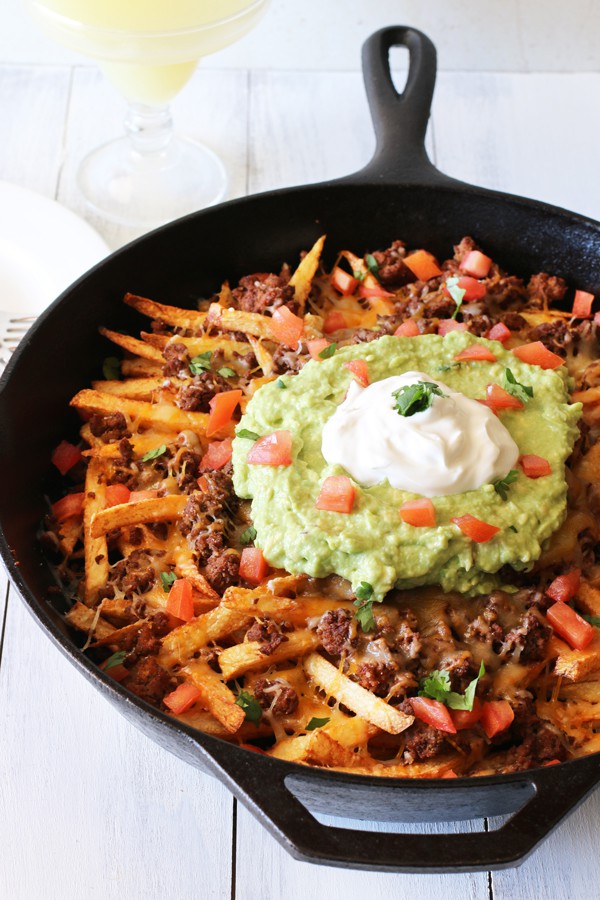 I've been debating between the three ever since I first decided to make the dish (yep, these are the conversations I have with myself…).
I am leaning towards Frachos. What do you think?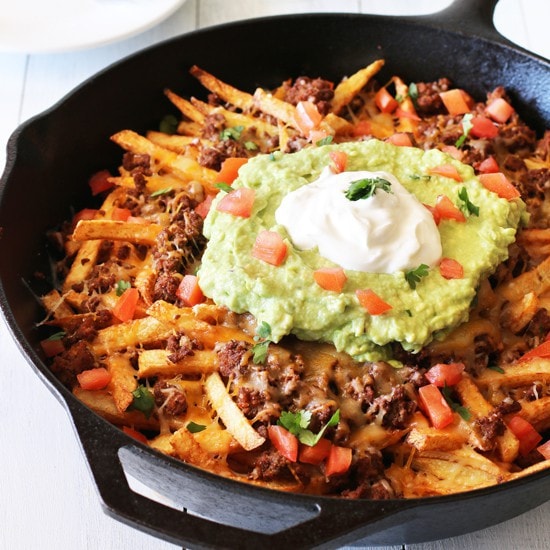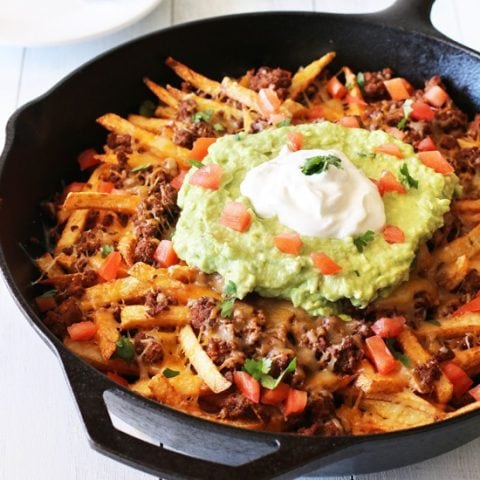 French Fry Nachos (aka Frachos)
Additional Time:
30 minutes
Total Time:
1 hour
10 minutes
This is the way you eat nachos - with French fries!
Ingredients
4 russet potatoes, peeled
1 lb ground beef
1/2 tsp cayenne
1 tsp paprika
1 tsp cumin powder
Oil for frying
Salt & pepper
1 cup shredded cheddar or Mexican cheese mix
1 tomato, seeded and chopped
Sour cream
Quick Guacamole
1 avocado, pitted and peel removed
Juice of 1 lime
1 tsp fresh cilantro, chopped + more for garnish
1/8 cup red onion, chopped
1/2 jalapeno, seeded and chopped
Instructions
Cut potatoes into French fry lengths (a mandoline comes in handy here). Add to a large bowl and fill with enough cold water to cover the fries. Refrigerate for about 30 minutes to 1 hour.
While the potatoes are soaking, cook the ground beef. Warm a medium skillet over medium-high heat. When the pan is hot, add the ground beef along with the cayenne, paprika, cumin, ¼ tsp salt and ¼ black pepper. Cook, breaking up the meat so it doesn't form large clumps, until browned and cooked through. Keep warm and set aside.
To make the quick guacamole, smash the avocado in a small bowl with the back of your form until smooth. Stir in jalapeno, red onion, cilantro, salt, pepper and lime juice. Cover and set aside.
Pour oil into a dutch oven or heavy bottomed pot until it is 3" deep. Heat over medium heat until the temperature reaches 375 degrees. Drain potatoes and dry completely with paper towels. Fry the potatoes, working in small batches, until crisp and golden. Remove to a paper towel lined plate to drain. Season immediately with salt.
Add the French fries to a cast iron skillet. Top with the cooked ground beef and shredded cheese. Turn on oven broiler to high and broil until the cheese is melted and bubbling, approximately 2 to 3 minutes. Remove from oven, top with chopped tomato, guacamole, and sour cream. Sprinkle with extra fresh cilantro and serve immediately.
Notes
Note: you can also add an Asian spin by trying this with my Asian Guacamole recipe.
Pin this French Fry Nachos (aka FRACHOS!) recipe for later!