Please note this post contains affiliate links.
An Apple Bourbon Smash is crisp, refreshing, and a little bit bubbly! It's just the sipper for the transition from summer to fall. With just the right boozy kick, this easy cocktail is fabulous for a weekday happy hour. Makes 2.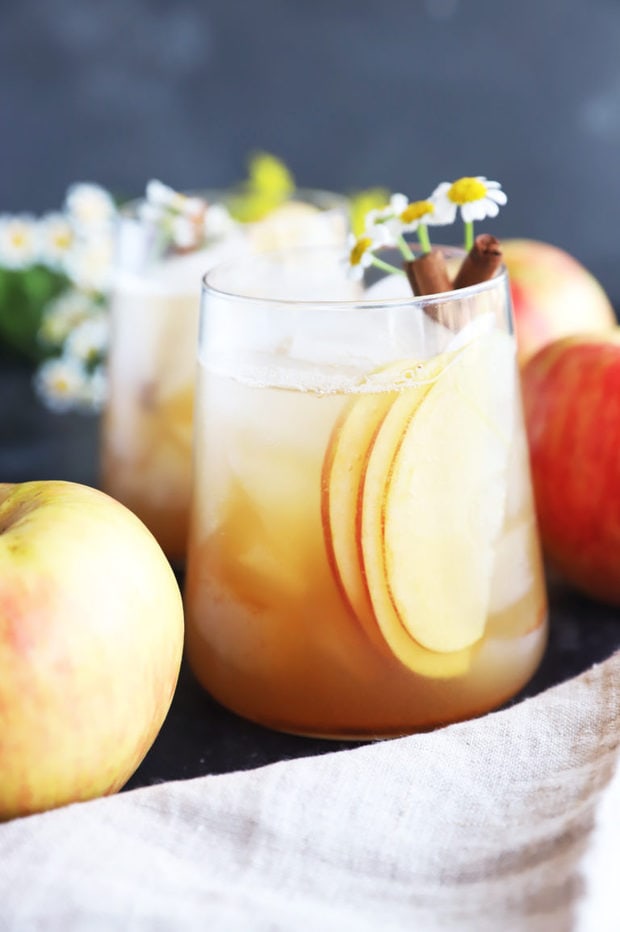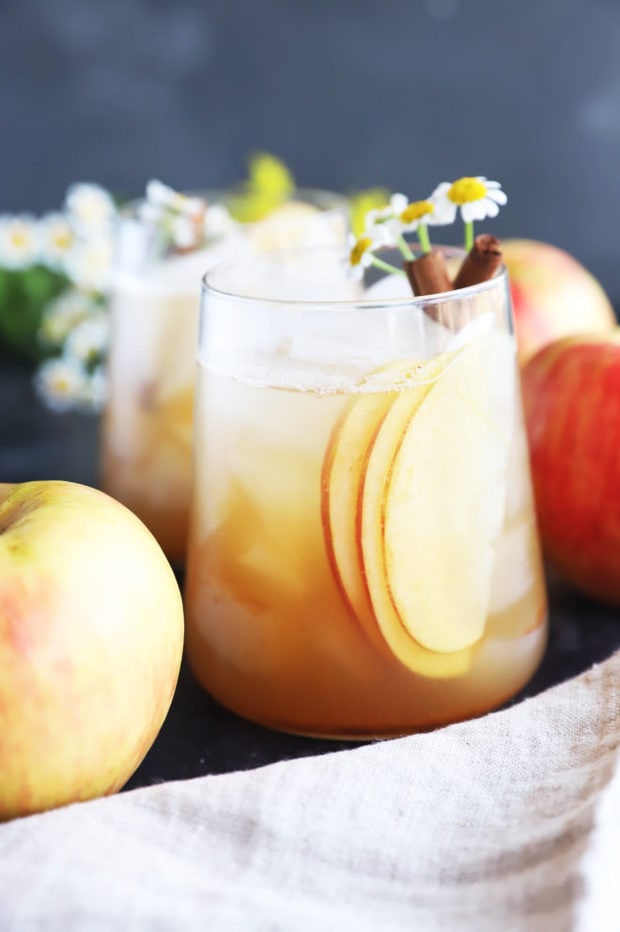 'Tis the season for tasty apple cocktails, am I right?
One of my favorite childhood memories is apple picking in the fall. We used to get big jugs of cider and it was the tastiest thing in the entire world.
We don't have a lot of apple picking here in Colorado – at least not as much as I would like – so I will take any excuse to bring those crisp apples into my happy hour routine.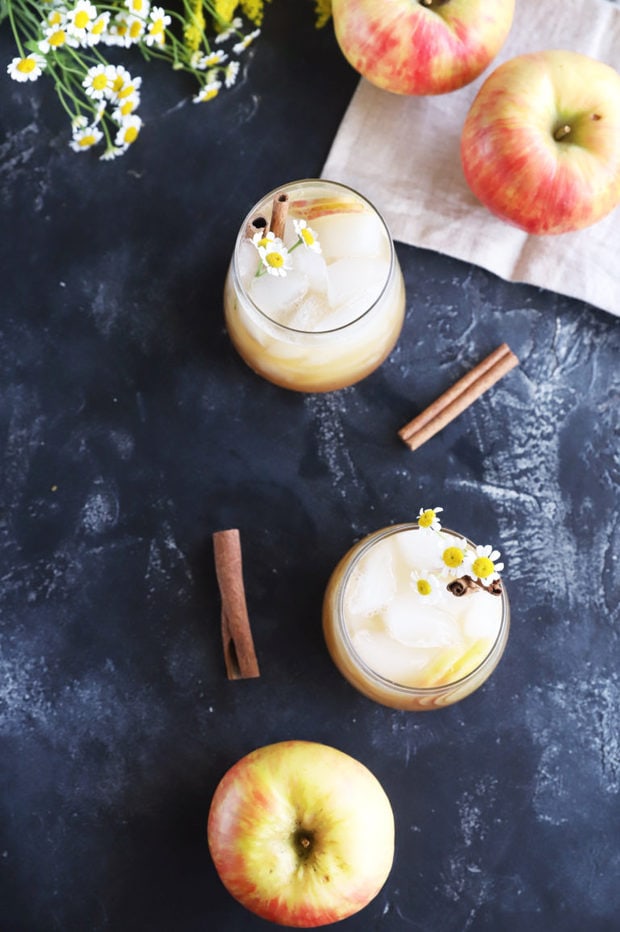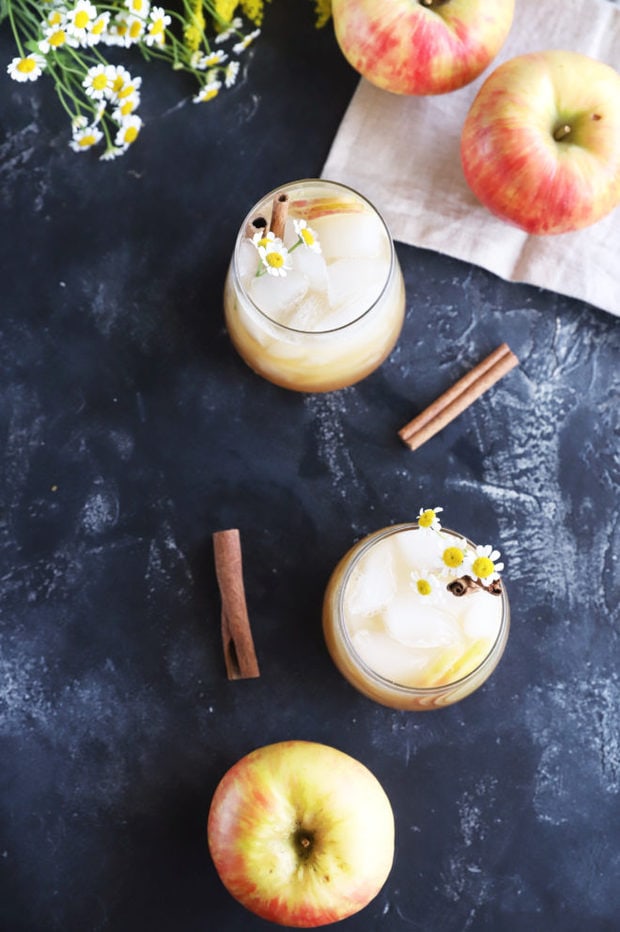 Personally, I love a good honeycrisp apple. Something about them is exceptionally refreshing and crisp, so they are the ideal variety for cocktails!
They have just the right amount of sweetness and a touch of maple syrup really makes this cocktail have an extra infusion of fall flavor. Paired with a bite of citrus, smooth bourbon (I love to use Bulleit here, personally), and a touch of ground cinnamon, it's refreshing and elegant.
For garnish, I love a pretty fan of a few apple slices because it looks so elegant! Plus a small flower like the ones you see in the pictures here if you really want to get fancy with it 😉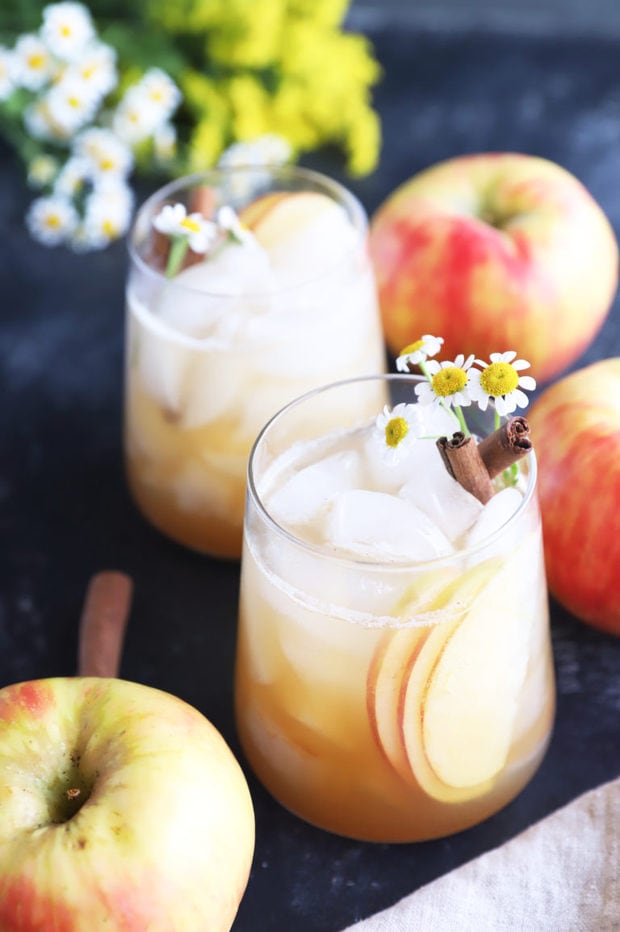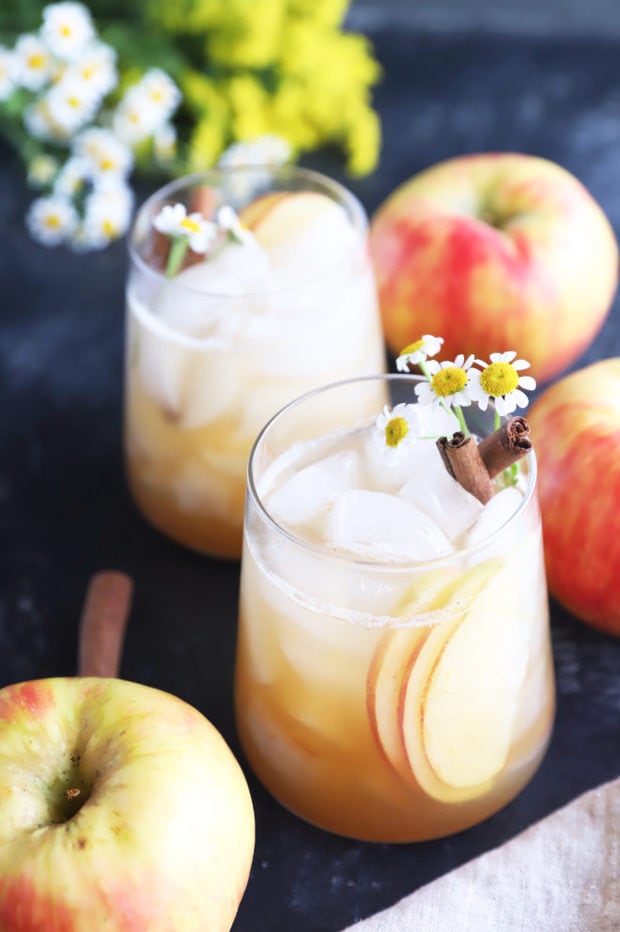 this recipe's must-haves
You'll need a few standard bar tools to make this cocktail. First is the cocktail shaker to build the cocktail in. A muddler will help you get all the ingredients mashed up as well.
In addition, you'll need a cocktail strainer so you don't get giant chunks of apple in your cocktail glass. A bar spoon also comes in handy to give everything a final stir after you've added in the sparkling water on top.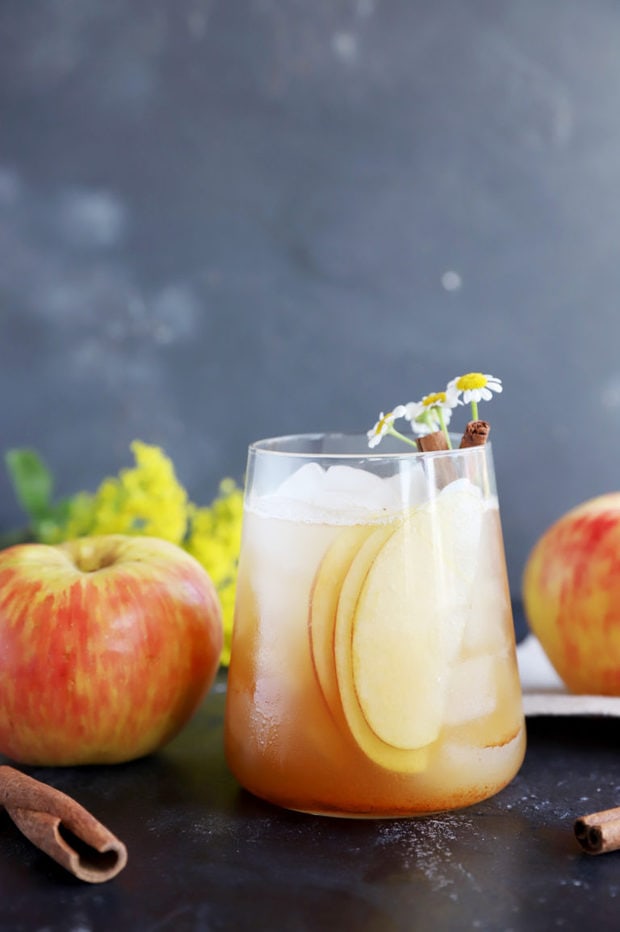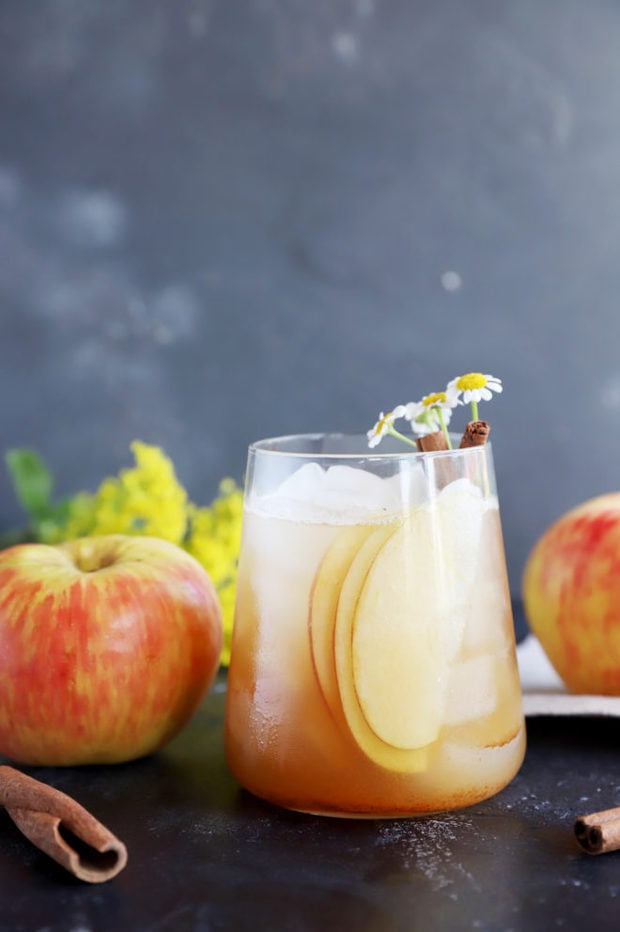 let's make a tasty apple bourbon smash!
Muddle
Add apple and maple syrup to a cocktail shaker. Muddle the mixture together until it's completely smashed and the liquid is released.
Shake
Add bourbon, lemon juice, and cinnamon to the mixture. Fill the shaker with ice and shake well until the mixture is thoroughly chilled.
Strain
Strain the mixture into cocktail glasses filled with ice and top with sparkling water for a touch of bubbly goodness. Garnish with a fan of apple slices and a cinnamon stick.
Need some more inspiration for cocktail hour? Check out my booze recipe page!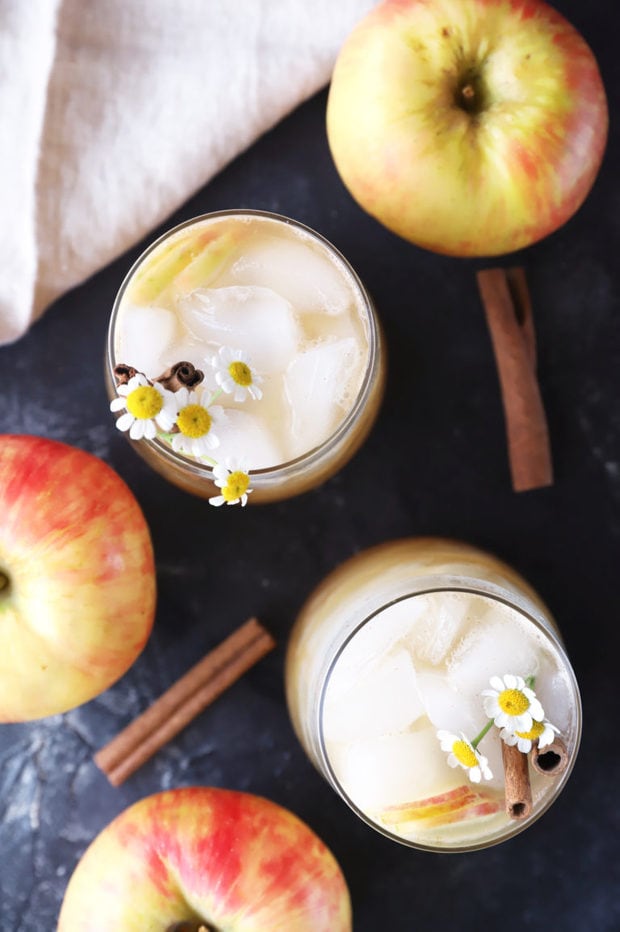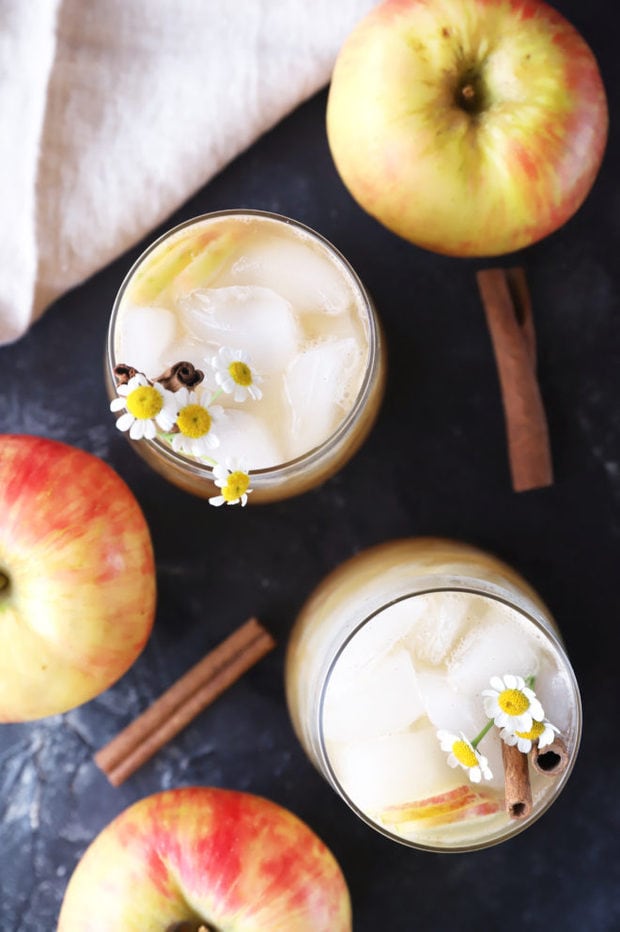 can I use rye whiskey instead of bourbon?
Yes, you certainly can! I personally like the subtle sweet smoothness of bourbon, but if you prefer more of a bite to your cocktails, you can use a rye whiskey. I recommend using Bulleit or Law's Whiskey!
what if I can't find honeycrisp apples?
If you can't locate honeycrisp apples at your local market, then I recommend reaching for Fuji apples instead. They will also taste delicious in this cocktail!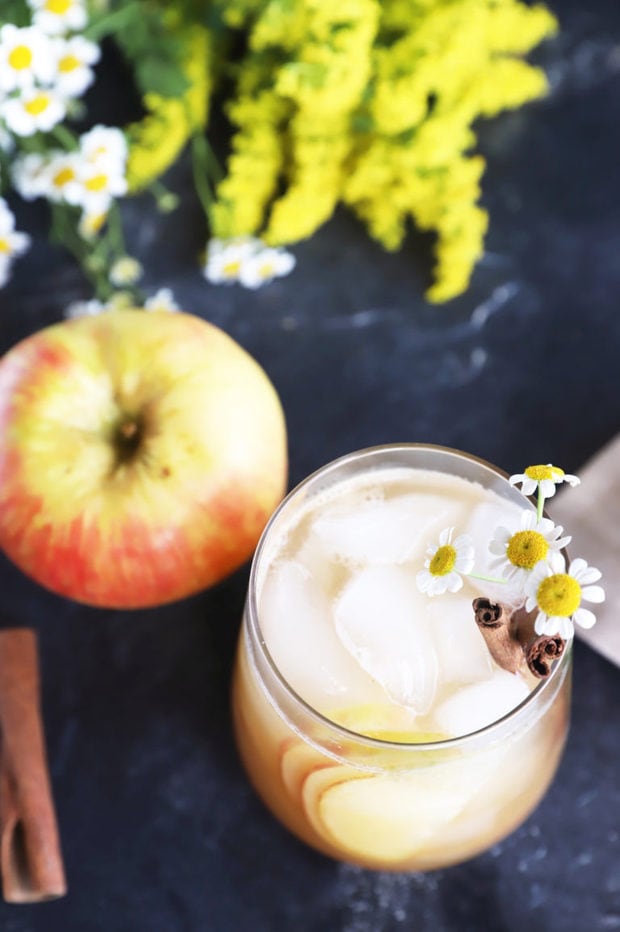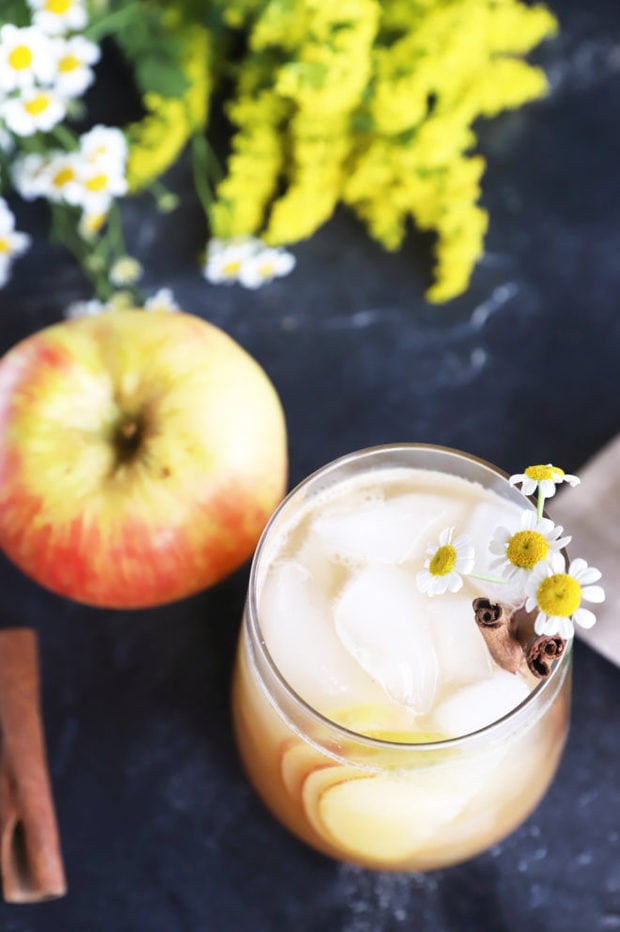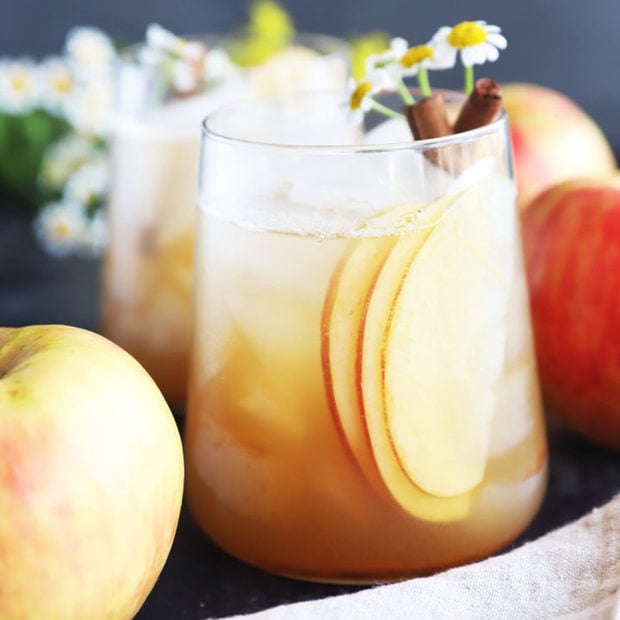 Apple Bourbon Smash
Simple and refreshing, this apple cocktail is flavored with cinnamon and maple syrup.
Ingredients
1/2 honeycrisp apple, roughly chopped
2 tsp maple syrup
4 oz bourbon
1/2 oz lemon juice
1/8 tsp ground cinnamon
Sparkling water
Garnish: apple slices, cinnamon sticks
Instructions
Add apple and maple syrup to a cocktail shaker. Muddle until completely smashed and liquid is released.
Add bourbon, lemon juice, and cinnamon. Fill the shaker with ice and shake well until chilled all the way through.
Strain into rocks glasses filled with ice. Top with sparkling water and garnish with a few slices of apple and cinnamon sticks.
Recommended Products
As an Amazon Associate and member of other affiliate programs, I earn from qualifying purchases.