Jalapeño Agave Cornbread Fritters are fried piece of sweet and spicy cornbread bliss. They are a fun treat to munch on at parties or even to spoil your family with during a typical ho-hum week.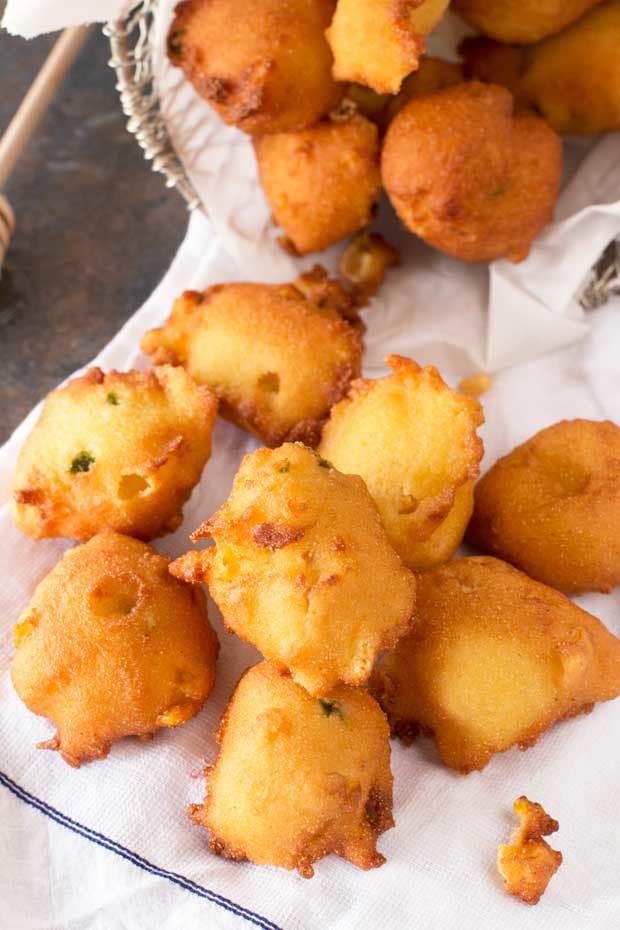 Sweet and spicy…. THAT's my jam this week. I can't get enough of it, especially when it comes to popping three or four (more like five or six) if these jalapeño agave cornbread fritters in my mouth.
The one bad thing about working in home is how many times I have to pass through the kitchen to let little miss Kya outside. Every time I walk through, there's some sort of food tempting me to just take a bite. Add all those trips through the kitchen up and ugh, I really need to do a juice cleanse or something.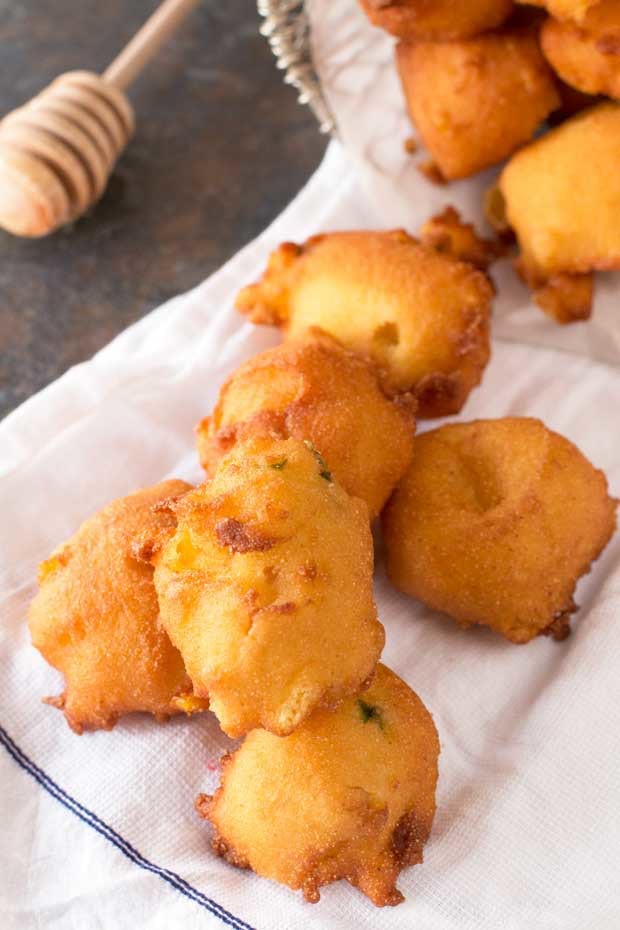 Of course the likelihood of me ever getting through a cleanse like that is a whopping 0%. I remember trying once with one of my besties and we almost died the second day in. We were so angry and miserable and starving. I'm sorry, but life is too short to put myself through a week of only fruit, veggies and protein shakes. Blech.
These cornbread fritters are a serious reason why I can't ever do a cleanse. My mistake was thinking they might be slightly complicated to make… HA. They couldn't be easier! You stir some stuff together and drop tablespoons of the batter into a hot fryer. That's. It.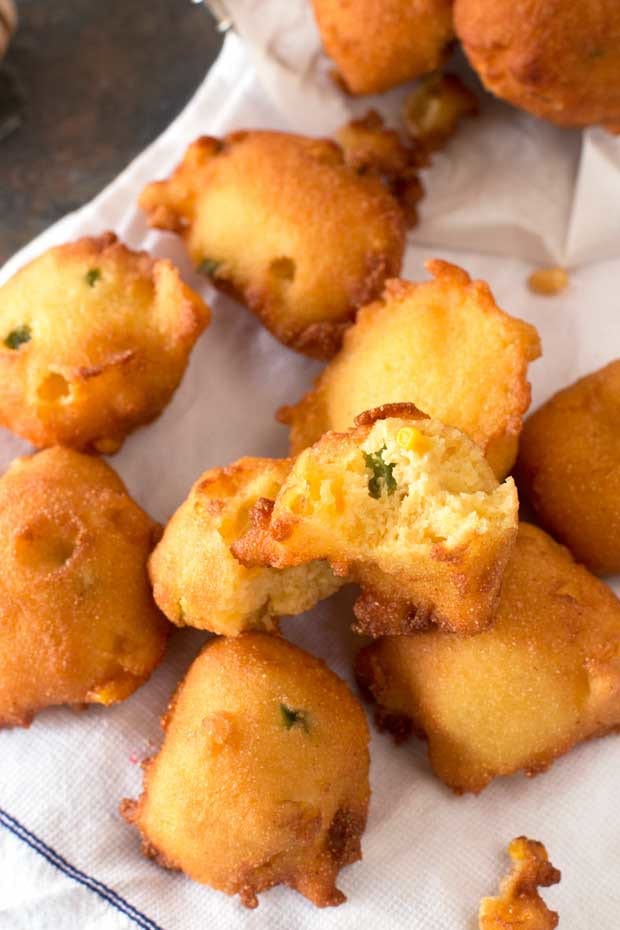 I gave my mom some of these and she practically lost her mind. Apparently my grandma (Julia Child reincarnate grandma) used to make cornbread fritters for her while she was growing up – what a luxury, am I right? I never knew!
So thanks grandma for getting into my head somehow and helping me treat my mom to a little taste of the past. With jalapeño. And agave. Because I just HAVE to be different.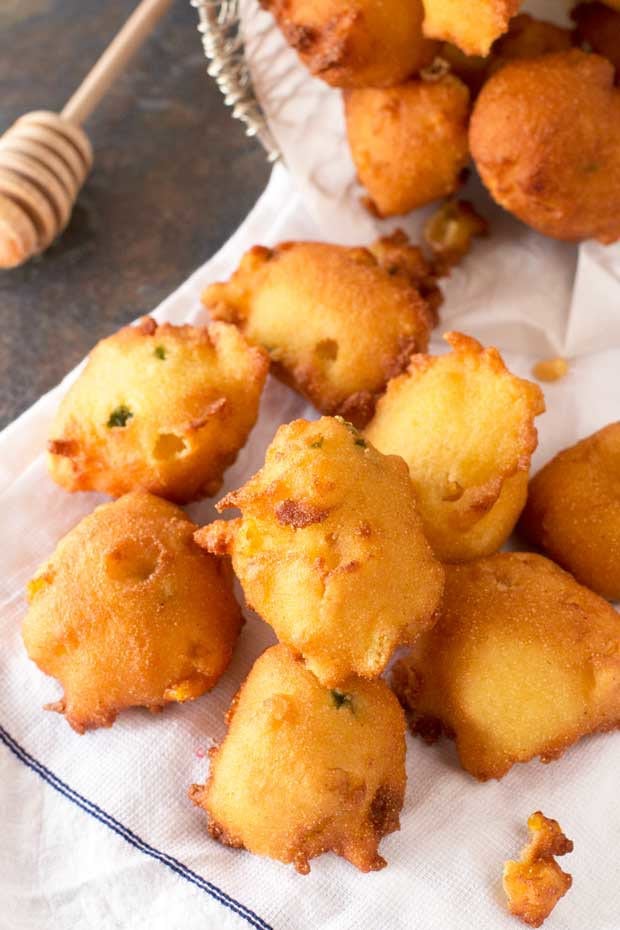 What? Me? An only child? Please…. 😉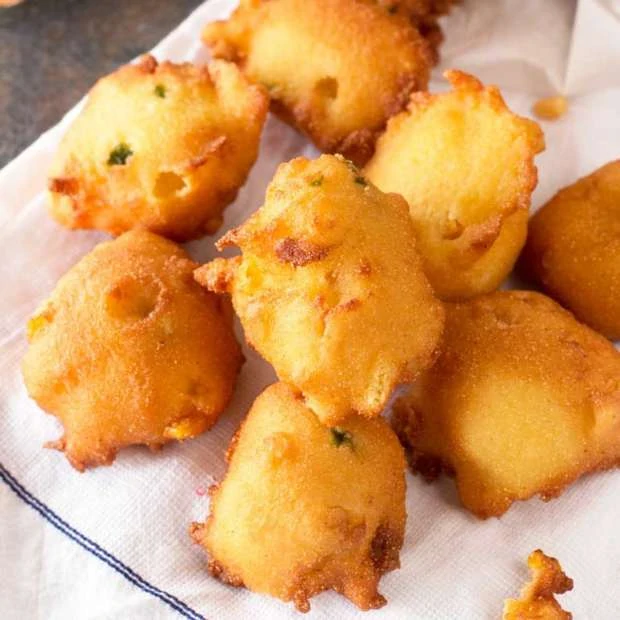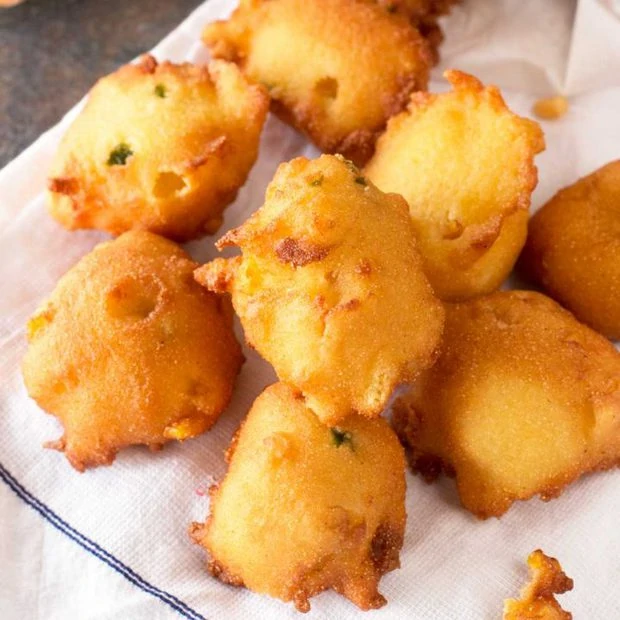 Jalapeño Agave Cornbread Fritters
Sweet, spicy and fried! These fritters are a fun treat for parties or for the entire family to snack on.
Ingredients
1 1/4 cup cornmeal
1 1/4 cup flour
3/4 tsp salt
1/4 cup agave nectar
3/4 cup milk
2 eggs, beaten
1/4 cup unsalted butter, melted
1 cup canned corn, drained and rinsed
1 jalapeño, seeded and diced
Oil for frying
Instructions
In a medium bowl, stir together cornmeal, flour, and salt. In a small bowl, stir together agave, milk and eggs. Add the wet ingredients to the dry, then stir in butter, corn and jalapeño.
In a large, heavy-bottomed pot, add enough oil until it reaches 3 inches deep. Heat oil over medium-high heat to 325 degrees F. Drop in fritter batter, one Tbsp at a time, taking care not to overcrowd the pan. Cook for 3 to 4 minutes, or until golden brown, turning as needed. Remove to paper towel-lined sheet pan to drain. Serve warm.