Please note this post contains affiliate links.
This Easy Smoked Traeger Brisket recipe is smoky, tender, and absolutely delicious. If you are looking for an epic wow-factor meal, this brisket is the way to everyone's heart. With this guide, there's no reason to be intimidated by this cut of meat!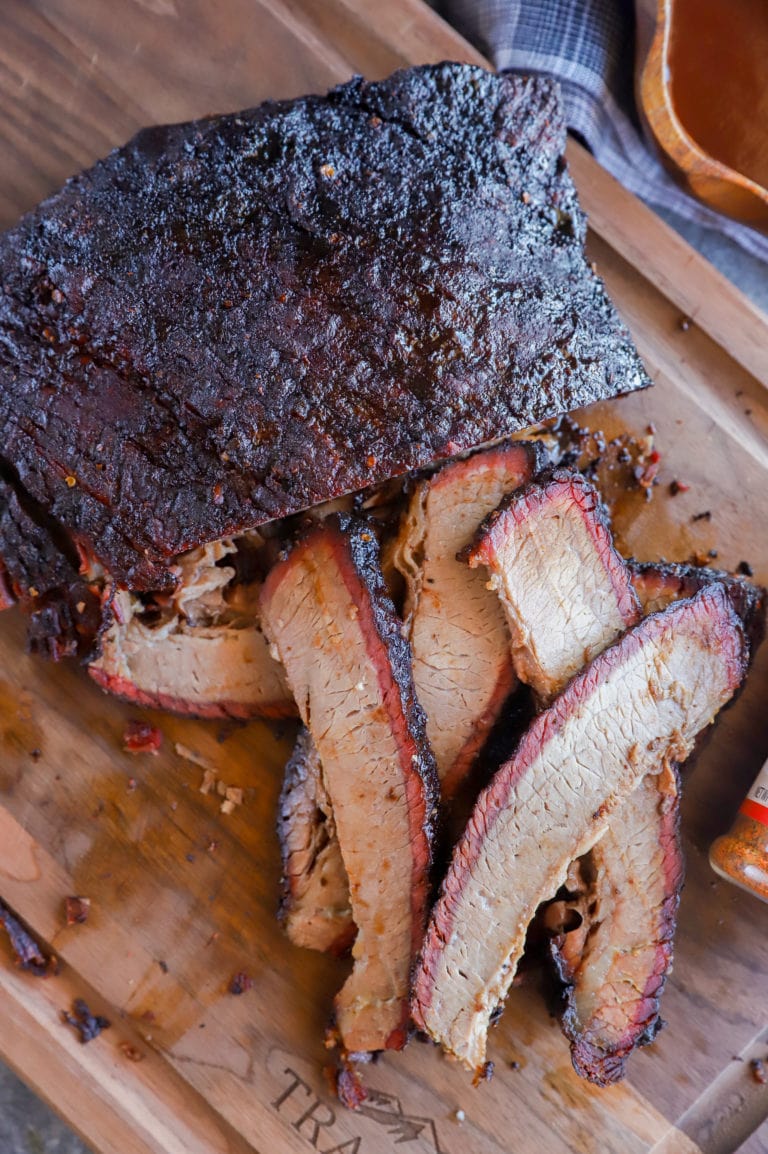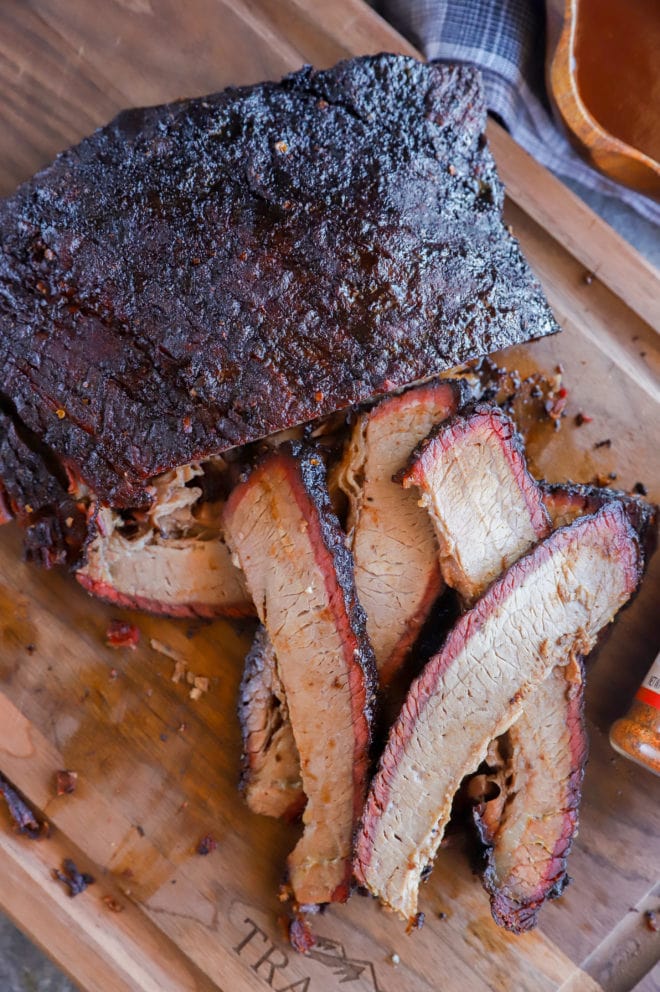 Just in case you didn't know, National Brisket Day is May 28th. That's also a Saturday. Which means you DEFINITELY need to plan on making this over the weekend.
With it being a long weekend, it's the perfect excuse to crack open a few beers, get some sun on the back patio, and soak in the summer laziness while this epic brisket smokes away on the grill.
Note: I know that I mention Traeger here, but any smoker will work for this recipe! I personally just love our Traeger wood pellet grill.
Before I continue, let's get some details straight about this Traeger brisket recipe:
this traeger brisket recipe is not a GIANT 15lb masterpiece. Instead, I opt for a smaller cut because I am rarely needing to feed an entire army. This will feed about a third of an army (around 6 to 8) instead, which I feel is a little more manageable for the average weekend gathering or family get-together.
for this recipe, you will need time and patience. Since it's being smoked, it does take a bit to cook through. The time is well worth it though! It's the ideal weekend recipe to kick back with.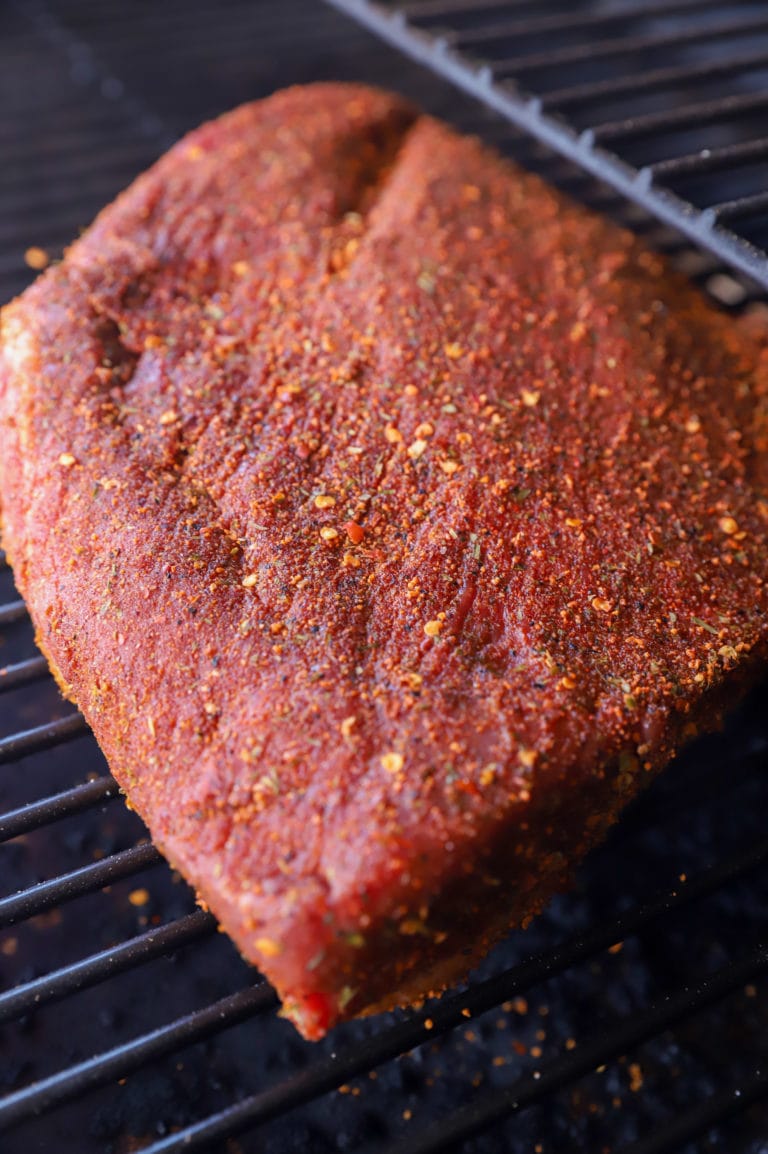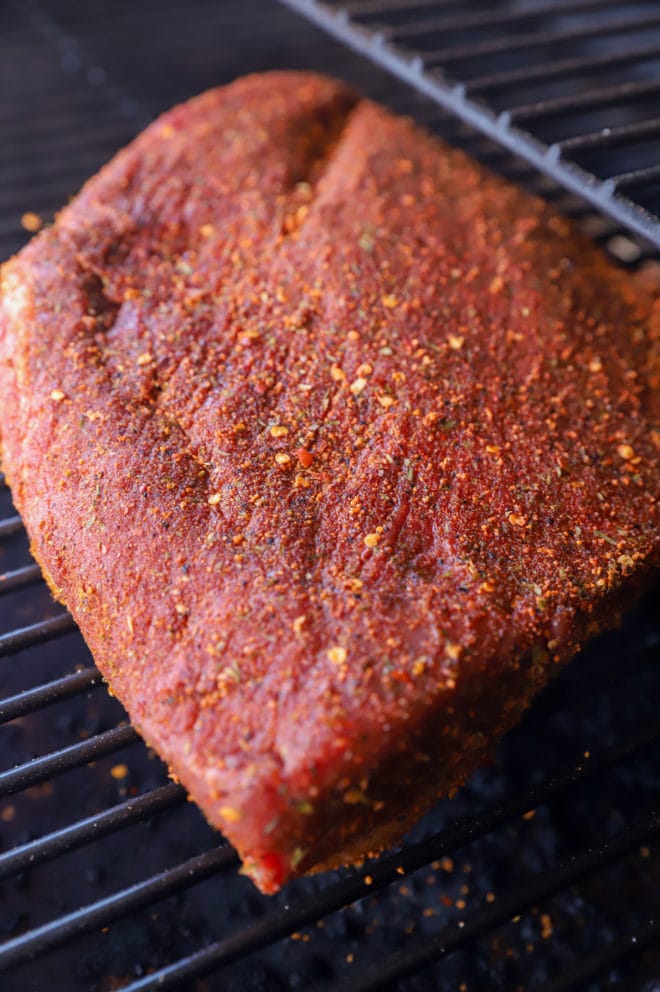 So now that that's out of the way, let's talk about this smoked traeger brisket recipe. This is the first time I've made brisket on the grill instead of in the oven or in the slow cooker. While both of those cooking methods are delicious, nothing beats the smoky charred flavor you get on a traeger brisket that's been smoked slow and low for hours.
I am certainly no self-proclaimed pit master, but this is the easiest way to make brisket that any beginner can master easily and with limited ingredients.
It's quiet the crowd-pleaser to whip out at your next backyard bbq!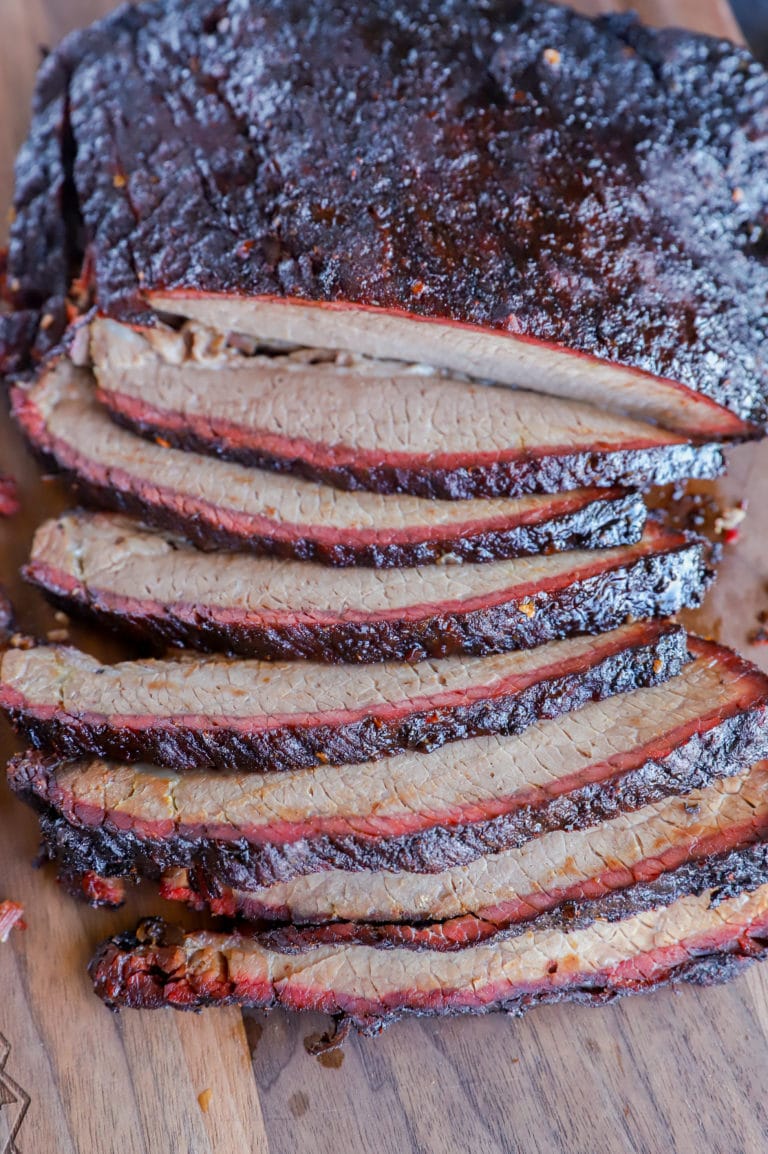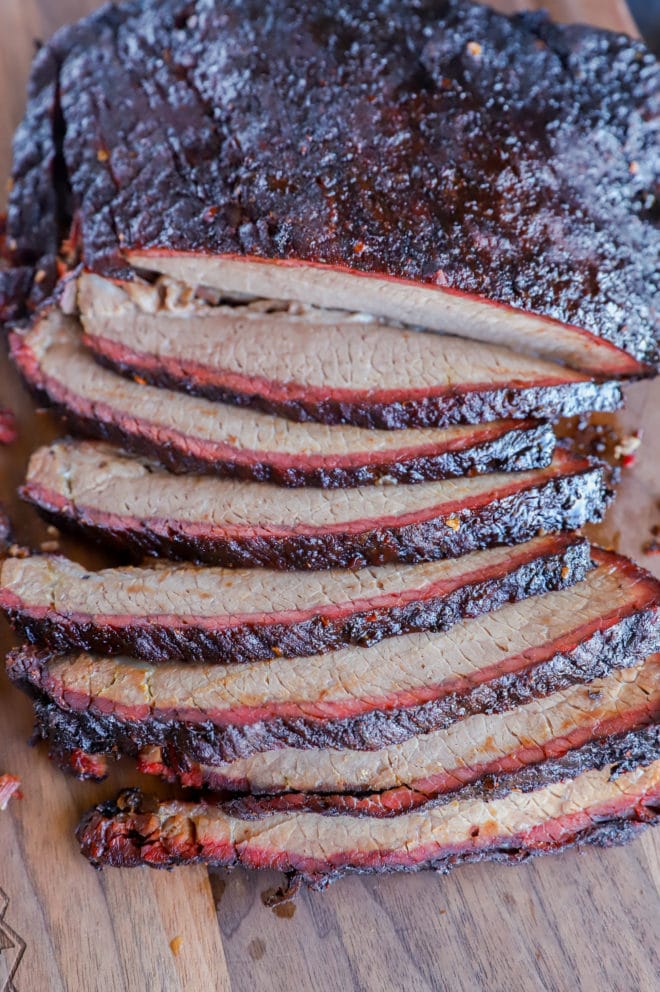 ingredients
flat cut brisket – the flat cut makes up the majority of the brisket. It's a long, thin cut with a thick layer of fat. It's the cut that is best for slicing versus the point cut which is thicker, smaller, and made for shredding. You are looking for a piece that is about 6lbs total. Make sure that you get a quality piece of meat – I recommend making a trip to a local butcher!
BBQ rub – use your favorite BBQ rub here! I personally love using Head Country BBQ's Original Championship Seasoning. You can use whatever brand and whatever flavor profile you prefer. At the very least, you want to make sure you season it with salt and black pepper. A seasoning mix is preferred!
beef broth – this is the star of the "mop sauce." I like to use store-bought, but you can also use homemade!
apple cider vinegar – giving the mop sauce a little extra tang, apple cider vinegar is my favorite vinegar to use when I'm making classic barbecue. It's a great vinegar to have on hand at all times in the pantry.
worcestershire sauce – I like the additional flavor this sauce brings to the mop sauce! You can also use your favorite hot sauce instead if you prefer.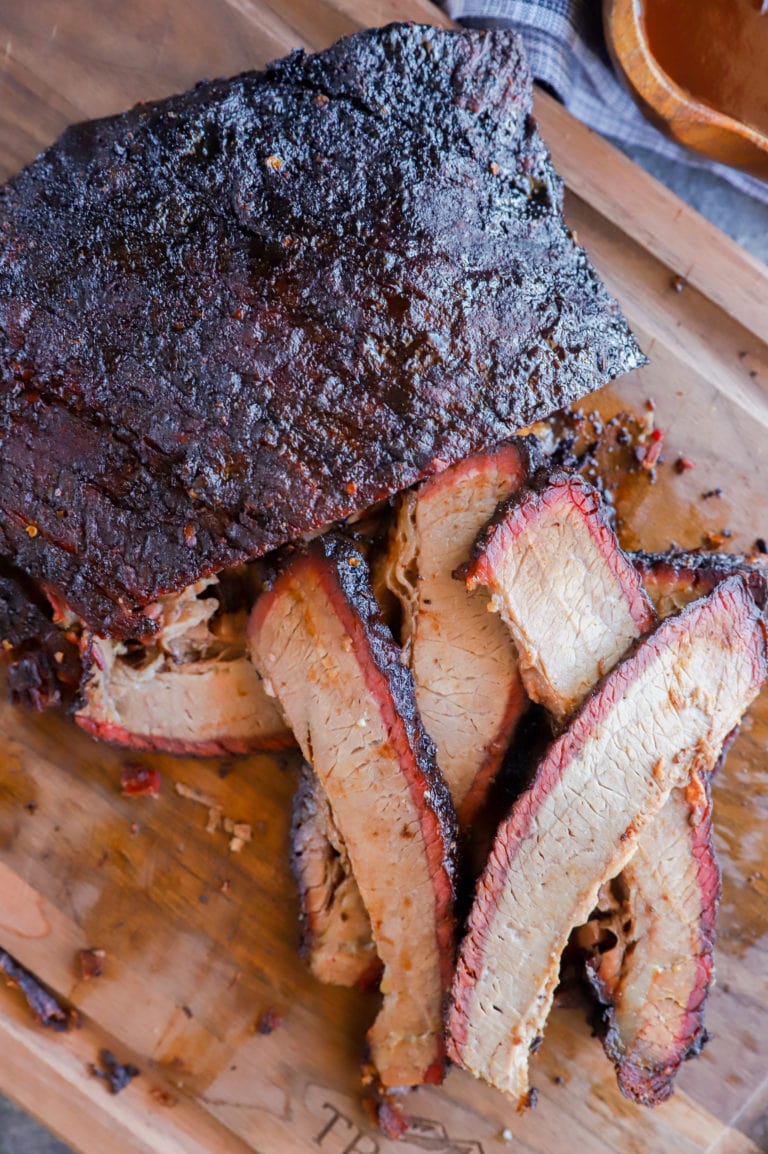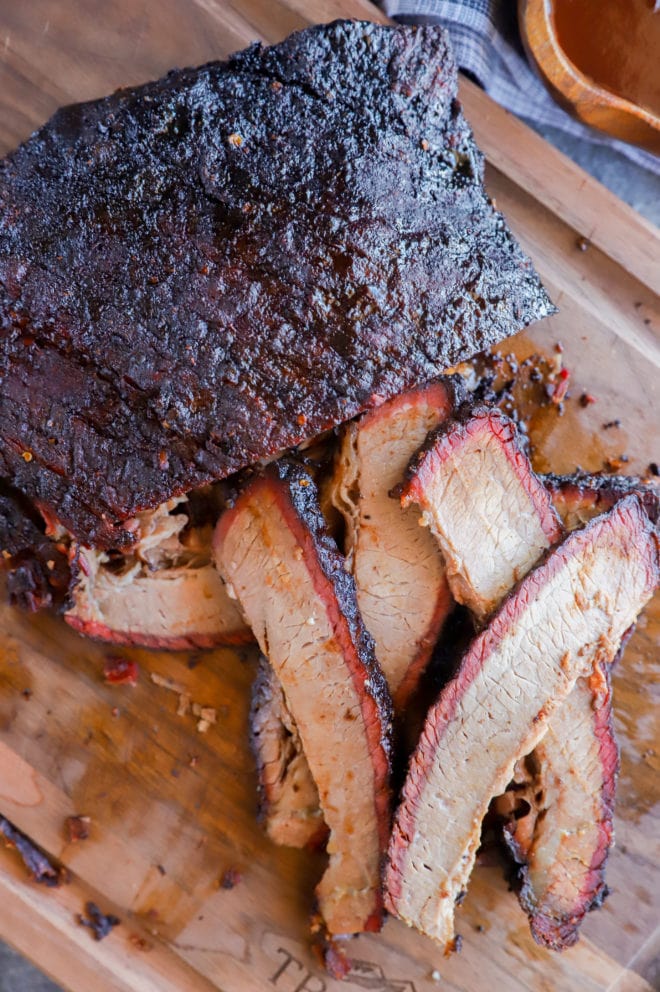 this recipe's must haves
For this recipe, the star of the show is the Traeger grill. I've linked the model I have had for about 5 years now and it's still working like it did the first day I put it together!
You will need a mop brush and I particularly like this mop brush set that comes with its own basting pot.
here's how to make this traeger smoked brisket recipe
preheat smoker and rub meat
Preheat your Traeger (or whatever smoker you have) to 180˚F. Once it reaches that temperature, let it preheat for at least 15 minutes with the lid closed.
Season the brisket all over with bbq rub. Set aside.
make mop sauce
In a small bowl, stir together beef broth, apple cider vinegar, and Worcestershire sauce. Set aside with your mop brush to use throughout the smoking.
smoke
Add the brisket to the grill and smoke for 3 to 4 hours, applying mop sauce every hour.
Increase the temperature to 225˚F and continue to cook, until an instant-read thermometer inserted into the thickest part of the meat temperature reaches 195˚F. You are aiming for a minimum internal temperature of 190˚F and a maximum of 200˚F. This will take about 4 to 5 hours. Apply mop sauce ever hour or so throughout this cooking process.
Remove the meat from the grill to a cutting board or baking sheet. Cover with foil and let it rest for at least 30 minutes to 1 hour. Slice against the grain when ready to serve and serve with your favorite BBQ sauce.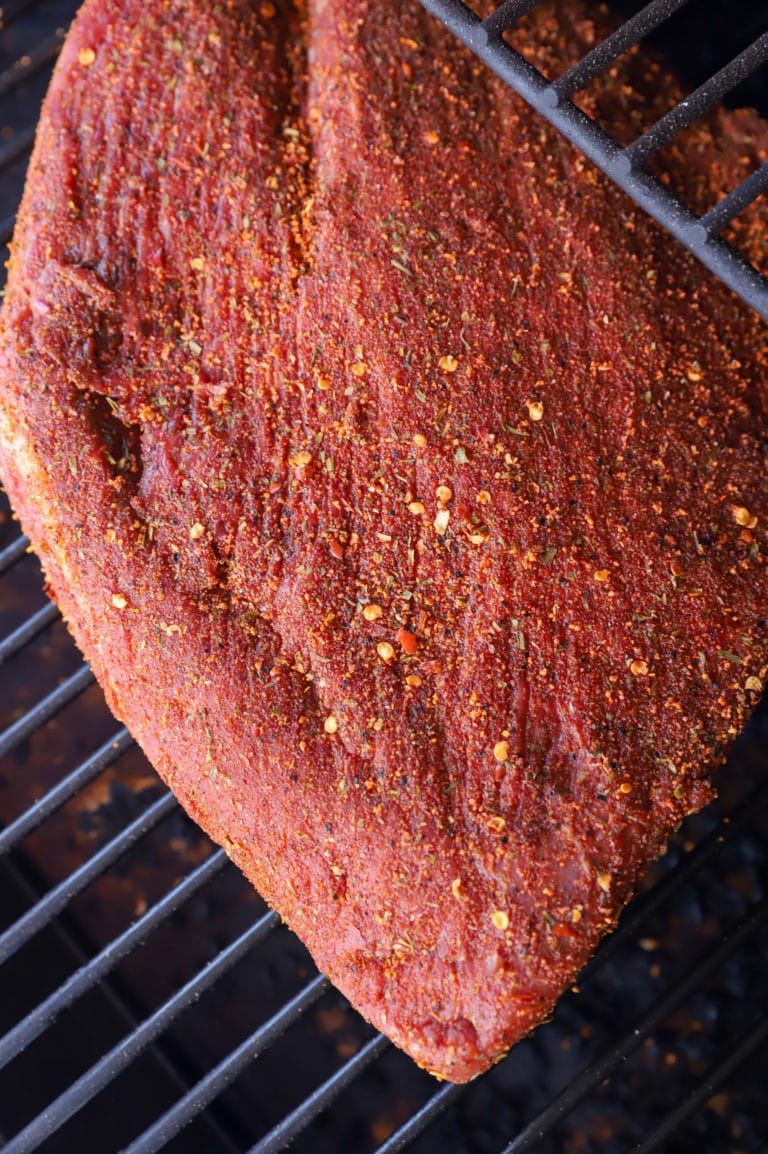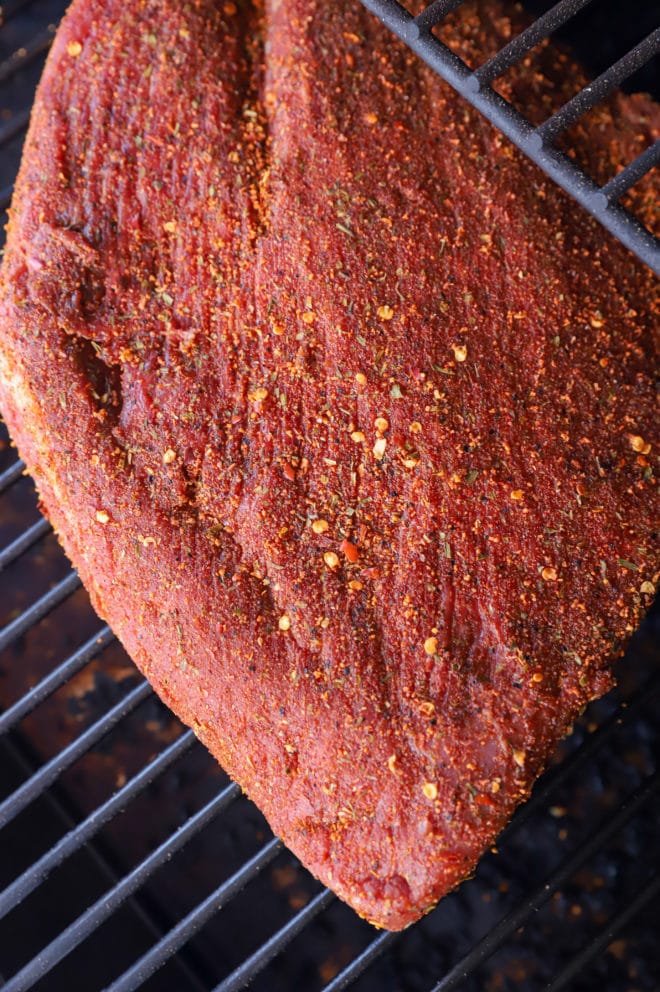 tips for success
don't forget to rest. Resting your brisket is extremely important! Make sure that you rest it for at least 30 minutes (a full hour is best) on a cutting board or baking sheet.
use up those leftovers. There will likely be leftover brisket from this Traeger brisket recipe! I love throwing together a hearty bbq charcuterie board or using it on a sandwich like a reuben.
slice against the grain. When slicing brisket, slice it against the grain. This will make sure it stays as tender as possible.
More classic bbq recipes to explore: Honey BBQ Grilled Chicken Wings | BBQ Apple Cider Ribs | Gourmet BBQ Burger Bar | Grilled Chipotle BBQ Chicken Skewers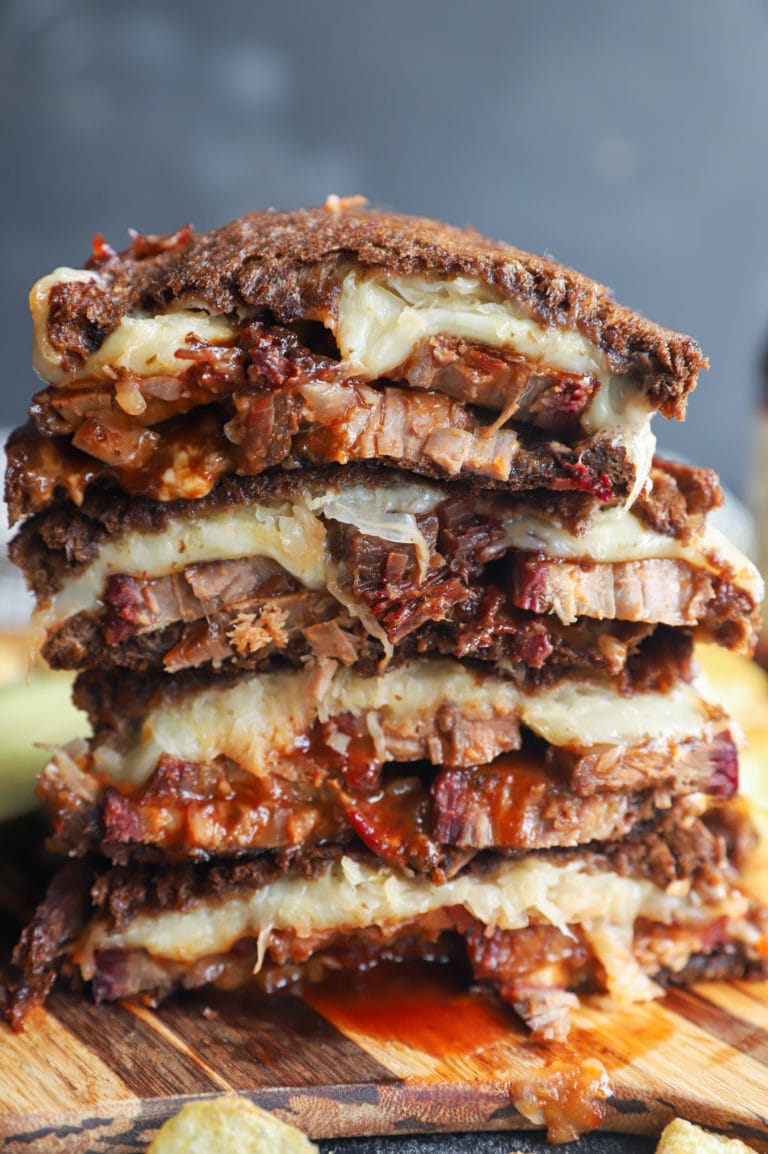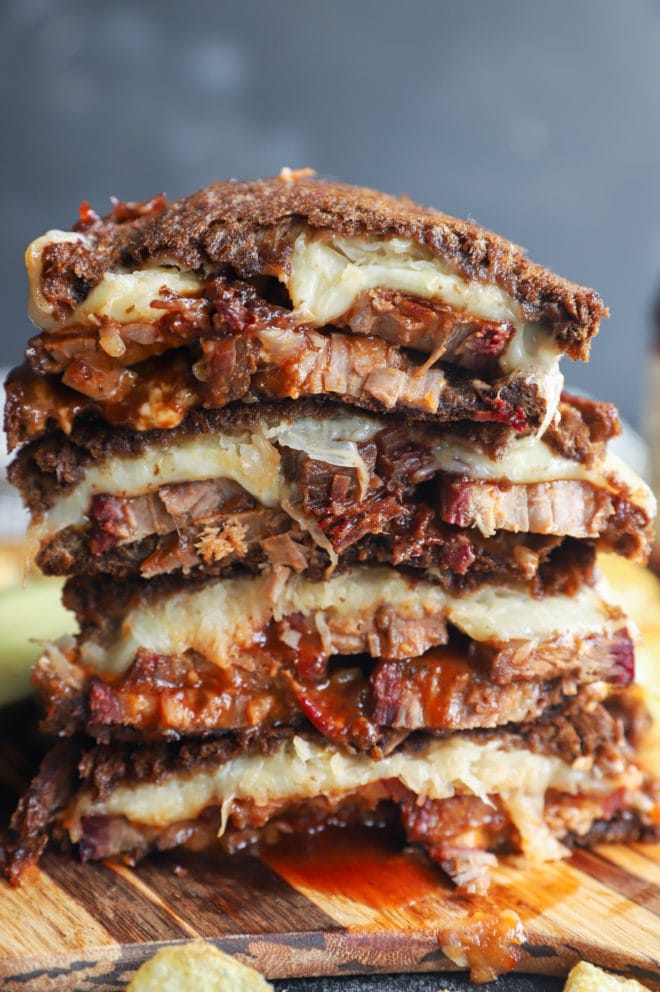 what is a mop sauce?
Mop sauce is a vinegar-based sauce that helps keep your meat tender throughout the cooking process. Mine is a simple three-ingredient recipe that's made from staple pantry ingredients. It also adds good flavor to the meat and gives you that yummy crunchy bark on the exterior that locks in the moisture.
should I wrap my traeger beef brisket?
Since I am using a mop sauce for this recipe, there's no need to wrap the brisket in butcher's paper during the smoking process. If you prefer to not use a mop sauce, you can certainly wrap the brisket in butcher's paper instead.
do you smoke brisket fat side up or down?
Either side up cooks just fine! I haven't found a difference between the two (pit masters, please don't yell at me!), but it's a big debate for some. I placed this particular one that you see pictured fat side down, just in case you can't make up your mind.
what is that ring around the edge of the meat?
That's called the smoke ring! It's the pink-colored meat that shows up between the crust and the interior brown-colored meet. Though it doesn't add any flavor, it does look pretty amazing. The key to getting the smoke ring is cooking it low and slow so the myoglobin doesn't break down before it can react with the smoke and create a ring.
what should the internal temperature be when brisket is done cooking?
When brisket reaches an internal temperature of 195˚F, it is properly smoked. The minimum temperature for safe consumption of brisket is 190˚F. Some say that 202˚F to 205˚F is the ideal temperature range. In my experience, removing the brisket once it reaches 195˚F will get you into that range as it rests off the smoker. Do not let the temperature exceed 210˚F as this will result in a dry brisket.
can I use this recipe with a charcoal or stick burner smoker?
Of course! Make sure that you monitor the temperature of the smoker, as well as the internal temperature of the meat. With a traditional smoker, it can be a little more difficult to maintain consistent heat, so be sure to keep that in mind. This might result in a longer cooking time than the one estimated in this recipe.
should I brine my brisket?
Even though I didn't brine my brisket, you can certainly brine yours. It totally up to you and the flavor profile you prefer.
Need some more inspiration for meaty mains? Check out my meat main recipes page!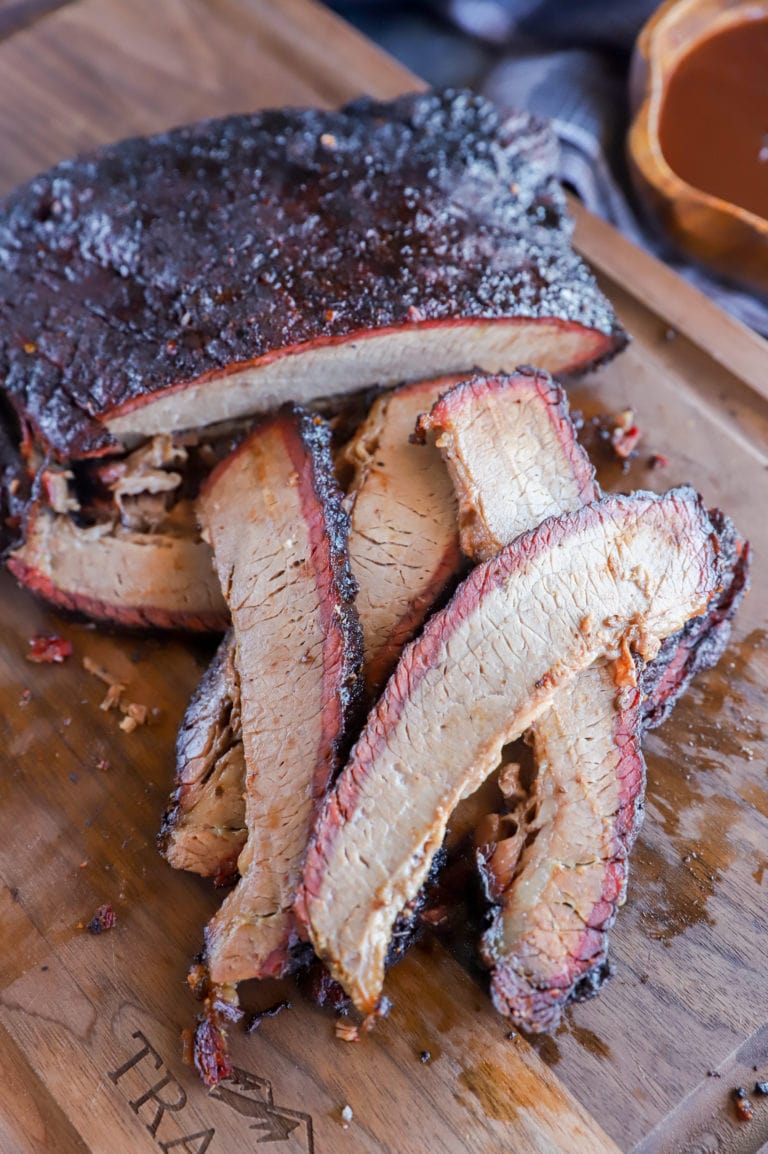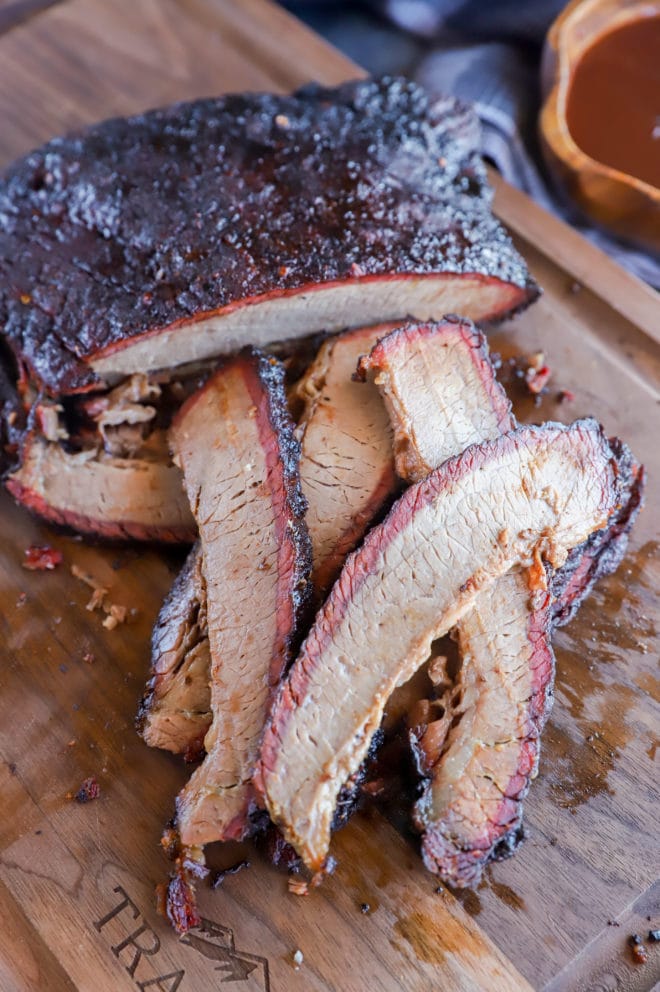 what to serve with this easy smoked traeger brisket recipe
Since you are likely making this brisket to feed a small crowd, let's talk about the ultimate menu to accompany this gorgeous slab of meat!
If you love all things Traeger, be sure to check out these Traeger chicken wings recipes.
how to store
Store. Leftover brisket can be stored in an airtight container in the refrigerator for up to 4 days.
Reheat. To reheat, wrap brisket in foil and add to a baking dish or rimmed baking sheet. Warm in a 300˚F oven for about 15 to 20 minutes until warmed through.
Freeze. To freeze, add to a resealable freezer bag and remove as much air from the bag as possible. Freeze for up to 3 months.
Thaw. Thaw frozen leftovers on a plate in the fridge overnight. Reheat as instructed above.
Finally, if you make this Traeger brisket recipe, please be sure to give this recipe a rating and/or leave a comment! I love to hear when you all make recipes, and I do take the time to respond to every single comment.
Feel free to drop questions below too, if you have them!
Oh and be sure to tag me on Instagram if you make the recipe! I love being able to see these recipes come to life in your homes – it's my favorite thing to look through those photos. It really means the world to me!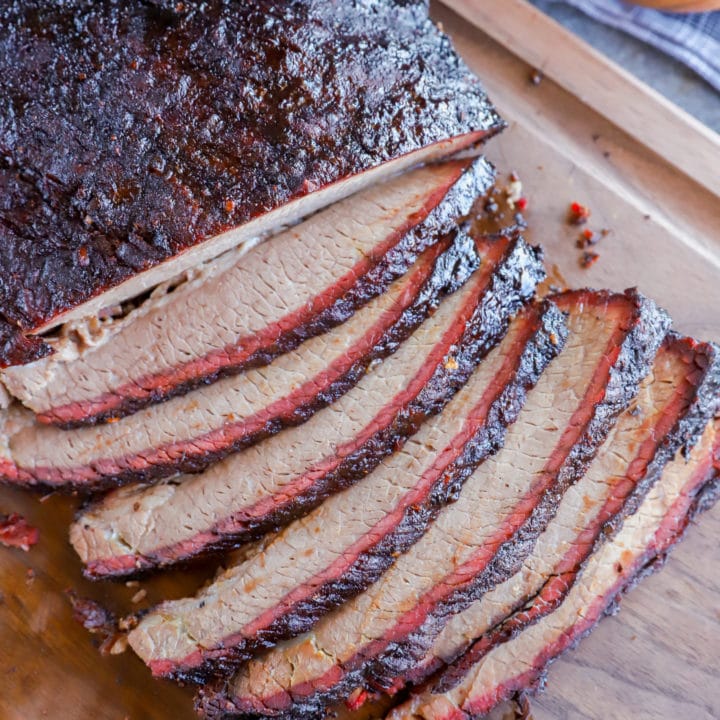 Easy Smoked Traeger Brisket
Yield:
Serves one 6lb brisket (feeds 6)
Total Time:
9 hours
15 minutes
Smoky and tender, this brisket is simple to make and well worth the time it takes!
Ingredients
1 (6 lb) flat cut brisket, trimmed
1/4 cup your favorite BBQ rub (I like to use Head Country Championship or High Plains Heat Seasoning)
2 cups beef broth
1/3 cup apple cider vinegar
1 Tbsp Worcestershire sauce
Serving: your favorite BBQ sauce
Instructions
Preheat Traeger grill (or smoker of your preference) to 180˚F. Once preheated, make sure to let it sit, lid closed, for 15 minutes before adding the meat.
Season the brisket all over with BBQ rub.
In a small bowl, stir together beef broth, apple cider vinegar, and Worcestershire sauce for the mop sauce. Set aside.
Place the brisket on the grill and smoke for 3 hours, applying mop sauce with mop brush every hour.
Increase temperature to 225˚F and continue to cooking, applying mop sauce every hour or so. Once an instant-read meat thermometer reads 204˚F when inserted into the thickest part, remove from grill and wrap in foil.
Let rest for at least 30 minutes to 1 hour.
When ready to serve, slice against the grain and serve with your favorite BBQ sauce.
Recommended Products
As an Amazon Associate and member of other affiliate programs, I earn from qualifying purchases.